As the fall season approaches, many crafters are looking for projects that complement the cooler weather. Fall crochet blanket patterns are a popular choice, providing both practical warmth and an opportunity to integrate autumnal colors into home decor.
In this post, we'll explore a range of patterns suitable for both beginners and seasoned crocheters.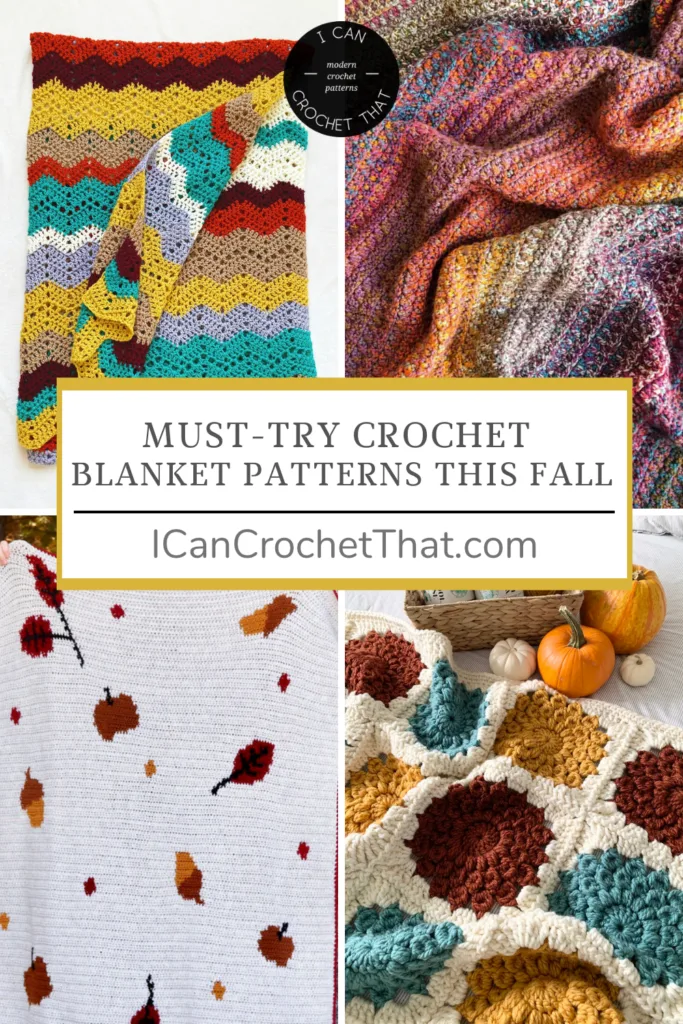 Fall in Love with Stitching: The Best Crochet Blanket Patterns for Autumn
In my personal and professional opinion, the best part of fall is cuddling under a cozy blanket with a hot beverage when it's chilly outside.
That is quintessential fall to me, and nothing says cozy like a crochet blanket.
Not only are they beautiful and one of a kind, but you know each one was made with love and care, something particularly special as we get close to the holidays (yay!).
Today, I've rounded up fifteen crochet blanket patterns that exude fall vibes. Whether that be the colors, the stitches, the motifs, or just the cozy vibes. I'm going to have a hard time choosing just one!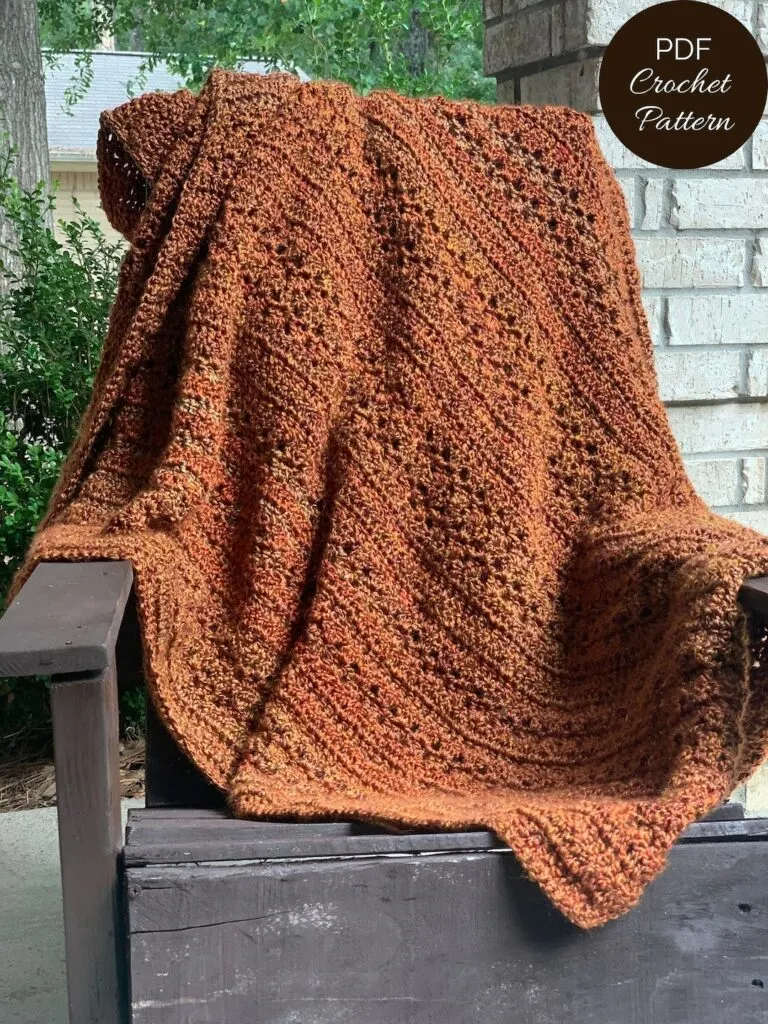 Fall Crochet Blanket Patterns
As autumn's chill begins to envelop us, there's no better way to embrace the season than by diving into fall crochet blanket patterns, capturing both warmth and beauty.
These patterns evoke the vibrant hues and cozy vibes of fall and offer a comforting project to immerse yourself in during those shorter days and longer nights.
Join me as we explore some of the crochet world's most enchanting and beautiful designs this season.
Photo Credit: www.etsy.com
Cozy up with a pumpkin spice latte and this Hayrides in Autumn crochet blanket this fall season. It's made with chunky yarn and has a beautiful stitch pattern with alternating solid and more open weave sections for an interesting texture.
The pattern is available for purchase on Etsy.
Photo Credit: patternprincess.com
This crochet blanket will look beautiful thrown over a couch this fall.
It has an autumn sunset colorway paired with white yarn in a block stitch (one of my favorites). It's a unique pattern with ombre yarn that turns out beautiful.
The pattern is available for free on Pattern Princess's website.
Photo Credit: www.allfreecrochet.com
I love this cozy blanket's combination of red, tan, brown, and white. All the colors are combined in a chevron pattern filled with cozy cabin charm.
The pattern is available for free on All Free Crochet.
Photo Credit: tlyarncrafts.com
This bold and bright blanket mimics all the colors of an autumn day, from sunrise to sunset. This afghan has everything from bright blue and purple to dark red and orange.
The chevron rows are in alternating widths, adding to the uniqueness of the blanket.
The pattern is available for purchase on TL Yarn Crafts' website.
Photo Credit: www.youtube.com
This fall blanket uses fall foliage colors to create this easy one-row repeat blanket.
This would be a great project to relax with or a great first project for a beginner crocheter who wants to try their hand at blankets.
The tutorial + pattern is available for free on Amanda Crochets' Youtube.
Photo Credit: www.etsy.com
If you're a fan of a more muted color palette but still want a fall blanket, this one is perfect. It has a wonderful texture with varying light orange and tan stripe widths.
The different stitches give this blanket a lot of fun variation while making it. It also uses a nice thick yarn that will keep you warm.
The pattern is available for purchase on Etsy.
Photo Credit: www.etsy.com
This fall blanket does not the traditional fall colorway but a variety of muted, cozy colors. It includes burnt orange, dusty pink, blue, grey, and taupe.
It's also made with a chunky yarn, so it'll work up really quickly. I LOVE the variation of color in this blanket and will definitely be making it this fall.
The pattern is available for purchase on Etsy.
Photo Credit: www.etsy.com
This blanket is a bit different, as it is a tapestry blanket that is also worked in C2C (corner to corner). C2C is worked diagonally from one corner to the opposite corner.
It's a unique form of crochet used to create beautiful tapestry crochet art, like this adorable pumpkin blanket.
This is a great project to start learning C2C with this fall. The pattern is available for purchase on Etsy.
Photo Credit: www.allfreecrochetafghanpatterns.com
This throw is giving New-York-in-the-fall vibes with its absolutely gorgeous bright colors and leaf-like shapes.
They all seem to blend together in the most magical way. The yarn is the richest shades of red, orange, and yellow, and I would feel so happy snuggling up under it.
The pattern is available for free on All Free Crochet Afghan Patterns website.
Photo Credit: daisyfarmcrafts.com
Straying a bit from the traditional fall colors here, but in my brain, gingham is just as fall as red, orange, and yellow.
This black velvet gingham throw is heavy and SO cozy. And as we know, velvet yarn is chunky, so this blanket won't take very long.
It would also make a great decoration for Halloween time!
The blanket pattern can be found for free on Daisy Farm Crafts' website.
Photo Credit: www.etsy.com
Aside from the nice alliteration in the title, the thing I love about this blanket is the variation in the granny squares.
Sometimes, granny square projects can get tiresome because it's the same exact thing on repeat 100 times.
But this blanket has four different motifs (red apple, pumpkin, sunflower, and green apple) on the squares and a regular granny square. So you can pop around and have some variation, and before you know it, a beautiful fall blanket appears!
This would be a great project to work on all season long. The pattern is available for purchase on Etsy.
Photo Credit: www.mamainastitch.com
I always like to include some patterns specifically for my beginner crocheters, and this one is just perfect.
Blue and orange is one of my favorite color combinations, and it's used beautifully in this throw with a muted sky blue and pumpkin orange. It also includes tan and cream to balance everything out.
Plus, it's just single and double crochet! The pattern is available for free on Mama In A Stitch's website.
Photo Credit: www.lionbrand.com
This blanket gets its name from the leaves, apples, and acorns on the front of the blanket that look like they're flowing in the crisp fall breeze.
Its minimalist design and motifs combine to create a simple, beautiful blanket. It's also made of Wool-Ease, so you know it'll be comfy.
The pattern is available for free on Lion Brand's website.
Photo Credit: www.nautikrallcrochet.com
Here's another beautiful granny square project you can make this fall: a sunburst granny square blanket!
This blanket uses classic fall shades like mustard yellow and burnt orange but also has a refreshing blue and cream to tie it all together.
Once again, this one is made with Lion Brand Thick N Quick, so your squares will work up quickly. The pattern is available for free on Nautikrall Crochet's website.
Photo Credit: nanascraftyhome.com
At the end of our list is this beautiful woven crochet blanket from Nana's Crafty Home. I chose his one because of the woven look and the absolutely brilliant array of colors.
This one isn't exclusively fall-themed, but the aurora of colors reminded me of the fall trees and sky all rolled into one, and it's gorgeous.
The pattern is available for free on Nana's Crafty Home's website.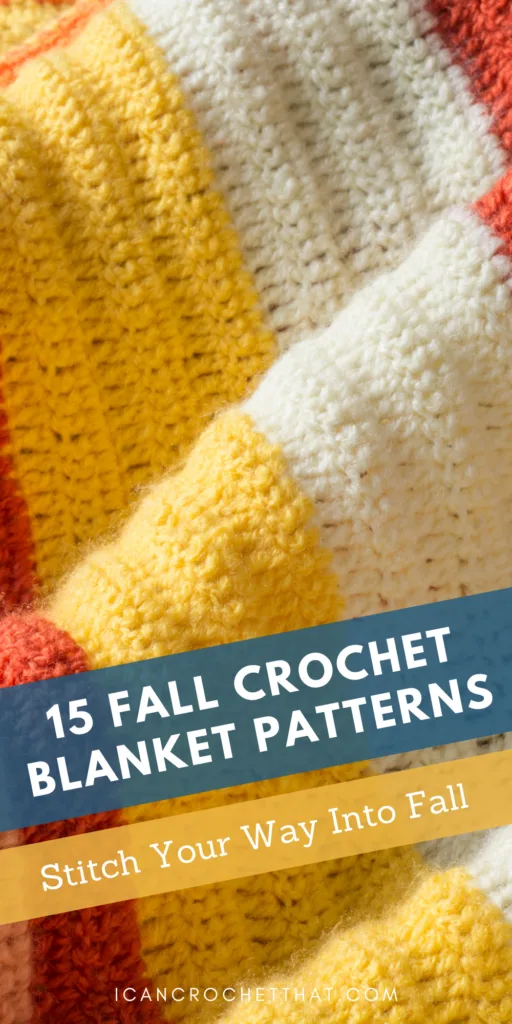 In wrapping up, it's clear that fall is the ideal season to embark on a crochet journey, blending warmth with the beauty of autumnal hues. Whether you're a novice or a crochet aficionado, there's a pattern out there waiting for you to bring it to life.
Don't forget to explore I Can Crochet That's' collection of crochet blanket patterns, which offers an array of designs perfect for this time of year.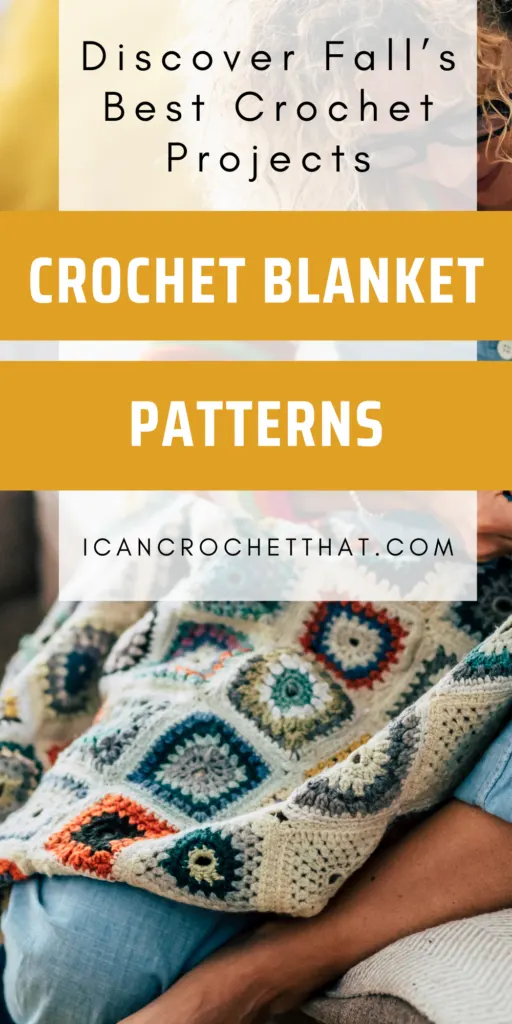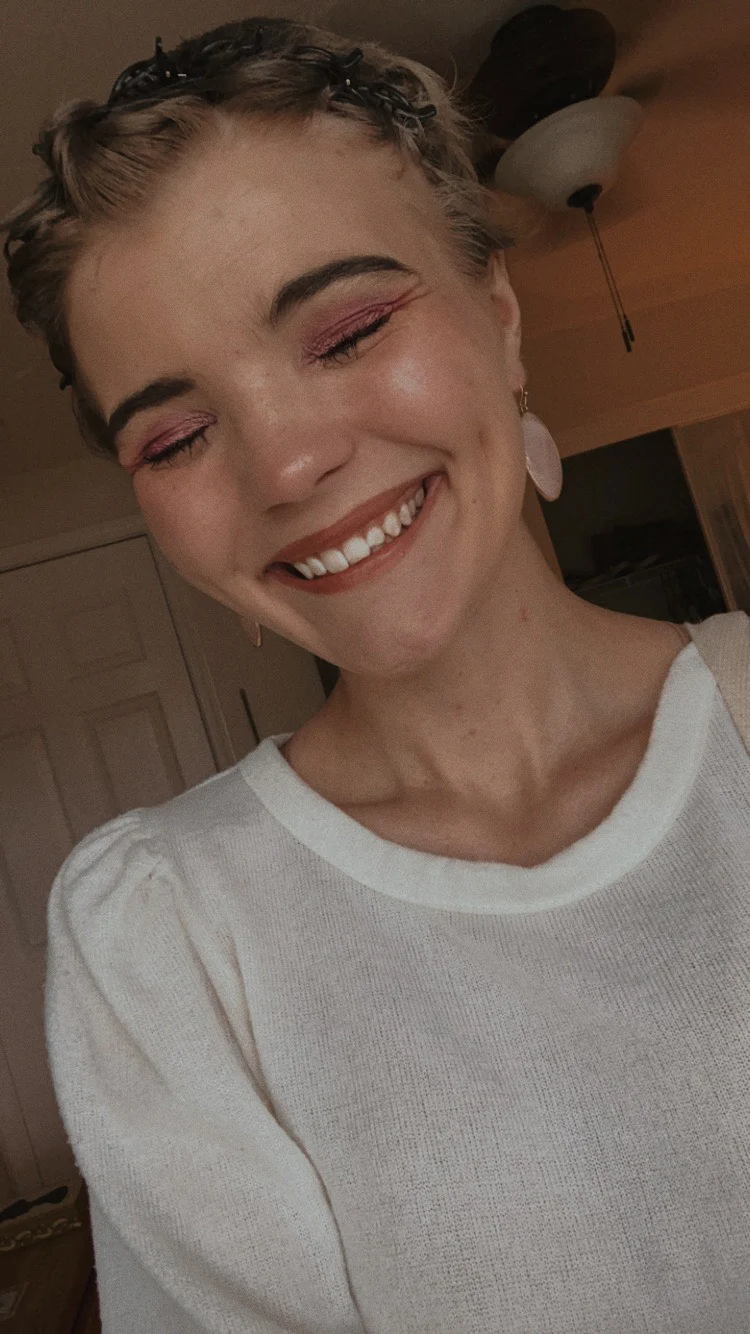 Hannah is the eldest of the Bonner family's three kiddos. She graduated from the University of North Texas with her Bachelors in Elementary Education. She enjoys reading, yoga, movies & TV, and (obviously) crocheting. She is excited about furthering her writing career & spending her days surrounded by yarn. All the yarn.