Last Updated on September 22, 2022
It's officially the fall season and I, for one, could not be more excited. Here are 25 fall crochet patterns to kick off the season.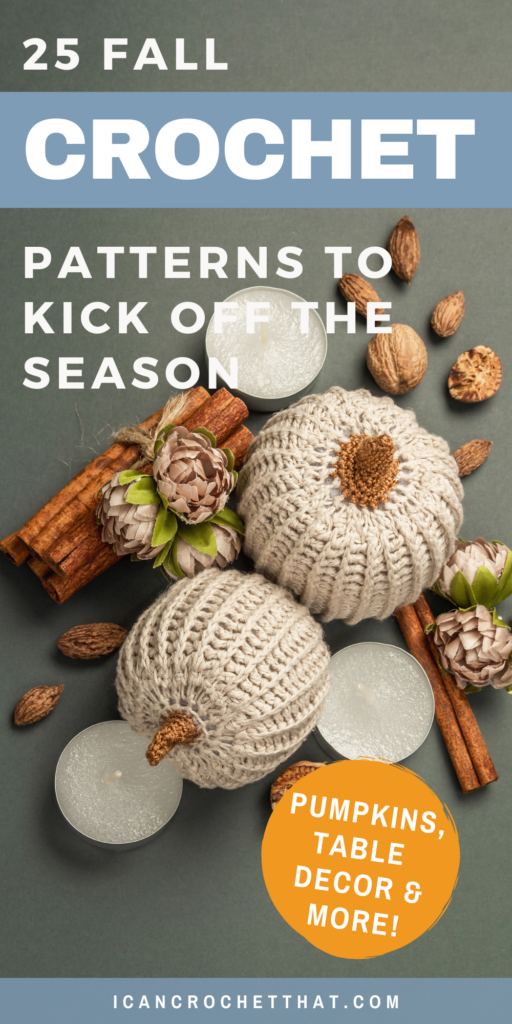 The coziness, the crisp fall air, the pumpkin and apple spice, and of course, the crochet!
Evenings in front of the fire making a cozy sweater with a cup of coffee (or hot beverage of your choice) watching Pride and Prejudice is my idea of bliss, and that time has finally arrived.
Since the crochet season has officially begun, I've gathered 25 crochet patterns to start the best season of the year off with.
25 Fall Crochet Patterns
1. Candy Corn Amigurumi Keychain
This candy corn keychain is a quick project that makes an adorable fall accessory for your purse or keys.
It's also a good project for those who are just getting started with amigurumi since the project is small.
You can find the free pattern here.
2. Autumn Fields Throw
Every house needs a gorgeous fall-themed blanket to bring out when autumn hits, and this one fits the bill.
The throw has alternating rows of green, burgundy, burnt orange, and yellow, all the hallmark colors of the autumn season. It's finished off with a burgundy border that ties the whole thing together.
You can find the free pattern here.
3. Drawstring Crochet Cowl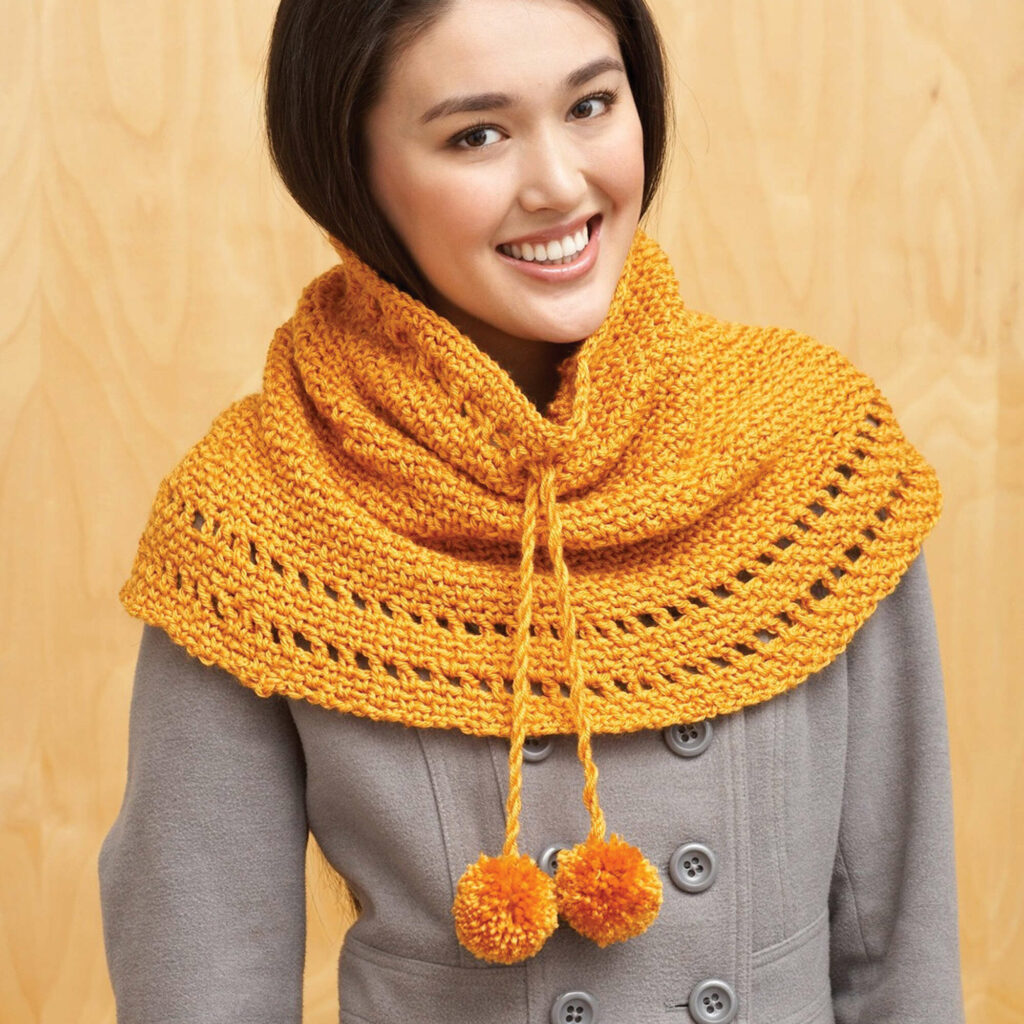 My favorite thing about fall? The accessories.
I'm a sucker for scarves, boot cuffs, mittens gloves, and cowls.
This drawstring cowl from Yarnspirations has definitely made it onto my TBC ( To Be Crocheted).
It goes just over the shoulders, has a cozy turtleneck neckline, and is finished off with a pom pom drawstring. Can you say adorable?
The free pattern is available here.
4. Autumn Sunrise Infinity Scarf
This scarf's bright orange and golden yellow colors are perfectly reminiscent of a gorgeous fall sunrise.
It's made with double crochet puff stitches, single crochets, and double crochets, and has a few rows of burn orange to balance out the other bright colors.
The free pattern is available here.
5. Crochet Pumpkin Earrings
Need a super quick crochet project? These amigurumi pumpkin earrings are perfect.
The pumpkins are super tiny and not too heavy, so they'll work great as earrings. This project is also great for gifts or a product o sell for a small business.
The pattern is available for free here.
6. Back to School Crochet Apples
Need a back-to-school gift for your kiddo's teacher?
These crocheted apples are a thoughtful gift teachers can look at every day and remember you! They also make a great home or classroom decoration for fall.
The free pattern is available here.
7. Crochet Autumn Leaf Coasters
Coasters are the ultimate practical crochet project. You always need them and they take no time at all to
make. These autumn leaf ones are an easy way to put some fall cheer into your home.
The pattern is available for free here.
8. Crochet Pumpkin Basket
While we're on fall decor, look at these pumpkin baskets!
This adorable basket can be used as decoration/stash baskets/anything you want, but I personally think they'd make a great Halloween candy bucket.
The pattern is available for free here.
9. Autumn Meadow Asymmetrical Crochet Shawl
Shawls are my personal favorite fall accessory. I will use any excuse to make one, and I definitely have just added this one to my list.
This asymmetrical poncho-like shawl features two classic fall colors, burgundy and burnt orange, with some gray to balance out the bright colors.
The free pattern is available here.
10. Fall Leaves Earrings
This is another fall earring project, but since these are one-dimensional rather than amigurumi, this is a perfect project for crocheters of any skill level.
They feature a brown leaf, a gold leaf, and a sunflower to tie the whole thing together.
The free pattern is available here.
11. Fall Forever Blanket
This fall blanket is an excellent first big project if you're just starting out with crochet.
It's worked in different-sized stripes of light orange, dark orange, and white, and double crochet is the only stitch used. Can't get any easier, right?
Find the free pattern here.
12. Autumnal Ear Wrap
Ear wraps are great for fall; it's not quite cold enough for hats, but just a little too chilly to wear nothing.
Ear wraps provide just enough warmth without overheating. Also, this particular wrap has an array of gorgeous fall colors and a nicely textured feel.
The pattern is available for free here.
13. Black Cat + Pumpkin Amigurumi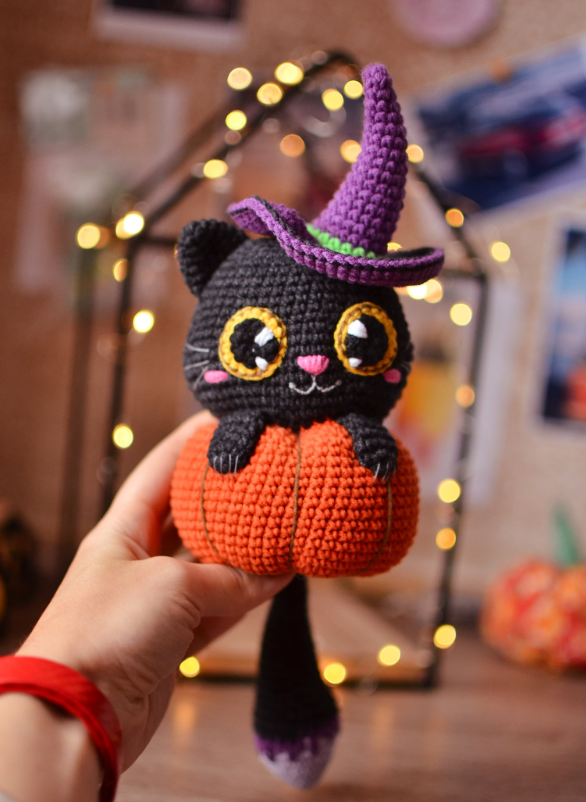 Add to your amigurumi collection by whipping up this black cat project, paired up with a pumpkin to complete the spooky vibe.
The pattern is available for purchase on Etsy here.
14. Kenton Cowl
In the same vein as ear wraps, cowls are also great for the in-between weather.
This one is particularly gorgeous because of the ribbing on the outside, and the cashmere + wool yarn is just luxurious.
The pattern is available for free here.
15. Autumn Jewells Shawl
Need a lightweight shawl for fall bonfires or evening walks? This breezy, pumpkin-colored one from Blue Star Crochet does the trick.
The lacy pattern is so pretty and provides just that little bit of warmth.
The free pattern is available here.
16. Pumpkin Pot
Need something to put Halloween candy in for those little trick-or-treaters? These pumpkin pots with a removable stem lid make a great choice.
A functional craft that you can use for more than Halloween candy.
The free pattern is available here.
17. Pumpkin Pie Amigurumi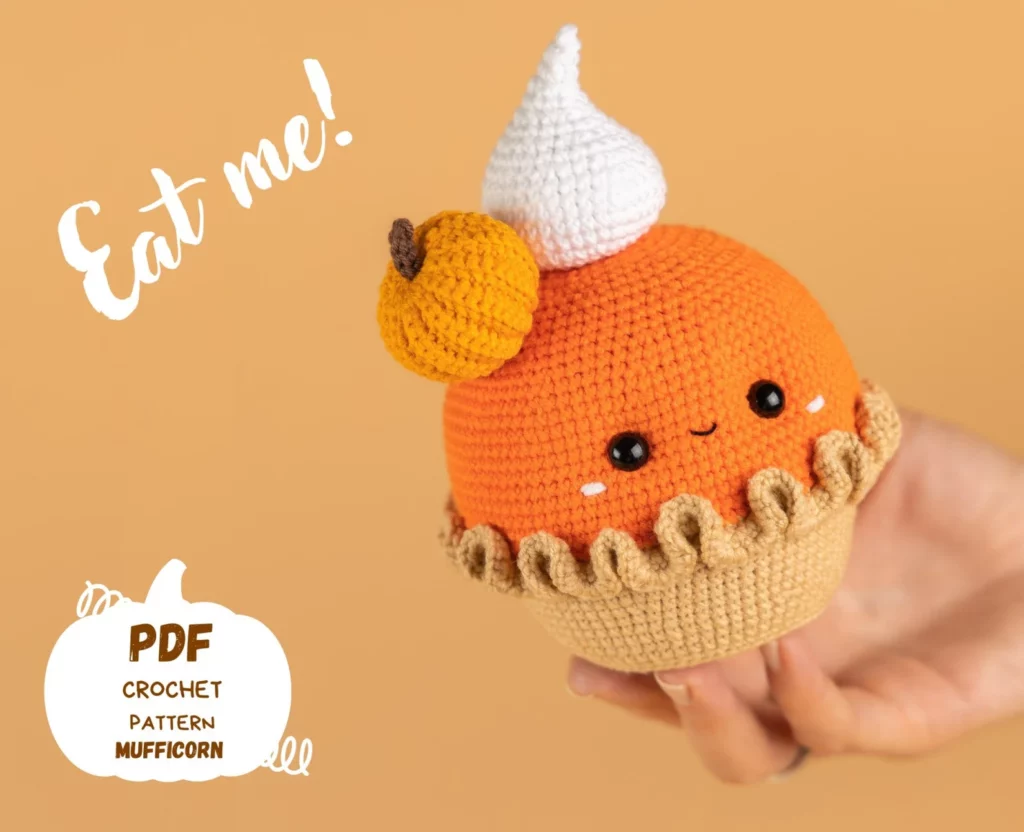 This pumpkin pie amigurumi has the cutest little smile and rosy cheeks!
He's absolutely precious and would make a great fall home decoration or gift for lovers of all cute things.
I'm quite tempted to gather all the fall amigurumi and make myself a little collection!
The pattern is available for purchase on Etsy here.
18. Autumn Rhapsody
This beautiful fall blanket is quite the project, but in the end, you'll end up with a gorgeous, intricate fall blanket that'll have everyone asking where you found it.
It features sunflower motifs, several different stitches, a myriad of fall colors, and an overall stunning look.
The free pattern is available here.
19. Cozy Cabin Afghan
As the name suggests, his chevron blanket makes the perfect accessory for your home to bring hose chilly cabin vibes.
It has a simple row repeat with burgundy, dark brown, tan, and white stripes.
The free pattern is available here.
20. Fall Table Runner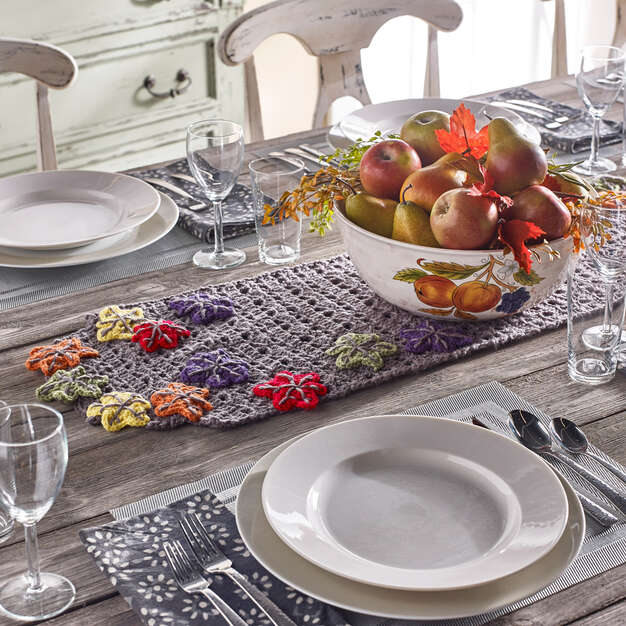 This table runner makes an easy fall project ha you can use year after year to adorn your table in the fall season.
You can find the free pattern here.
21. Turkey Kitchen Towel
This adorable turkey kitchen towel adds just a little fun to the fall season.
Its simple but cute design makes it a wonderful kitchen accessory for anyone's space. It would also make a great gift for your loved ones who love to bake or cook.
The free pattern is available here.
22. Amigurumi Gnome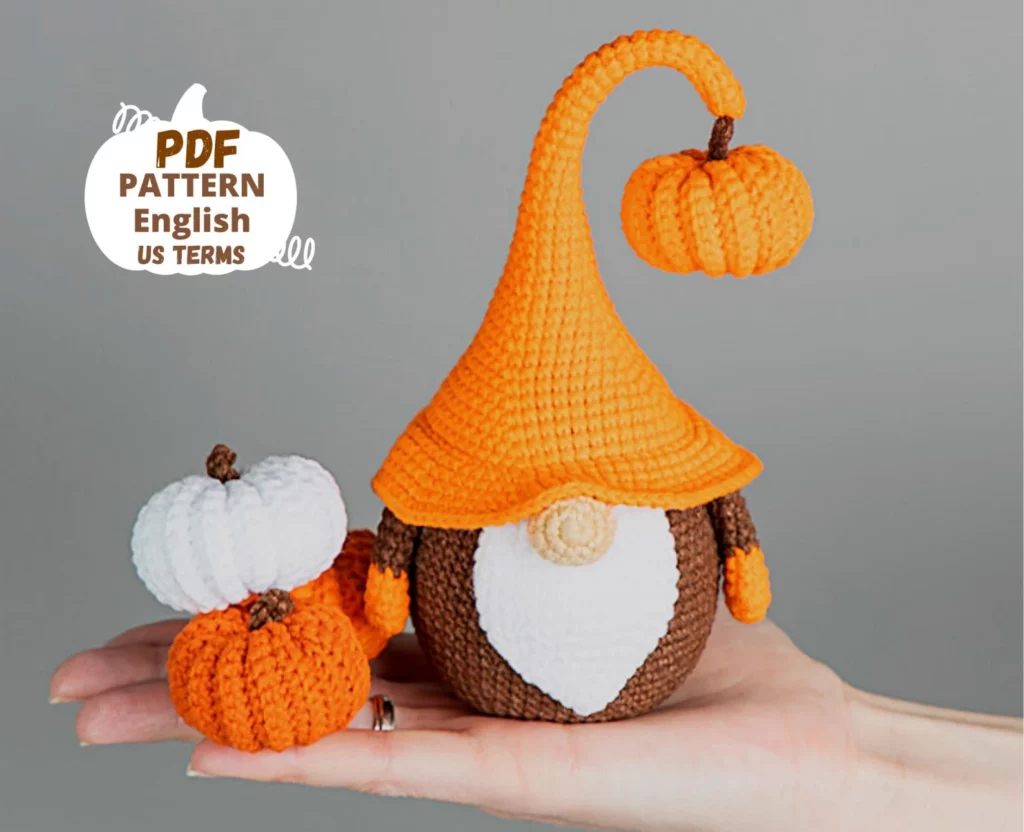 I'm not sure when the surge of gnome decorations started, but I'm completely here for it.
This particular gnome is adorned in fall colors and has a little pumpkin dangling from the gnome hat. He's just completely irresistible!
The pattern is available for purchase on Etsy here.
23. Pumpkin Pillow Cover
This crochet pumpkin pillow cover has a farmhouse, rustic feel, but is easy to fit into any home aesthetic because of its minimalistic design.
It's beginner friendly, featuring only two stitches: bobble stitches and single crochets.
You can find the pattern available for purchase here.
24. Crochet Pumpkin Fall Garland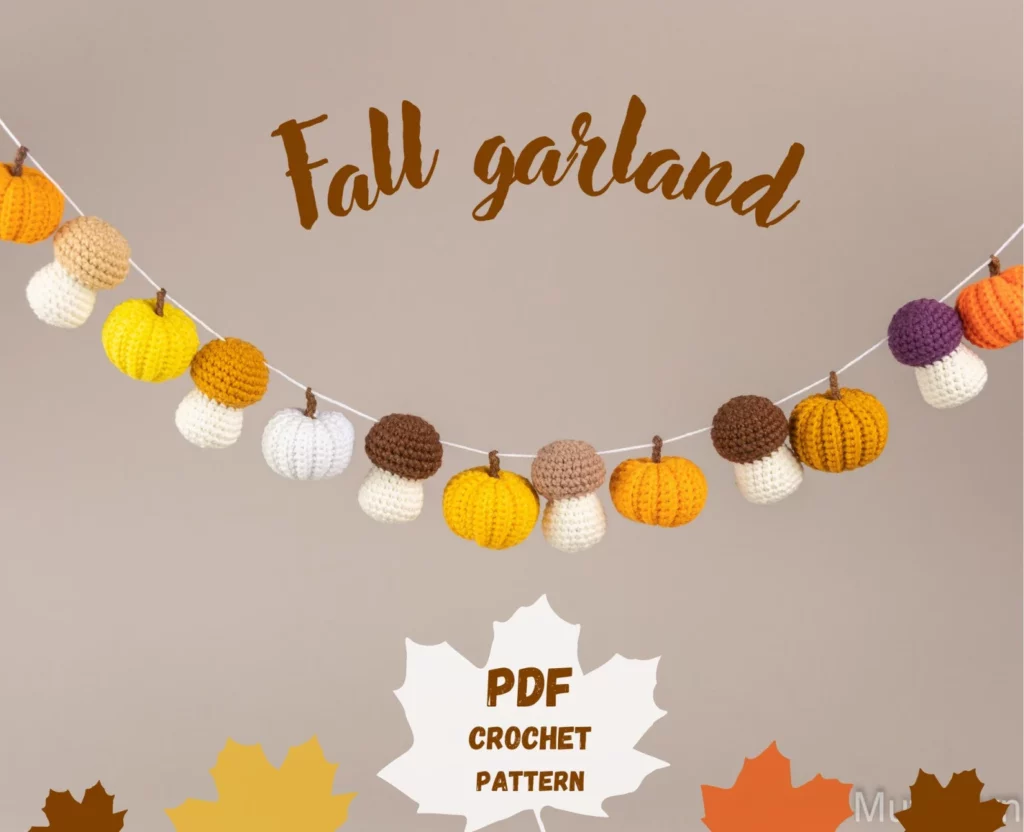 This crocheted pumpkin garland is a super easy & cute decoration that would make a fantastic backdrop for Thanksgiving (or Friendsgiving!) photos.
It features amigurumi pumpkins and mushrooms in fall browns, oranges, and yellows.
The pattern is available for purchase here.
25. Halloween Cardigans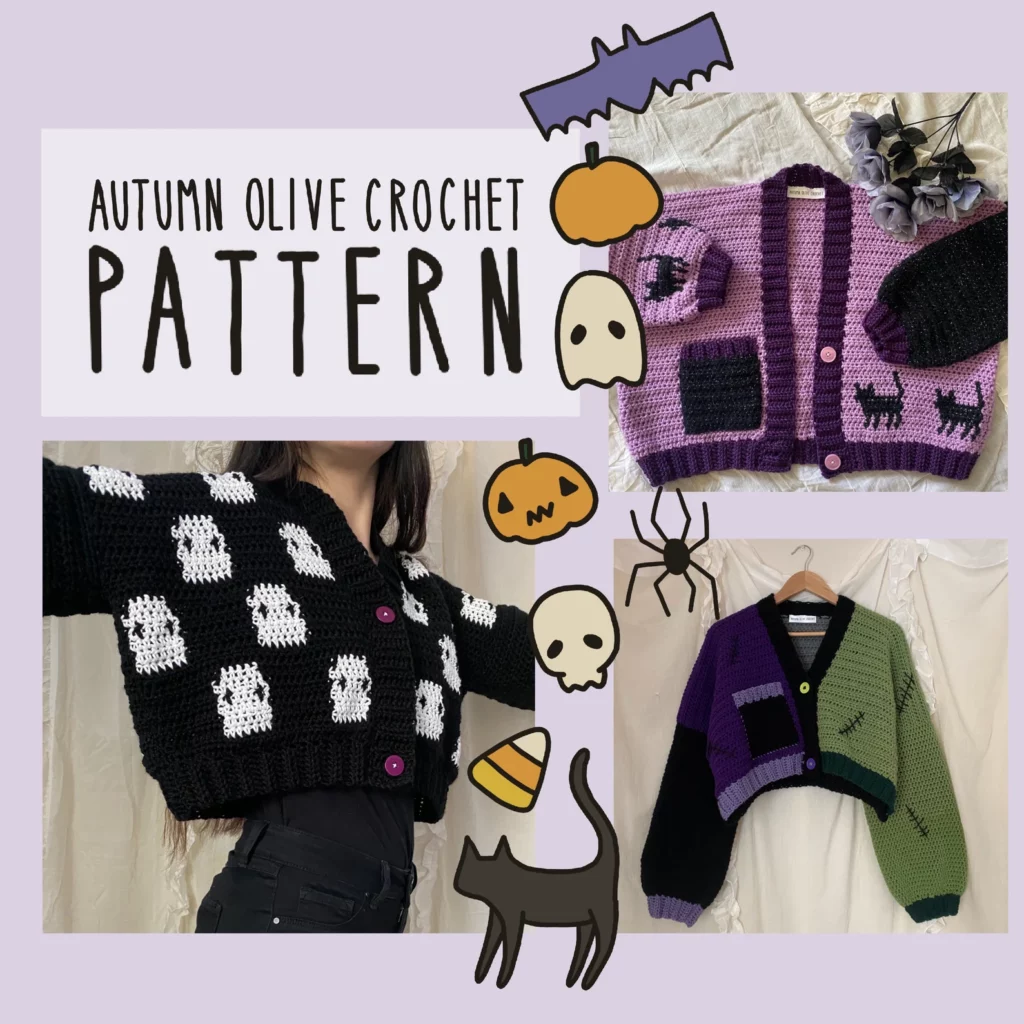 This purchase comes with a standard cardigan and not one, not two, but eight different Halloween graphic choices!! What a steal.
There's everything from fun and funky to minimalist, all featuring your favorite Halloween motifs: ghosts, black cats, pumpkins, and more.
Find the bundle available for purchase here (I definitely already purchase it myself.)
Looking for More Fall Crochet Pattern Goodness?
Here are a few more fall crochet patterns and projects from us: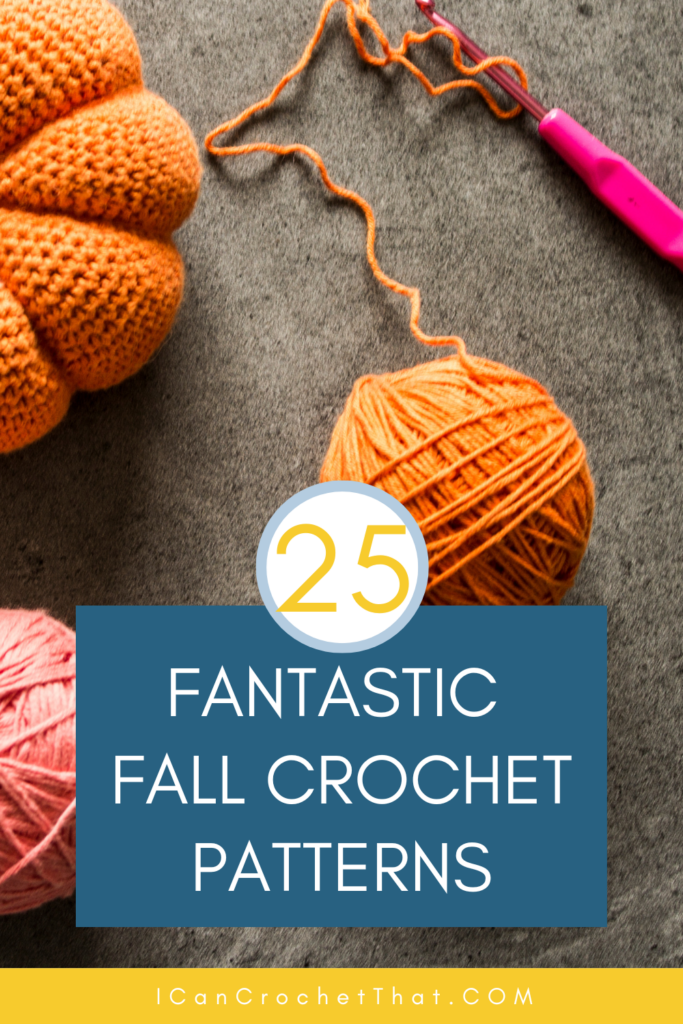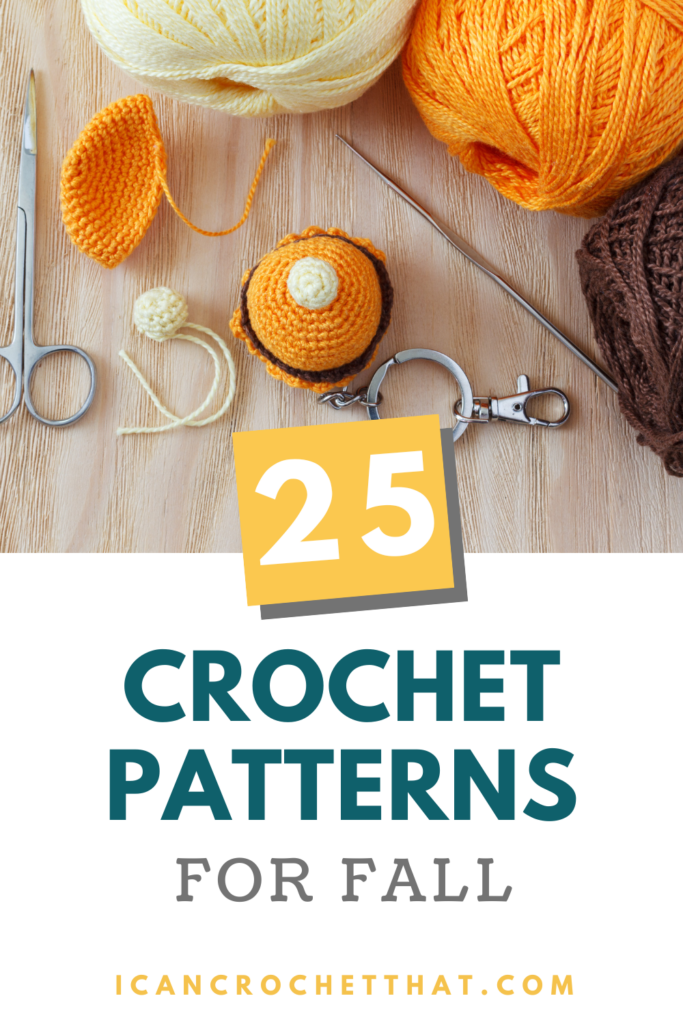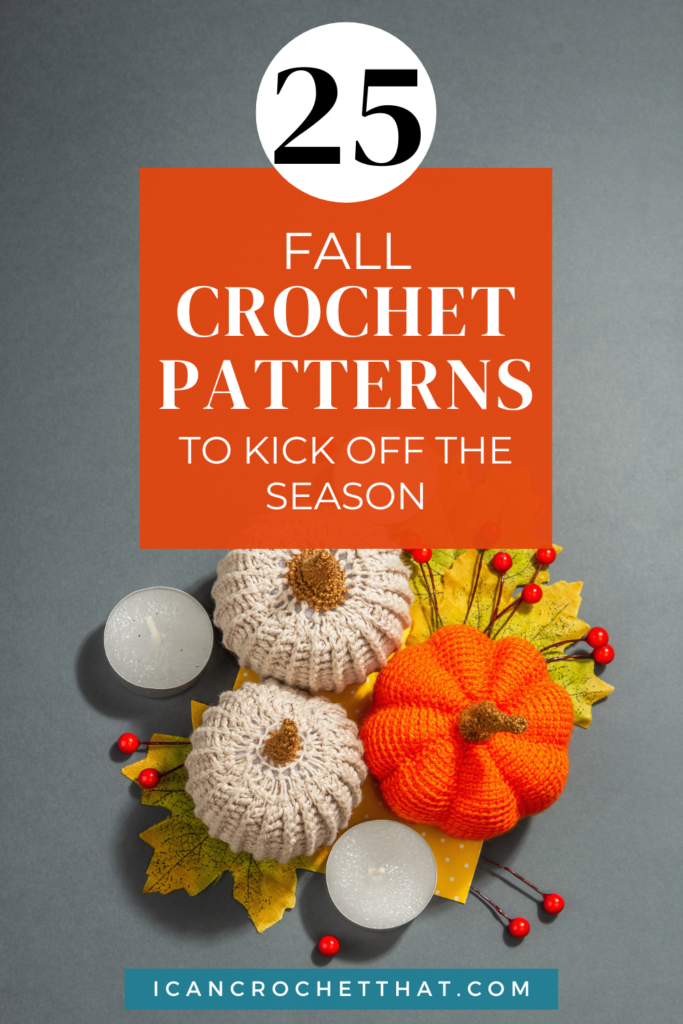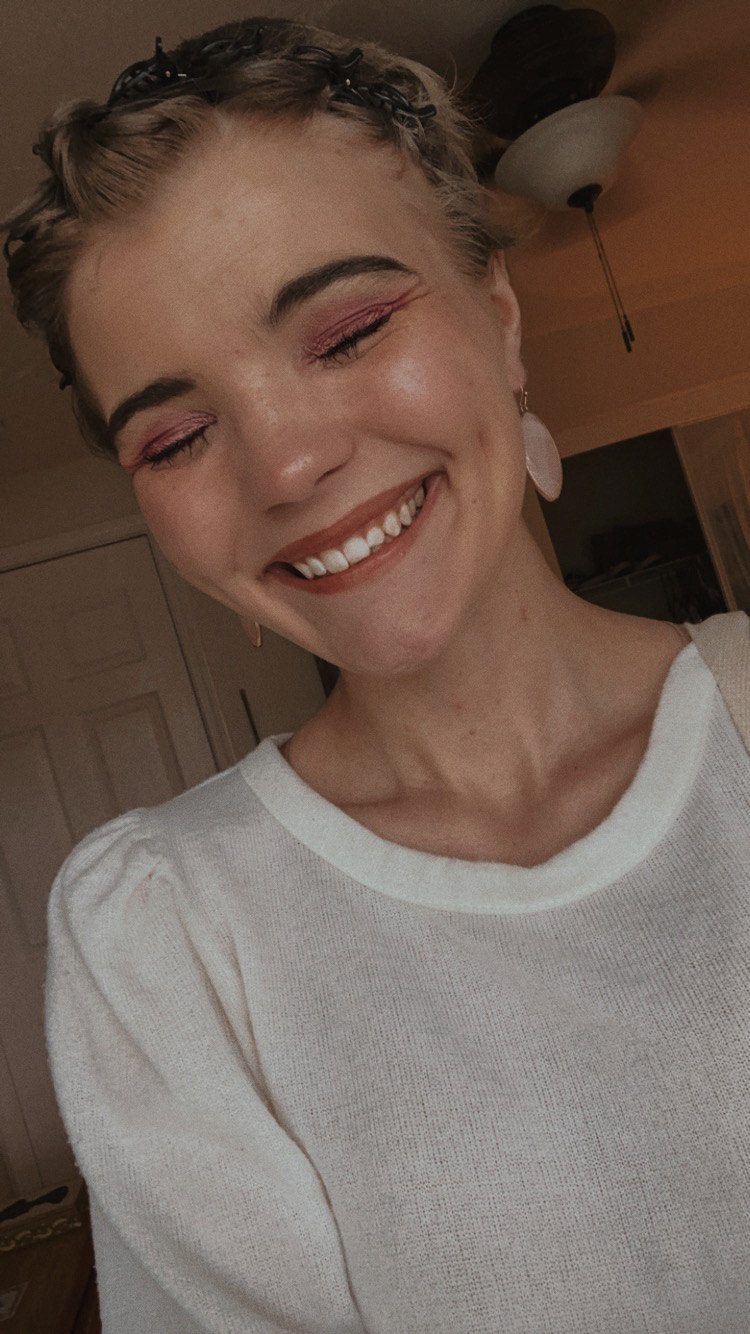 Hannah is the eldest of the Bonner family's three kiddos. She graduated from the University of North Texas with her Bachelors in Elementary Education. She enjoys reading, yoga, movies & TV, and (obviously) crocheting. She is excited about furthering her writing career & spending her days surrounded by yarn. All the yarn.