Last Updated on July 26, 2021
Celebrate fall by getting started on one of these super cozy crochet cardigan patterns. From oversized and blanket-sized to granny squares and seamless designs, we've rounded up a little bit of everything.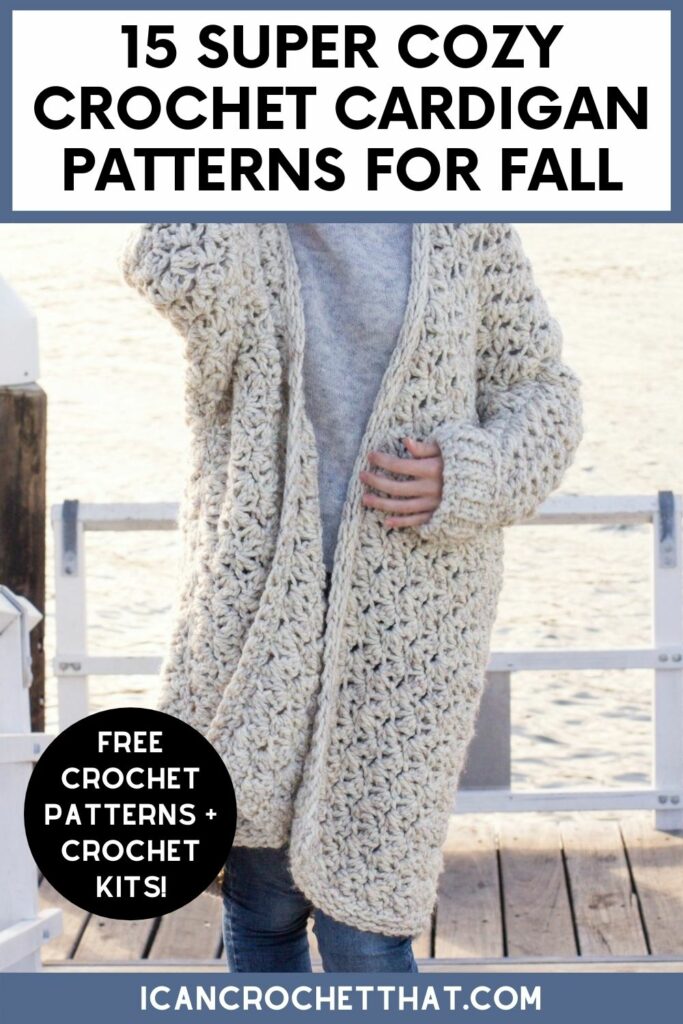 Dearest crocheters, it's July here in Texas and that means one thing. It's hot.
There is no point in doing my hair and makeup for my 10 minute trip to the store because it all disappears immediately.
I long for cool fall days, crisp fog, a chai latte in my hand, and, you guessed it, the coziest crochet cardigan.
So in anticipation for arguably the best season of the year, I have a list of THE coziest cardigans to crochet and add to your fall wardrobe.
It's never too early to start crocheting those fall essentials (I may or may not be working up the fluffiest blanket you'll ever see right now), so let's get
started!
15 of the Coziest Crochet Cardigan Patterns You Ever Did See
1. Easy Pocket Crochet Cardigan
If you are a beginner crocheter, look no further.
This beginner-friendly pocket cardigan is a perfect place to start if you're wanting to move on to making clothing pieces. The body and sleeves are made up of half double crochets, and the ribbing features back and front post double crochets.
You can get this pattern for free here.
2. Light Snow Oversized Crochet Cardigan Pattern
if you're looking for a less bulky cardi, this light yet cozy cardigan from
Mama in a Stitch is for you.
This piece is done in a beautiful snowy white & features loose stitches with eyelets to make it lighter without losing the coziness factor.
You can get this pattern for free here.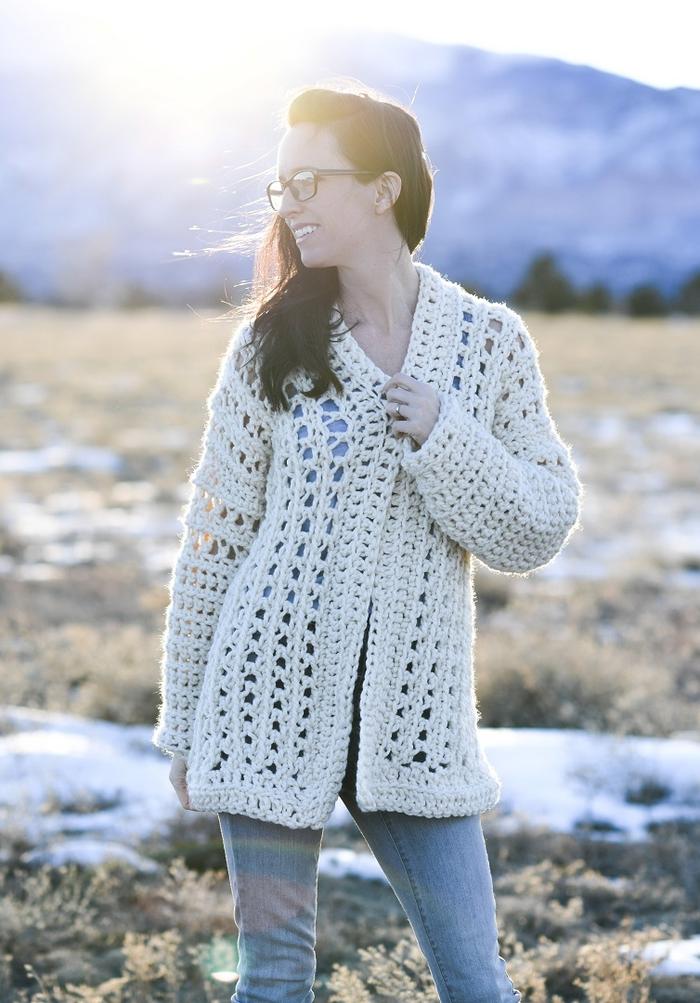 You can also purchase this crochet cardigan pattern as a kit here.
3. Sweater Coat Cardigan
No need to buy a big winter coat this year; this sweater coat cardigan will
do just fine.
It uses bulky yarn and includes a tie to create more of a coat than a cardigan.
You can grab this free pattern here.
4. Retro Granny Square Cardigan Pattern
I don't know if y'all can tell but I'm a fan of granny squares, and absolutely
adore this retro cardi from Make and Do Crew.
The soft, floral color palette is adorable and BIG bonus: it's seamless! No weaving in ends here.
This pattern is available from Make and Do Crew's Etsy shop here.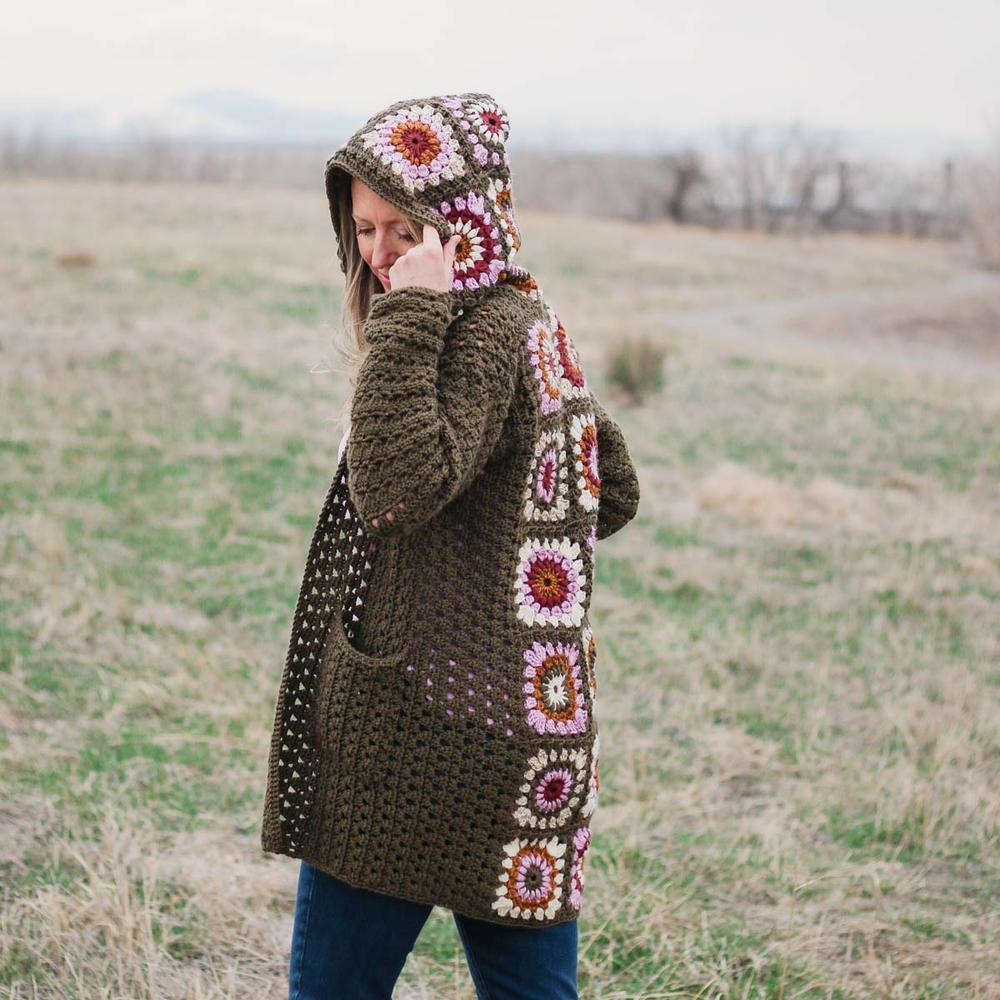 You also purchase this pattern as a kit on LionBrand.com here.
5. Delaney Crochet Velvet Cardigan
Velvet yarn is arguably my favorite yarn to crochet with, and this cardigan
looks like an absolute dream.
Throw it over any of your favorite fall outfits and you're good to go!
You can get this pattern from Lakeside Loops' Etsy shop here.
6. Sierra Oversized Cozy Cardigan
This colorful oversized cardigan is a must-have for your fall wardrobe.
You can create it using a multicolored yarn like the one featured in the pattern, or use separate colors for the body and ribbing.
It'll be adorable either way.
You can get this pattern for free here.
7. Baltic Crochet Cardigan Pattern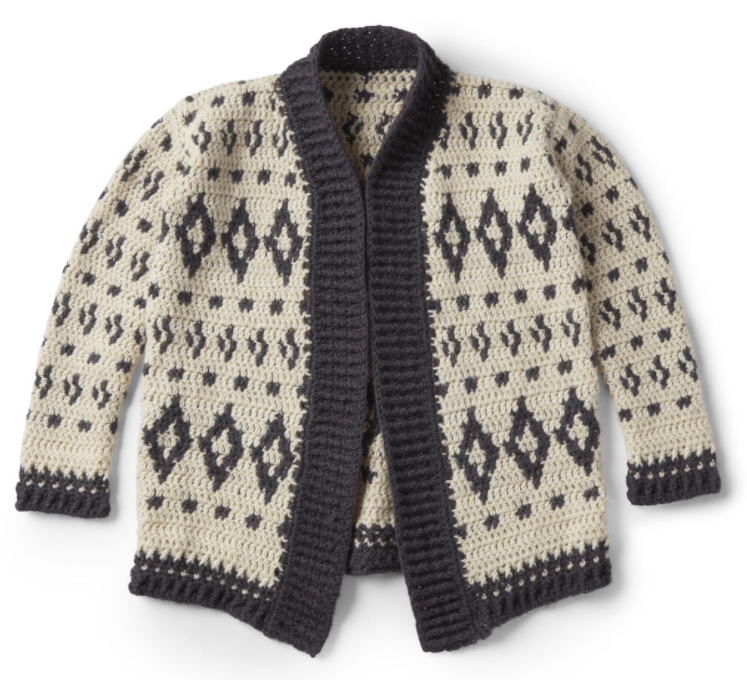 I am a BIG fan of Nordic inspired patterns and decor, and I will definitely be
working up this Baltic cardigan this fall.
It features dark grey and cream-colored yarns and a Nordic-esquires geometric pattern.
You can get this free pattern from Yarnspirations here.
8. JW Anderson Crochet Harry Styles' Cardigan
I'm sure you've seen Harry Styles' famous cardigan circulating around the
internet.
If you're looking to create one for yourself, this pattern will help you do just that.
It's a bomber-style sweater made up of multicolored squares, and can easily be customized with your favorite patterns and colors.
The pattern is available on Zeens and Roger's website here.
9. Winter Berries Crochet Cardigan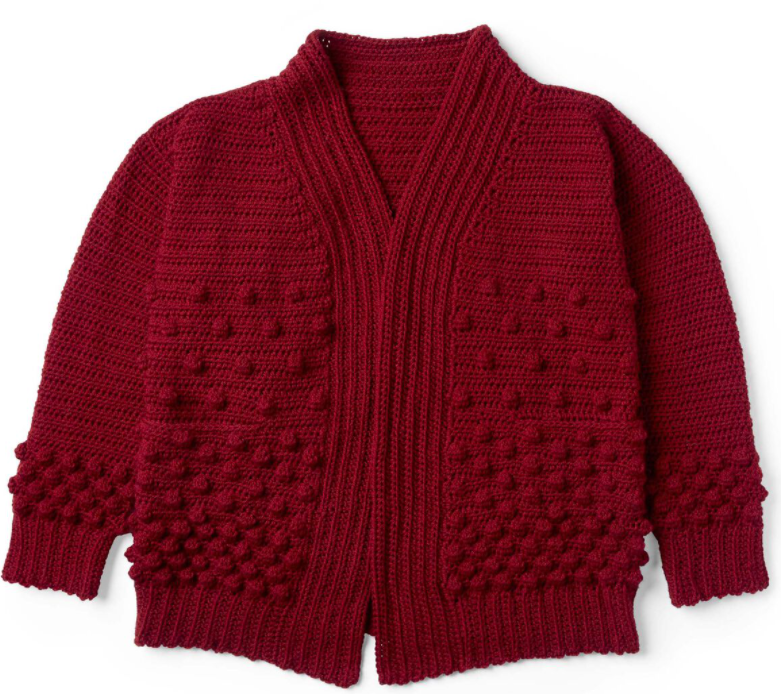 I see a Christmas Eve outfit in my future featuring this berry-colored
sweater from Yarnspirations.
The dark berry color and bobble stitch detailing make this a simple yet elegant addition to your fall and winter wardrobe.
You can get this pattern for free here.
10. Coffeeshop Crochet Cardigan
If the word coffee is in the name I'm all over it, and this light tan cardigan is
no different.
It gives off a cozy, coffeehouse vibe and is perfect to wear over quite literally anything.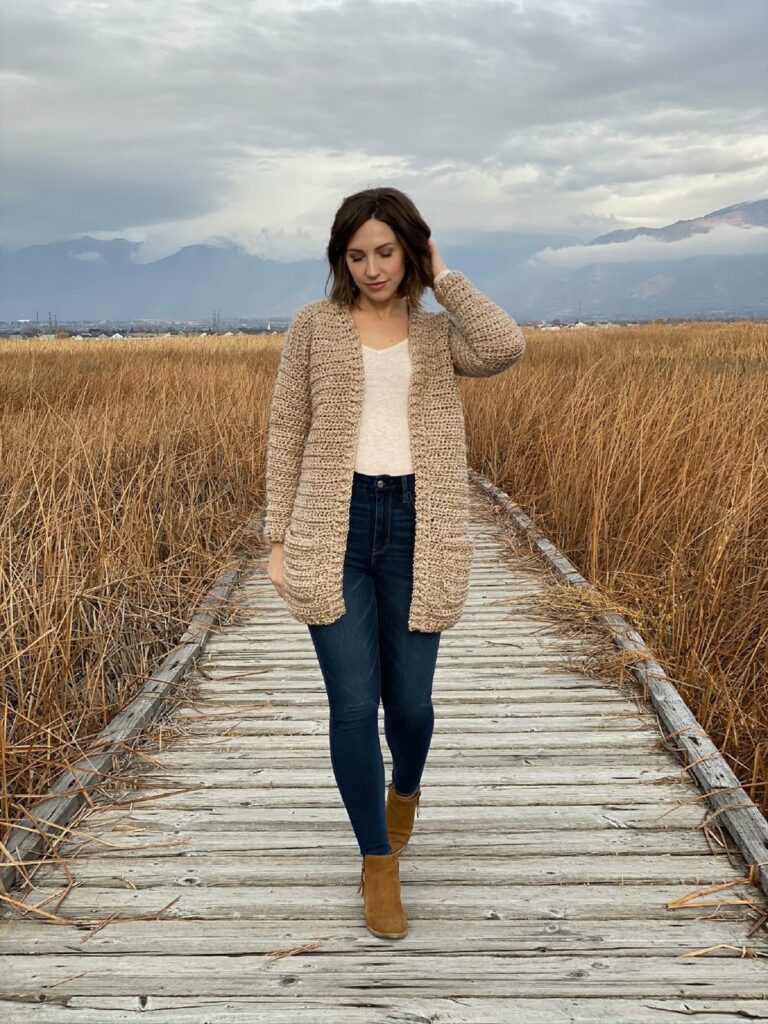 The pattern is available as a kit on Lion Brand here.
11. Red Heart Evening Cardigan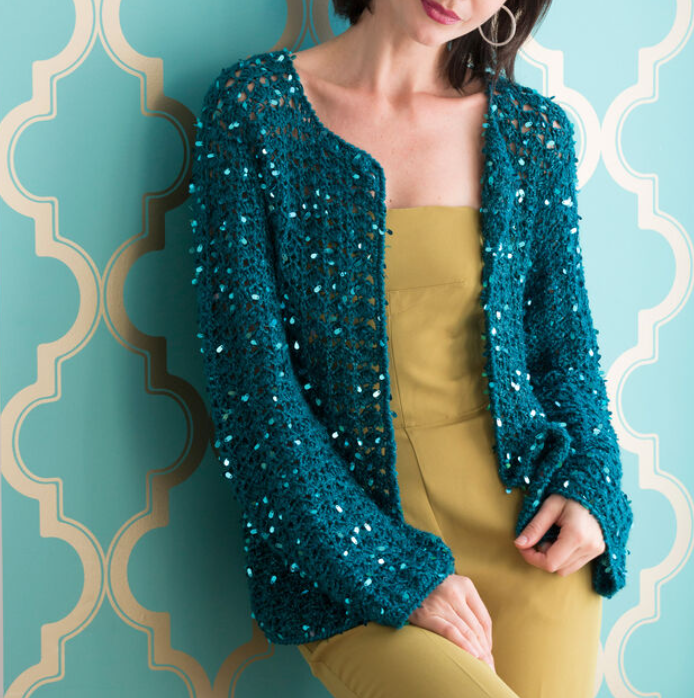 If you have an affinity for the sparkly things in life, you'll fall in love with
this dark teal evening cardigan.
The matching yarn and sequins create a perfect balance between simple and fun. It's the perfect piece to break out at your next party.
This pattern is available for free on Yarnspiration's website here.
12. Coastal Fog Chunky Crochet Cardigan Pattern
This ever-so-cozy cardigan features a cool cream yarn, reminiscent of the
fog characteristic of crisp fall evenings.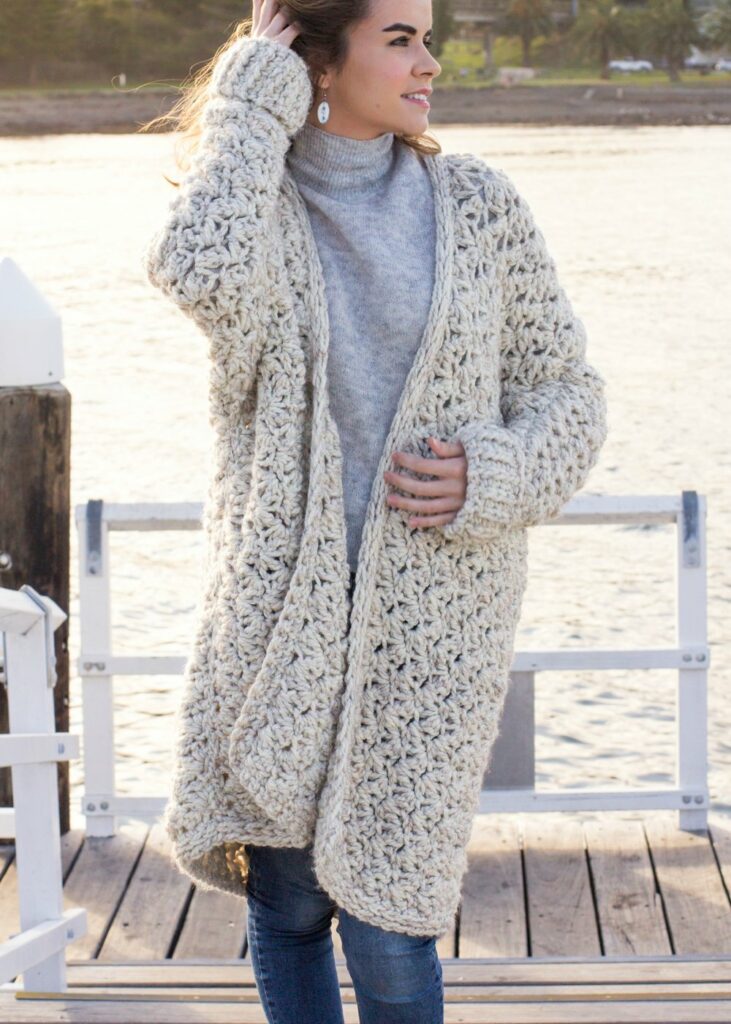 This pattern is available as a kit here.
13. Slouchy Stripe Cardigan
This loose, striped cardigan will for sure be a staple in your fall wardrobe.
You can keep it simple with black and white stripes like the one in the
pattern, or ramp it up a little with multicolored yarn.
Use the multicolored yarn for one stripe and a solid color featured in the multicolored yarn for the other, and you've got a fun fall cardi.
You can get this pattern for free from Sewrella here.
14. Cozy Blanket Crochet Cardigan Pattern
This is just about the closest you'll get to wearing a blanket everywhere
you go.
The bulky yarn and textured stitches make for the most comfy-cozy sweater you can imagine.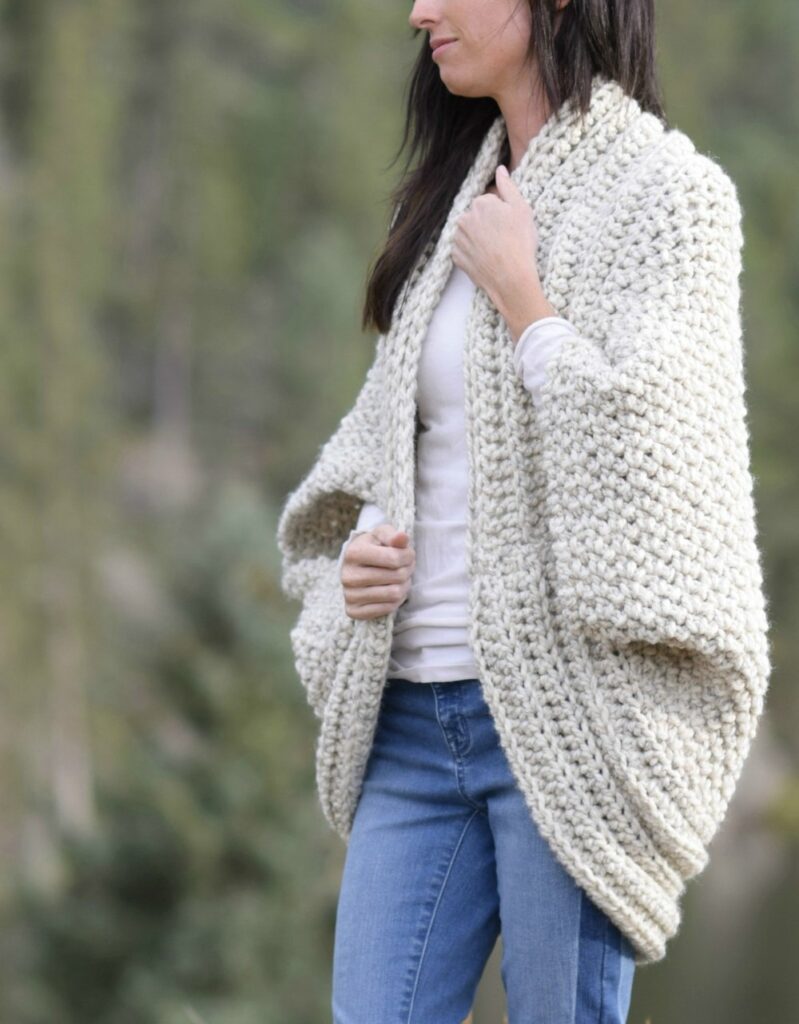 This pattern is available for free on Mama in a Stitch's website; you can get it here or as a crochet kit on LionBrand.com here.
15. Becky Oversized Crochet Cardigan
This fall cardigan has a simple body with detailed ribbing on the sleeves
and edges, and is actually meant to be oversized!
So it'll work up a little differently than other cardigans.
Get this pattern for free here.
Which crochet cardigan pattern will you make first? And if hoodies are your thing, I've rounded up some cozy crochet hoodie patterns you'll definitely want to check out.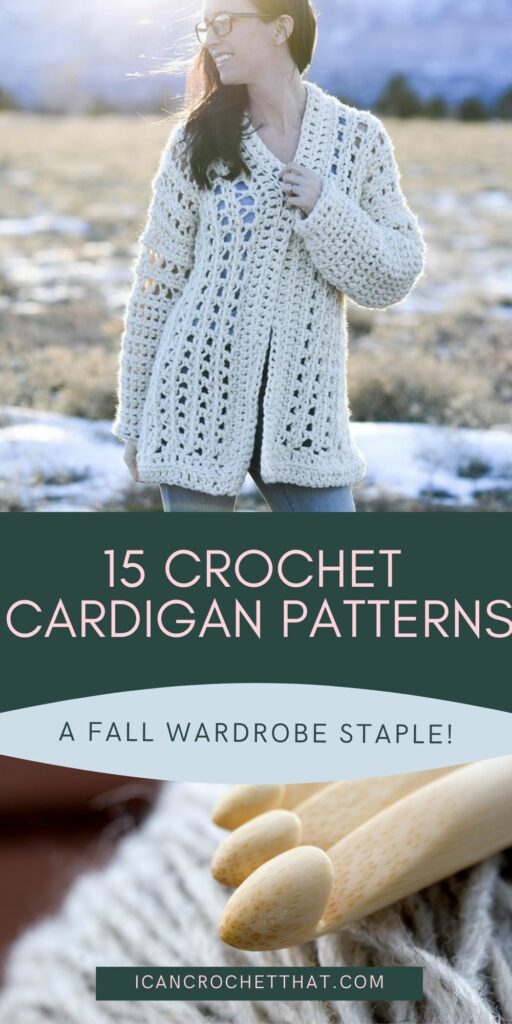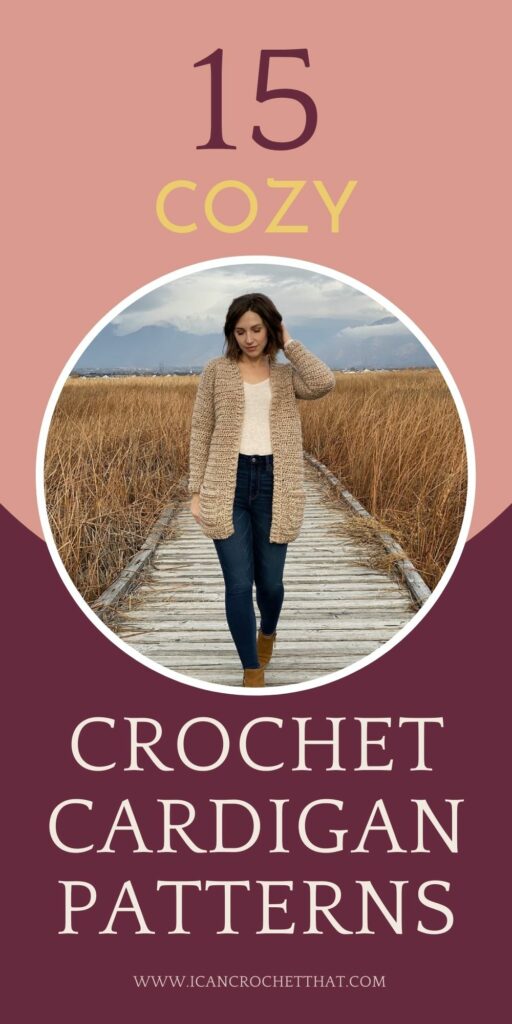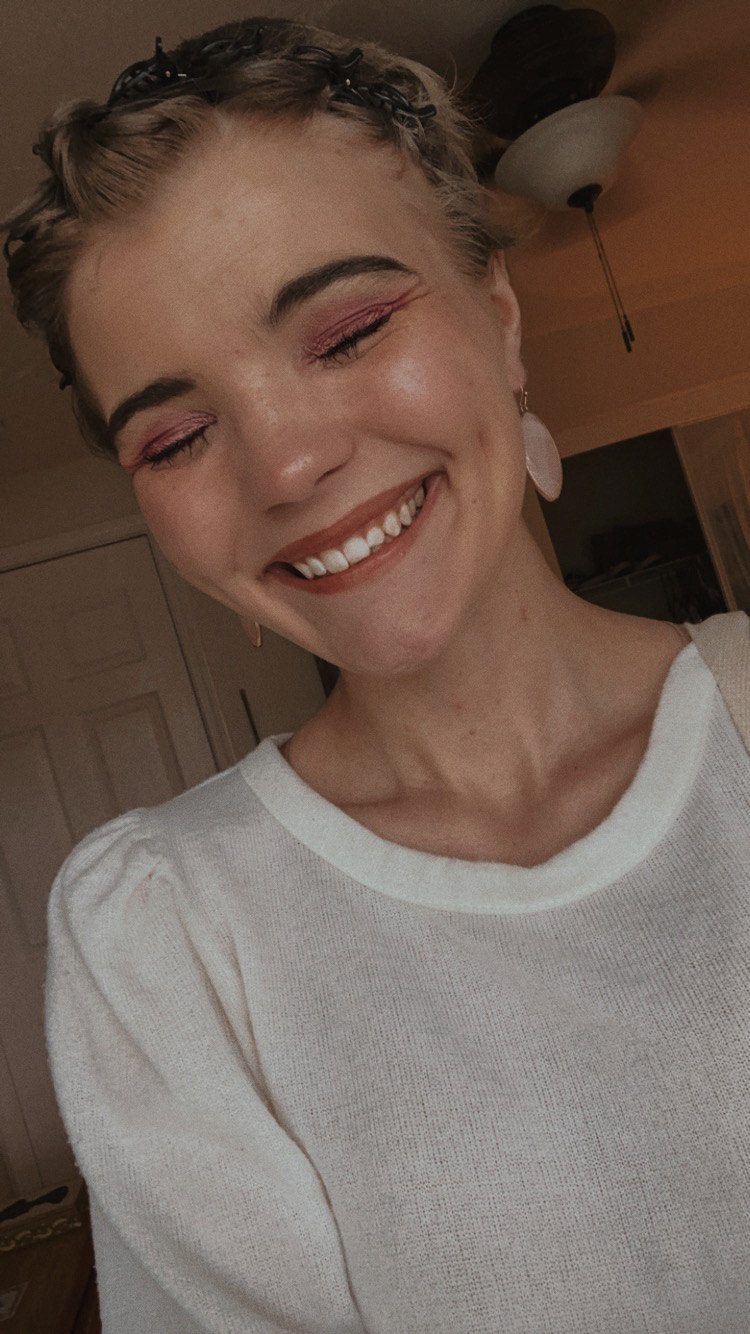 Hannah is the eldest of the Bonner family's three kiddos. She graduated from the University of North Texas with her Bachelors in Elementary Education. She enjoys reading, yoga, movies & TV, and (obviously) crocheting. She is excited about furthering her writing career & spending her days surrounded by yarn. All the yarn.