Last Updated on July 8, 2021
We've rounded up 9 super cozy crochet hoodie patterns to make for fall.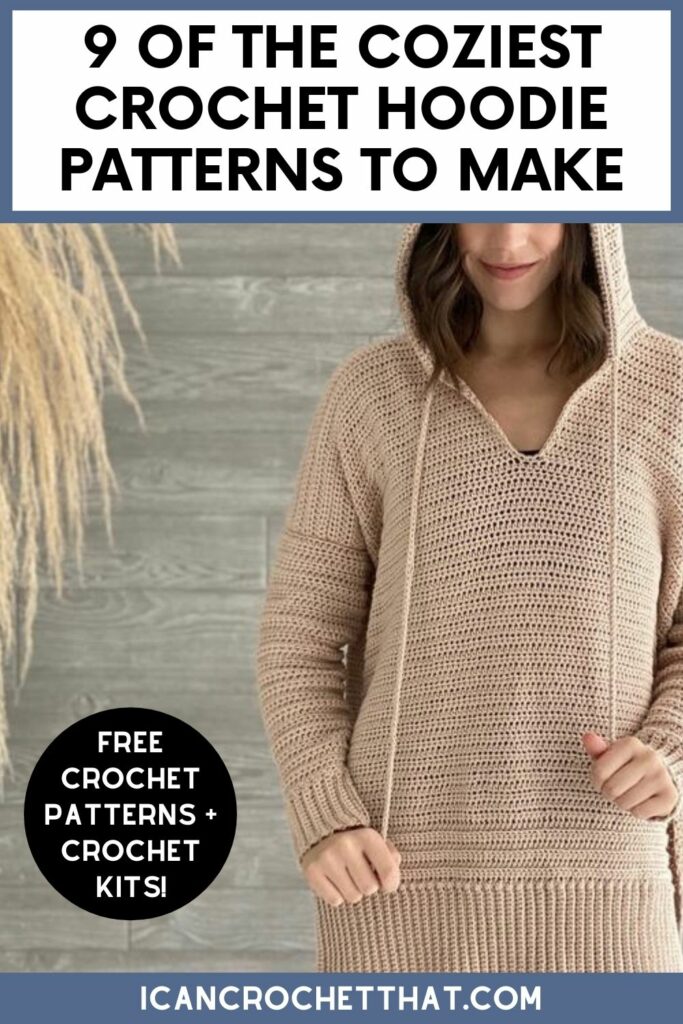 We may be smack dab in the middle of summer, but if you ask me, it's never too early to start building your fall wardrobe.
Pretend it's not a hundred degrees outside and channel those cozy fall vibes by working up one of these cute crochet sweaters.
Bonus: a few are lightweight enough to be worn on your summer
evening walk or early morning coffee break on the porch.
So without further ado, here are nine crochet hoodie patterns to make this fall (or now because again, never too early).
9 Crochet Hoodie Patterns for Ultimate Coziness
1. Happy at Home Hoodie
As you can tell from the title, this sweater was made for hanging around the house. Its oversized design makes for ultimate cozy vibes.
You can get the pattern for free here.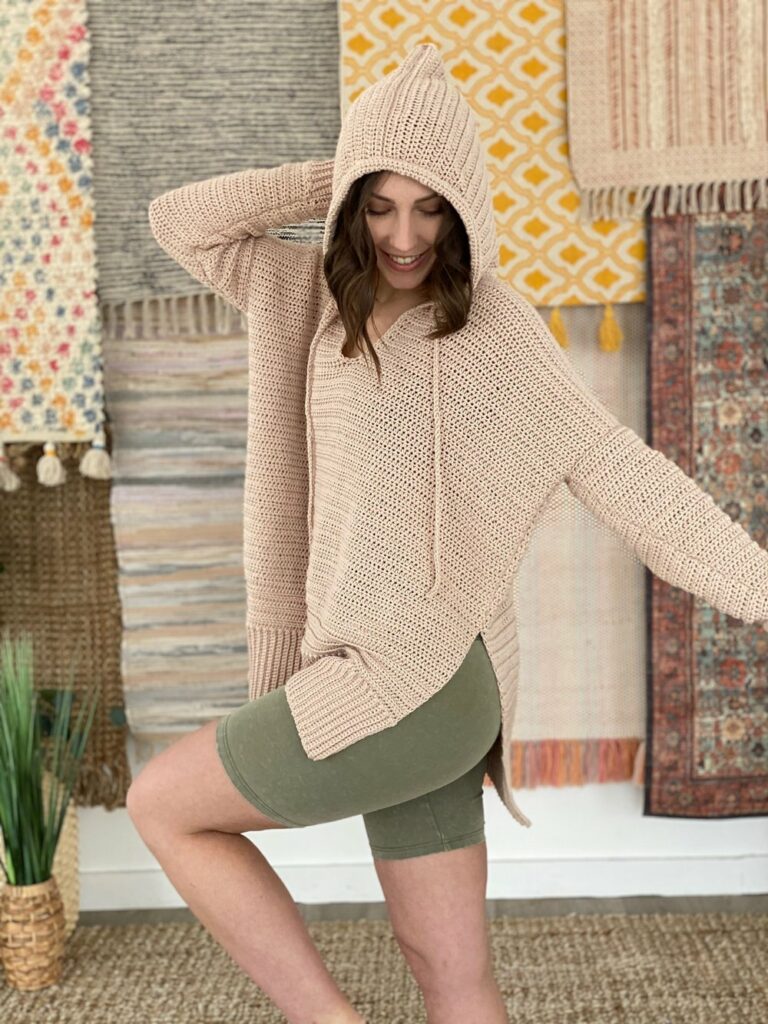 You can also purchase the crochet kit from LionBrand.com here.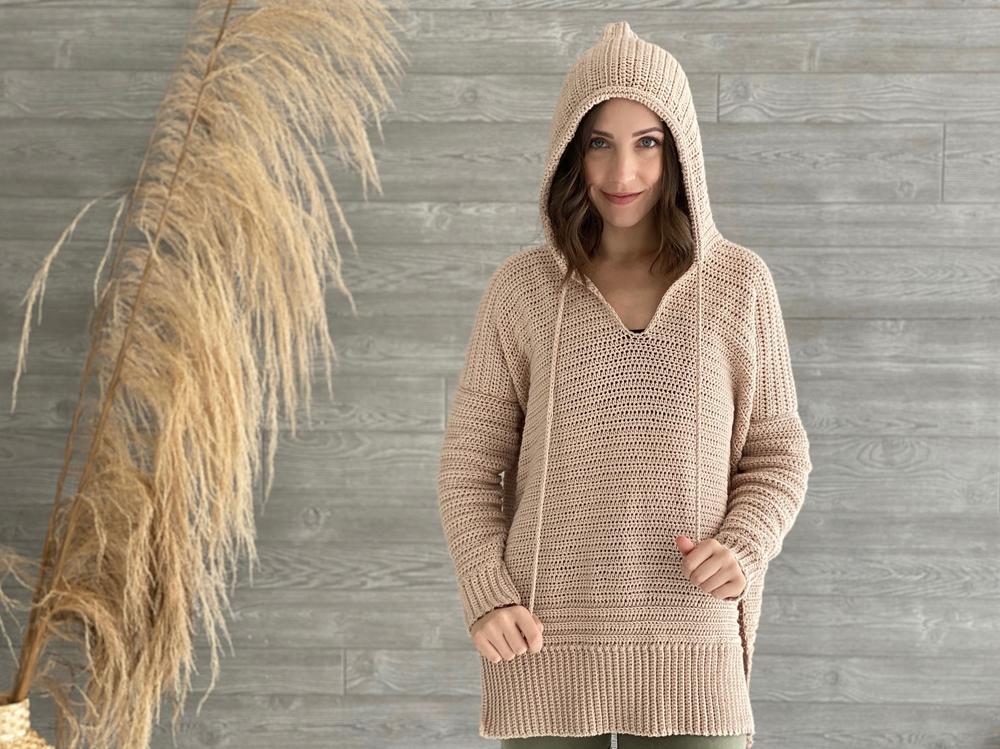 Side note: My mom also made this designer's other hoodie – the Bonfire Beach Hoodie. It's short sleeve and perfect for those summer to fall nights.
You can purchase the kit here.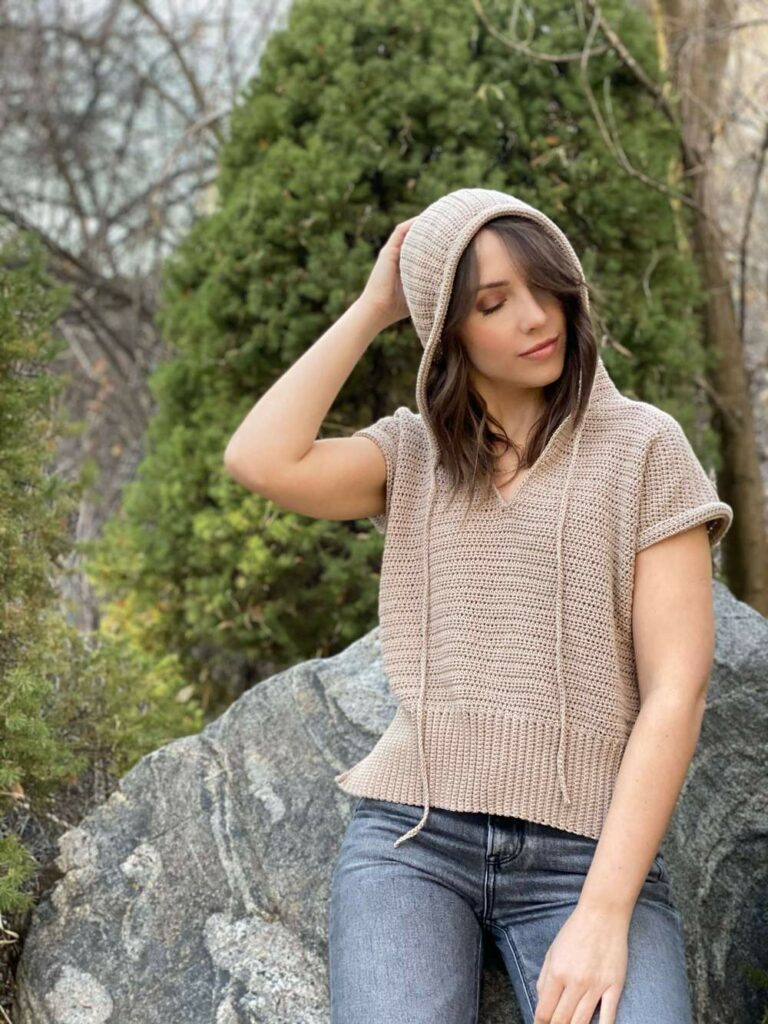 2. Cozy Campfire Striped Hoodie
You'll want to take this hoodie to every summer bonfire this season. The
simple striped design can easily be customized with your favorite color
combination.
You can get the pattern for free here.
3. Free Crochet Hoodie Pattern
This cropped hoodie is perfect for cool summer days. The loose stitching
makes it super lightweight. Plus, the designer has a video tutorial which is always nice to see!
You can get the pattern for free here.
4. Hibernation Hoodie Pattern
You'll want to make this thick and ever-so-cozy hoodie your first project
this fall. It's made for hiding out in the house during a snowstorm with your
favorite tea and comfort movie.
You can grab the pattern for free here.
5. The Butterbeer Pullover Crochet Pattern
I could not be more in love with this sweater.
Aside from the fact that it's named after one of the best beverages on earth, the neutral color palette is beautiful and the bulky, soft yarn pretty much guarantees I'll never take it off.
Get the pattern for yourself for free here.
6. Endless Texture Crochet Hoodie Pattern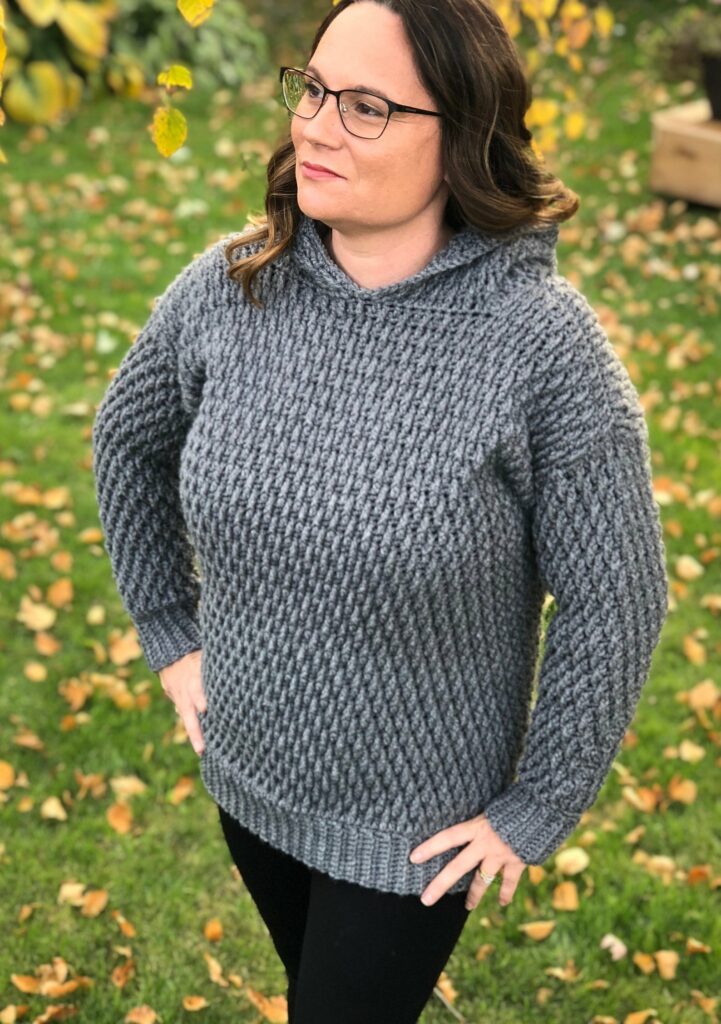 This textured hoodie is great for advanced beginners and can be whipped
up in no time.
You can get the pattern from EndlessCrochetCreat's Etsy shop here.
7. Crochet Hoodie Pattern – ItchforSomeStitch Etsy Shop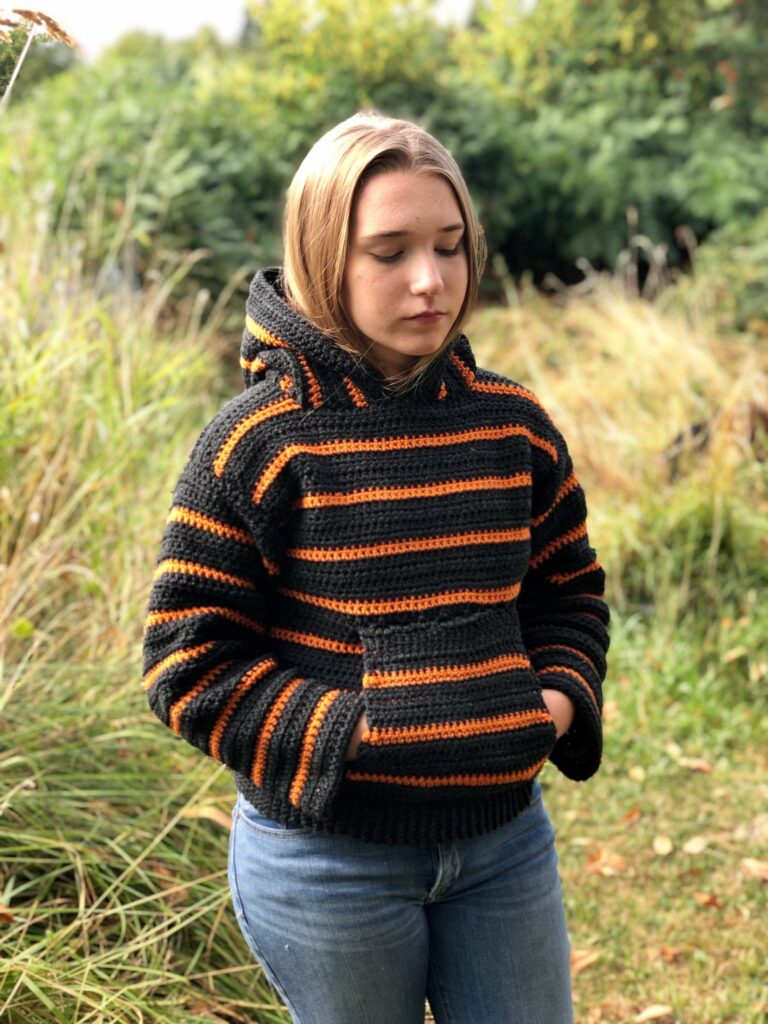 There are so many different color combinations you could create with this pattern. I love the simple stripes and easy stitches used to make this.
Plus, a crochet hoodie pattern that includes a pocket is a winner!
Get the pattern on Etsy here.
8. The Everyday Hoodie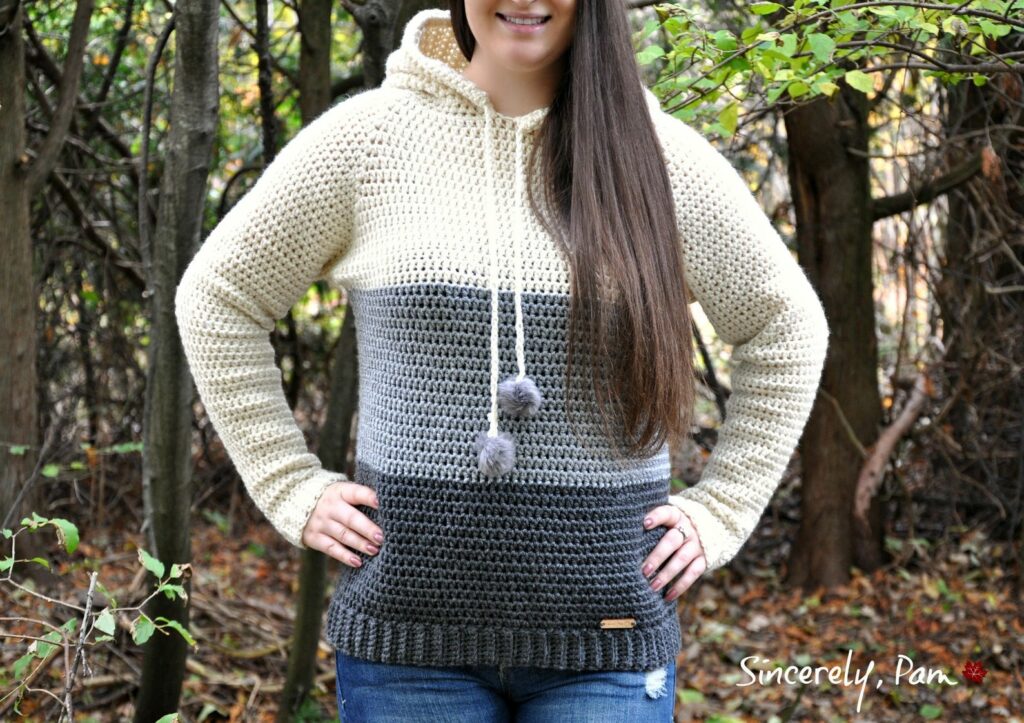 To me, hoodies and lounging around while sipping on a hot beverage go hand in hand. This hoodie was made for ultimate lounging.
Using only sc and hdc stitches, plus some increases and decreases make this hoodie pattern suited for advanced beginners.
You can purchase the pattern on Etsy here.
9. The Aspen Hoodie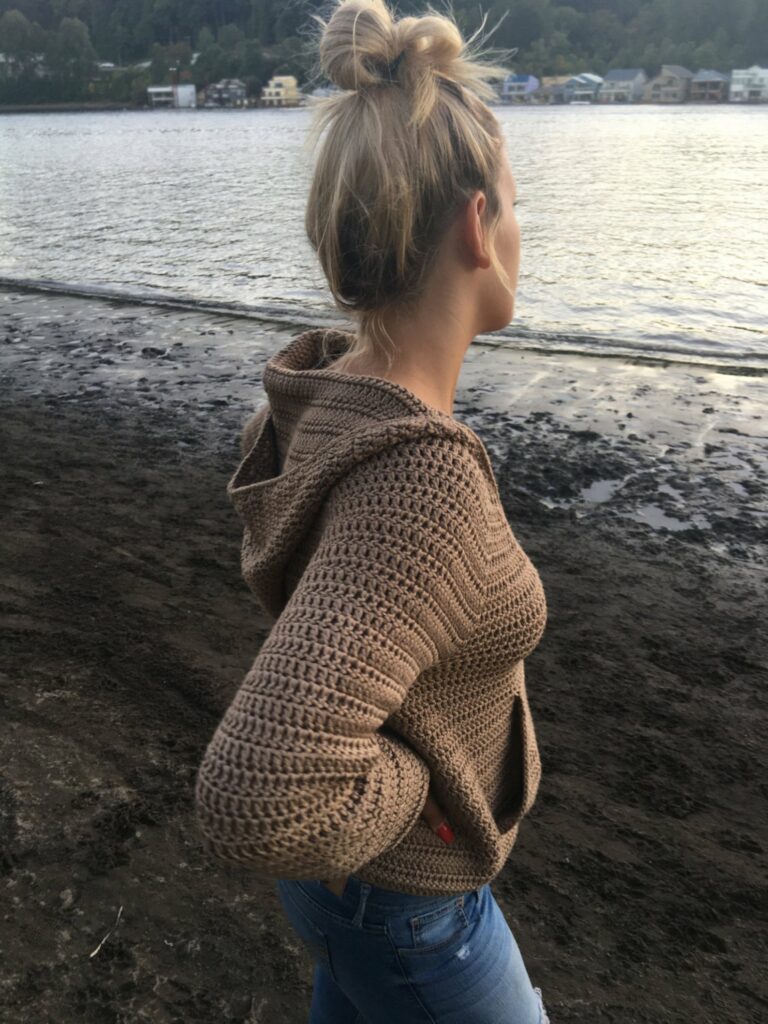 Have you ever made a top-down garment? They are so fun! Plus it makes it super easy to adjust the length to your liking.
This pattern begins at the top center of the hood and then the body is done in one piece. Add the sleeves and cute kangaroo pocket for a hoodie you'll want to wear everywhere.
Get the pattern on Etsy here.
And that's a wrap! We hope one of these crochet hoodie patterns is exactly what you were looking for. Enjoy making, wearing and gifting them!
Pin to Save for Later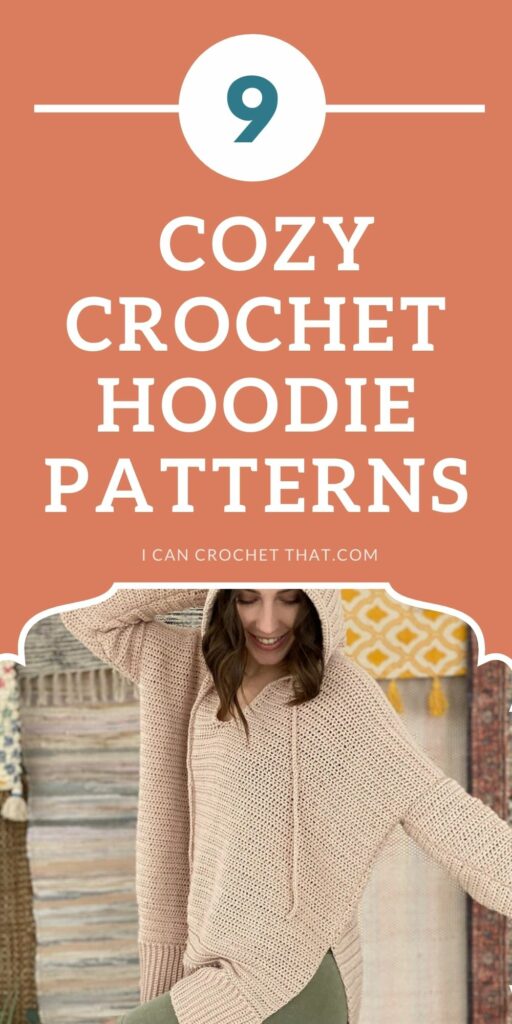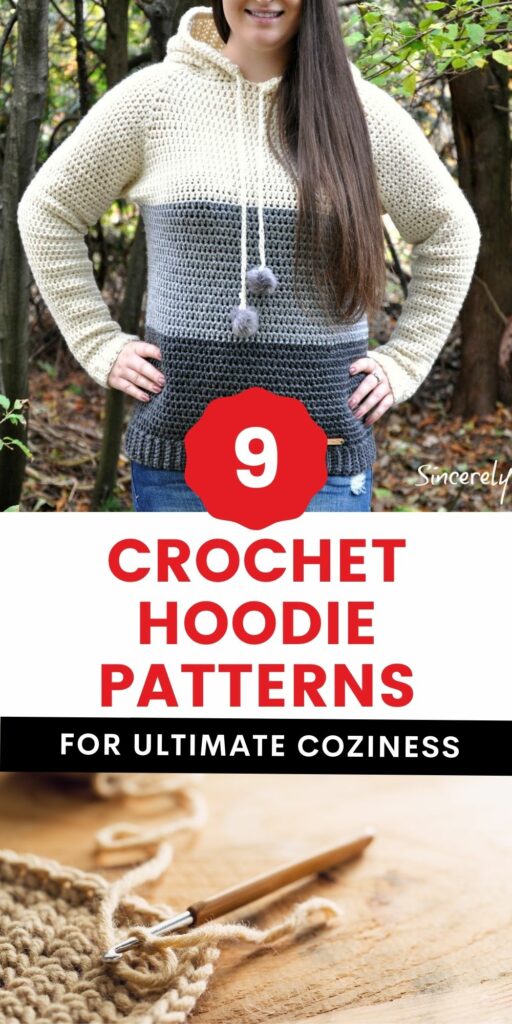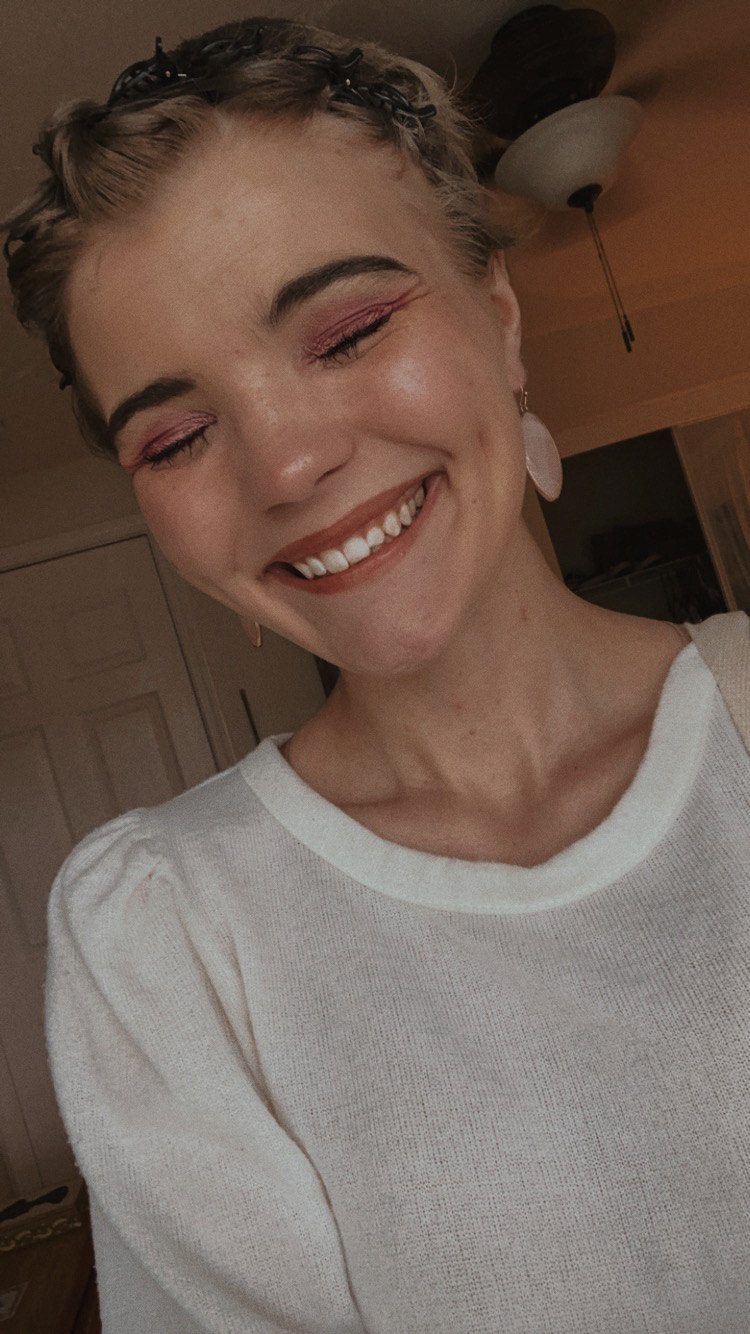 Hannah is the eldest of the Bonner family's three kiddos. She graduated from the University of North Texas with her Bachelors in Elementary Education. She enjoys reading, yoga, movies & TV, and (obviously) crocheting. She is excited about furthering her writing career & spending her days surrounded by yarn. All the yarn.