Introducing the Cora Blanket, and easy (and free) chunky crochet blanket pattern using Lion Brand's Hue + Me yarn.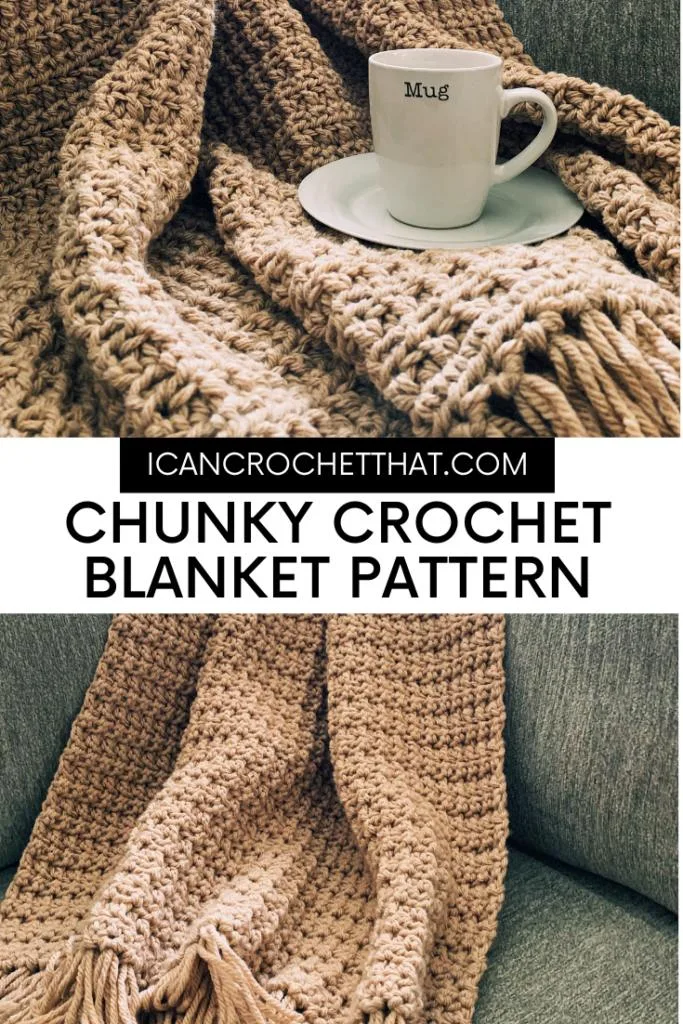 I don't work with thick wool yarn much and instead usually tend to navigate towards cotton, acrylic, and some blends. But after working with Lion Brand's Hue + Me yarn I can officially say I get the hype.
I experimented with a ton of different stitches and stitch combos and they all had incredible definition.
I finally landed on a stitch combo that I used on the border of The Sara Blanket. I fell in love with how it created an almost waffle-like texture, but wasn't a yarn eater like a basic crochet waffle stitch tends to be.
Purchase a printable version of this pattern on my shop here or Etsy here.
Chunky Crochet Blanket Pattern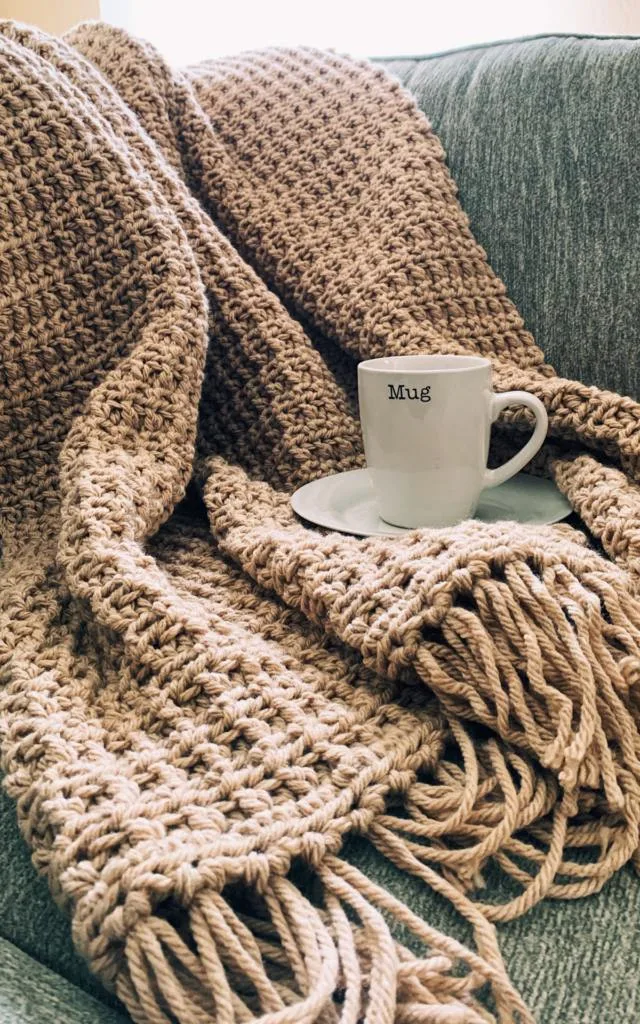 Usually, when creating a pattern I have some sort of design inspiration. Either something I saw in a store or online.
But this time I just sat down with a few different sized hooks, a skein of Hue + Me, and started experimenting.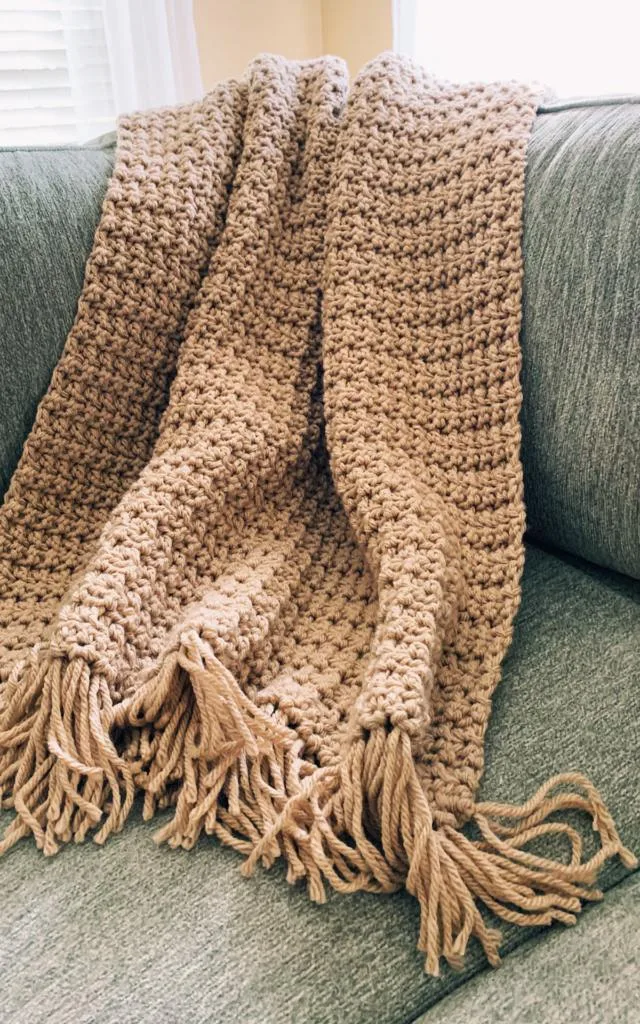 The Stitches
As I mentioned, I ended up using the same stitch combo as I did for the border of the Sara Blanket.
It gave this blanket amazing texture, drape and is an easy pattern a beginner can follow.
Here's a video tutorial showing how to do the stitch.
The Colors + The Yarn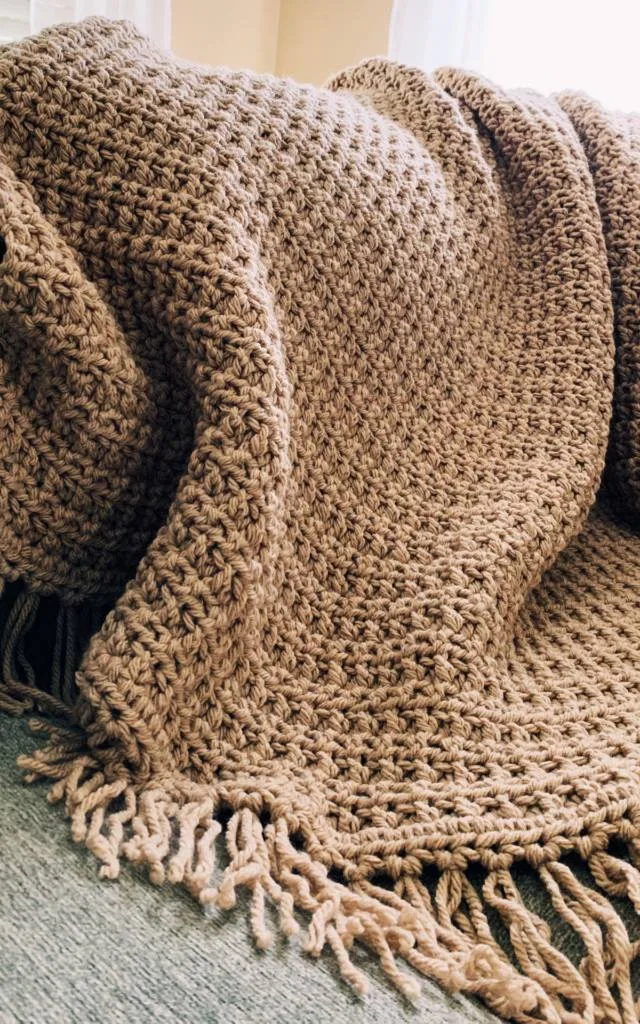 I used Hue + Me yarn, a collaboration between Lion Brand and Two of Wands. This yarn has received rave reviews from both crocheters and knitters and I can see why.
It's soft, easy to work with and you just can't beat the array of colors.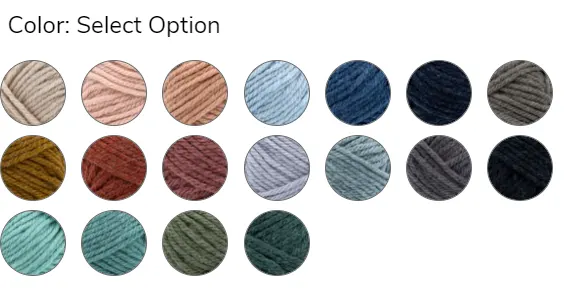 There are more colors launching in December, so stay tuned for those!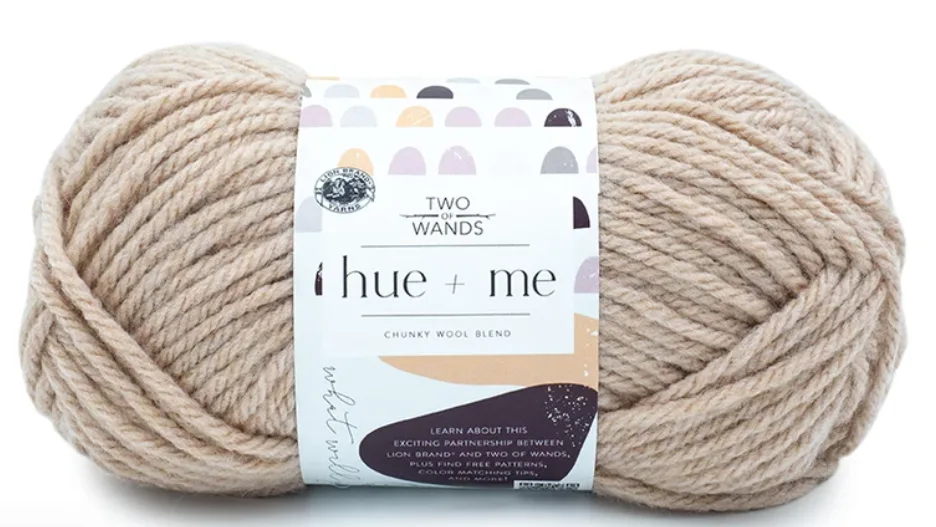 I chose Desert, the perfect neutral color that easily matches the decor in every room of my house. Right now it's draped over our couch and I love how it looks.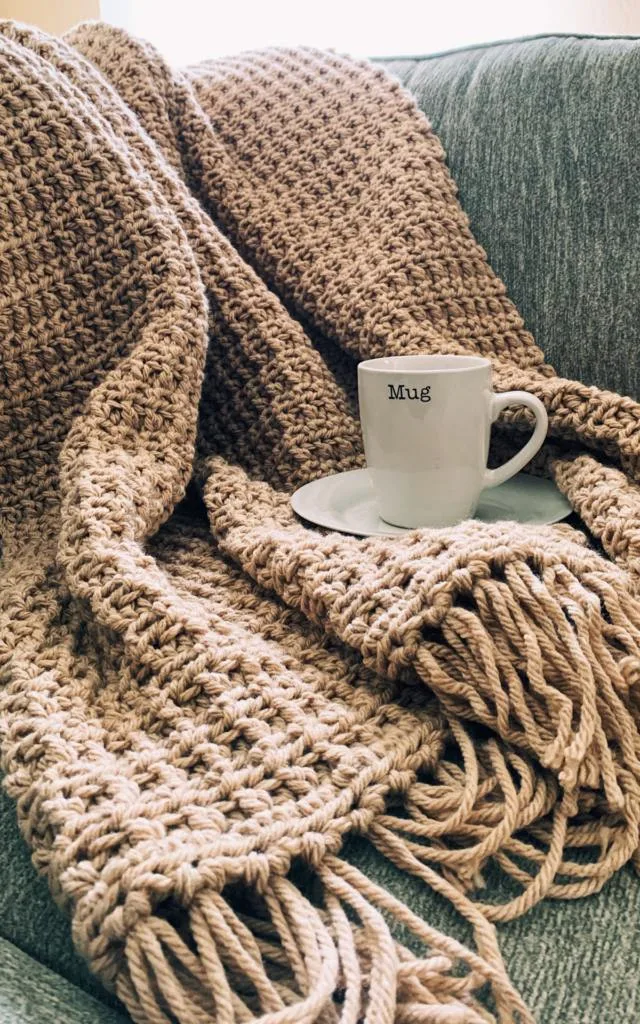 The Pattern
Purchase a printable version of this pattern on my shop here or Etsy here.
Description:
The Cora blanket uses a chunky, soft yarn and works up very quickly. By alternating stitches in the front loop only and back loop only, it gives the blanket a waffle look texture.
The entire blanket is made using the same stitch pattern, so it's the perfect easy blanket to work on while sitting and watching your favorite movie or shows. It's one of those meditative stitches that doesn't take much brainpower.
You'll love snuggling up with this blanket on a cold night!
Notes:
Finished size measures without fringe: 40" x 52 1/2″
This crochet baby blanket is created using the hdc blo hdc flo stitch
Chain 1 does not count as a stitch
hdc flo hdc blo video tutorial here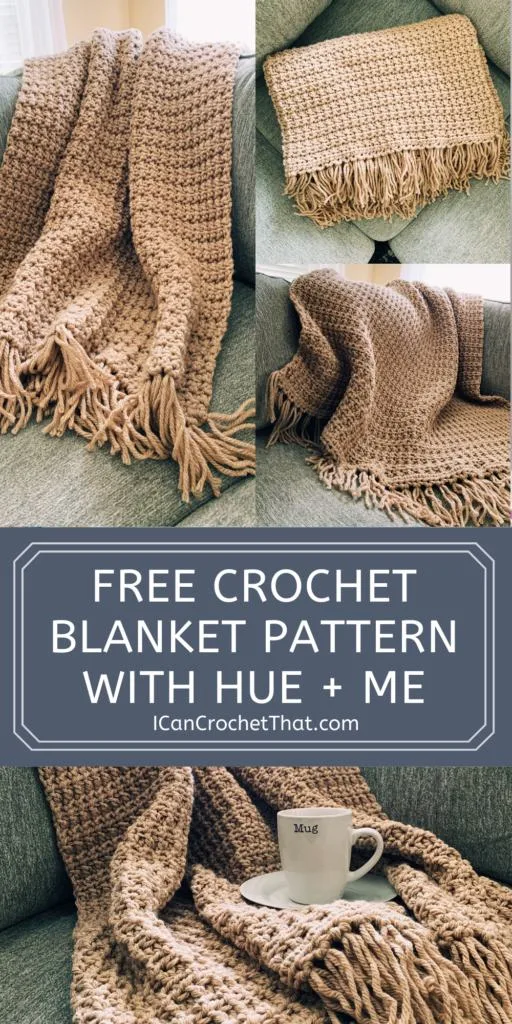 Materials:
HOOK(S)
YARN
For blanket:
Weight 5 • approx. 1233 yds
9 skeins of:
NOTIONS
Scissors
Tapestry needle
GAUGE (4 x 4″)
11 sts x 6 rows
Abbreviations:
ch chain
rep repeat
yo yarn over
hdc half double crochet
blo back loop only
flo front loop only
st(s) stitch(es)
Stitches:
hdc
Yarn over, insert hook into stitch, yarn over, pull up a loop, yarn over, pull through all three loops on hook
hdc flo hdc blo video tutorial here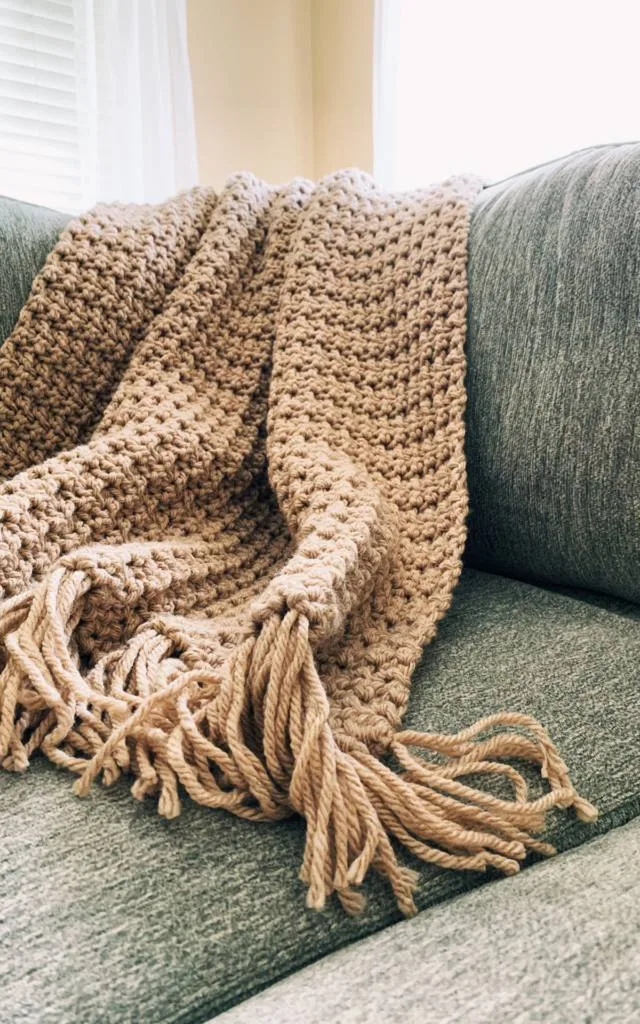 Foundation row ch 110, hdc in 2nd ch from hook, hdc across to end, ch 1, turn (109 sts)
Row 1 *hdc in blo, hdc in flo* rep from * to *, ending with hdc blo, ch 1, turn (109 sts)
Row 2 *hdc in flo, hdc in blo* rep from * to *, ending with hdc flo, ch 1, turn (109 sts)
Repeat rows 1 and 2 until it measures 52″ or until it's the desired length
Last row hdc in each stitch across to the end
Fasten off, weave in all ends
Add fringe
For Fringe
Cut 10″ pieces of yarn
Holding two pieces together, fold them in half, use a crochet hook to pull the folded loop through a chain on the end of your blanket, draw the ends of the strands through the loop. Pull tight. Trim fringe if desired.
Place a piece of fringe along every other chain on both ends of the blanket.
Purchase a printable version of this pattern on my shop here or Etsy here.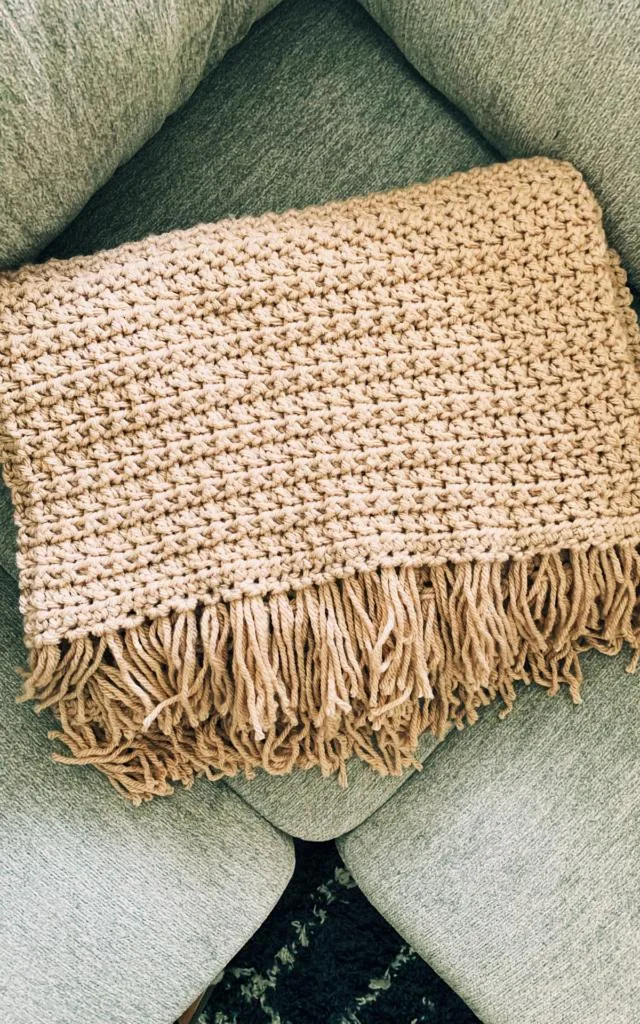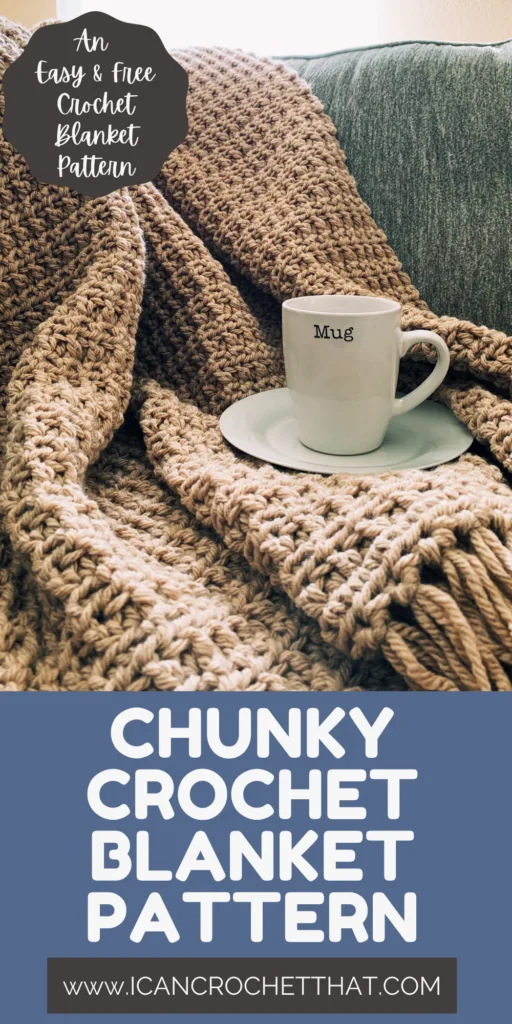 More Crochet Blanket Patterns
We have a nice selection of crochet blanket patterns available here on I Can Crochet That. Here are a few for you to check out: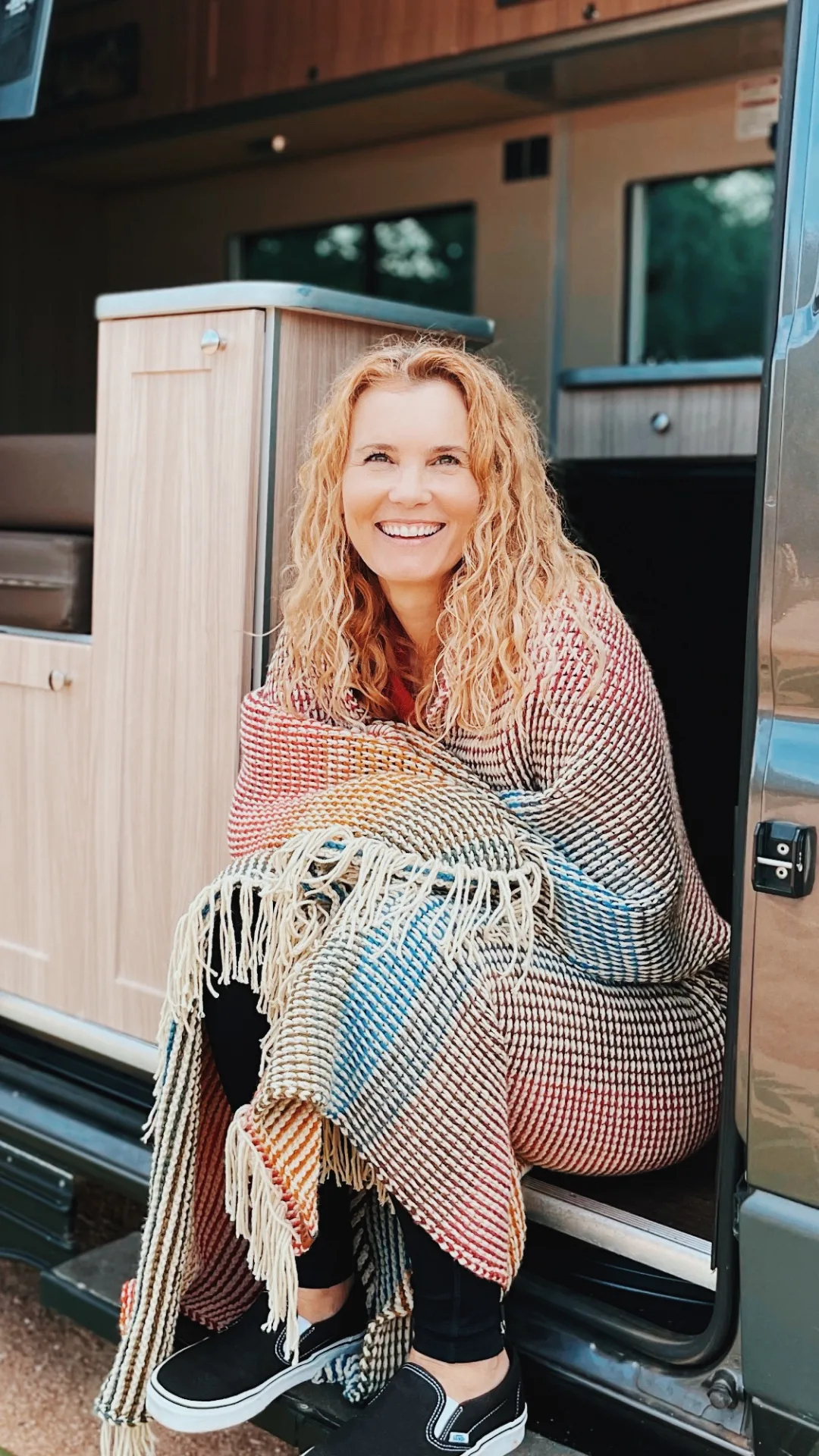 Hi! I'm Julie. I design modern crochet patterns and tutorials to help you learn to crochet. I've been crocheting for over two decades and with the gentle nudging of my husband, decided to turn this passion into a career. Although we travel a lot in our campervan, you'll never find me without a bag of yarn and projects.