Whether you make this crochet camping blanket for yourself, or give it as a gift, you will love working on this beauty. The self-striping yarn makes this a fun project and the end result is stunning.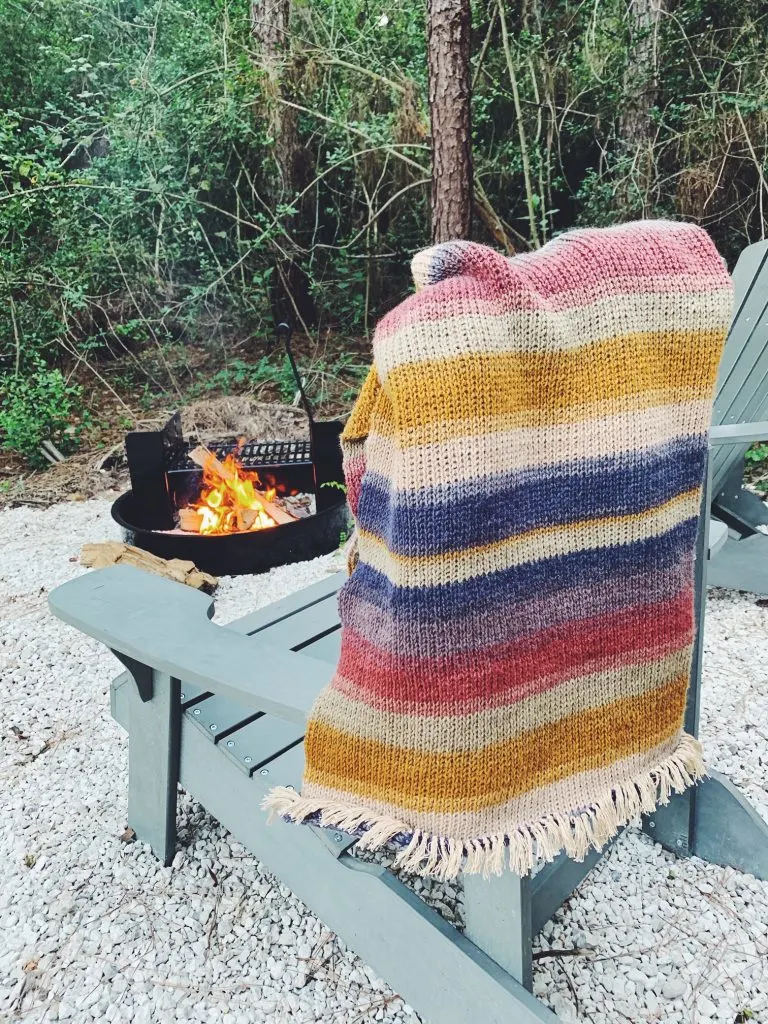 When my husband asked if I wanted to go on a getaway to Getaway House Houston for our 24th anniversary, I replied with a giant YES.
We had already stayed at their Outpost outside of Dallas, Texas (you can read our write up about it on our travel blog here) so we knew we would love it.
And let me tell you, the Houston one did not disappoint! In fact, we enjoyed it even more than the Dallas one because all of the spots were very private.
We brought our own food and only had to leave once for a Buc-ees run. (If you're a Texan or have traveled in Texas, most likely you've seen or stopped at this Texas landmark. 😉 )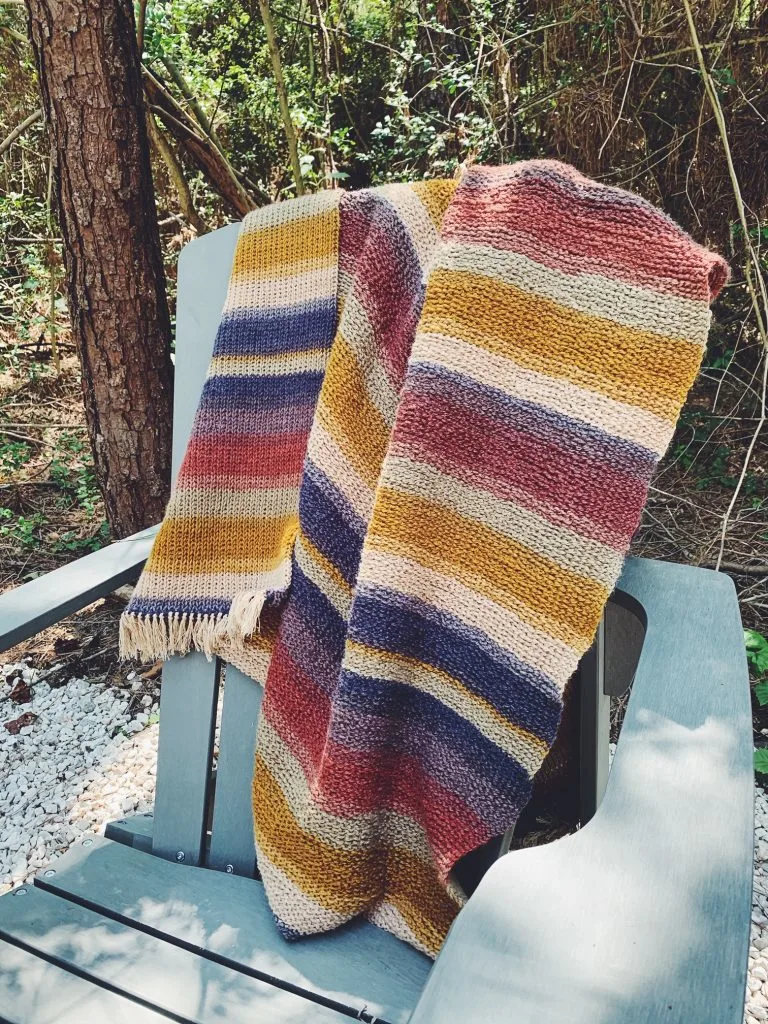 It was incredibly relaxing and we came back refreshed.
When planning for the trip, I knew just how photogenic Getaway House is and so I wanted to crochet something I could take with me and grab some pics.
And that's when the Let's Go Camping blanket was born.
I mean, just look how pretty it is in front of the giant window and the Getaway cabin.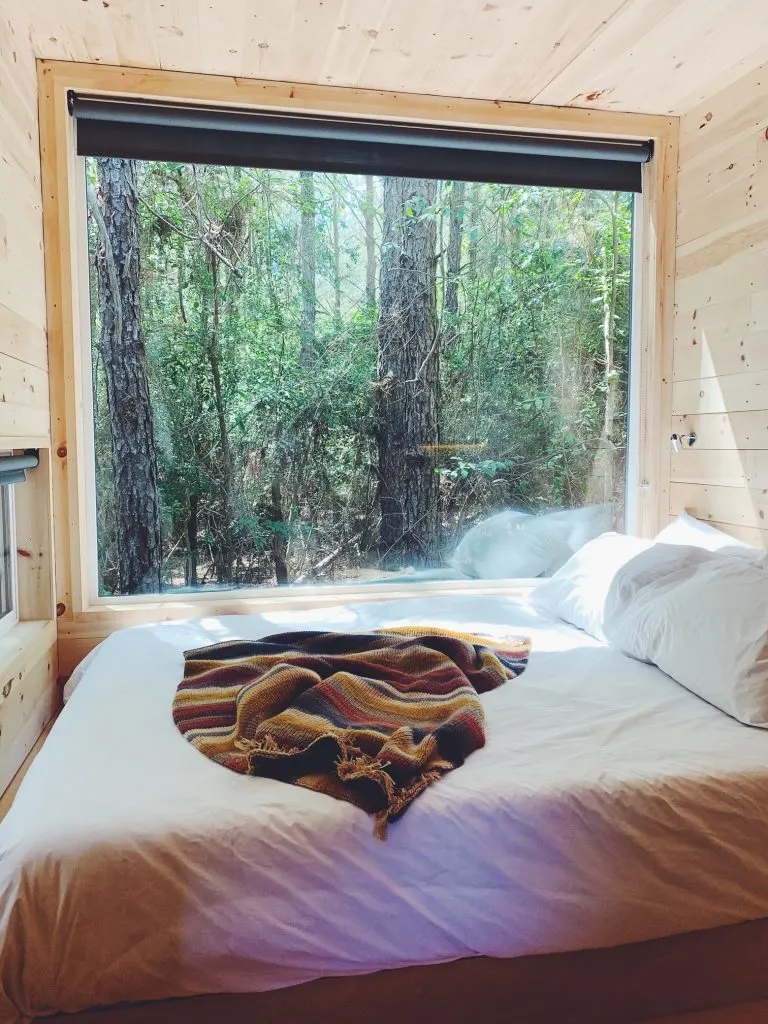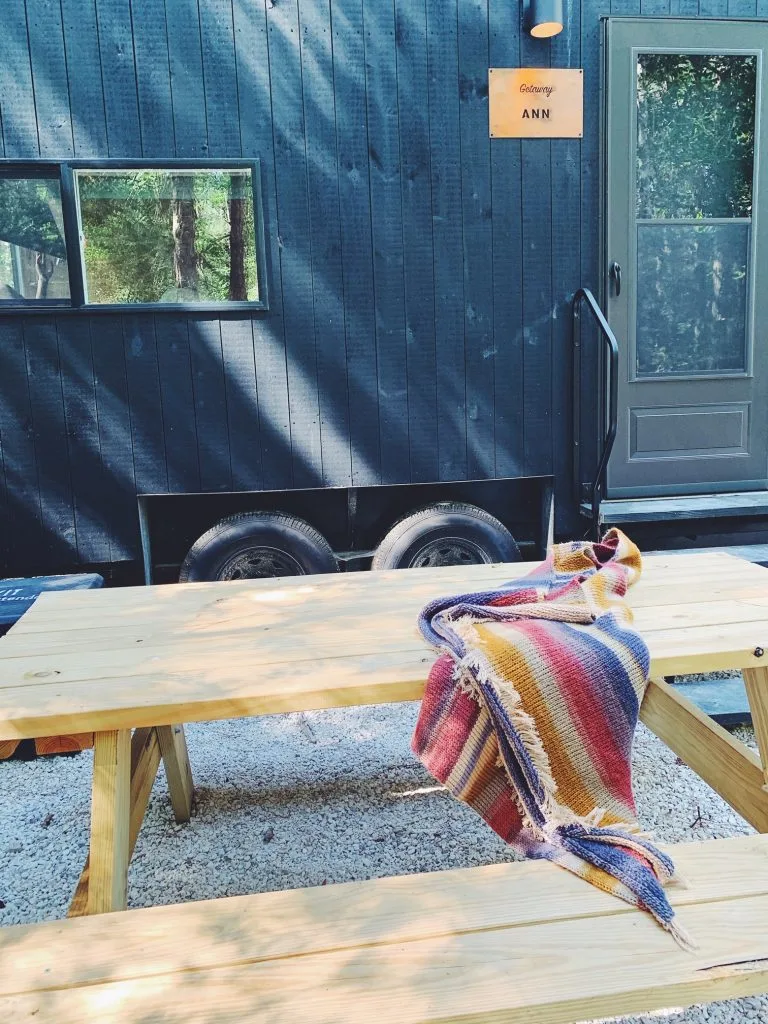 It just looks like it belongs there, doesn't it?
Let's Go Camping Crochet Blanket
When designing the blanket, I knew I wanted to use a stitch with minimal to no holes in it and something that was as similar to a knit blanket as I could get.
We've spent many a cool nights camping, sitting out by the campfire and a blanket that can keep you nice and warm is a must.
So I decided to make the entire blanket in Tunisian crochet with the knit stitch.
The Stitches – Tunisian Knit Stitch
The Tunisian crochet knit stitch is a tricky one. It looks absolutely gorgeous and is so fun to work up, but oh does it curl.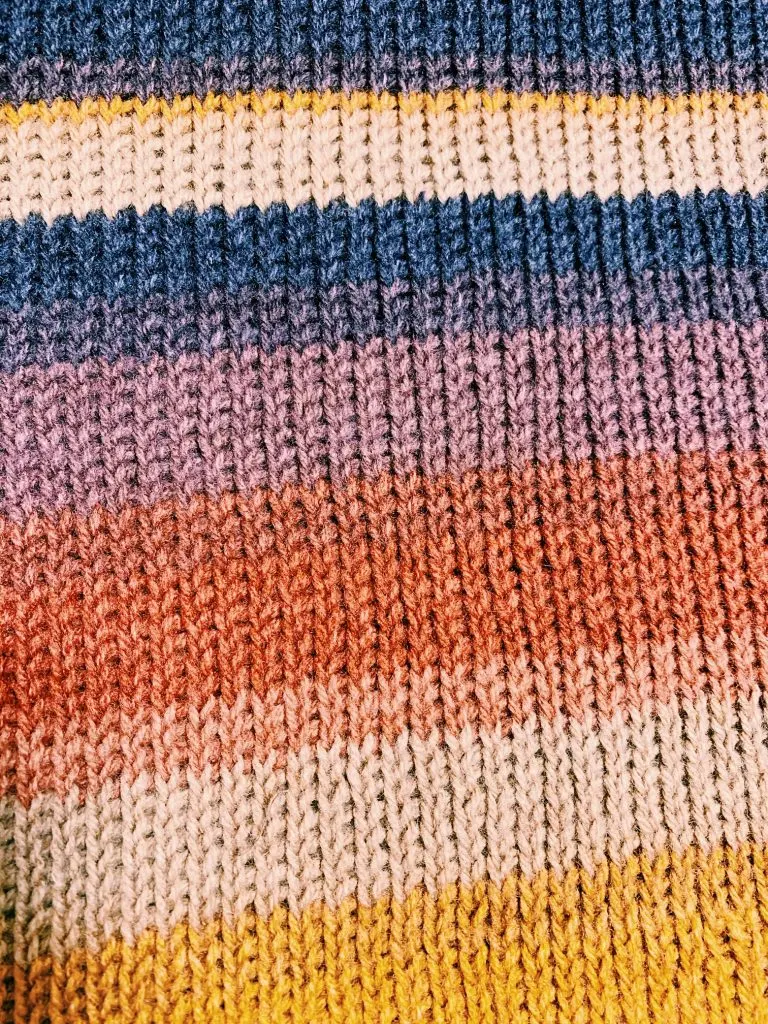 If you've ever made anything with this type of crochet, then most likely you know all about Tunisian crochet and curling.
There are ways to not have your project curl, which I'll do an extensive post all about that soon.
One way to prevent curling from Tunisian crochet is to start off your project with ribbing; which is a combination of Tunisian purl and knit stitch. I decided not to go that route for this blanket and to wet block it afterward.
(I use these blocking mats and these pins.)
When you first start this crochet camping blanket, it will curl like crazy. But as the blanket gets larger, the curling decreases and you're left with a small section at both ends that curl.
I wet blocked the ends and while it didn't completely eliminate the curling, it decreased it by a ton.
Here's a tutorial on how to do the Tunisian crochet knit stitch.
The Color + The Yarn
I used the same yarn as I did for my Autumn Ombre Tunisian Scarf. The only difference is I didn't use another color to give it that woven look.
Using only the Lion Brand Mandala in Centaur allowed the colors to really shine.
Buy Mandala Yarn at LionBrand.com here or Amazon.com here.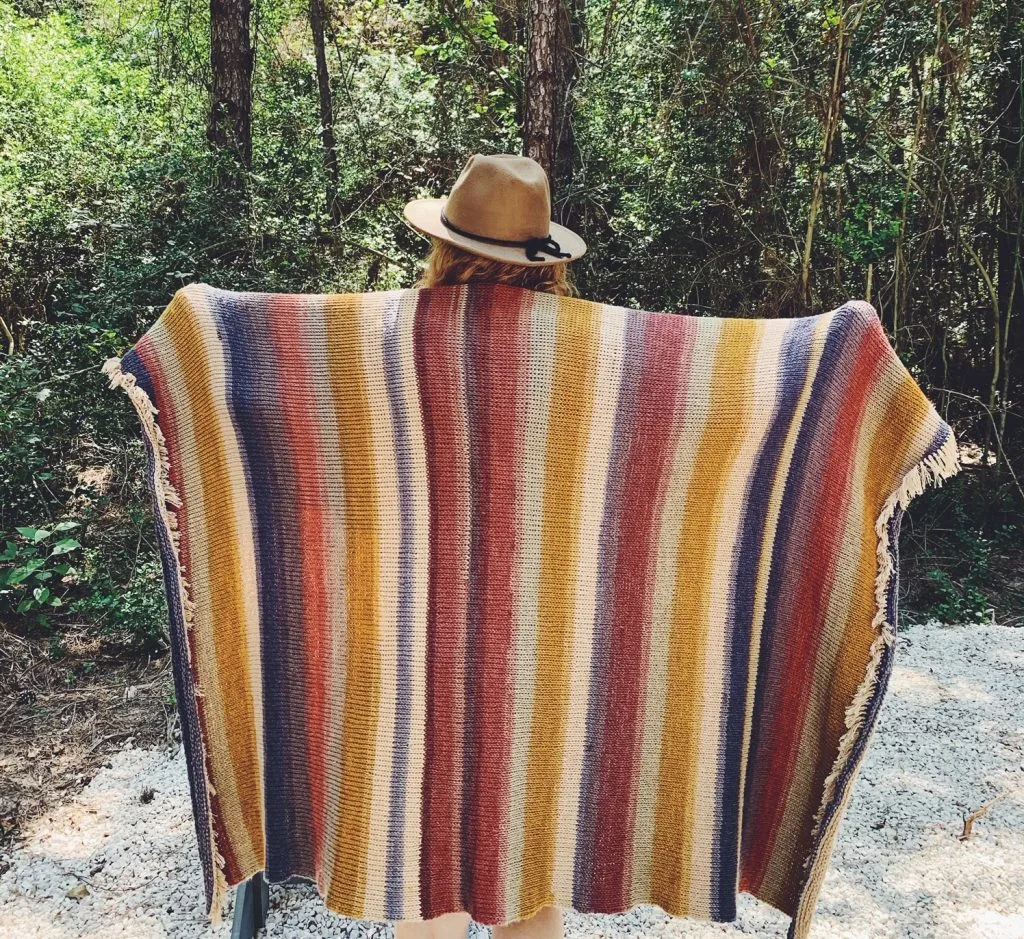 For the fringe, I used Lion Brand's Coboo in Beige.
After tying on all of the fringe pieces, I combed through each piece to unravel it a bit.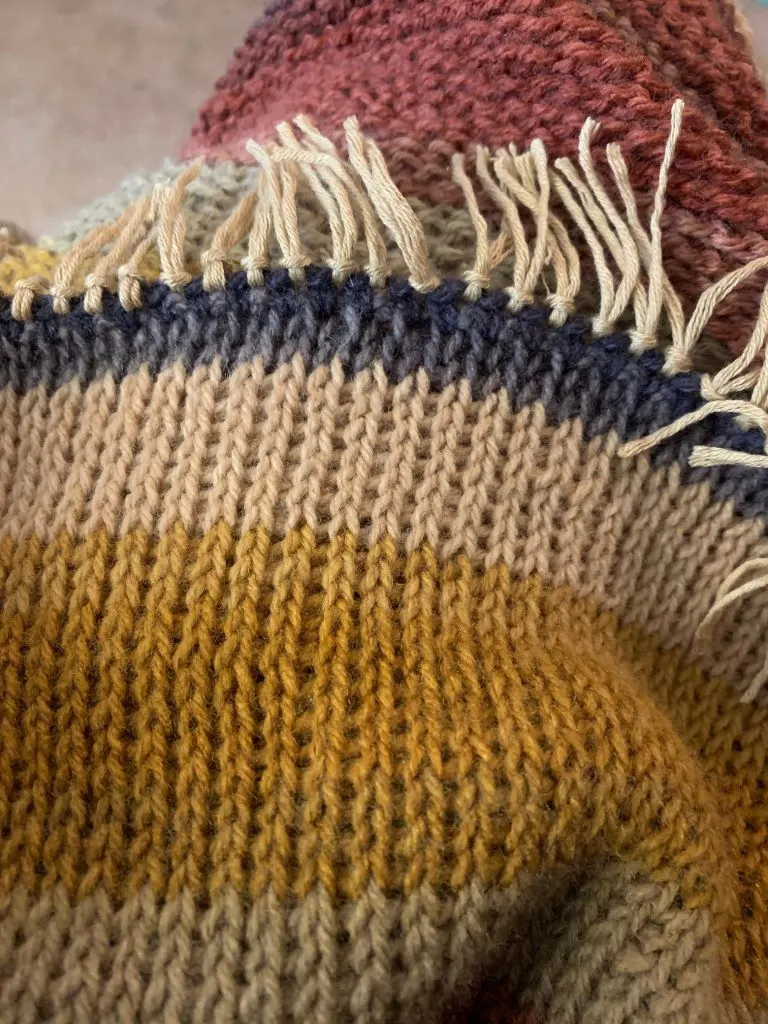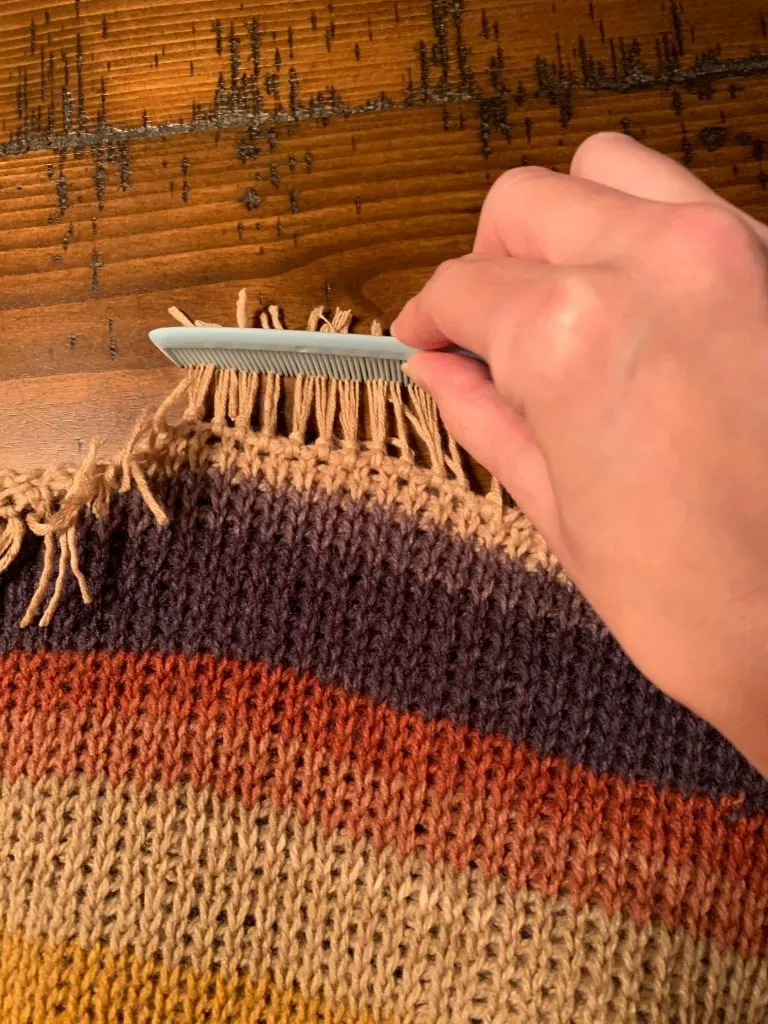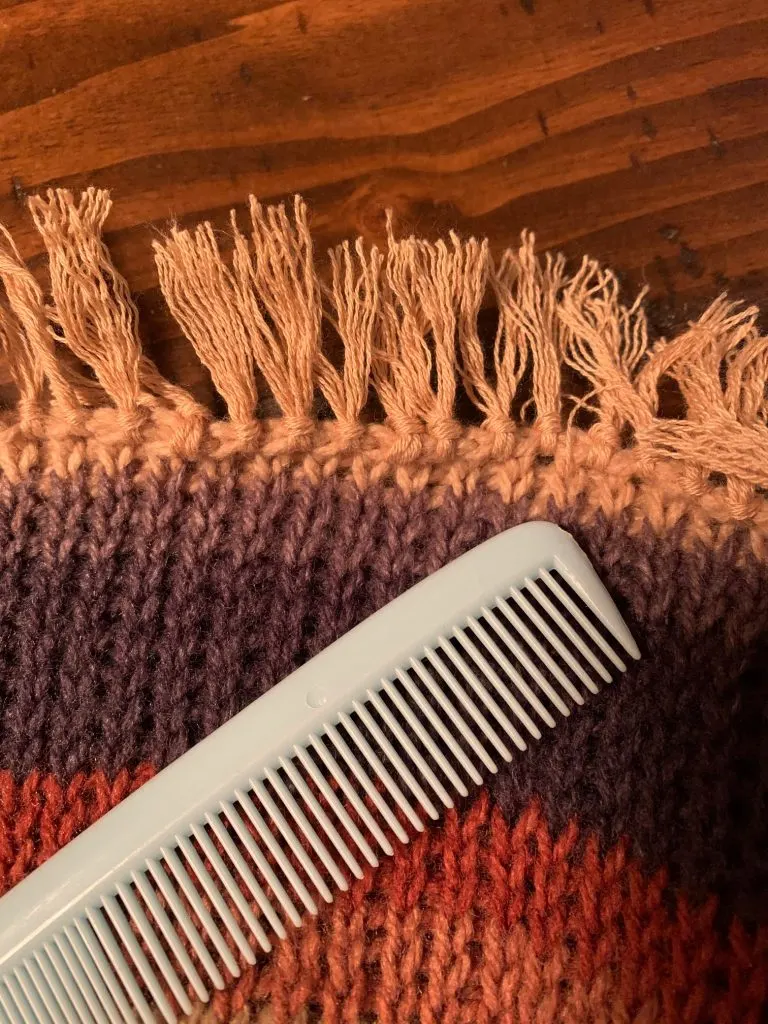 Let's Go Camping Crochet Blanket Pattern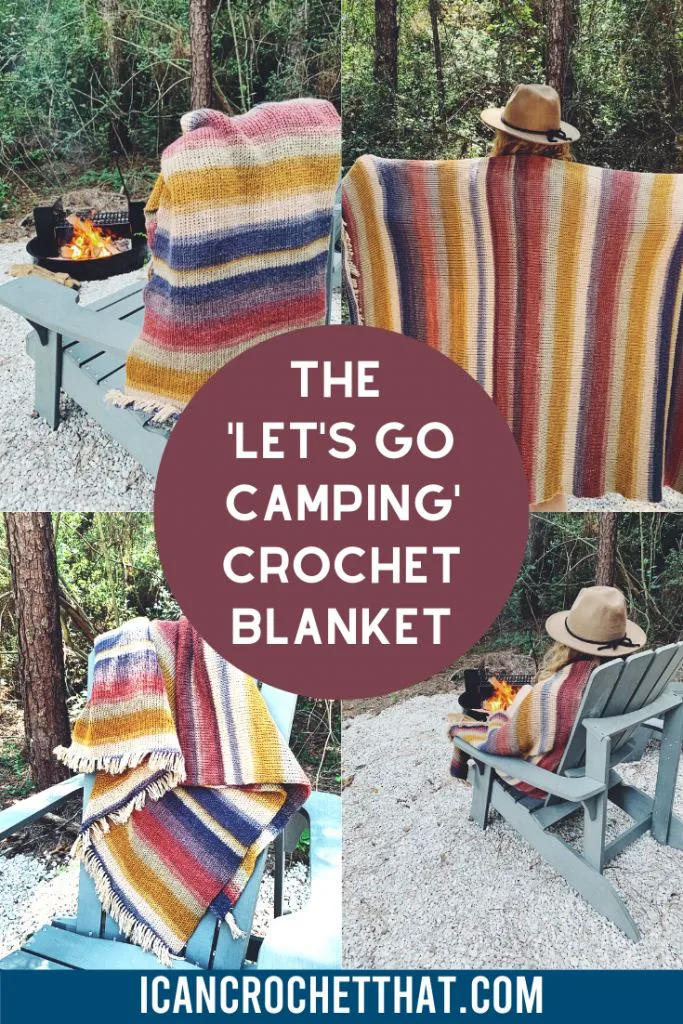 Pattern Description
Easily whip up this beautiful crochet camping blanket using the Tunisian crochet knit stitch. Combine that with Lion Bran'd self-striping yarn, add some fringe and you're left with a beautiful blanket perfect for nights by the campfire.
Pattern Notes
Details
Method Crochet
Skill Level Beginner
Hook 6.0 mm / US 10 – Tunisian hook with cable
Other Yarn Needle
Yarn
Lion Brand Coboo in Beige
(Purchase Coboo at LionBrand.com here or Amazon.com here)
Lion Brand Mandala in Centaur, 4 cakes 590 yards each, total of 2,360 yards
(Purchase Mandala yarn at LionBrand.com here or Amazon.com here)
Gauge 4" x 4" = 16 sts x 24 rows
Final Size 40″ wide x 57″ long (without fringe)
Abbreviations
Bump – strand of yarn on underside of chain
FwP forward pass
RetP return pass
st(s) stitch(es)
Tks Tunisian knit stitch
Tslst Tunisian slip stitch – for binding off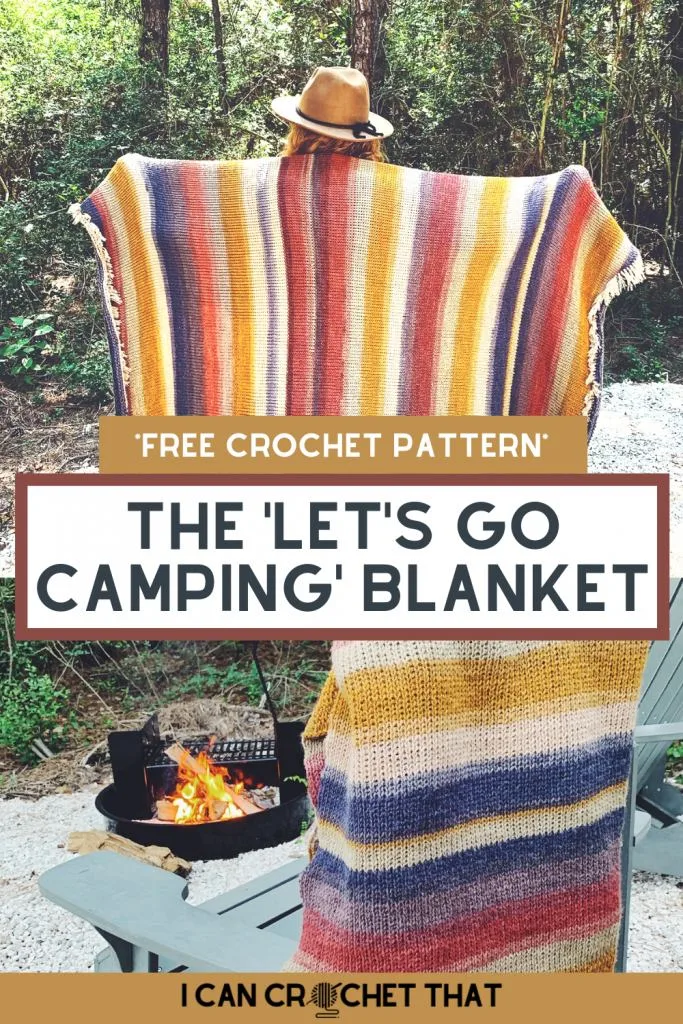 The Pattern
Rows include Forward Pass and Return Pass.
Foundation Row
FwP: Chain 152. Draw up a loop in back bump of second chain and in each chain across. (152 loops on hook)
RetP 152 sts
Row 1
Tks across (152 loops on hook)
RetP 152 stitches
Rows 2 – and on
Repeat Row 1 until blanket measures 57″ long or until it's the size you want
Last row
Tslst Tunisian slip stitch across, fasten off, weave in all ends
For fringe
Cut 4 inch long strips of Coboo yarn and tie on both ends, you'll need 304 pieces
After you've tied on the fringe pieces, comb through sections with small comb
Now, take that blanket camping!
Pin to Save for Later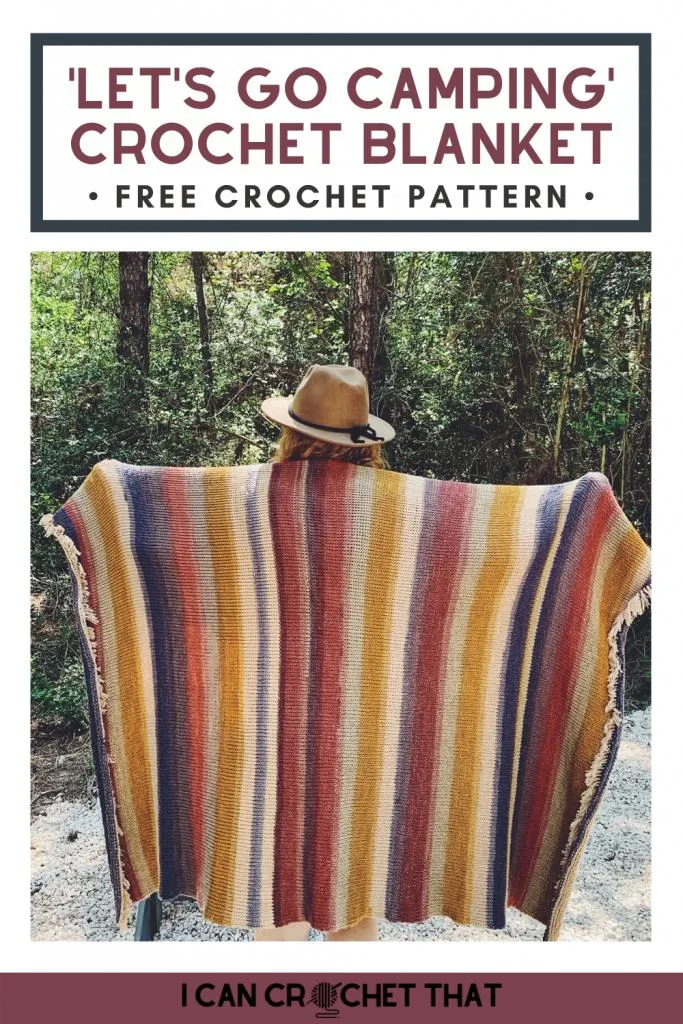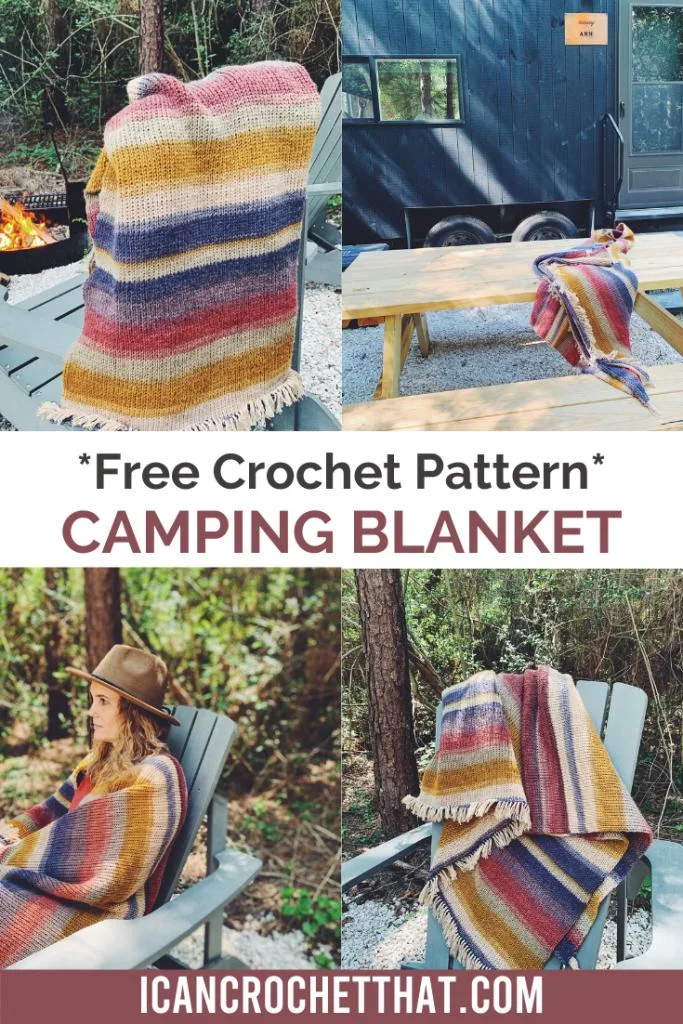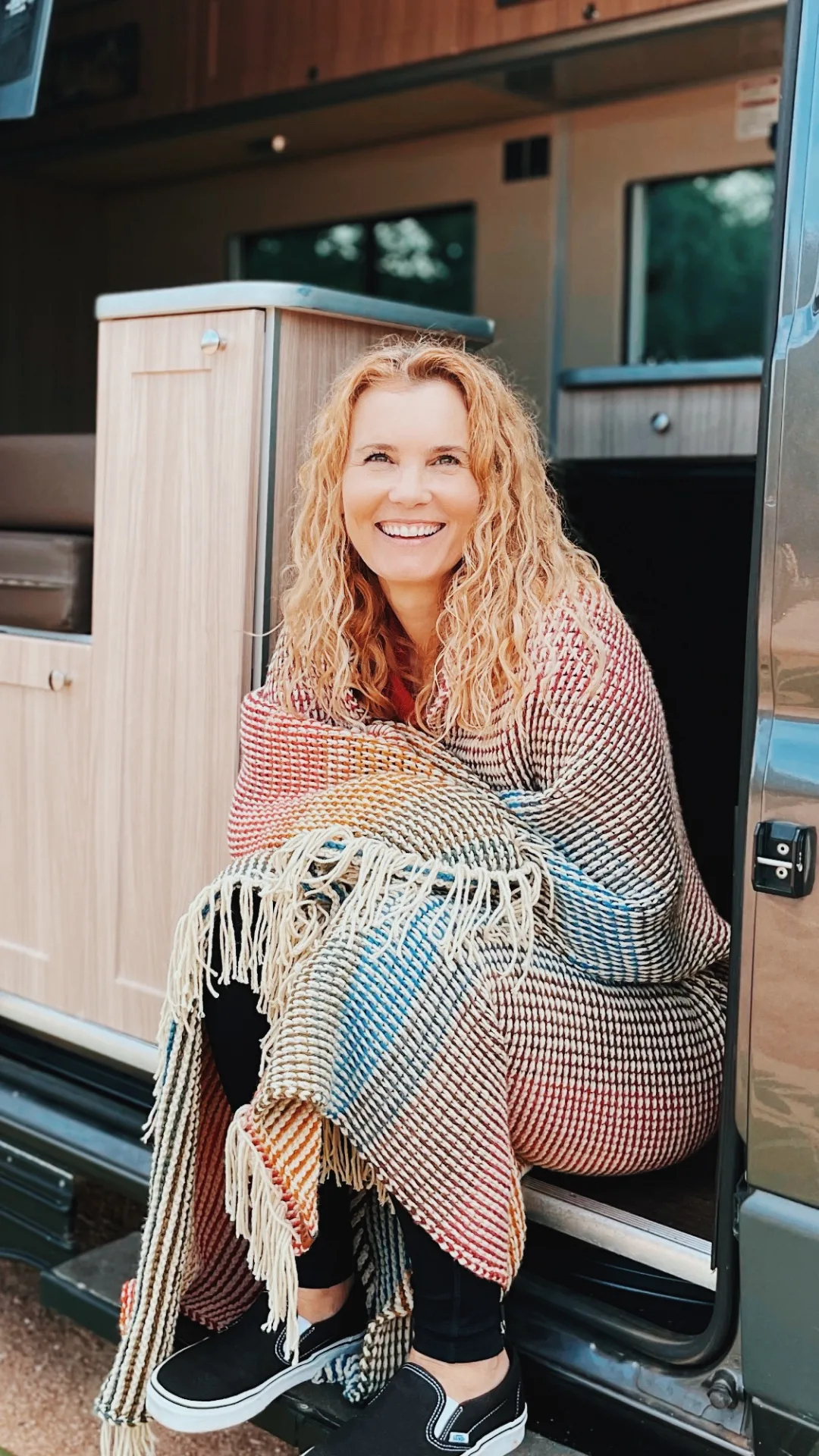 Hi! I'm Julie. I design modern crochet patterns and tutorials to help you learn to crochet. I've been crocheting for over two decades and with the gentle nudging of my husband, decided to turn this passion into a career. Although we travel a lot in our campervan, you'll never find me without a bag of yarn and projects.