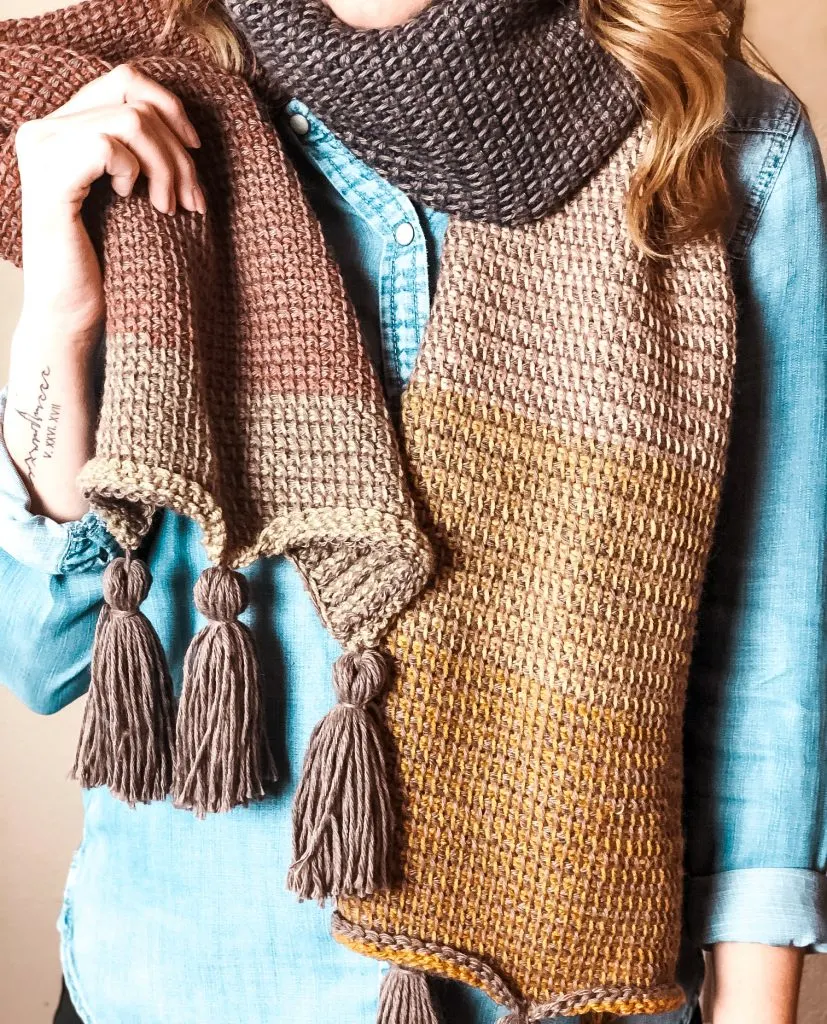 This Tunisian scarf pattern is not only free here on I Can Crochet That, but it's also the very first pattern I've ever designed! I am so excited to share the pattern with you and to start seeing pictures of your own Autumn Ombre Tunisian Crochet Scarf.
I asked for help naming this scarf pattern and my friend Melissa came up with Autumn Ombre. She's clever like that.
You can purchase a printable version of this pattern on the I Can Crochet That Shop here.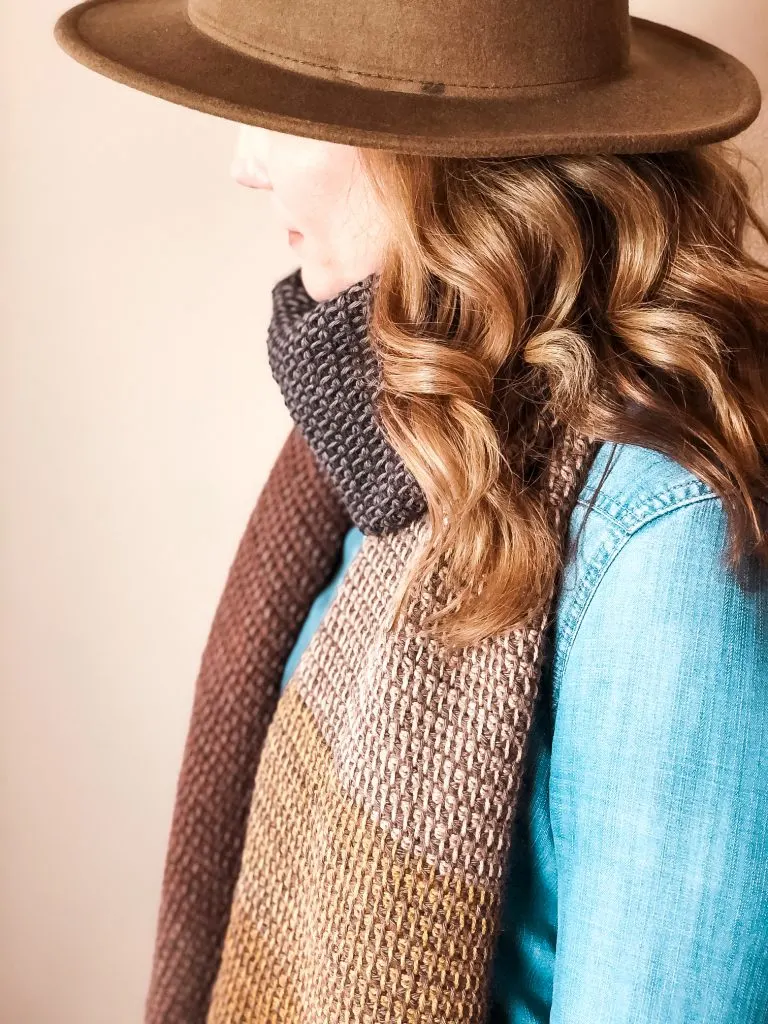 What is Tunisian Crochet?
Before I get into the design process, the pattern and tutorials, I wanted to share a bit about Tunisian crochet for those of you who aren't familiar with it.
Crochet Meets Knitting
Tunisian Crochet, also known as Afghan Crochet, uses a long hook or hook with a long cable to hold multiple loops on the hook very similar to knitting. Which is why it's often described as a mixture of crocheting and knitting.
For those of us (me) who have tried knitting and have not been particularly successful, this is a fun, beautiful and exciting way to create crochet items that look very similar to knit pieces.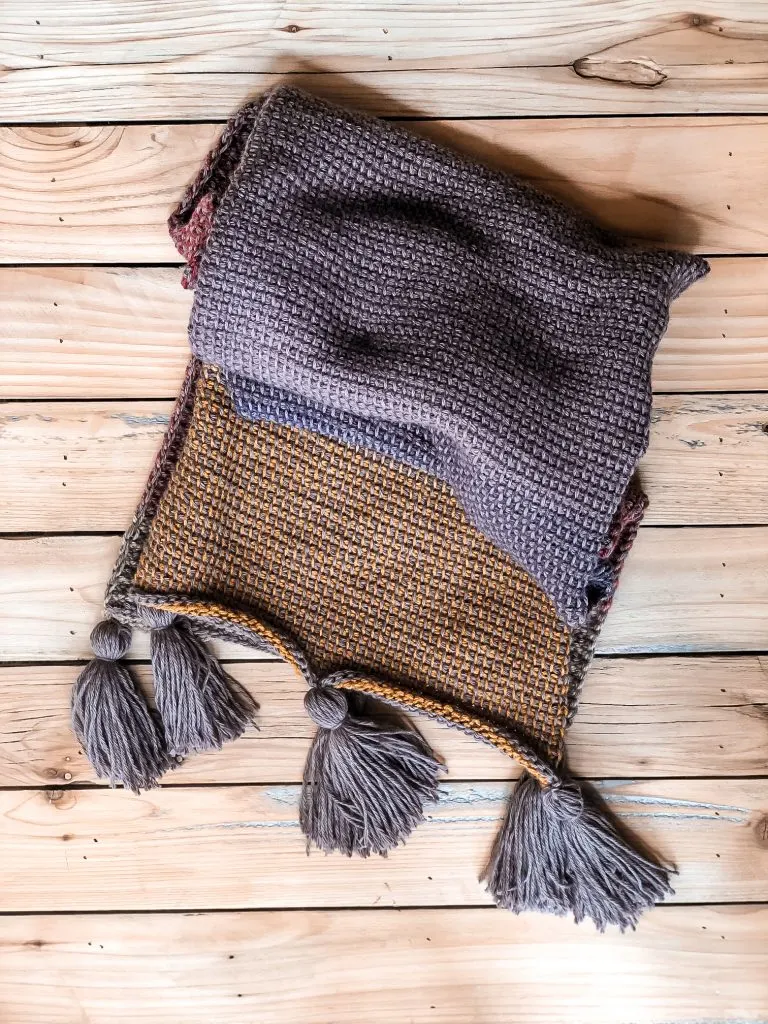 What Can You Make with Tunisian Crochet?
I plan on doing quite a few series on Tunisian crochet with detailed tutorials, as well as pattern round-ups and my own Tunisian crochet patterns.
I currently have a crochet camping blanket in the works and I am obsessed with the colors. Plus, I love how the pattern turned out using only one type of Tunisian stitch. I can't wait to share it with you!
What can you make with Tunisian crochet? Anything you can crochet, you can Tunisian crochet. Blankets, sweaters, cardigans, pillows and on and on.
If you're excited about my upcoming Tunisian crochet series, let me know in the comments and share not only what you'd like to learn about it, but what kinds of Tunisian patterns you'd like to see pop up here on the blog.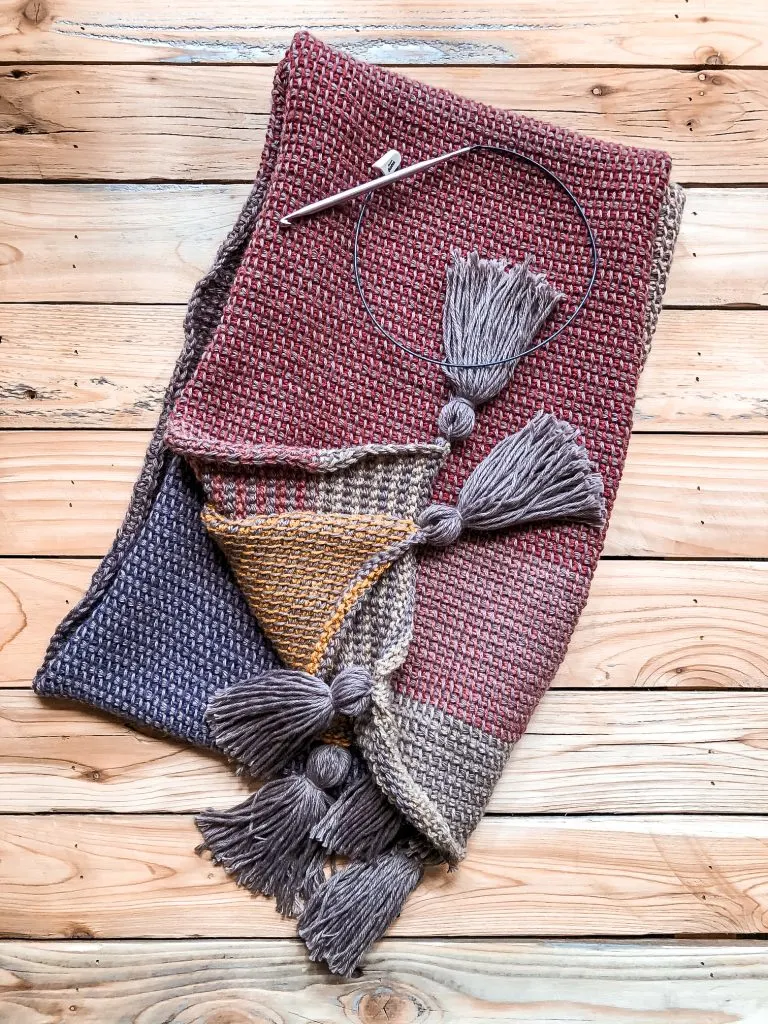 Inspiration and Design Process
I find inspiration for all of my patterns from items I see in stores or online. And I like to get my color inspirations from my extensive travels.
I love to look at something and say 'I Can Crochet That' and then get to work coming up with a design.
For this scarf, I was browsing through scarves on Lulus.com and this one caught my eye immediately. I loved the tassels, the texture, and the neutral color. But with all of my designs, the idea I start with usually isn't the idea I end up with. But instead, it begins the design process for me and then I just let it become what it wants to become.
The Stitch
With this scarf, I knew that in order to get a knit-like texture I had to design a pattern with Tunisian crochet techniques. After experimenting over and over again, I decided Tunisian Simple Stitch was the way to go.
You can see my Tunisian Simple Stitch video tutorial below.
The Colors + The Yarn
I started the scarf with Lion Brand's Comfy Cotton Blend in Mochaccino and while it looked pretty, there was just something missing.
I remembered when researching Tunisian crochet that there was a way to combine two colors and give your pattern a woven texture. It was a YouTube video from around 2010 and I have yet to track it down again.
Anyway, so I looked for a color I thought would compliment the Mochaccino and that's when I bought a few skeins of Lion Brand Mandala in Centaur.
Product links: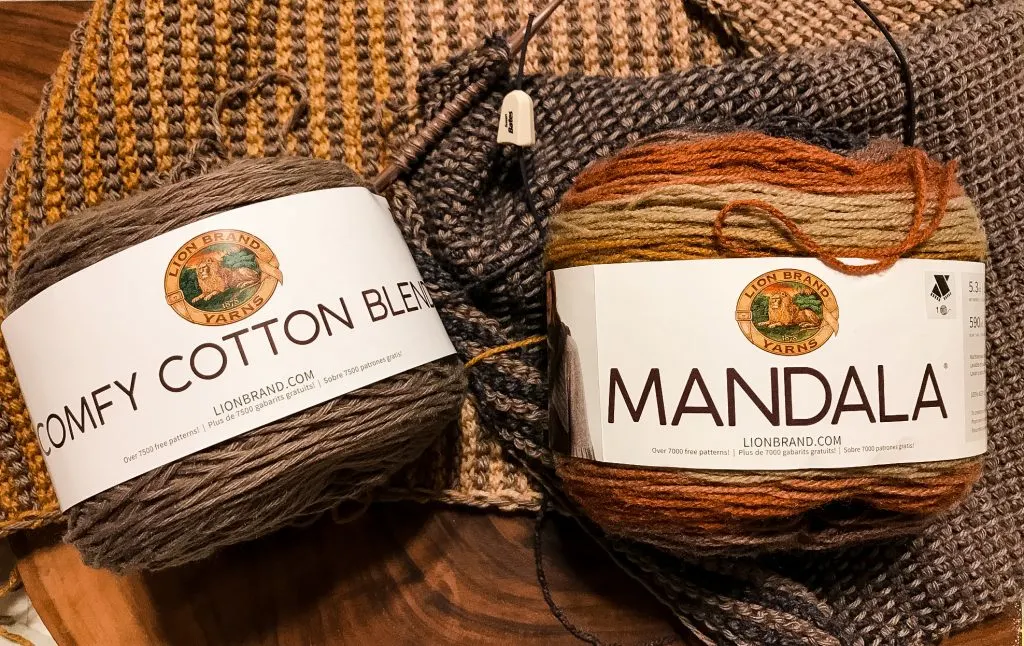 The Comfy Cotton Blend is a lightweight CYC 3 yarn made from 50% cotton and 50% polyester.
The Lion Brand Mandala is also a lightweight 3 yarn and is 100% acrylic. It comes in a range of stunning colors, from jewel tones to bright children's colors. I've only experimented with the Centaur color but also would like to try Brownie and Dragon.
You can see more colors on Amazon here or LionBrand.com here.
How to Change Yarn Colors in Tunisian Simple Stitch
Here's how to change yarn colors for the Autumn Ombre Tunisian Crochet Scarf.
Autumn Ombre Tunisian Crochet Scarf Pattern
You can purchase a printable version of this pattern on the I Can Crochet That Shop here.
Description
This gorgeous knit-like crochet scarf is made using Tunisian Simple Stitch, alternating two different colors of yarn. The result is a scarf with a squishy like feel and beautiful colors that will remind you of fall. The added tassels give this scarf the look and feel of something you picked up at a local boutique.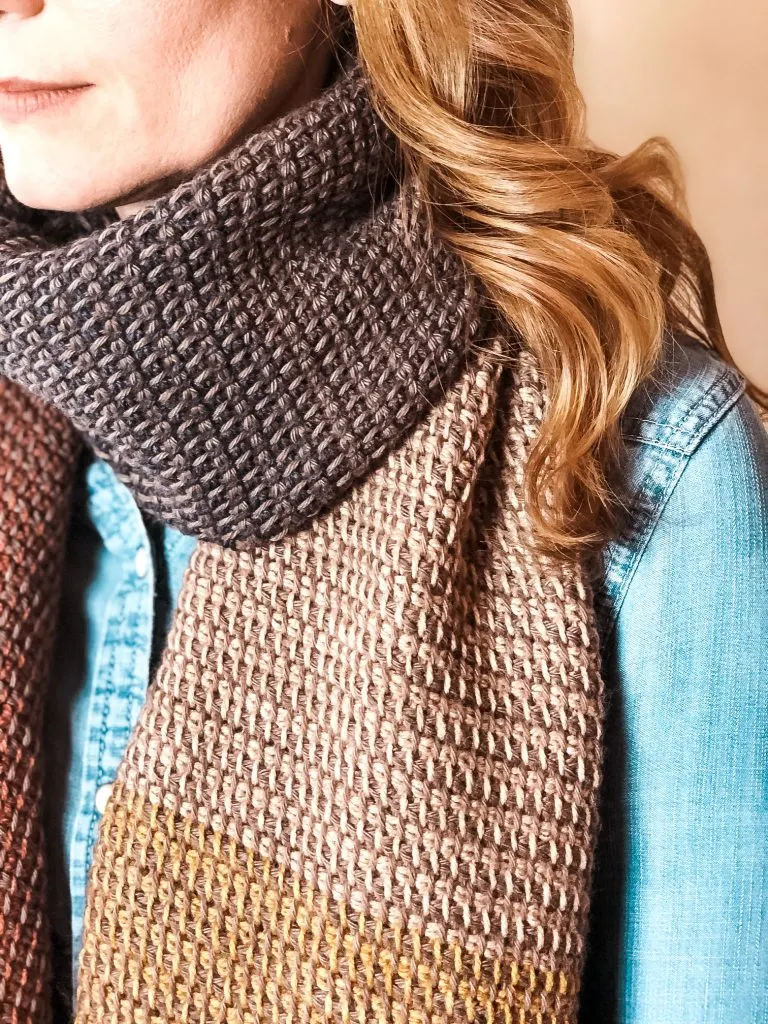 Notes
Method: Tunisian Crochet
Skill Level: Intermediate
Hooks: Tunisian Crochet Hook 6.0 mm / US J/10
Other: Tapestry needle
Yarn:
A: Lion Brand Comfy Cotton Blend, Mochaccino, 2 skeins, 784 yards
B: Lion Brand Mandala, Centaur, 2 skeins, 1180 yds
Gauge: 4" x 4" = 15 TSS x 15 rows
Abbreviations and Glossary (US)
Bump – strand of yarn on underside of chain
FwP forward pass
RetP return pass
st(s) stitch(es)
TSS Tunisian simple stitch
Tslst Tunisian slip stitch – for binding off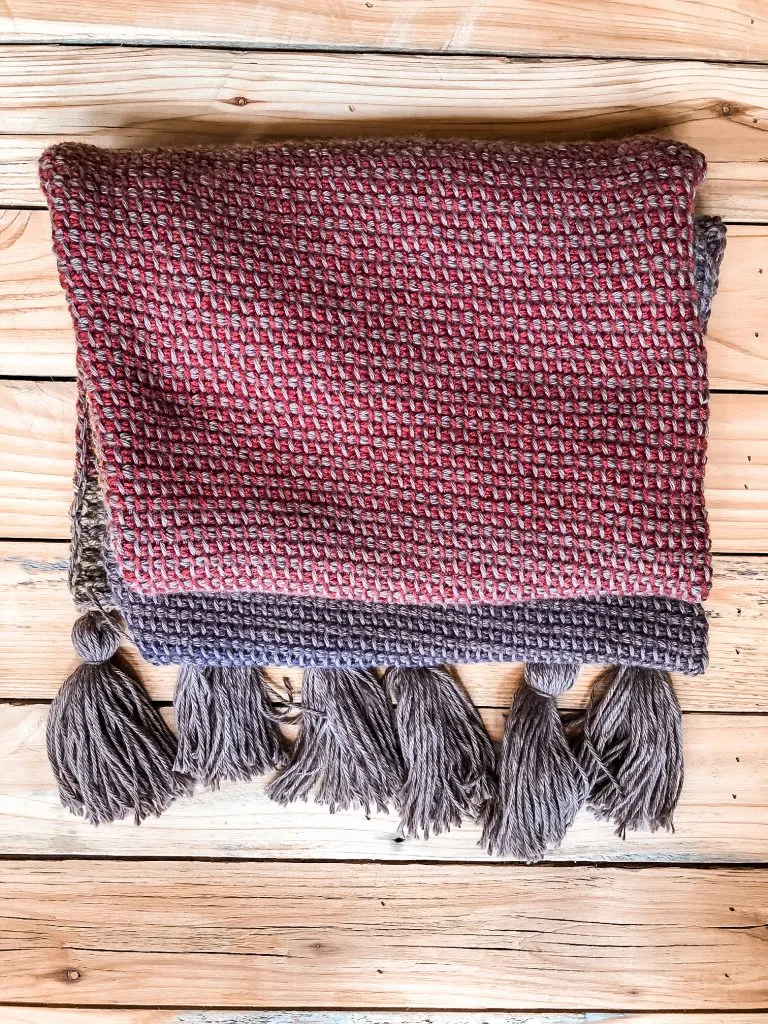 The Pattern
Note: This scarf is worked in Tunisian Simple Stitch (TSS) alternating rows with two different colors. Row instructions are for the Forward Passes (FwP). Work a standard Return Pass (RetP) after each Forward Pass. You will keep both colors attached as you work
Foundation Row (Color A)
With color A, chain 52. Draw up a loop in back bump of second chain and in each chain across. Change to color B on chain 1 of RetP. (52)
See photo A
Row 1 (Color B)
TSS in each stitch across. Change to color A on chain 1 of RetP. (52)
See photo B
Row 2 (Color A)
TSS in each stitch across. Change to color B on chain 1 of RetP. (52)
See photo C
Repeat rows 1 and 2 for a total of 275 rows or until scarf measures 72" long. On last row, finish off with Tunisian slip stitch. Fasten off both A and B. Weave in ends when finished.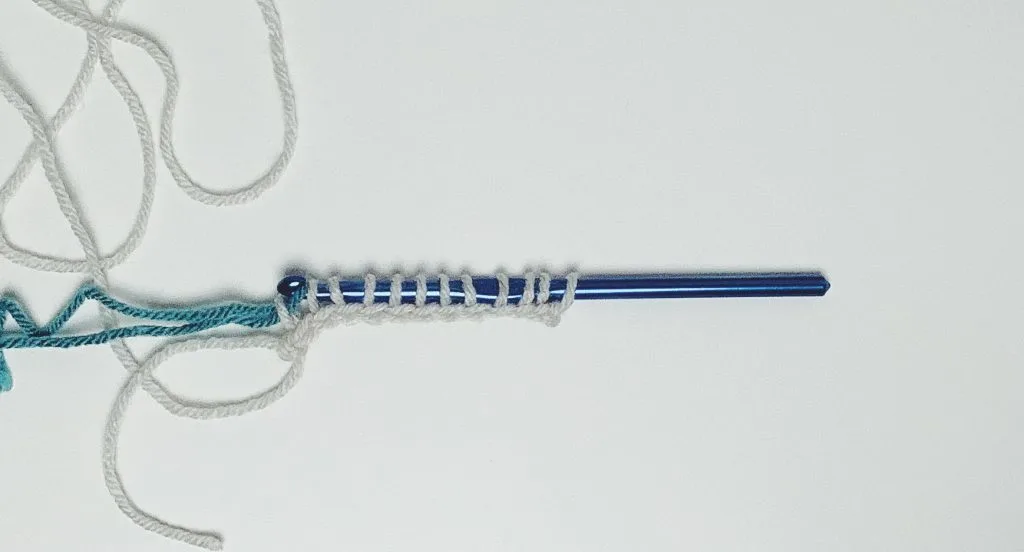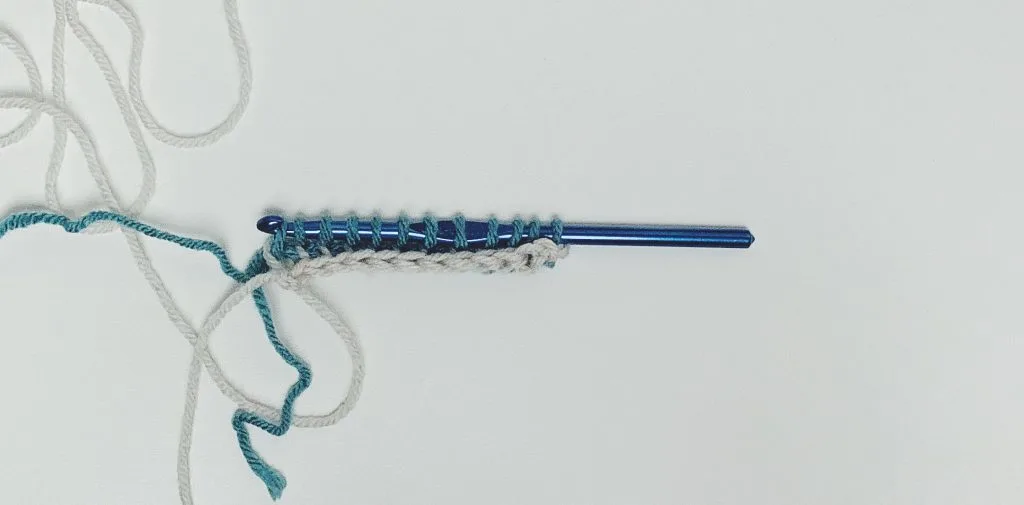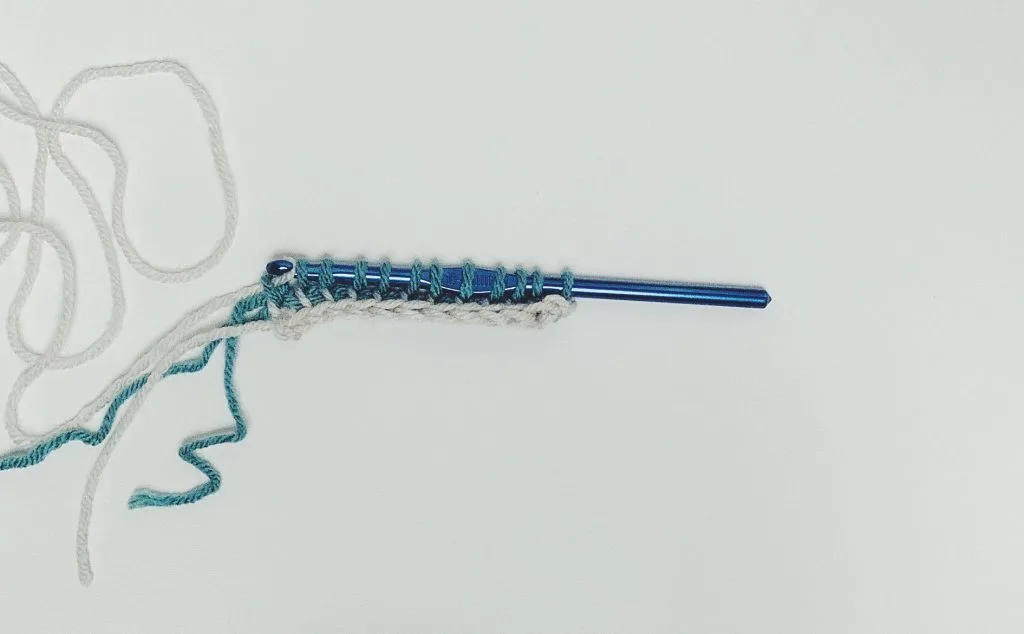 Tassels – Make 6
Cut a piece of 5-inch long cardboard
Wrap yarn (Color A) around cardboard about 40 times See photo E
Cut off yarn See photo F
Cut a 9-inch piece of yarn, thread under yarn on cardboard and tie loosely at the top of the tassel See photos G and H
Cut ends of yarn and remove from cardboard carefully See photo I
Position the piece of 9-inch yard in the middle of the tassel and tie snuggly See photo J
Fold yarn over 9-inch piece See photo K
Cut another piece of yarn about 7 inches long and tie snuggle around the tassel about 1 inch from the top See photo L
Trim tassel evenly See photo M
Tie onto corners and middle of scarf See photo N and O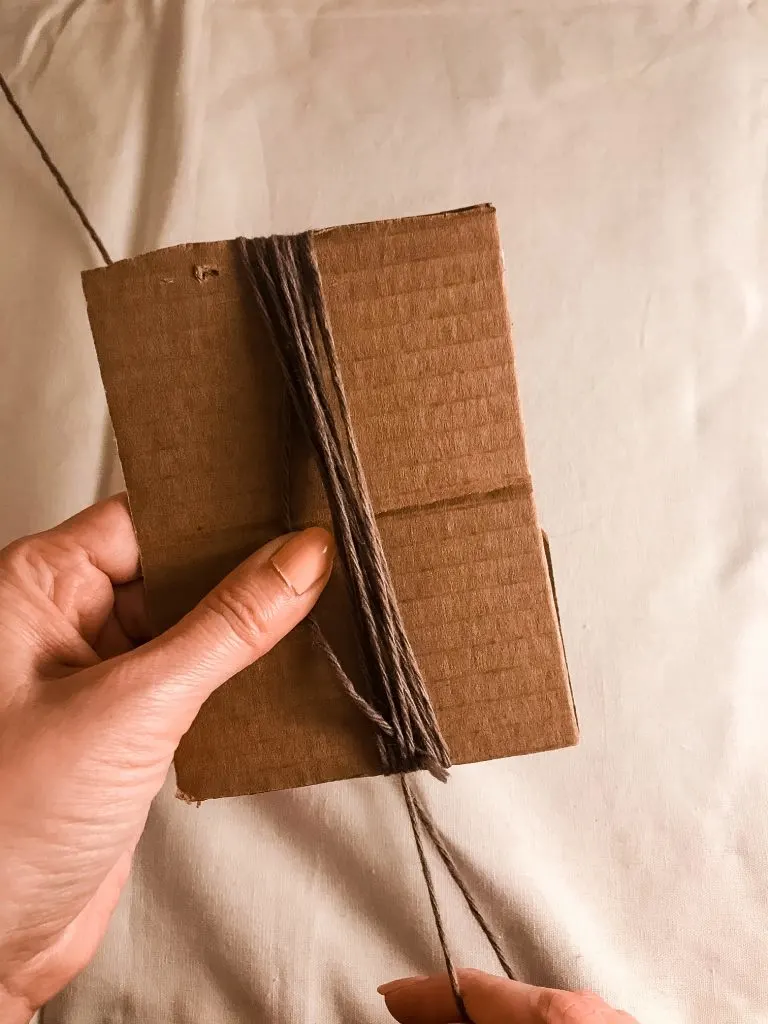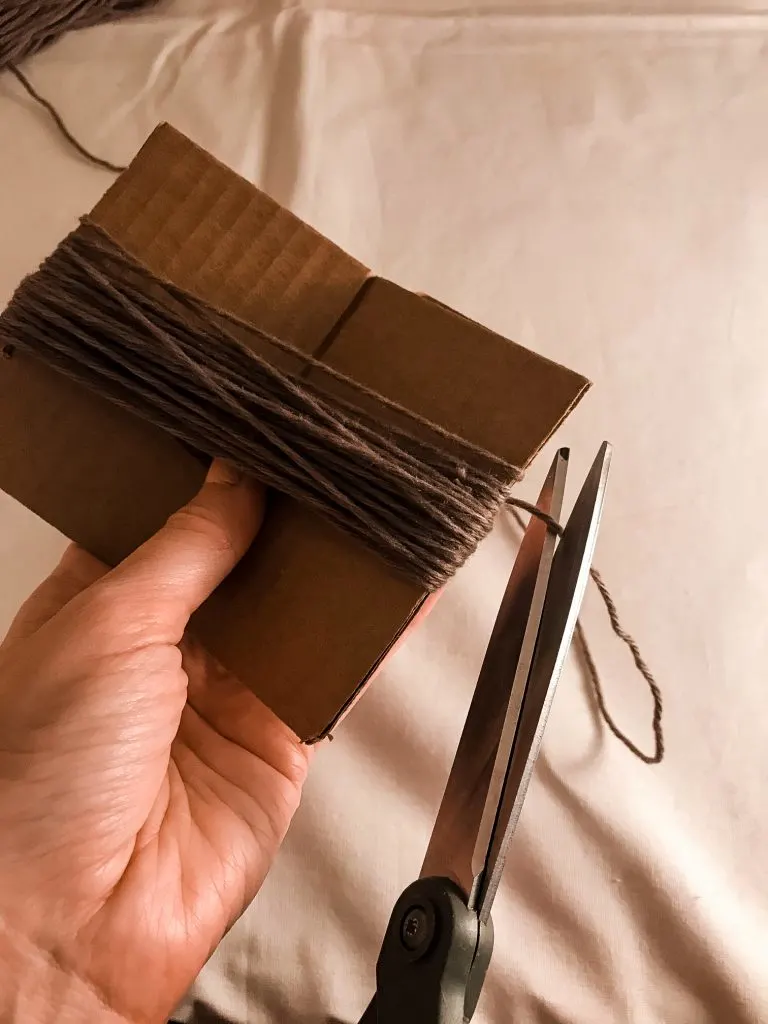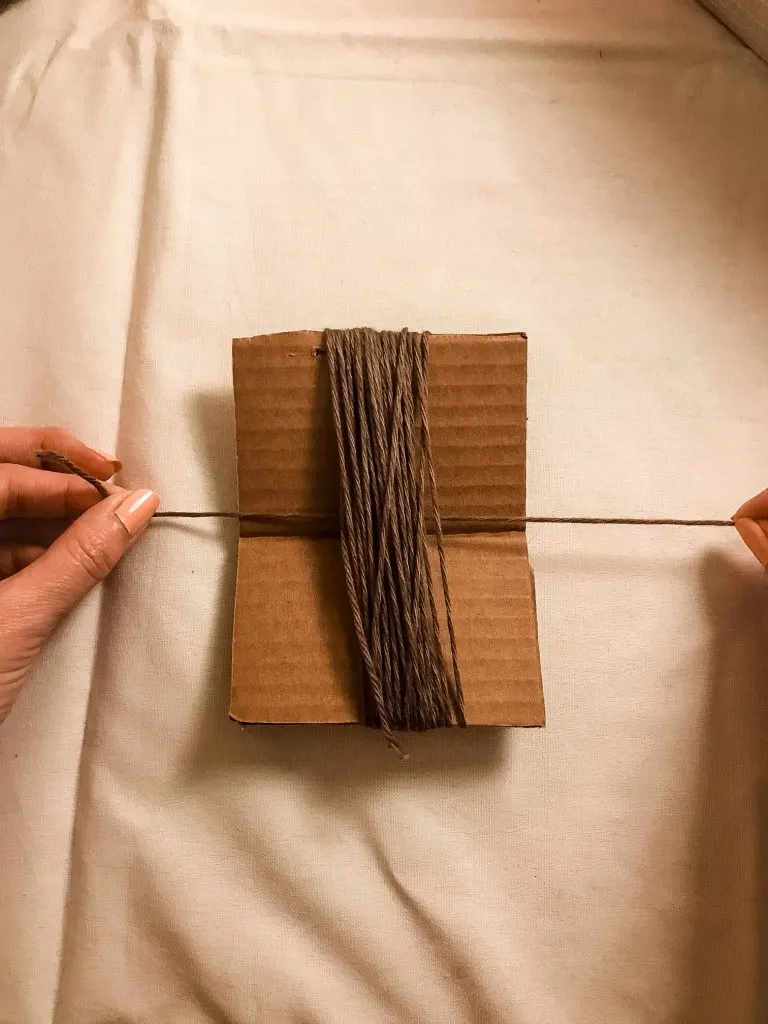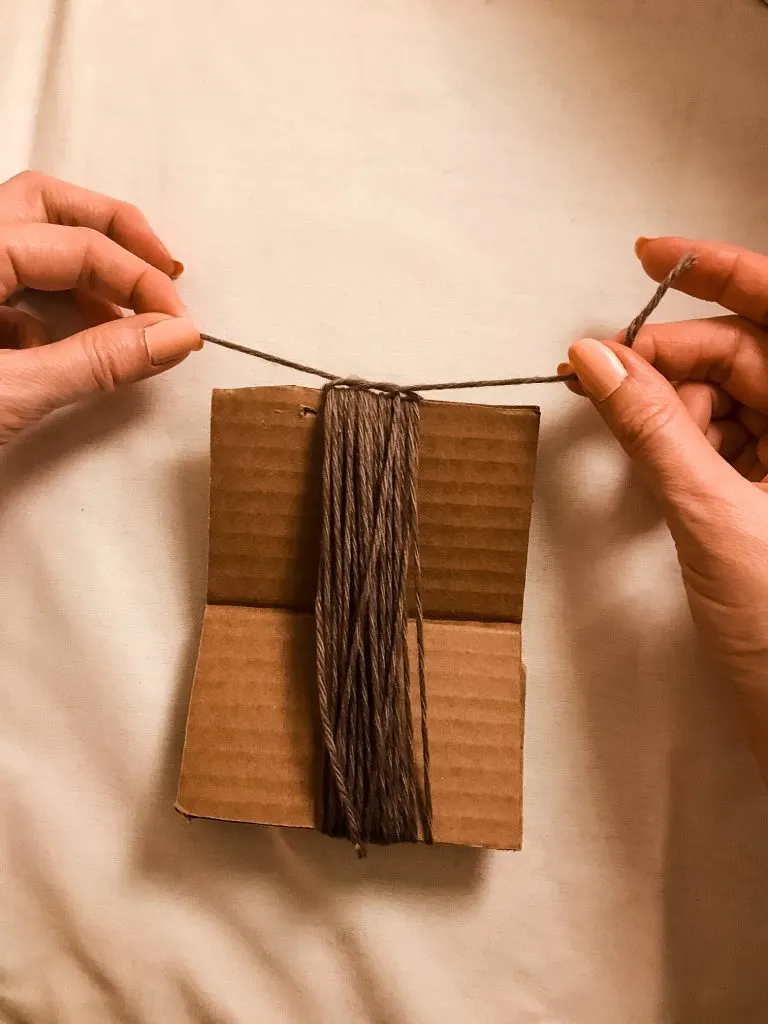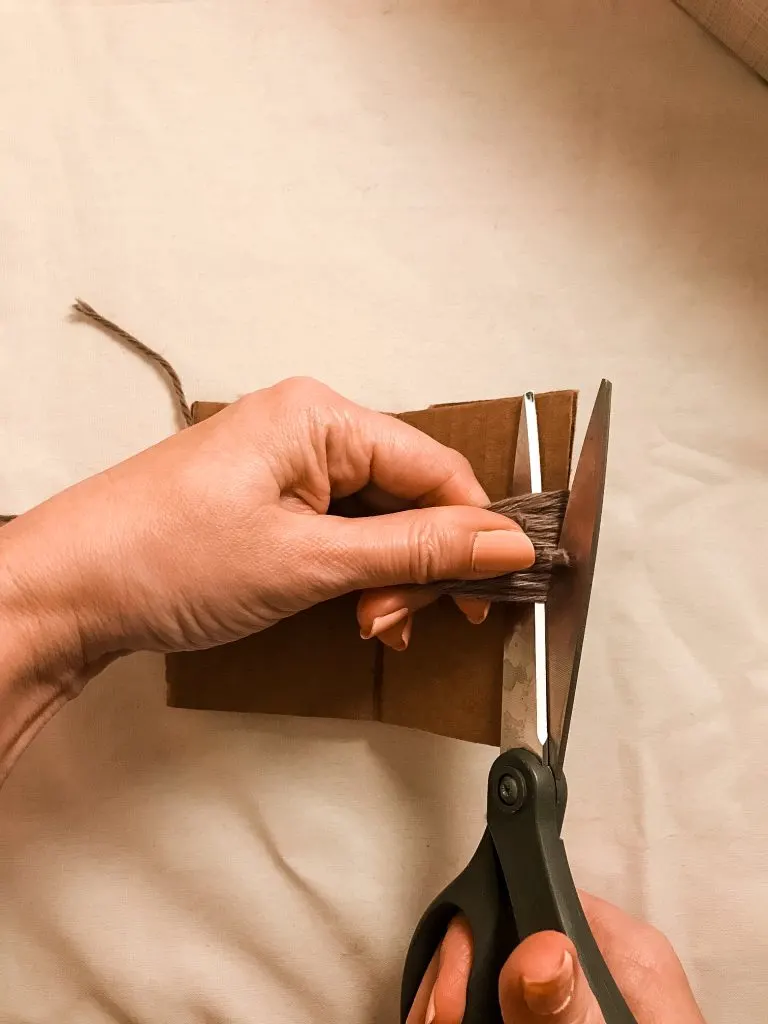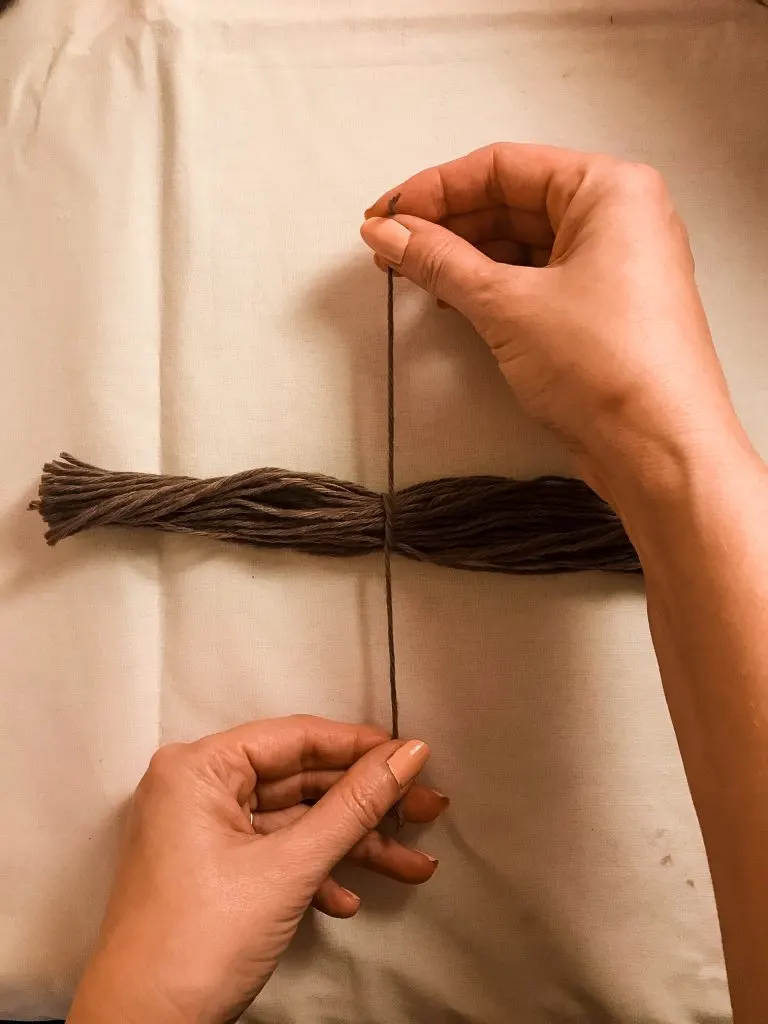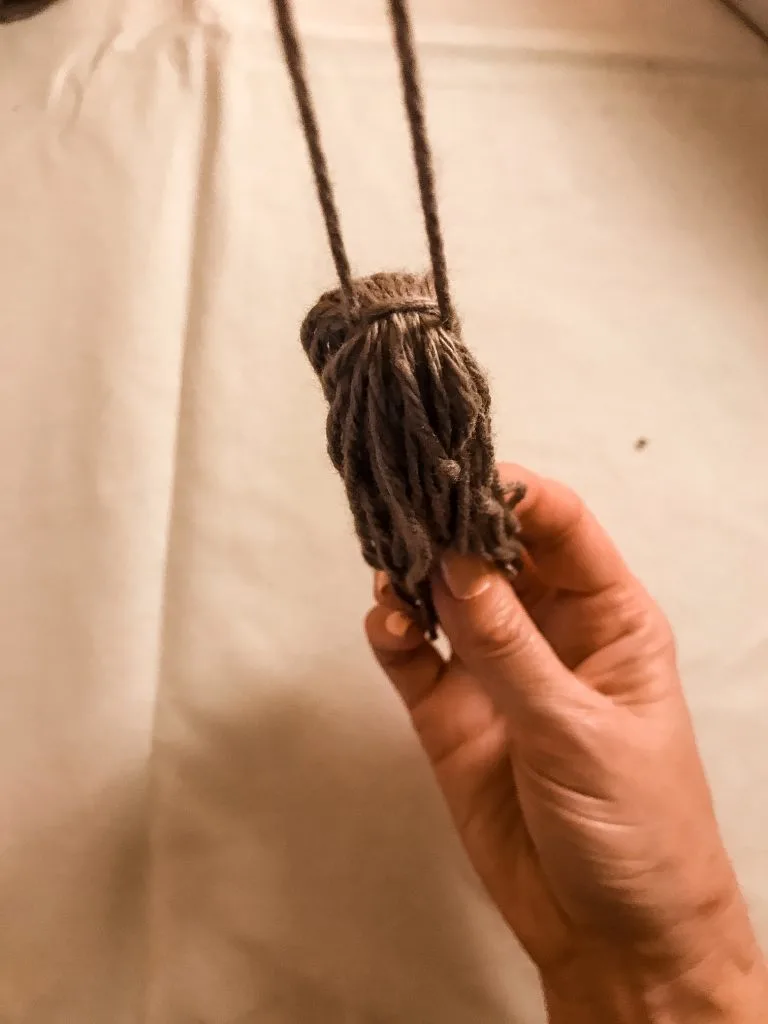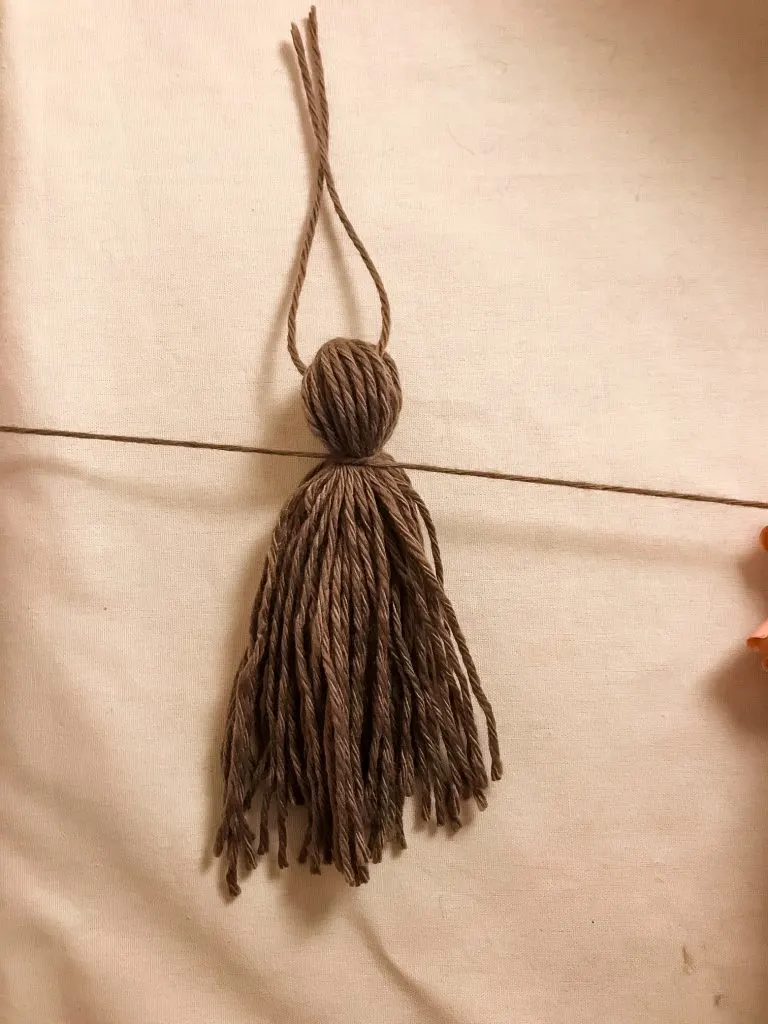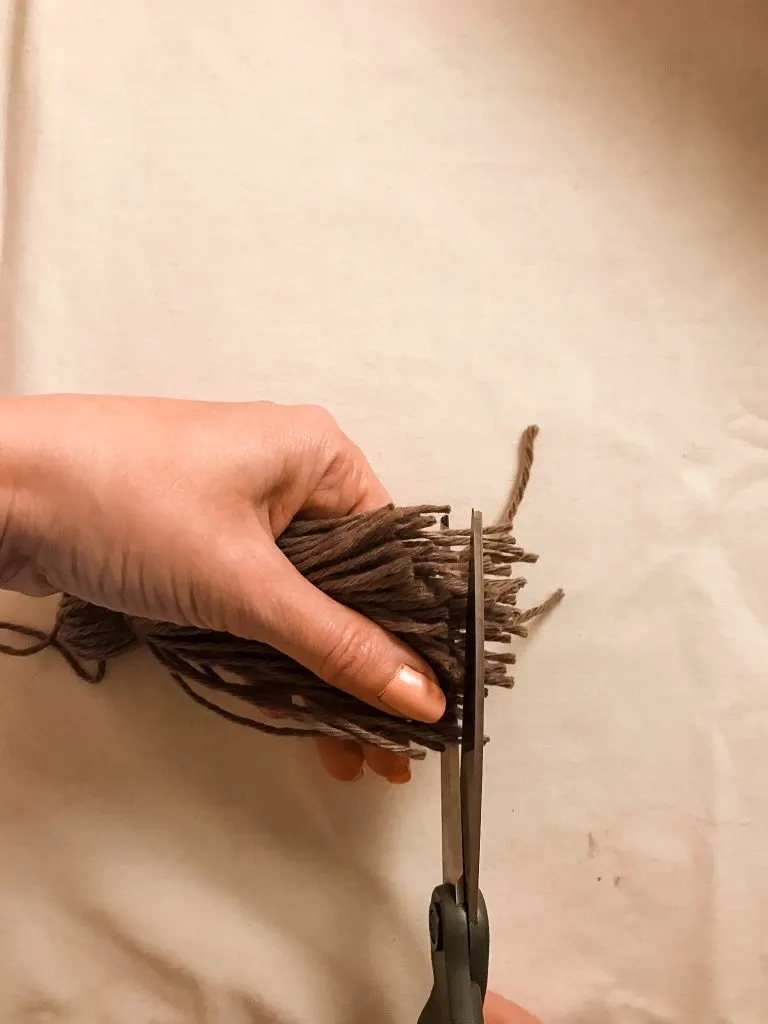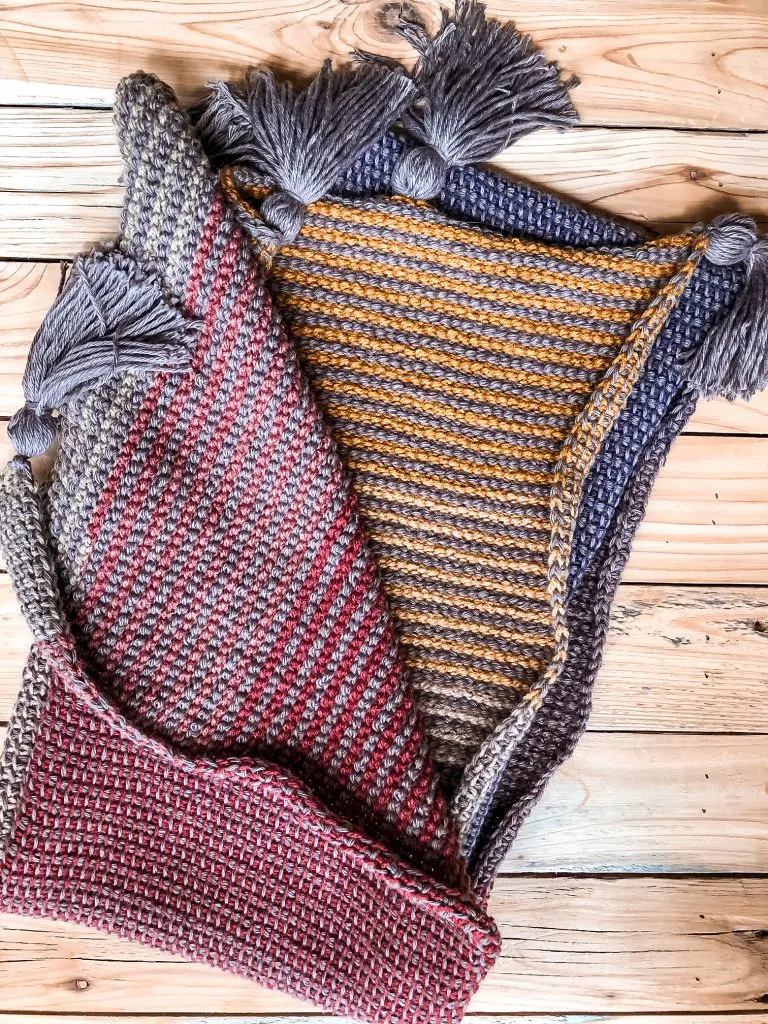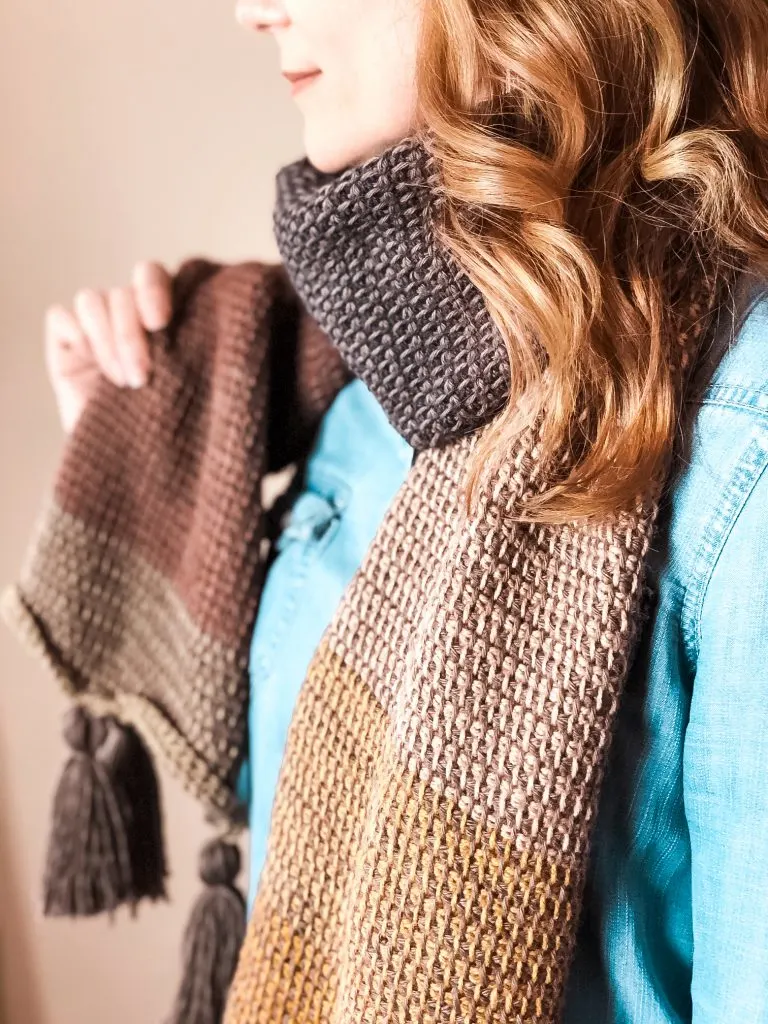 I hope you enjoy wearing or gifting your Autumn Ombre Tunisian Crochet Scarf!
Pin This to Save For Later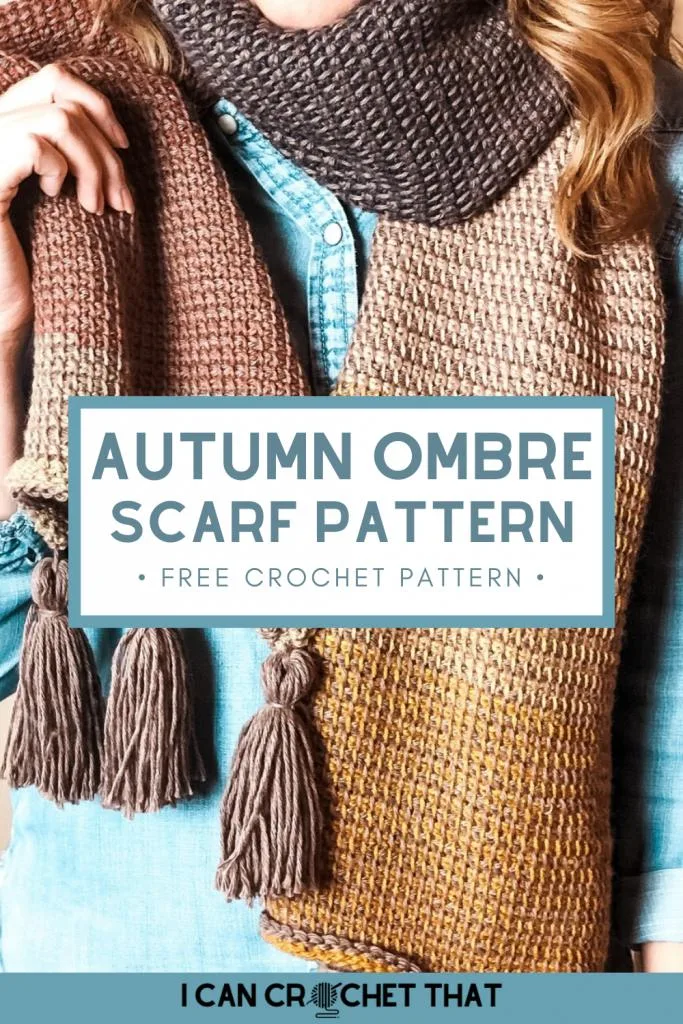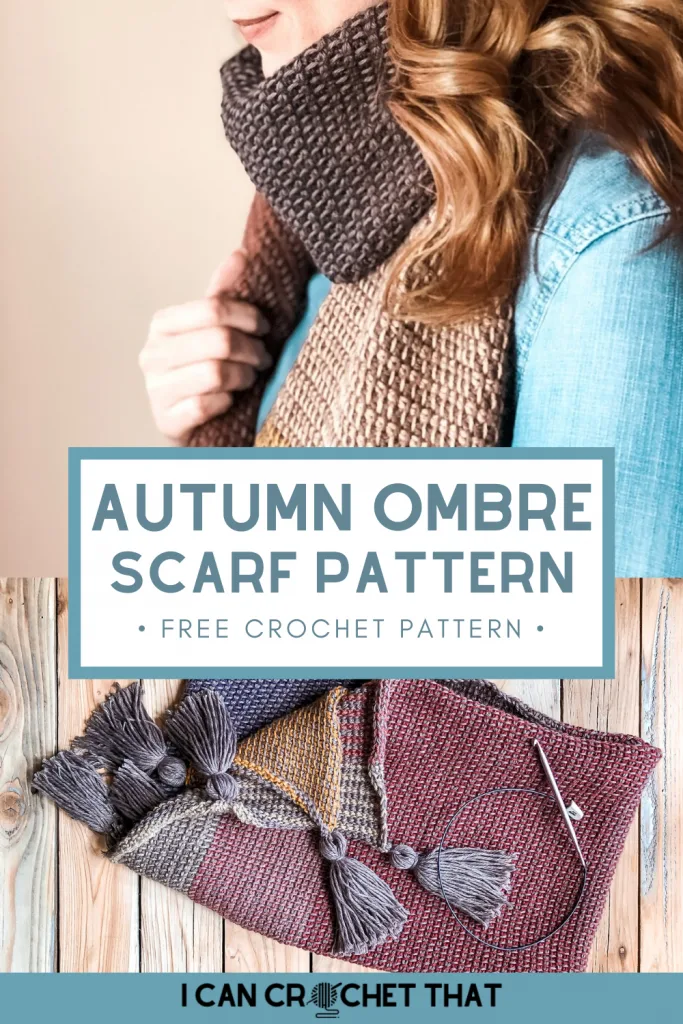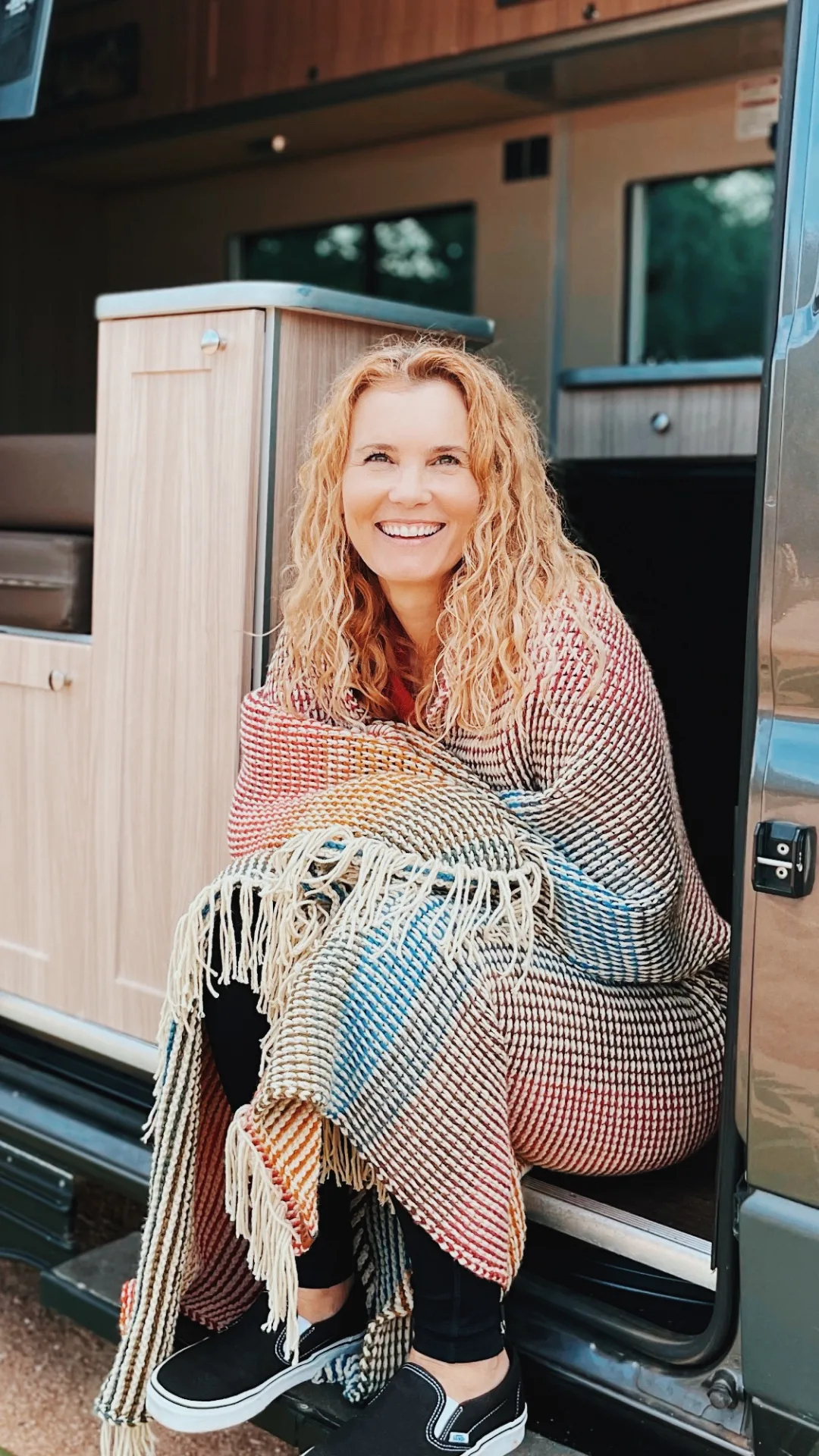 Hi! I'm Julie. I design modern crochet patterns and tutorials to help you learn to crochet. I've been crocheting for over two decades and with the gentle nudging of my husband, decided to turn this passion into a career. Although we travel a lot in our campervan, you'll never find me without a bag of yarn and projects.