Get your hooks ready because you'll want to get started on these fall crochet projects asap!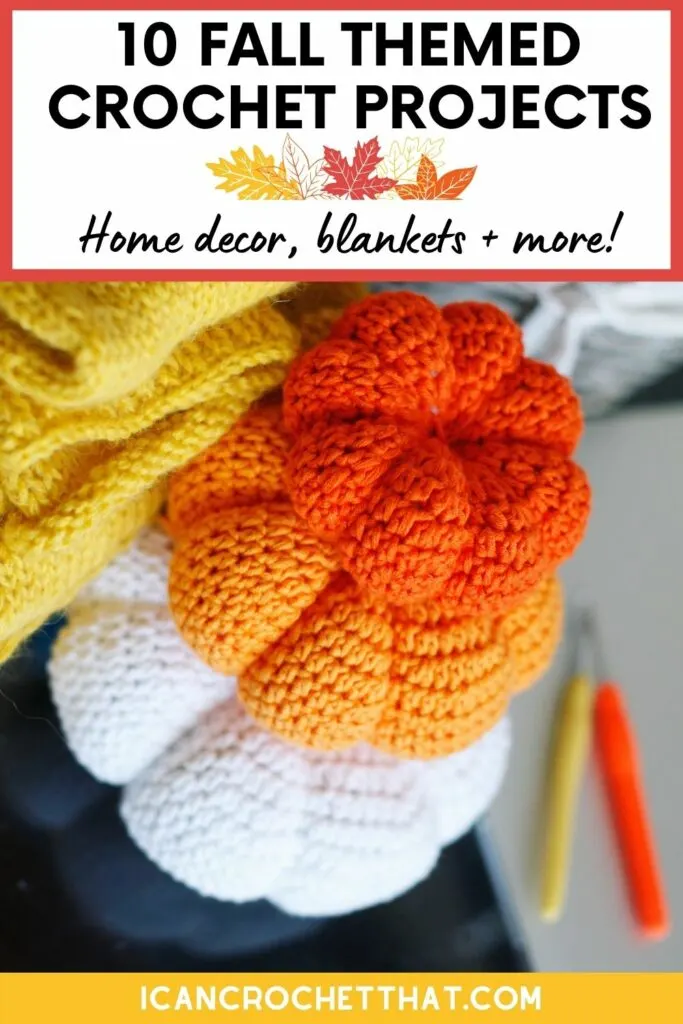 I can't believe I'm saying this, but fall is practically around the corner.
Before we know it there will be pumpkin spice, fall decorations, and perfect apple picking weather all around.
To prepare for the quickly approaching autumn season, I've compiled this list of 10 fall crochet projects to work on all season long (and even before then, if you're a die-hard fall enthusiast like myself.)
Let's get started!
10 Fall Crochet Projects to Celebrate the Season
1. Crochet Maple Leaves Pattern
These crochet maple leaves are pretty versatile and can be used for
anything from coasters to mantle decoration.
You can find the pattern for these coasters here.
2. Frances High Waisted Crochet Skirt
One of my favorite things about fall is the darker + rustic color palette, and
this pumpkin color is by far my favorite.
The buttons on the skirt are the perfect finishing touch and make this skirt a must-have fall piece.
This skirt pattern is available on Hook Yarn and Carabiner's website here.
3. Stuffed Acorn Decoration
I've been seeing these stuffed fall-themed decorations everywhere and I
have to say I'm in love with them.
This acorn is the perfect decoration to fill a little basket with or stick on your mantle or entertainment center.
The pattern for this adorable little acorn is available here.
4. Crochet Acorn Hand Towel Pattern
Speaking of acorns, this crochet hand towel is the perfect fall accessory
for your kitchen.
The homespun, cozy look makes it a one-of-a-kind addition to your kitchen you'll look forward to bringing out every year.
The pattern for this towel is available here.
5. Crochet Upcycled Sunflowers
This pattern adds a unique element, as it's actually upcycled from old
plastic, like milk jugs.
They can serve as coasters, candle holders, picture frames, you name it.
These multi-use sunflowers are a must-have for your home this fall.
The pattern for these sunflowers is available here.
6. Crochet Sunflower Granny Square Blanket Pattern
This has to be my favorite project on this list.
It combines my love of granny squares with the quintessential fall flower for a cozy blanket you'll want to have out all the time.
You can get the pattern for this blanket here.
7. Crochet Pumpkin Pillow Pattern
This pumpkin pillow is a unique fall decoration, combining fall colors with
the boho aesthetic that's usually seen in the summer and I'm definitely a
fan.
The pattern for this pillow is available here.
8. Crochet Fall Apple Basket Pattern
This fall basket deviates from the normal fall colors but is still a perfect
accessory for your living room or kitchen.
You can even use it for some apple picking with the kids!
You can get the pattern for this basket here.
9. Crochet Velvet Pumpkin Pattern
If you are a velvet enthusiast like myself, it's going to be hard to only make
a few of these velvet pumpkins.
They add an elegant and quirky touch to your home and can be used as decoration in any room.
The pattern for this velvet pumpkin is available here.
10. Crochet Pumpkin Patch Bear Pattern
Finally, we have this little guy. This pumpkin patch bear is as cute as can
be and makes a great Halloween decoration or gift for the kids.
The pattern for this adorable bear is available here.
You might also like our round-up of crochet pumpkin patterns, this Tunisian crochet scarf in beautiful fall colors, or this round-up of crochet cardigan patterns perfect for the cozy fall season.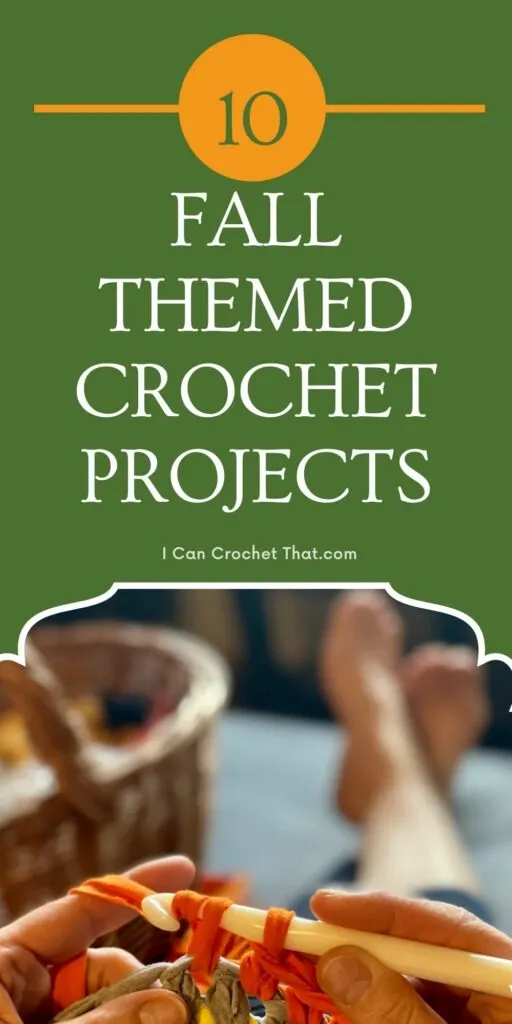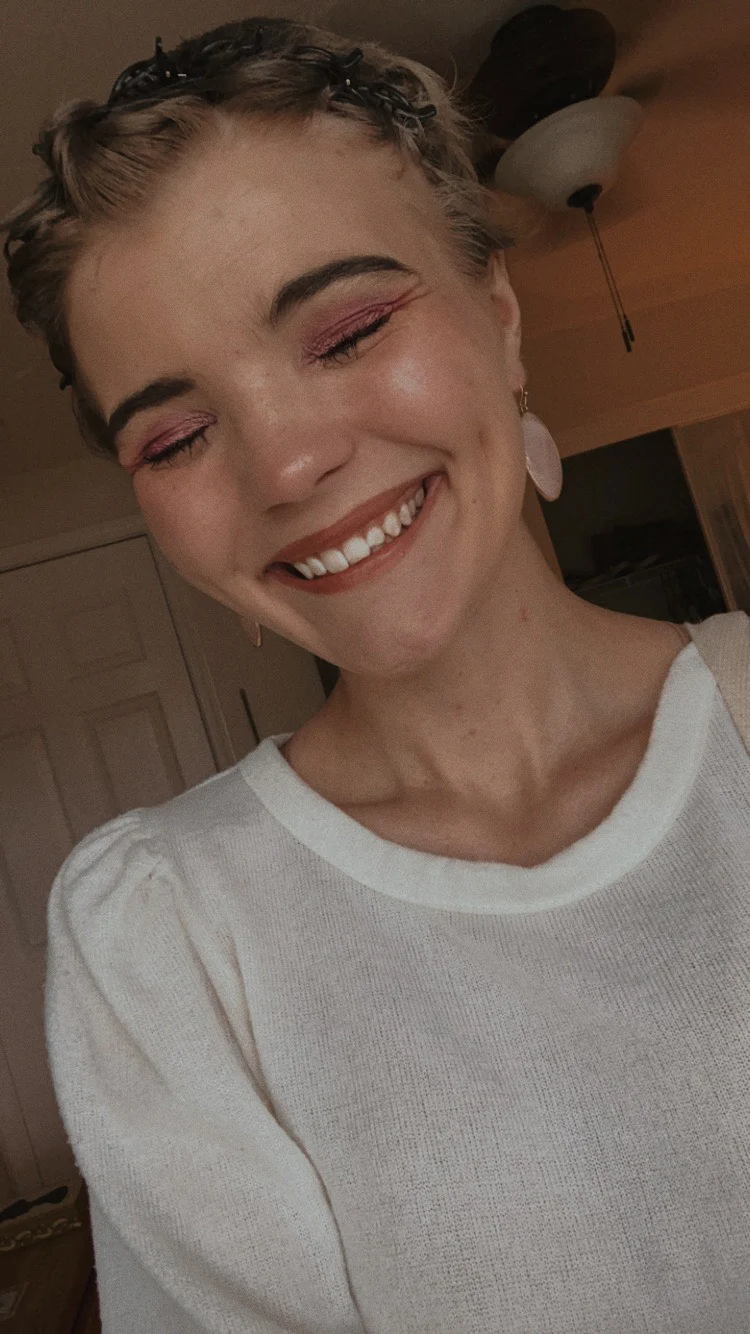 Hannah is the eldest of the Bonner family's three kiddos. She graduated from the University of North Texas with her Bachelors in Elementary Education. She enjoys reading, yoga, movies & TV, and (obviously) crocheting. She is excited about furthering her writing career & spending her days surrounded by yarn. All the yarn.