Inside: Immerse yourself in the enchanting blend of literature and craft with our curated list of bookish crochet patterns.
From bookmarks to character amigurumi, these intricate designs will appeal to both avid readers and skilled crafters, transforming everyday reading experiences into a charming adventure stitched with love.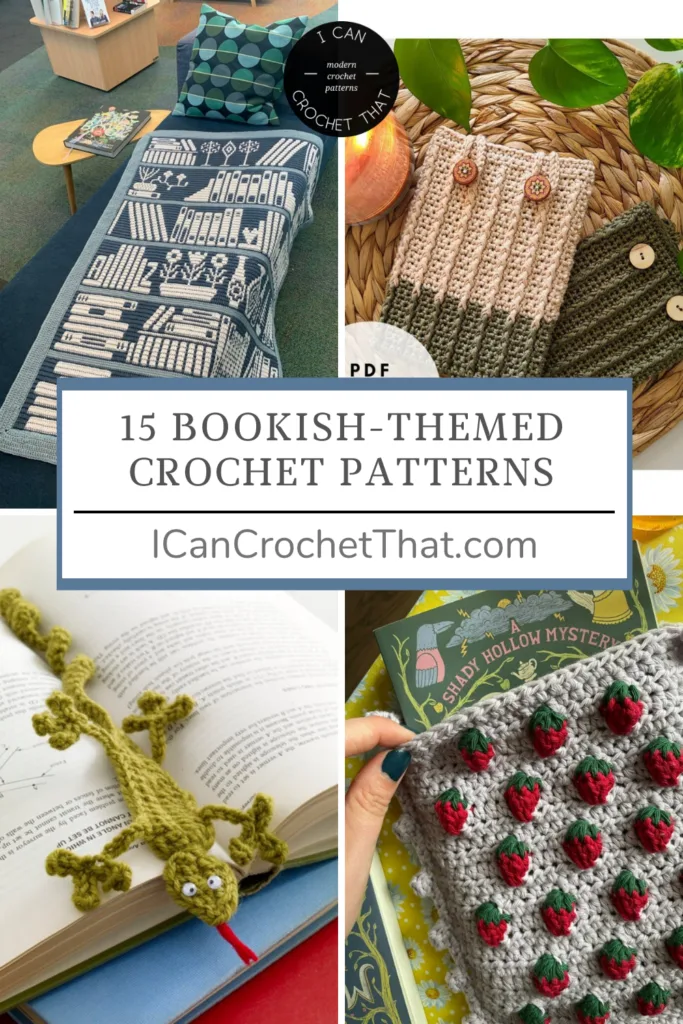 Calling all bookish crocheters!
I've been a reader all my life (one of my favorite things to do is listen to an audiobook and crochet), and I'll think of any excuse to combine the two.
They're both relaxing, fun and are a way to escape from the real world for a little bit.
These fifteen bookish crochet projects are a great way to combine your love of reading and crocheting. They're everything from practical projects to use for your latest book to detailed blankets to go in your living room.
15 Bookish-Themed Crochet Patterns
So without further ado, here are fifteen book lovers' crochet projects you can make for yourself or a friend.
Scroll down past this picture gallery for details on each pattern and links to check them out.
15 Bookish-Themed Crochet Patterns
Photo Credit: www.lionbrand.com
Want a funky bookmark for your latest read?
Make this adorable gecko bookmark from Lion Brand. It's a quick, beginner-friendly project and a great idea for a craft fair project or a gift for a bookish friend.
Photo Credit: www.etsy.com
This book lapghan is a great longer, stash-busting project you can pick up and put back down in the middle of shorter projects.
It's a bookshelf with various colored books, a couple of plants, and a heart with "Books" on the second shelf. You can choose your own color palette based on what yarn you have.
Photo Credit: www.mooglyblog.com
These elephant bookends are so charming and cute.
They're actually sleeves that you can put over normal bookends to spice them up, and they're several different parts sewn together. These would look great in a nursery or children's room.
Photo Credit: www.etsy.com
Have a reading area in your house or space to put one?
Keep all your book accessories close by with this wall hanging. It hangs from wooden dowel rods and has two big pockets made from cotton yarn, so it's especially strong.
Photo Credit: blackstone-designs.com
Are you a book annotator?
Keep track of your pens and keep them in one place right by your book so you can annotate quickly. It has a piece of elastic on the other side to go on the outside of your book.
It's also a really quick and easy project.
Photo Credit: www.etsy.com
Keep your favorite hardcover protected with this chunky book sleeve.
It has a nice diamond/lattice pattern with extra squishy yarn for ultimate protection. You can also use it as a cover for your Kindle if that's more your vibe.
Photo Credit: www.etsy.com
If you're wanting something a bit more colorful in a different style, try this sunset-colored book sleeve.
It's an ombre of orange, pink, and purple colors with a loop clasp with a heart button on the top. You can also choose to make it with a flap.
Photo Credit: www.etsy.com
If you prefer to carry around your Kindle, make this neutral-themed Kindle cover for your Paperwhite or Fire.
It has a textured pattern with a dual-toned tan and heather gray color palette and a double button and loop clasp at the top. You can also choose to make it in a single color instead.
Photo Credit: www.etsy.com
This is another fun animal bookmark that's great for children and adults alike!
The sloth's head is crocheted on the top with little arms, a flat bookmark, and a monstera leaf at the bottom.
You will need to know basic sewing to complete this project, but other than that, it's a pretty beginner-friendly project.
Photo Credit: daysck.com
If you love macrame but haven't gotten the chance to learn it, try this faux macrame bookmark pattern with a few different designs.
There's a braid with a bead at the end that hangs outside the book, linen stitches that make up the body of the bookmark, and faux macrame on the bottom.
This is an easy and beautiful take on a crochet bookmark and can be made in several different designs.
Photo Credit: bananamoonstudio.com
This beautiful book cover is made of pink, green, and purple stripes with a multicolored kaleidoscope in the bottom right.
This would make a great boom or journal cover and can easily be customized with your favorite colors.
Photo Credit: www.etsy.com
This adorable amigurumi of a book would be a great decoration for a reading nook or a gift for a fellow bookworm.
It's a minimalistic design, making way for personalized embellishments such as embroidery or other crochet motifs.
Photo Credit: www.etsy.com
This book sleeve has a bunch of cute strawberry stitches on the front and back and has a bobble border on the outside.
The pattern is one size, but the pattern contains instructions for how to size up to fit your favorite book. This sleeve is made from cotton yarn for extra durability.
Photo Credit: www.etsy.com
If you have a little one or teach little ones, this ocean-themed, baby-friendly crochet book is a great way to introduce babies to sea animals and different textures and patterns.
The pattern features movable and detachable objects for children to play with, and the book is sewn together at the end.
Photo Credit: www.etsy.com
Finally, we have this gorgeous mosaic of books, plants, vases, and so much more.
This is a long project that will definitely test your skills as a crocheter, but it will pay off so much.
This would look wonderful over a couch or on a bed, somewhere on display for everyone to see how hard you've worked! (And how much you love books.)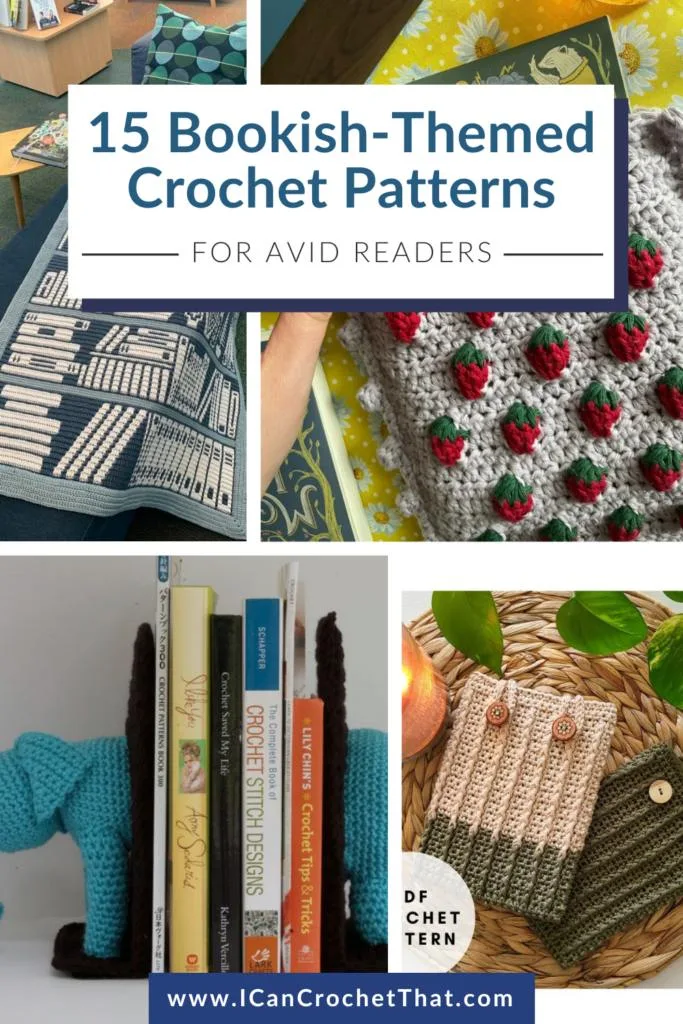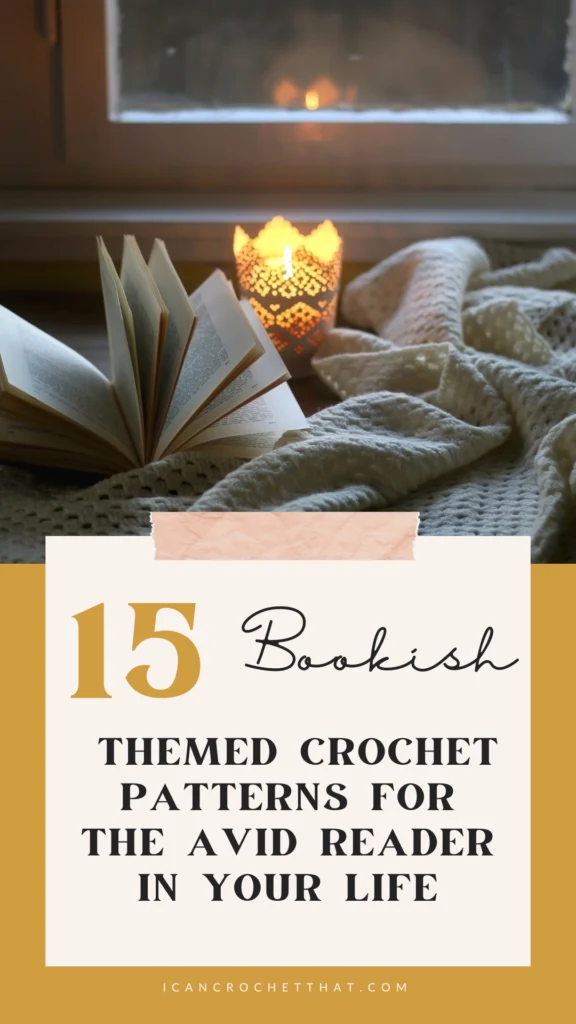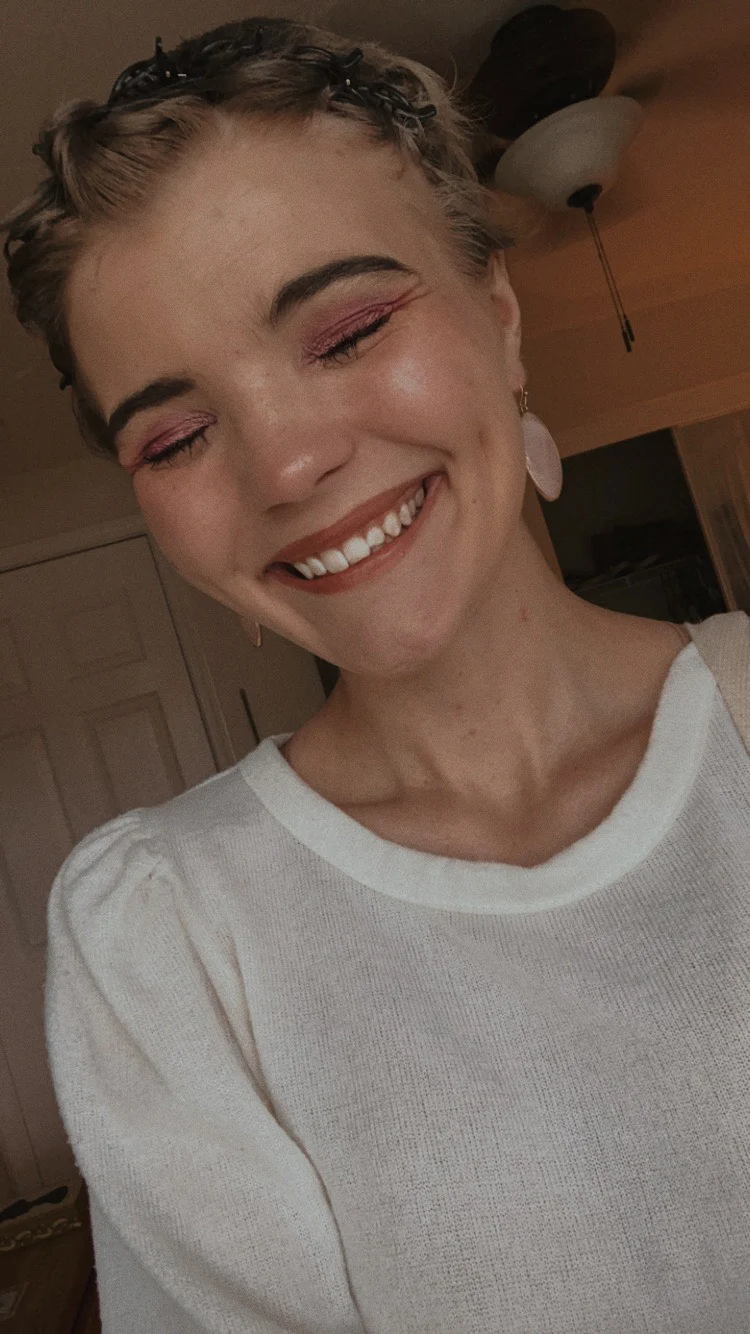 Hannah is the eldest of the Bonner family's three kiddos. She graduated from the University of North Texas with her Bachelors in Elementary Education. She enjoys reading, yoga, movies & TV, and (obviously) crocheting. She is excited about furthering her writing career & spending her days surrounded by yarn. All the yarn.