Are you looking for an easy chenille yarn crochet pattern to use up your stash? The Logan Tunisian crochet blanket is the perfect project!
You can purchase a printable PDF of this pattern at our shop here or Etsy here.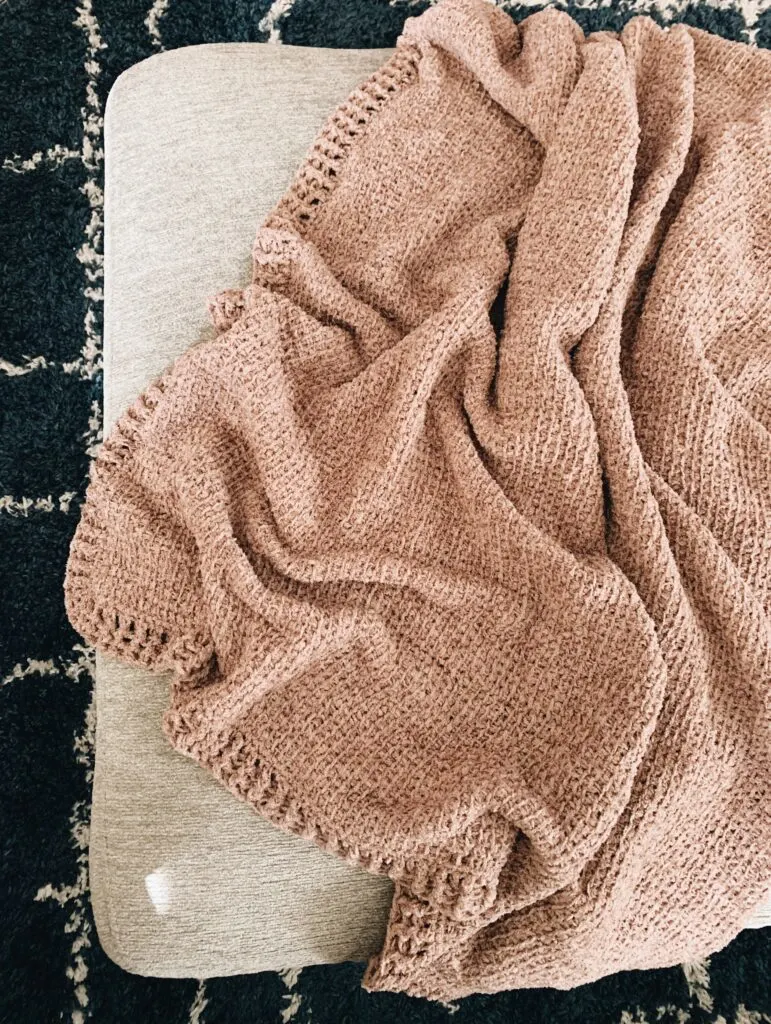 Easy Chenille Yarn Crochet Pattern – The Logan Blanket
Every once in a while, a super easy Tunisian crochet pattern is what we need don't you think?
I purchased some of Lion Brand's Chenille Appeal yarn without even knowing what I would make. I just knew I needed (ok, wanted) it in my yarn stash.
I quickly learned that chenille yarn is tricky.
I wanted a pattern with some stitch definition and that right there became quite the challenge.
I had every intention of designing a regular crochet pattern with this yarn, but after many hours of experimenting with different stitches, I just wasn't happy.
So I broke out my trusty Tunisian crochet hooks and the first stitch I tried, I knew was the perfect one.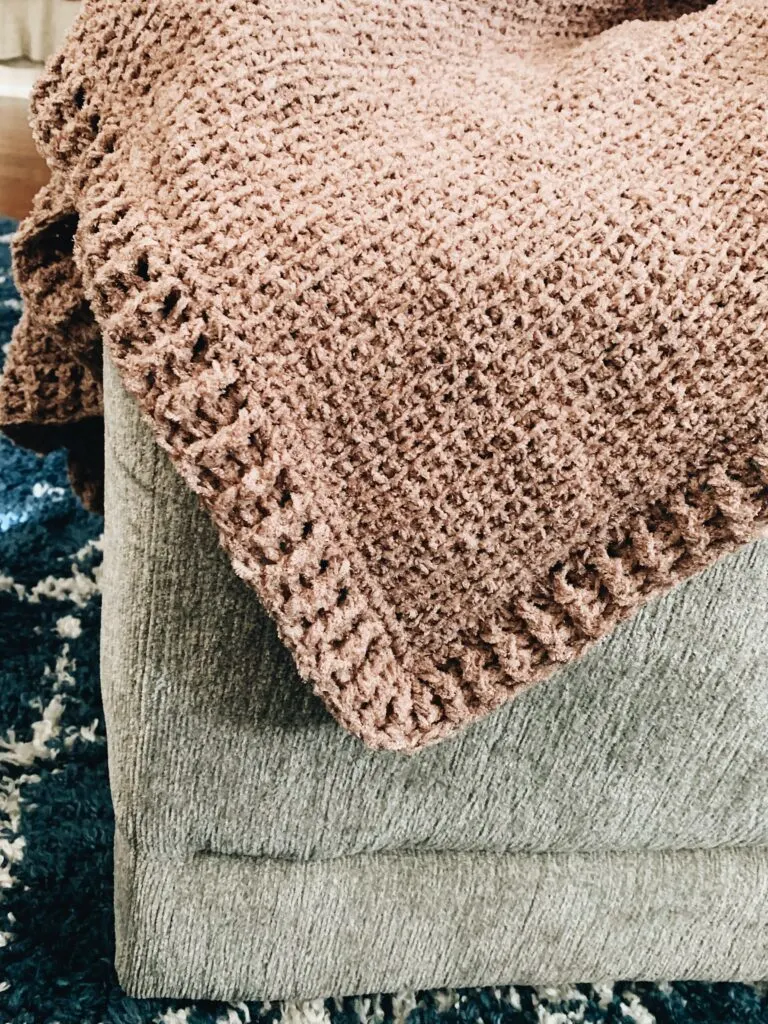 The Inspiration
Have you seen those beautiful and luxurious chenille throws at places like West Elm and Target?
I saved several pictures on my Pinterest inspiration board a couple of years ago of some chenille blankets. I knew a chenille blanket design was in my future. I think I was just waiting on the perfect yarn.
And Chenille Appeal is it.
Crocheting with Chenille Yarn
There are a few things to be aware of before you start crocheting with this yarn.
First, I did quite a bit of frogging while experimenting with different stitches and this yarn did not hold up well to that. I had to cut off quite a bit because it was starting to come apart.
Secondly, it's very easy to miss stitches, especially on your beginning Tunisian foundation row where you have to bring up a loop in the back bump.
For the foundation row, I made sure to count as I went, so I wouldn't miss any stitches. You can do this as you go, or count the loops on your hook before you do the Return Pass.
And lastly, this yarn is obviously pretty slippery, which means it was easy for stitches to slip off the hook. Several times I either accidentally skipped a stitch or loops came off my hook and I had to start the row all over.
So although this Tunisian crochet pattern is labeled as a beginner pattern, using this type of yarn for a beginner might be a little frustrating.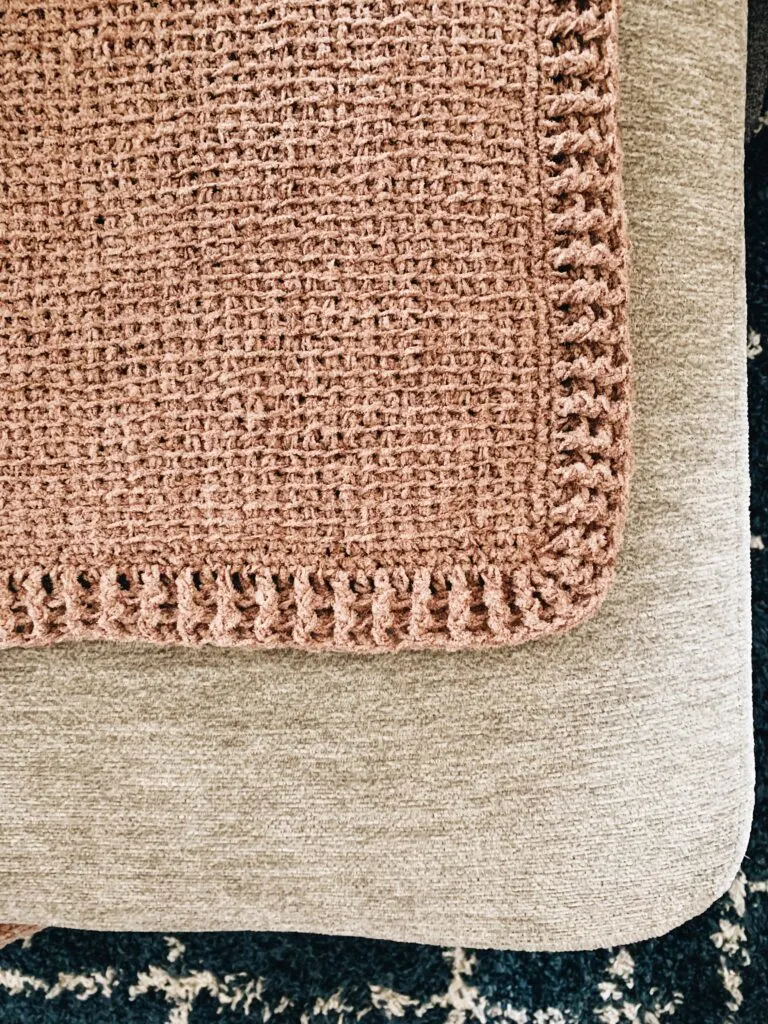 Tunisian Crochet Hook Recommendations
I'll be writing up a detailed post soon all about my favorite Tunisian crochet hooks, but until then here's a short list of ones I like using:
Chenille Yarn Crochet Blanket Pattern
Alright, we've got all of the basics out of the way.
We hope you enjoy making this free crochet pattern using chenille yarn!
You can purchase a printable PDF of this pattern at our shop here or Etsy here.
NOTES
Finished size measures 46" wide x 56″ long
To change the length, simply add more striped rows
To change the width, chain any number
Video tutorial for the Tunisian Simple Stitch HERE
Video tutorial for border HERE
MATERIALS
HOOK(S)
6.0 mm Tunisian crochet hook with cable
5.0 mm regular crochet hook (for border)
YARN
Weight 4 • approx. 1,988 yds
Lion Brand Chenille Appeal, 7 skeins
Color: Stucco
Purchase HERE
NOTIONS
Scissors
Tapestry needle
GAUGE (4″ x 4″)
14 sts x 13 rows (Tss section)
ABBREVIATIONS
ch chain
rep repeat
yo yarn over
FwP Forward pass
RetP Return pass
Lts last Tunisian stitch
Tss Tunisian simple stitch
Tslst Tunisian slip stitch
sc single crochet
dc double crochet
fpdc front post double crochet
bpdc back post double crochet
sk skip
st(s) stitch(es)
SPECIAL STITCHES
Tss
Insert hook through 2nd bar from hook. yo and pull up a loop (leave loop on hook). *Insert hook through next bar, yo and pull up a loop. Rep from * to last vertical bar
Lts
insert hook under both vertical bars of the last stitch and complete as for Tunisian simple stitch
Tslst (bind off row)
Insert your hook as you would for Tunisian Simple Stitch, Yo, and pull through a loop, as you are pulling through, also pull through the loop on the hook. You'll have one loop on your hook. Continue to end
RetP
ch 1, (yo, pull through the next 2 loops) until only one loop remains on the hook
Video tutorial for border HERE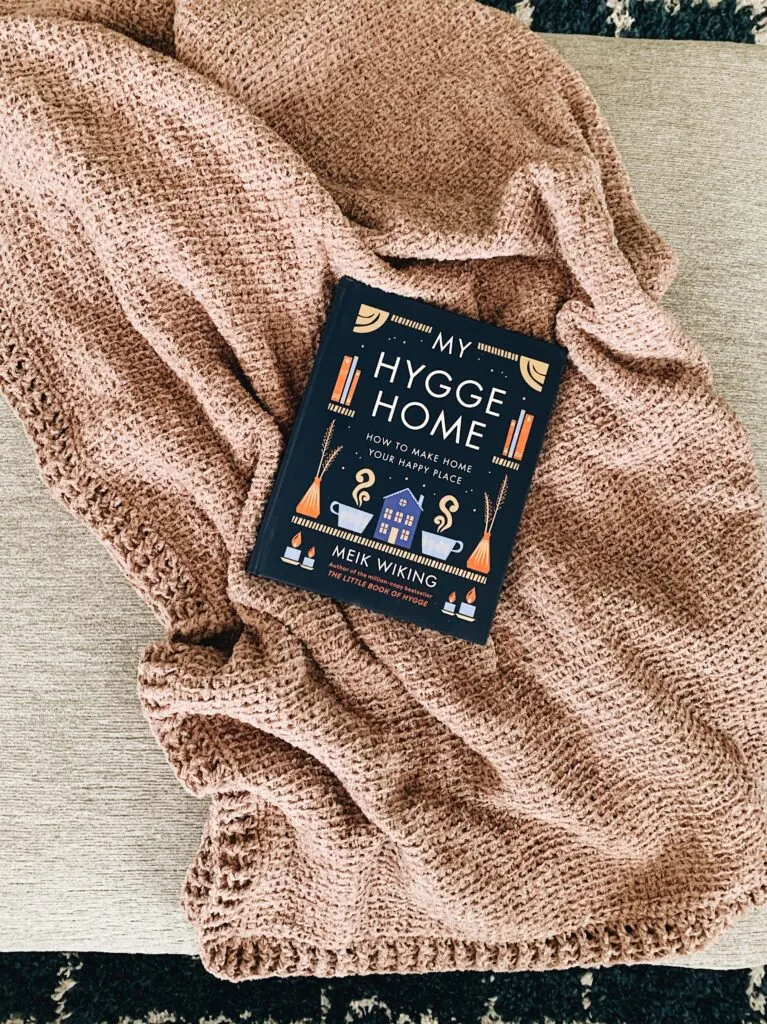 The Logan Blanket
The Logan blanket is made with the softest, comfiest, and most luxurious chenille yarn. It can be difficult to get stitch definition with this type of yarn, but whipping it up with the Tunisian simple stitch creates a bit of a waffle look to it. It's similar to the chenille blankets bought at places like the Pottery Barn and West Elm.
Foundation row Ch 150
Pull up a loop in the back bump of the 2nd ch from hook and each remaining ch, RetP. (150 loops on hook)
Row 1 TSS in each stitch across, working the last st as for Lts, RetP (150 loops on hook)
Rows 2 and on repeat row 1 until desired length or until your 6th skein of yarn is used
Last row Tslst in each vertical bar across row to bind off, inserting hook as for Lts on the last st. Do not fasten off, continue to border.
For the single crochet border section watch the video tutorial here
For the dc, fpdc and bpdc border section, watch the video tutorial here
Switch to 5 mm regular crochet hook for border
Round 1
ch 1, 2sc in same space, sc in each stitch down edge to corner, 2sc in last stitch, 2sc in first stitch; sc in each st across, 2sc in last st, 2sc in first stitch, sc in each stitch along edge, 2sc in last stitch, 2sc in first stitch, sc in each st across, 2sc in last stitch, slip stitch to first sc
For the rest of the border, follow the instructions in this video, but instead of doing 9 dc in corner, do 7 dc in corner
Here are the written out instructions:
Round 2
work dc in corner, work 3 more dc in same st, dc in next st, dc across to next corner
*work 7 dc in corner, dc in next st, dc across to next corner*, rep from * to * around blanket until you get to the first dc worked (which is a total of 4 dc in that corner), work 3 dc in same st as first dc (7 dc total in last corner), sl st to first dc, ch 2 (does not count as st)
Round 3
fpdc in first st, *bpdc in next st, fpdc in next st*, rep from * to * around entire blanket, sl st to first st of row, ch 2
Round 4
repeat round 3
Fasten off, weave in all ends
Pin to Save for Later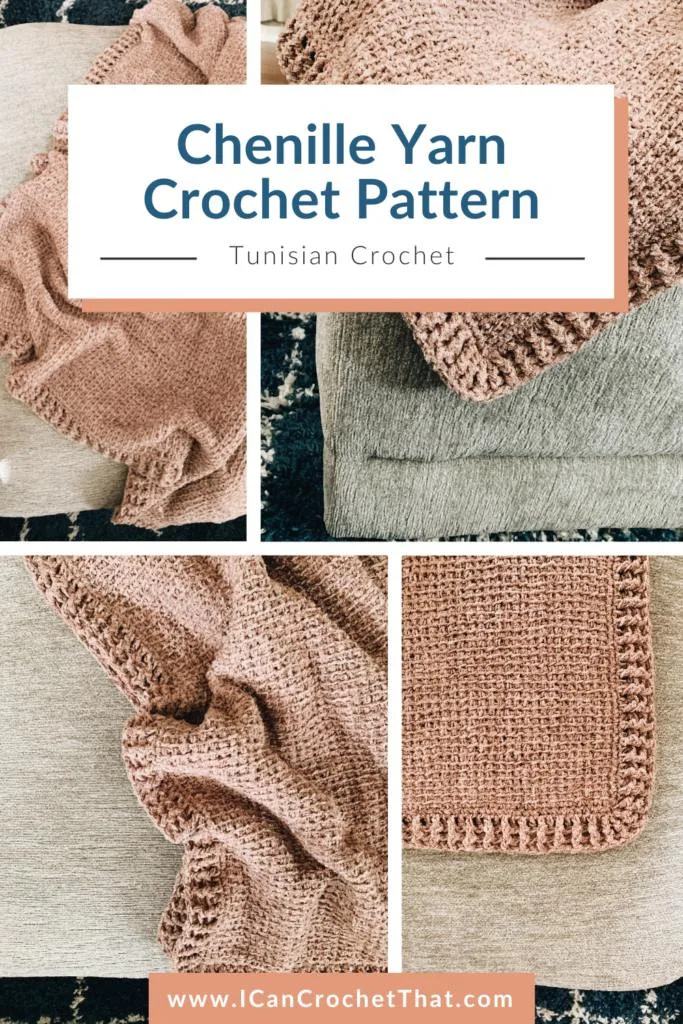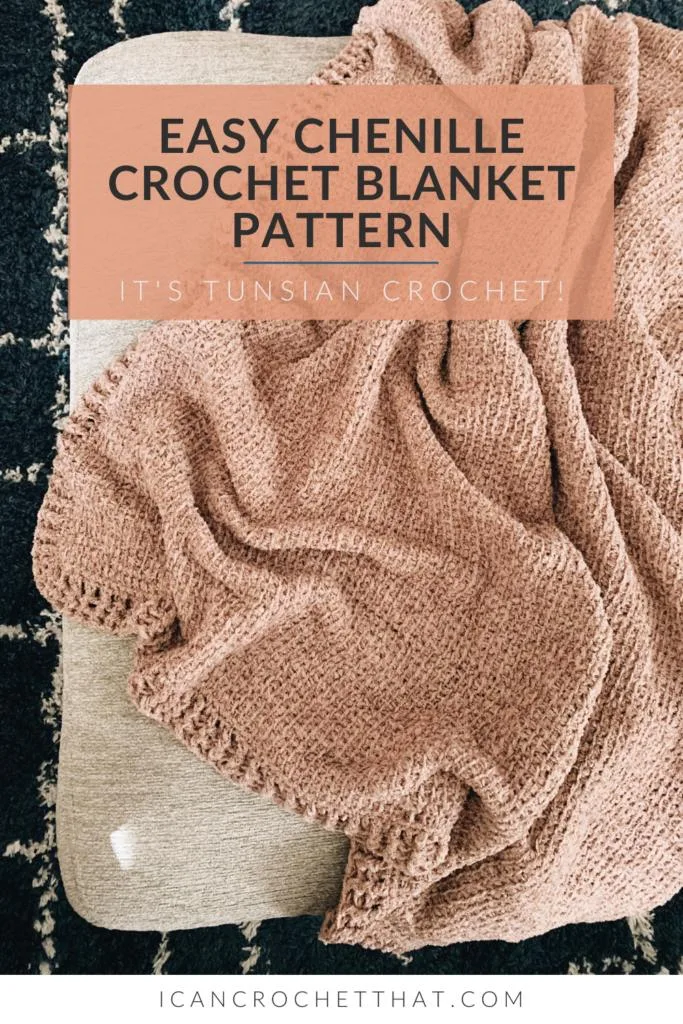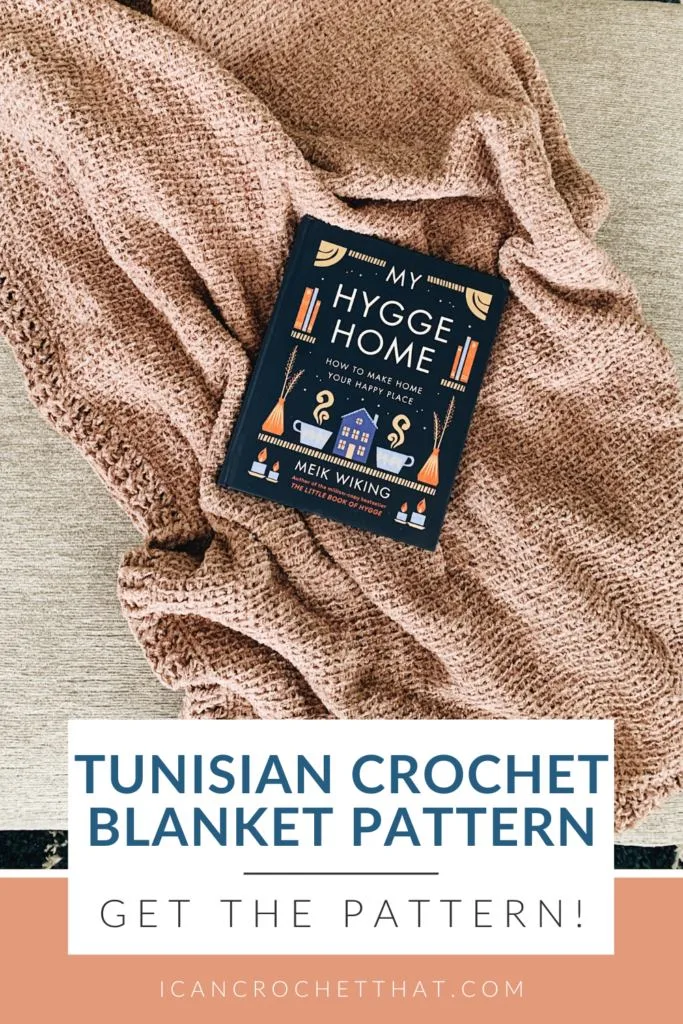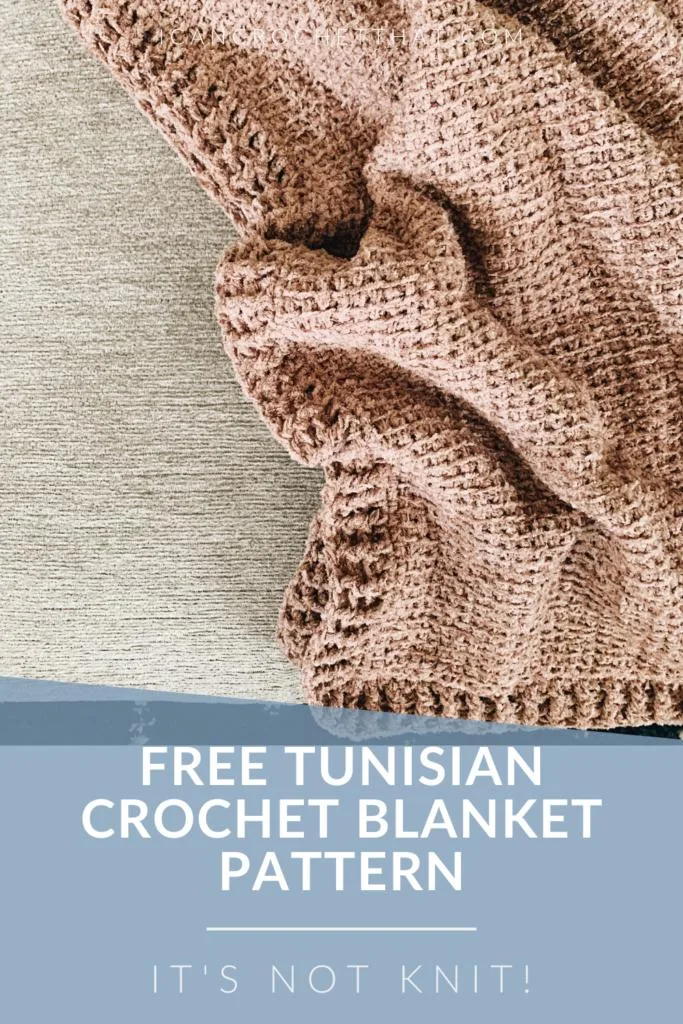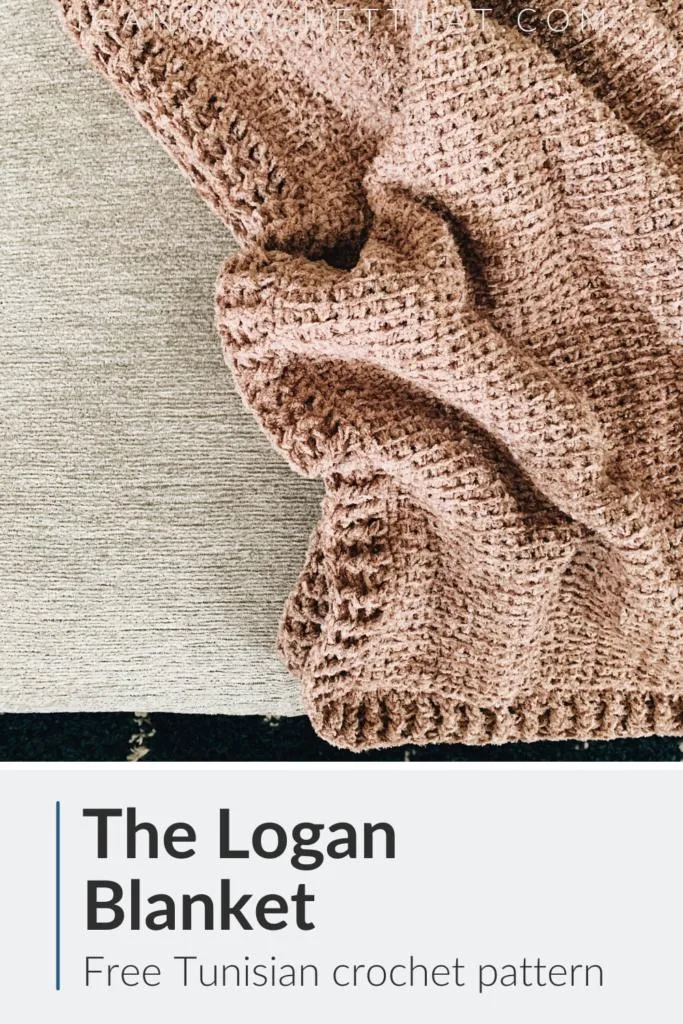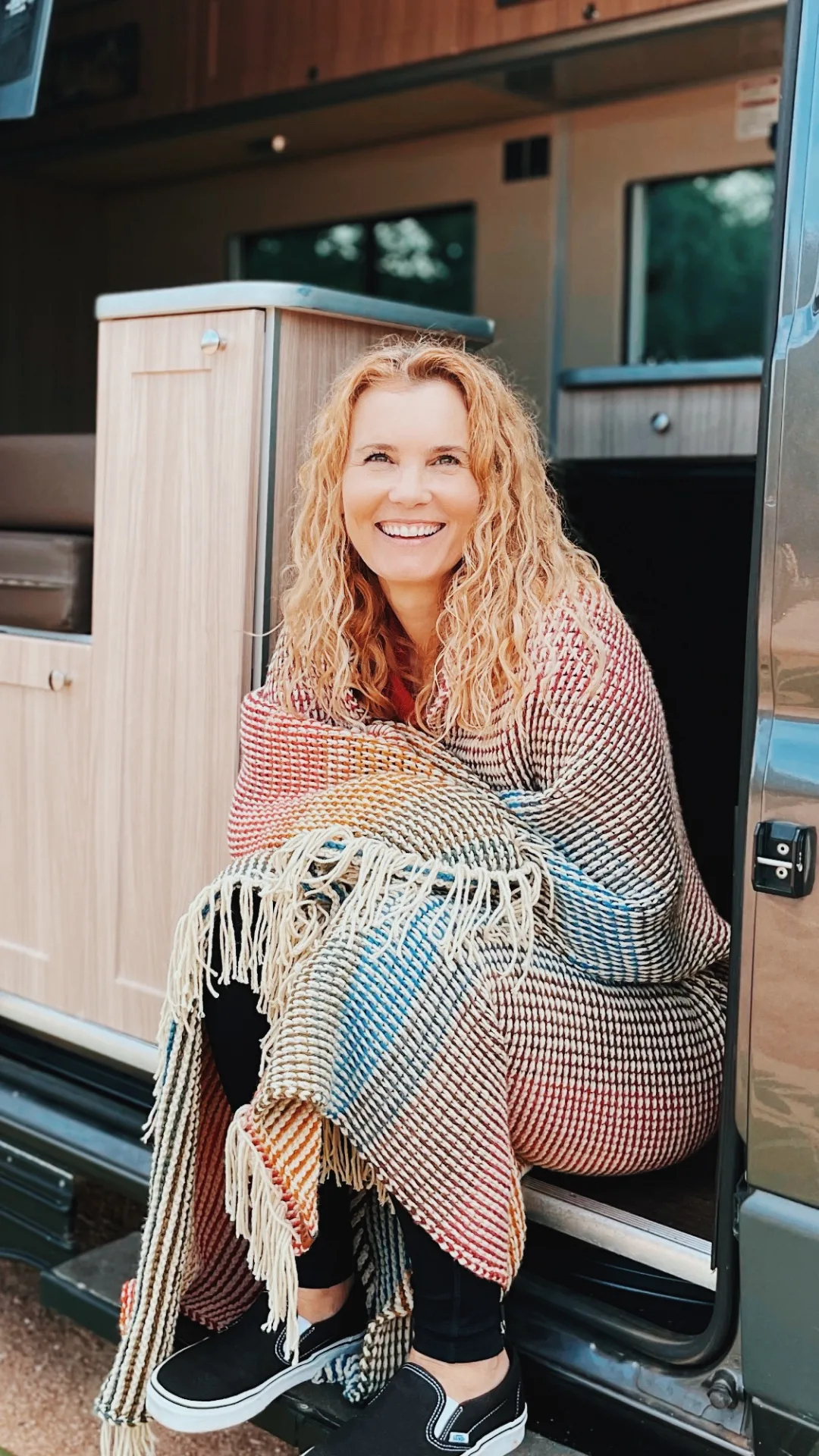 Hi! I'm Julie. I design modern crochet patterns and tutorials to help you learn to crochet. I've been crocheting for over two decades and with the gentle nudging of my husband, decided to turn this passion into a career. Although we travel a lot in our campervan, you'll never find me without a bag of yarn and projects.