Last Updated on March 20, 2023
It's spring! Do you stop crocheting? Nope? Same here. Check out these Easter crochet patterns that are so much fun!
Believe it or not, friends, Easter is in just a few weeks!
We've officially entered the spring season and it's about time to start planning our Easter festivities.
Just like all the other holidays, Easter is a great time to use your crochet skills.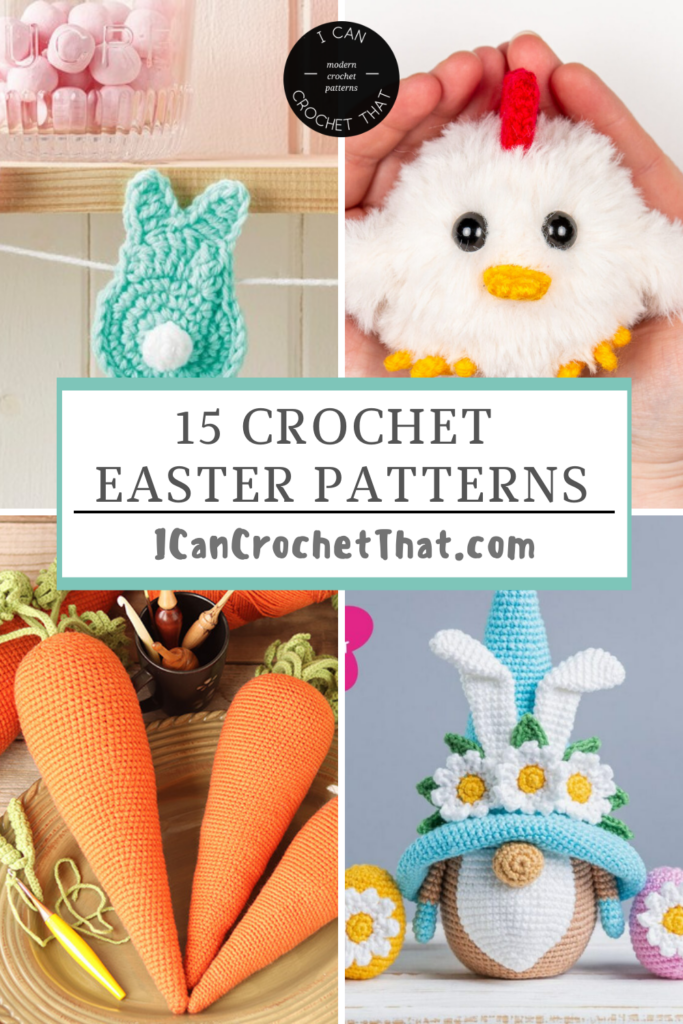 What Should I Crochet for Easter?
From designs like an amigurumi chick to simple projects such as bunny garlands, there's something here for every skill level.
Plus, when you crochet Easter patterns yourself you can customize them with colors that match your decor or even make them in pastel shades that evoke springtime.
And don't forget about accessories – like wreaths with crochet flowers and bunnies or a crochet chocolate bunny you could tuck in your kiddos Easter baskets.
Last but not least, we've even included an Easter crochet blanket pattern. Because you know how much we love crochet blanket patterns around here!
15 Easter Crochet Patterns
Today I have fifteen Easter patterns for everyone from the Easter brunch host to the little kiddos, from placemats to decor to Easter egg covers. Here they are:
Photo Credit: www.gathered.how
Bunting or garlands are a super easy crochet decoration you can make.
There are ones for all sorts of occasions and seasons and it's a great way to create a reusable decoration.
This Happy Easter bunting would be great for Easter lunch and easter egg hunting with the kiddos.
Photo Credit: www.etsy.com
If you're wanting another reusable Easter decoration, placemats are a great option.
They can easily be passed down by generation and make a great annual decoration that people can look forward to.
Photo Credit: theloopylamb.com
I fell in LOVE with this little guy when I saw him!
This fluffy amigurumi chicken can make a super cute decoration or Easter basket gift for a little one (and one for yourself if you're a child at heart like me.)
Go pick up some faux fur yarn and you'll be ready to go.
Photo Credit: www.etsy.com
Show off your amigurumi skills with this adorable chick-in-egg crochet project.
This works great for an Easter table or shelf decoration, and little kids and big kids alike will enjoy it in their Easter baskets.
Photo Credit: www.jenhayescreations.com
These big crochet carrots are super easy and would make a great addition to an Easter table centerpiece or as decorations all on their own.
The size of the carrots can also be adjusted if you'd prefer a smaller carrot (but why would you want that? Bigger is better.)
Photo Credit: www.etsy.com
This chocolate Easter bunny is an easy Easter project that looks good enough to eat.
It's one of the easier amigurumi projects because of its simple shape and beginner-friendly stitches.
This would be a great gift for the little ones for the beginner crocheter to try their hand at.
Photo Credit: desertblossomcrafts.com
Because of their simple shape, amigurumi Easter eggs are one of the easiest amigurumi projects you can make.
They're super quick and don't require a lot of increasing/decreasing.
This is another decoration you can use each year and customize to fit your preferred color scheme.
Photo Credit: www.etsy.com
These rabbit coasters are so easy that you can work up a bunch quickly.
Plus if you would like, you can keep them out year-round since the design is pretty universal for any season.
Photo Credit: www.etsy.com
This adorable crochet Easer wreath features a bunny surrounded by flowers at the base of the wreath and crochet stripes across the sides and the top.
You can choose whichever color palette you would like; the preview features both a yellow and blue wreath and a purple and pink wreath.
Photo Credit: www.etsy.com
My favorite decoration trend to come about in recent years is gnome everything.
They can be changed to fit any theme or season and to be honest, they're just adorable.
This Easter gnome is no different, especially with the beautiful flowers.
Photo Credit: sfmgs.co.uk
This Easter egg mandala is a unique take on an Easter egg that has the prettiest colors and a flower emblem in the middle.
It would be great as a table decoration or maybe even wall decor for the spring season.
Photo Credit: www.etsy.com
These bunny-shaped egg holders are super easy and won't even take an hour.
You can use them for your little one's Easter basket or as a display for your eggs at Easter brunch.
Photo Credit: www.petalstopicots.com
Give your hard-boiled eggs a pretty spring touch with these lacey egg wraps.
They're made with ultra-thin yarn and even have some bead work to add an extra special touch.
Photo Credit: www.1dogwoof.com
Have little ones to make Easter baskets for? Add a bit of fun to their Easter eggs with this easy monster Easter egg cover.
Make them in whatever color you wish and add fun to your little one's Easter basket.
Photo Credit: www.etsy.com
Finally, work up this bunny blanket for you or your loved ones to cuddle up with during the springtime.
The bright blue color screams spring and the little bunnies and accessories are adorable.
We believe around here that crochet is so much more than just a hobby; it's an opportunity to express creativity while creating something useful at the same time.
So this Easter season add to those store-bought decorations you love and try making something truly unique with our selection of crochet easter patterns! We hope you found the perfect pattern (or two).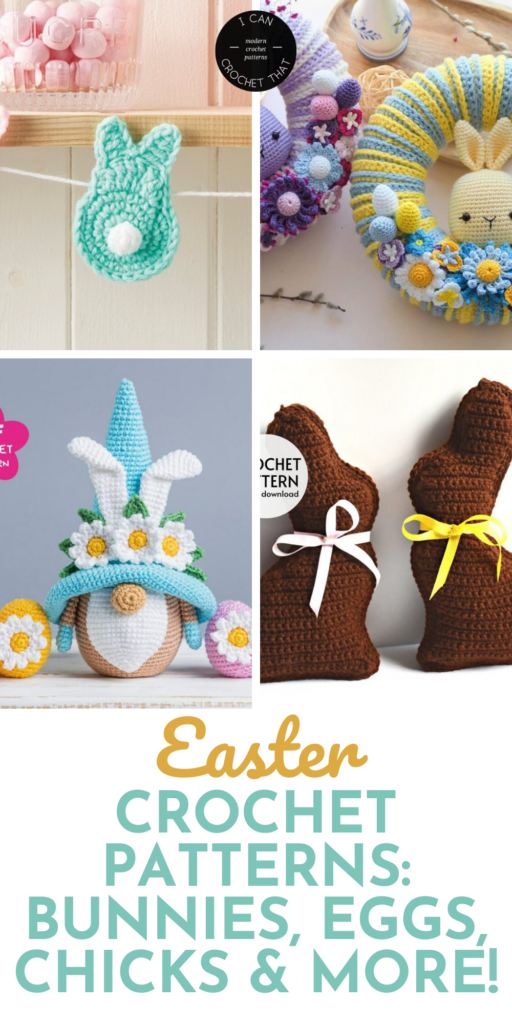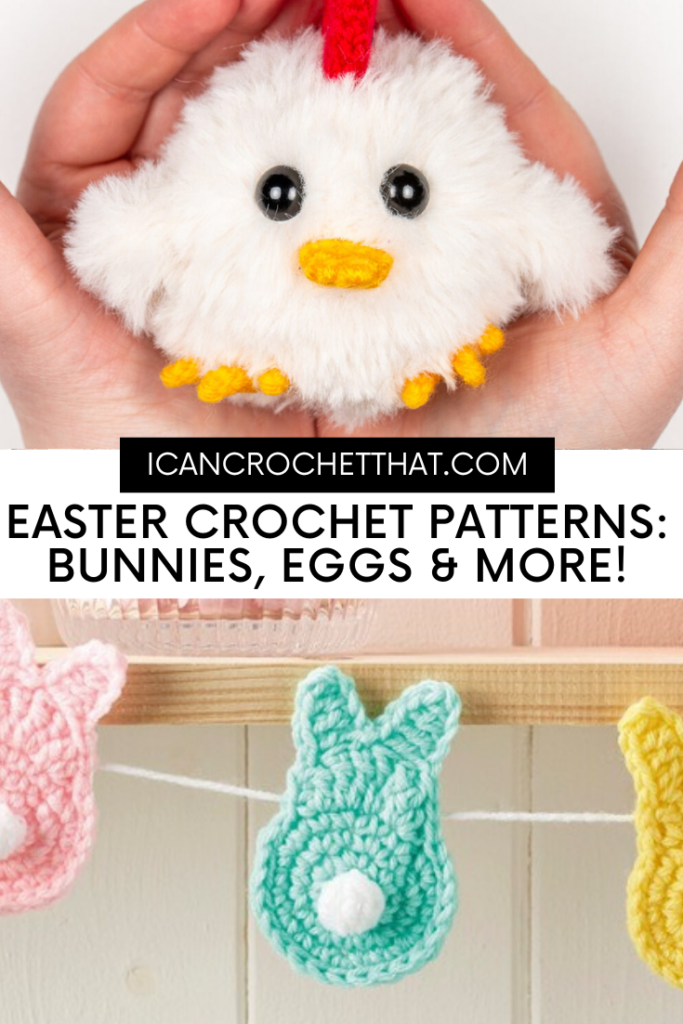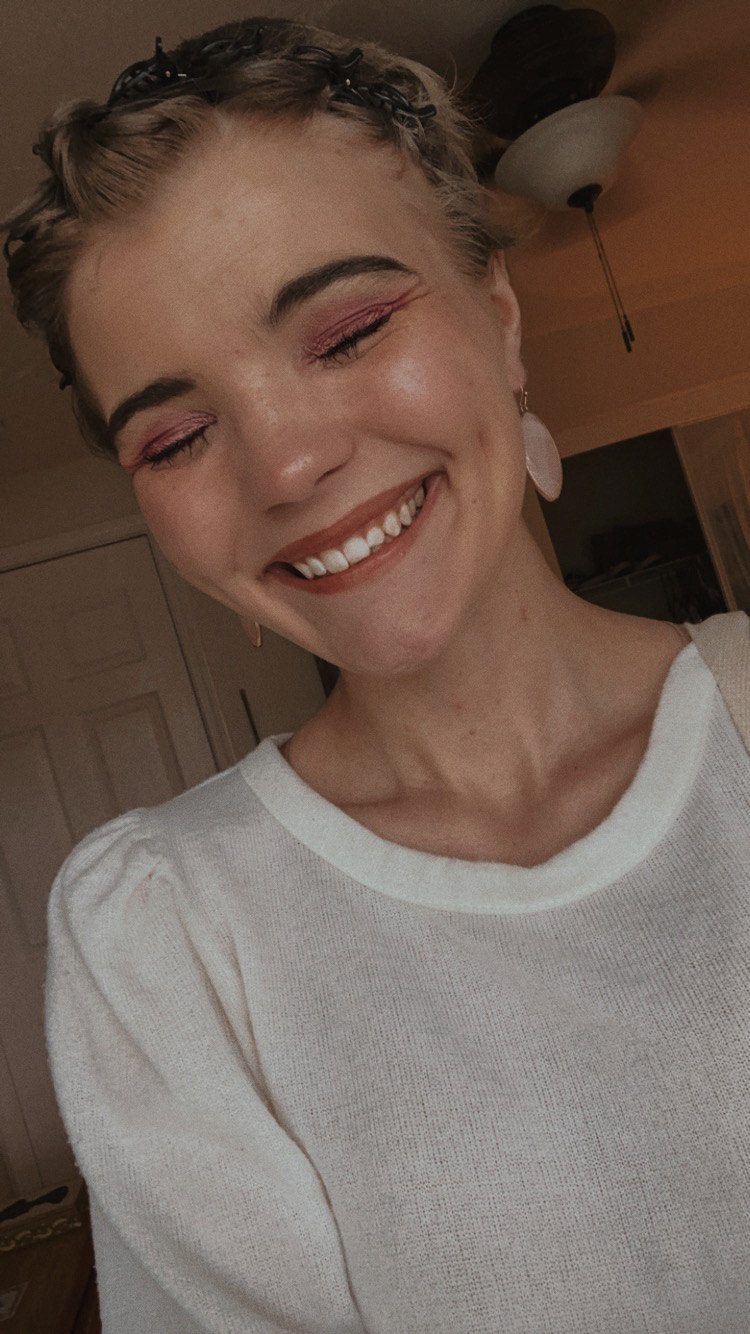 Hannah is the eldest of the Bonner family's three kiddos. She graduated from the University of North Texas with her Bachelors in Elementary Education. She enjoys reading, yoga, movies & TV, and (obviously) crocheting. She is excited about furthering her writing career & spending her days surrounded by yarn. All the yarn.