Last Updated on November 9, 2022
These 15 easy crochet sweater patterns are perfect for the beginner crocheter who wants to try their hand at garments.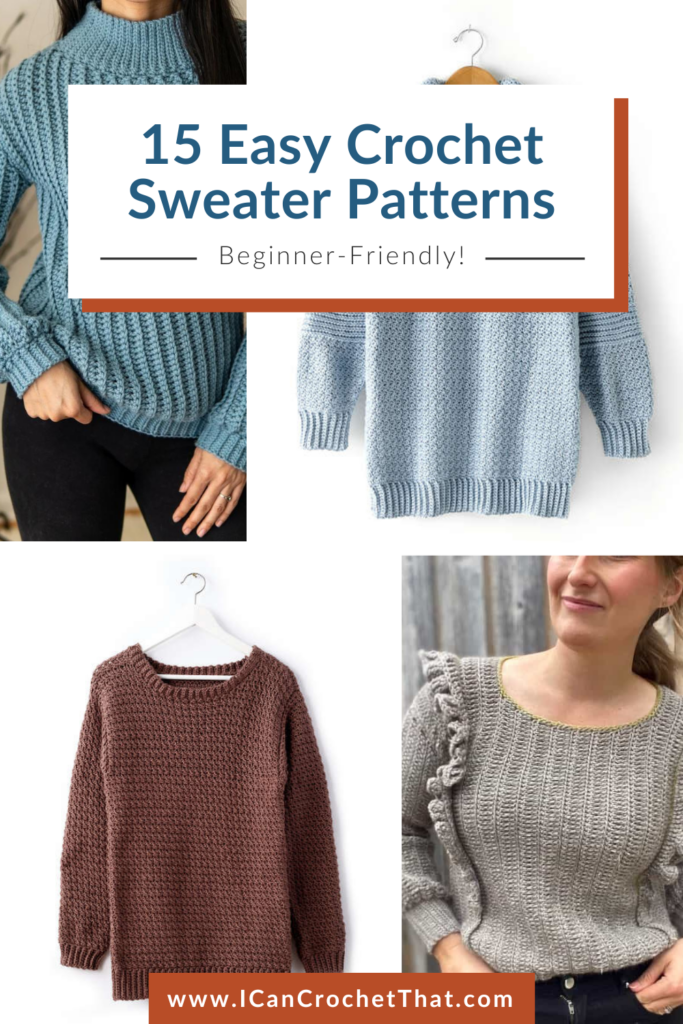 Folks, we have officially hit sweater season. Sweater weather, if you will.
Even here in the Lone Star State, things are starting to get chilly.
This season was made for us crocheters and I, for one, could not be more excited about diving into my stash of sweater patterns.
Now if you're a beginner crocheter, sweaters (and garments in general) are definitely intimidating.
But today I've rounded up a list of fifteen easy crochet sweater patterns for beginner crocheters to try their hand at this fall and winter.
Easy Crochet Sweater Patterns
Photo Credit: www.yarnspirations.com
I love cowl neck sweaters. The cowl adds a bit of extra texture to the look and basically has a built-in scarf! They're a wonderful fall and winter accessory and this one from Yarnspirations is beautiful in the country blue yarn.
Photo Credit: www.yarnspirations.com
Oversized will never go out of style. The laid-back, effortless look looks great on everyone and will be in style until the end of time. This classic oversized sweater is a perfect way to add the trend to your wardrobe. You don't have to worry too much about shaping since it's meant to be oversized, and the pattern has primarily beginner stitches.
Photo Credit: megmadewithlove.com
I am the textbook definition of a homebody. I could live at home, in my Peanuts pajamas, crocheting and reading until the end of time. This homebody sweater from Meg Made With Love is the introvert's perfect companion.
It has a slouchy, off-the-shoulder look with rolled sleeves (adorable!) and a ribbed bottom. Also, the whole sweater is made of half double crochets, so you'll barely even have to think while working this one up.
Photo Credit: www.etsy.com
This simple sweater has a bit of a longer torso with ribbing at the bottom and on the sleeves. It has longer ribbing on the neckline to resemble a little bit of a turtleneck. It's a perfect staple for your wardrobe you can make with your own two hands!
Photo Credit: forthefrills.com
This beginner-friendly sweater is made with chunky soft yarn and works up pretty quickly. It's made from the top down and doesn't require ANY seaming! It's one of the easiest sweaters you can make.
Photo Credit: www.lovecrafts.com
This crochet sweater gets its name from the natural-toned colors of the yarn, reminiscent of stones. This sweater is made from tweed yarn, which gives it an especially cozy appearance and feel. It gives cabin in the Pacific Northwest vibes.
Photo Credit: www.reginapdesigns.com
Autumn is finally in full swing (it's in the 40s even in Texas!), and this sweater is a perfect project to start, or continue, this fall season. The stitch pattern is beautiful and I love the addition of the little turtleneck for an extra bit of coziness.
Photo Credit: carrowaycrochet.com
If you're a beginner crocheter and haven't made your first garment yet, I highly suggest starting with this super simple sweater from Carroway Crochet. There's minimal shaping and seaming, and it's a great pattern for getting a feel for how to crochet something more complex. Make one in every color or make one as a gift!
Photo Credit: www.hookedonhomemadehappiness.com
This cute slouchy sweater is color blocked with a muted range of colors from cream to gray. It requires minimal construction (just two panels sewn together!) and is worked in single and double crochets. True to its name, this sweater is perfect for every gal out there, no matter your style!
Photo Credit: www.tlycblog.com
This beginner-friendly sweater is simple, easy, and has a relaxed fit for every body type. It's made with minimal stitches (mostly single crochet and extended single crochet) and easy ribbing on the neck and bottom.
You can dress it up with a skirt and heels or dress it down with jeans and tennies. It's that basic sweater everyone needs in their wardrobe.
Photo Credit: www.hanjancrochet.com
Need to add a bit of a girly touch to your wardrobe? This ruffle crochet sweater is a perfect choice. With the basic stitches and simple construction, it's easy to make and pairs perfectly with everything from jeans to palazzo pants.
Ruffles are such a simple accessory that can crank up any basic garment!
Photo Credit: itchinforsomestitchin.com
Love the close-knit (pun intended) look of knitted sweaters? You can achieve the same look with crochet with this classic ribbed sweater from Itchin' For Some Stitchin'. This sweater is beginner friendly and can easily become a wardrobe staple.
Photo Credit: crazycoolcrochet.com
This pastel crochet sweater has ¾ sleeves that make it perfect for transitioning into the cooler weather. As far as construction, this pattern boasts identical front and back panels that just require a quick seam. No increasing or decreasing!
Photo Credit: makeanddocrew.com
This brunch cardigan, also from Make and DO Crew, has a unique construction as it's made from two hexagons. But don't let the shape fool you; this sweater is actually perfect for beginners.
In the end, you'll have a beautiful cardigan that'll beg the question, "WHERE did you get that??"
Photo Credit: makeanddocrew.com
My favorite cardigans are those that I can put on and instantly become a cozy burrito, and this cocoon cardigan from Make and Do Crew was just made for cozy burrito-ing.
Its simple construction and unique stitch pattern combine to make this sweater a fun and easy introduction to crochet sweaters.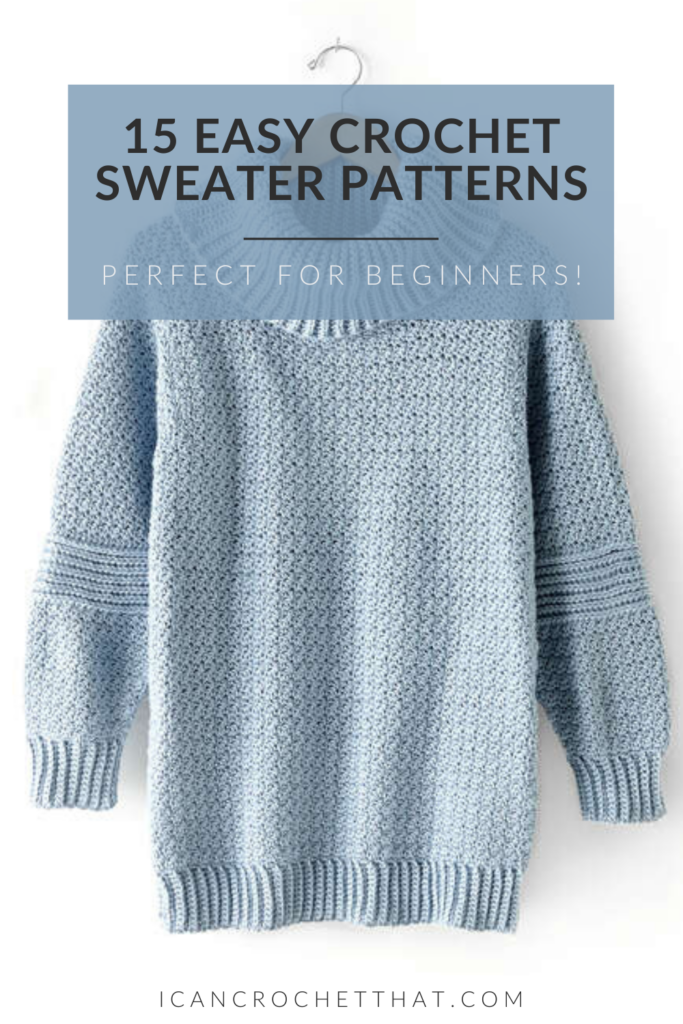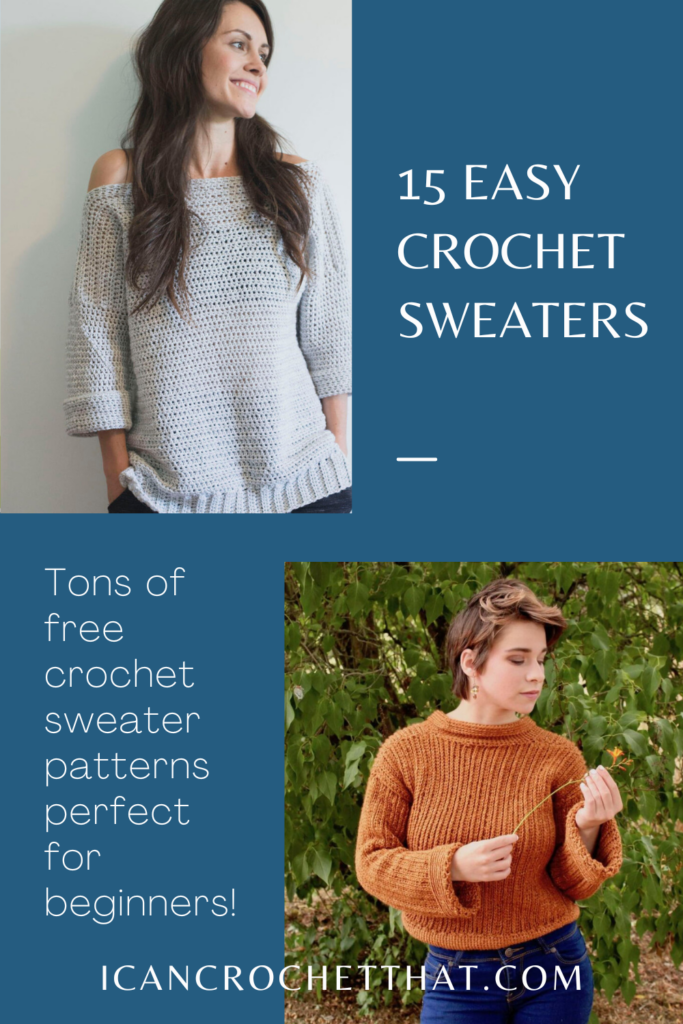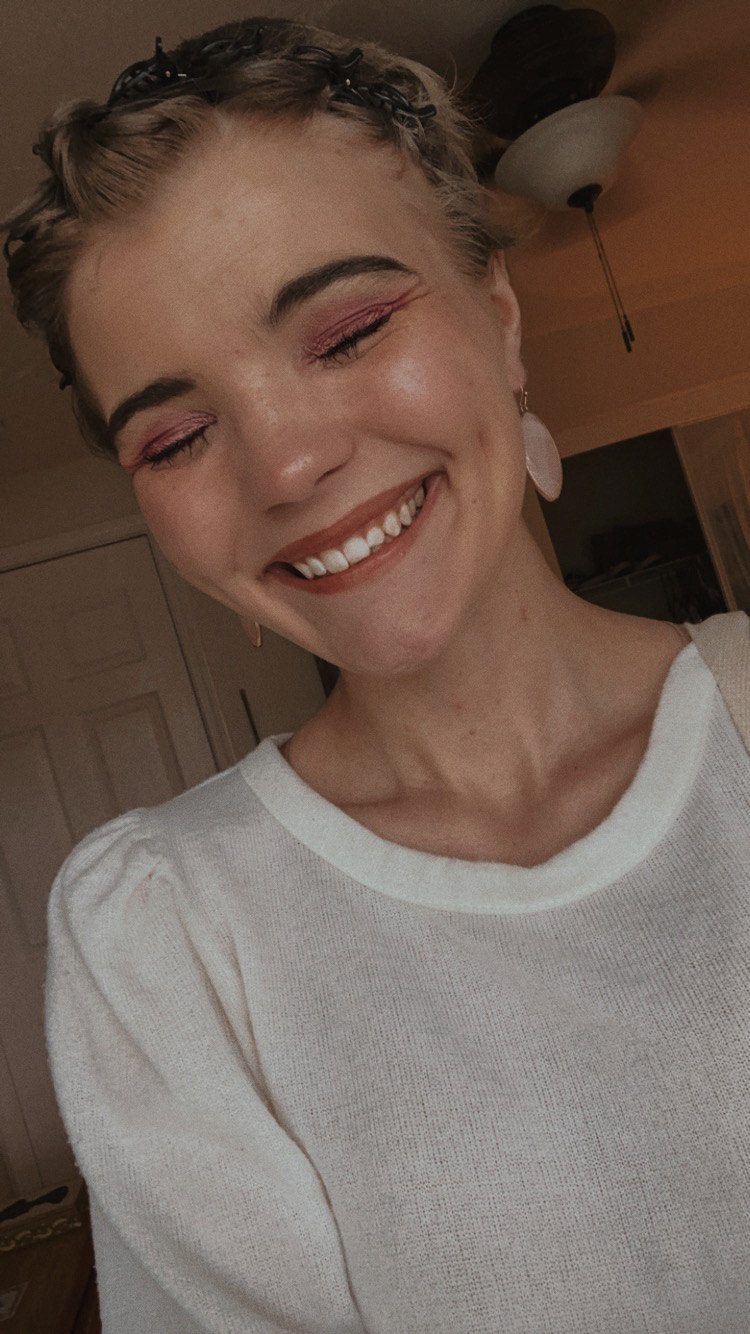 Hannah is the eldest of the Bonner family's three kiddos. She graduated from the University of North Texas with her Bachelors in Elementary Education. She enjoys reading, yoga, movies & TV, and (obviously) crocheting. She is excited about furthering her writing career & spending her days surrounded by yarn. All the yarn.