Are you just beginning your journey to becoming an avid crocheter? If so, we have 7 essential crochet tools we recommend to help you get started, as well as some to up your crochet game.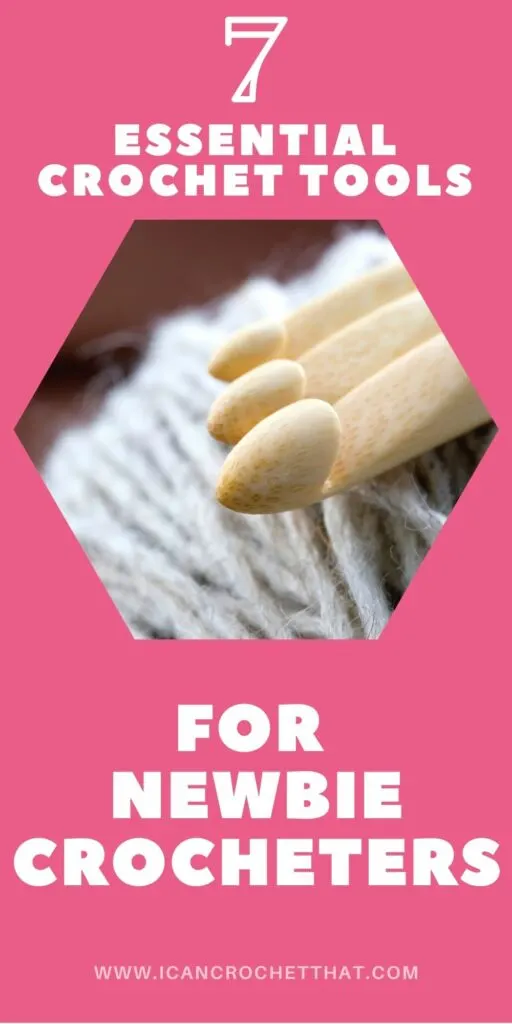 Hooks, Markers, Tape, Oh My! – Our Essential Crochet Tools List
1. Crochet Hooks
Having a set of crochet hooks that you're comfortable with is the most
essential tool in crocheting.
Hooks can be made out of several different materials from metal to bamboo to plastic; which one you decide to use depends on your preference.
There are also ways to customize your hooks to fit your needs.
For example, I have some issues with my hands and I have to stop pretty often while crocheting because my hands are either trembling or the cramping becomes too much.
Because of that, metal and plastic hooks tend to slip out of my hands. So I went ahead and got a few hook grippers to keep the hooks from slipping out of my hands and give some more width to the hooks so my hands cramp less often.
Here are a couple basic sets to get you started:
This set has hooks made from aluminum that run from size 2 mm to size 10 mm. It's the perfect set for beginner crocheters and has a wide variety of sizes.
You can get it from Amazon here.
Like the first set, this one has a wide variety of hook sizes. But instead of aluminum, this set features rubber handles for each hook, making it easier to have a grip on the hooks.
If you're looking to get all of your supplies at once, this set also comes with tapestry needles with a case, stitch markers, and a hook organizer. All for $15.99!
2. Stitch Markers
As you improve in your crocheting and move onto more complicated
projects, there will be times when you need to mark a certain stitch on
your project.
This is commonly used to mark the beginning of a row in projects that are worked in a round, such as hats and socks.
These prevent the beginning of the row from getting lost and saves you a lot of frustration.
Here are a couple of sets of stitch markers to choose from:
This metallic set has a variety of stitch markers to choose from, including smaller circular markers and markers that has a small lock to prevent them from falling out as you're working on your project.
In contrast to the first one, this stitch marker set has markers made of
plastic that all have the locking feature.
They are a bit bigger than the metal markers, but if you're worried about the markers falling out, this is the perfect set for you.
3. Measuring Tape
Crochet patterns usually have what's called a gauge, which is a measure of the stitches and rows in a 4 x 4 square.
This is useful for determining if your stitches are too large or too small for the particular project you're working on.
The measuring tape is just a way to check if the gauge of your stitches matches the gauge of the pattern you're working from.
Here are a couple of different measuring tapes made for crocheting to choose from:
This retractable measuring tape has a key ring in case you're crocheting on the go (car rides, bus rides, waiting for the bus, etc.). It's made of vinyl to allow for flexibility.
If you're more of a fashionista, this adorable floral measuring tape may
be for you.
It can actually be used as a regular measuring tape, but it's small enough to be used for crochet and sewing.
Another option for measuring the gauge is a swatch ruler. It's not a measuring tape per se, but it's very handy for getting an accurate stitch gauge measurement.
4. Hook Organizer
Disorganized hooks can be a nightmare and make it difficult to locate the
proper sized hook for your project.
Having a hook organizer makes it easy to separate and organize all of your hooks by size, material, or whatever helps you the most.
Most hook organizers also have pockets for your stitch markers, scissors, and other crochet accessories.
Here are a couple of hook organizers to choose from:
This minimalist hook case is durable and lightweight enough to
carry around without a problem.
It has eight elastic bands to store your hooks and 3 zipper pockets for your accessories.
I'm a personal fan of this cat print hook case. (I'm a sucker for quirky
patterns, usually involving animals).
This case is a bit smaller than the last one but has all the same features, including the mesh pockets. You can get this adorable hook organizer off Amazon here.
5. Scissors
A pair of scissors is useful for cutting the yarn when you're finished with a
project or are changing colors.
While I'm sure there are multiple pairs hidden around your house, it's best to have a pair specifically for crochet.
Crochet scissors are much smaller and usually have a protective end cap to keep them from tearing into anything in your purse or hook organizer.

Here are a couple of pairs of crochet scissors to choose from:
These simple black scissors are just small enough for crochet,
embroidery, or sewing.
They also come with a protective leather sleeve (in an adorable baby blue, I might add).
If you're prone to losing your crochet supplies (ahem, me), you may
want to grab a pack of two pairs of scissors just in case.
These scissors are perfectly sized, sharp enough to easily cut through thread or yarn, and have plastic end caps instead of leather.
6. Tapestry Needle
As you move onto crocheting garments, oftentimes you'll need to sew on
things like sleeves, hoods, and other add-ons.
You'll also need something to weave in those dreaded ends. (Just put on a movie and you'll be done before you know it.)
Tapestry needles have a wide opening to fit the yarn through, and some feature a curved end to easily get through the stitches.
Below are a couple of tapestry needle sets to choose from:
These tapestry needles have a large eye to get the yarn through, and
curved tips to get under the stitches and make hiding seams and tails easier.
They are also made of smooth plastic to easily get through stitches and are brightly colored, making them easy to locate.
If you prefer steel or aluminum needles, this set may be better for you.
These needles still feature the large eye, but are more durable and have much smaller tips useful for getting under tight stitches.
7. Row Counter
While this isn't an absolute necessity for crochet, a row counter is
incredibly useful if you're prone to losing count of stitches or rows.
You just click the little button each time you finish a stitch or row.
That way, there's no need to worry about starting over or getting frustrated over losing count so many times. This is particularly useful for large projects with 100 or more stitches, where it's all too easy to lose count.
Here are a couple of row counters to choose from:
This digital row counter goes right on your finger, making it easy to access while you're crocheting. It's also flexible and doesn't impact your hand mobility.
If you'd prefer a non-digital one, this pendant-style counter might be perfect for you.
Now that you have a great list of essential crochet tools, grab some yarn that's perfect for beginners, check out a few of our free patterns and start crocheting!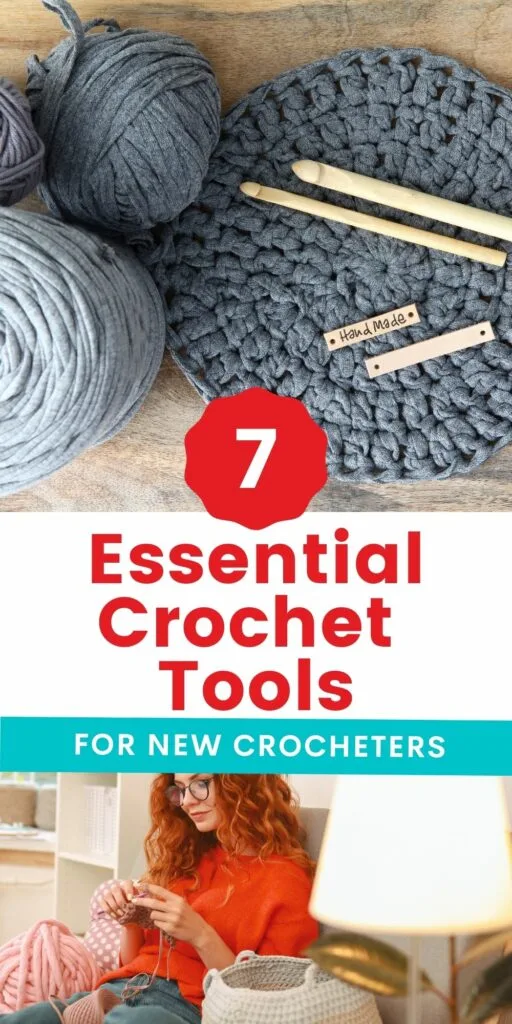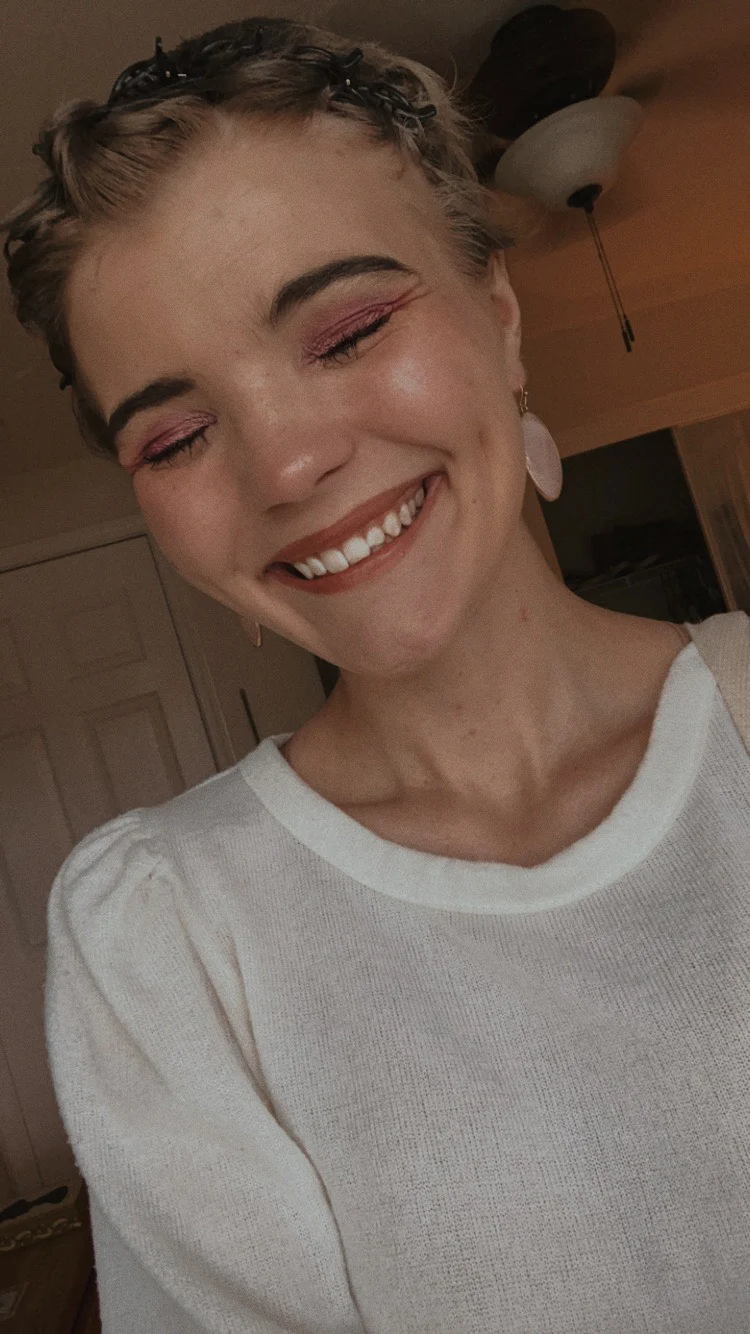 Hannah is the eldest of the Bonner family's three kiddos. She graduated from the University of North Texas with her Bachelors in Elementary Education. She enjoys reading, yoga, movies & TV, and (obviously) crocheting. She is excited about furthering her writing career & spending her days surrounded by yarn. All the yarn.