Folks, it's happened. We are just a few weeks away from the autumnal equinox, and fall time is officially underway.
We're in a new phase of the year with new clothes, new weather, and, for us, new crochet!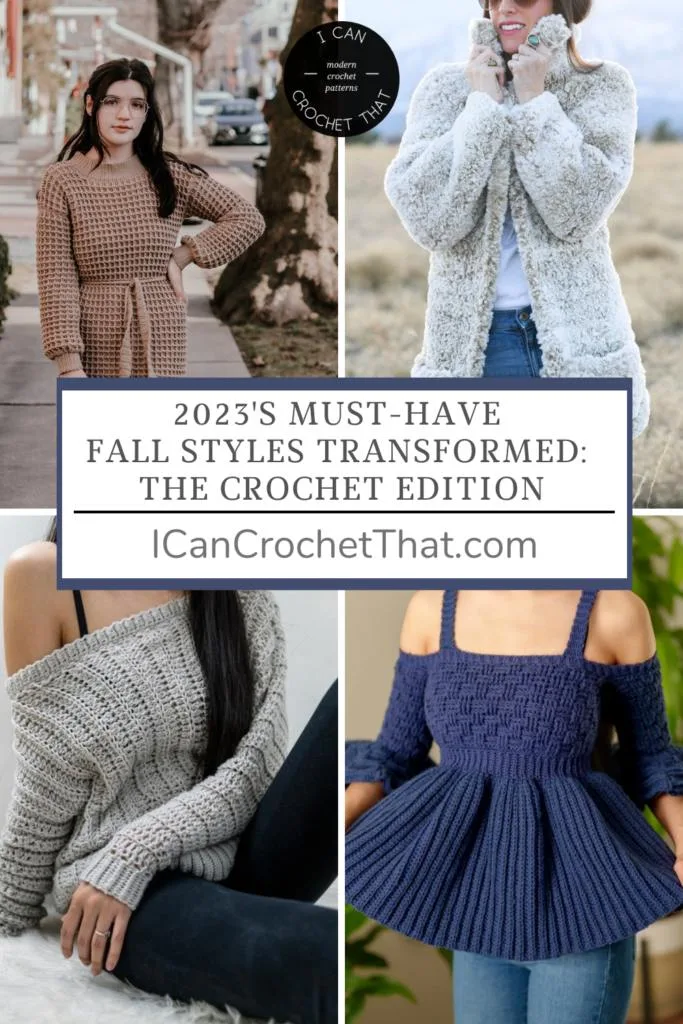 With a new season comes new trends (and believe me, there are a ton), and I scoured the Internet for the fall 2023 trends and what those would look like recreated with crochet.
We've got everything from faux fur to peplum (yes, again) to the return of gothic romance, and all can be made with your own two hands and your hook.
So pick your favorite trend and get those crochet hooks going 'cause it's our season!
Discover the Top 7 Fall Fashion Trends of 2023, Now in Chic Crochet Variations!
Peplum Reimagined
Peplum has popped up once again as a trend, but this time, it's getting the 2023 treatment.
Unlike its 2012 counterpart, peplum this time around is a bit more subtle and paired with other features so that the peplum isn't the only thing worth noticing.
Peplum adds just a bit of volume to an outfit and is an easy switch from a normal silhouette.
I have a few peplum crochet patterns below that have both a peplum bottom and another feature that balances out the peplum, like a unique stitch or ruched arm sleeves.
Crochet Long Sleeve Peplum Top
This beautiful peplum top from TCDDIY is so intricate yet minimalistic. The peplum is subtle and romantic, and the top and bottom have different stitch patterns, giving it a nice contrast.
The top also has long sleeves, adding to the elegance of the top. The pattern is available for purchase on Etsy here.
Yellow Peplum Crochet Top
This yellow peplum top has a lot going on, but it works beautifully.
The subtle peplum paired with the dramatic sleeves gives the top perfect balance. I'd wear this with a minimalist skirt or jeans.
The pattern is available for free on YouTube here.
Basketweave Peplum Top
The basketweave stitch is one of my absolute favorites, and I love how it's used on this peplum top.
The peplum on this one is a bit longer, making it a bit more romantic. The top has a bit of an off-the-shoulder moment but adds some thin straps for support.
You can find the pattern for purchase on Etsy here.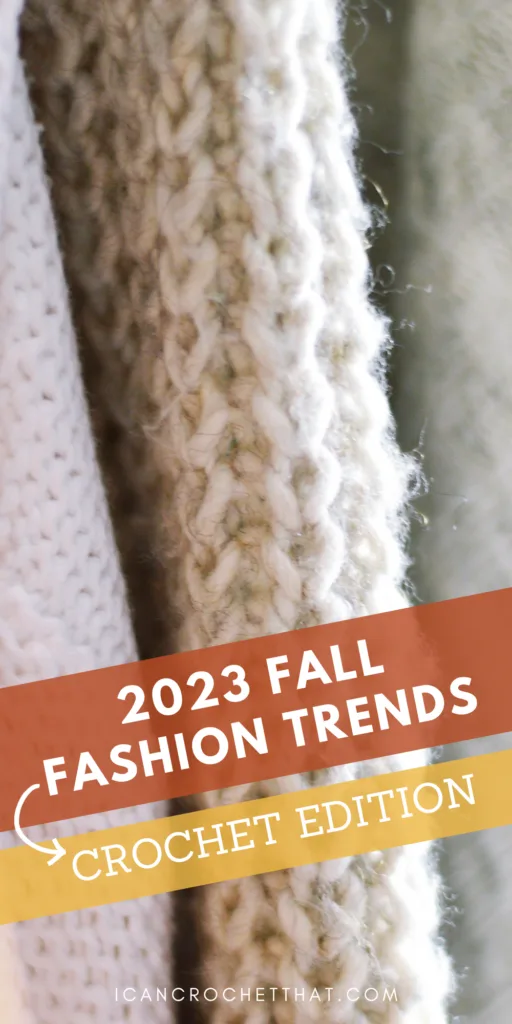 Faux Fur
A favorite of the runway this year was definitely fluff! Plushy jackets, fuzzy dresses, and more were seen in abundance, and I could not be more excited.
As we know, faux fur yarn is very much a thing and can easily be used to recreate some of these fuzzy cozy dresses and jackets on the runway.
I found 3 for you to try out:
Faux Fur Teddy Bear Coat
I could not imagine ever wanting to take this coat off. It's made with the always lovely Go For Faux yarn from Lion Brand and whips up super quick because the yarn is bulky.
It features a wide collar, pockets (of course), and a long length. It can be dressed up or down, depending on the occasion. The pattern is available for purchase on Etsy here.
Fuzzy Cardi
In the same vein as the faux fur coat is this fuzzy cardi from The Snugglery.
This trendy cardigan features a cropped look and a cute bow tie in the front, and it's made with only two stitches: half double crochet and chains.
You can find the pattern for free on The Snugglery website here.
Faux Fur Hooded Infinity Scarf
This will be THE accessory of the fall. It has a beautifully elegant look that's also practical for keeping you toasty warm.
This will work up super fast, so much so that you can make more in different colors. One for every outfit? (Okay, maybe that's too much.)
The pattern is available for free on Wilmade's website here.
Off The Shoulder
It's officially time to bring out the sweaters; this year, off-the-shoulder will be all over the place.
This trend is elegant and simple, adding a touch of romance with the off-the-shoulder. It's also super easy to crochet.
Take a normal sweater, add some adjustments, and you have your very own off-the-shoulder sweater. Of course, this trend isn't limited to sweaters.
Here are 3 off-the-shoulder patterns to make this fall:
Oversized Off The Shoulder Sweater
Here's a classic off-the-shoulder sweater that you can wear all fall and winter long. It's sure to be a staple in your closet because of its versatility.
The pattern is available for purchase on Etsy here.
Minimalist Off The Shoulder Top
This beautiful off-the-shoulder top is easy to make and fits into many styles and aesthetics. Wear it with a cardigan to work and then shed the cardigan for an after work dinner.
The pattern is available for purchase on Etsy here.
Elegant Off The Shoulder Top
This off-the-shoulder top has a fold on the top that adds just a bit more elegance and texture. This one is versatile for many occasions and an easy way to add romance and elegance to your outfit.
The pattern is available for free on The Knotty Lace's website here.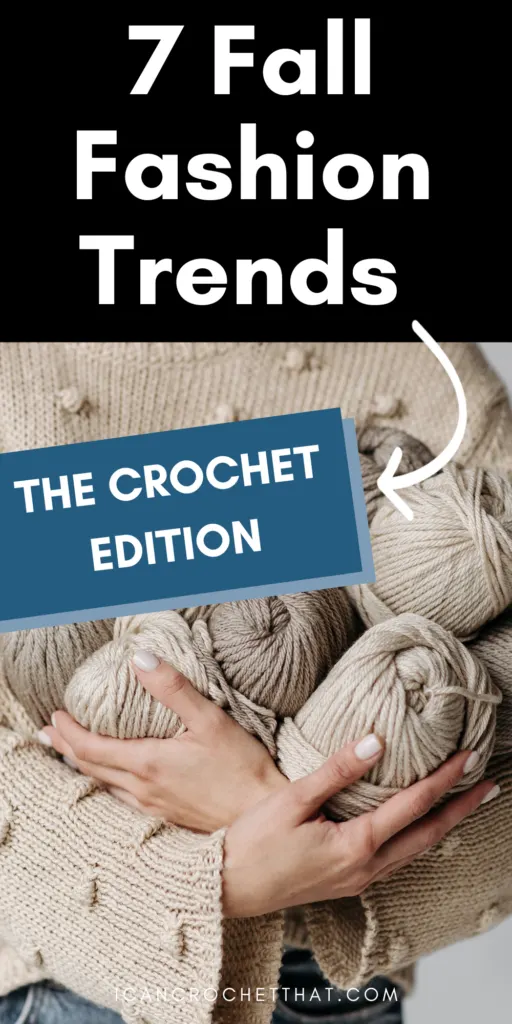 Gothic Romance
Miss Wednesday Addams is making her comeback this fall because gothic romance was everywhere on the runway this year.
Add a gothic romance touch to your outfit with lace, black, velvet, a little bit of pink, and a good ol' crochet collar.
Here are three patterns to channel your inner Wednesday:
Wednesday Crochet Collar
Remember those Wednesday collars that were everywhere last fall? Well, they've made their way to the runway in a resurgence of gothic romance-core.
These are super quick and easy to crochet and are a great accessory for many fall outfits. The pattern is available for purchase on Etsy here.
Victorian Stole
Walk around your town square in style with this crocheted Victorian stole.
It's made with bulky weight yarn, so it'll work up pretty quickly, and the bulky yarn makes it thick and warm for the upcoming colder months.
The pattern is available for free on Lion Brand's website here.
Victorian Shawl
This shawl looks like it came straight off Lady Mary's shoulders in Downton Abbey. It's a triangle shawl with different shades of blue and fringe on the edges.
The pattern is available for purchase on Etsy here.
Sweater Dresses
Sweater dresses are a beloved trend that doesn't ever really go out of style. This year, the runway favored body-con style, close-knit, and intricately designed sweater dresses.
Sweater dresses can easily be crocheted in any style: oversized, body-con, cable stitch, anything you want.
Here are three sweater dress patterns I found that I love:
Oversized Sweater Dress
This classic oversized sweater dress is a perfect closet staple. It can be dressed up for a night out on the town or dressed down for a fall brunch date.
The pattern is available for free on YouTube here.
Telluride Sweater Dress
I'm in LOVE with this gorgeous sweater dress. The waffle stitch that's on the body is so texturally interesting and fun, and the belt and ribbings on the sleeves and collar tie everything together.
The pattern is available for purchase on Etsy here.
Kensington Sweater Dress
This sweater combines some of the fall 2023 trends with the off-the-shoulder feature. It's long and cozy and uses the Moss stitch, one of my favorite stitches.
The pattern is available for free on Lulo Stitch Co's website here.
Oversized Scarves + Shawls
I will use any excuse to take a blanket with me in public, and the oversized scarf trend is my ticket this year.
On the runway this year were huge scarves covering the outfit, some matching the outfit and some with outlandish and fun patterns.
This trend is perhaps the easiest to crochet, and I found no shortage of patterns for oversized scarves and shawls.
Here are just three of them:
Duille Scarf
This oversized scarf is a pretty burnt orange done in the double post stitch. It's beginner-friendly and should work up quickly because of the bulky yarn.
The pattern is available for free on Crochet With Carrie's website here.
Flatiron Shawl
The color palette on this shawl from TL Yarn Crafts is to die for and perfect for fall. This is a triangle shawl with a bright orange border. The pattern is available for purchase on TL Yarn Crafts' website here.
Blanket Wrap Shawl
Good luck taking off this giant, comfy blanket shawl! It's done in just one long rectangle, making it suitable for beginners.
It can be folded in many ways to create different looks. You can find the pattern for purchase on Etsy here.
Circle Skirts
The beloved 50s trend is back for a second round because circle skirts were seen aplenty on the runway this year.
Circle skirts are elegant classics and can fit anyone and everyone. Midi and maxi skirts give maximum elegance, but these can also be dressed down for a casual outing.
Crochet skirts are a favorite of mine, and I found no shortage of patterns for your fall 2023 wardrobe:
Princess Circle Skirt
Inspired by Princess Ariel, this blue and black circle skirt is a great option for a casual bottom in your fall wardrobe. It flows and twirls and everything you want a skirt to do!
Pair it with a blouse to dress it up or a T-shirt to dress it down. You can get the pattern for free on Transatlantic Crochet's website here.
Boho Blues Skirt
This skirt by MadebyAsya is the epitome of a circle skirt. Its beautiful lacy pattern and long knee length give the outfit an instant boost.
The pattern is available for purchase on Etsy here.
Rocio Skirt
This lacy skirt has the prettiest details! Its knee length, delicate features, and half-moon border make it the perfect choice for a princess circle skirt. The pattern is available for purchase on Etsy here.
Here are pictures of each pattern:
2023's Must-Have Fall Styles Transformed: The Crochet Edition
As the leaves change and the air gets crisper, 2023 unveils the season's most sought-after fashion styles. Dive into the unique twist this year as these trends get a cozy makeover with intricate crochet designs.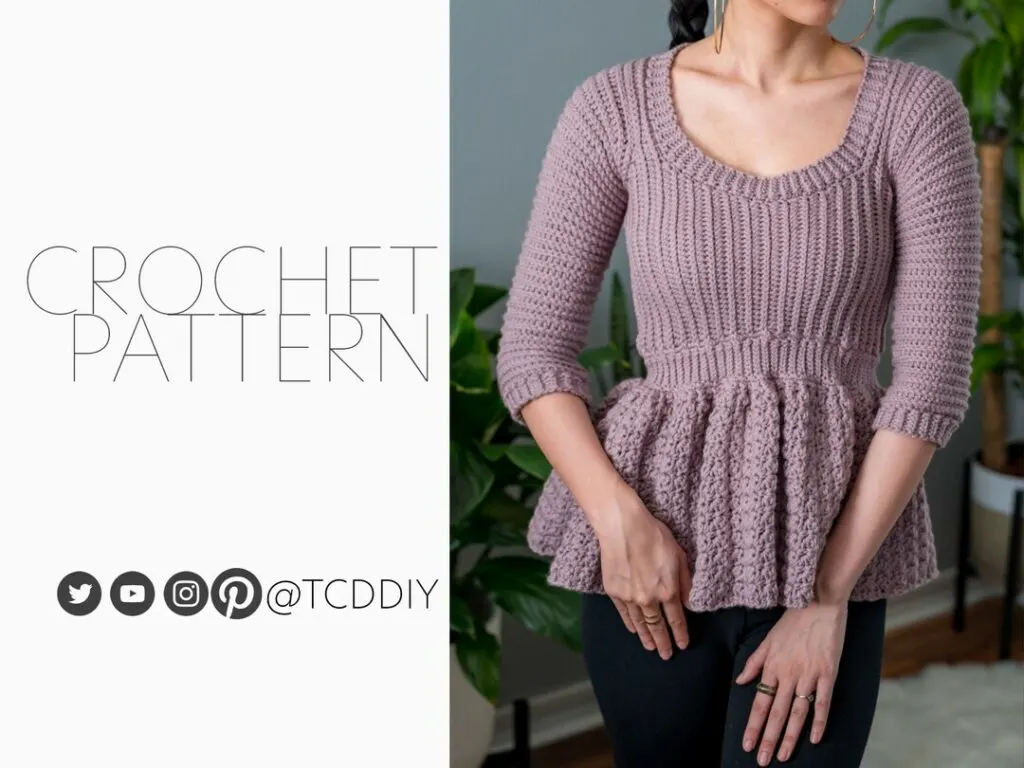 And That's a Wrap!
As the autumn season approaches, 2023 showcases unique fashion trends that are taking the industry by storm. Not to be left behind, the world of crochet is offering its own stylish interpretations, merging traditional craft with contemporary flair.
These crochet adaptations highlight the art's versatility and its capacity to stay relevant and trendy in the ever-evolving fashion landscape.
We hope you found a pattern or six that you can't wait to make!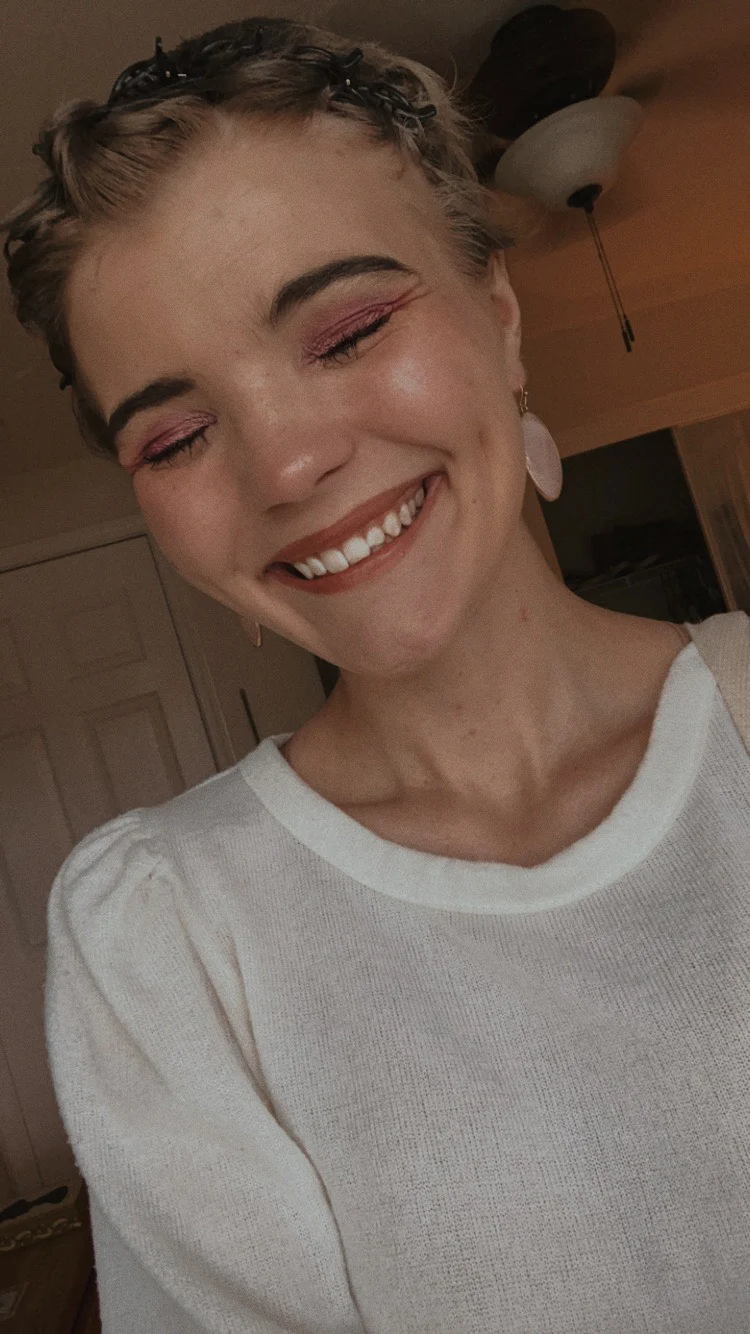 Hannah is the eldest of the Bonner family's three kiddos. She graduated from the University of North Texas with her Bachelors in Elementary Education. She enjoys reading, yoga, movies & TV, and (obviously) crocheting. She is excited about furthering her writing career & spending her days surrounded by yarn. All the yarn.