This Tunisian crochet kitchen towel is whipped up using the brick stitch.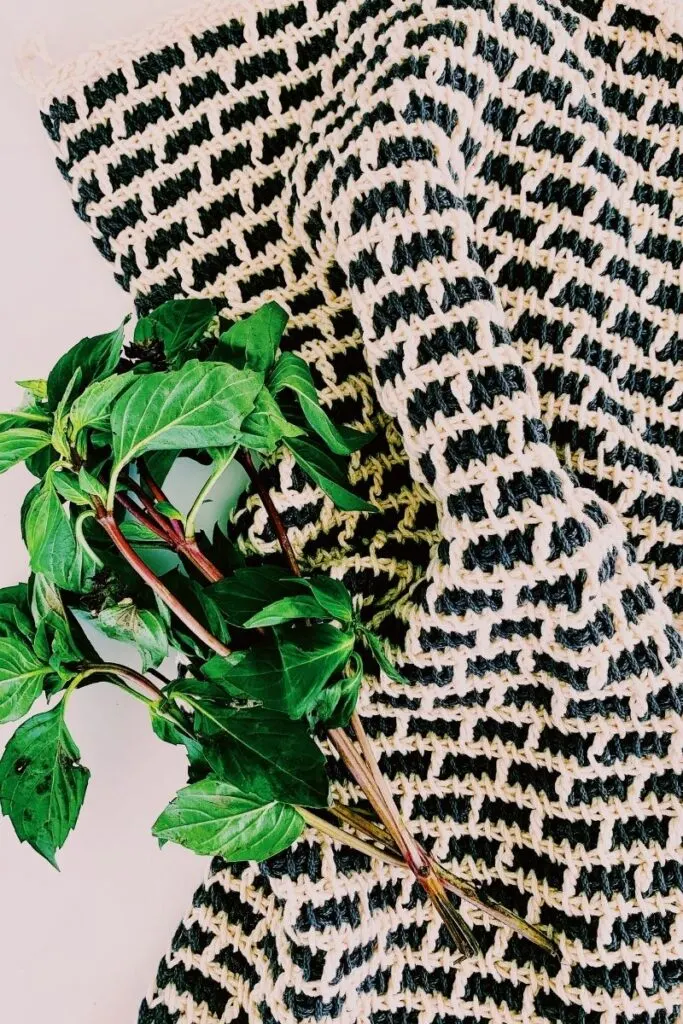 This stitch creates a look similar to the stacking of bricks, creating a beautiful geometric and modern design. Switch up the colors of the cotton yarn to match your home's decor!
You can snag and ad free printable PDF of this pattern here.
Free Tunisian Crochet Kitchen Towel Pattern
With summer in full swing, I've been working with cotton yarn a ton and loving every minute of it!
Right now, my favorite cotton yarn is Lion Brand's 24/7 Cotton. I love the way it feels on the hook and in my hands. Plus the slight sheen is gorgeous and the color selection is amazing.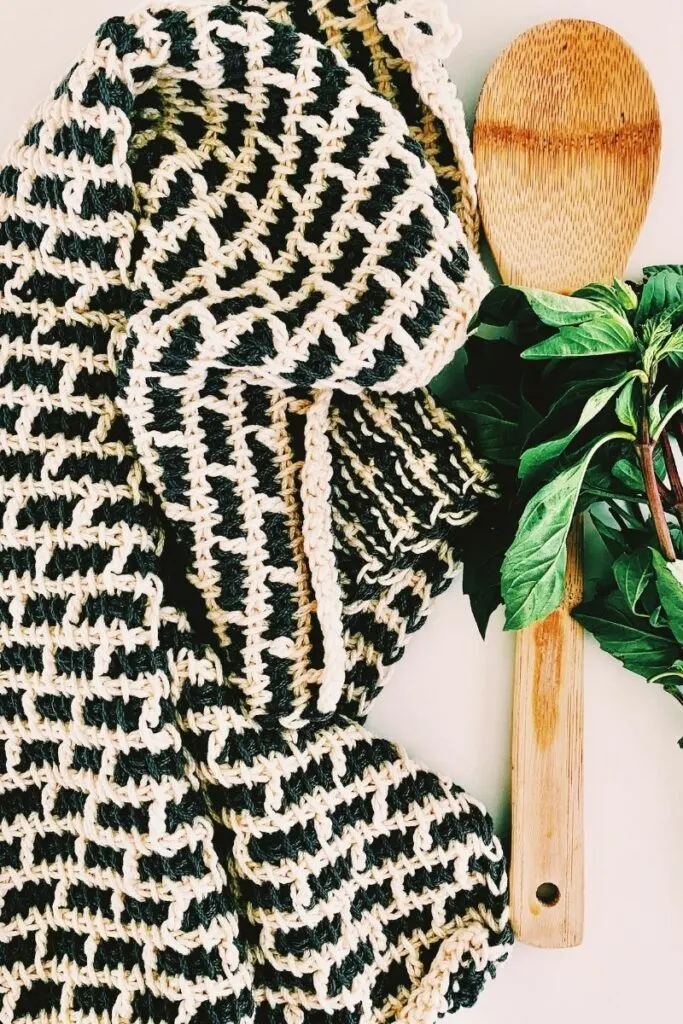 How to Crochet the Tunisian Kitchen Towel
Ever since I laid eyes on the Tunisian brick stitch, I knew a crochet kitchen towel pattern was in it's future.
The Yarn
As I mentioned, I've fallen head over heels in love with 24/7 cotton yarn. You can see all of the beautiful colors here, as well as in the photo below.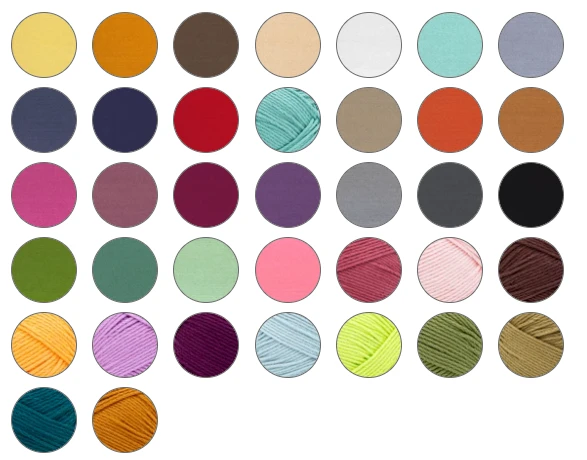 Here's a list of several I Can Crochet That patterns made using this yarn:
I also recommend this yarn for making crochet market bags like the one I made here.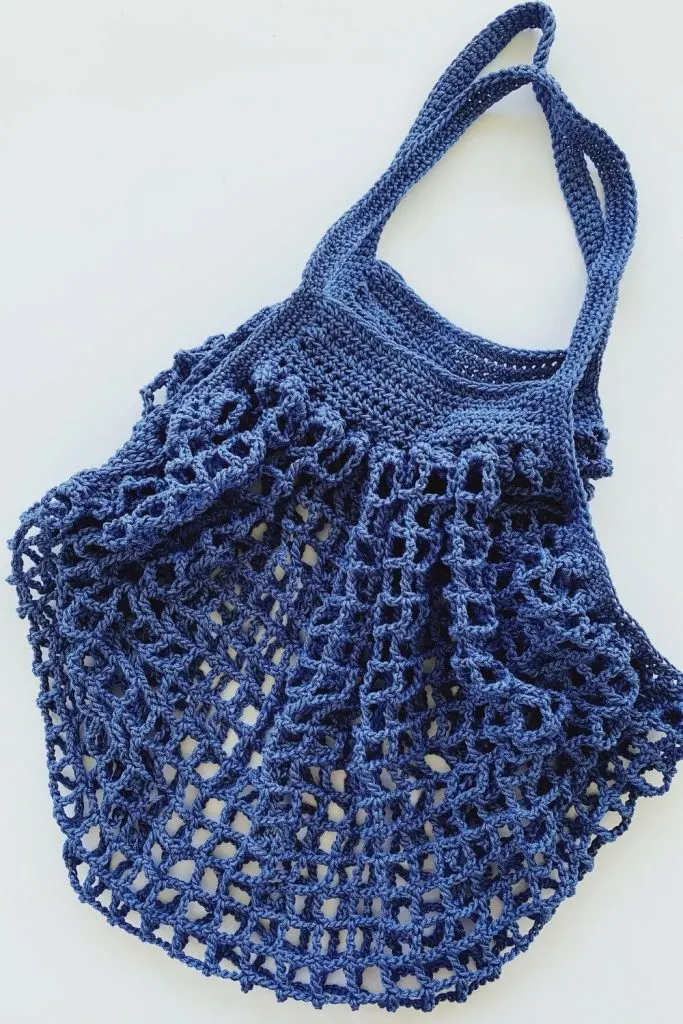 I've rounded up a bunch of crochet market bag patterns on this post.
I also listed this yarn as one of the best yarns for crochet beginners. It's not as stiff as quite a few cotton yarns I've worked with before and it just glides on your hook, making it easy and enjoyable to work with.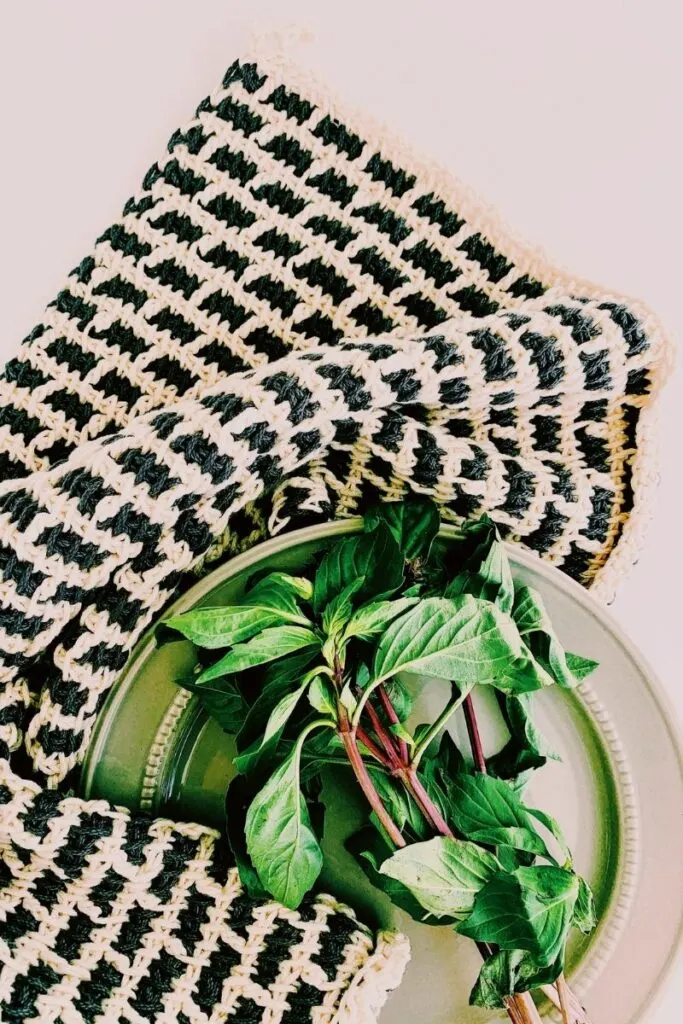 The Pattern
You can purchase an ad free copy of this pattern on my shop here.
Level
Intermediate
Notes
Finished size measures 13″ x 19″
To change size lengthwise, add more rows
To change width, chain a multiple of 4 + 1
Carry the colors up your work when not in use; do not cut yarn between rows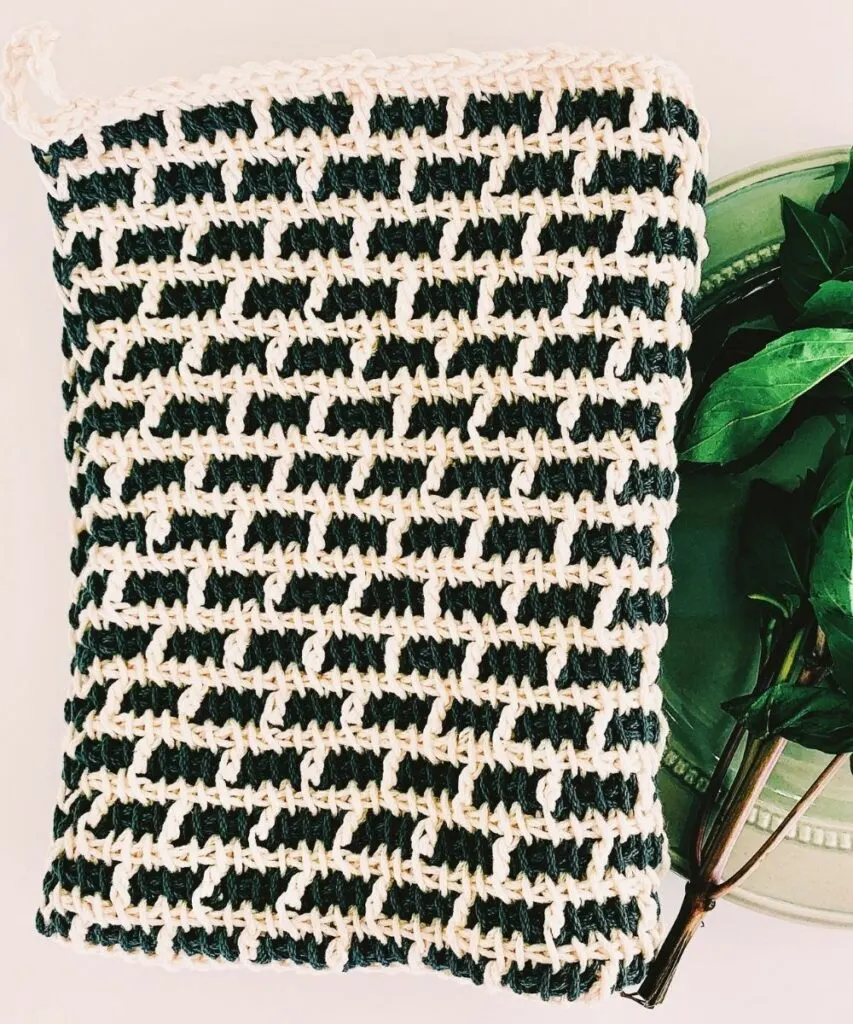 Materials
HOOK(S)
6 mm Tunisian hook with cord
YARN
Weight 4 • 2 skeins of each color
Colors: Ecru (color A) and Charcoal (color B)
NOTIONS
Scissors
Tapestry needle
Abbreviations
ch chain
rep repeat
Tss Tunisian simple stitch
Ltfpdc long Tunisian front post double crochet
yo yarn over
FwP forward pass
RetP return pass
Lts last tunisian stitch
sk skip
sl st slip stitch
st(s) stitch(es)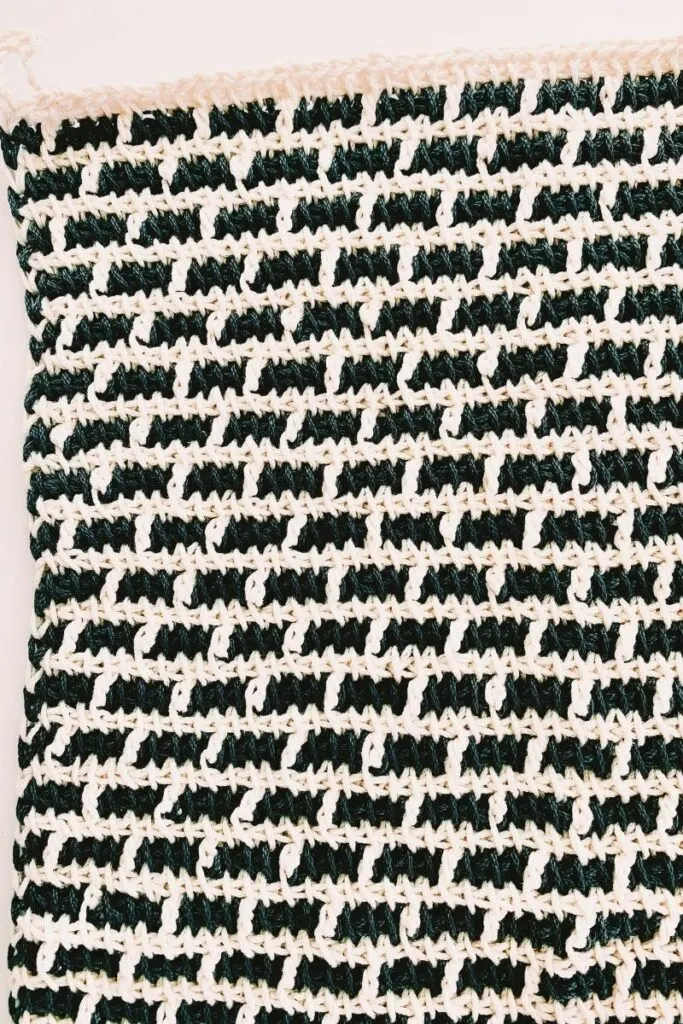 Special Stitches
Ltfpdc
yarn over, insert hook under the front and back vertical bars of the stitch 2 rows below, yarn over, pull up a loop, yarn over, pull through 2 loops on hook
Lts
insert hook under both vertical bars of the last stitch and complete as for Tunisian simple stitch
RetP
ch 1, (yo, pull through the next 2 loops) until only one loop remains on the hook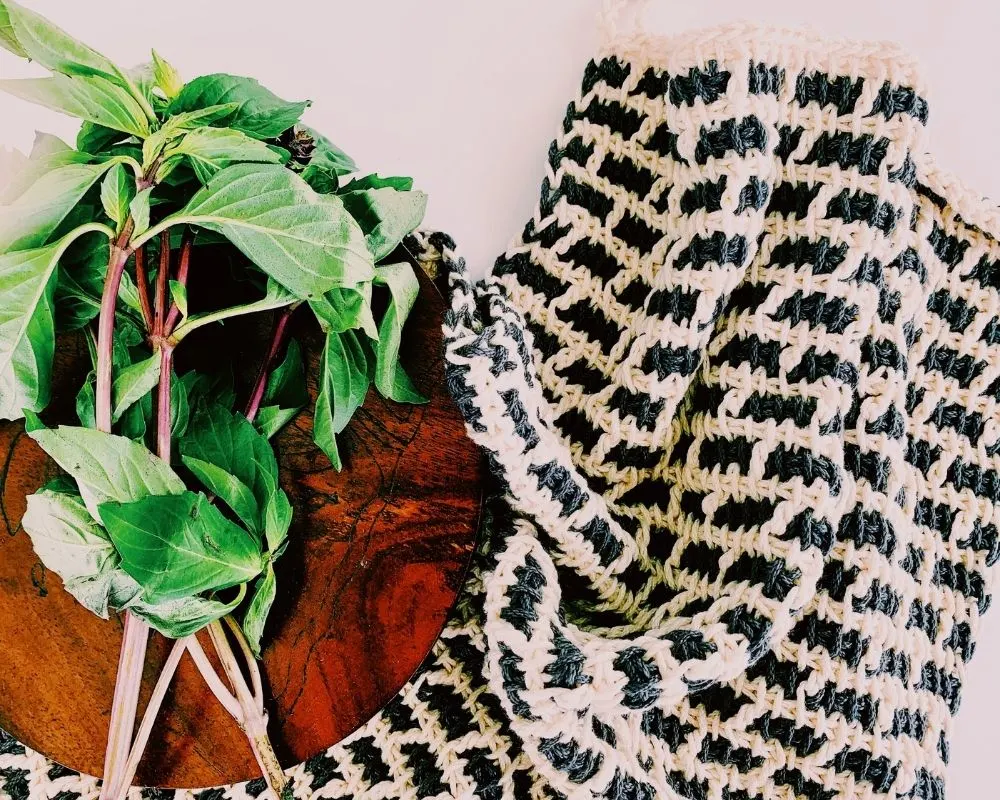 Pattern
Foundation row with color A, Ch 57
Pull up a loop in the back bump of the 2nd ch from hook and each remaining ch, RetP. Change to color B when 2 loops are left on hook.
Row 1 sk first vertical bar,
Tss across to last st, Lts, RetP, change to color A when 2 loops are left on hook.
Row 2 sk first vertical bar, (Tss 3, LTfpdc 1) to last 4 sts, tss 3, Lts, RetP, change to color B when 2 loops are left on hook.
Row 3 Rep. row 1
Row 4 sk first vertical bar, Tss 1, LTfpdc 1, (tss 3, LTfpdc 1) to last 2 sts, tss 1, Lts, RetP, change color to B when 2 loops are left on hook.
Rows 5 – 61
Repeat Rows 1 – 4 rows
Last row With color A, sl st in each vertical bar across row to bind off, inserting hook as for Lts on the last st. Do not fasten off.
For hook ch 9, attach to 2nd sl st with sl st. Fasten off. Weave in all ends.
Block your work for shaping and to get rid of the curling at the ends.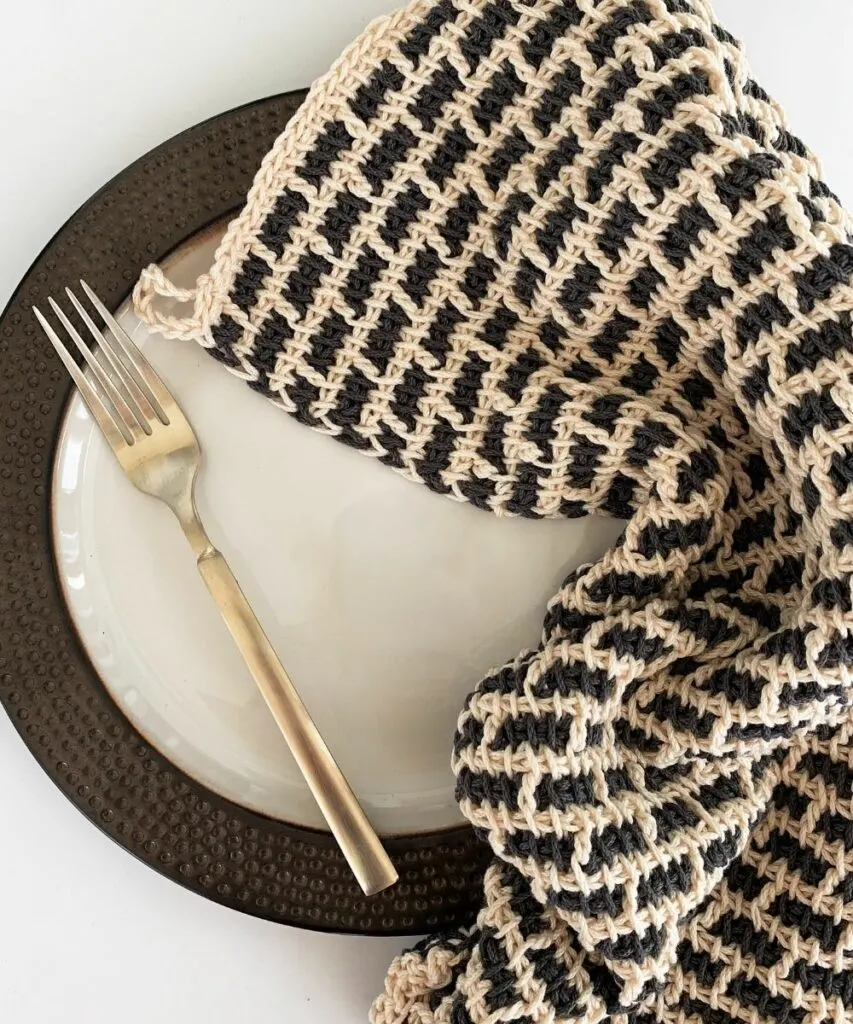 Tunisian Simple Stitch How-to
This is the first video I ever recorded for I Can Crochet That, so it's a little dark and kind of embarrassing, but I think it gets the stitch across. 😉
I haven't recorded a video yet for the long Tunisian front post double crochet stitch, but a quick search on YouTube and you'll find some.
And that's a pattern wrap! I can't wait to see what color combos you come up with. Be sure to tag #ICanCrochetThat on your social media channels so I can take a peek!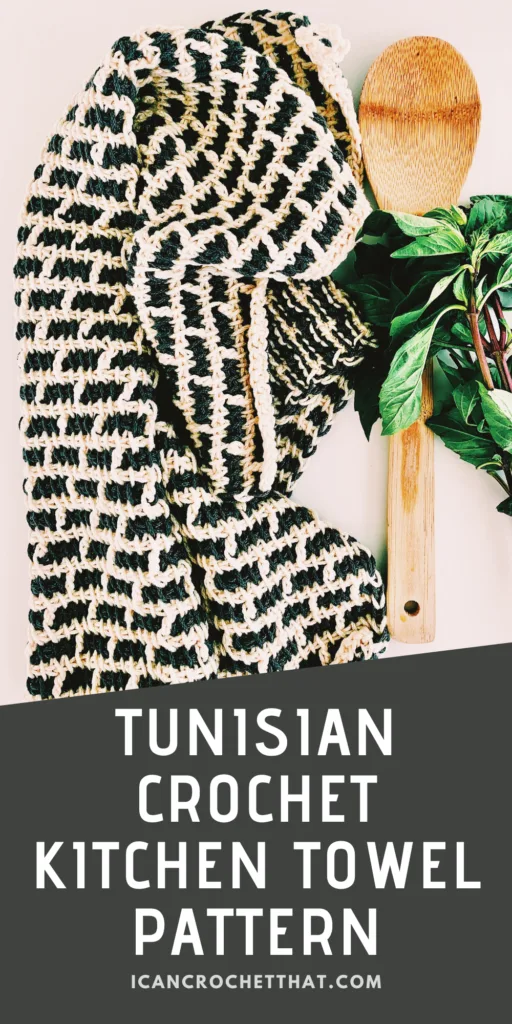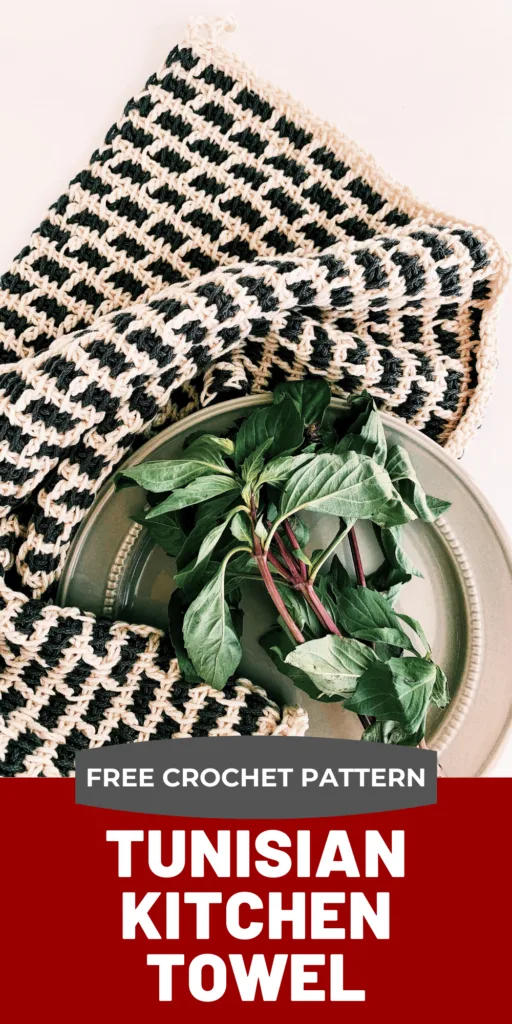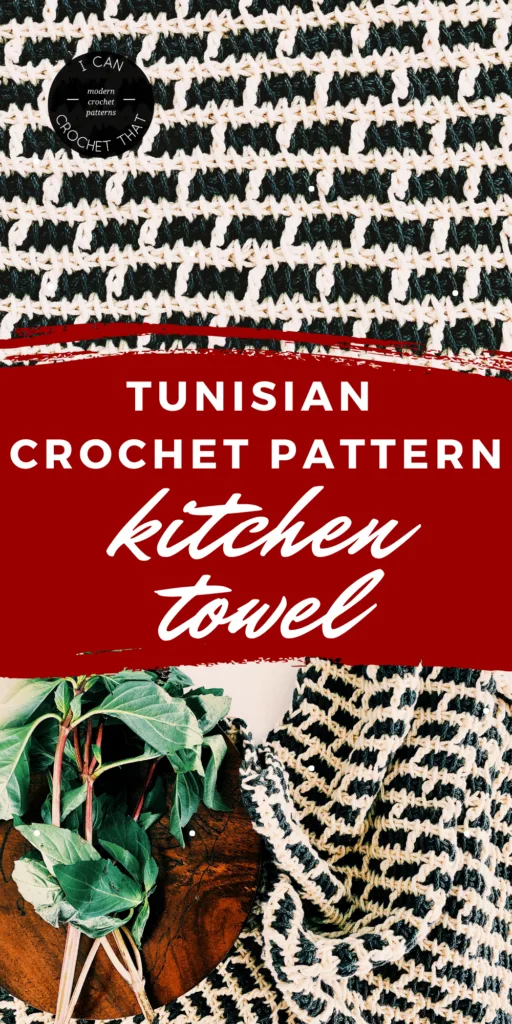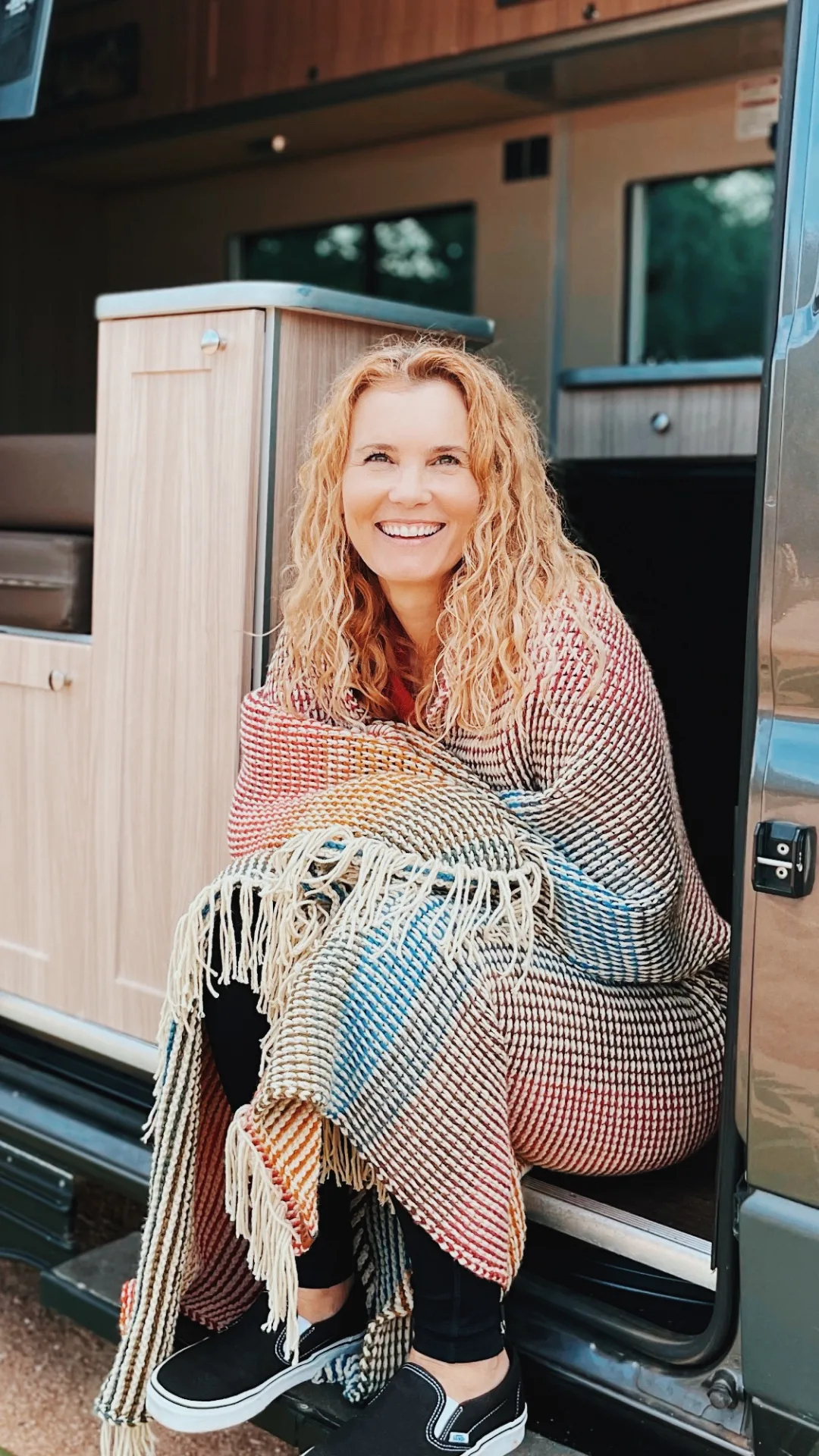 Hi! I'm Julie. I design modern crochet patterns and tutorials to help you learn to crochet. I've been crocheting for over two decades and with the gentle nudging of my husband, decided to turn this passion into a career. Although we travel a lot in our campervan, you'll never find me without a bag of yarn and projects.