We've rounded up 25 crochet Christmas tree skirt patterns that'll help you deck the halls and decorate your home with that homemade touch.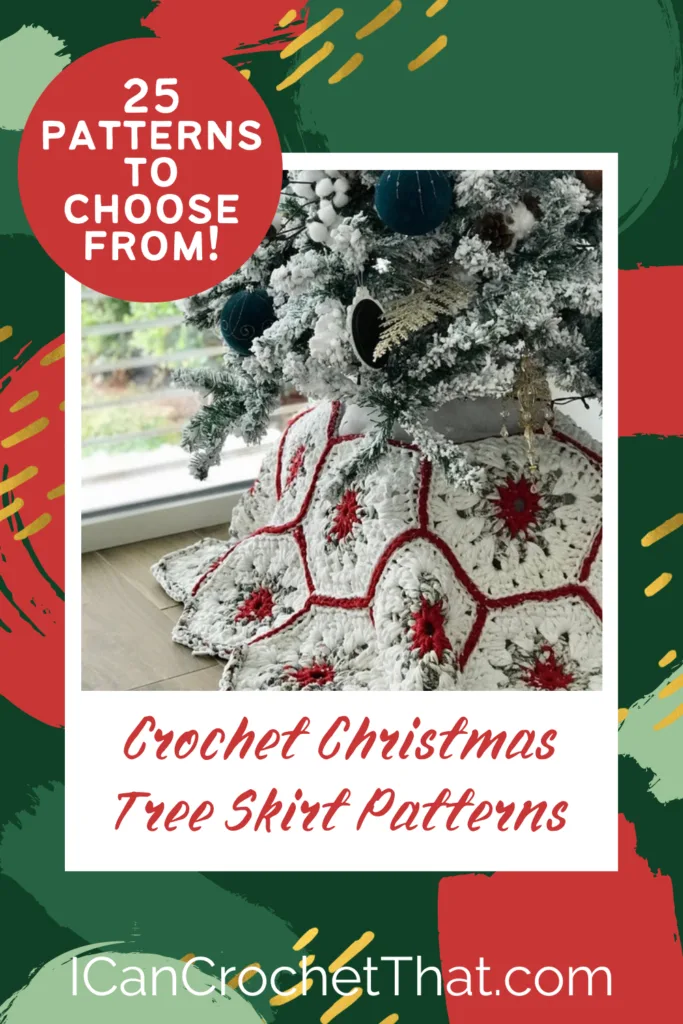 Can you believe I've been crocheting for over 25 years and I've never made a Christmas tree skirt? It's true. And I'm thinking for next year that'll be on my "to crochet" list.
We've found a wide variety of different tree skirt styles and shapes that caught our eye. Some are free and some you need to purchase, but we'll be sure to mark it so you know which is which clearly.
Before we get into the patterns, let's cover some essential FAQs first.
How Much Yarn Do I Need for a Christmas Tree Skirt?
This is always a hard question to answer, but definitely a valid one.
But it all depends on these factors: the weight of the yarn, the hook size, the stitches, and the size of the tree skirt.
Most of the patterns we included in this list use a worsted-weight yarn or a bulky yarn. And quite a few are crocheted holding two strands together.
So again, there are so many different factors that go into how much yarn you'll need.
On average, the worsted weight patterns use between 1,000 to 1,500 yards of yarn.
The bulky weight patterns use an average of 750 to 1,200 yards.
To help you know if you have enough yarn in your stash for the patterns listed, we'll include yardage for you.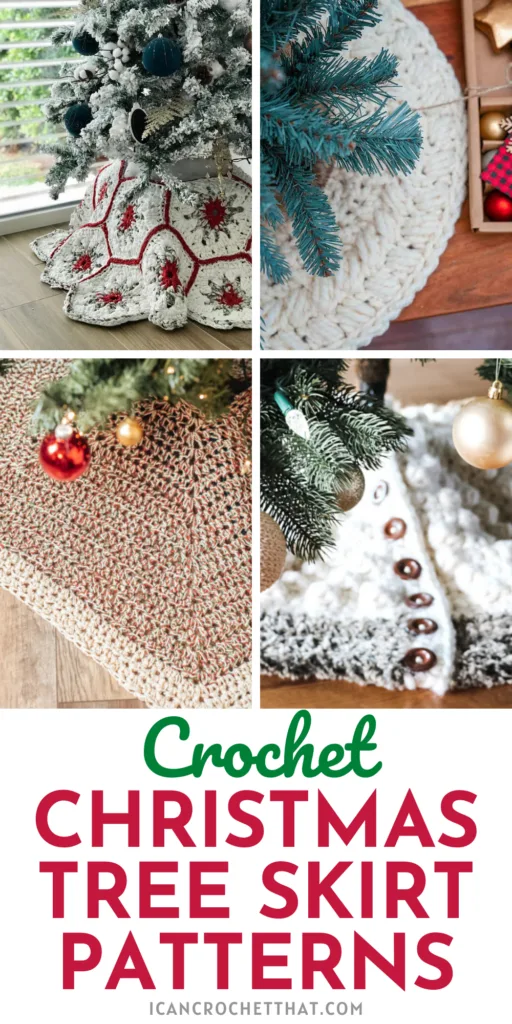 How Wide Should a Christmas Tree Skirt Be?
I'm no tree skirt size expert, so I had to do some research to find out how to calculate the best size for your Christmas tree.
Some recommend a size based on the width of your tree and some by the height.
When it comes to tree skirt size based on width, a good rule is for it to be at least 6 inches bigger than the full width of your tree.
When it comes to height, here are some basic size averages for you:
For trees 9 ft. and higher: About 56″ to 72″ for the tree skirt
For trees 7.5 ft high: About 48″
For trees 4.5 to 6.5 ft high: About 42″ to 48″
For tabletop trees 2 to 3 ft high: About 20″
How to Crochet a Christmas Tree Skirt
Are you ready to learn how to crochet a Christmas tree skirt? We hope you find the perfect pattern!
25 Crochet Christmas Tree Skirt Patterns to Deck Your Halls
Looking for More Crochet Christmas Ideas?
Here are a few more roundups of Crochet Christmas ideas: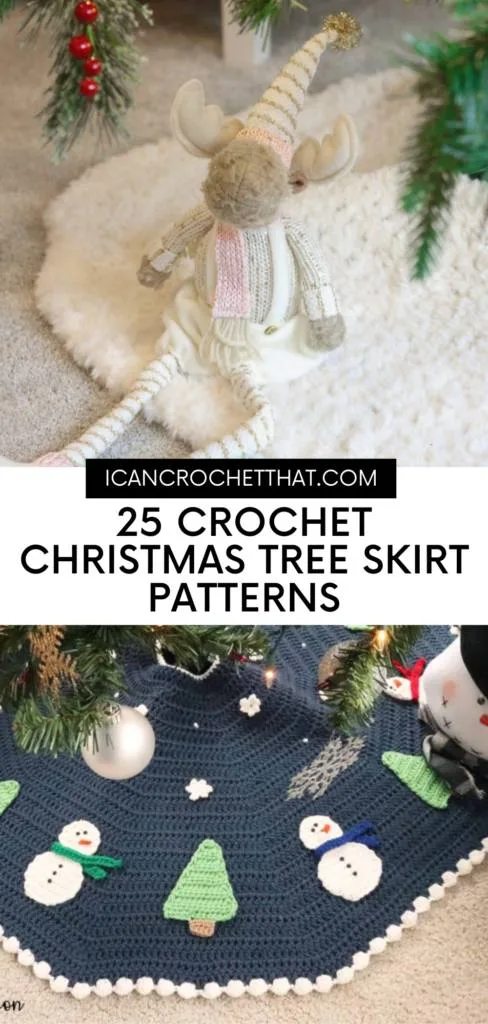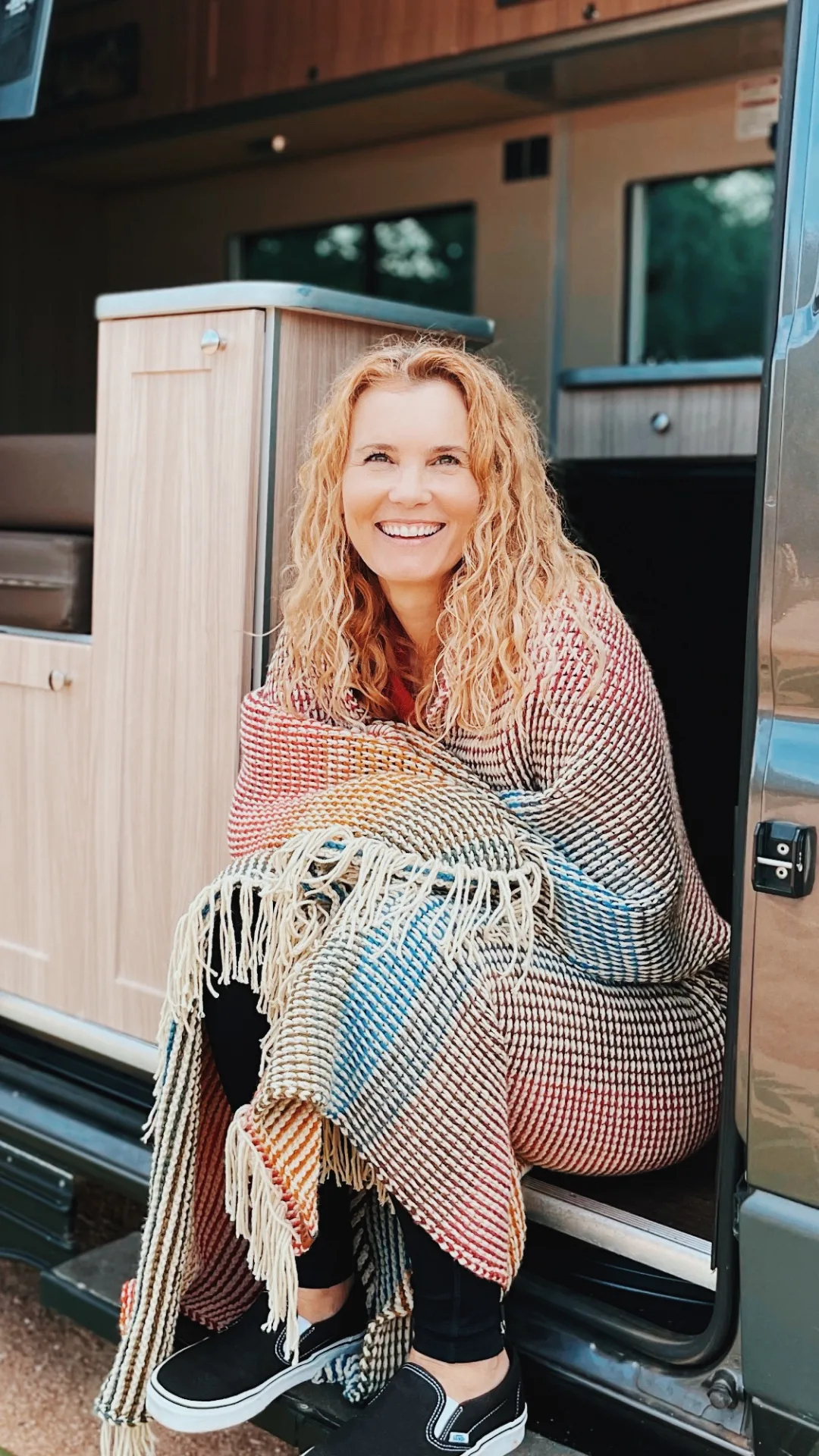 Hi! I'm Julie. I design modern crochet patterns and tutorials to help you learn to crochet. I've been crocheting for over two decades and with the gentle nudging of my husband, decided to turn this passion into a career. Although we travel a lot in our campervan, you'll never find me without a bag of yarn and projects.