Last Updated on June 21, 2021
These 15 crochet crop top patterns are definitely too cute not to make. Whip these up quickly and have a handmade summer wardrobe you love!
Summer is in full swing, and even with all the flowy skirts, shorts, and sandals, my favorite summer accessory is the crop top.
Paired with a high-waisted pair of shorts or a skirt, it's the ultimate summer outfit.
I've found myself being drawn to the bohemian/hand-made style crop tops (think Anthropologie), but sometimes they're just off-the-charts expensive. So how about we just make our own instead?
I've put together a list of fifteen summer crop tops that you can crochet with your own two hands.
15 Crochet Crop Top Patterns Perfect for Summer
1. Crochet Casual Crop Top
This basic crochet crop top goes with all your favorite high waisted skirts and shorts. It'll be a summer staple for sure.
You can get the free pattern here.
2. Simple Crochet Top Pattern
This pretty crop top from For the Frills is cute as can be, great for beginners, and actually can be designed three different ways.
You have the option to create the top with three different necklines: square, sweetheart, and ruched.
You can get the pattern for free here.
3. Dragonfly Crochet Top
I am in love with this simple yet effective crop top design from Knitcro Addict.
The single crochet body is perfect for beginners, and the straps and dragonfly design in the middle add subtle, elegant details to make this top an easy and gorgeous summer project.
You can grab the pattern for free here.
4. Jasmine Top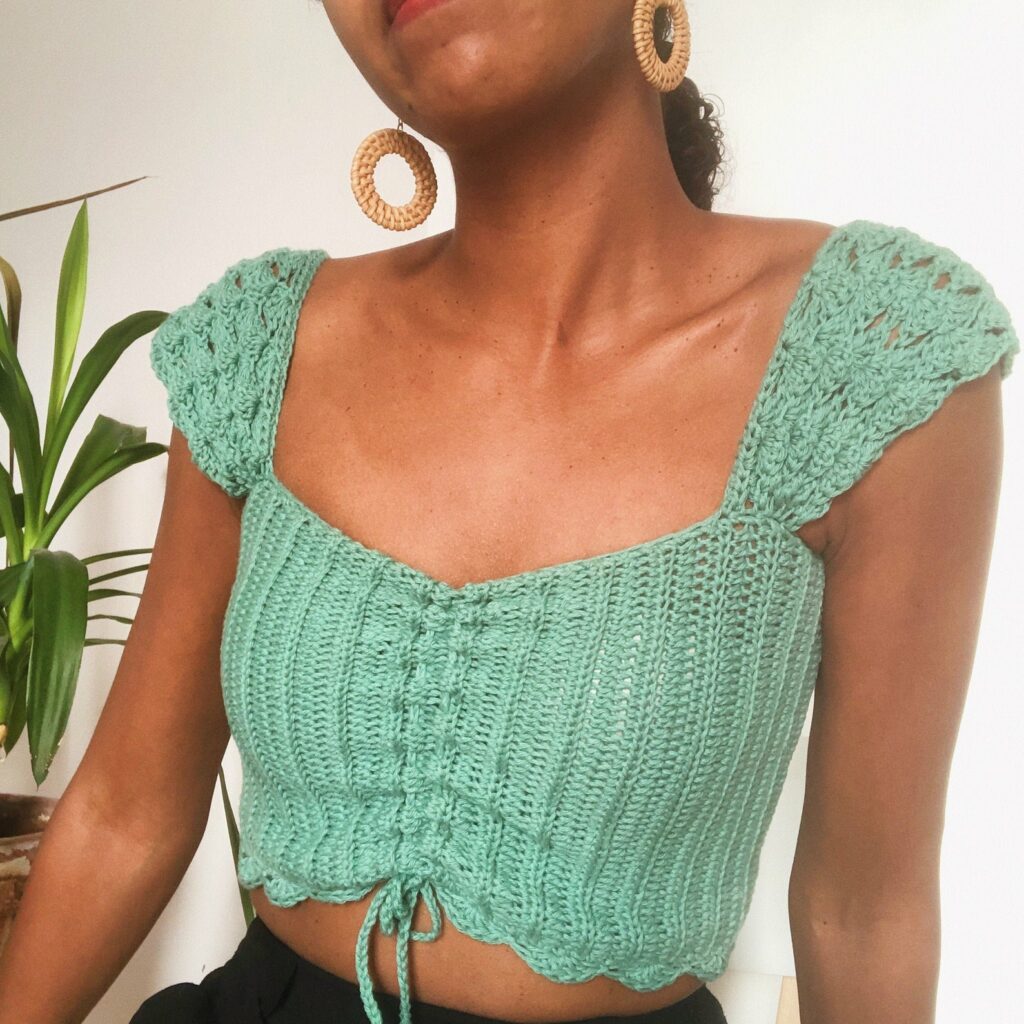 This ruched crop top has adorable sleeves, scalloped and lace detailing, and a drawstring tie at the bottom. If elegant and romantic is your style, this is the top for you.
You can get the pattern from Off The Hook Apparel's Etsy shop here.
5. Crochet Summer Flower Top Pattern
This tank top is made from a bunch of granny squares and absolutely screams 70s flower power. The pattern is easy to follow and before you know it, you'll have your very own granny square top.
You can get the pattern for free here.
6. The Raylene Summer Crochet Top Pattern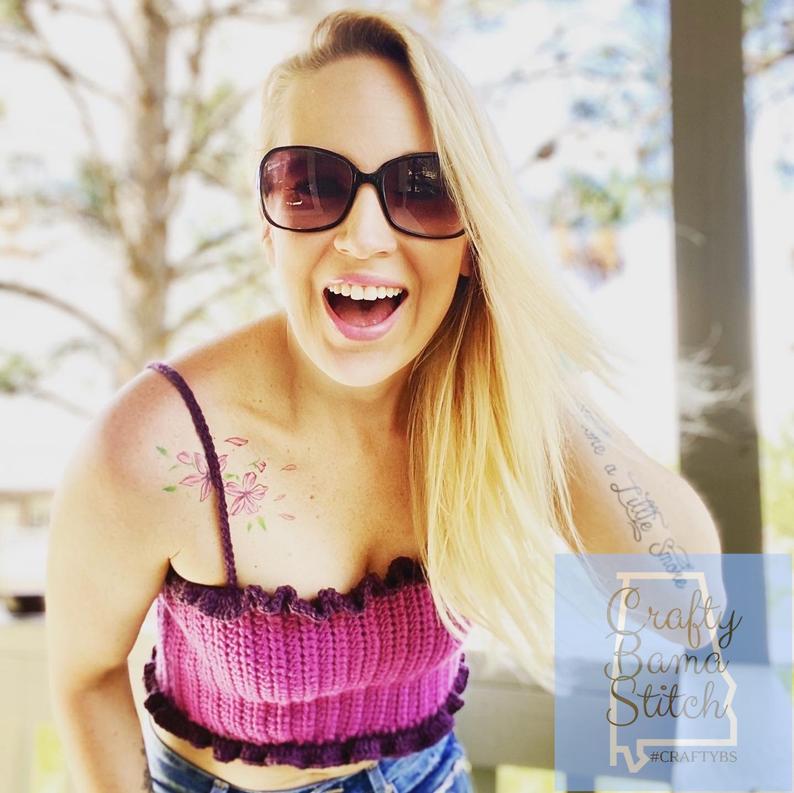 This two-toned bandeau-like crop top has a unique ruffled feature at the top and bottom, taking a basic tank up a notch.
You can get the pattern on CraftBama's Etsy shop here.
7. The TTK Crochet Crop Top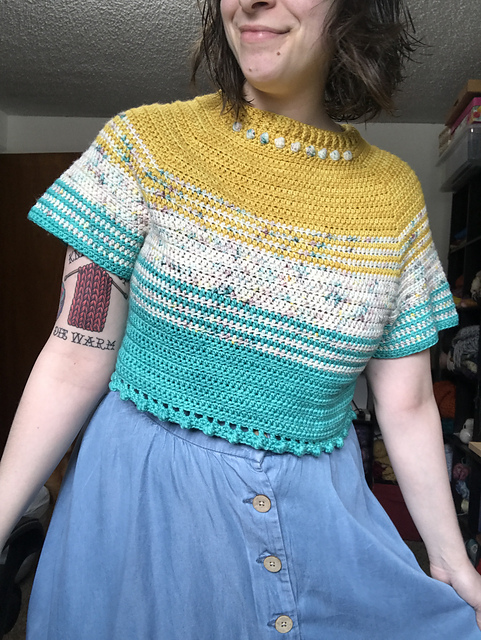 There's so much to love about this summer top.
Featuring a raglan design, ribbed neckline, and lace-like detail at the bottom, this top is sure to be your favorite summer project.
You can get the pattern from No Hooks Given's Raverly shop here.
8. Summer Daze Crop Top
This summer top features a gingham pattern and a versatile design. The straps can be tied at the front to create a tied top look, or the back to create a wrapped look.
You can get the pattern for free here.
9. Meadow Tie Top Crochet Pattern
If there's buttons on it I'm automatically a fan, and this top is no exception. It's made with a gorgeous pink yarn and pairs perfectly with a high waisted skirt.
You can get the pattern with for free here.
10. Off the Shoulder Crochet Crop Top
This top is just too adorable for words. The trendy off-the-shoulder design and bobbles at the top come together to create the cutest crop top you ever did see.
(Bonus: it's made for beginners!)
You can get the pattern here.
11. Ruffled Sleeves Crop Top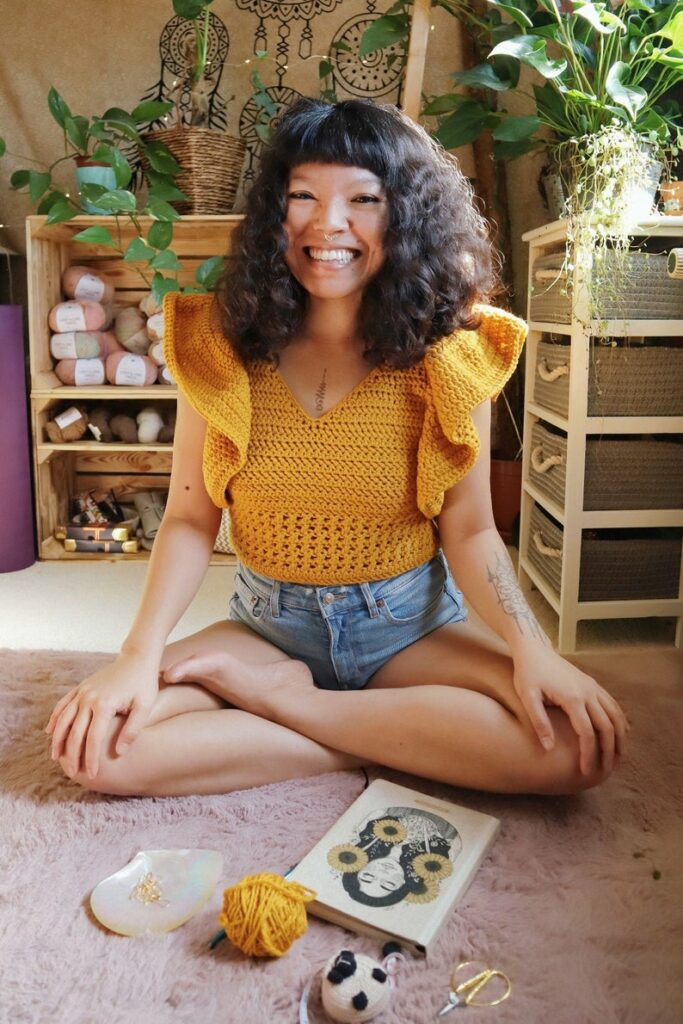 If you're into bold accents, this summer top is for you.
This 70s-esque large ruffled sleeves are sure to stand out in a crowd.
You can get the pattern from Mata Luna Corazon's Etsy shop here.
12. The Sophia Crochet Crop Top Pattern
This top falls more into the bralette category, but isn't it just the prettiest?
The lacy detail on the sides of the triangles and lacy scallops at the bottom create a delicate and gorgeous look perfect for summer.
You can get the pattern for free here.
13. Summer's Fruit Crop Top
This crop top's watermelon-pink color is perfect for summer. It can be worked up pretty quickly and uses just the most basic stitches.
You can get the pattern for free here.
14. Crochet Summer Boho Top
This halter top's stripes and color palette of blues, yellows, and pinks come
together to create a unique and gorgeous top.
It may look intricate and complicated, but don't be fooled. It uses basic crochet stitches and comes with a video tutorial.
You can get the pattern here.
15. Crochet V Cut Halter Crop Top Pattern
This crop top has a minimalist design with just a little bit of ruffle on the bottom.
It's the perfect fit for all of your summer events. Heck, you could make one in every color!
You can get the pattern for free here.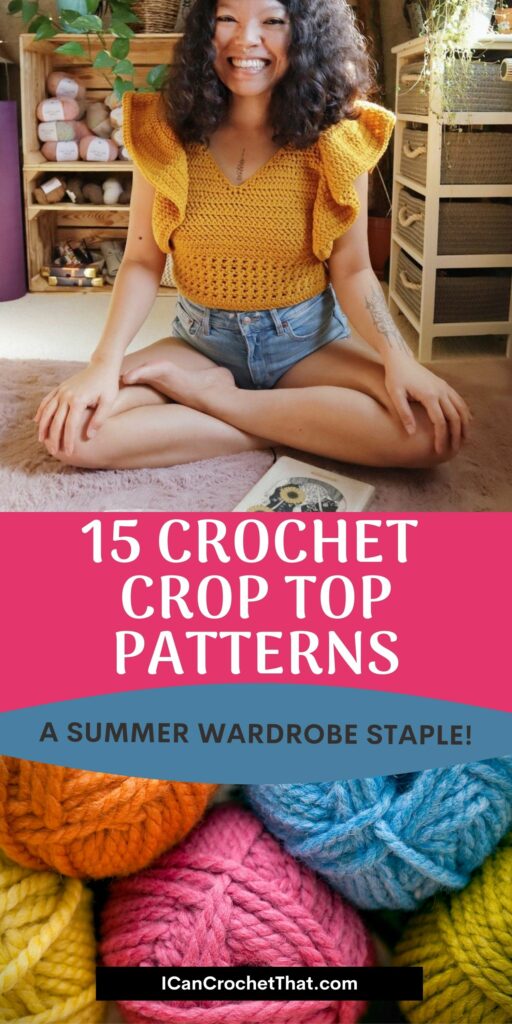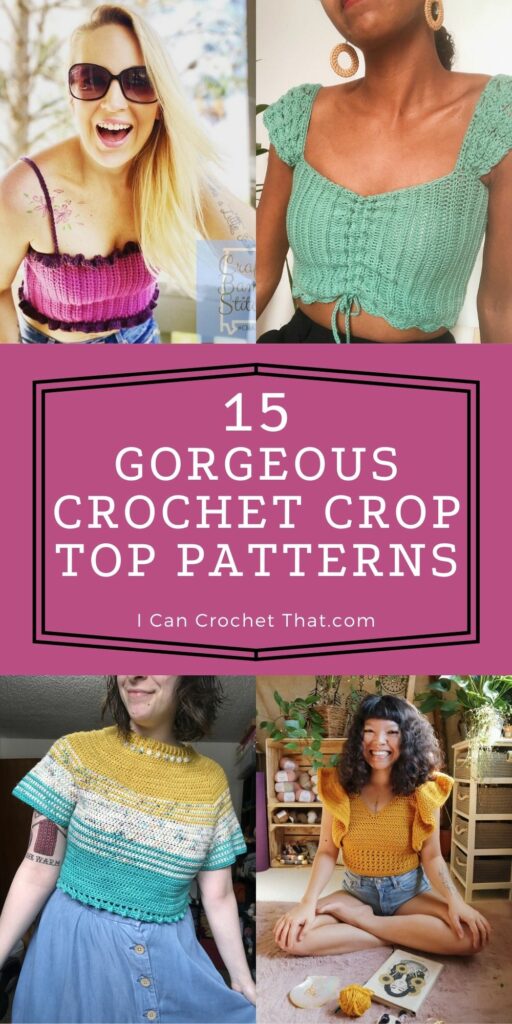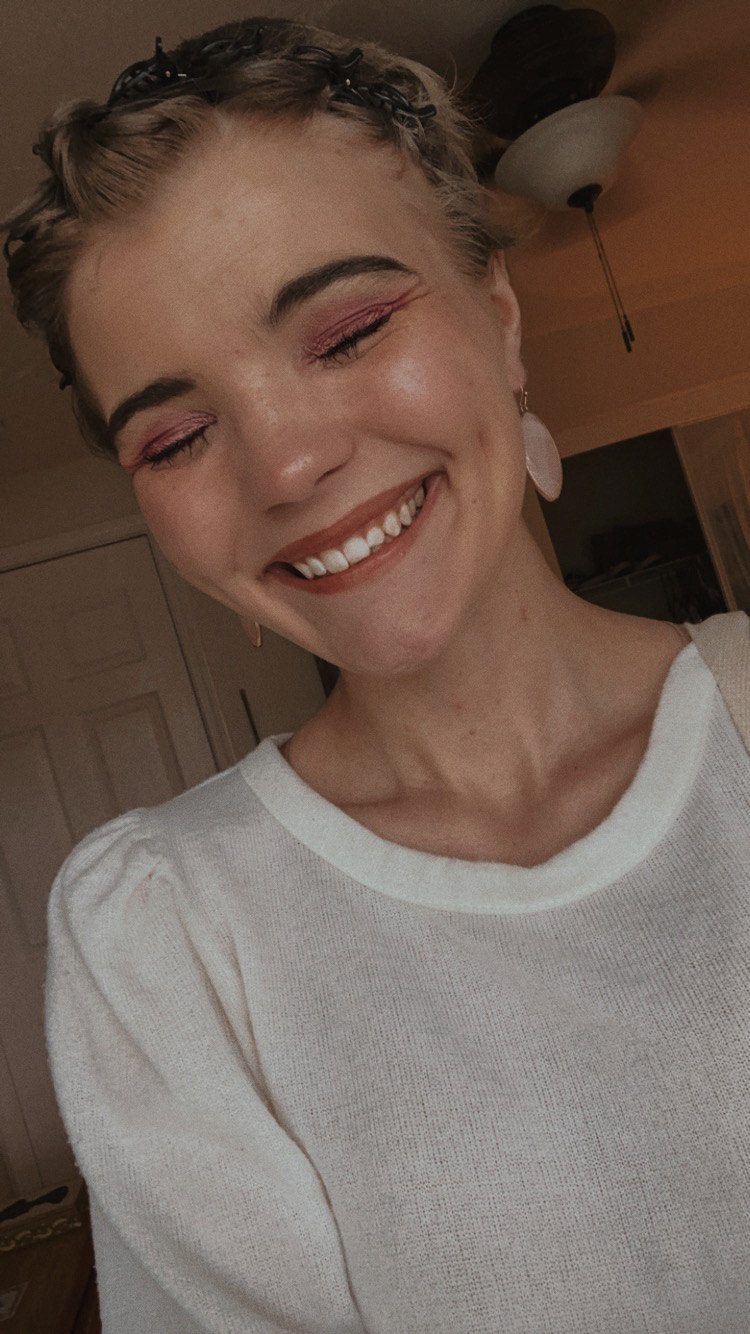 Hannah is the eldest of the Bonner family's three kiddos. She graduated from the University of North Texas with her Bachelors in Elementary Education. She enjoys reading, yoga, movies & TV, and (obviously) crocheting. She is excited about furthering her writing career & spending her days surrounded by yarn. All the yarn.