Enjoy these 15 crochet market bag patterns!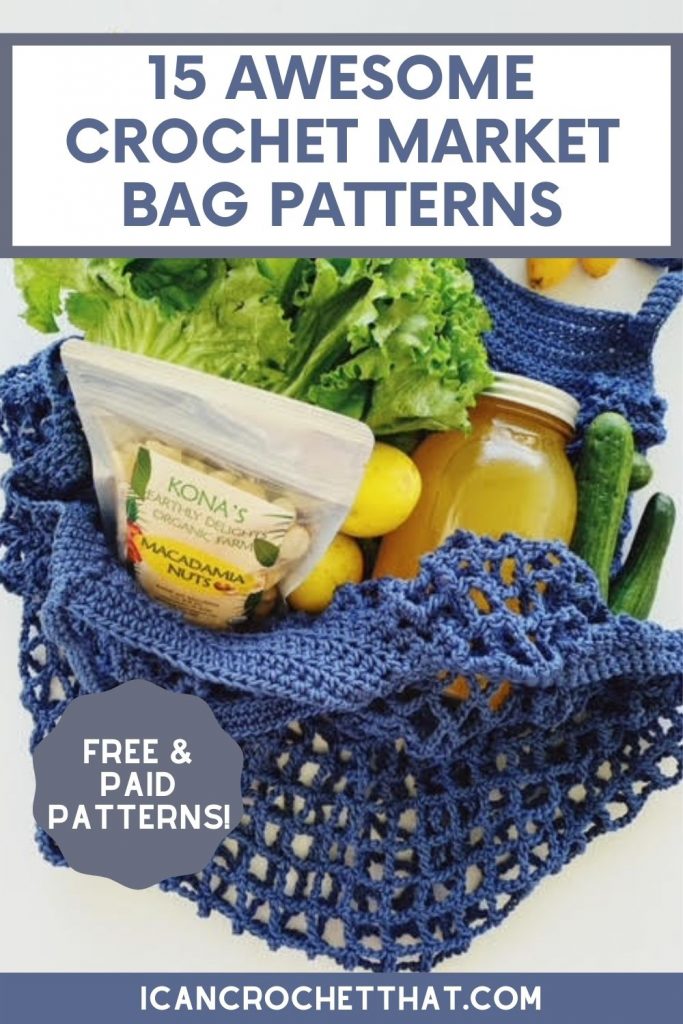 Have you ever made a crochet market bag? If not, let me tell you this is a must-make project for crocheters. I've rounded up 15 of them for you to try.
It's time to get ready for Farmer's Market season!
One thing I absolutely love about living in Hawaii is it's always Farmer's Market season around here. And we have several within a few miles of us that are so fun to shop at.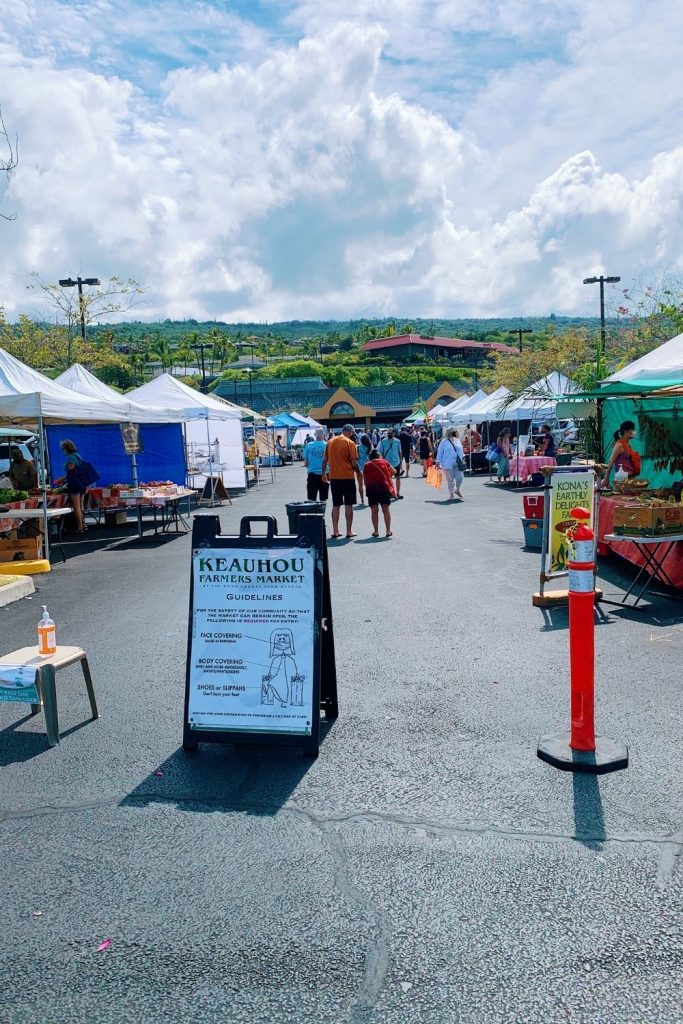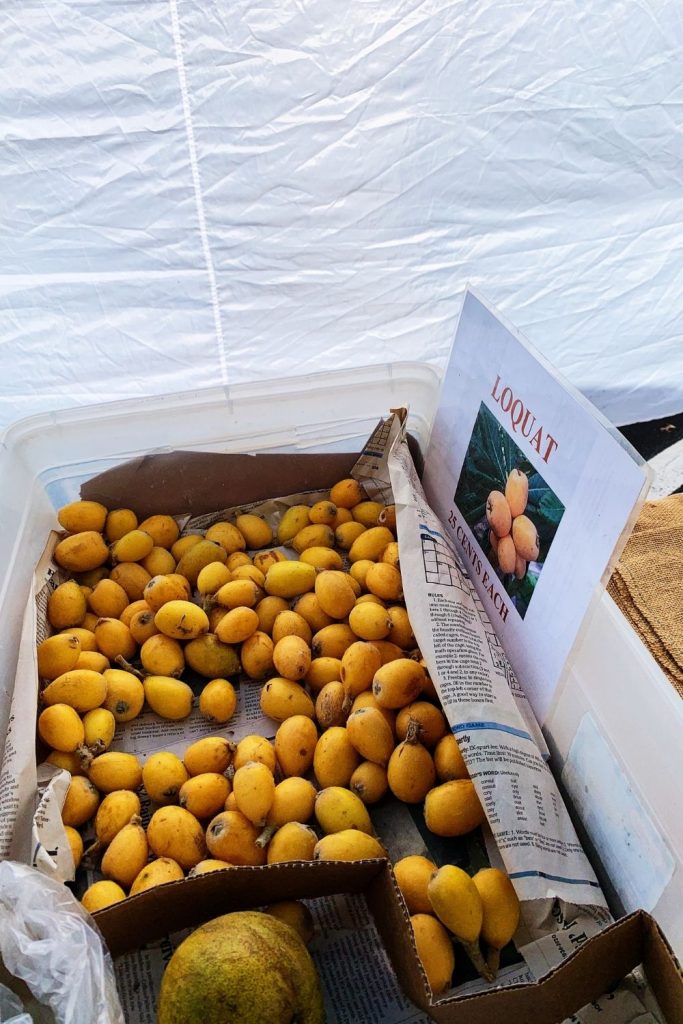 As we're getting ready to move back to the mainland in a few months, we're already talking about what we'll miss about this beautiful place and the abundance of farmer's markets is at the top of the list.
Since visiting these markets is a weekly occurrence around here, I knew I needed to make a crochet market bag of my own. After doing some searching, I decided to make this one.
It's sturdy, fun to make and the end result is a market bag I am proud of.
I loved making it so much, I couldn't stop. So I made a few finished ones to sell. You can purchase one in my shop soon!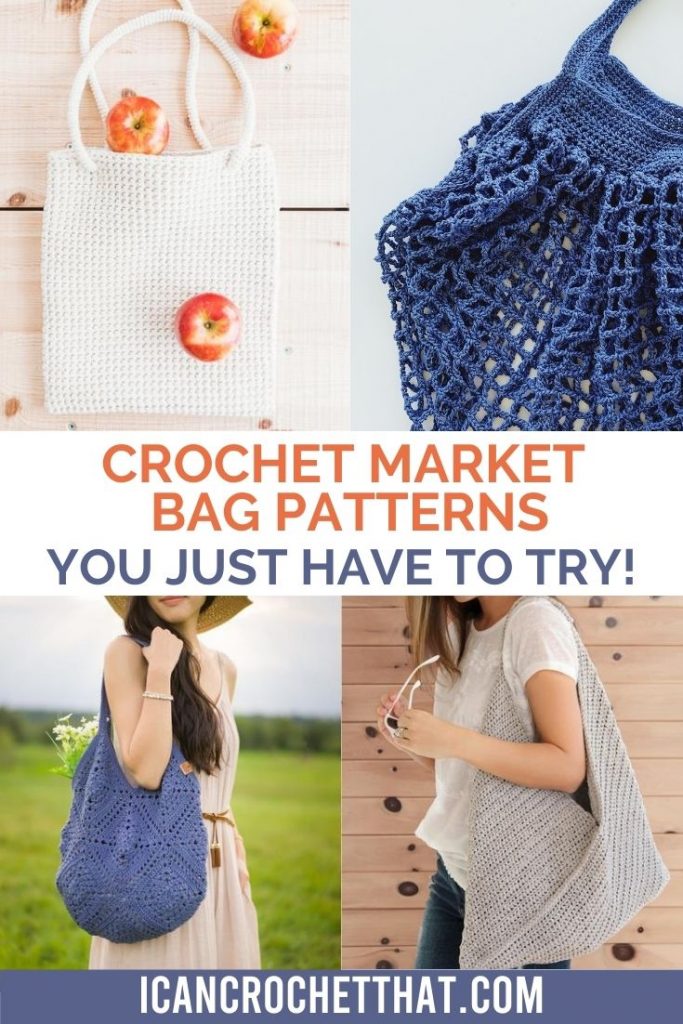 15 Crochet Market Bag Patterns
Some of these patterns are free and some you have to purchase. I've marked which is which so you can easily browse and find what you're looking for.
Crochet Market Bag Free Patterns
1. Crochet French Market Bag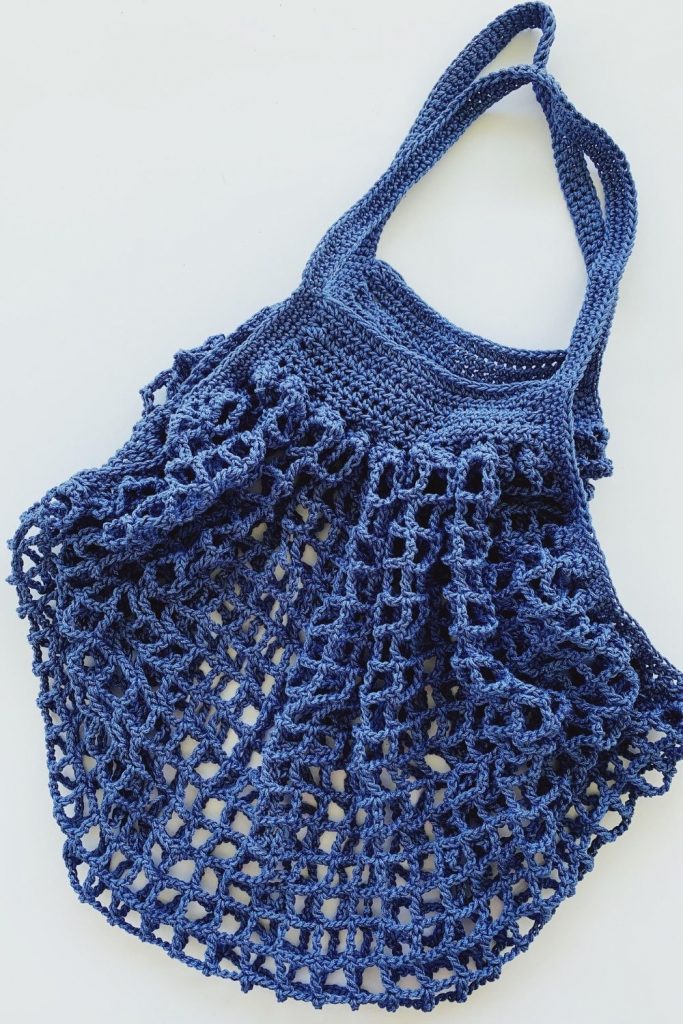 I have to include Two of Wands' French Market Bag pattern first because it's my favorite! I've made quite a few of these for myself and to sell.
Making this pattern and using the bag once it's finished never gets old.
We recently went on a van camping trip here on the Big Island and before we left, we hit up our local farmer's market and stocked up on fruits, veggies nuts and some yummy lilikoi juice.
I think the bag looks quite nice hanging up in the camper van, don't you think?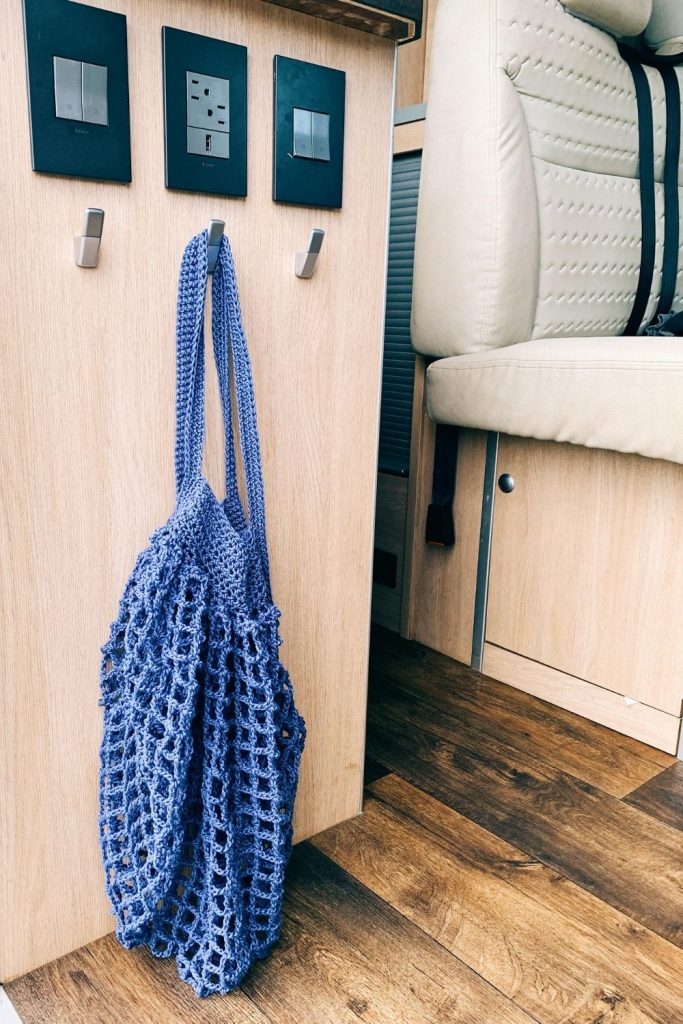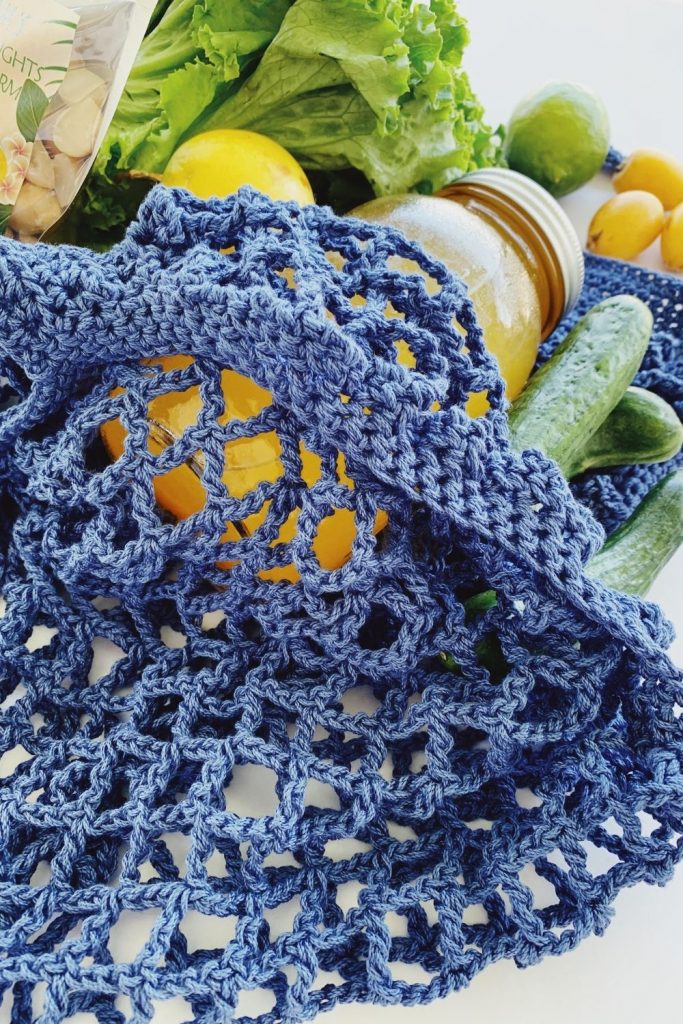 I found this market bag pattern very easy to follow.
You can also purchase this pattern as a kit on LionBrand.com here.
2. Lacy Crochet Market Bag
This crochet shopping bag by Yarnspirations is considered an easy skill level. It's made using mostly double crochet stitches and is worked up in a weight 2 yarn.
The spaced out dc stitches gives it a lacy look. Whip this up in red like they did, or any color you like. I think this would look so pretty in an off-white yarn.
3. Dishie-Lous Market Bag
The Dishie-Lous market bag from MJs Off the Hook Designs is made with, you might have guessed, Dishie and Dishie Twist from WeCrochet.
This easy crochet market bag pattern comes with a video tutorial.
The ad-free PDF which you can purchase, comes with extras including a photo tutorial, stitch chart and additional size.
4. Weekend Wanderer Mesh Bento Bag Free Crochet Pattern
I'm a big fan of 1DogWoof's patterns and this crochet bag pattern is no exception.
It's origami-inspired and perfect for not only your local farmer's market but also the beach or even an everyday crochet tote.
The pattern for the Weekend Wanderer Mesh Bento Bag is so simple, it's going to take just a few lines to explain it all. The magic is in the assembly. Basically, you want to crochet up a piece of fabric that has a length to width ratio of 3:1, and then fold it up into the bento bag shape, seam it, and secure the "handle". That's it!

1DogWoof.com
5. Wildrose Market Bag
Are you a fan of granny squares? If so, this free crochet bag pattern is for you!
All About Ami always delivers when it comes to her patterns! She is so incredibly creative when it comes to construction and design.
Crochet this beautiful Wildrose Market Bag that is composed of 13 granny squares seamed together in a special way! This eye-catching bag uses a variety of crochet stitches and is very sturdy using strong mercerized cotton and a dense strap using the waistcoat stitch. This bag is the perfect way to carry around your groceries, beach, and travel items!

AllAboutAmi.com
Purchase the kit for this bag at LionBrand.com
6. Coffee & Cream Crochet Market Bag
This bag features a unique stitch – the Granny Triangle Stitch, which you just have to take a look at to appreciate.
Featuring coffee colored and cream yarns (hence the name), modern looking straps and a cute removable boho tassel, this bag is not only functional, but will complement your outfit.
7. Caribe Big Crocheted Bag Pattern
Here's another multi-purpose crochet bag pattern. Use it at the market, the beach or for an everyday bag.
I absolutely love the colors integrated into this bag pattern. They definitely scream vacation!
The construction of the bag is different than you might think right off the bat as it's crocheted as three separate panels and then worked in the round to finish. This method gives it the interesting center striping and contrasting stitch patterns.

MamaInAStitch.com
Purchase the kit for this bag at LionBrand.com.
8. Farmer's Market Bag Crochet Pattern for Beginners
Are you just learning to crochet? If so, this market bag crochet pattern from justbcrafty might just be what you're looking for.
She describes this pattern as for "determined beginners" so be sure to skim the pattern all the way through before you begin.
The bag features a square shape, long handles, a solid bottom, and mesh body to allow for LOTS of stretch.

justbcrafty.com
9. 2 Hour Market Bag
Do you have a couple of spare hours and an extra skein of yarn? This pattern works up quickly, takes only one skein of Lily Sugar and Cream yarn in each color and comes in two different sizes.
Make it in one color or do a color block like the picture examples.
The free patterns comes with picture tutorials.
10. Miller Crochet Market Bag
I've yet to make one of Lakeside Loops patterns, but I always find myself oohing and aahing over her designs. Her Instagram makes me so happy and relaxed. 🙂
If you've never used Lion Brand's Rewind Tape yarn, now is your chance. It's perfect for those spring and summer projects you've been waiting to do.
With a beginner friendly design this piece is great for those who are new to crochet or as a quick and simple project for the more experienced crocheter.

LakesideLoops.com
You can also purchase this as a kit on LionBrand.com here.
I don't have any crochet bag patterns (yet), but if you're wanting some more free crochet patterns check out my Free Patterns category here.
Crochet Market Bag Patterns – Paid
I've been pretty obsessed with LionBrand's crochet kits lately. I ordered six of them and have finished 3 shirts for summer so far.
They have sales all the time on their kits (from 15% to 35% off), plus they often have their well-loved wonder wheel that you'll find on their site. I've spun it before and gotten 35% off. What a great day for a yarn lover that was!
Here are a few crochet market bag patterns you can purchase as a kit.
11. Local Has My Heart Bag
There's no better time than today to start supporting local businesses. Shop at famer's markets (don't forget your bag!), local restaurants that aren't chains, makers and creatives (ahem, like myself) via Etsy or Pinterest.
Supporting local feels amazing and a way to give back to your community.
Express your support for local with the Local Has My Heart Market Bag.
12. Motif Market Tote
Here's another granny square market bag for you. The pattern + the supplies you need are only $14.97. So if you had a coupon code, imagine how inexpensive this would be to give as a gift or for yourself!
Beginners and seasoned crocheters alike will enjoy crocheting the simple granny squares used to create the Motif Market Tote. The visual interest created by the openwork in the design makes it the perfect market tote for spring.

LionBrand.com
13. Fraiche Tote Bag
I remember when this designer, Sewrella, gave a sneak peek of this new pattern she was whipping up. I was very curious what she was making. And well, the end result is beautiful!
The ultimate crochet tote bag – simply classic in design with utilitarian functionality. Made-from-a-rectangle construction means adventurous beginners can make this crochet tote bag with ease. The thick thermal stitch offers rigidity and combats stretching. Make one for toting to the farmer's market or a coffeeshop!

LionBrand.com
14. Janey Basket Bag
Here's another beautiful Two of Wands pattern. If you've never browsed through all of her crochet bag patterns, you definitely need to!
Tote all of your summer essentials in style with the Janey Basket Bag. The simple construction works up quickly and features a sturdy base and woven-style sides. The roomy size is perfect for your beach towel and book or groceries from the market for the night's feast.

LionBrand.com
15. Royal Crown Market Bag
This crochet tote, designed by Vincent Green-Hite of Knot Bad, only takes 2 skeins of 24/7 Cotton yarn. It's considered an Intermediate pattern, so some crochet skills are necessary to whip this up.
Made with a "lace" looking pattern, this market bag is re-usable for every time you head out to the market or grocery store to avoid using paper or plastic bags. Made with a strap and handle bars, you can use it for any function to hold!

LionBrand.com
Are You Ready to Make Your Own Crochet Shopping Bag?
Did you find a pattern you like? I definitely added a few to my crochet wish list.
These bags would make such a fun gift for Mother's Day, Birthdays and Christmas. Get creative and include with the bag some local treats from your farmer's market.
Ours here on the Big Island has a selection of coffee, chocolate and nuts that would be perfect to include with the bag.
Let me know if you end of making one of these!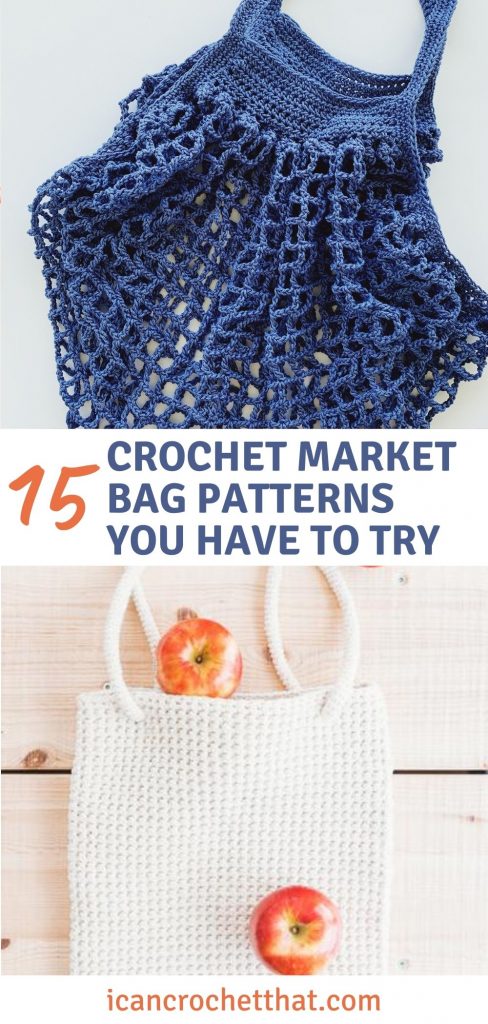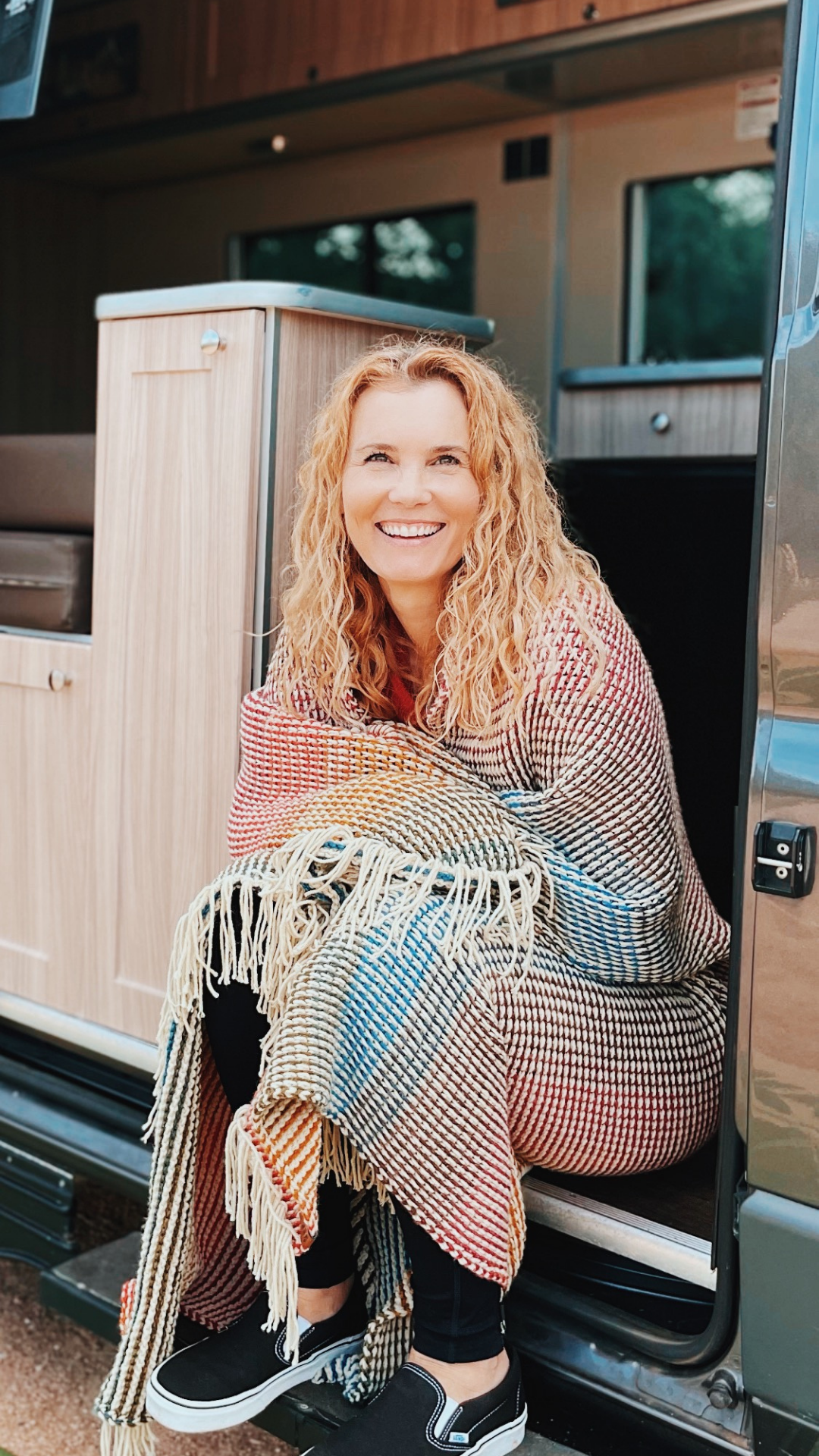 Hi! I'm Julie. I design modern crochet patterns and tutorials to help you learn to crochet. I've been crocheting for over two decades and with the gentle nudging of my husband, decided to turn this passion into a career. Although we travel a lot in our campervan, you'll never find me without a bag of yarn and projects.