Welcome to the first crochet pattern drop of 2021!
The January 2021 Crochet Blanket – you can grab a printable PDF file on the I Can Crochet That shop here.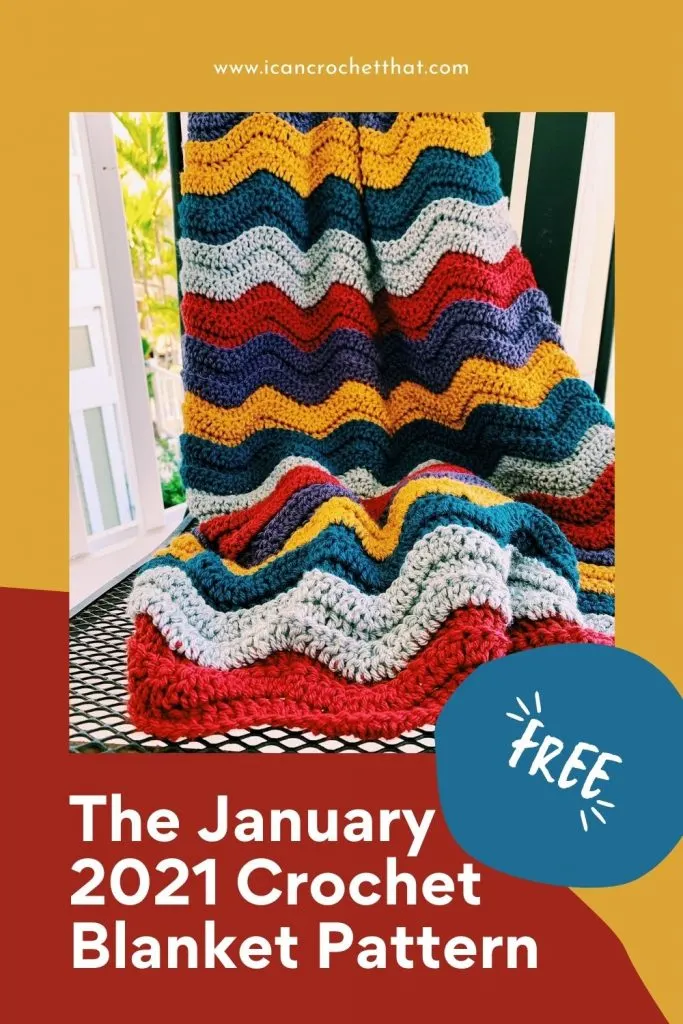 I mentioned on Instagram that I wanted a year long project of some sort. My first thought was a temperature blanket because I saw makers chatting about them all over the interwebs and I thought it would be fun to join in and create my own.
But, I live in Hawaii. The island and town I live in has a pretty small temperature variation. Which means my temperature blanket would only be about two colors. And, we're most likely moving back to the mainland before 2021 is over, so then what would I do?!
So I scratched the temperature blanket idea and decided to do a themed blanket for every month this year. While I'll still be releasing other crochet patterns, I wanted to create blankets that represented each month of the year.
Not only that, but each blanket will teach a new stitch and some new techniques. By the end of 2021, I'll have 12 blanket patterns that teach 12 different stitches and techniques.
While I know you won't make all 12 blankets (but if you do, kudos!), I hope you'll join me in learning some new stitches, techniques and color palettes that work well together.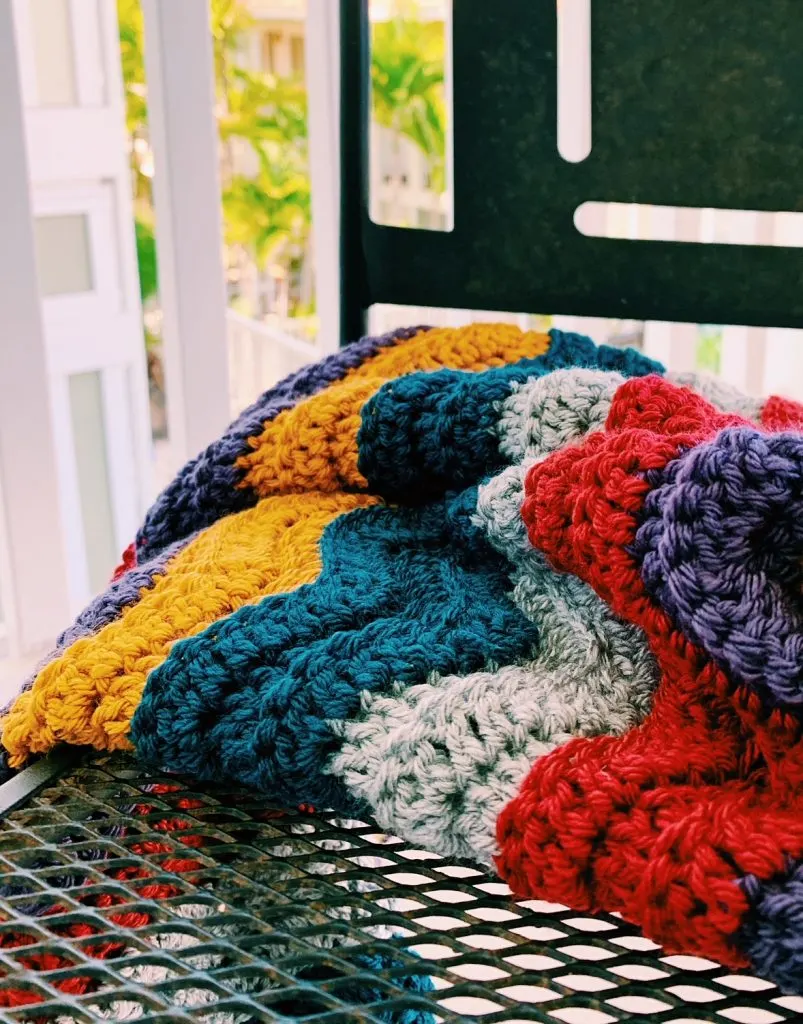 The January 2021 Blanket
I really struggled choosing colors for the January 2021 blanket pattern. Part of me wanted to go soft and minimalist, starting off the year with a sense of calm. Then there are also the colors that represent winter.
But given how 2020 put a halt on travel and adventure, I decided the January 2021 blanket should represent both of those things. It should represent excitement and hope for the coming year.
As some of you may know, my family and I traveled full-time in an RV for a year and a half. We visited 36 states, 5 Canadian provinces and 15 National Parks. You can read more about us and the RV lifestyle on our blog TREKKN.
We also recently decided to move to Hawaii for a year for some tropical adventure.
Needless to say, travel is important to me. It has helped shaped who I am and it has shaped how our children see the world. That year and a half of travel encouraged our kids to seek their own adventures and we are so incredibly proud of them.
One of my fondest travel memories is when we drove to Banff National Park in our RV. In fact, I chose it as my all-time favorite RV destination.
I remember seeing pictures of the incredible color of the lake and all of the colorful canoes lined up together.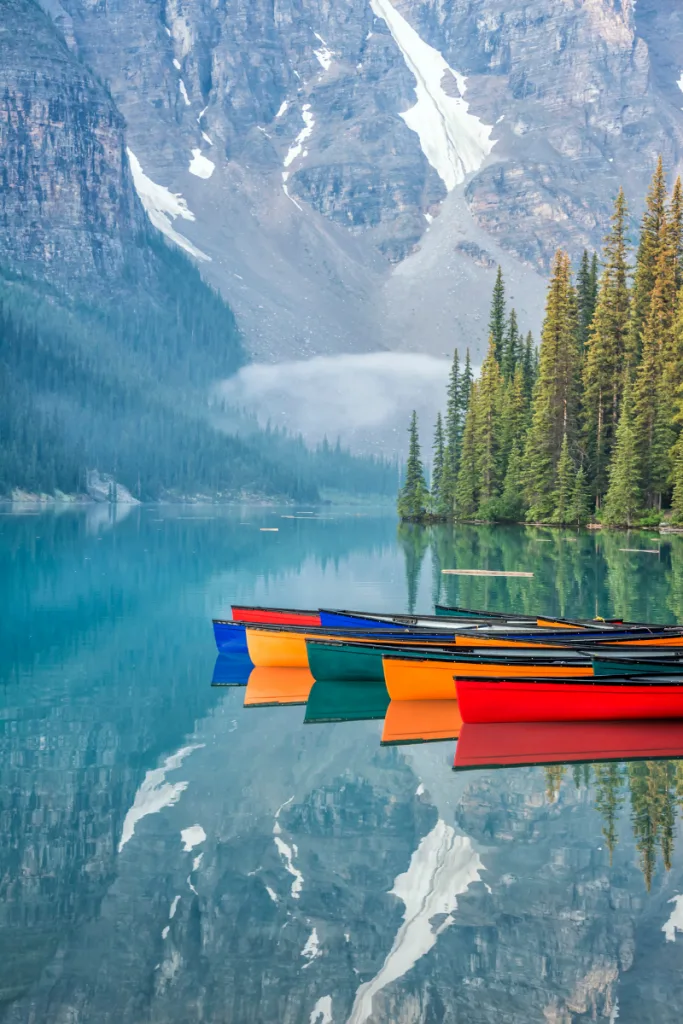 I'm also drawn to destinations with houses of every color. We saw some of that on our travels to Nova Scotia,
I've also saved a few pictures of Italy, a bucket list destination of mine, which feature these beautiful and bright houses.
With these colors in mine, the January 2021 blanket was created.
The Colors + The Yarn
Since I decided to do this year long project two days before the New Year, instead of ordering the yarn online, I had to make do with what was available on the Island.
I found a quilt shop that also sells high end yarn or "fancy yarn" as a lady from a local fabric store called it.
As I was browsing and shopping, I was surrounded by ladies talking about book clubs and fabric and yarn and of course, a little bit of local gossip. I believe I have found my people. 😉
The yarn I chose was Patons Canadiana; a yarn that is new to me. As one of the ladies was ringing me up, she said "you'll never go back to cheap yarn after working with this."
And while I will go back to more affordable yarn, she was so right about how incredibly enjoyable it was to work with this yarn.
Here are the colors I chose.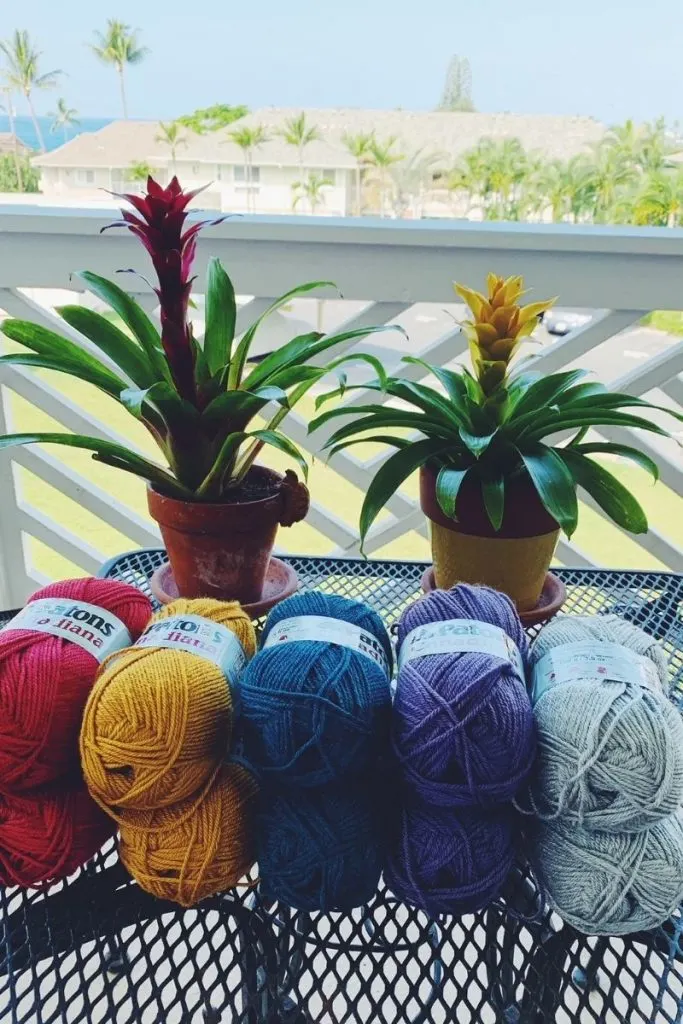 Wave Crochet Blanket Pattern
You can grab a printable PDF file of this pattern on the I Can Crochet That shop here.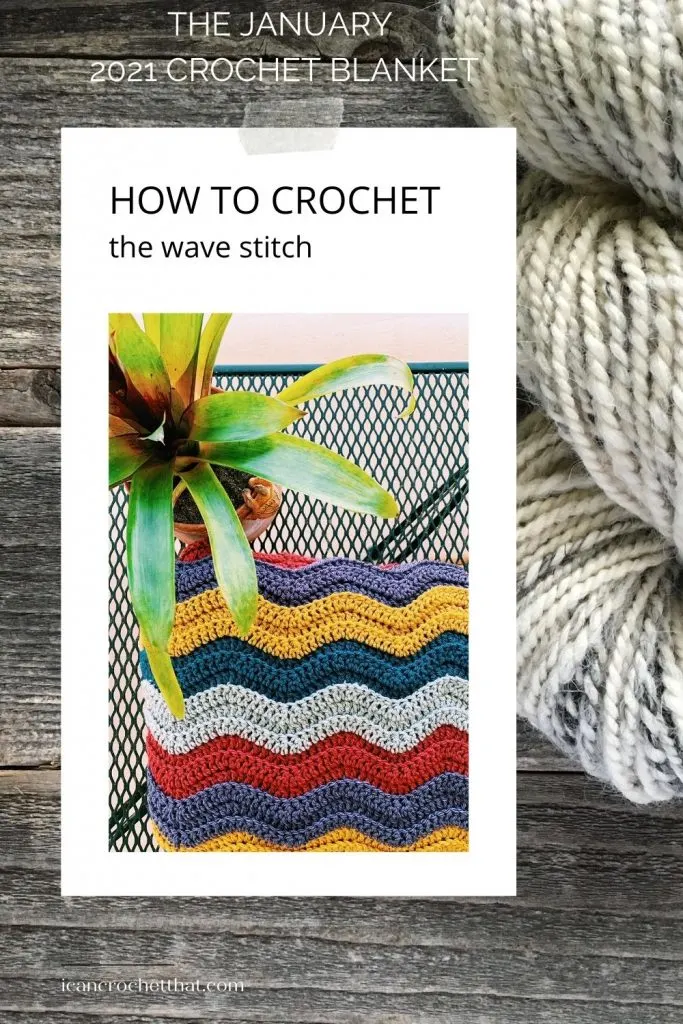 Believe me when I tell you, this stitch is very easy to learn. It's made up of double crochets and dc2tog; which is double crochet two together. Learn those two stitches and you're good to go!
Materials:
2 skeins each of Patons Canadiana Mossberry, Fool's Gold, Teal Heather, Purple Glow and Pale Grey Mix
5 mm crochet hook (H-8)
Tapestry needle and scissors for weaving in ends
Notes:
Pattern is worked through back loop only; or blo
Chain 2 does count as a stitch
Finished blanket measures 43″ x 57″
Gauge: 18 stitches x 8 rows
To change the blanket size, the multiple for the starting chain is 14 + 2
Special Stitches:
blo – I show how to do this in the video but basically, this means you do not work through both loops of the stitch below and instead work through only the back loop. This creates a ribbing/ridged look to your project.
dc2tog (double crochet two together) – Yarn over, pull up a loop, pull through first two loops on hook. Yarn over, pull up a loop in next stitch, yarn over, pull through first two loops on hook. Yarn over, pull through the remaining three loops on the hook. (This is also shown in the video tutorial.)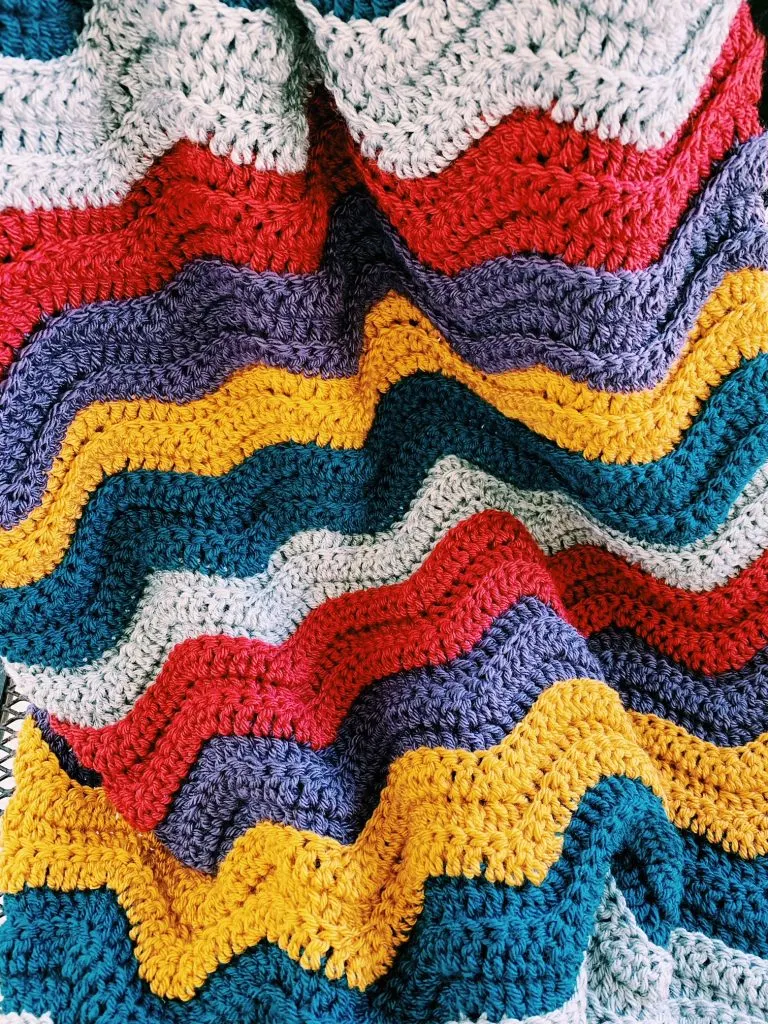 Pattern:
With Mossberry, chain 156
Row 1: Dc in 3rd chain from hook. Dc in the next 4 stitches. Dc2tog. Dc2tog. Dc in the next 4 stitches. *Work 2 dc into the next stitch. 2 dc in the next stitch. Dc in the next 4 stitches. Dc2tog, dc2tog. Dc in the next 4 stitches.* Repeat between ** until end of row. End with 2 dc in the last chain. Ch 2, turn.
Row 2: Dc blo in the first stitch (do not skip the first dc). Dc blo in the next 4 stitches. Dc2tog blo. Dc2tog blo. Dc blo in the next 4 stitches. *Work 2 dc blo into the next stitch. 2 dc blo in the next stitch. Dc blo in the next 4 stitches. Dc2tog blo. Dc2tog blo. Dc blo in the next 4 stitches.* Repeat between ** until the end of the row. End with 2 dc in the last stitch (the top of your ch 2 from the previous row). Ch 2, turn.
Repeat Row 2 for the rest of the pattern
The stripe pattern is:
3 rows of Mossberry
3 rows of Pale Grey Mix
3 rows of Teal Heather
3 rows of Fool's Gold
3 rows of Purple Glow
Repeat this group of colors 6 times for finished blanket.
Weave in all ends.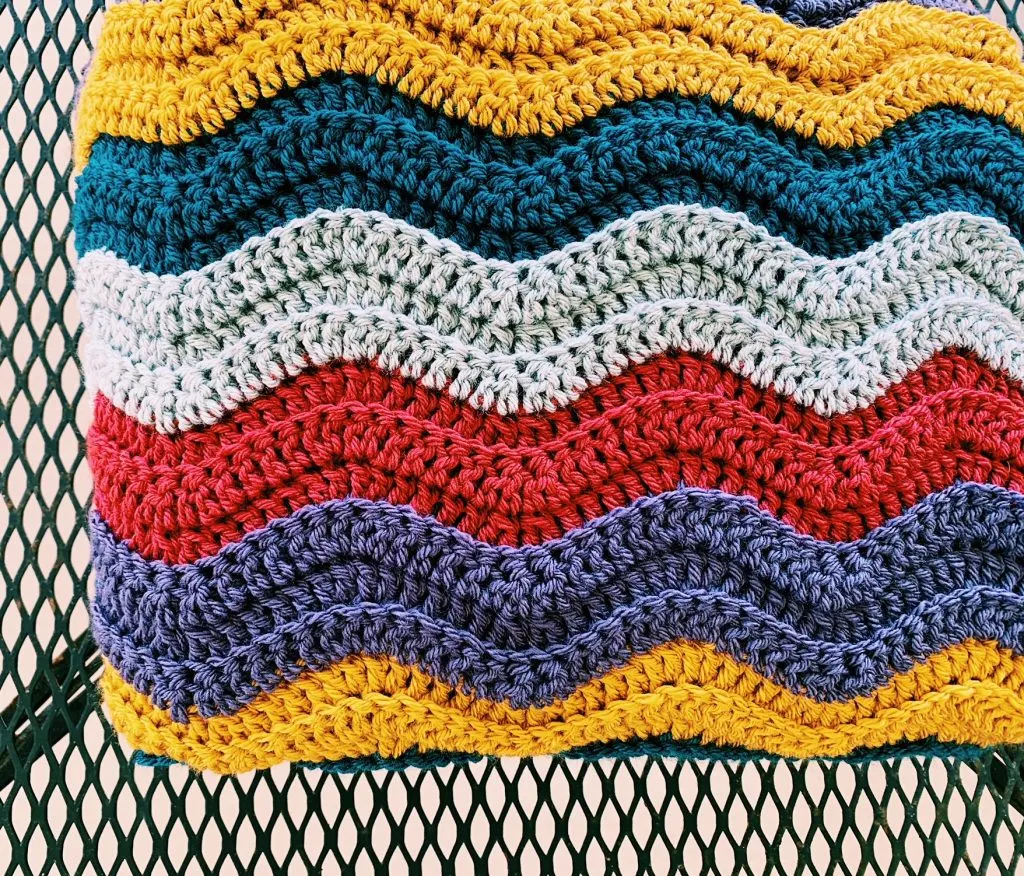 The Crochet Wave Stitch Tutorials
Photo tutorial:
A Chain 30
B dc in 3rd chain from hook
C dc in next 4 chains
D – F dc2tog; twice
G – I 2 dc in next chain; twice
J repeat pattern until last stitch
K 2 dc in last chain
L chain 2; turn
M – N dc blo in first stitch
O dc blo in next four stitches
P dc2tog blo in next stitch; twice
Q 2 dc blo in next stitch; twice
R repeat pattern to last stitch
S 2 dc in last stitch
T 3 rows of wave stitch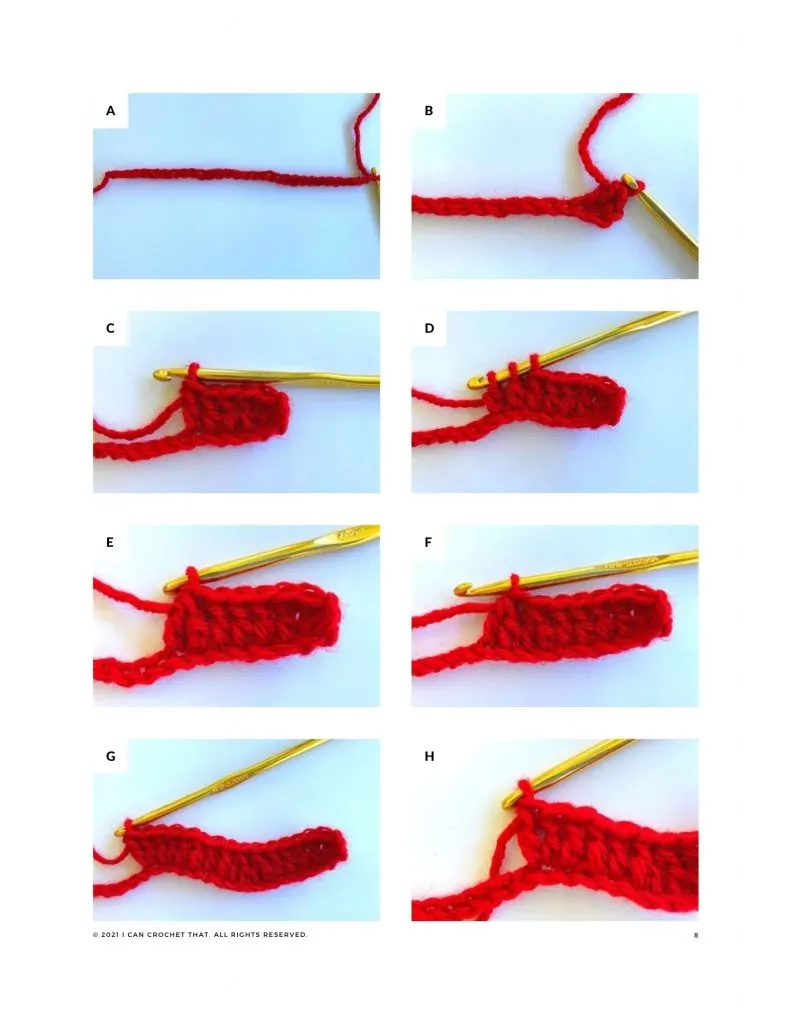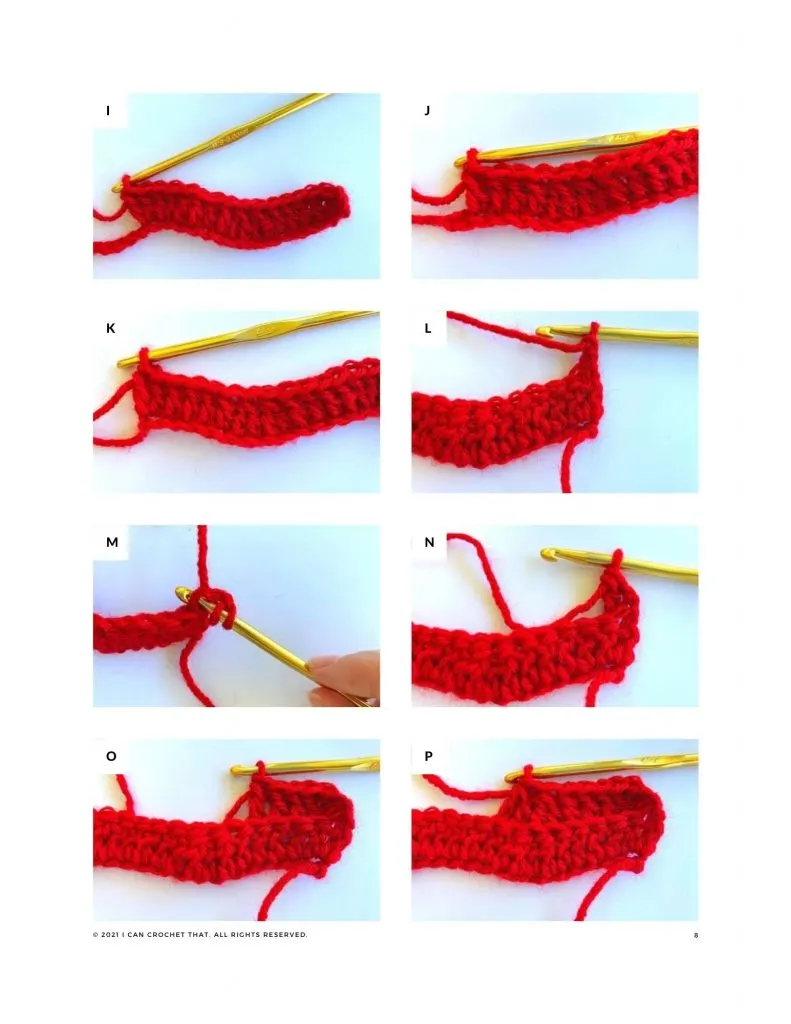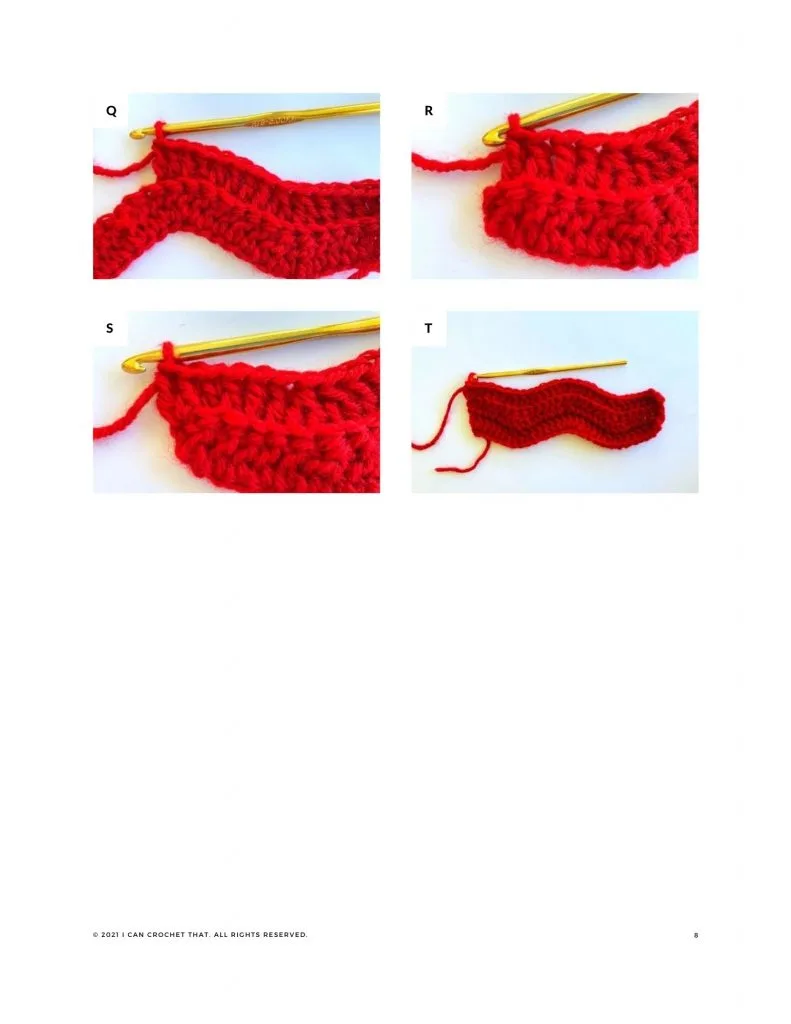 Stay tuned for the February 2021 crochet blanket!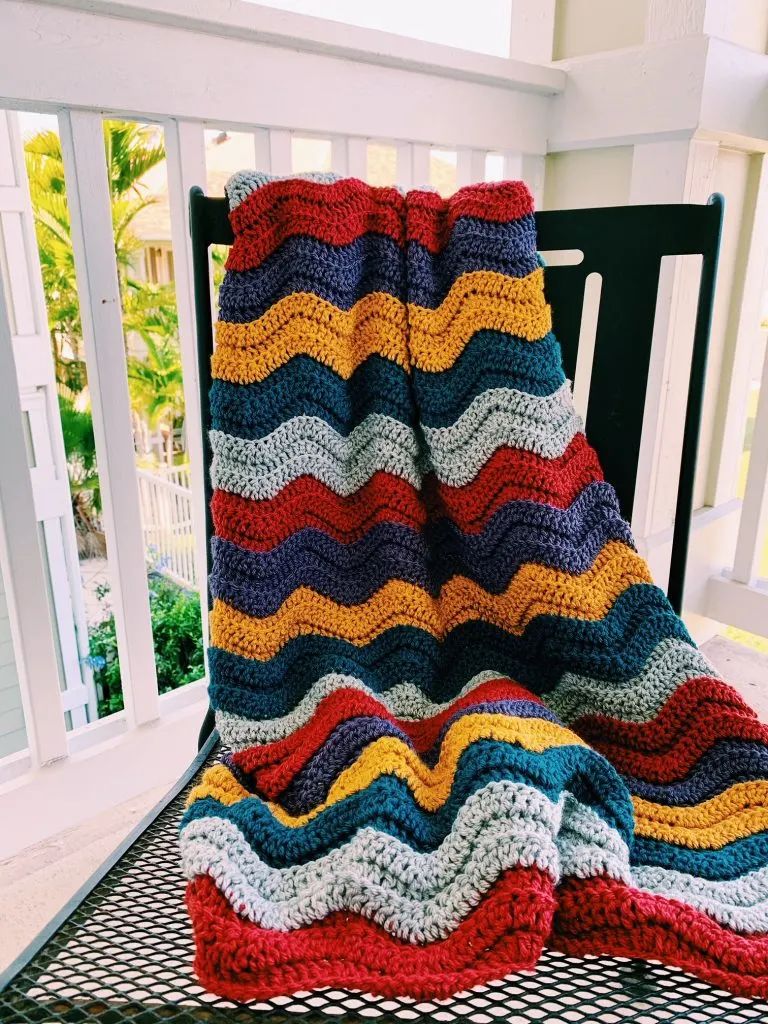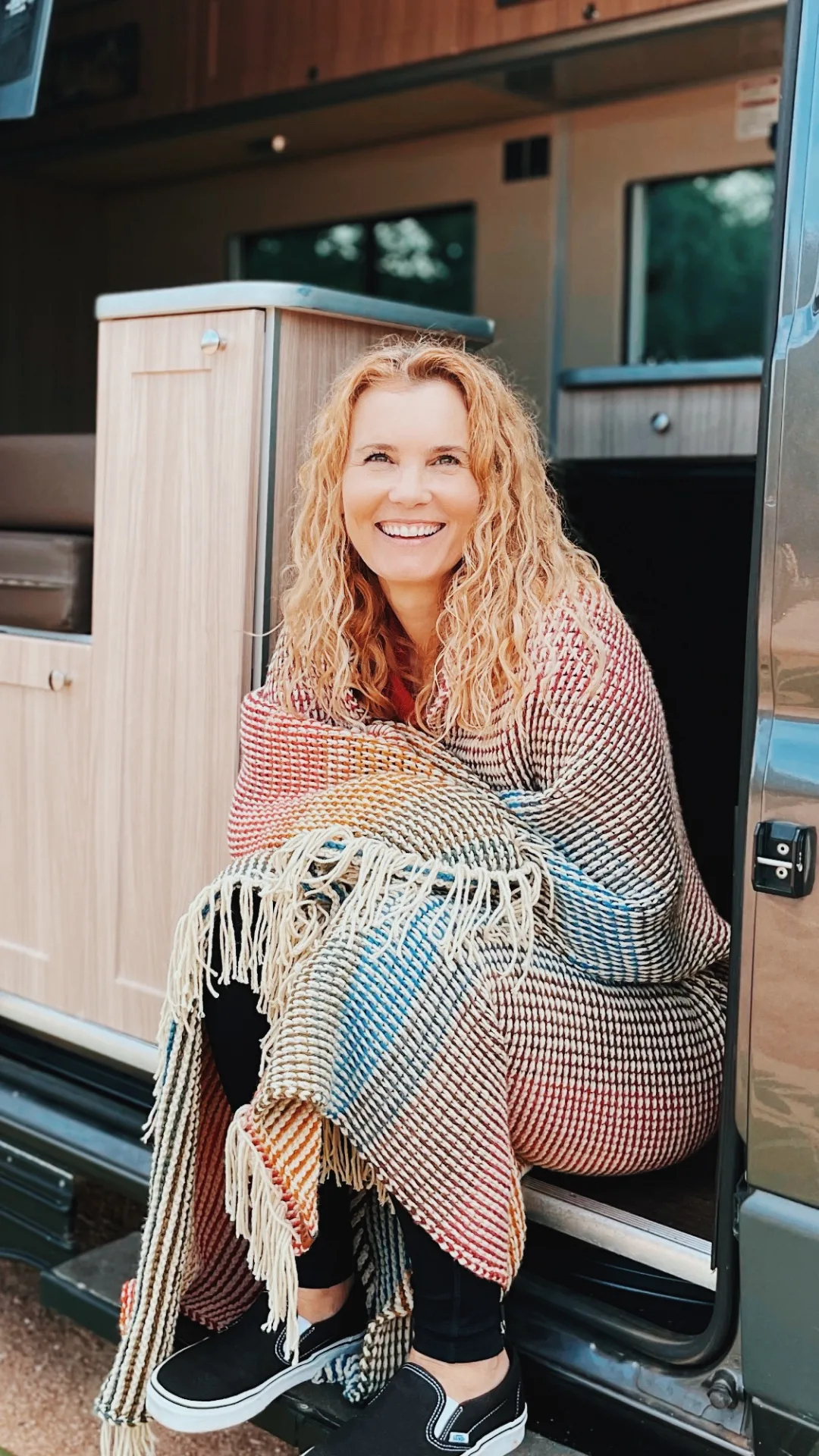 Hi! I'm Julie. I design modern crochet patterns and tutorials to help you learn to crochet. I've been crocheting for over two decades and with the gentle nudging of my husband, decided to turn this passion into a career. Although we travel a lot in our campervan, you'll never find me without a bag of yarn and projects.