After many requests for a regular crochet camping blanket pattern, I am excited to release The Estes Blanket today!
I think you'll love the ease of making this and the end result; which is a beautiful striped blanket perfect for nights by the campfire.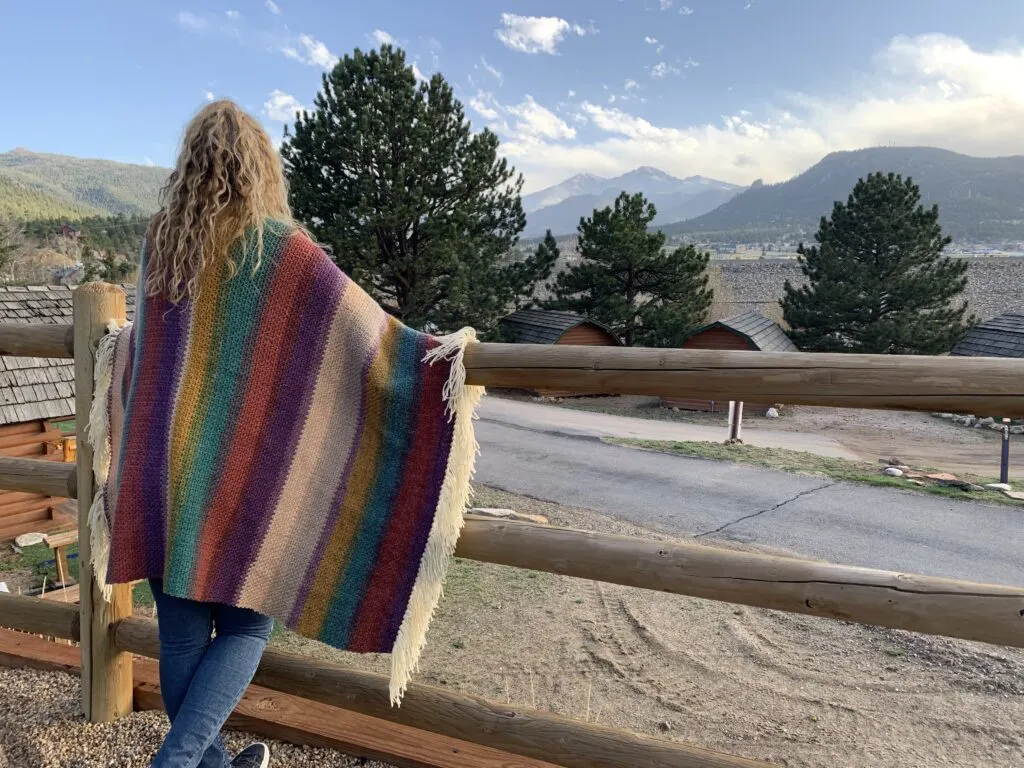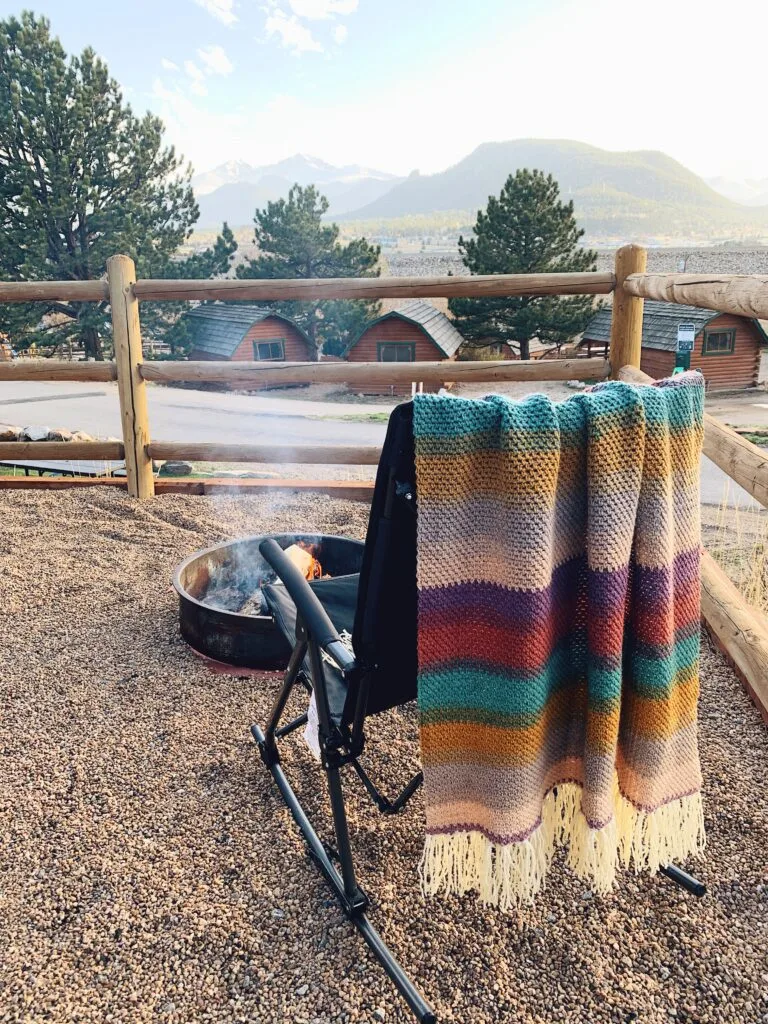 You can purchase a printable PDF of this pattern at our shop here or Etsy here.
My Tunisian crochet camping blanket is definitely one of the top 5 most popular patterns I've designed. And a lot of you loved it, but you really wanted a camping blanket design in good 'ol regular crochet.
My Love of Self-Striping Yarn
This little love affair I have with self-striping yarn came about by accident really.
I grabbed a cake I had purchased on sale when I was learning Tunisian crochet. Little did I know how perfect Tunisian and self-striping yarn were for each other.
It's truly a match made in yarn heaven.
You can see a list of 25 crochet patterns using self-striping yarn here, plus I share why I love it so much and why some crocheters do not.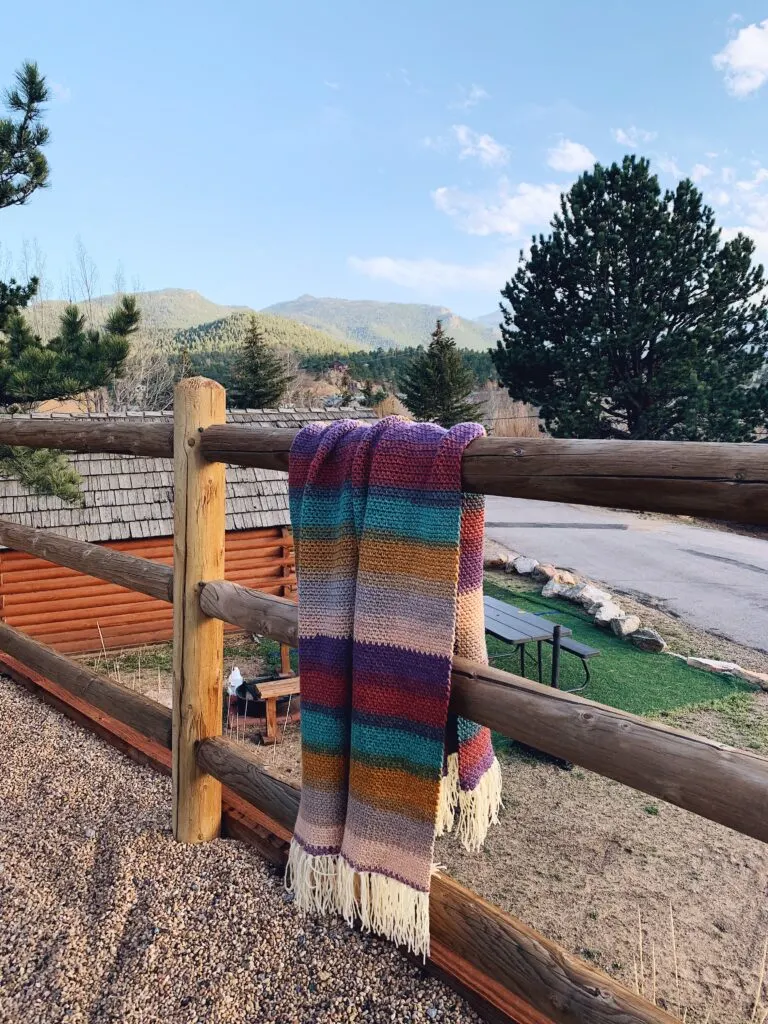 Self-Striping Yarn + Regular Crochet
As I mentioned, Tunisian crochet and self-striping yarn such as Lion Brand's Mandala are the perfect match.
You can find this yarn on Amazon here, LionBrand.com, or sometimes in your local Joann's store.
I found it fairly easy to find the right mix of the number of chains and hook size in order to get the stripes to line up. One big complaint with this yarn is when the color change happens in the middle of a row.
Well, getting this to work with regular crochet was tricky, to say the least.
I tried so many different combinations of chain length + hook size + type of stitch.
In fact, I got so frustrated I put this project down for a couple of months while I cranked out some other patterns.
Maybe it was the mountain air (I designed this crochet camping blanket pattern while on a 6-week campervan trip to the mountains), but I finally found a combination that worked.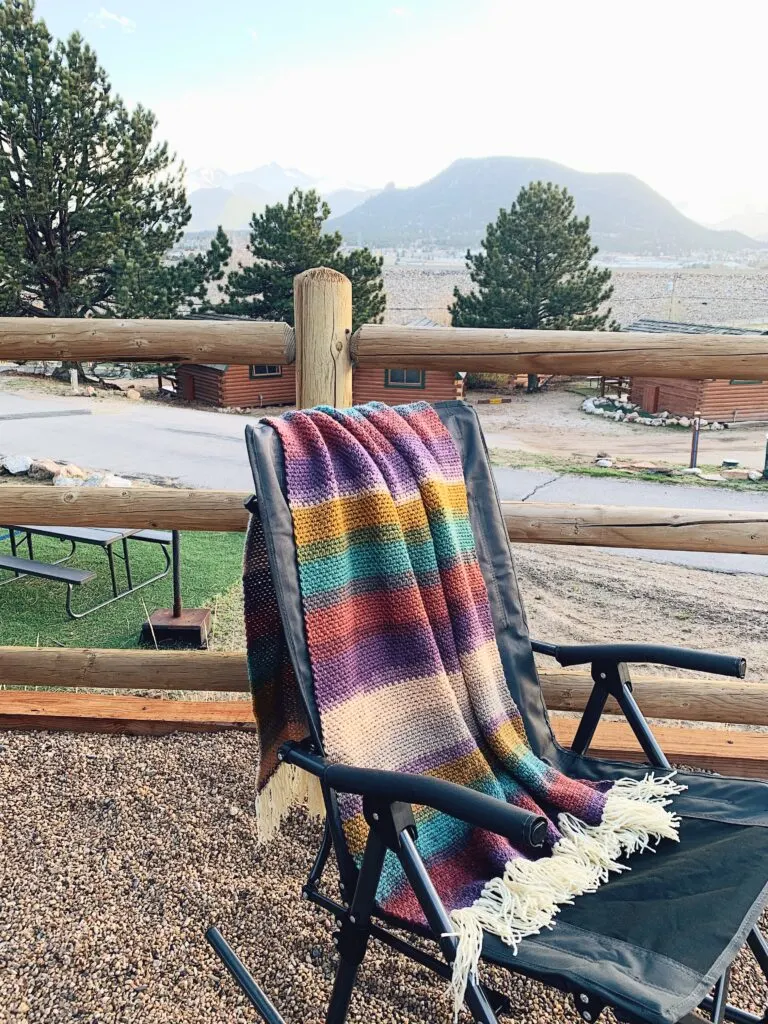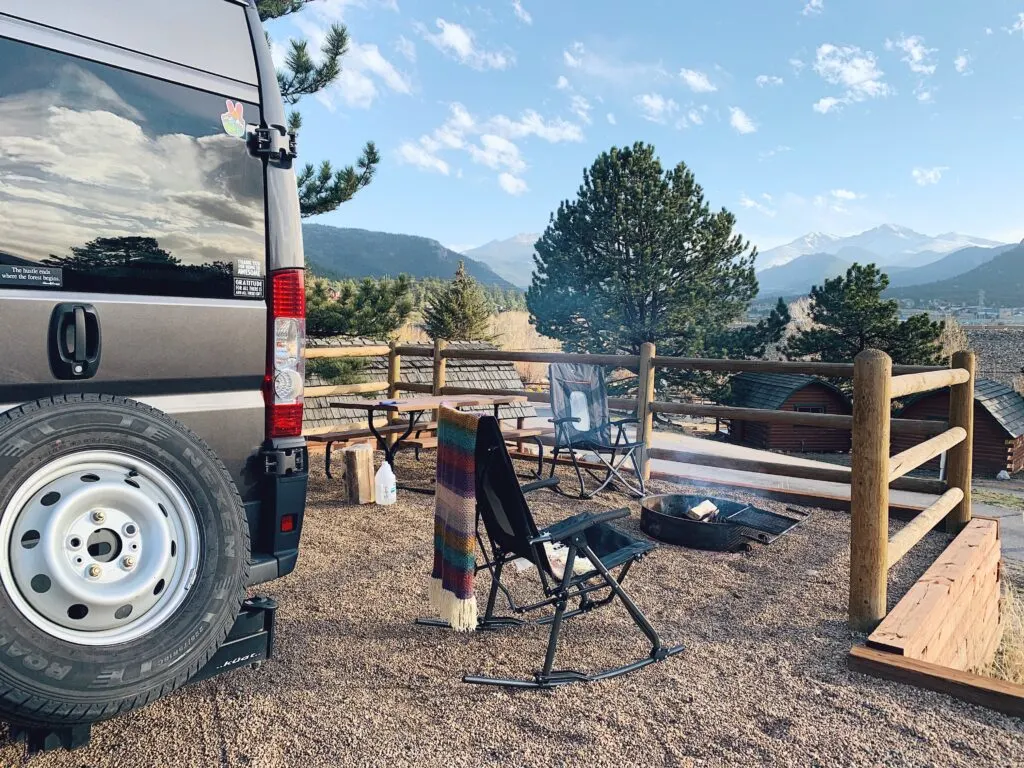 The Estes Blanket – A Crochet Camping Blanket Pattern
Grab this pattern for free by becoming a part of the I Can Crochet That community below!
The Crochet Stitches
I have loved the linen stitch (also known as granite and moss stitch) since the first time I tried it. It was the perfect modern stitch + it was fairly easy to learn.
It's one of those stitches we crocheters love to call "meditative". Meaning, that you can crochet with this stitch without having to focus too hard on it. It just flows on your hook naturally.
If this stitch is new to you, here's a video tutorial I created.
That's the only stitch you need to know to make this blanket!
Now, there are times when the color starts to change towards the end or beginning of a row. But because of this type of stitch, it's not so noticeable.
I first tried making this blanket using half double crochet because it's a modern stitch that a lot of us know and love. It also makes the project go a little faster because it's a larger stitch than the linen stitch.
But the color changes kept happening mid-row and I didn't like the way it looked.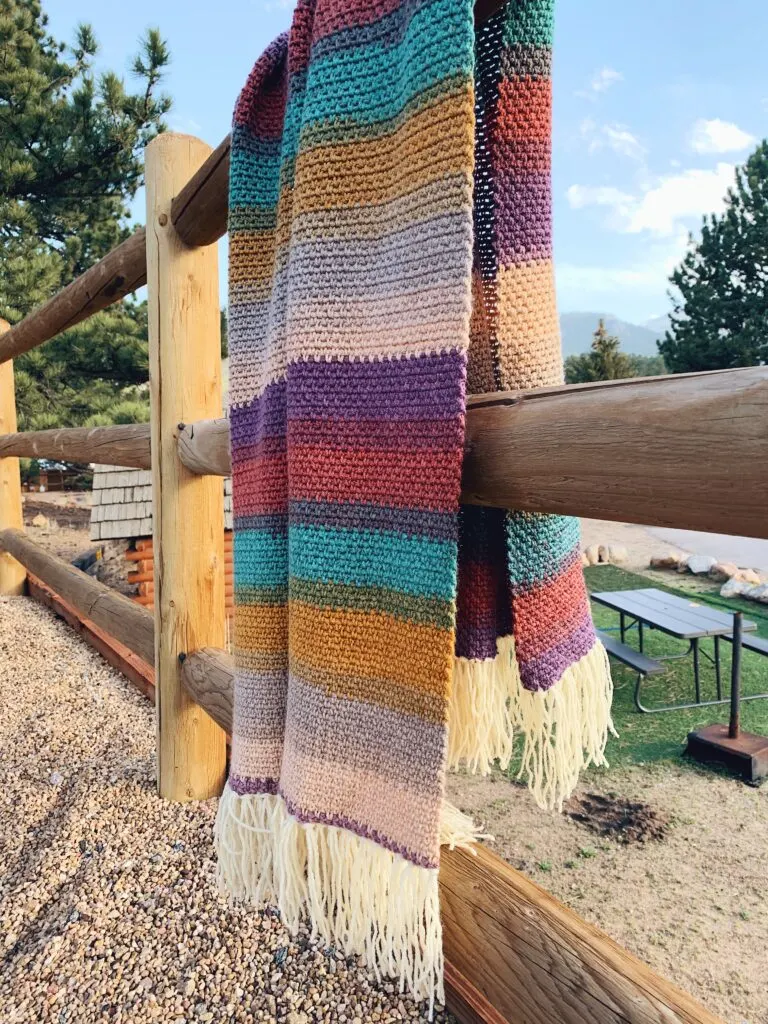 Although the linen stitch is pretty tiny, especially with a weight 3 light yarn, I promise it goes fast once you get the hang of it.
The Estes Blanket Crochet Pattern
Description:
The Estes blanket is named for where it was created and photographed; Estes Park, Colorado. After designing a Tunisian crochet camping blanket, I had many requests for a regular crochet camping blanket. After a lot of trial and error to get the stripes just right, The Estes Blanket was born.
You will love the ease of creating this blanket; plus how lightweight it is. It's the perfect companion to summer nights by the campfire.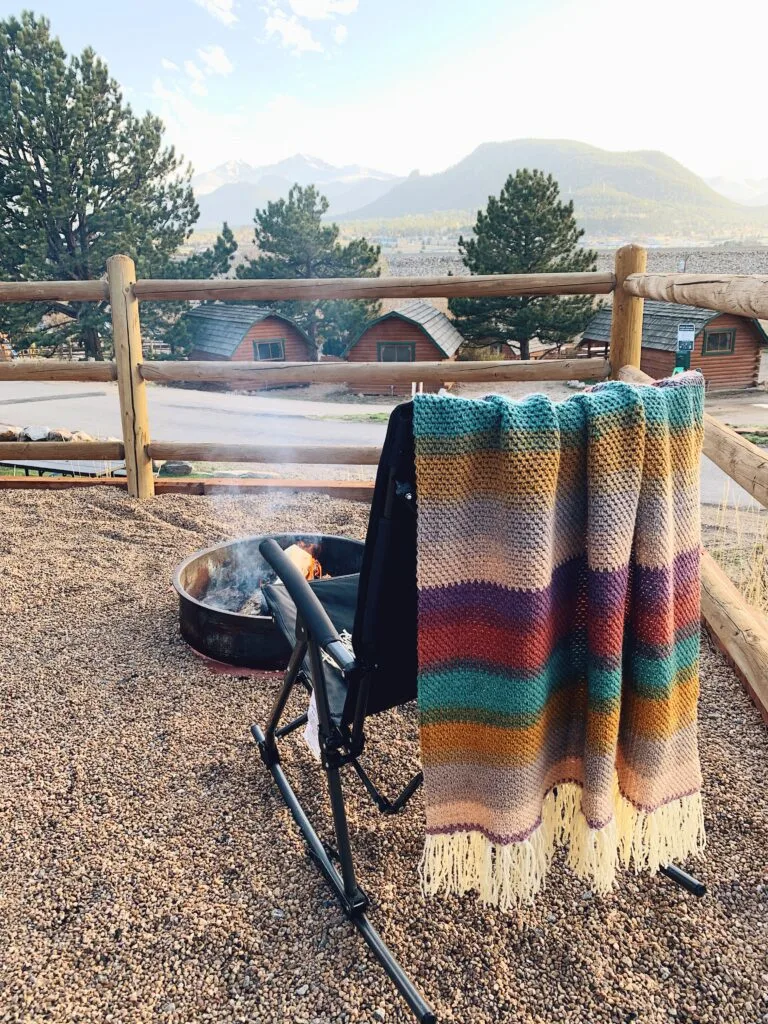 Notes:
Finished size measures 36″ wide x 58 1/2″ long
To change the length, continue stitch pattern
To change the width, chain an even number
Turning ch 2 does count as stitch
Video tutorial for the linen stitch is HERE
For the fringe, this pattern uses very little of Lion Brand's Pound of Love yarn, so you will have quite a bit of yarn leftover. I recommend either saving it for a scrapghan/granny squares or using another yarn you have on hand.
Materials:
HOOK(S)
J/ 6.0 mm crochet hook
YARN
Weight 3 • approx. 2,360 yds
Color:
Warlock
You can purchase this on Amazon here, LionBrand.com here, or sometimes find it in your local Joann's store
Weight 4
Lion Brand Pound of Love, 1 skein
Color:
Vanilla
NOTIONS
Scissors
Tapestry needle
Abbreviations:
ch chain
rep repeat
yo yarn over
sc single crochet
ch-sp chain space
sk ch skip chain
sk st skip stitch
st(s) stitch(es)
Pattern:
Foundation row ch 172, sc in 4th ch from hook, *ch 1, sk 1 st, sc in next st; rep from * across row; ch 2, turn (170 sts)
Row 1 Sc in first ch-sp, *ch 1, sk 1 sc, sc in next ch-sp; rep from * across row; ch 2, turn (170)
Rows 2 and on Repeat row 1 until you've reached the desired length of blanket or until your last skein of yarn is used up
Finish
Omit turning ch after final row, cut yarn and draw through loop on hook, weave in all ends
Fringe
Side note about the fringe…this uses very little of the Pound of Love skein, but it's what I had on hand and I like the way it looked. If you don't want to purchase an entire skein of this yarn, I recommend using what you have on hand or purchasing a similar smaller skein.
Cut 10-inch pieces of Lion Brand Pound of Love Yarn in Vanilla
Holding two pieces together, attach through every other chain on both ends
Trim to even out fringe if needed
You can purchase a printable PDF of this pattern at our shop here or Etsy here.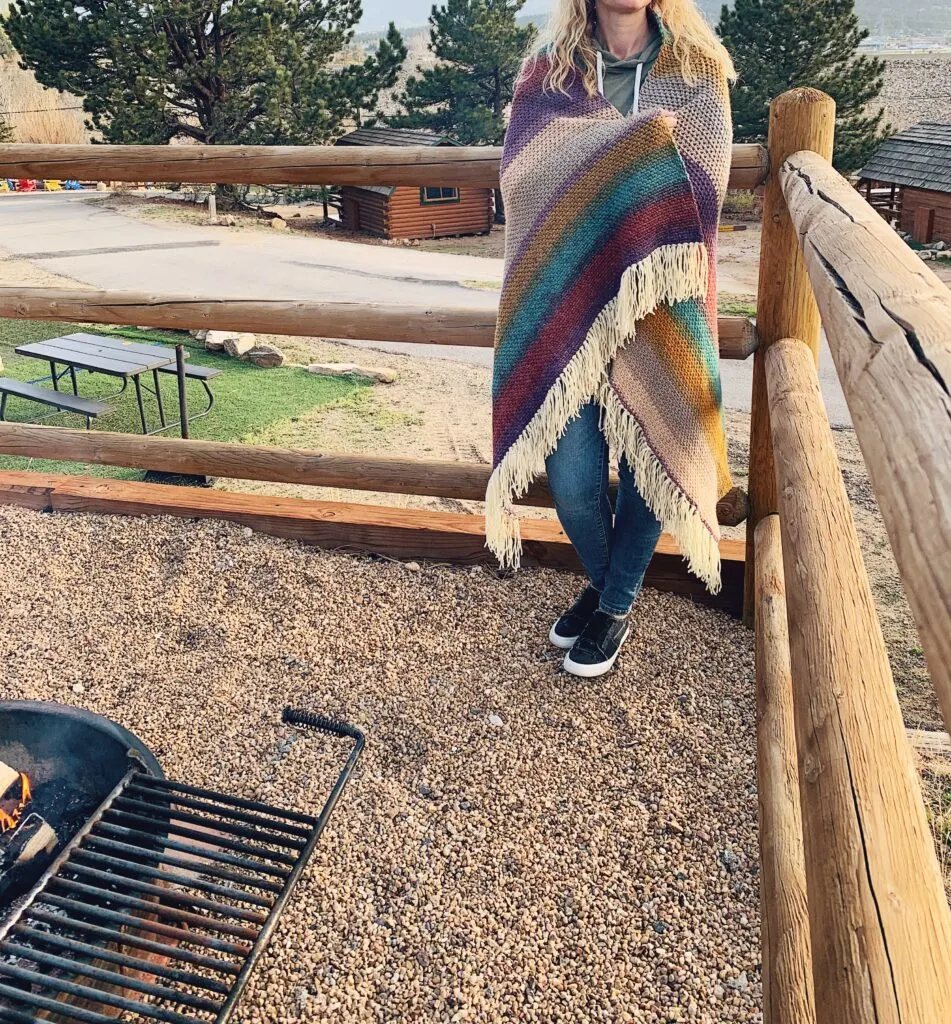 Pin These Images to Save Pattern for Later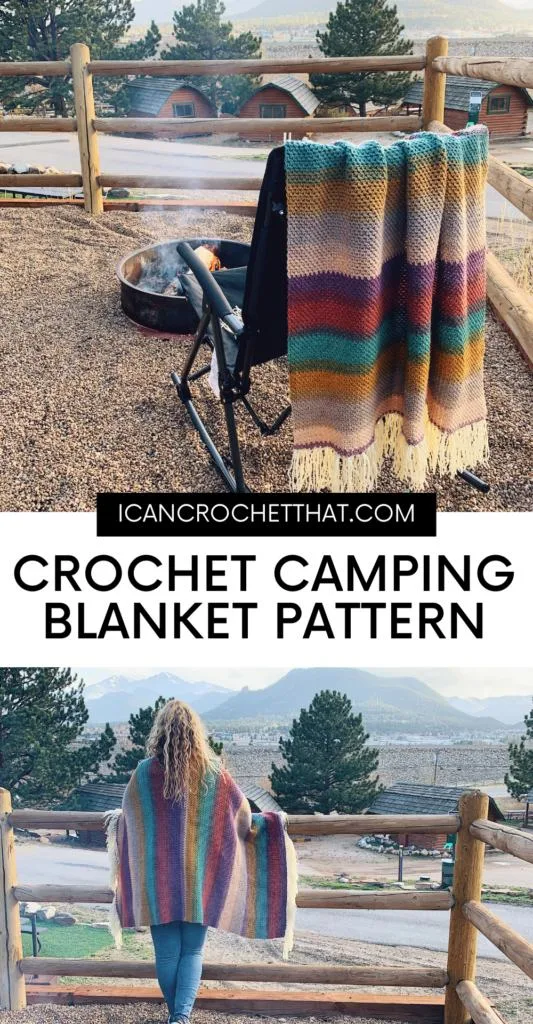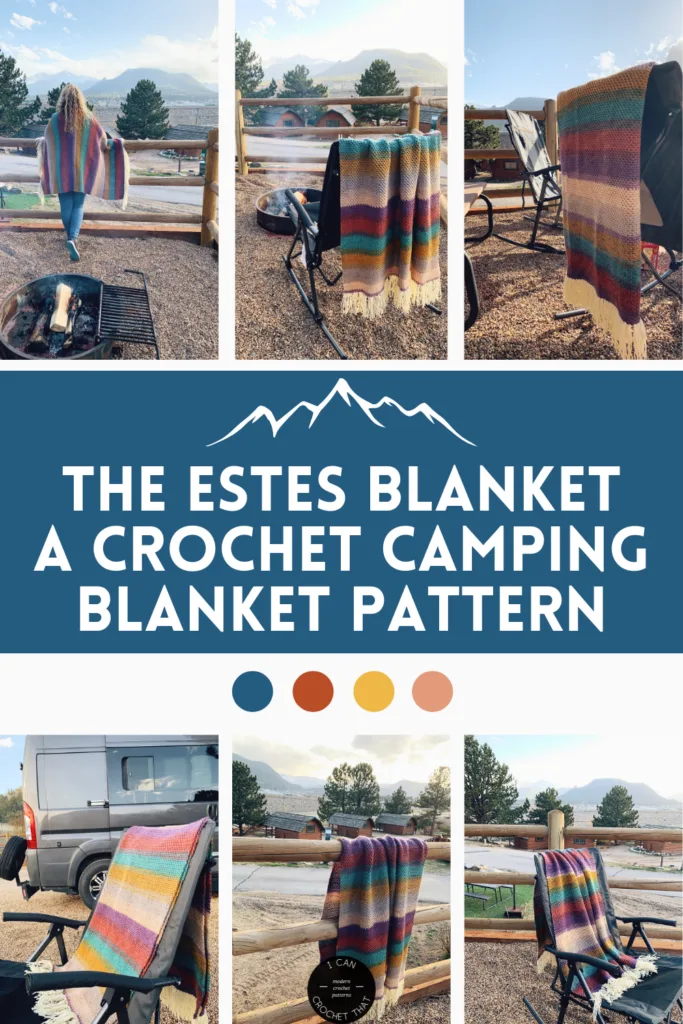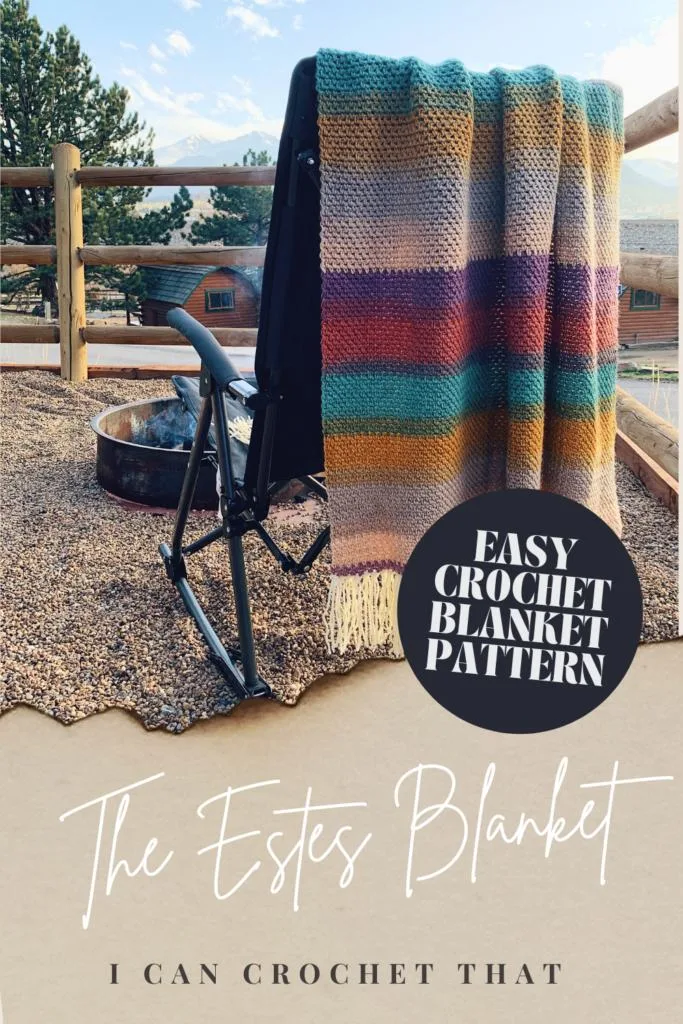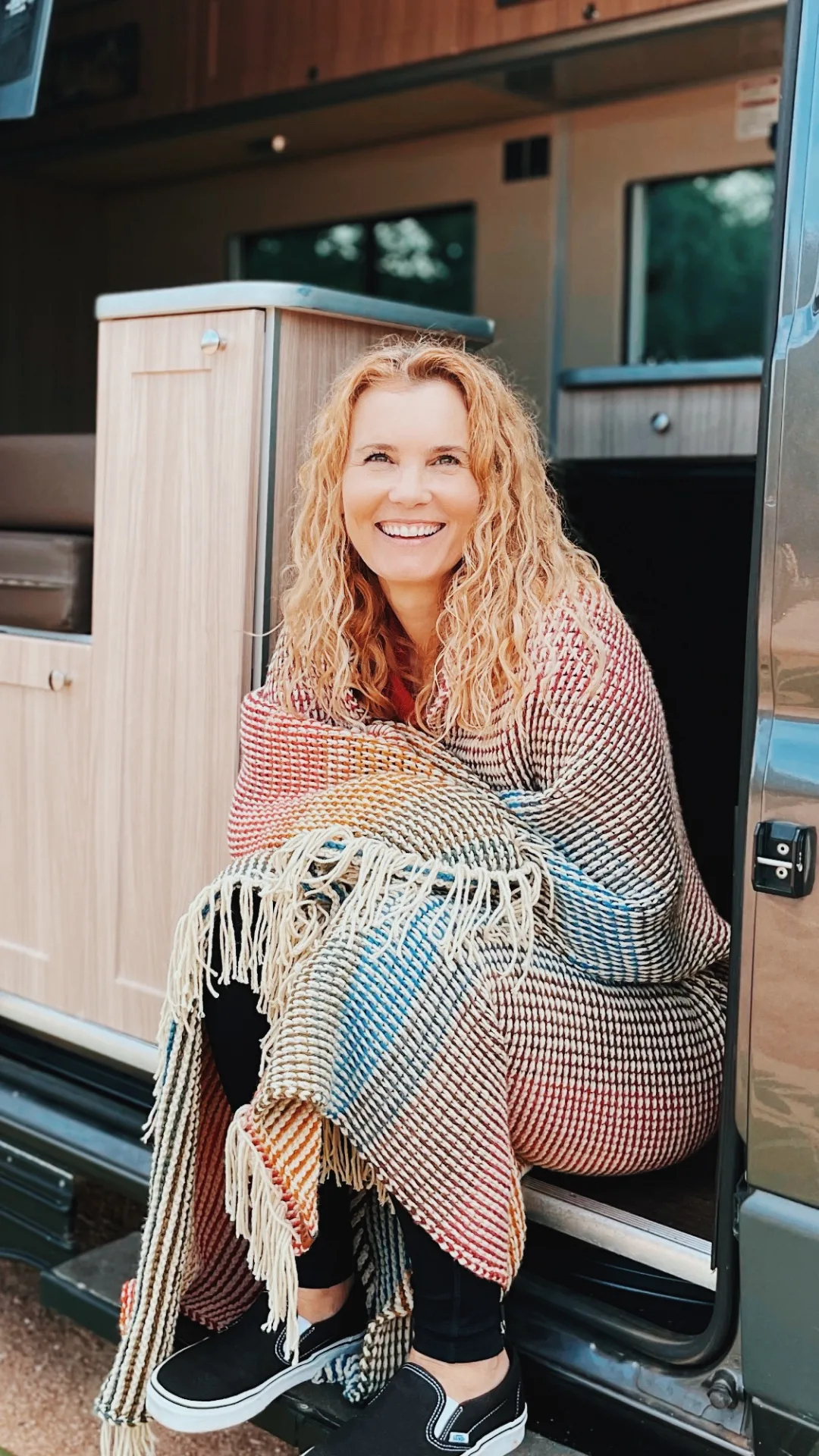 Hi! I'm Julie. I design modern crochet patterns and tutorials to help you learn to crochet. I've been crocheting for over two decades and with the gentle nudging of my husband, decided to turn this passion into a career. Although we travel a lot in our campervan, you'll never find me without a bag of yarn and projects.