Do you have an endless amount of leftover yarn lying around? Use it up with these scrap yarn crochet projects!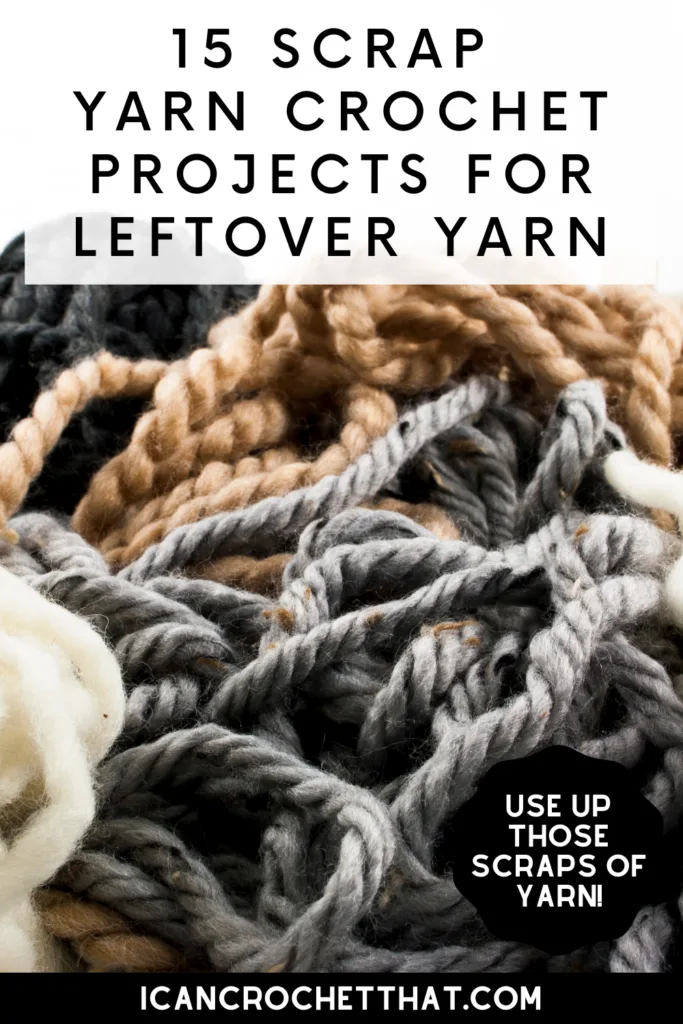 Being a crocheter means inevitably having leftover yarn from various projects that don't have quite enough yardage to make a new project.
It's hard to figure out what to do with all the random scraps of yarn, which most of the time don't match.
But today, I have a little roundup of smaller projects you can make with that leftover yarn to make some space in your yarn basket.
We have everything from fun little decorations to practical items you can use in your everyday life.
15 Scrap Yarn Crochet Projects
1. Crochet Water Bottle Carrier
With this handy little device, you won't have to keep balancing your keys, phone, and water bottle in one hand (forever infuriated that women's clothing has the worst pockets.)
It doesn't take much yarn at all, so you'll be sure to find enough in your scrap pile to work this one up.
The pattern is available for free here.
2. Crochet Tassels
Tassels are a wonderful accessory you can put on anything from backpack zippers to keychains to jewelry.
They're also a quick and easy crochet project that can be made with very little yarn, perfect for a scrap yarn project.
The tutorial is available here.
3. Crochet Pom Poms
In addition to tassels, pom poms are a great project for scrap yarn, and can also be added to everything from pillows to blankets to your keys (I'm sure you can fit a couple of tassels and a pom-pom on there).
The tutorial is available here, and she also has a recommendation for a pom pom maker to use.
4. Crochet Scrap Yarn Basket
This colorful yarn basket is a great project to use all that scrap yarn that doesn't necessarily match. You'll have a unique accessory to store your ever-growing collection of yarn.
The pattern is available for free here.
5. Colorful Scrap Yarn Shawl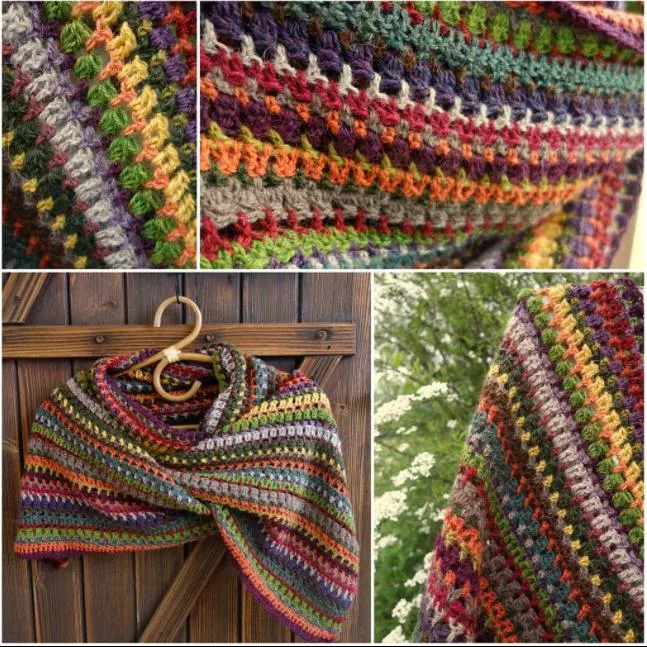 Isn't this just the cutest little shawl?
Find some of your scrap yarn that has complementary colors (or not if you don't mind the mismatched colors), and work up your one-of-a-kind shawl that'll make a great accessory for any outfit.
The pattern is available on Ravelry here.
6. Linen Stitch Scrap Yarn Rug
A lot of times, scrap yarn is made up of random colors that don't necessarily go together. But this rug session uses the linen stitch, which uses five strands of yarn and gives the stitches a bit of a blended look.
This is helpful for scrap yarn because it doesn't necessarily match all the time, but the purpose of this rug is to be colorful and kind of mismatched.
The pattern is available for free here.
7. Crochet Candy Swirl Coasters
You simply cannot have enough coasters. They're a practical thing to keep a stash of around the house, and these scrap yarn coasters are great for indoors or outdoors.
They also take up very little yarn, so pick two complementary colors and get started!
The pattern is available for free here.
8. Crochet Scrap Yarn Washcloths
These multicolored wash clothes are a great, practical project for scrap yarn that, again, you can't have enough of.
You can find the pattern for free here.
9. Crochet Ice Cream Sweaters
Picture it: it's Friday night and you sit down in your PJs with your favorite rom-com and some ice cream…but oh no! Your hand is freezing from holding the ice cream.
Enter the ice cream sweater, a handy little device to put around your favorite pint of this delicious frozen treat. Practical and cute as can be.
The pattern is available for free here.
10. Cake Yarn Scrapghan
Have any Cake Yarn skeins you didn't use all the way? Put them together to create this scrapghan using the herringbone half double crochet stitch.
You can find the pattern for free here.
11. Crochet Bows
These little bows take almost no time to make and can be used for so many things from hair clips to a bow tie for your kiddo's stuffed animal.
The pattern is available for free here.
12. Cat Sweater
Have a cat friend who's in need of a cozy sweater for the holiday season? Well, do I have the project for you!
This precious sweater makes a perfect winter companion for your favorite kitty. It has some color changes so if you run out of a certain color of scrap yarn, you shouldn't have a problem.
You can get the pattern for free here.
13. Crochet Flower Bookmark
These crochet flower bookmarks are super quick to make and can be made with even a couple of yards of yarn.
You can make them in whatever color you wish and add accessories like buttons to personalize them even more.
You can find the pattern for free here.
14. Hand Sanitizer Cozy
Hand sanitizer is something quite literally everyone is carrying around these days. Never forget yours with this little hand sanitizer cozy from Micah Makes!
It's a super cute and practical accessory to stick on your keys or purse.
The pattern is available for free here.
15. Crochet Ear Protector for Face Masks
I don't know about y'all but wearing masks for long periods of time tends to hurt my ears quite a bit. But this ear protector goes behind your head and holds the mask straps with buttons instead of your ears.
Takes only fifteen minutes to make and will be a total lifesaver (bonus: it can be washed along with your masks and clothes).
The pattern is available for free here.
More Scrap Yarn Crochet Projects
Another item to whip up with some scrap yarn is washcloths. Here are a few crochet washcloth patterns on I Can Crochet That:
Seed Stitch Crochet Washcloth Pattern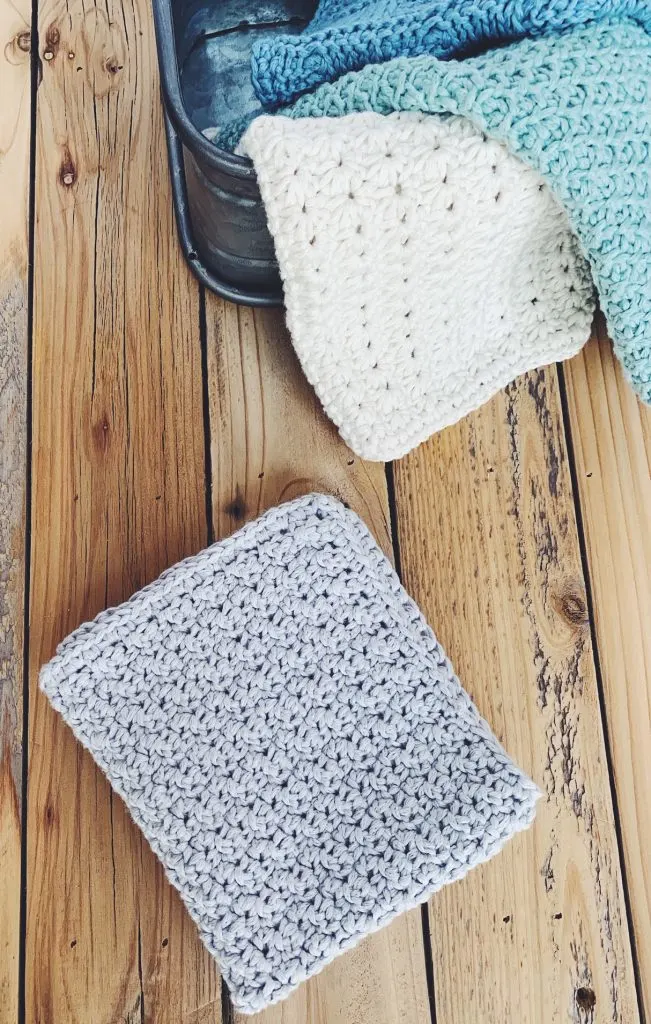 Get the pattern here.
Quick & Easy Crochet Dishcloth/Washcloth Pattern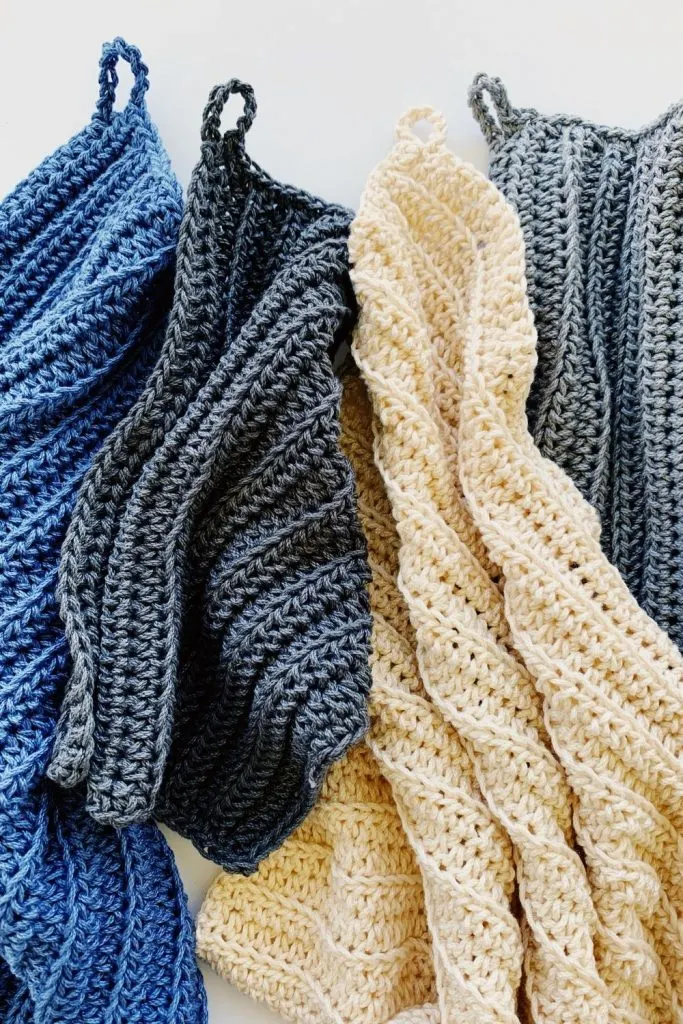 Get the pattern here.
Tunisian Crochet Washcloth Pattern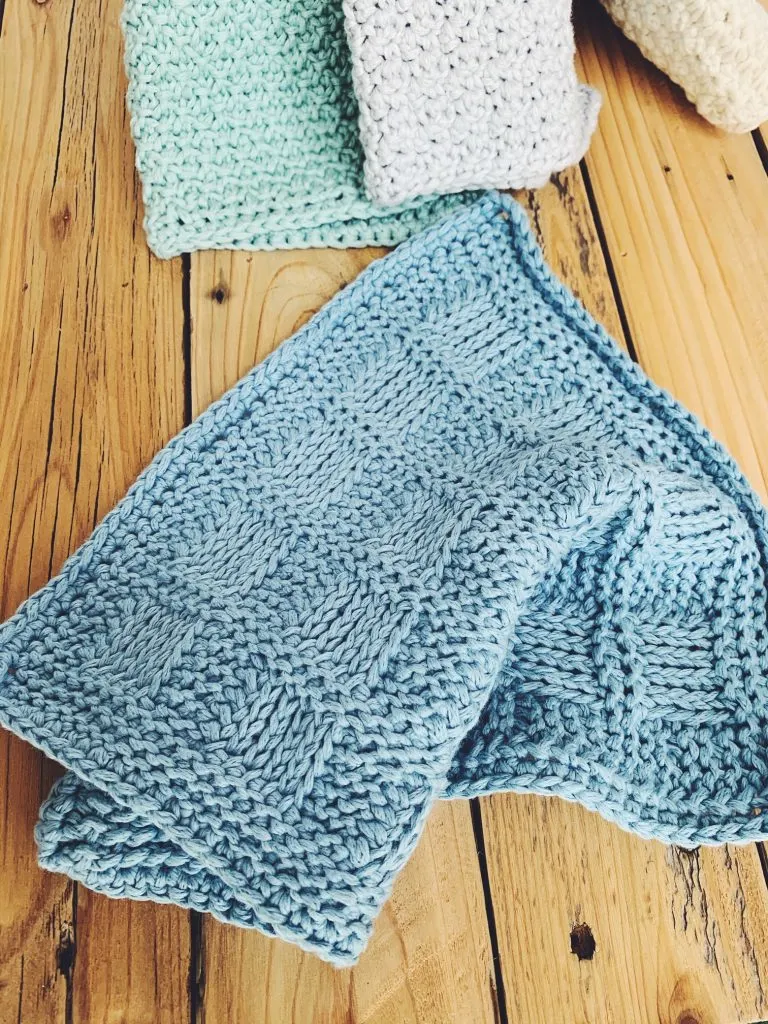 Get the pattern here.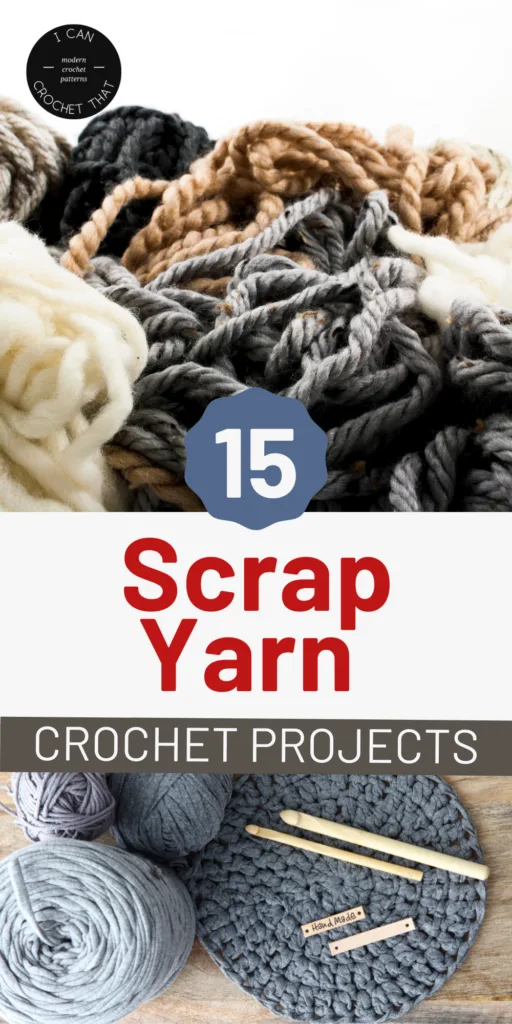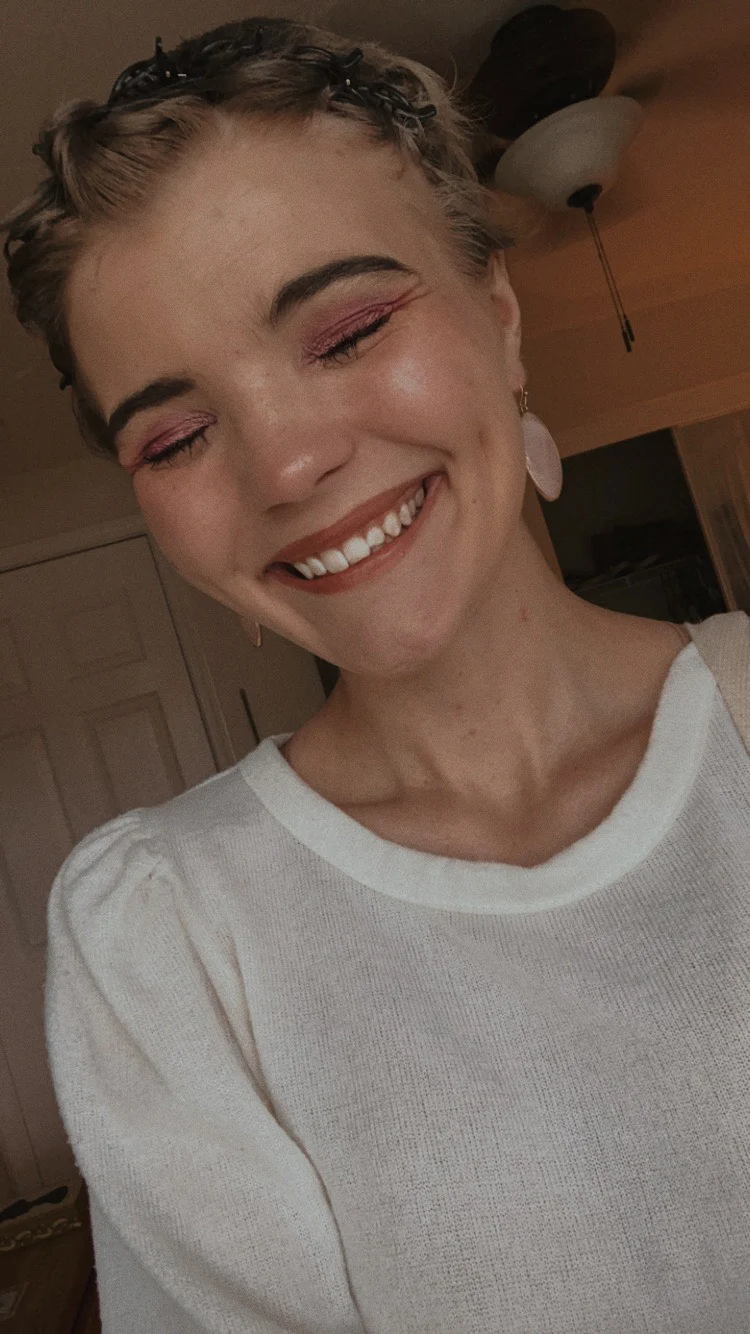 Hannah is the eldest of the Bonner family's three kiddos. She graduated from the University of North Texas with her Bachelors in Elementary Education. She enjoys reading, yoga, movies & TV, and (obviously) crocheting. She is excited about furthering her writing career & spending her days surrounded by yarn. All the yarn.