If you're looking for a quick and easy Tunisian crochet baby blanket pattern, this is the one for you! It uses simple stitches, easy increase and decrease rows, and beautiful self-striping yarn.
You can purchase a printable of this pattern on the I Can Crochet That Shop here.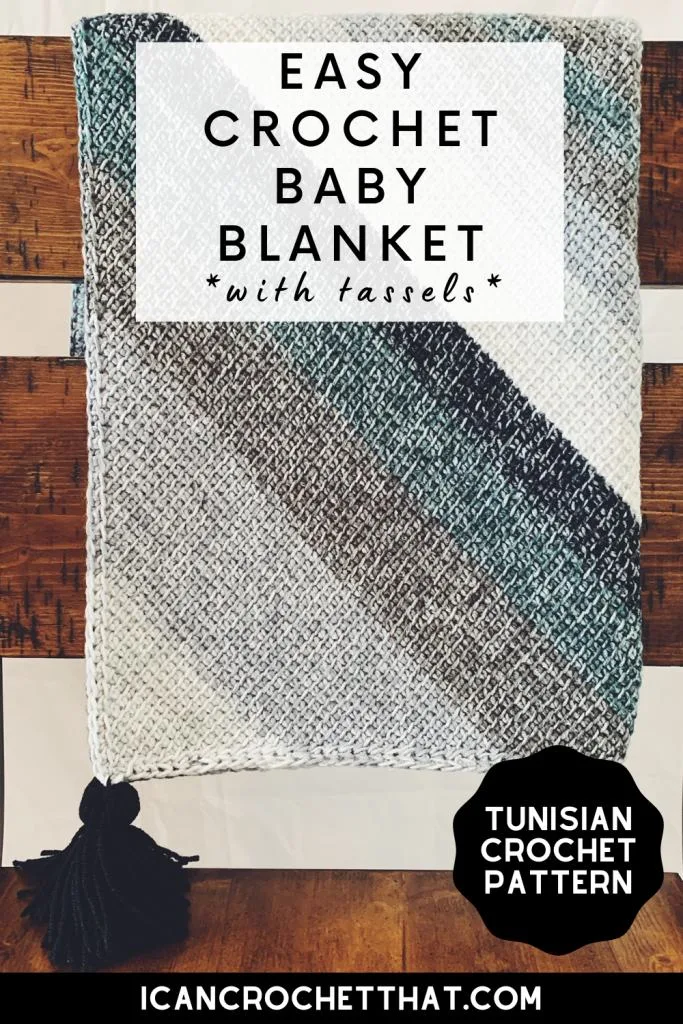 To say I've fallen in love with Tunisian crochet would be an understatement. If you're just learning, trust me when I say to keep at it because it will eventually just click!
At first it was very frustrating trying to figure out all of the different stitches, how to hold the hook in a way that worked for me and how not to crochet the stitches too tightly. But once I got the hang of it, I was unstoppable.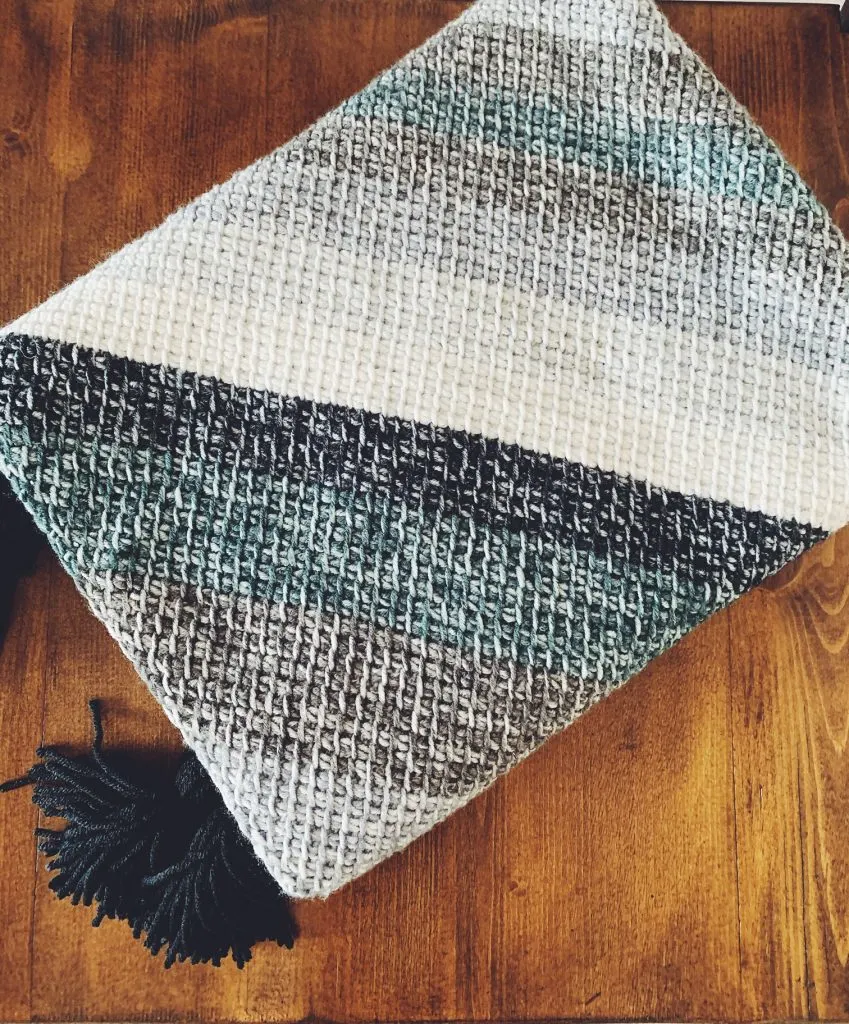 Corner to Corner Tunisian Crochet
Over the last couple of months I've been experimenting with corner to corner Tunisian crochet.
And like most crochet stitches and techniques, you'll find different ways to achieve the same results. And that's definitely the case with increase rows for Tunisian crochet.
For this pattern, I found the easiest and cleanest way of increasing the rows was to yarn over at the beginning of the row and at the end of row – which is called the one stitch increase. I only needed minimal increases, so this worked perfectly.
You can purchase a printable of this pattern on the I Can Crochet That Shop here.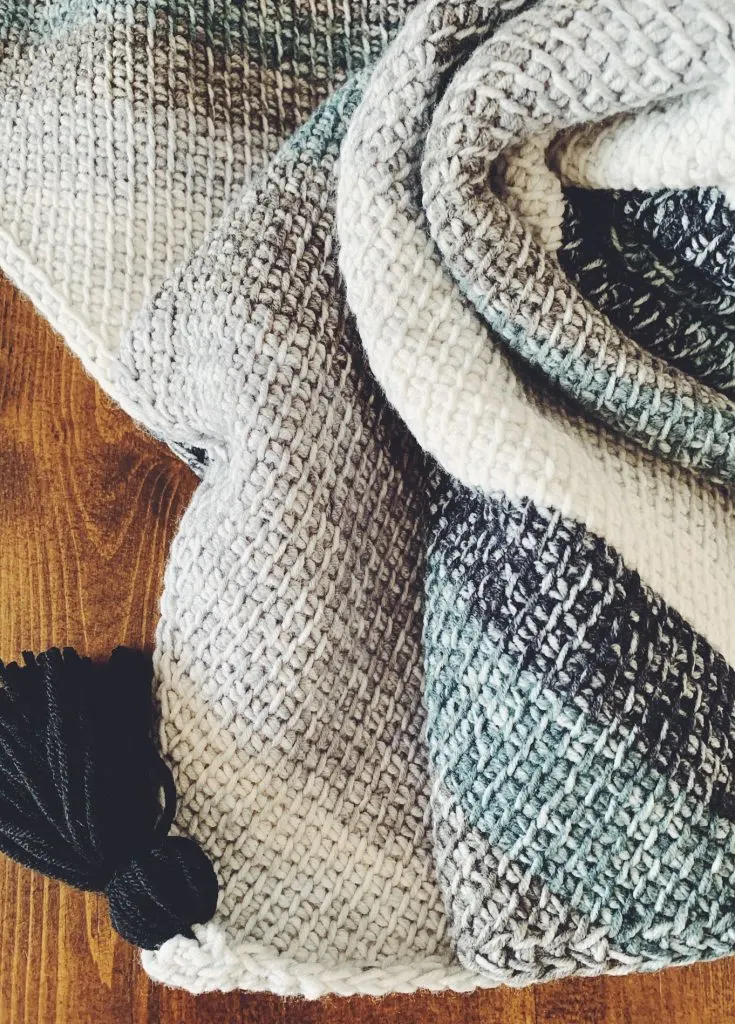 You can watch a video here on how to do the one stitch increase if you need a better visual.
If you need a visual for how to do the Tunisian Simple Stitch, I created one below. This is not a video for corner to corner Tunisian crochet, but it shows how to do the TSS and the return pass.
The Yarn
When I saw Lion Brand's new Mandala Ombre yarn, it was love at first sight. I grabbed two cakes of the cool, not having any idea what I would do with them.
Product links:
Purchase the Mandala Ombre yarn at LionBrand.com here or Amazon.com here
A couple of days later I had someone ask me if I had any baby blanket patterns, which I didn't, and that's when the lightbulb went off.
This is the perfect modern crochet baby blanket that will work for a boy or girl. It'll look beautiful displayed over the crib, yet durable enough to be used as an everyday blanket.
For this pattern, I only used two yarn cakes, but if you'd like to make it larger, just continue the increase rows when you start the second yarn cake.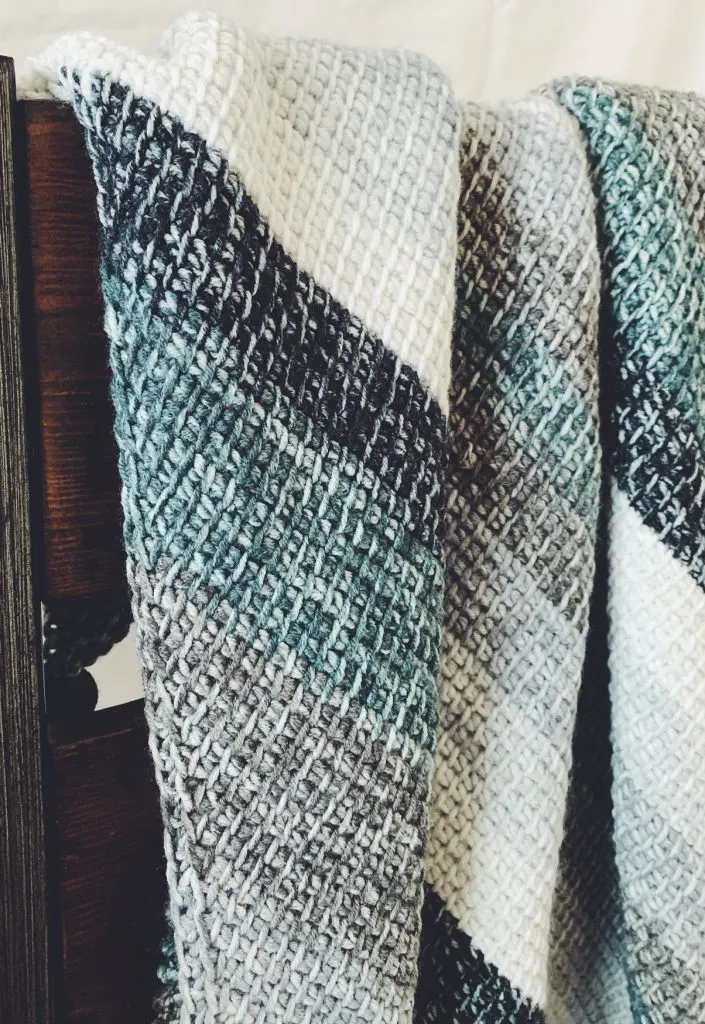 The easiest way to make this blanket larger would be to use four yarn cakes and once you're done with two of them, then start the decrease rows with the third one.
I hope you enjoy making this Tunisian crochet baby blanket as much as I did!
Tunisian Crochet Baby Blanket Pattern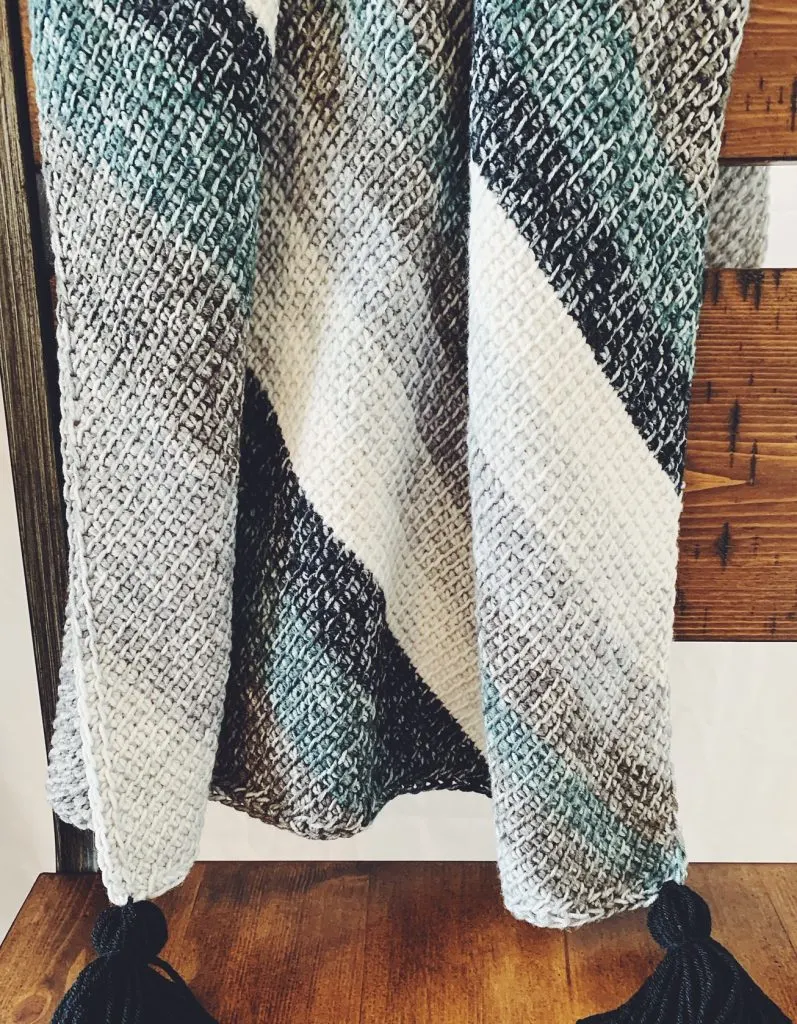 Pattern Description
This Tunisian crochet baby blanket is created starting with just a few stitches and adding increase and decrease rows. It's very beginner-friendly and the self-striping yarn does the work for you.
Add some tassels to the corners if you desire and you have a gorgeous baby blanket to give as a gift.
Pattern Notes
Details
Method Tunisian Crochet
Skill Level Beginner
Hook 6.0 mm / US 10 – Tunisian hook with cable
Other Yarn Needle
Yarn
For blanket: Lion Brand Mandala Ombre in Cool, 2 cakes 344 yards each, total of 688 yards
(Purchase the Mandala Ombre yarn at LionBrand.com here or Amazon.com here)
For tassels: black yarn from my stash
Gauge 4" x 4" = 15 TSS x 15 rows
Final Size 24″ wide x 27″ long
Abbreviations
Bump – strand of yarn on underside of chain
FwP forward pass
RetP return pass
st(s) stitch(es)
ch chain
yo yarn over
Tss Tunisian simple stitch
Tss2tog Tunisian simple stitch two together
Tslst Tunisian slip stitch – for binding off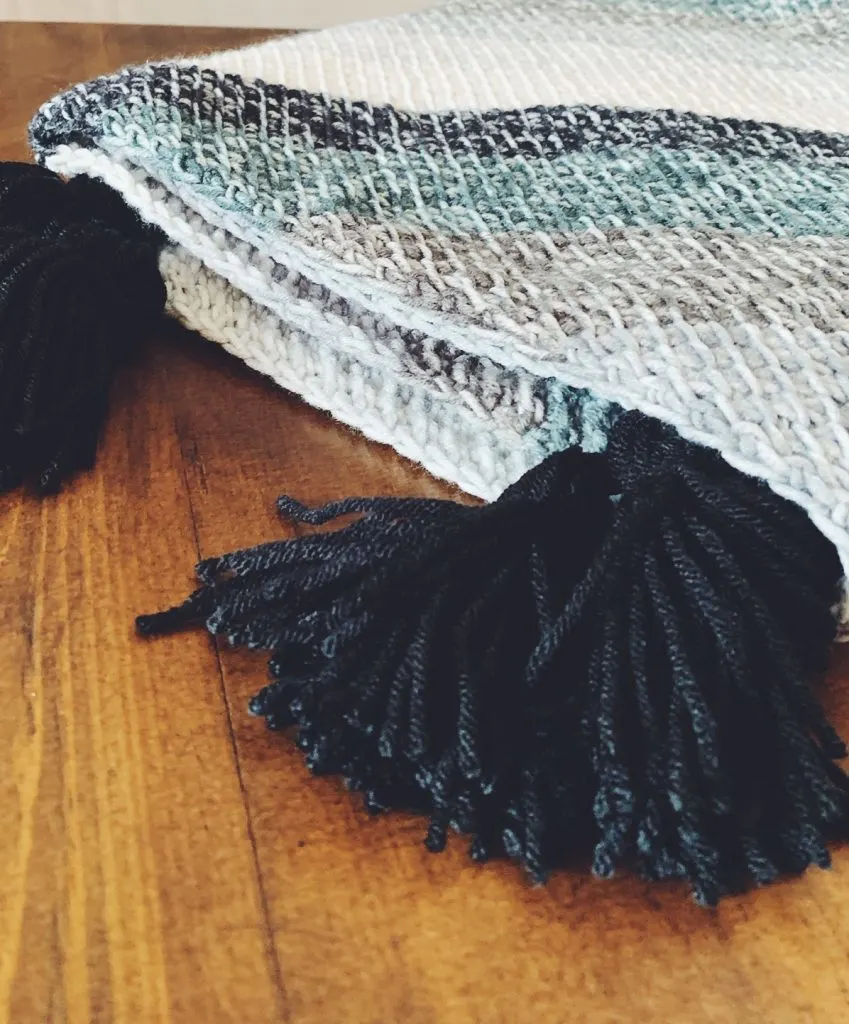 You can purchase a printable of this pattern on the I Can Crochet That Shop here.
The Pattern
Foundation: Ch 3, pull up a loop in back bump of second chain from hook and remaining ch, RetP (3)
Increasing rows
Row 1: Yo, Tss in 1st stitch, yo, Tss in last stitch, RetP (5)
Row 2: Yo, Tss across to last st, yo, Tss in last st, RetP (7)
Rows 3 – 70 (or until 1st yarn cake is finished): Repeat Row 2
Decreasing rows
Row 71: Tss2tog, Tss across to last 3 sts, Tss2tog, Tss in last st, RetP
Rows 72 – 139: Repeat row 71
Row 140: *Tss2tog* two times, RetP (3)
Row 141: Tslst (Insert hook under last two sts, yo, pull through all loops on hook)
To Finish
Cut yarn. Weave in ends. Block blanket if it needs it. Add tassels.
For tassels
For a tutorial on how to make tassels, head over to the Autumn Ombre Scarf pattern and scroll to the bottom of the page. You'll see pictures and instructions on how to make the tassels.
The only difference between these tassels and the ones for the scarf is I used a 4-inch piece of cardboard and wrapped the yarn around 30 times to make smaller tassels.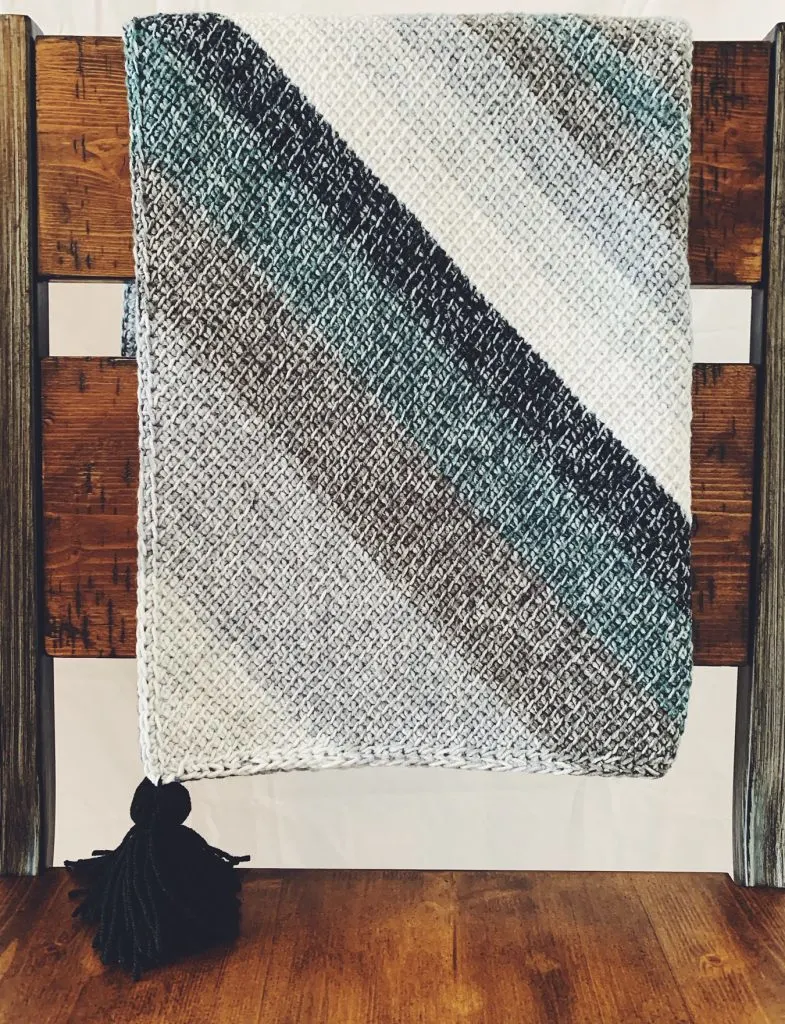 Enjoy your finished project!
Here are a few more crochet patterns using self striping yarn:
Pin the Tunisian Crochet Baby Blanket pattern to save for later.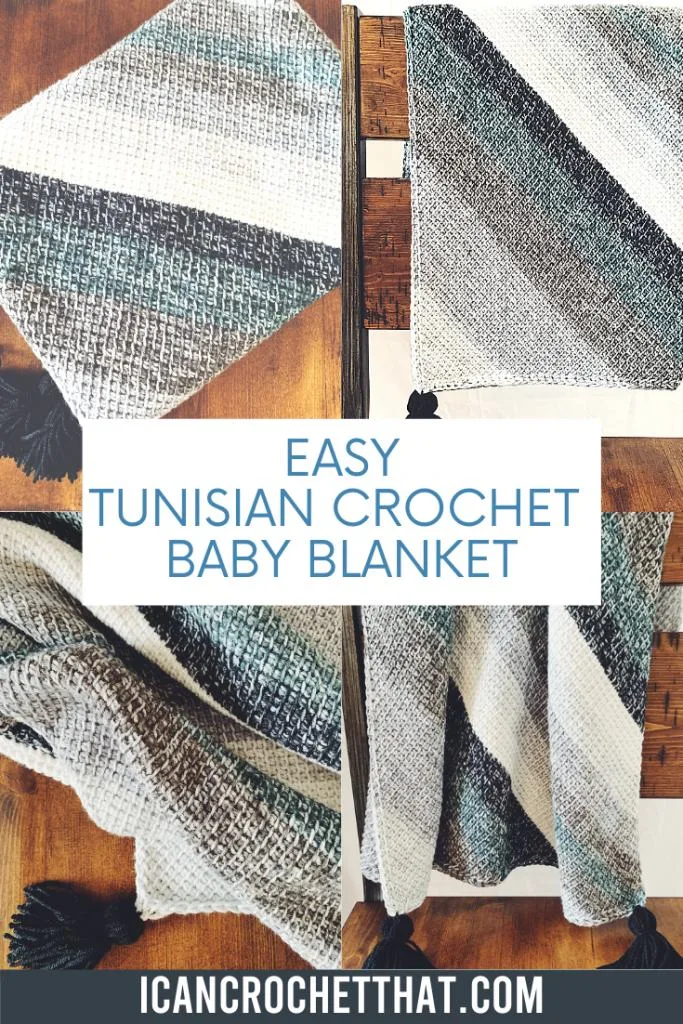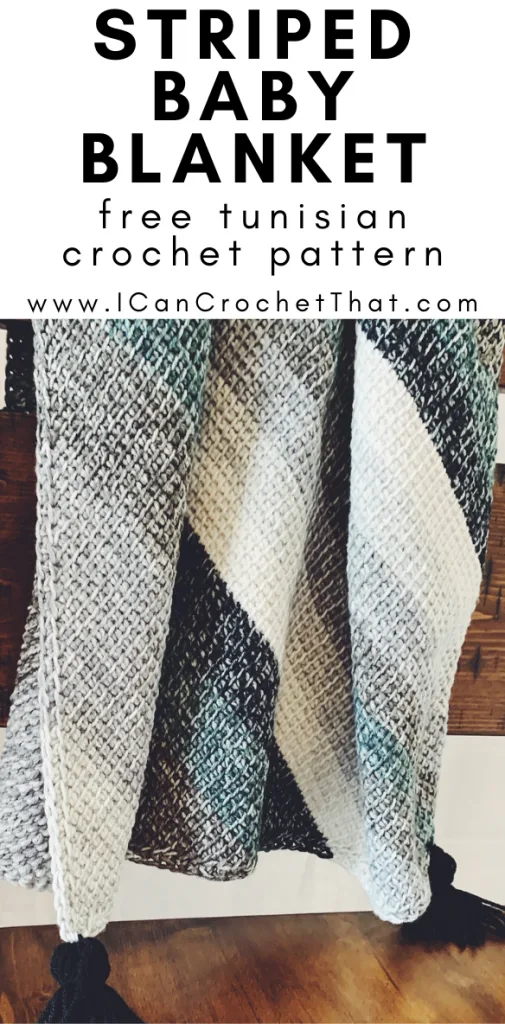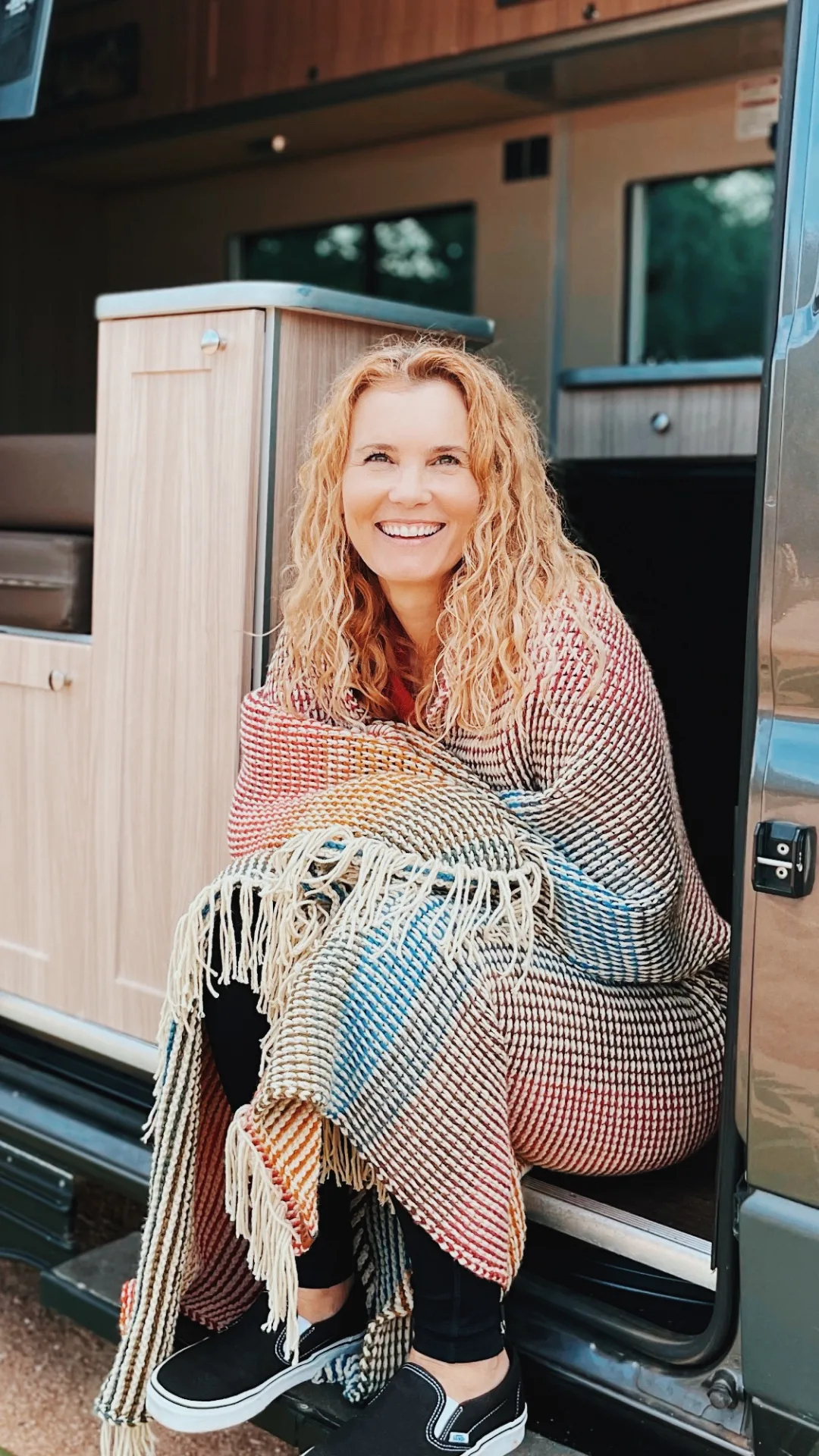 Hi! I'm Julie. I design modern crochet patterns and tutorials to help you learn to crochet. I've been crocheting for over two decades and with the gentle nudging of my husband, decided to turn this passion into a career. Although we travel a lot in our campervan, you'll never find me without a bag of yarn and projects.