Make this beautiful (and super soft) scarf for yourself or to give as a gift.
This free crochet scarf pattern uses simple stitches, the single crochet and the mini berry stitch, to create a scarf with gorgeous texture.
You can purchase a printable version of this pattern on the I Can Crochet That Shop here.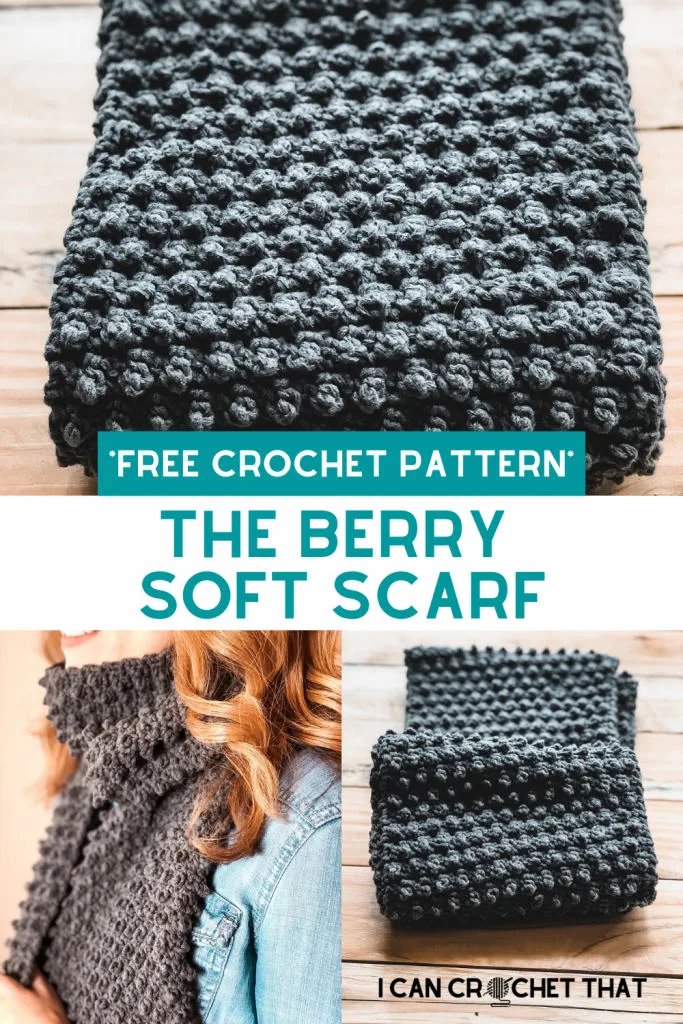 The Berry Soft Scarf
After playing around with different varieties of crochet puff stitches, I stumbled upon this fun stitch that created just the texture I wanted.
Using mini berries and a super soft yarn from Lion Brand, I created a crochet scarf I'll love wearing in the fall and winter months.
How to Crochet the Mini Berry Stitch
Have you heard of the mini berry stitch?
I've made patterns using the berry stitch before, but the mini was new to me.
By alternating rows of mini berry stitches and single crochet, it creates a scarf with beautiful subtle texture. Plus it's just fun to make!
Learn how to crochet the mini berry stitch from the I Can Crochet That video and picture tutorial here.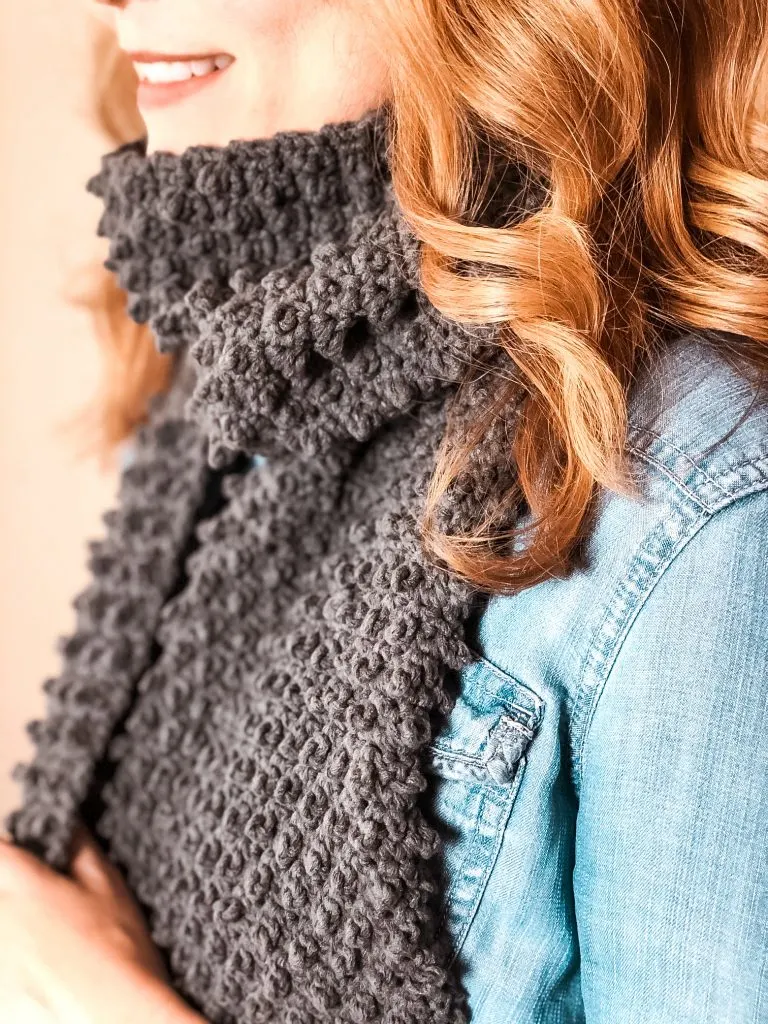 The Color + The Yarn
As I was browsing through the yarn shelves at our local craft store, I found these bonus bundles of Lion Brand's Feels Like Butta Yarn.
This yarn comes in beautiful colors like soft pink, cranberry and teal. But when I saw the charcoal, I knew I had to buy it. The pattern creation would come later.
Product Links:
The Pattern
You can purchase a printable version of this pattern on the I Can Crochet That Shop here.
Pattern Description
An easy to make crochet scarf using fun stitches and luxuriously soft yarn. You'll want to make one of these in every color possible for your fall and winter wardrobes.
Crochet one (or five) to give as gifts! I can guarantee you they won't have a scarf like this one in their closet.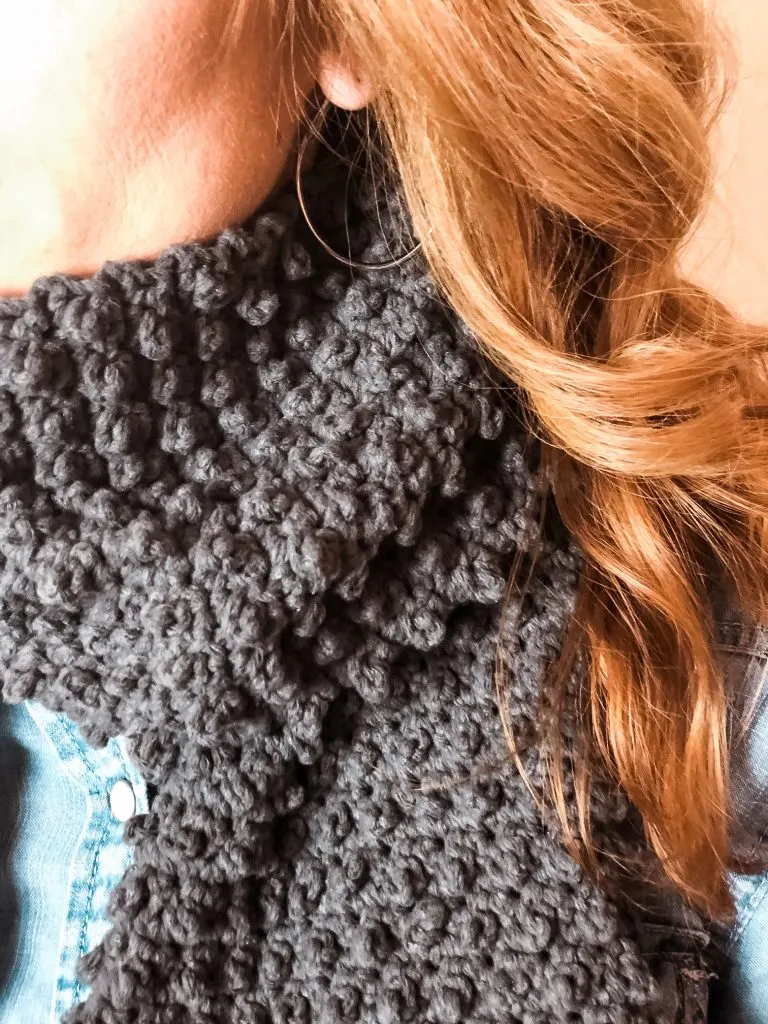 Pattern Notes
Details
Method Crochet
Skill Level Easy
Hook 5.0 mm / US H-8
Other Yarn Needle
Yarn Lion Brand Feels Like Butta in Charcoal, 590 yds (Bonus Bundle)
Gauge 4" x 4" = 15 sts (1 sc, 1 berry) x 16 rows (1 row of sc, 1 row of berry)
Finished Size 7 in. x 72 in.
Abbreviations & Stitch How-To
st(s) stitch(es)
sc single crochet
ch chain
yo yarn over
*or ** repeat whatever follows the * or **
Mini Berry stitch Insert hook in next st, yo, pull up a loop, chain 3, yo, pull through 2 loops on hook (See Photos A,B,C,D)
The Pattern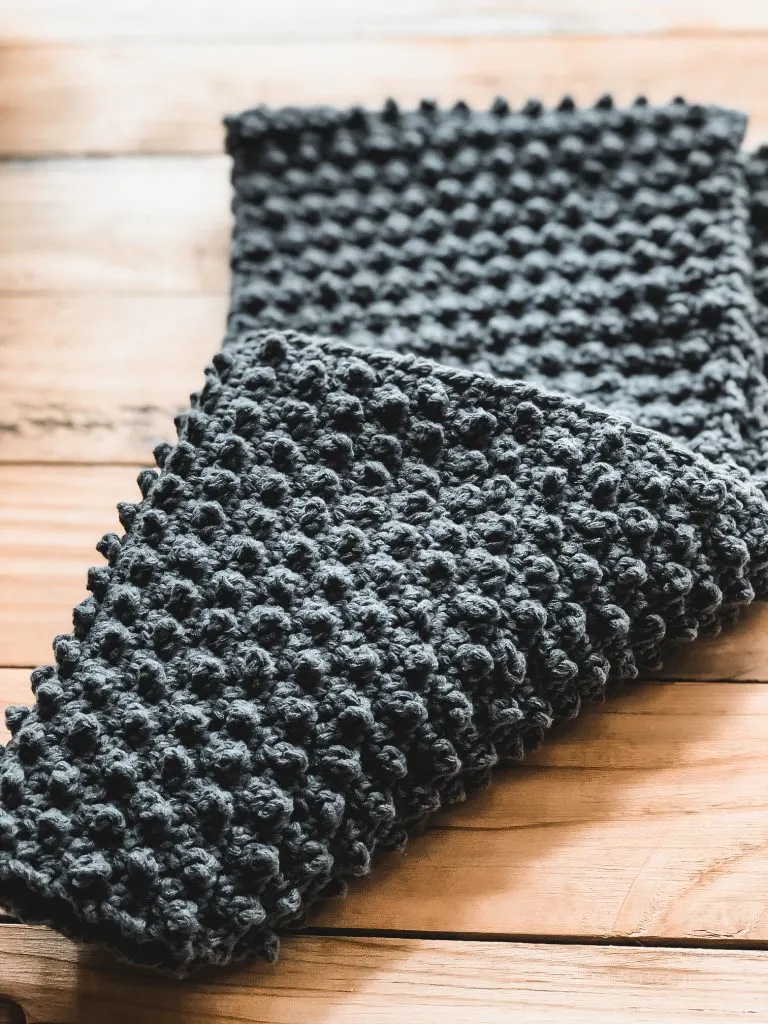 Note: This scarf alternates rows of berry stitches with single crochet stitches. Continue pattern until scarf measures 72 inches long, or until desired length. Chain 1 does not count as a stitch.
Foundation Row
Ch 30, sc in 2nd chain from hook, ch 1, turn [29 sts]
Row 1
sc in first stitch, Berry stitch in second stitch, *sc, Berry stitch* across, ch 1, turn [29 sts]
Row 2
sc across, ch 1, turn [29 sts]
Row 3
sc in next two stitches, *Berry stitch, sc* repeat until last two stitches, sc in last two stitches,
ch 1, turn [29 sts]
Row 4
sc across, ch 1, turn [29 sts]
Rows 5 and On
Repeat rows 1 – 4 until scarf measures 72 inches long or desired length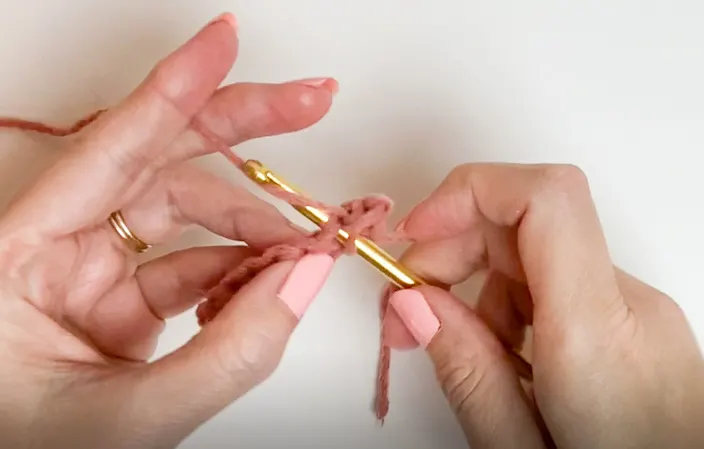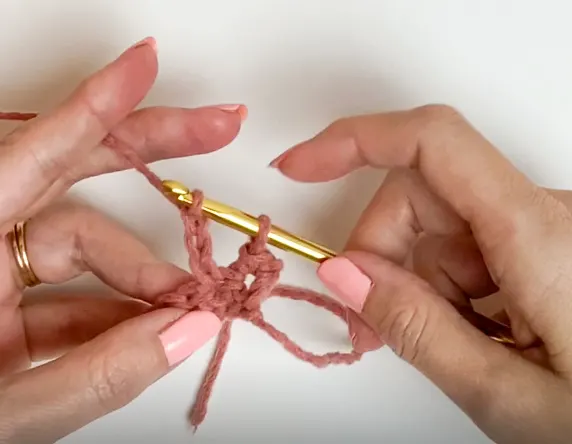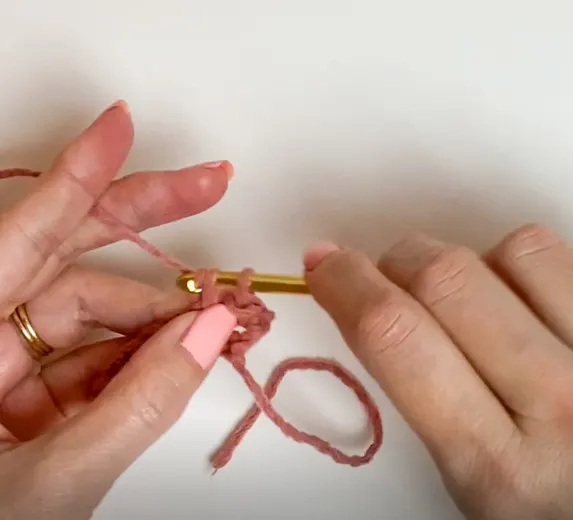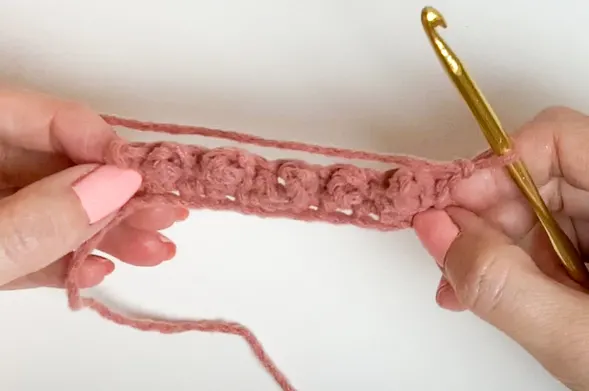 And that's it! Easy peasy. Enjoy your new scarf and be sure to tag I Can Crochet That on social media if you make it.
Pin to Save for Later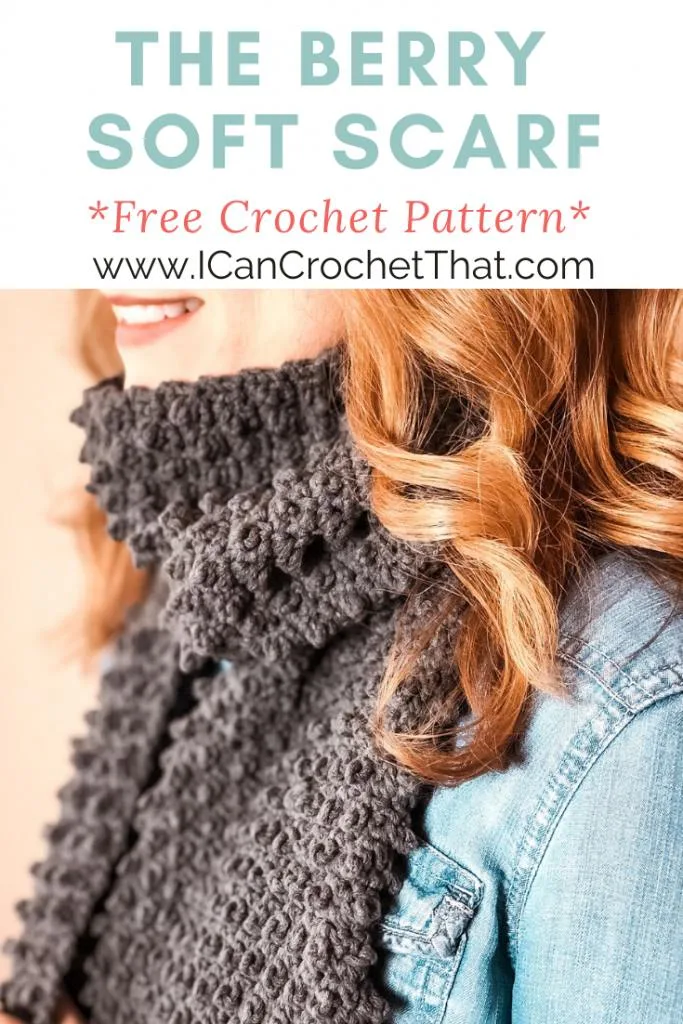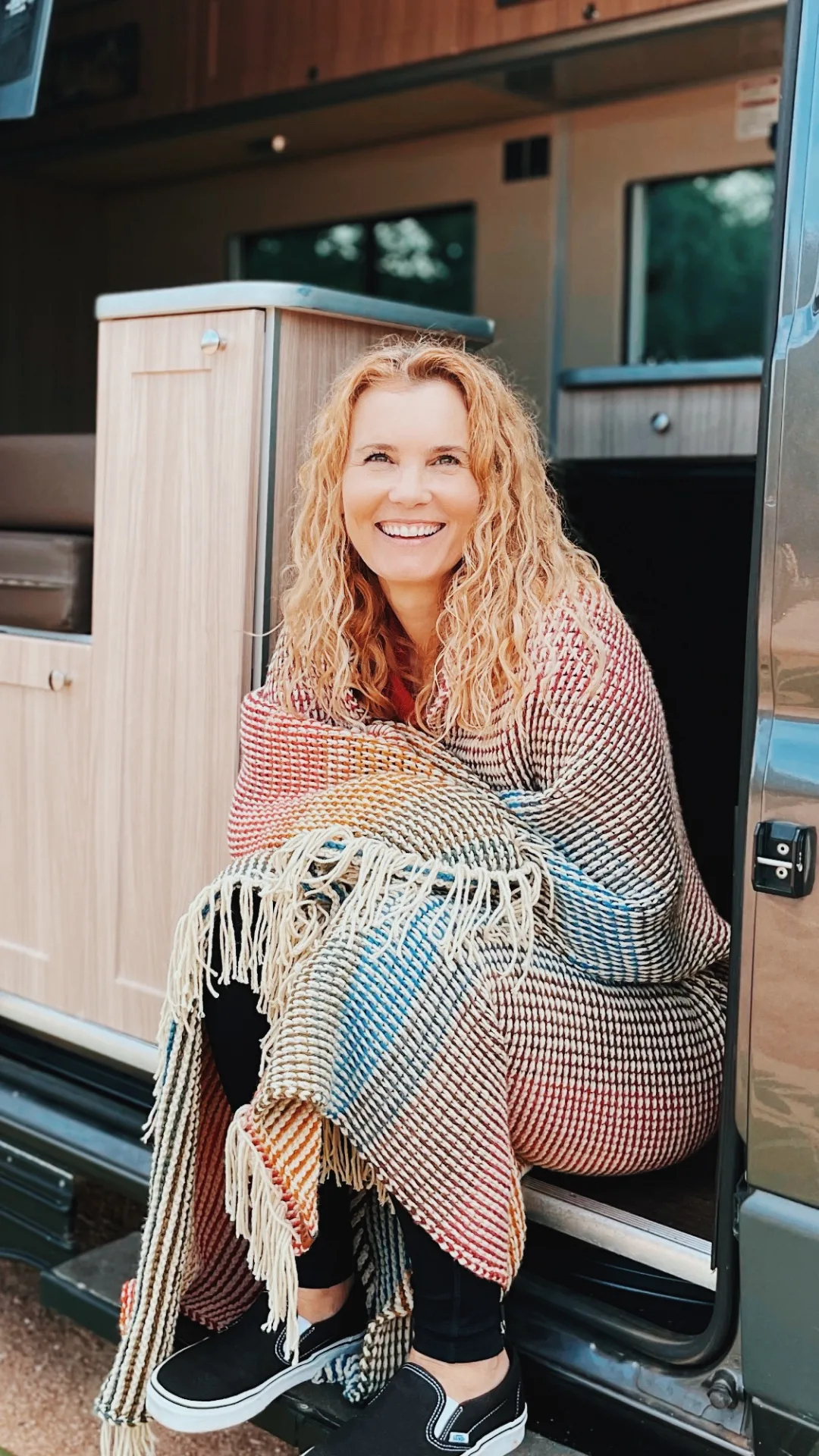 Hi! I'm Julie. I design modern crochet patterns and tutorials to help you learn to crochet. I've been crocheting for over two decades and with the gentle nudging of my husband, decided to turn this passion into a career. Although we travel a lot in our campervan, you'll never find me without a bag of yarn and projects.