It's hard to know the best yarn for crochet dishcloths because so many factors go into it.
You'll want to take into account the durability of the yarn, how easy it is on your hands, as well as the patterns and colors available.
Read on to learn more about what kind of yarns are best for crochet dishcloths, what kinds are not best, and how you can crochet a dishcloth!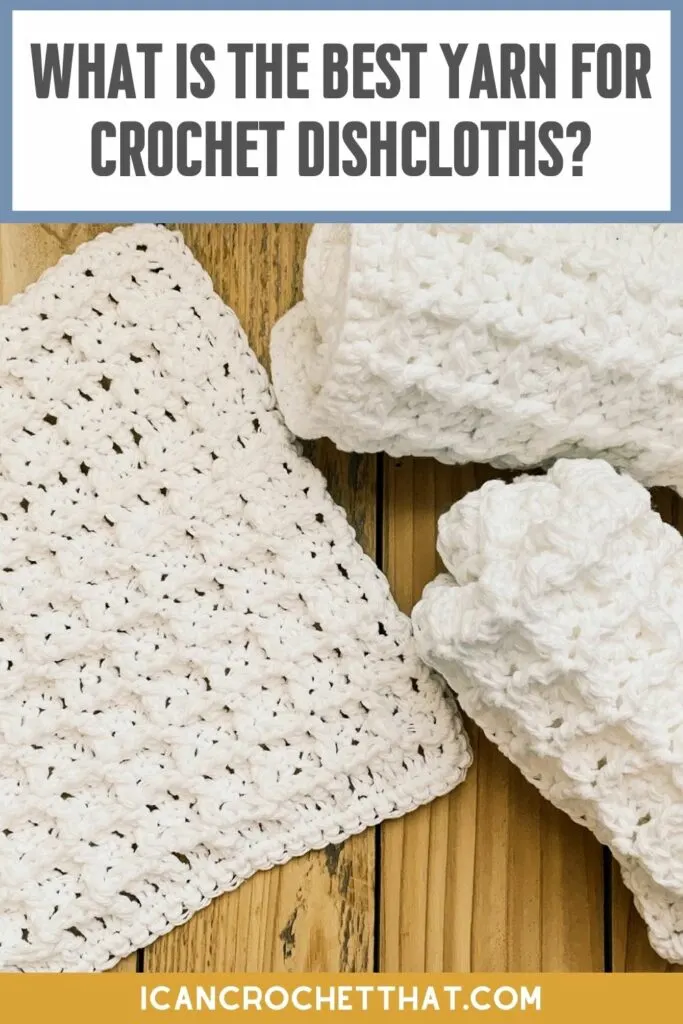 What Is The Best Yarn for Crochet Dishcloths?
Crochet dishcloths are a great project if you're a beginner crocheter, are looking to make some gifts for the holidays, or housewarming gift and also the perfect way to use up all that leftover yarn.
Picking the Right Yarn and Hook
Crochet is a fun hobby, but it can get expensive.
The best way to save money while crocheting is by using the right yarn for your project. You don't want to spend all that time making dishcloths only to find out they're falling apart when you wash them!
When yarn shopping for your dishcloths, consider the various weights of yarn you can buy. Worsted weight is a good choice and this is a commonly-used size that's popular for washcloths.
My favorite yarn for crochet dishcloths is 100% cotton. Cotton yarn is soft, durable, and a good versatile choice for other household items like dishcloths, washrags, towels, or kitchen rags.
Here are some other things to consider when buying yarn:
What to Consider When Buying Yarn for Your Crochet Dishcloths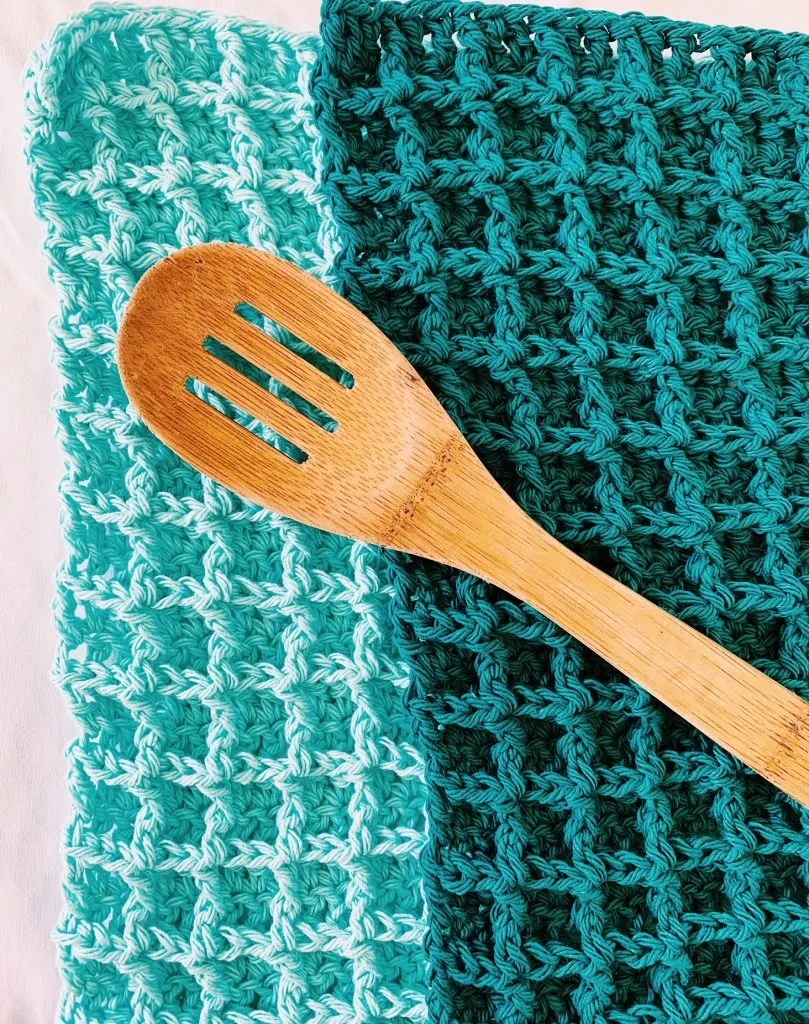 Durability
The last thing you want is to spend time making an item only to find out it won't hold up during its first wash. Dishcloths are used for everyday tasks like washing dishes, wiping off counters, and cleaning up messes so they can be very hard on your yarn.
If the yarn isn't durable enough, then it won't last long before it starts pilling, splitting, or breaking.
Be sure to choose a yarn that's been made of 100% cotton if you want something that will hold up through wear and tear.
Holds moisture well
Cotton yarn is the best for dishcloths, but you'll want to make sure it's absorbent, too. You don't want a dishcloth that seems to only shed water around (I'm talking to you acrylic) as opposed to absorbing and holding it.
When choosing your cotton yarn, be sure that it can hold in moisture well so you can use this dishcloth to dry your dishes and other items in the kitchen!
I've found that 100% cotton holds moisture the best compared to other yarn types, as well as yarn blends.
Firmness
For crochet dishcloths, you'll want a firm yarn. If it's too loose or fluffy, then this can make for hard-to-work with dishcloths. The last thing you want is plump, oversized dishcloths that won't dry your dishes!
Firm yarns are easier to work with and will hold up better for everyday use. If you want something soft, you can always put in a softer yarn with the cotton or add in some cotton/polyester blend.
However, if you're looking for low-maintenance dishcloths that last long and don't take much time to make, then I'd stick with 100% cotton yarn for these.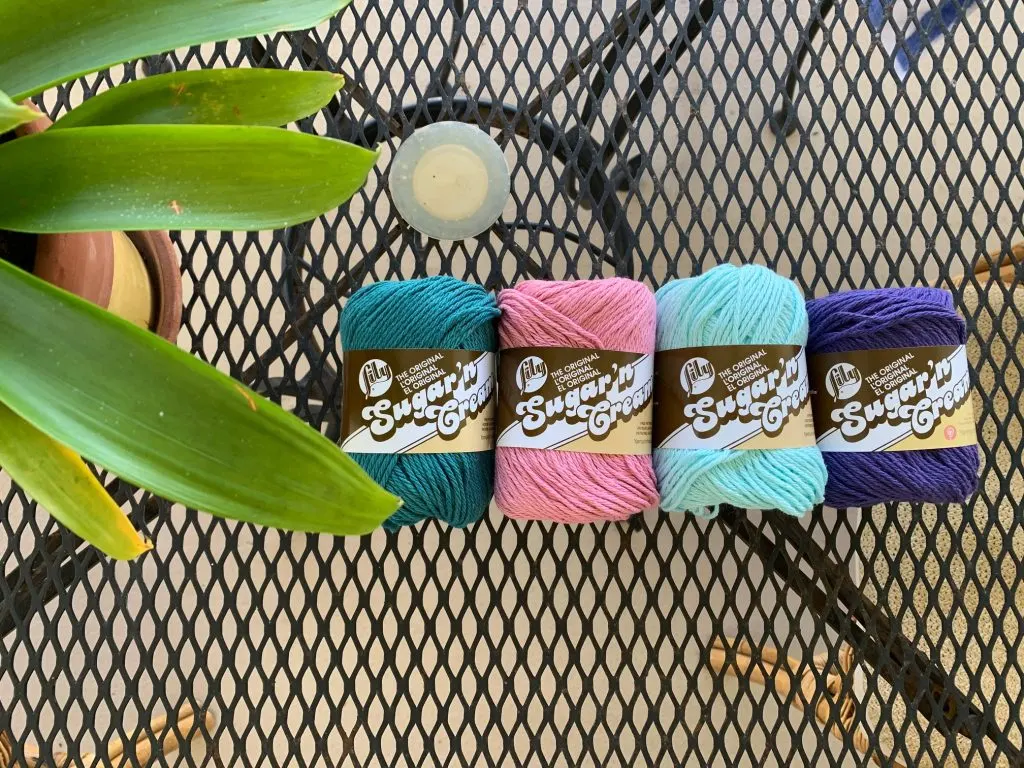 Sturdy but not too rough
You want a washcloth that is sturdy enough to hold up in the kitchen. If you use something like acrylic or nylon, though, it will fall apart quickly.
100% cotton yarn is a good, sturdy choice for everyday use because it's durable yet easy on your hands. Cotton holds up well through the washer and dryer, too.
Some cotton yarns are pretty rough, which we'll get into later. I have a few cotton yarns that are my favorite to work with because they feel good while crocheting and they are sturdy.
Patterns
If you're following a certain pattern, be sure to check what yarn they used. A lot of crochet patterns will give you options for other yarns to use if you can't find the exact one they recommended.
There are a few different weights of cotton yarns out there to choose from, but most commonly people use worsted weight.
Colors
When it comes to colors and dishcloths, be sure to get something that will hold up over time. If you use a yarn that may fade or bleed out color easily, then you'll end up with faded or discolored washcloths in less than a few months.
The most common colors for crochet dishcloths are usually white and/or cream. They match everything, plus you can bleach them after use.
I have made a few dishcloths and dish towels in darker colors, and so far they have held up well. Again, the quality and durability have to be factored in when it comes to choosing the best yarn for your crochet dishcloths.
Budget
Generally, cotton yarns are very affordable. Some can even become cheaper per ball when you look for it in larger skeins.
Another nice thing about cotton is that it comes in a variety of thicknesses so you won't have to worry about splurging on one yarn just for your dishcloths.
Worsted weight cotton yarn (like I prefer) is usually around $3-4/skein.
Cotton blends are often less expensive than 100% cotton and will give you a softer feel, but they won't last as long in the kitchen as pure cotton yarns. Depending on what type of cotton it is, it can be a bit more expensive.
What You'll Need to Crochet a Dishcloth
Equipment / Tools
You can't crochet without a hook and yarn to make it with. (Duh, right?!) Here's what you'll need:
Cotton Yarn
Correct hook size the pattern/yarn calls for
Tapestry needed to weave in ends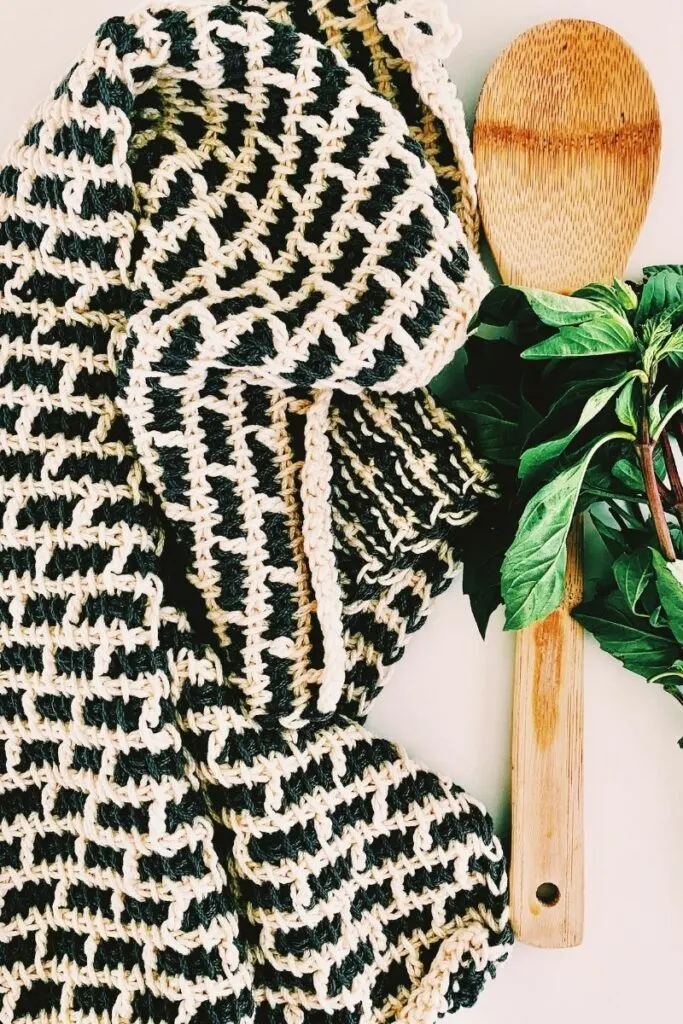 Which Cotton Yarns are Best for Crochet Dishcloths?
Okay, now it's time to cover the specific yarn brands that I believe are best for crocheting a dishcloth. They take all of the factors above into consideration.
Here is a list of my top choices for the best yarns to crochet dishcloths.
My Favorites (in no particular order):
Lily Sugar 'n Cream Cotton Cone Yarn
Lily Sugar 'n Cream Cotton Cones yarn is 100% USA Grown cotton yarn. Sugar 'n Cream is a versatile worsted weight yarn, that's great for small projects like dishcloths and potholders, to home décor staples like afghans! Available in a wide variety of shades, including neutrals, brights, and pastels. Conveniently machine washable and dryable for easy care.

Amazon.com
While this yarn will last long after washings, is very absorbent, and is also affordable, it can be pretty rough to work with.
But, I know a lot of crocheters who swear by this yarn and use it for all kinds of kitchen projects.
Just know that it's pretty stiff and can be rough on the hands.
You can purchase it on Amazon.com here or Yarnspirations.com here. They have a ton of colors available.
Lily Sugar 'n Cream The Original Solid Yarn
This yarn is a bit less rough than the ones available on the cone. I'm not sure if that's my imagination or what, but I definitely enjoy working with this yarn a bit better than the cone.
I made a huge beach bag and water bottle holder with this ecru color and it turned out amazing.
You can purchase this yarn on Amazon.com here or Yarnspirations.com here.
Lion Brand 24/7 Cotton
This, in my opinion, is one of the best cotton yarns. I love the different colors they offer (always modern and up to date), it holds up well during use and it also washes well.
Another reason why it's one of my favorite cotton yarns is I can usually find it in stock at Michaels or Joann's.
You can purchase this yarn online at Amazon.com here or LionBrand.com here.
I made a bunch of crochet market bags with this yarn and I love the way they turned out.
Knit Picks Dishie
Dishie is another yarn (like 24/7 Cotton) that is a maker favorite.
A hardworking 100% cotton yarn with a tight spin and high absorbency, Dishie is a durable yarn even with daily use.

Great practical yarn for all of your home and kitchen knits from dishcloths and towels to rugs and market bags; also soft and versatile enough for toys and home décor

Amazon.com
Dishie comes in two varities: the 14 oz. Cone and the 3.5 oz skein.
Common Questions About Choosing the Best Yarn for Crochet Dishcloths:
Can acrylic yarn be used for dishcloths?
Acrylic is not a good choice for a dishcloth because it doesn't hold up very well and it can be harsh on your skin.
There are quite a few people that use acrylic yarn to make kitchen items such as placemats or other things, but I would not recommend it for washcloths.
It's not absorbent and ends up being pretty useless for tasks in the kitchen. Acrylic wicks moisture to the surface where it evaporates. You also don't want to get acrylic yarn near heat (it can melt) or wash in hot water. It will not stand up to hot water as the cotton yarn does.
Side note: do not use acrylic yarn of any kind for hot pads. Even the acrylic blends will melt.
My recommendation: stick with cotton yarn.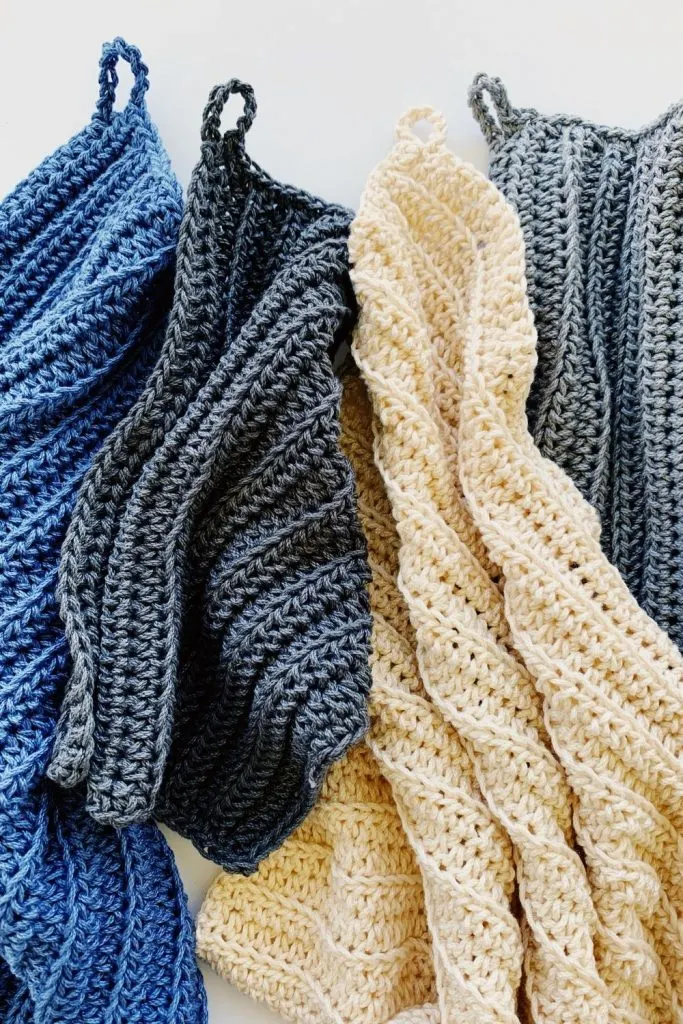 Can you use polyester yarn for crocheted dishcloths?
Polyester cotton is more absorbent than acrylic, but it's also not the best option.
Again, I wouldn't recommend polyester yarn for dishcloths because it ends up feeling like sandpaper after a few washings. Plus, most polyester yarns don't hold their shape very well which may be important to you if you're making a design with the dishcloths you're crocheting.
Now, Red Heart makes a Scrubbie yarn that is 100% polyester. While it's not great for dishcloths, it is perfect for, well, a scrubby to wash your dishes with.
Is mercerized cotton yarn good for dishcloths?
Mercerized cotton yarn is very soft and durable, but it can be a bit pricey. You may end up paying quite a lot for just a small amount of yarn.
It's also not the best option for kitchen items in my opinion. Sure, it will last longer than regular cotton yarns, but I don't think it would be absorbent enough.
Mercerized cotton is recommended for baby items and delicate projects like doilies.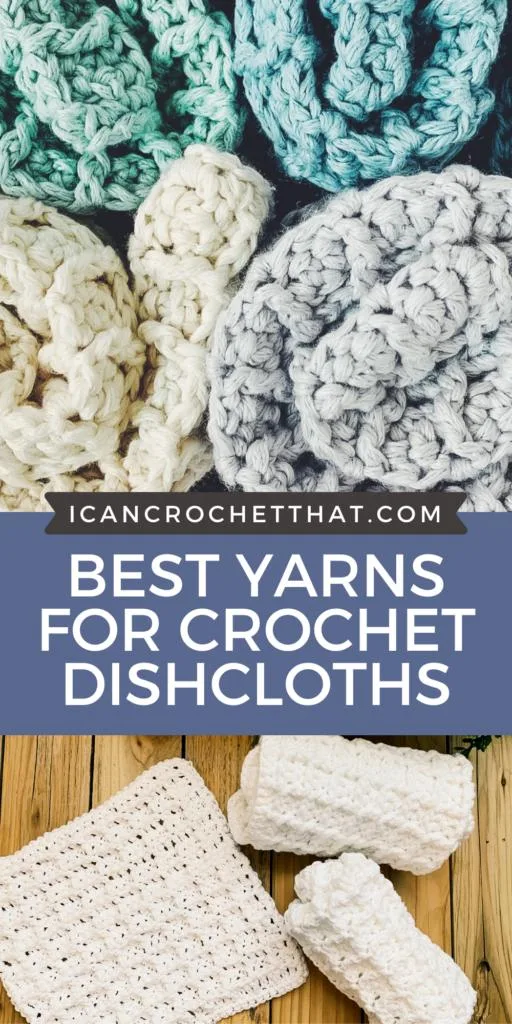 Can you use any yarn for dishcloths?
In my opinion, no.
While many people enjoy using acrylic yarn for dishcloths and other kitchen items, I just don't like it. It tends to be rough on your hands, increases the chances of getting skin irritations, and doesn't hold up very well in the wash.
I think cotton or cotton blends are the best for crocheting dishcloths.
Do crochet dishcloths work well?
Cotton dishcloths work great for everyday tasks such as washing dishes, wiping down the table and counters, and wiping up messes.
However, if you're looking for something to work well on grease or grime from your stovetop, it's not going to be good enough with just a cotton dishcloth. You may want to opt for a scrubby instead.
But they do work great for everyday tasks! Plus, they look nice in your kitchen.
Are crochet dish towels absorbent?
Yes! If you use the right yarn that is. The dishtowels I've made with a cotton blend do not absorb as well as the ones that are 100% cotton.
How to Crochet a Dishcloth
We have several free crochet patterns for dishcloths/dish towels here on I Can Crochet That.
Easy Crochet Dishcloth – Free crochet pattern
You only need basic crochet skills to make these. These are perfect for first-time crocheters! They are so much fun to whip up and to give as gifts. I made a bunch of these for Mother's Day.
This pattern uses Lion Brand 24/7 Cotton. Grab the pattern here.
Here's a video tutorial for this pattern.
Farmhouse Crochet Dishcloth Pattern – 3 Sizes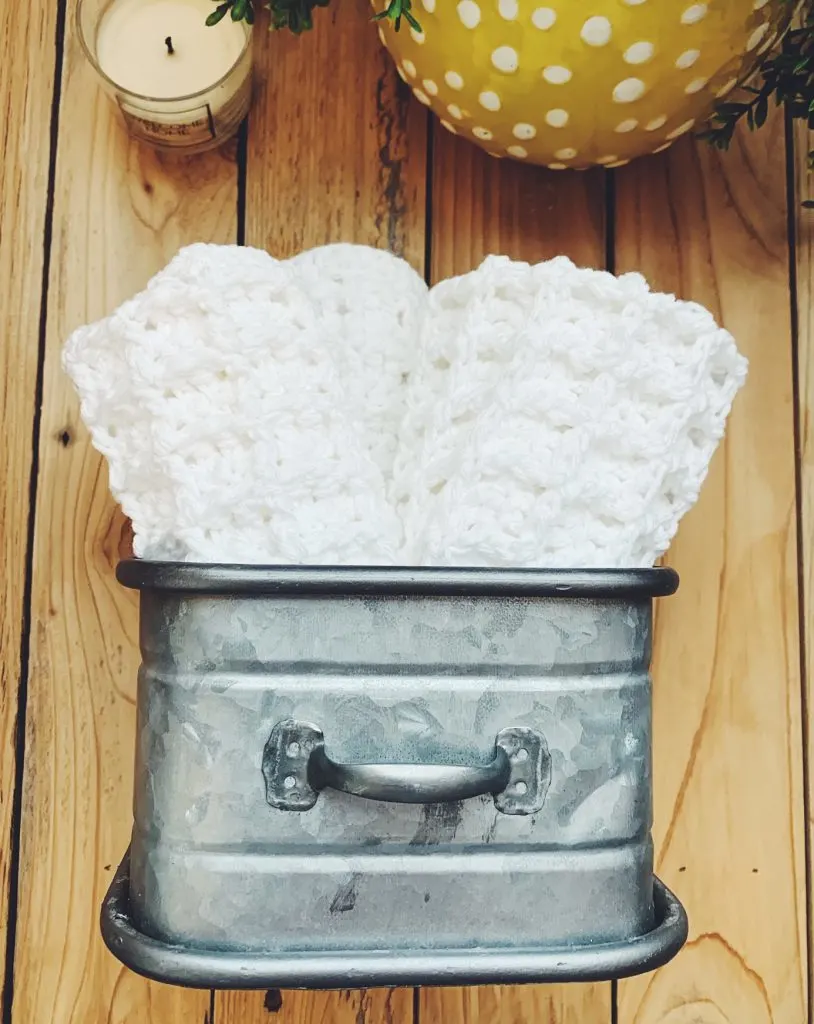 Grab this pattern here.
All-Purpose Waffle Stitch Crochet Dishcloth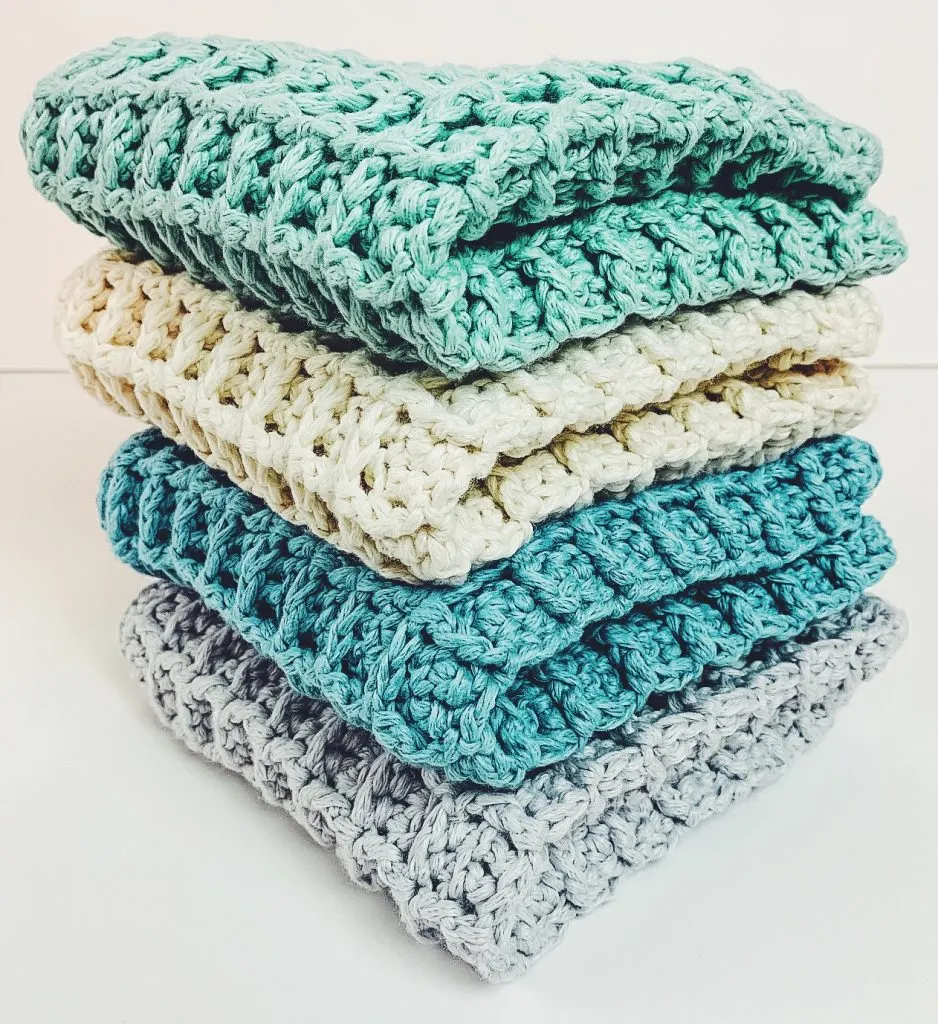 This is one of our most popular patterns. You can grab the pattern as well as watch a video tutorial here.
Are You Ready to Make a Few Crochet Dishcloths?
Crocheting dishcloths is a great way to give your kitchen an extra touch of personality. They also make great gifts!
Whether you have a vintage look that matches the rest of your home or prefer something more modern, crocheted kitchen items such as these are perfect for any occasion!
I hope you found this blog post helpful and that it helped answer some questions about what kind of yarn is best for crochet dishcloths.
You should now be able to confidently purchase the right type of yarn, but if you need more help with choosing a specific pattern or color scheme, just reach out to us! We're always happy to provide advice on how to make your handmade products shine.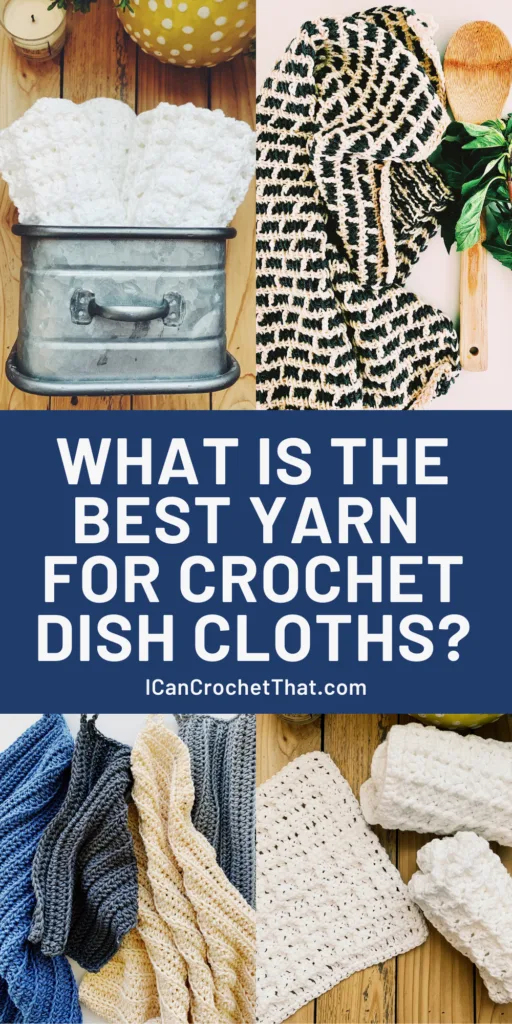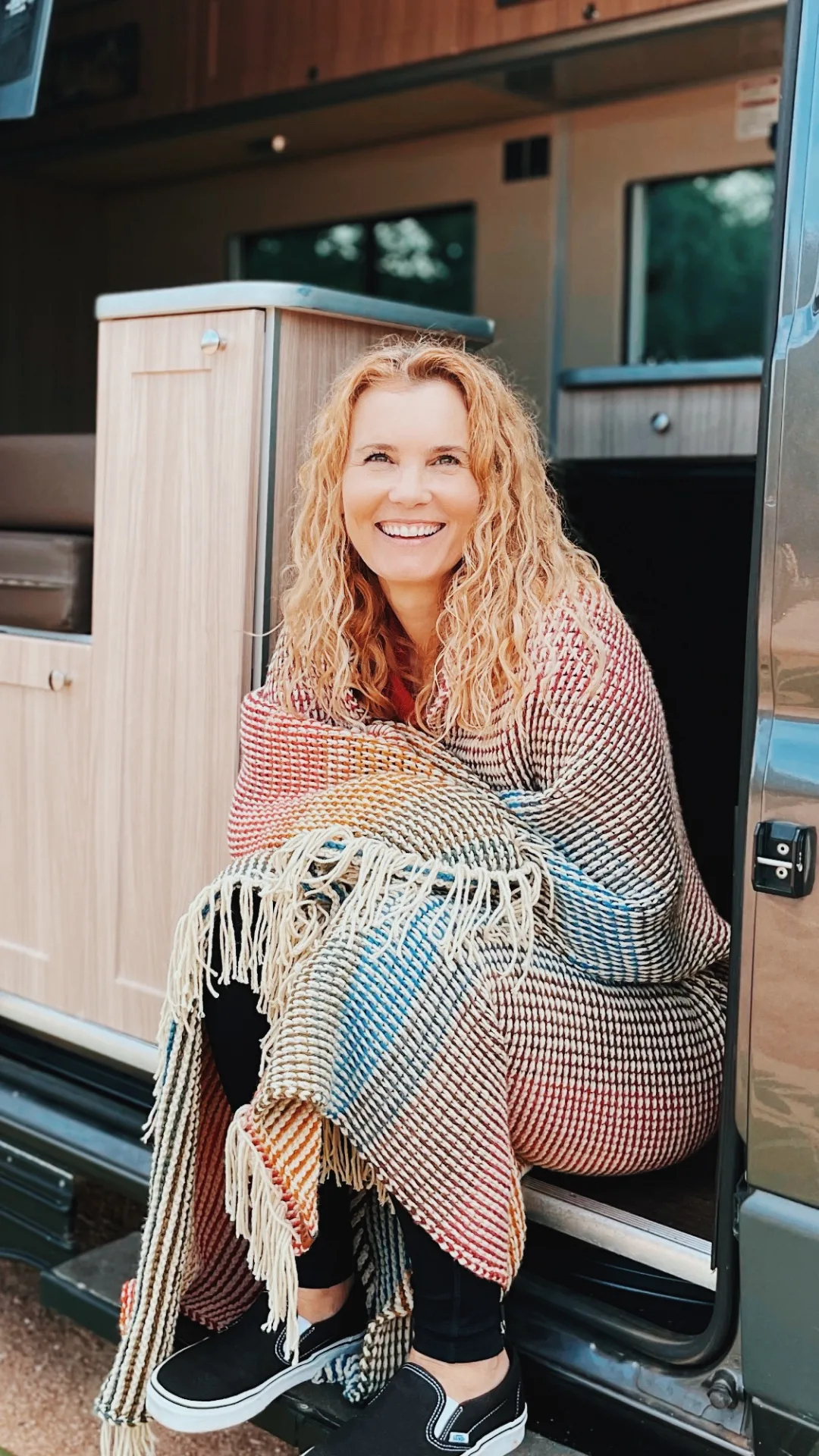 Hi! I'm Julie. I design modern crochet patterns and tutorials to help you learn to crochet. I've been crocheting for over two decades and with the gentle nudging of my husband, decided to turn this passion into a career. Although we travel a lot in our campervan, you'll never find me without a bag of yarn and projects.