These 100% cotton crochet dishcloths will make the perfect addition to your kitchen. They're made using the crochet waffle stitch, which gives it some great texture and a farmhouse kitchen vibe.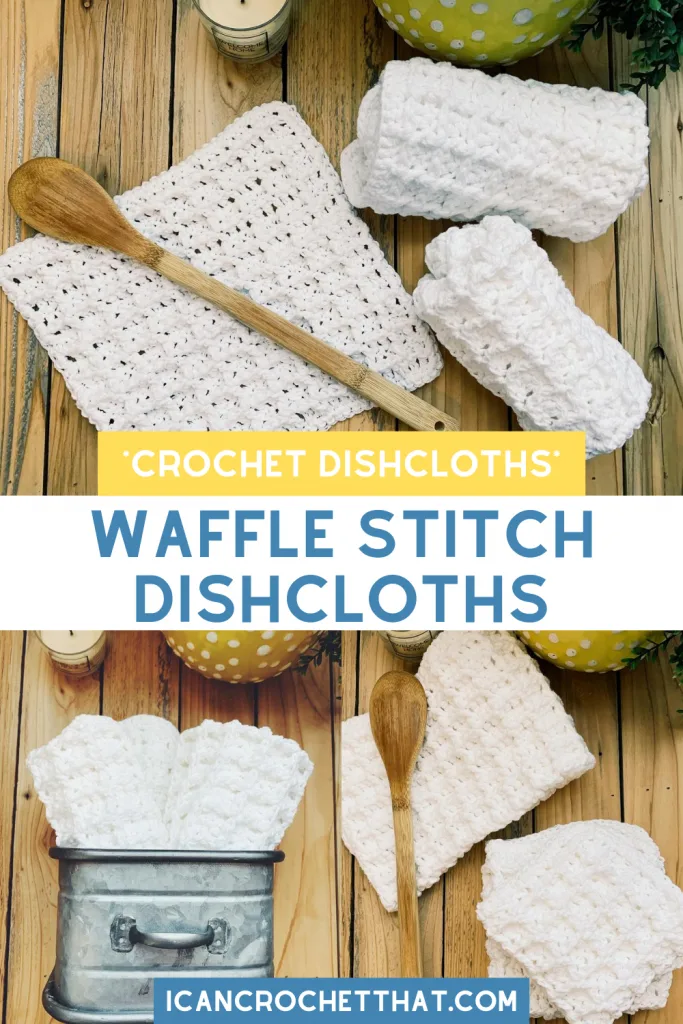 Since the Anthropologie market dishcloths dupe was such a big hit, I thought it would be a good idea to whip up some similar ones but with 100% cotton and in different sizes.
Easy Crochet Dishcloths
Here are the three sizes available:
Large – 13 1/2 x 13 1/2
Medium – 11 1/2 x 11 1/2
Small – 9 1/2 x 9 1/2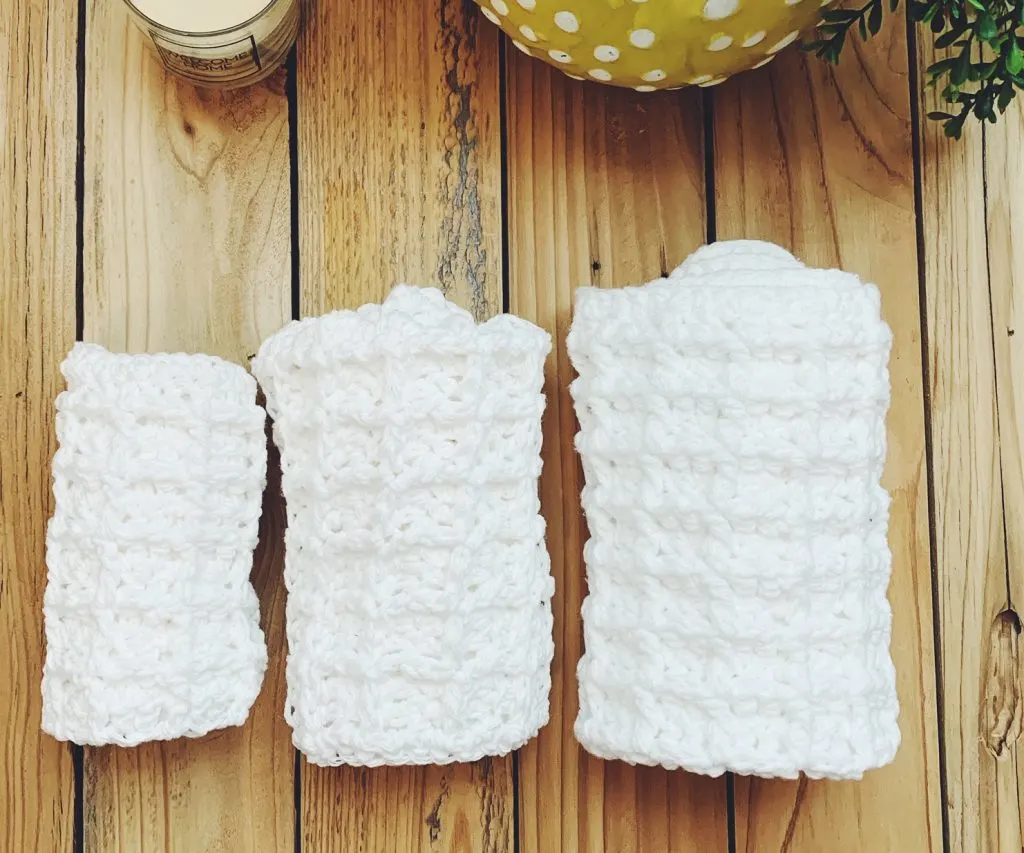 Crochet Gift Ideas
If you're looking for a crochet project to start on now to give as gifts this holiday season, these are perfect. They work up very quickly, wash well and make a fun and beautiful gift to give.
Just add a wooden spoon or two, a candle, put it in a decorative container and voila, a fantastic gift!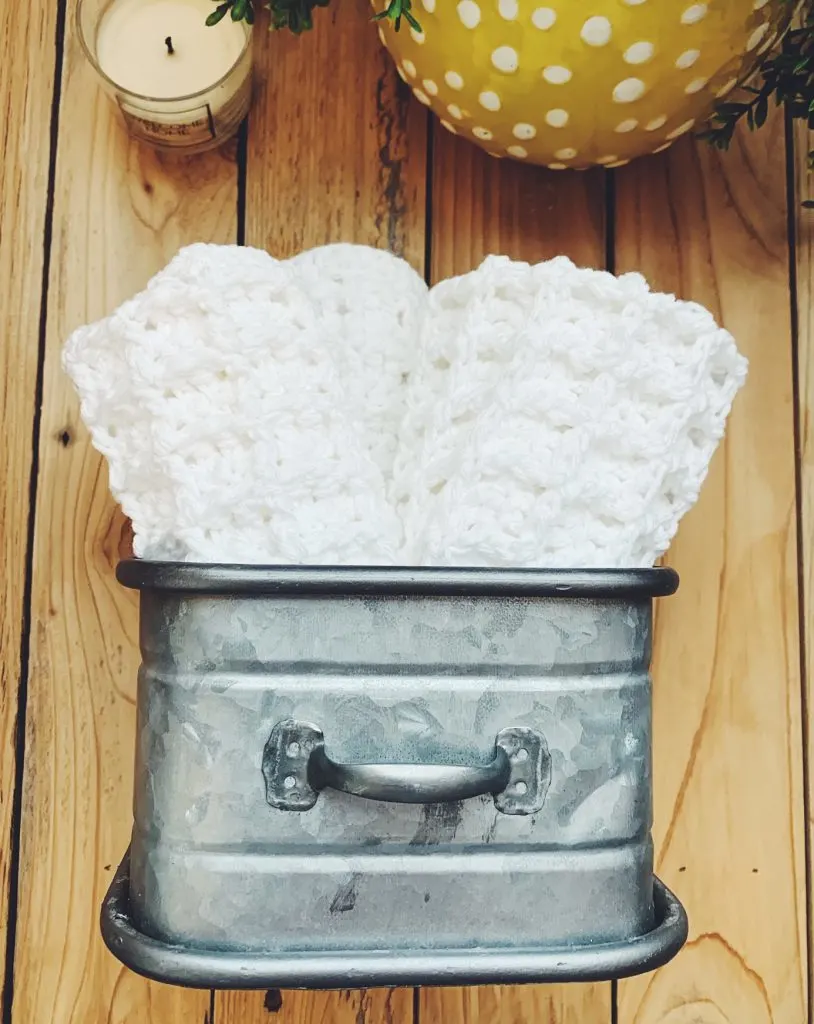 The Stitches
I've really been enjoying the waffle stitch lately. I've made the market dishcloths and a waffle stitch fringed blanket.
Once you get the hang of the stitch, it's very easy and quite satisfying actually.
Here's a video tutorial I put together, walking you through the stitch pattern.
The Color+ The Yarn
For the market dishcloth Anthro dupe, I used a cotton blend yarn I picked up at Michael's. While it does absorb and washes up well, I wanted to experiment with 100% cotton yarn.
I picked up a large spool of Peaches & Creme Cotton Yarn for under $9. So far, I've made three washcloths and still have a lot of yarn left. Just note that this yarn is very stiff and not recommended for baby items. But it's perfect for dishcloths or pot holders.
If you can't find Peaches & Creme yarn, here are a few substitutions:
I've already used and washed the large crochet dishcloth and after one wash the stitches got thicker and closer together. It also shrunk about half an inch.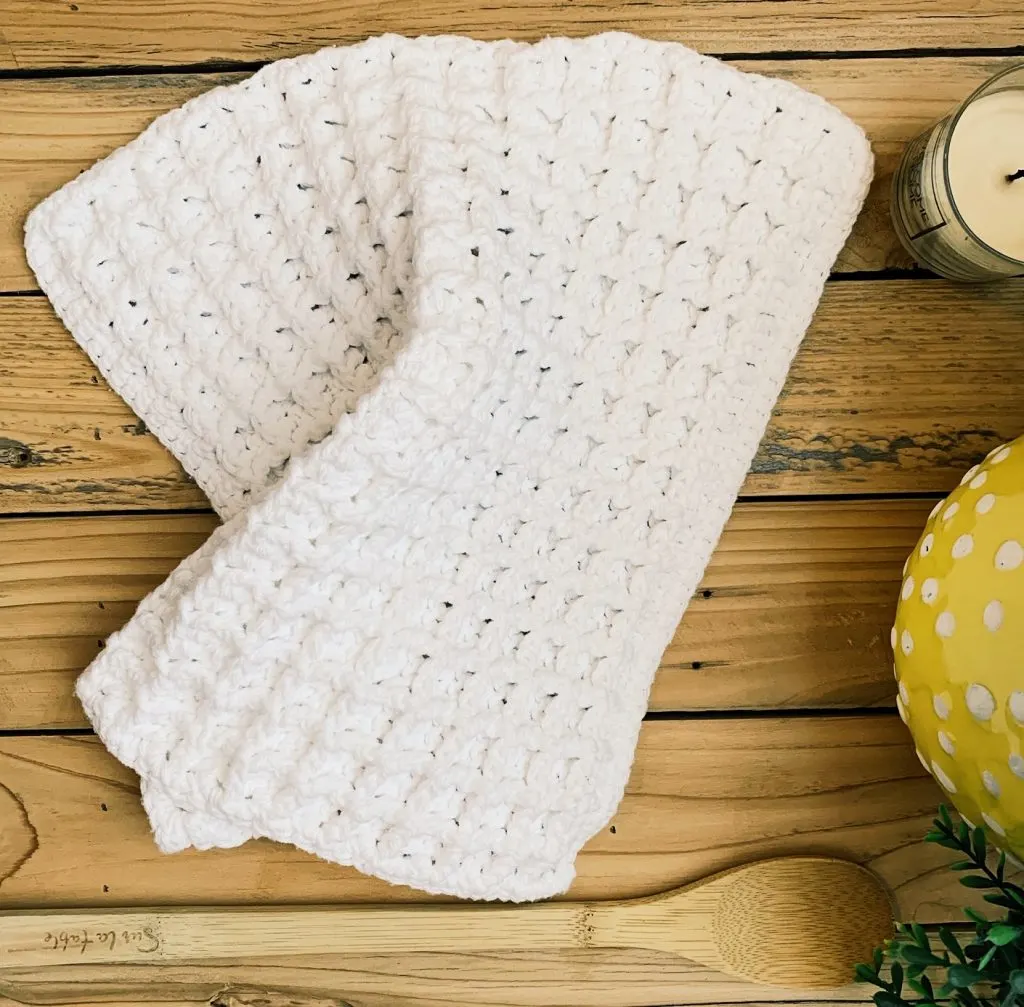 Waffle Stitch Crochet Dishcloth Pattern
Quickly whip up these crochet dishcloths for a touch of farmhouse style. The waffle stitch gives these a beautiful look and feel and creates dishcloths that not only look great, but are fun to use as well.
PATTERN NOTES
Details
Method Crochet
Skill Level Beginner
Hooks 5.5 mm / US I-9
Other Yarn Needle
Yarn 100% cotton yarn in white
Final Sizes Large (13 1/2″ x 13 1/2″), Medium (11 1/2″ ×11 1/2″), Small (9 1/2″ x 9 1/2″)
Abbreviations
ch chain
st(s) stitch(es)
dc double crochet
FPdc front post double crochet
* or ** repeat whatever follows the * or **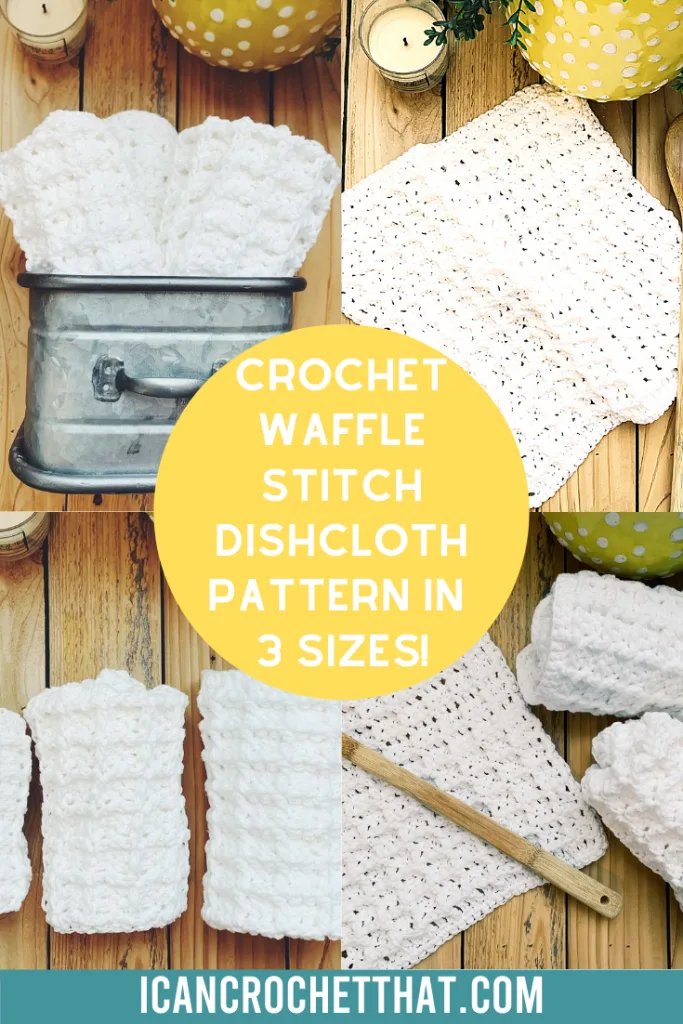 THE PATTERN
Chain two (2) does count as a stitch
Foundation Row
For large: Ch 50, dc in 3rd ch from hook, dc across [48 sts]
For medium: Ch 42, dc in 3rd ch from hook, dc across [40 sts]
For small: Ch 32, dc in 3rd ch from hook, dc across [30 sts]
Row 1
Ch 2, turn *FPdc in first stitch, FPdc in second stitch, dc in third stitch*, repeat from * across row with a FPdc, FPdc, dc pattern
Last stitch (dc) goes into the top of beginning ch from previous row [Large: 48 sts, Medium 40 sts, Small 30 sts]
Row 2
Ch 2, turn *dc in first stitch, dc in second stitch, FPdc in third* stitch, repeat from * across row with a dc, dc, FPdc pattern
Last stitch goes around beginning ch from previous row [Large: 48 sts, Medium 40 sts, Small 30 sts]
Rows 3 – 32 (Large), 3 – 26 (Medium), 3 – 20 (Small)
Repeat rows 1 & 2
Do not fasten off
Edging
Don't turn
Side 1: *2 sc, 1 sc* down the left side
Bottom: 3 sc in corner, sc across until next corner
Side 2: 3 sc in corner, *2sc, 1 sc* up right side
Top: 3 sc in corner, sc across until next corner, end with 1 sc in corner, slip stitch to first sc
Finish
Cut yarn, fasten off, weave in ends
And that's it! Make several in different sizes or the same size. To give as a gift, tie up a bundle with twine or roll up and place in a decorative container.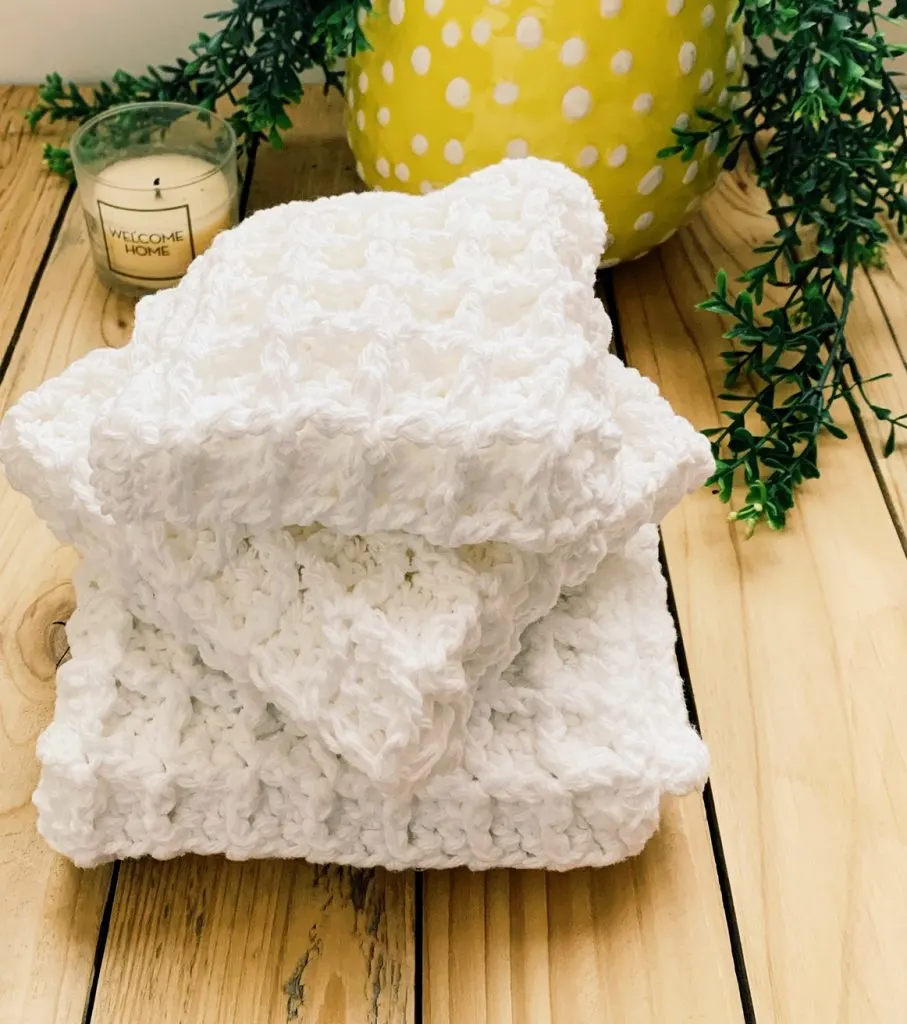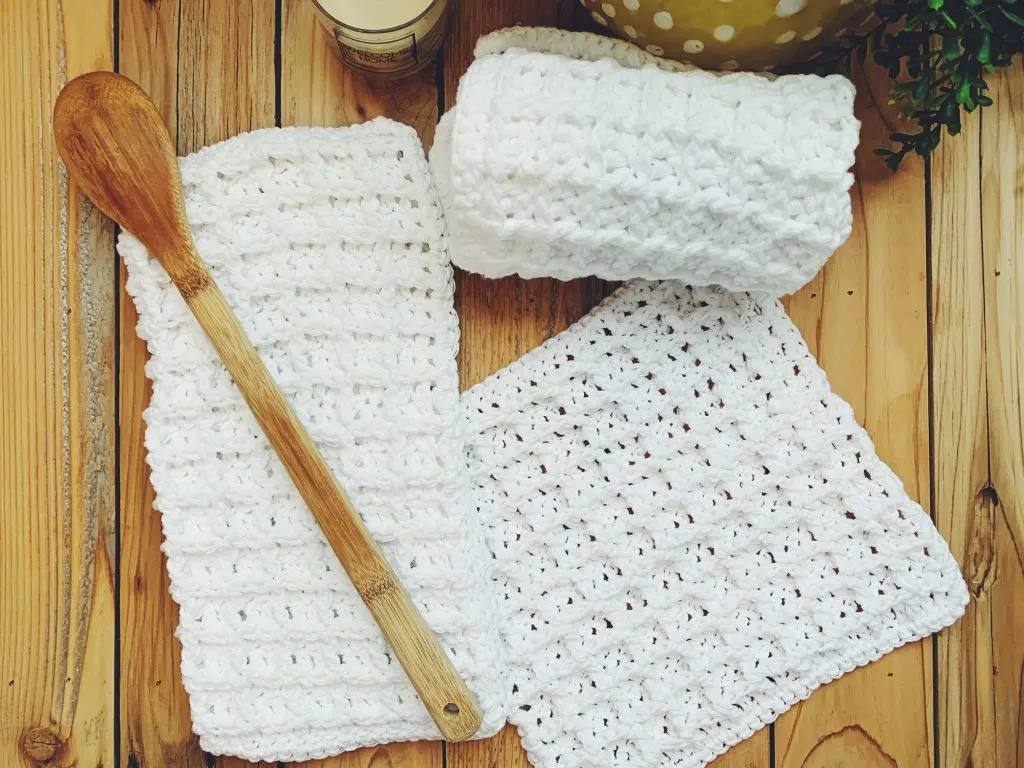 Pin this to save for later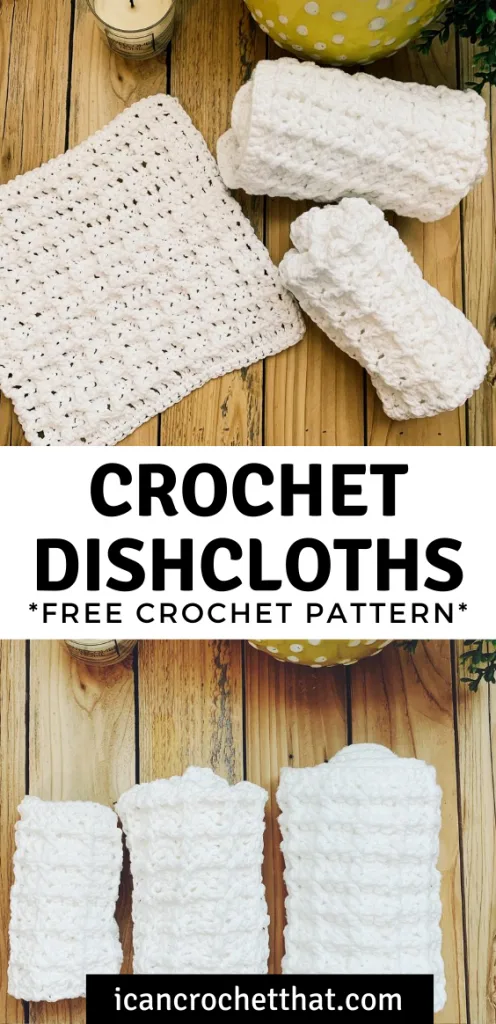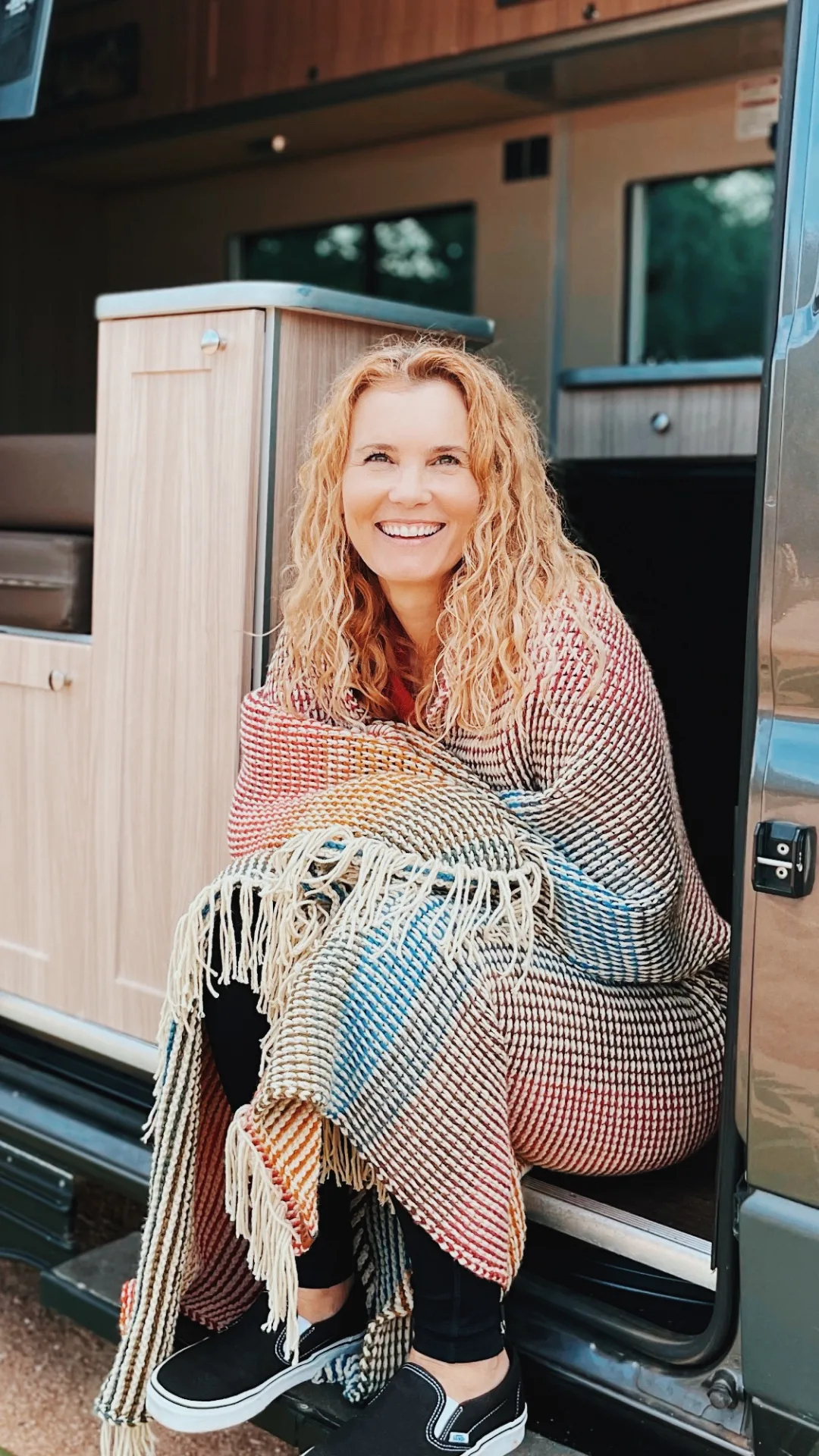 Hi! I'm Julie. I design modern crochet patterns and tutorials to help you learn to crochet. I've been crocheting for over two decades and with the gentle nudging of my husband, decided to turn this passion into a career. Although we travel a lot in our campervan, you'll never find me without a bag of yarn and projects.