The Waffle Stitch Fringed Crochet Throw is the perfect blanket for a dorm room or to give as a house-warming gift. This pattern is easy and looks beautiful with the finished fringe edge.
You can purchase a printable version of this pattern on the I Can Crochet That Shop here.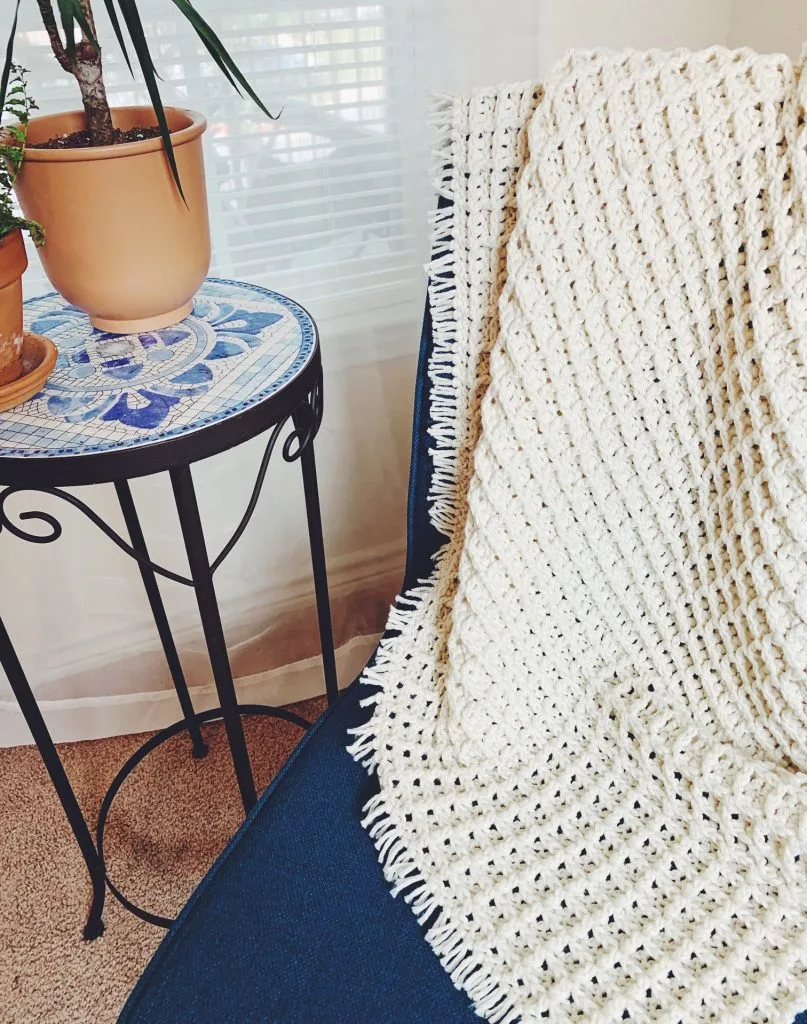 Crochet Waffle Stitch Fringed Throw
My daughter just wrapped up her senior year of college, which means we have many college town moves under our belt.
I'll never forget moving her into her freshman college dorm. The excitement, the tears, the nerves (from her and I) are all ingrained in my memory.
I'll also never forget the shopping trips for both the necessities and the dorm decor. Oh how we both loved decorating that dorm.
When I was designing this crochet throw, I wanted it to be just the perfect size to go at the end of her bed and for her to use when she was lounging around in bed studying or watching Netflix. (Or both at the same time.)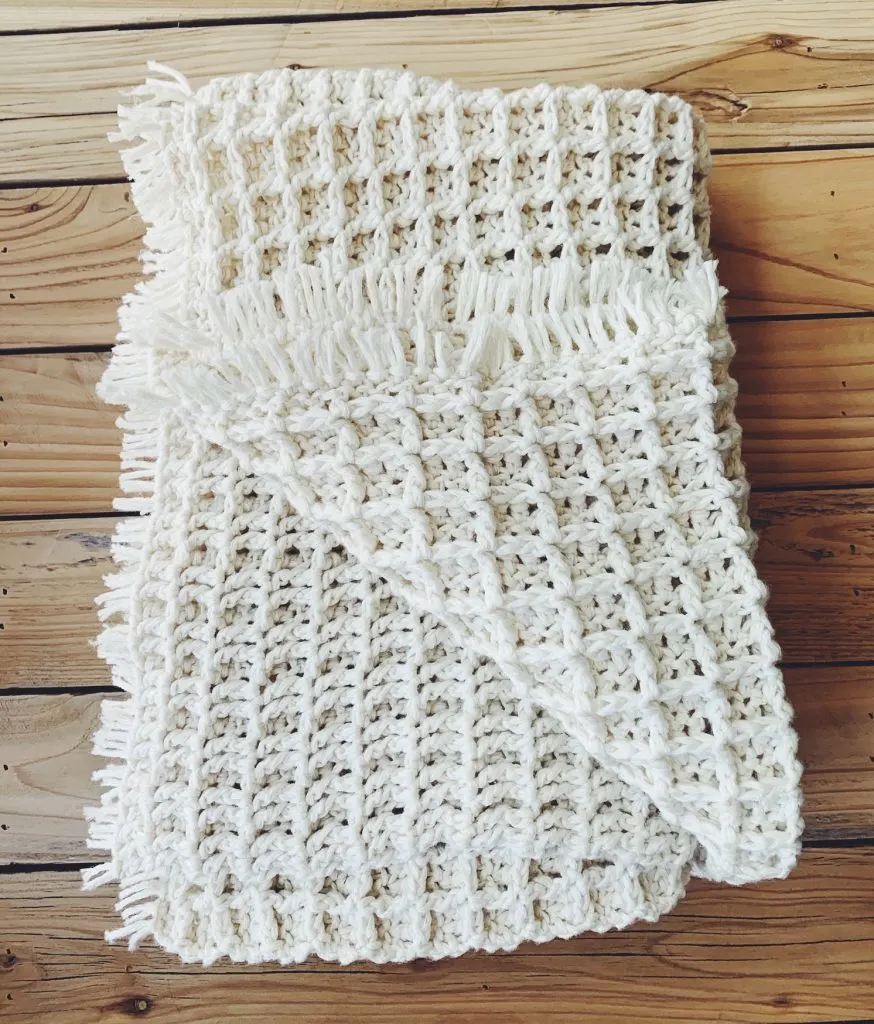 I also wanted it to be a great size for a gift basket. All you need is to add a candle and a small plant…and voila, you have a gift someone special will love to use.
The Stitches
This crochet blanket is made with the same stitches and techniques as the Waffle Stitch Dishcloths. The only difference is I used a hook one size up and then added fringe (instead of an edging) as the final touch.
You just need to know how to do a double crochet and a front post double crochet.
Here's my tutorial showing you how to do the waffle stitch.
The Color + Yarn
I used the Loops & Threads Creme Cotton yarn in cream, which is 87% cotton and 13% nylon.
After seeing how well the dishcloths washed and dried using this yarn, I decided to go with the same yarn for the throw. If I'm going to make a blanket for a dorm room, it needs to be able to withstand wear and tear and survive the washing machine.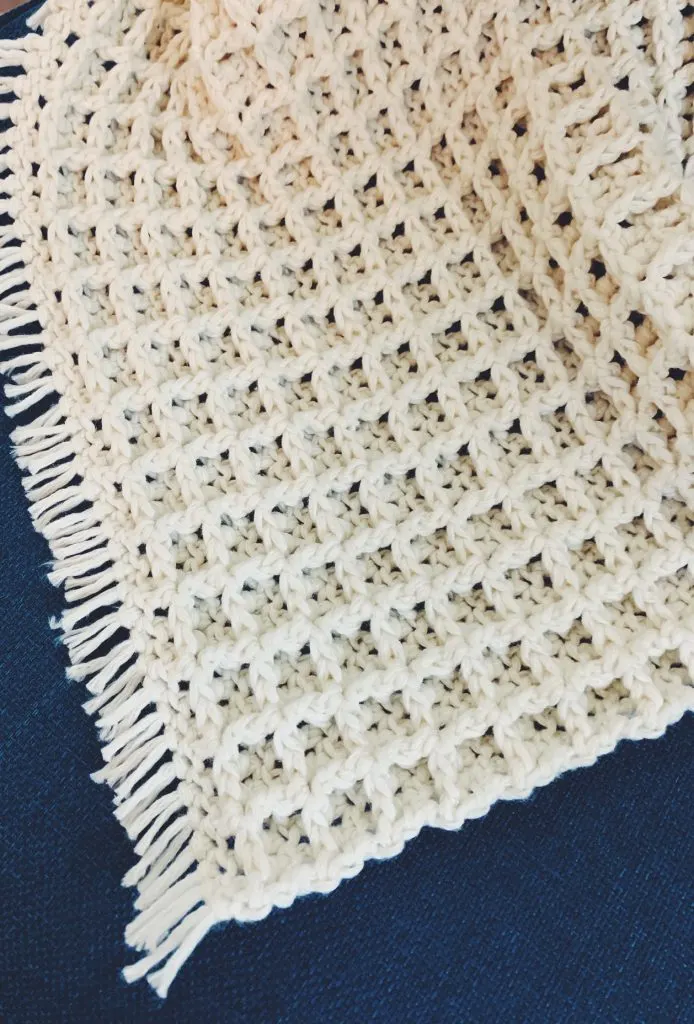 I used three balls of the yarn for this blanket, which includes the fringe.
To make sure I had enough yarn for the fringe, I cut the 264 pieces for the fringe using the last ball of yarn, before I attached it to finish the blanket.
Now, 264 pieces sounds like a lot and it definitely took some time, but I did it while watching TV and in no time at all, the blanket was finished. The outcome was well worth the effort.
The Crochet Waffle Stitch Fringed Throw Pattern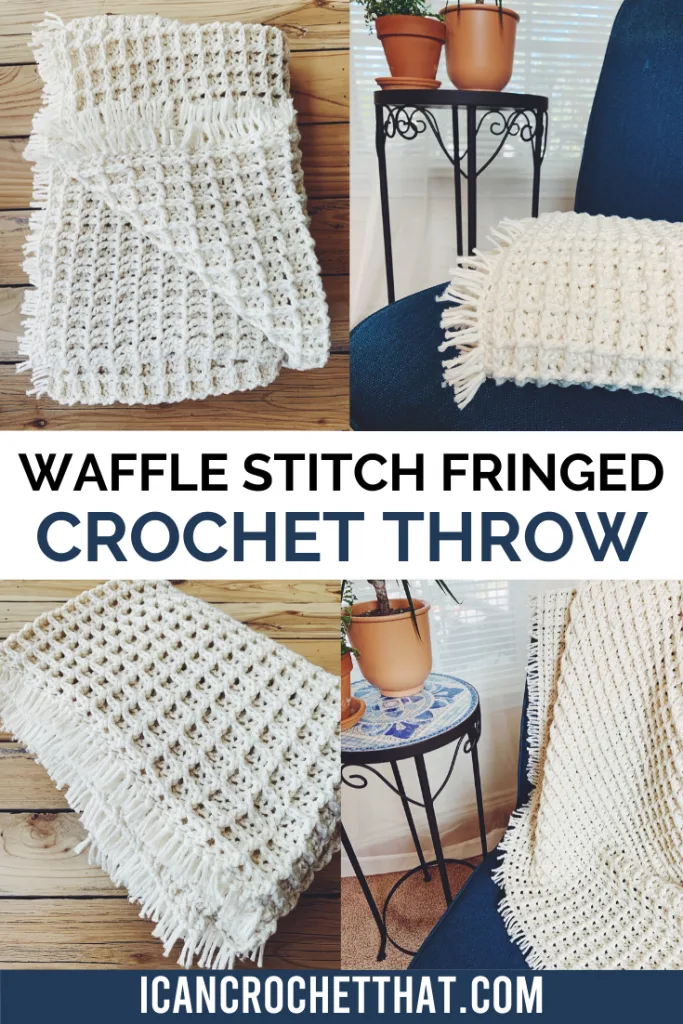 You can purchase a printable version of this pattern on the I Can Crochet That Shop here.
Pattern Description
This waffle stitch throw is made with an 87% cotton, 13% nylon blend yarn. It washes up well and has only minimal shrinkage. It's made to fit the width of a twin bed, making it the perfect throw for a college dorm.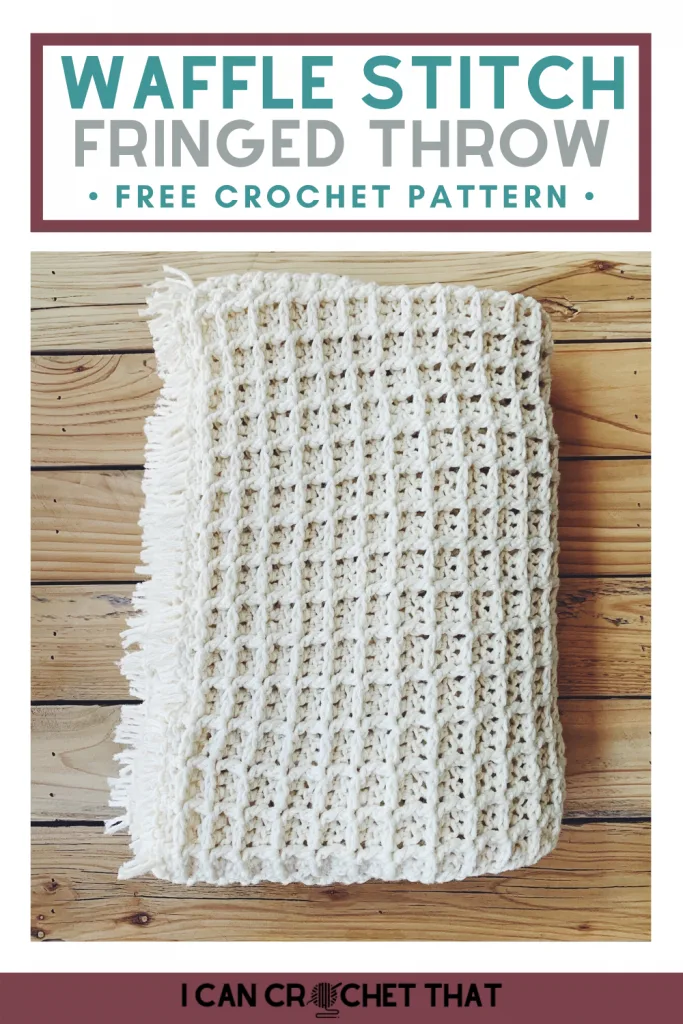 Pattern Notes
Details
Method: Crochet
Skill Level: Beginner
Hook: 5.00mm / US H-8
Other: Yarn Needle
Yarn: Crème Cotton™ Yarn by Loops & Threads® in Cream, 1296 yds
Gauge: 4" x 4" = 16 sts x 11 rows
Final Size: 38 in x 41 in
Abbreviations
ch chain
st(s) stitch(es)
dc double crochet
FPdc front post double crochet
* or ** repeat whatever follows the * or **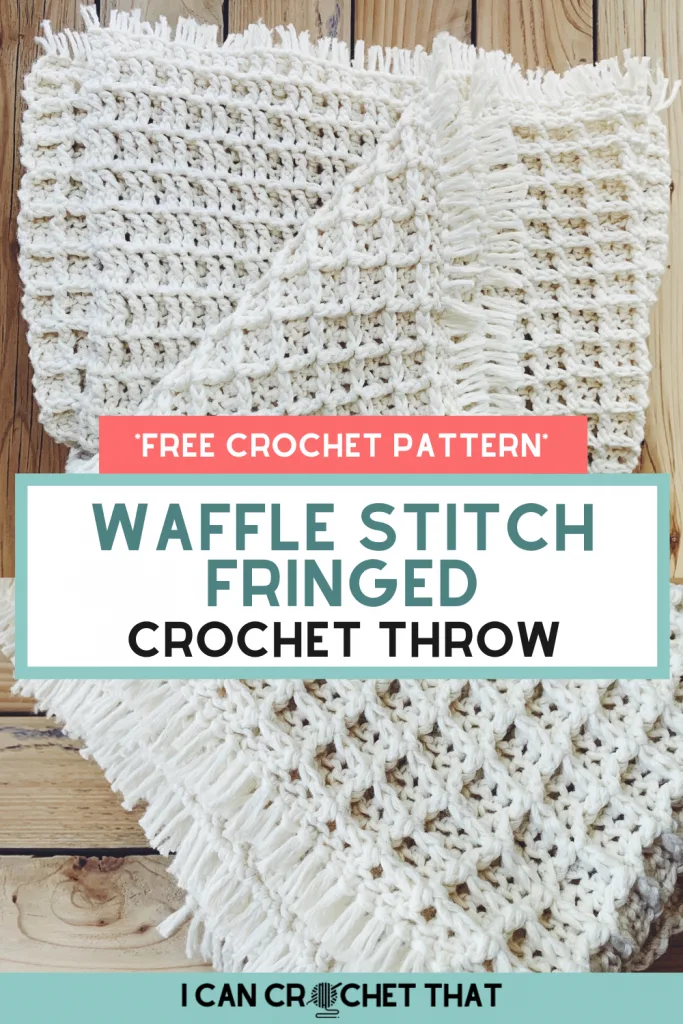 The Pattern
Ch 2 does count as first stitch
First FPdc on Row 1 goes into 2nd stitch
First dc on Row 2 goes into 2nd stitch
Foundation Row
Ch 134, dc in 3rd ch from hook, dc across [132 sts]
Row 1
Ch 2, turn, *(FPdc, FPdc, dc), repeat from * across row
Last stitch goes into top of beginning ch from previous row [132 sts]
Row 2
Ch 2, turn *(dc, dc, FPdc), repeat from * across row
Last stitch goes around beginning ch from previous row [132 sts]
Rows 3 – 96
Repeat rows 1 & 2 until the 96th row or until desired length
Finish
Fasten off, weave in all ends
Fringe
Cut 264 pieces of yarn 3 inches long
Tie fringe on each chain at the two ends of blanket
Trim fringe if needed
Have you tried the waffle stitch pattern yet? If you're new to it, I recommend making the Waffle Stitch Dishcloths first. They're small, they work up quickly and they're so much fun to use.
Be sure to tag @icancrochetthat on Instagram if you make any of the crochet waffle stitch patterns!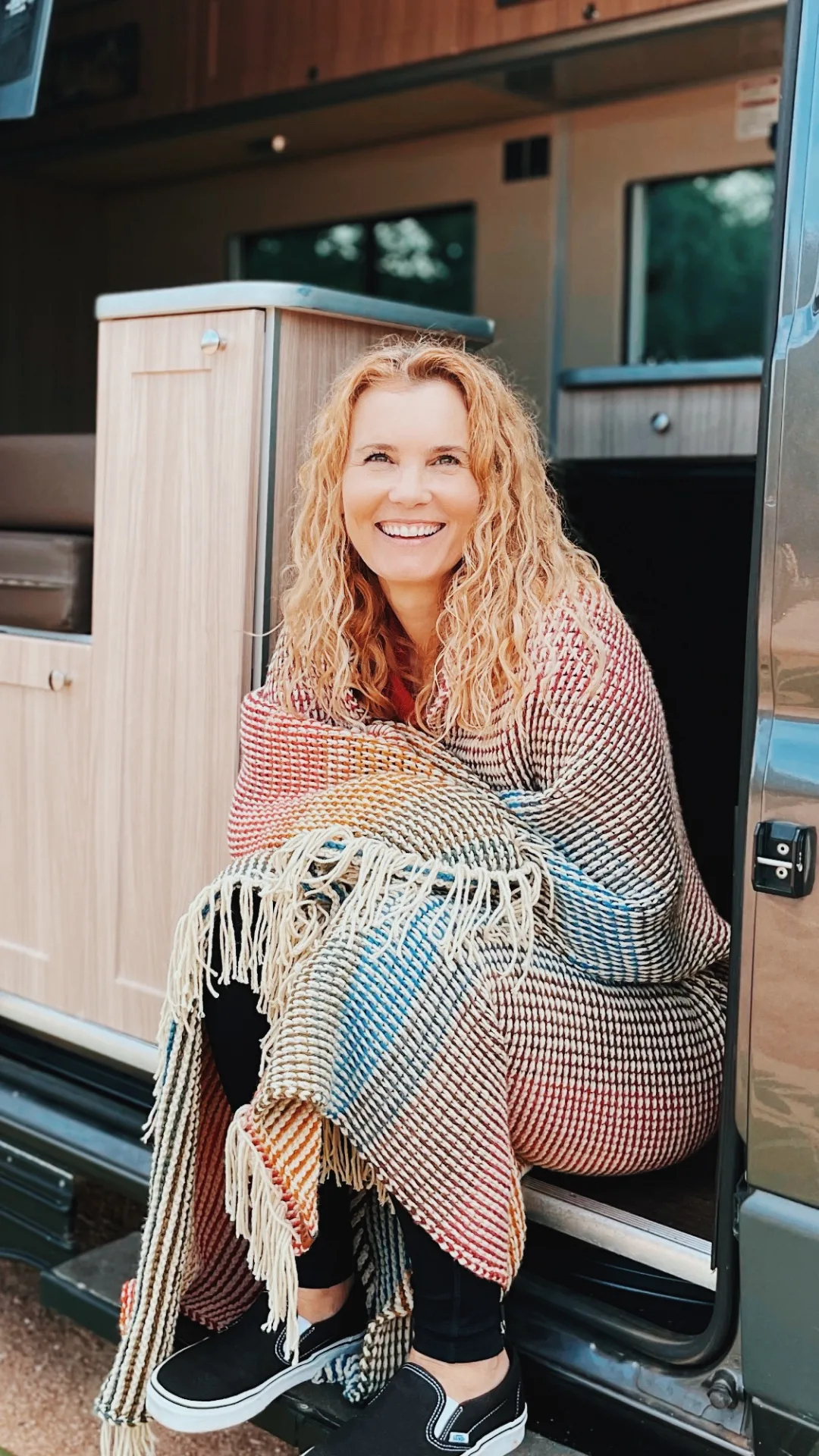 Hi! I'm Julie. I design modern crochet patterns and tutorials to help you learn to crochet. I've been crocheting for over two decades and with the gentle nudging of my husband, decided to turn this passion into a career. Although we travel a lot in our campervan, you'll never find me without a bag of yarn and projects.