Last Updated on July 7, 2020
If you're looking for a fun way to use up your extra yarn, whipping up a crochet feather or two is the perfect stash-busting project.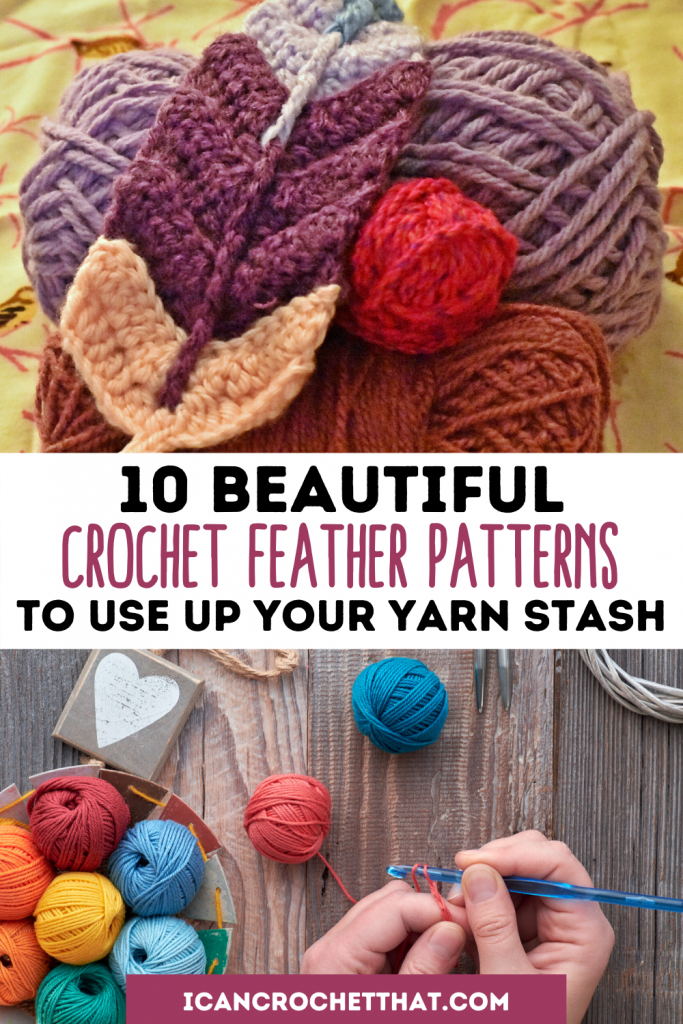 I don't know about you, but I have baskets full of scrap yarn. From yarn I bought on sale (OK, or an impulse buy) and yarn given to me as gifts or just leftover yarn from crochet projects, scrap yarn is always surrounding me.
There are a ton of fun crochet projects to use up that yarn and one of them is crochet feathers.
What would you use crochet feathers for you ask? Here are a few cute crochet projects ideas for those beautiful feathers:
Make a dream catcher
Use the feathers for a wall hanging
Attach them to a boho bag
Use them as a bookmark
Enjoy these 10 crochet feather patterns. Some of the patterns are free and some are just a few bucks.
10 Crochet Feather Patterns to Use Up That Yarn Stash
Photo Credit: poppyandbliss.com
If you've spent any time on the I Can Crochet That site, then you know I've become a tad bit obsessed with Tunisian crochet. I have Tunisian tutorials (that I'll be adding more to soon), a camping blanket made with the Tunisian knit stitch and more.
So when I saw this crochet feather pattern using Tunisian, I knew I had to bookmark it to try later.
Photo Credit: www.crochetbeja.com
How beautiful are these? Visit the link below for a video tutorial (it's in Spanish, but with English subtitles FYI).
Photo Credit: www.gavacrochetlove.com
If you'd like a written pattern in English of the one above, here you go! All you need is your leftover yarn, a 3 mm hook and a few minutes of your time to create these beauties.
Photo Credit: www.jenhayescreations.com
This is another stunning crochet feather pattern. Instead of the pastel colors, they used fall colors which I think are just amazing. Plus, it's whipped up using single crochet and she included four different sizes.
Imagine these on a fall tablescape or for Thanksgiving dinner. You could mark your guests' places at the tables with these and let them take one home.
Photo Credit: www.youtube.com
Here's another crochet pattern by the talented Esperanza y Ana Celia Rosas. It is in Spanish, but if you're familiar with crochet, they're tutorials are done so well you can most likely follow along.
According to another blog I was reading, this pattern is done in the Irish Crochet Stitch, which gives the feathers a nice raised texture.
Photo Credit: www.youtube.com
Here's a video tutorial from The Proper Pineapple on how to crochet reversible feathers. Her tutorial is done really well and easy to follow, plus her cute kitty makes an appearance...so what's not to love?
Photo Credit: dinahcreatief.blogspot.com
This pattern was created by a Dutch designer, but she's written up the pattern in English as well. To see the English pattern, scroll down her page to the bottom of the post.
Photo Credit: www.etsy.com
10 different feathers in the boho hippie style. Perfect for a dreamcatcher, as a bookmark or any other creative project.
Stitches used: ch, slip stitch
The pattern is written in US standard terms
Skill level - easy.
Sizes: from 5 to 7.5 inches
Photo Credit: www.etsy.com
This rope feather crochet wall hanging is the perfect addition to any room. I can see these hanging in a boho style dorm room. So cute!
The Feathers are crocheted with Cotton Rope 3mmRecommended hook sizes are listed in the pattern.
You Will Need:
-Yarn of your choice (any Rope category can be used, thickness of yarn, number of colors, and desired size of square will determine the quantity of yarn needed)
-Crochet Hook (in a size appropriate for the thickness of the yarn you are using)
-Scissors
Photo Credit: www.crochetforyoublog.com
Last but not least, a crochet feather pendant necklace too pretty not to include. She also has an earring pattern. What a cute gift set the necklace and earrings would make!
Which Crochet Feather Pattern Will You Make First?
There are so many fantastic choices from this list. I'm definitely planning on making the Tunisian crochet feathers and creating a dream catcher.
Do you want to save this pattern list for later? Pin one of these images.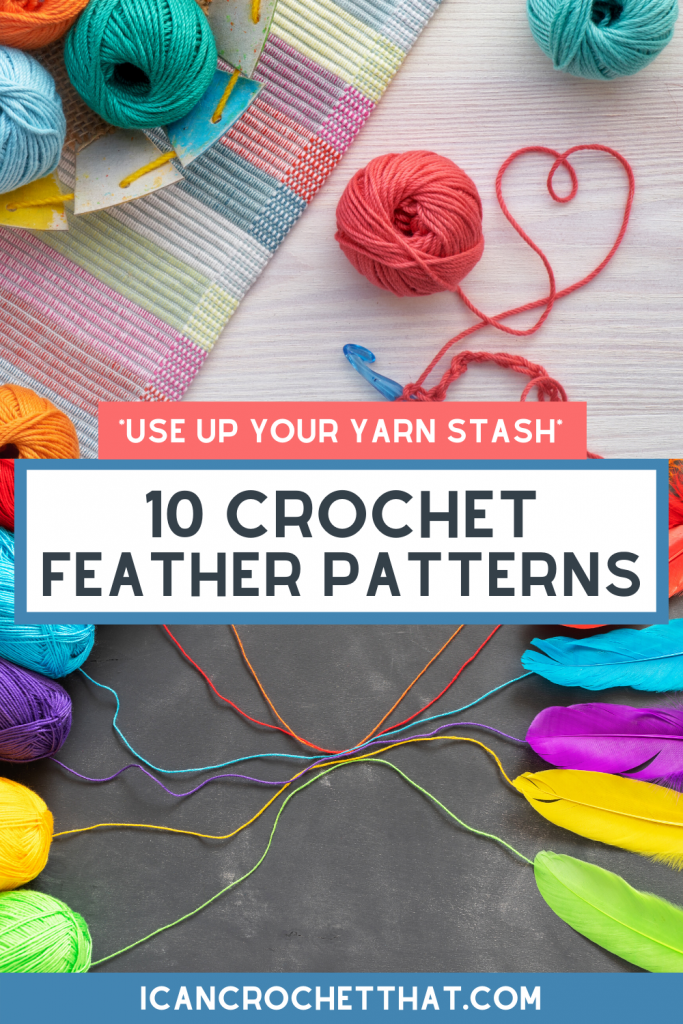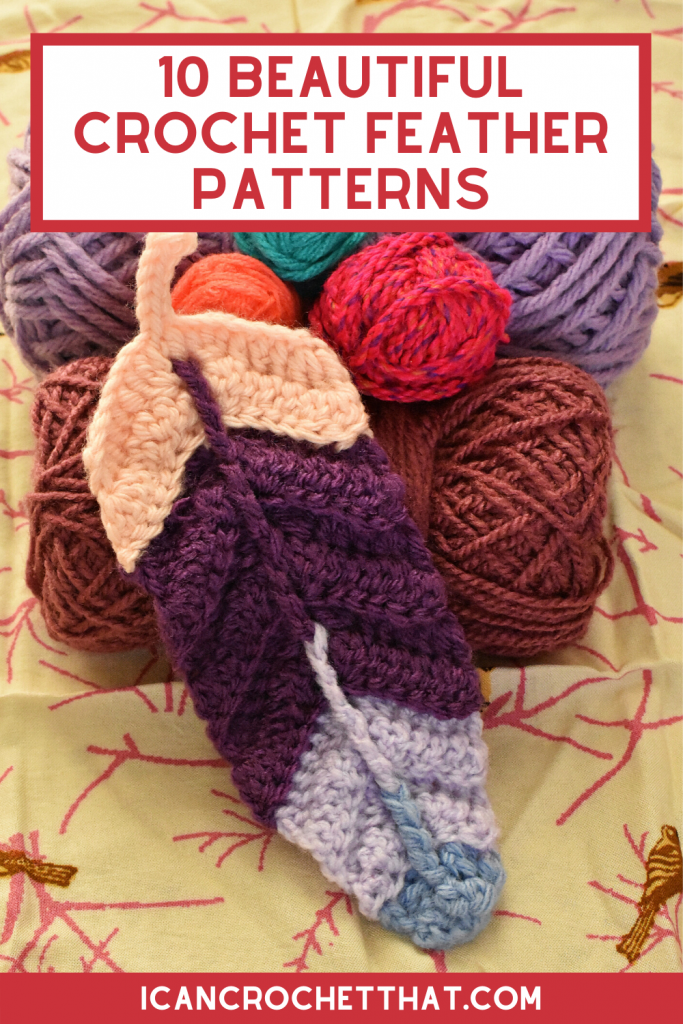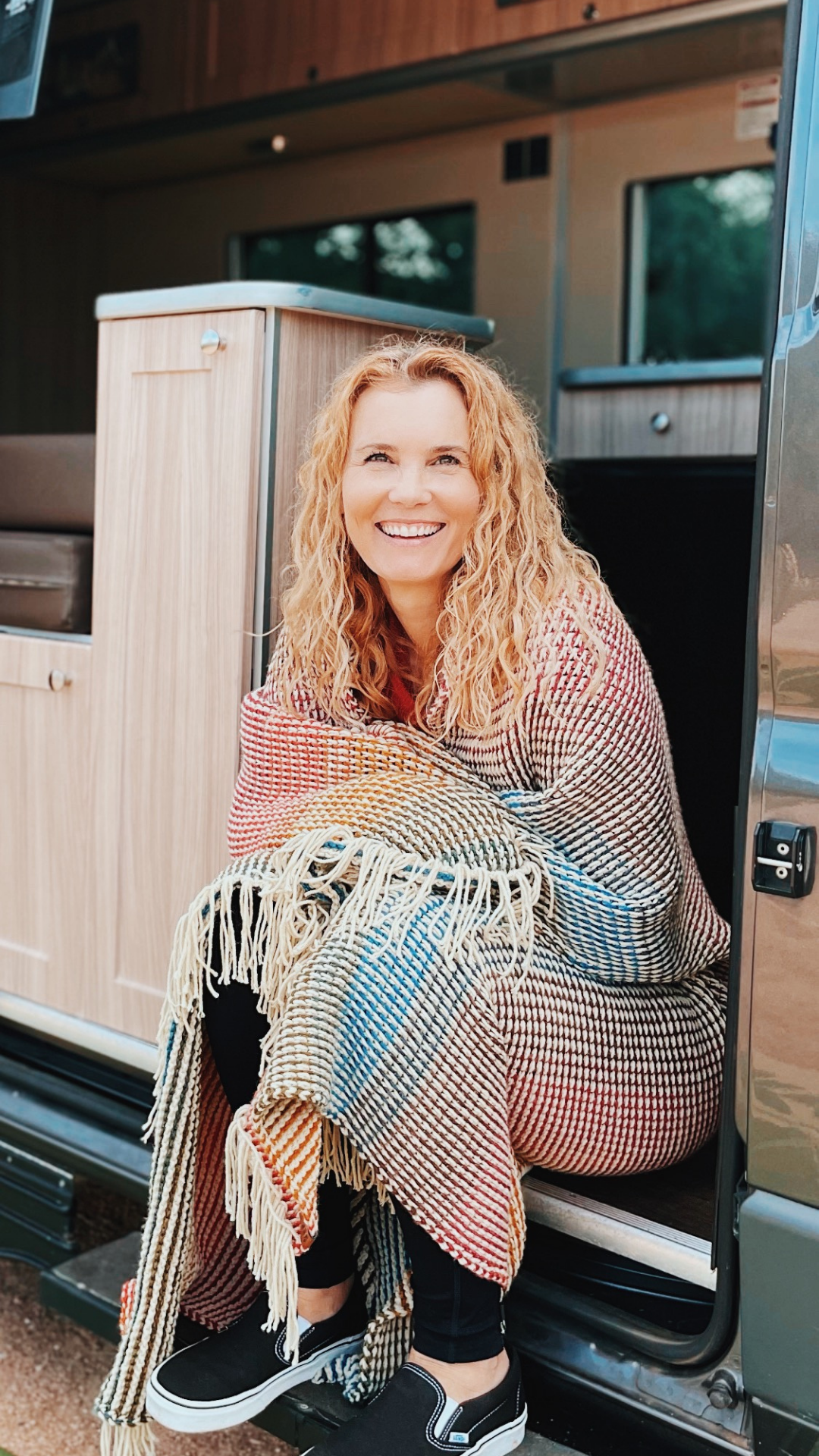 Hi! I'm Julie. I design modern crochet patterns and tutorials to help you learn to crochet. I've been crocheting for over two decades and with the gentle nudging of my husband, decided to turn this passion into a career. Although we travel a lot in our campervan, you'll never find me without a bag of yarn and projects.