Are you craving a cozy, stylish fall crochet capsule wardrobe for the chilly fall weather? With just a few basic crochet items, you can create a chic, sustainable, and versatile wardrobe that will keep you looking your best all season.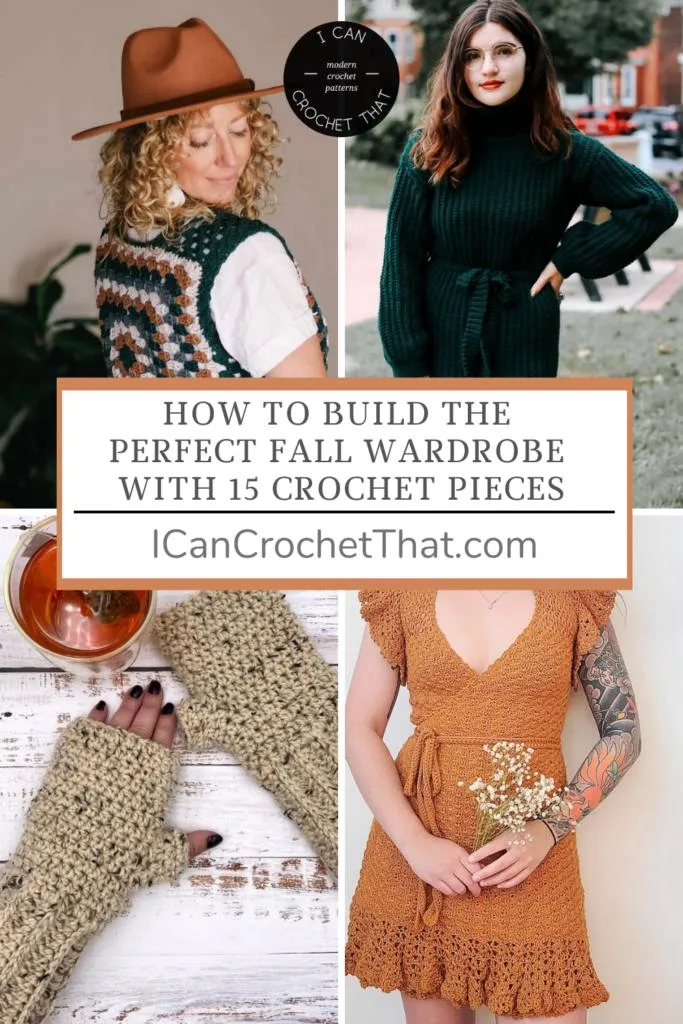 In this article, we'll explore the essentials for a fashionable crochet capsule wardrobe that will keep you looking fashionable and comfortable as the temperatures drop.
We'll highlight the key items for each layer, including tops, sweaters, and accessories, and share helpful tips for pairing them in chic, easy-to-wear outfits.
Plus, we'll share some of the latest, most inspiring fall crochet patterns and tips for crocheting extra warmth into your seasonal wardrobe.
So, whether you're a beginner or an experienced crocheter, get ready to enjoy the essential comfort and style of a fall crochet capsule wardrobe!
Create an Effortless Fall Capsule Wardrobe with 15 Crochet Pieces!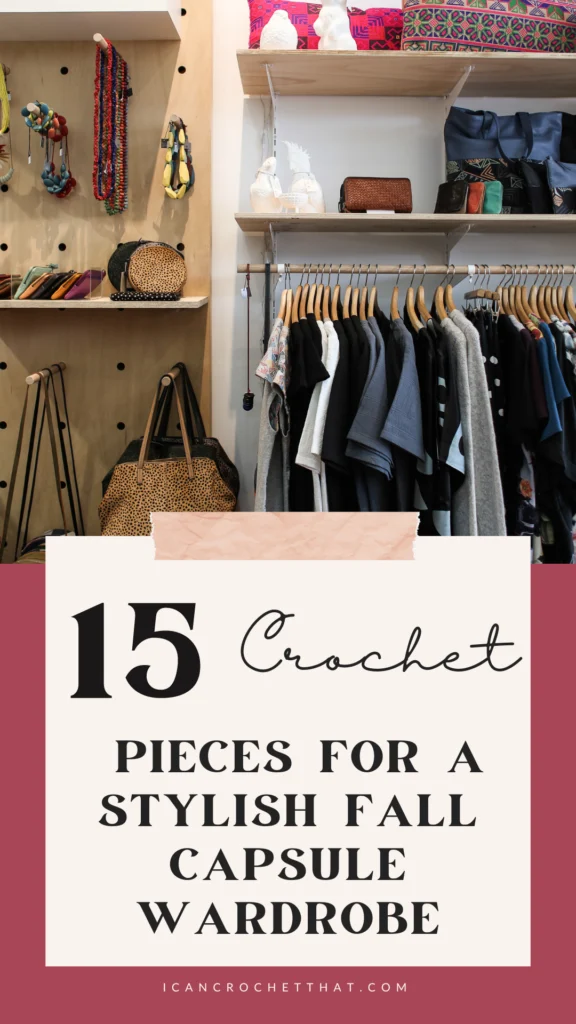 Whether it feels like it or not, fall is fully on the way. We are a mere few weeks away from the autumnal equinox, and that means pumpkins, hay rides, cozy movie nights, bonfires, and, if you're like me, staying indoors in my sweatpants with a book and my crochet hook (I assume y'all can relate.)
So, with fall approaching, it's time to take a good, hard look at your closet and make sure you have the right clothing for the upcoming season.
But what if I told you you can create your perfect fall wardrobe with your two hands?
These crochet patterns are basic pieces that you can pair with things already in your closet and base your wardrobe around, otherwise known as a capsule wardrobe.
Easily plan fall outfits and show off your crochet skills with these fifteen crochet patterns for the fall season!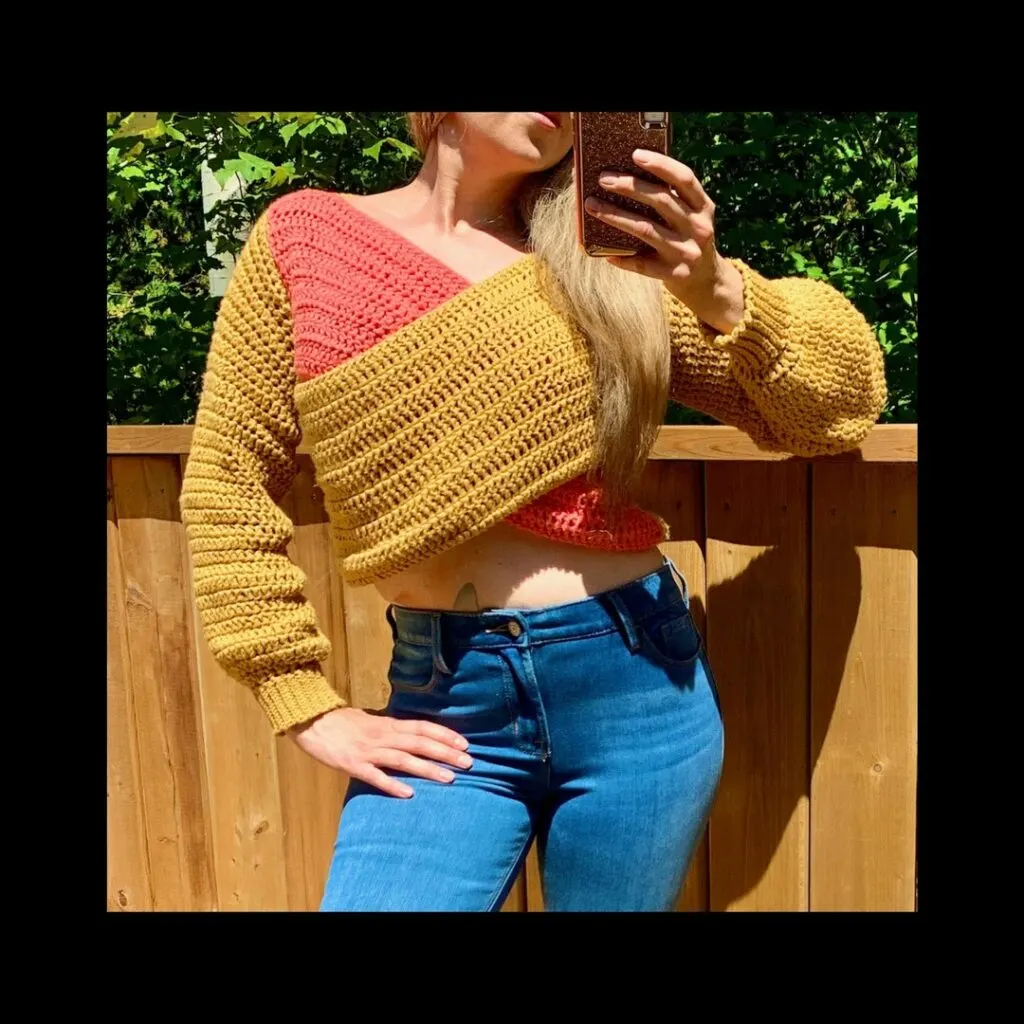 Fall Crochet Capsule Wardrobe
Tired of shopping for yet another fall wardrobe? This year, why not create your own with crocheting?
Stylish, comfortable, and sustainable, a fall crochet capsule wardrobe can help you stay warm without sacrificing your personal style.
With just a few key pieces, you can create an endlessly versatile wardrobe that will last you for years. With some know-how, the perfect wardrobe can be yours in no time.
In this article, you'll learn how to create your own fall crochet capsule with simple tools and techniques you can use today.
From chunky sweaters to sophisticated accessories, discover how easy it is to make your own cozy and chic wardrobe.
Photo Credit: www.etsy.com
What I love about this sweater, besides the gorgeous colors, is the unique twist pattern.
It's two panels of different colors that cross to form the front of the sweater. It's modern and unique, yet simple.
It's also a little bit cropped and easily adjustable for every size. The pattern is available on Etsy for purchase.
Photo Credit: www.etsy.com
I am 100% team Large Cardigan, and this pumpkin-colored, chunky sweater is an absolute dream.
It goes all the way to the floor, has beautiful triangle panels that go in all directions on the body of the cardigan, and has longer sleeves to keep it extra cozy.
The pattern also uses beginner-friendly stitches. The pattern is available for purchase on Etsy.
Photo Credit: www.sewrella.com
I don't know about y'all, but cable patterns are the first things I think of when I picture fall.
It's associated with anything and everything fall and cozy in my brain, and everyone needs at least one cabled item in their closet.
This cabled sweater from Sewrella is a great option. It perfectly recreates a cable knit style but in crochet form!
Make this one of your fall projects this year, and you'll have a picture-perfect cabled sweater for all your fall adventures.
The pattern is available on Sewrella's website for free.
Photo Credit: www.etsy.com
The sweater dress is personally one of my favorite trends. It takes the comfyness of a sweater and the girliness of a dress and combines them for a functional, stylish piece.
The emerald green color of this dress is picture-perfect for fall, but feel free to make it in whatever color feels most like fall to you.
The pattern is available for purchase on Etsy.
Photo Credit: www.etsy.com
The texture of this boxy crochet tee screams fall to me. The stitching is so unique and gorgeous, and it reminds me of a hay ride on an autumn evening.
This shirt can be worn with anything from jeans and a cardigan to a maxi skirt and boots.
It's versatile and perfect for any season, especially in the fall.
The pattern is available for purchase on Etsy.
Photo Credit: www.youtube.com
For me, fall is mostly about staying indoors and reading or crocheting (obviously), so I had to include something for staying cozy indoors.
These cable-stitch sweatpants fit the bill. These are perfect for lounging around the house on a chilly day or running some errands.
Pair with your favorite slippers and sweater, and have a perfect homebody outfit.
The pattern is available for free on YouTube.
Photo Credit: www.crochetwithcarrie.com
This beautiful striped sweater will definitely turn some heads.
The easy striped design packs a punch with the mustard yellow and cream stripes alternating to make a beautiful pattern.
This is an easy sweater that anyone from newbie crocheters to senior crocheters can do. It's just two identical front and pack panels with sleeves; easy as pie! (pumpkin, of course).
The pattern is available for free on Crochet With Carrie's website.
Photo Credit: www.etsy.com
I know dresses are usually for warmer seasons, but they can easily be incorporated into colder-weather outfits through the power of layering!
This dress is gorgeous and can be a staple piece for your fall wardrobe. Layer with a sweater and some black leggings; you've got a great fall outfit.
The stitch design and fluttery details make it girly and fun, but you can easily change the vibe with some darker accessories (hello, combat boots.)
You can find the pattern for purchase on Etsy.
Photo Credit: makeanddocrew.com
Add some vintage-ness to your fall wardrobe with this granny square vest!
The emerald green, mustard yellow, and cream alternating rows create a perfect fall vibe with some charm added.
It's a classic granny square with some additions to make it vest-shaped, and this project requires minimal seaming: just the sides and shoulders! Easy peasy.
Find the pattern for free on Make and Do Crew's website.
Photo Credit: www.etsy.com
These crochet pants are so on trend this year and an excellent basic to include in your fall capsule wardrobe.
Wear with anything from a button-down to a cozy, comfy sweater to a t-shirt, and adjust the type of yarn to fit what you'd like the pants to feel like.
The pattern is available for purchase on Etsy.
Photo Credit: joyofmotioncrochet.com
A shawl is one of the must-haves for the cooler months. Sometimes it isn't cold enough for a jacket, and you need a little something extra to keep you warm.
Enter the shawl.
It's easy to carry around, matches everything, only take a few hours to make, and can be wrapped around your neck if you need a scarf instead.
It's the quintessential fall accessory. Find the pattern on Joy of Motion Crochet's website.
Photo Credit: www.etsy.com
If pumpkin is your thing, may I recommend this tapestry-style pumpkin tote bag?
It's the same pumpkin stitch pattern repeated several times on the body of the bag and the handles.
The result is a nice thick tote bag that fits all of your fall and winter essentials. The pattern is available on Etsy for purchase.
Photo Credit: www.throughtheloopyc.com
Fingerless gloves are such a great fall accessory.
They give your hands some warmth without making them too hot, and the finger openings mean you don't have to take off the gloves to do things like text.
These gloves have gorgeous ribbing and are made with tweed yarn for extra warmth. The pattern is available for free on Through the Loop's website.
Photo Credit: www.lionbrand.com
Crochet beanies are so easy and fun, and this one from Lion Brand is the perfect pumpkin spice color for fall.
It only uses one skein and is made of alternating double and single crochet.
It's a perfect first project for a beginner and an easy fall project you can make multiples of if you're making gifts this upcoming holiday season.
The pattern is available for free on Lion Brand for free.
Photo Credit: www.etsy.com
I wear headbands and scarves quite literally every day, but in the fall and winter, I need something with another layer to protect against the cold.
This twisted headband is a beautiful mustard yellow color with a beautiful stitch pattern and a faux knot in the middle. This will be on my head at all times this fall.
The pattern is available for purchase on Etsy.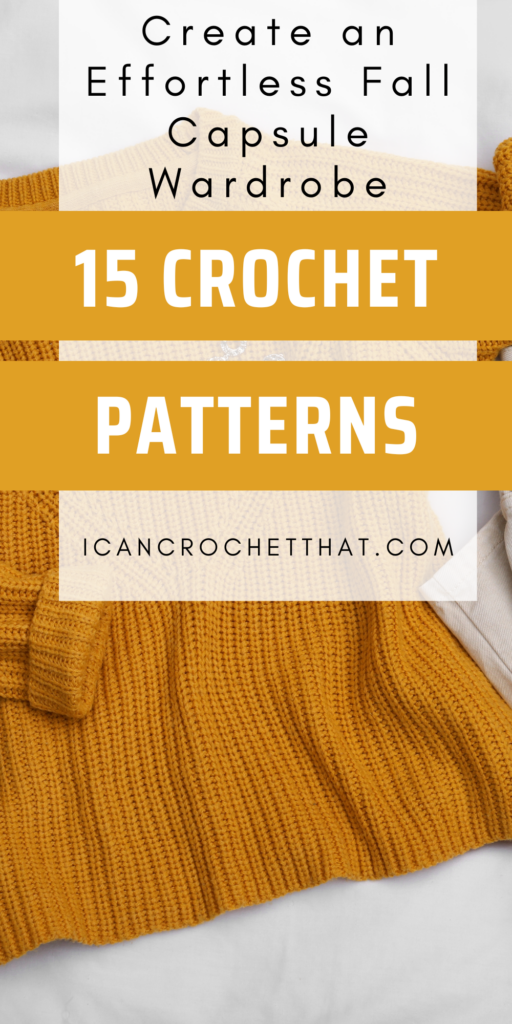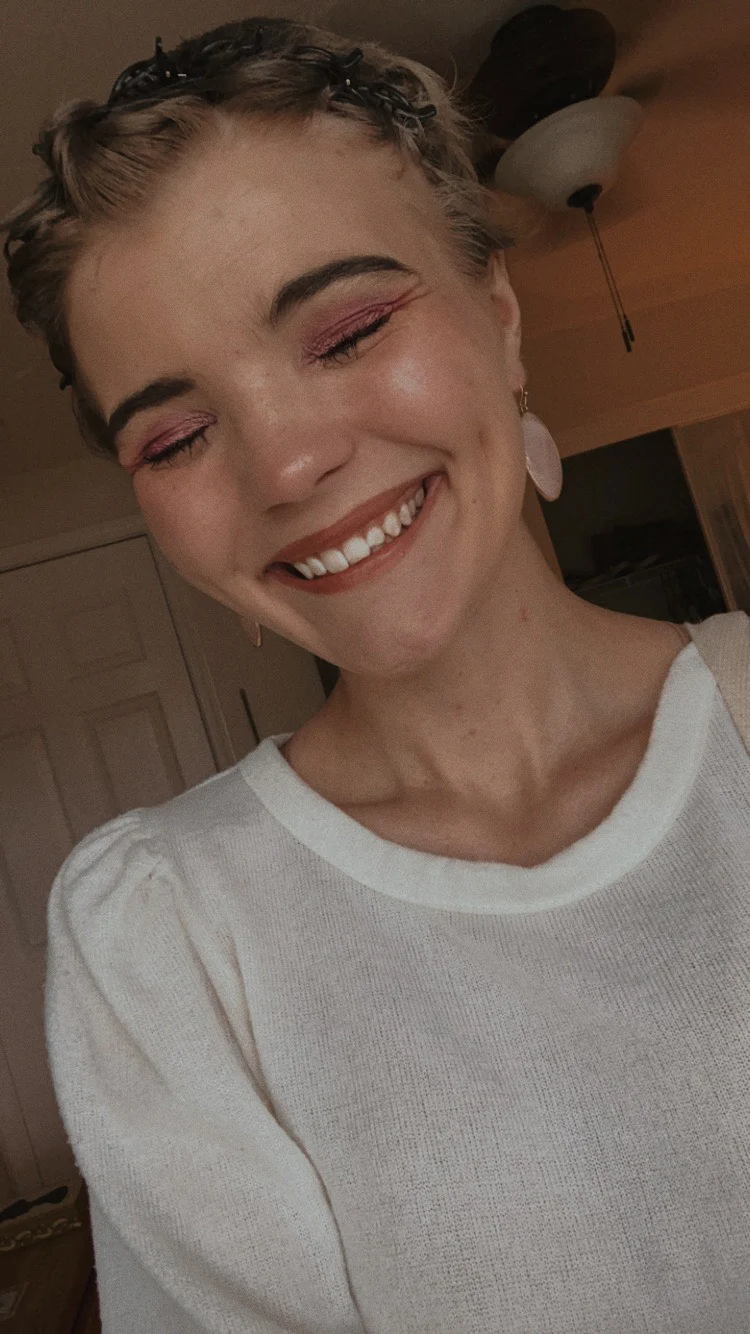 Hannah is the eldest of the Bonner family's three kiddos. She graduated from the University of North Texas with her Bachelors in Elementary Education. She enjoys reading, yoga, movies & TV, and (obviously) crocheting. She is excited about furthering her writing career & spending her days surrounded by yarn. All the yarn.