If you're on the hunt for some adorable and absolutely gorgeous free crochet baby blanket patterns to make, look no further. We've rounded up 27 of them we think you'll love!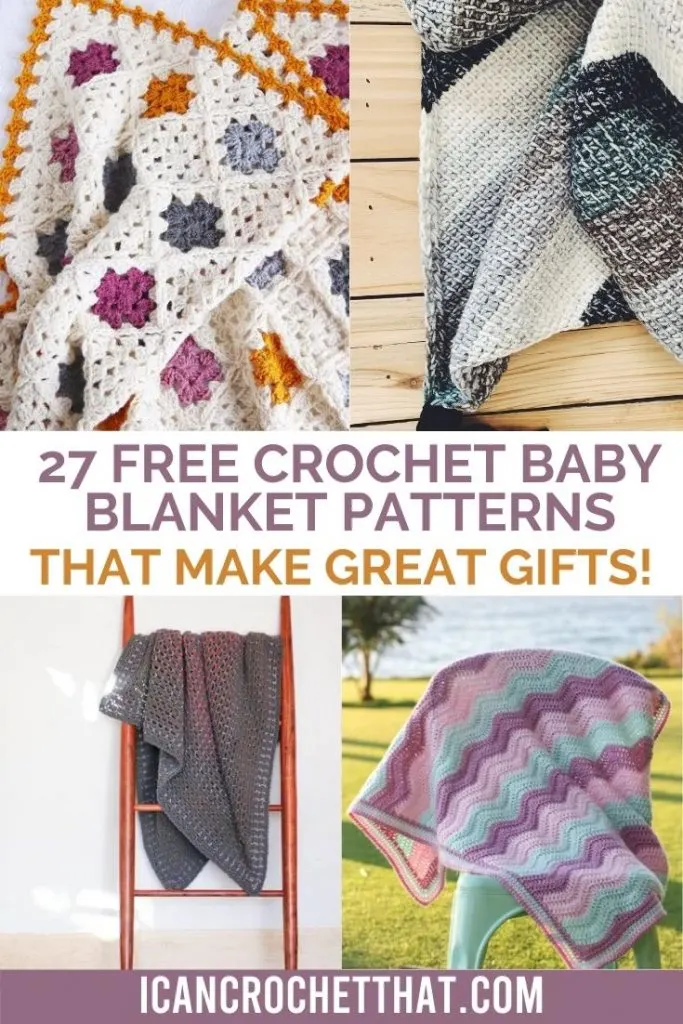 Back when all of my friends were having babies, which was, ahem, quite a while ago, I was cranking out crochet baby blankets like crazy. They were the perfect gift for a new baby.
My favorite one to make and the one a lot of my friends have are this ABC bobble blanket. It is so much fun to make and was one of those patterns I never tired of.
Fast forward a few years and it's been a while since I've made a baby blanket. In fact, my kids' friends are now getting married and having babies, and let me tell you, that's weird!
Crochet baby blanket patterns have come a long way since I was making them. The designs are creative, detailed and downright amazing.
But don't worry, I've rounded up a mix of easy crochet baby blanket patterns for beginners and experienced crocheters. Plus blankets of all kinds of different colors.
You will love making these and giving them away as baby shower gifts! Whether you're making a gift for a baby boy or baby girl in modern colors or more classic, you'll find the perfect blanket to make.
27 Crochet Baby Blanket Patterns (Free)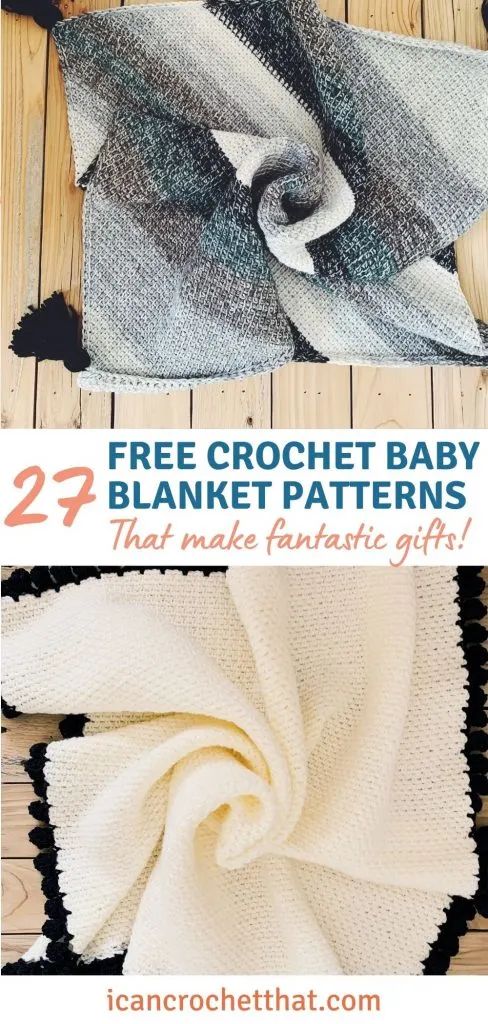 1. Crochet Fruity Stripes Baby Blanket
This free pattern is made with a yarn called Soft Peach and uses the berry stitch, which gives is fantastic texture.
Finish it off with a border and you have a gift you'll be proud to give.
2. June's Baby Blanket – Crochet Star Baby Blanket
The Star Baby Blanket pattern is lightweight and made using beautiful soft pastel colors. It starts by using a magic circle and then comes together using the familiar double crochet stitch.
The end result measures 34 inches in diameter and creates a unique blanket that will look amazing in a nursery.
3. Tunisian Crochet Baby Blanket Pattern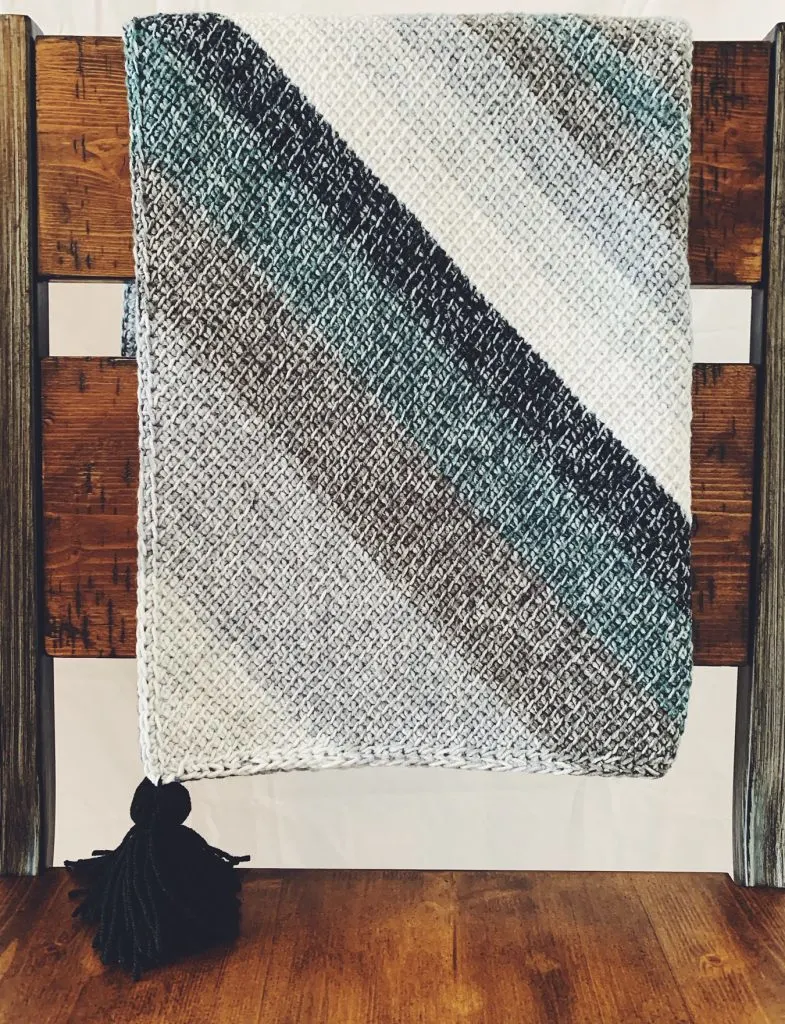 If you love Tunisian crochet as much as I do, then this I Can Crochet That Tunisian baby blanket pattern is for you.
It involves the Tunisian simple stitch + easy increase and decrease rows.
It's very beginner-friendly and the self-striping yarn does the work for you.
Add some tassels to the corners if you desire and you have a gorgeous baby blanket to give as a gift.
4. Sarah Baby Blanket Free Crochet Pattern
This vintage style baby blanket uses easy crochet stitches and is perfect for a beginner. All you need is one color of worsted weight (#4) yarn and knowledge of the double crochet stitch and you're good to go.
5. Easy Crochet Baby Blanket Pattern Grey With Stars
Using the main color gray with pink accent stars makes this baby blanket really stand out. This pattern is whipped up by single crochets and the stars are made separately. All you have to do is attach them when you're done.
6. Ruffle Baby Blanket – Free Crochet Pattern
How gorgeous is this blanket? The colored ruffles make this pattern pop. I can just imaging how stunning this would look in a baby's room.
To make the ruffles, all you need to know how to do is how to work in the back loop of stitches. This leaves the front loop exposed and is where you join your yarn to make the ruffle.
7. Chunky Rainbow Ripple Baby Blanket
The gorgeous texture on this blanket is created by stitching in the back loops only. It uses 323 yards of each color and 2 strands of yarn held together at the same time.
You need to be familiar with double crochet and double crochet 2 together to create this beauty.
8. Modern Herringbone Baby Blanket
Don't let this design intimidate you! There's a YouTube tutorial to watch plus easy to follow instructions and a graph. The blanket is worked in squares on the diagonal in double crochet C2C (corner-to-corner).
9. Crochet Nautical Baby Blanket
Using the color combination of navy and white, plus the look of waves gives this blanket the perfect nautical feel. This baby blanket is whipped up using the interlocking shell stitch. The final dimensions are 29 x 32in.
10. Tributary Baby Blankie
This baby blanket patterns works up very quickly and can easily be made in a day or two.
It uses luxuriously textured Lion Brand Baby Soft Boucle yarn and your favorite shade of Mandala or Mandala Baby yarn.
This pattern is available for free, but you can also purchase it as a kit on Lion Brand. It includes a printable PDF pattern and the supplies needed to make the blanket.
11. Crochet Rainbow Baby Blanket
Between the beautiful rainbow colors and the texture of this baby blanket, there's a lot to love here! It's whipped up using the mixed cluster stitch, but don't worry! There are detailed step-by-step instructions to walk you through.
12. Get Some Zzz's Crochet Baby Blanket
This is one of the most unique and creative crochet baby blanket designs I've seen yet. And what new parent doesn't want a gentle reminder for their baby to get some sleep? 😉
This blanket uses 1 skein of the Hometown USA in New York White, and 7 skeins of Dallas Grey.
13. Twinkling Stars Blanket
This blanket is so pretty! Between the blue and pink, plus the stars and bobble border, there is definitely a lot to love here. Plus, it looks like so much fun to work on.
For this pattern, you'll need 1 skein of the blue and white color and 2 skeins of the pink as it is used for the border as well. Each skein is 315 yards or 170g.
14. Crochet Sunrise Baby Blanket
This pattern is fast, easy and the end result is beautiful! By using a self-striping yarn, the color changes are done for you. So if you dislike weaving in loose ends, this pattern is for you.
15. Crochet Colorful Polka Dots Baby Blanket
There is so much to love about this pattern! You can't go wrong with polka dots.
I love the colorful polka dots contrasted with the gray color.
This pattern includes a video to walk you through how you'll carry your yarn throughout in order to make the polka dots. She recommends that if you don't like the colors showing through to possibly use lighter colors.
The finished size of this blanket is 28 x 31 inches.
16. Crochet Easy Waffle Baby Blanket
Oh, how I love the waffle stitch. This stitch is definitely one to learn because you can use it for things like these dishcloths, or this blanket, or a baby blanket like the one pictured above.
The waffle stitch is so therapeutic and you can't beat the texture.
17. Crochet Baby Blanket Pattern Chevron
Not only is the chevron design beautiful, but it works up quickly. It uses a simple stitch repeat consisting of only single crochets.
Plus, the pattern calls for Lion Brand's Feels Like Butta yarn which is so enjoyable to work with. The end result is a super soft, luxurious baby blanket.
18. Linen Stitch Blanket with Bobble Border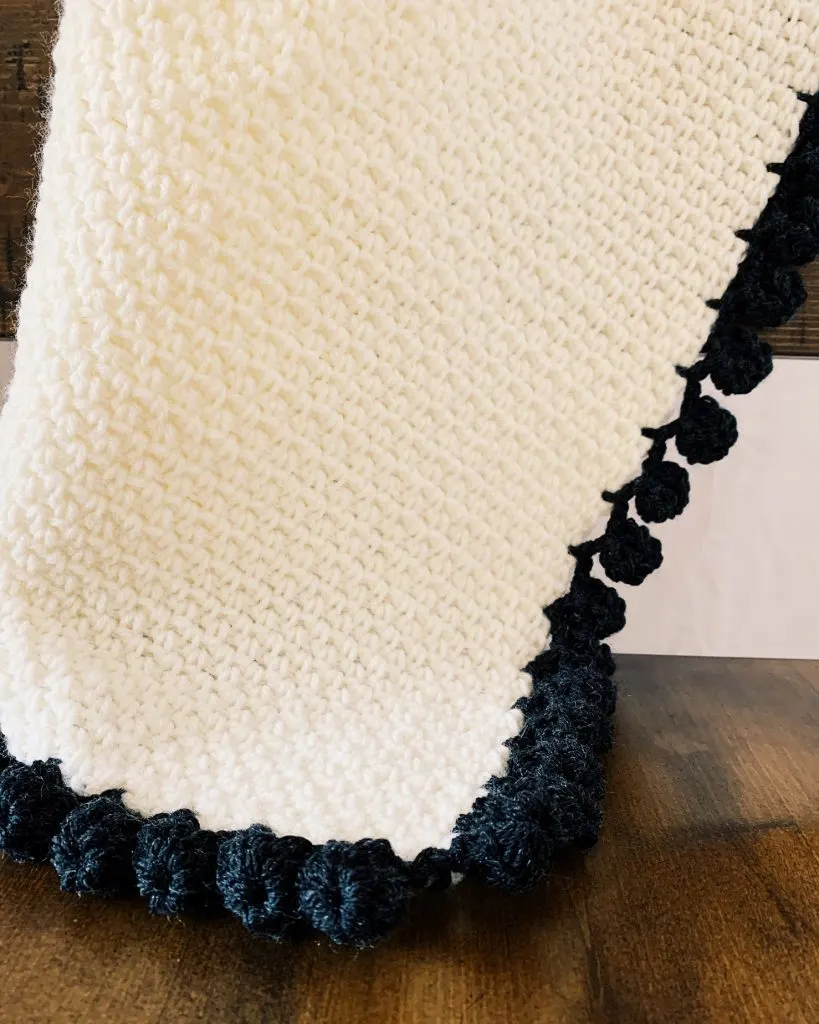 This was one of the first baby blankets I designed for I Can Crochet That and I still love it to this day.
I've also had a few people make it and tell me they loved giving it as a gift to a new mom. That always makes me happy. 🙂
It's a very easy repeat row blanket to whip up once you get the hang of the linen stitch and the bobble border is so much fun to crochet. It's become one of my favorite blanket borders.
19. Sweet Granny Baby Blanket
If you like the classic style of crocheted granny squares, this blanket is for you. The designer put a modern twist on it and the colors are just perfect.
This is a free crochet baby blanket pattern, but you can also purchase the kit from Lion Brand here. It includes a printable PDF of the pattern and the supplies you need to whip it up.
20. Crochet Chevron Baby Blanket Pattern
This blanket is very quick to work up and is considered for an intermediate level pattern. It uses a simple stitch repeat of single crochets.
And since it's made with Lion Brand's Feels Like Butta yarn, it's incredibly soft, making it perfect for a baby blanket.
This is a free baby blanket pattern, but you can also purchase the ad-free printable and supplies needed when you buy the crochet kit on LionBrand.com.
21. Jungle Beat Baby Blanket
This blanket is full of color and personality!
It's made using the intarsia crochet technique but the designer walks you through the steps.
If you're not familiar with this technique or it's just not your favorite, you can also choose to cut the yarn. You'll just end up with a lot of ends to weave in.
21. Modern Heirloom Crochet Baby Blanket
If you love the look of old-fashioned heirloom blankets from the past, this modern take might be right up your alley.
It's considered an easy skill level and uses Lion Brand Comfy Cotton Blend yarn, a favorite of mine.
22. Serene Tides Baby Blanket
This Hawaii crochet designer designed this blanket based off the tides of the ocean at sunset.
It's made using the classic ripple stitch, which I personally love!
She uses Lion Brand Basic Stitch antipilling yarn and a beautiful color combination of lilac, pink and green.
The pattern is available on her site for free, but you can also purchase it as a kit on LionBrand.com here.
23. Crochet Boxed Block Stitch Blanket Pattern
There is so much to love about this crochet baby blanket pattern!
By using self-striping yarn and the boxed block stitch, you get a very unique blanket.
The blanket is made with simple double crochet and chain stitches and is considered an easy skill level.
You can snag the pattern for free via the button below, or also purchase it as a kit here.
24. Crochet Petal Stitch Baby Blanket
Here's a classic crochet stitch – the petal stitch – that can easily be given a modern upgrade with your color choices.
The gray, white and peach together are just beautiful!
The pattern comes with a video tutorial to walk you through this stitch.
25. Crocheted Super Easy Baby Blanket
I sometimes make designing crochet patterns really difficult on myself. I'm always wanting to challenge my skills and also create something that's unique.
But sometimes all you need is a killer color combination and easy stitch repeats to come up with a beautiful pattern fellow makers will enjoy whipping up.
This crochet baby blanket pattern is a very simple one row repeat of single crochets. It couldn't get easier!
But the colors they chose are something you might not have considered.
26. Crochet Kaleidoscope Baby Blanket
Do you love quilts? Or quilting?
This pattern was designed after a quilting pattern and it turned out beautiful!
The designer walks you through the steps on making the half square triangle grannies here and then shares how to piece them all together on the blanket pattern.
27. Little Roses Baby Blanket
Have you ever heard of the little roses stitch? I sure haven't but now know it's one I have to try!
This blanket is a single row repeat making it super easy to make. The yarn colors she chose work so well together and add that modern touch to your nursery.
28. Crochet Four Points Baby Blanket
This crochet blanket is made by joining four different colored crochet triangles together. The end result is a stunning and clever blanket!
You'll need to know how to do single crochet and single crochet decrease.
The pattern gives several different color variations to try. I think my favorite is the one with tumeric yellow.
Which baby blanket will you make first?
To save this post to refer back to later, just pin one of the images below.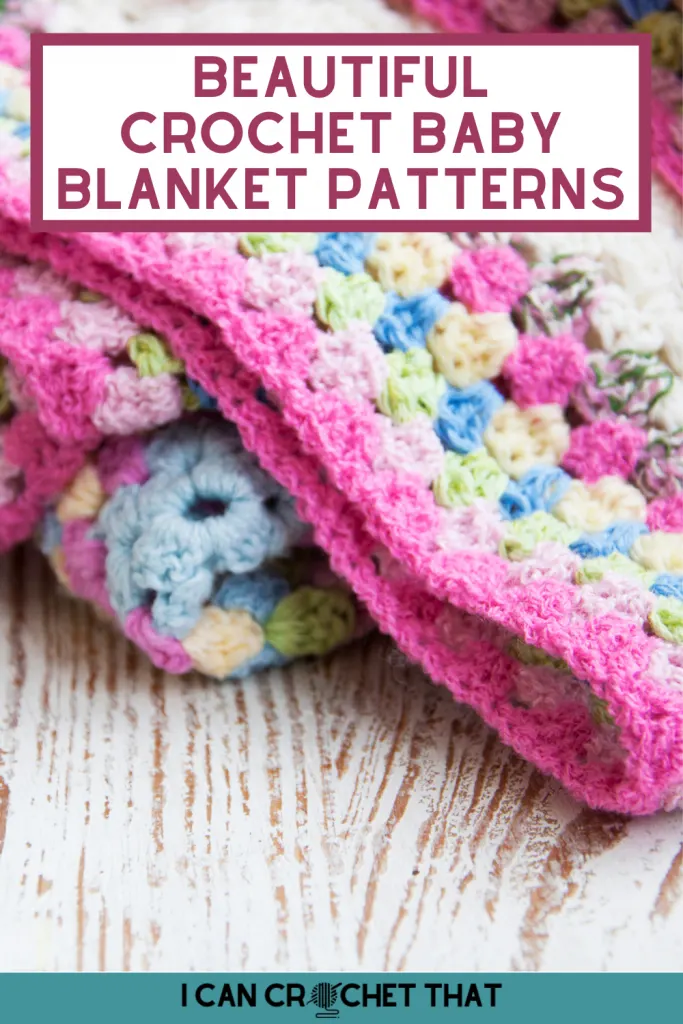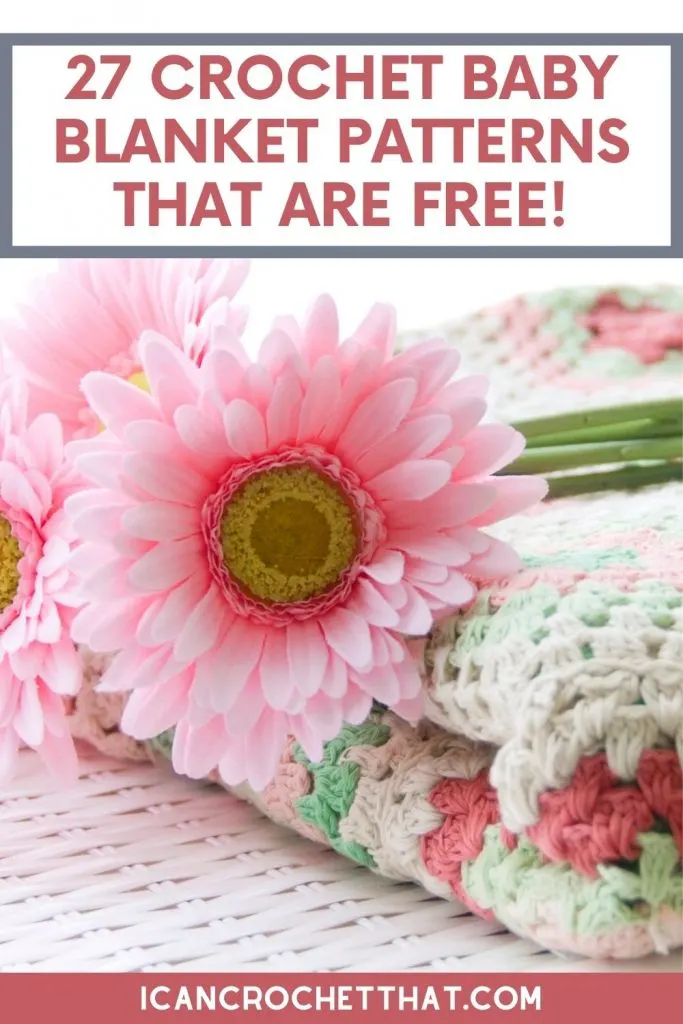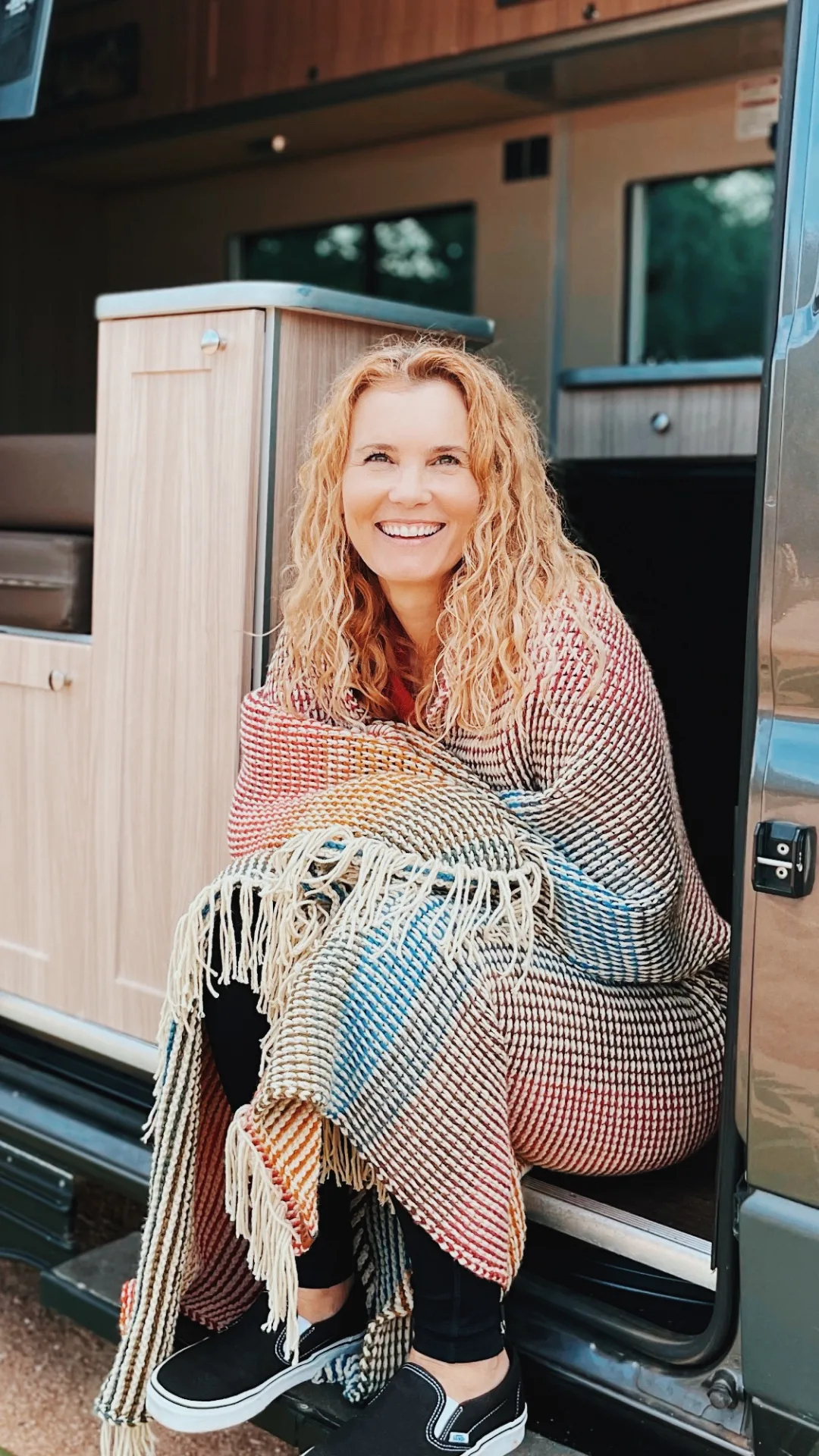 Hi! I'm Julie. I design modern crochet patterns and tutorials to help you learn to crochet. I've been crocheting for over two decades and with the gentle nudging of my husband, decided to turn this passion into a career. Although we travel a lot in our campervan, you'll never find me without a bag of yarn and projects.