Whether you're looking for last-minute crochet gift ideas or something that takes a bit more time and effort, we've got just the crochet pattern for you.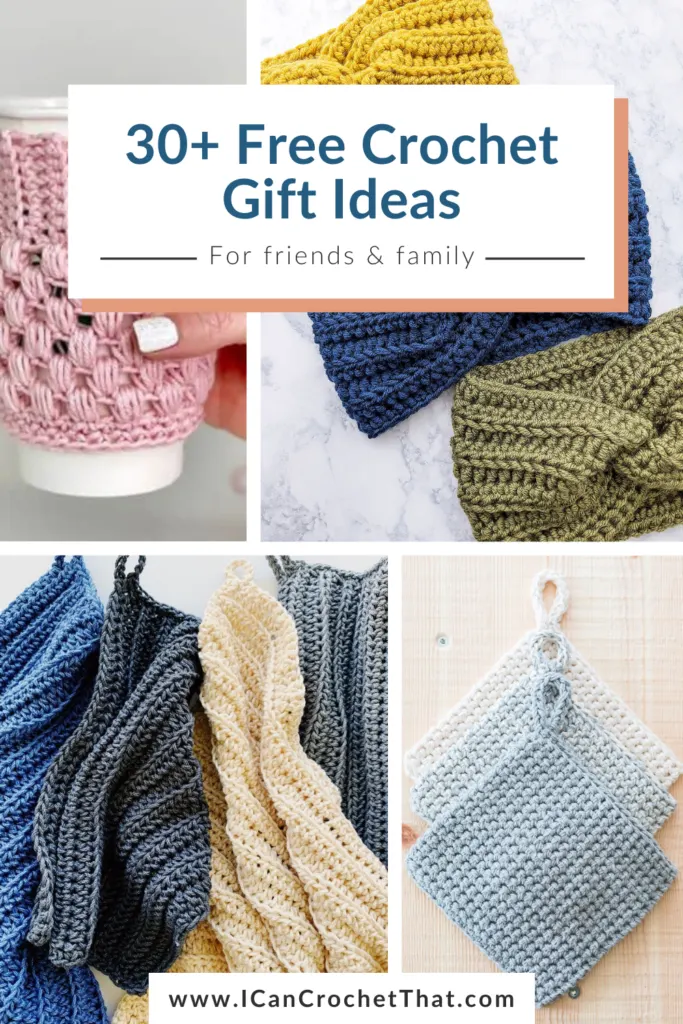 Last year I went a little crazy leading up to the holidays and crocheted tons of gifts for my friends and family. What did I make?
I made this sweater, this cardigan, this Tunisian crochet blanket (the rope fringe was a big hit) as well as this crochet camping blanket. I started pretty early and had a list of who I was making what for.
Crochet blankets are my favorite crochet gift to give because you don't have to worry about if it fits! Giving crochet sweaters, cardigans and other apparel get a bit tricky.
But, that doesn't mean you shouldn't make those for the people you love! It just means you might need to ask for some measurements from them like the torso and arm length.
What Should I Crochet as a Gift?
When you're trying to choose what to crochet as a gift, there are many things to consider.
How much time do you have to work on it?
What does the person you're crocheting for like? (Jewelry, home decor, cooking, reading etc).
What's your skill level when it comes to crocheting?
Last year I made a lot of blankets, sweaters, and cardigans because I had the time. This year? Not so much. So I'll be looking for smaller and quicker items to whip up.
Here are a few of the most popular crochet gift items:
Kitchen towels
Washcloths
Pot holders
Blankets
Totes
Cardigans
Headbands
Beanies
Baskets
Face scrubbies
Bookmark
If I'm crocheting small items like a washcloth or pot holder, I love to add some other items to the gift.
For example, if you've made a pot holder, gift it with a cookbook or any kitchen items you know they would love.
If you've whipped up some washcloths, gift it with bath salts, a loofah, and face masks.
There are some super cute and fun gift ideas you can include a crochet item with and I guarantee you, the person receiving the crochet gift will love it.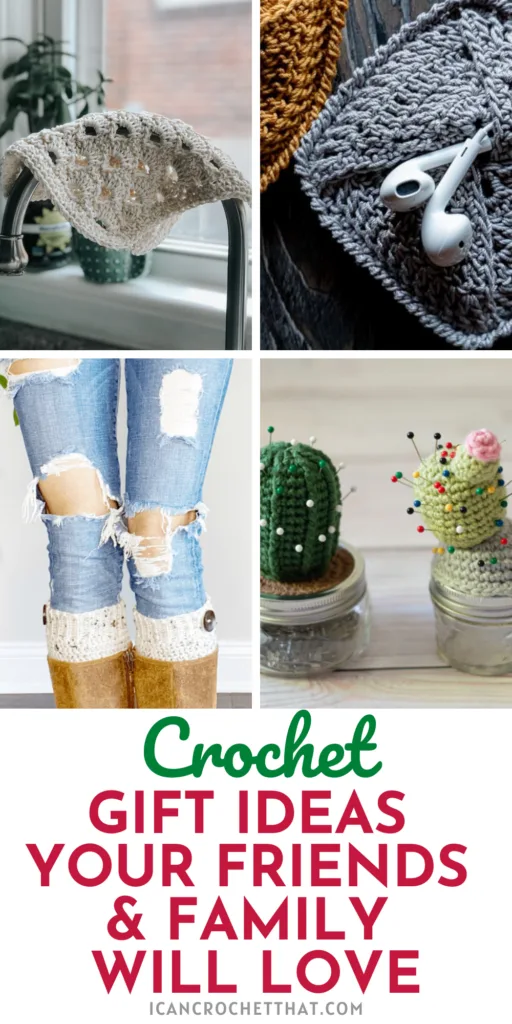 Crochet Gift Ideas for Friends
What Can I Crochet for a Friend?
I love giving my friends crochet gifts. I love even more visiting their homes and seeing what I've given them being put to good use.
You know your friend best, so choosing something to crochet for them should be easy peasy.
Does your friend like camping? Whip them up a crochet camping blanket.
Is your friend an organizing freak? If so, this basket would be perfect.
Is your friend a fashion guru? She just might love receiving this boho-inspired handbag.
Does your friend do everything she/he can to protect mother earth? If so, this market tote is perfect.
Here are my favorite items to crochet for friends as gifts:
Small Crochet Gifts to Make Last Minute
If you're really tight on time, crocheting something small is the perfect last-minute gift.
We've included quite a few small crochet gifts in our roundup below such as bookmarks, headbands, ear warmer, coffee cozies, and coasters.
Find a pattern you like, grab your yarn and hook, and sit down in front of your favorite holiday movie to whip up any one of these small crochet gifts.
30 Free Crochet Gift Ideas
Alright, are you ready for our list of free crochet gift ideas?
We feel like we found some incredible gems you are going to love making and the people in your life are going to love receiving.
Enjoy!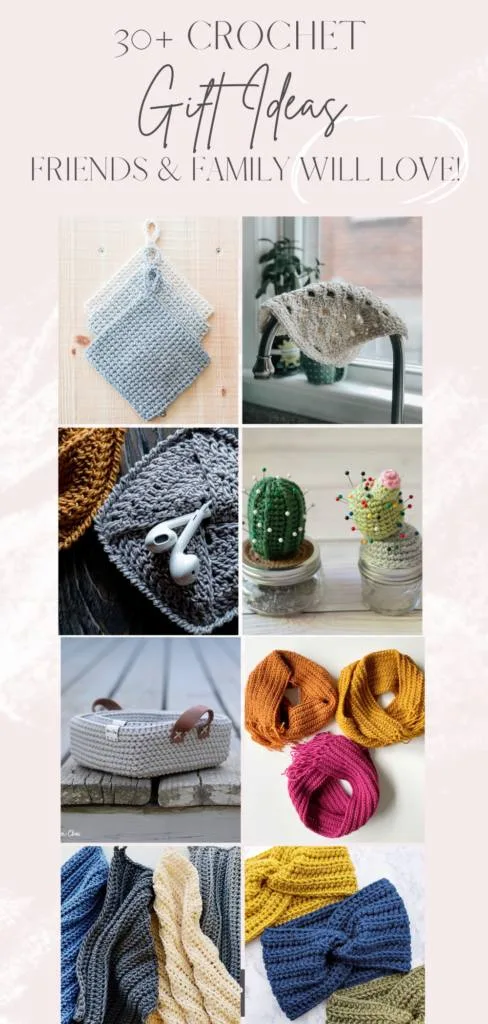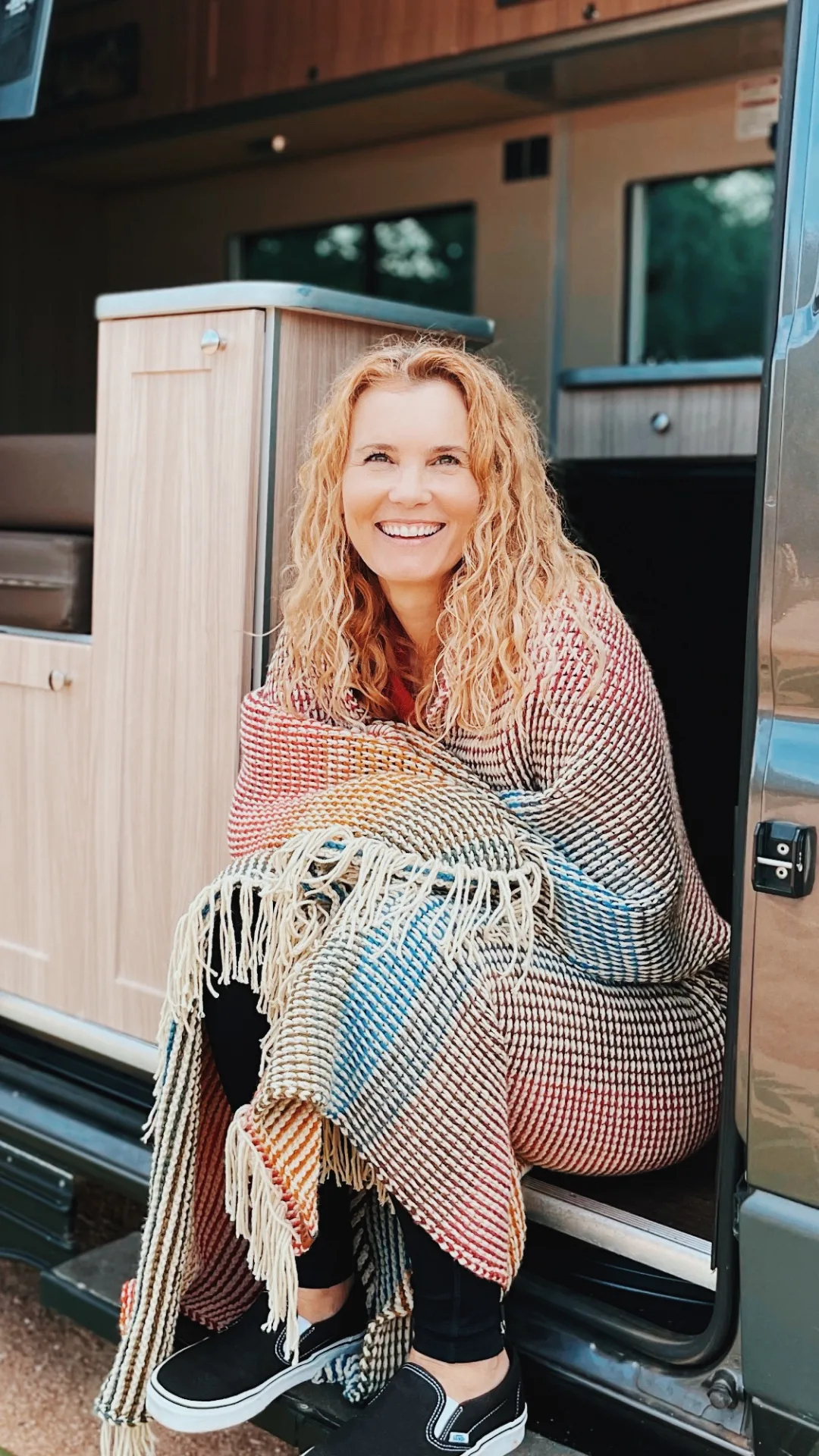 Hi! I'm Julie. I design modern crochet patterns and tutorials to help you learn to crochet. I've been crocheting for over two decades and with the gentle nudging of my husband, decided to turn this passion into a career. Although we travel a lot in our campervan, you'll never find me without a bag of yarn and projects.