Get ready to whip up some stunning apparel and home decor items with inspiration from these gorgeous Mandala yarn crochet patterns.
Ever since I designed the Autumn Ombre scarf using Lion Brand Mandala yarn, I've been obsessed with it. In fact, I'm currently working on a camping blanket pattern with this yarn I can't wait to release.
Here's a sneak peek at the blanket.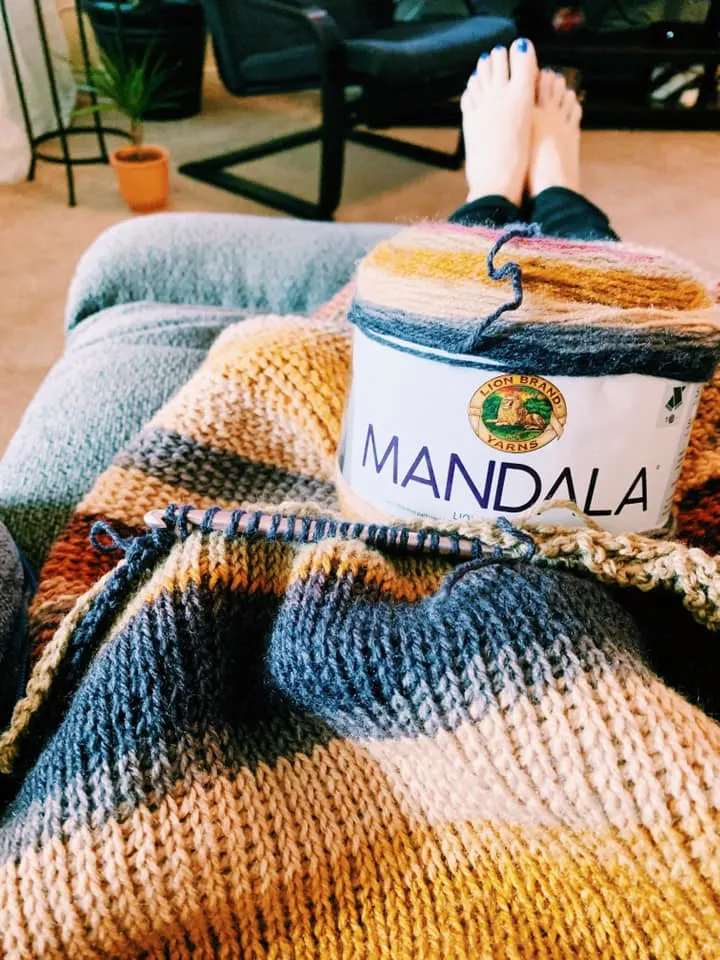 The colors make me beyond happy as does the Tunisian crochet knit stitch pictured above.
I had quite a few people ask me about the other colors available and what else could be made with it. You can check out and purchase more of Lion Brand's Mandala Yarn colors on Amazon here.
As far as what else you can make, get ready to have a hard time narrowing down this list for your first project.
17 Stunning Mandala Yarn Crochet Patterns
Mandala Yarn Scarf, Shawl, and Wrap Patterns
1. Autumn Ombre Scarf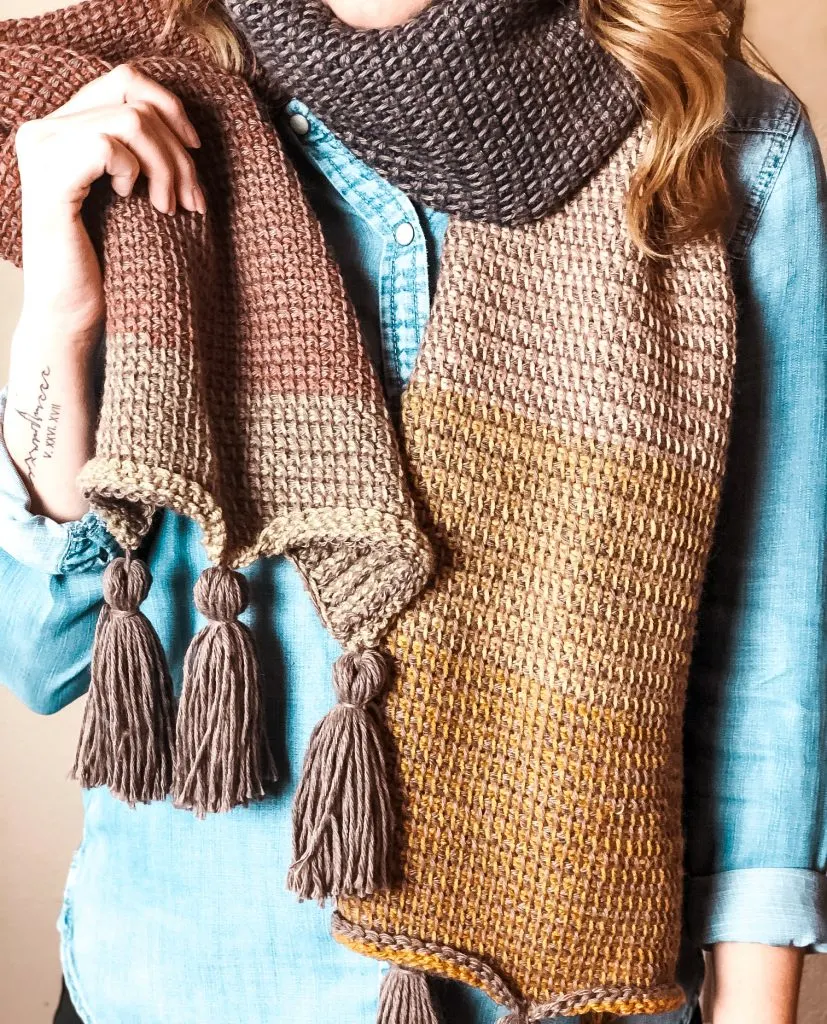 Indulge me for a minute while I add first to this list my Autumn Ombre scarf. I love the ombre effect this scarf has and am tempted to make a throw as well.
I created it using the Tunisian Simple Stitch and two different colors of yarn. It worked up beautifully and created a scarf I think you'll love wearing.
2. Shell Wave Shawl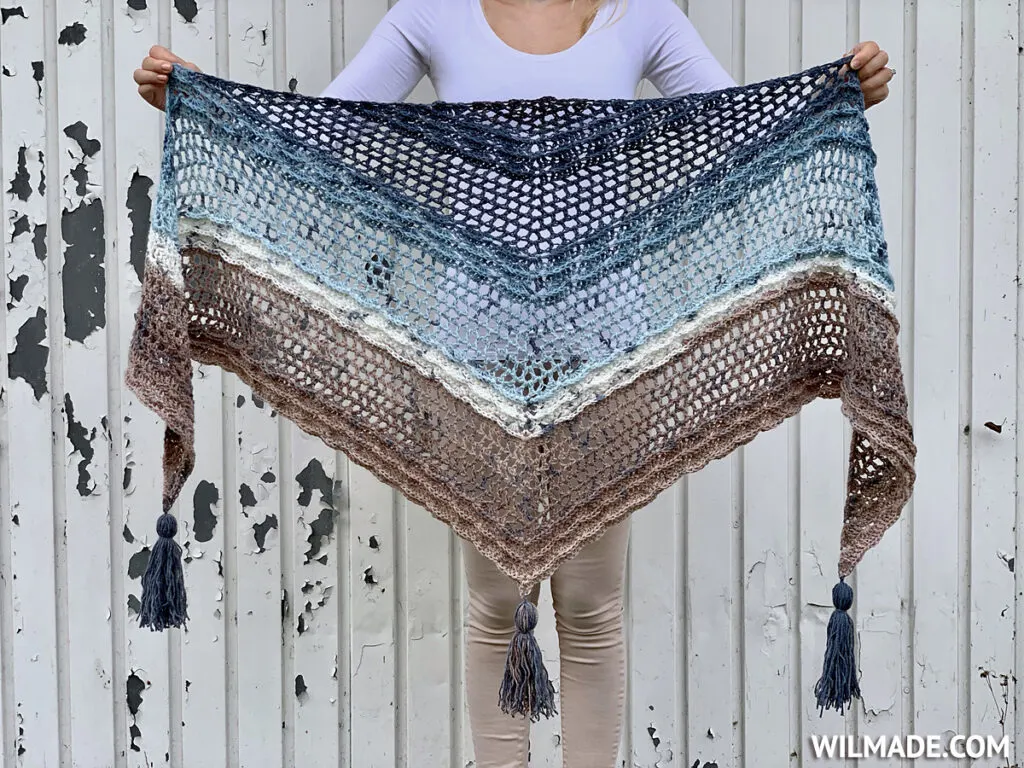 This pattern is a simple crochet small shawl for beginners. It's made with two skeins of Mandala Baby Yarn in Wishing Well.
The stitches used are raised shell stitches, double crochet, and front post double crochet.
It's finished off with three tassels.
3. The Adirondack Wrap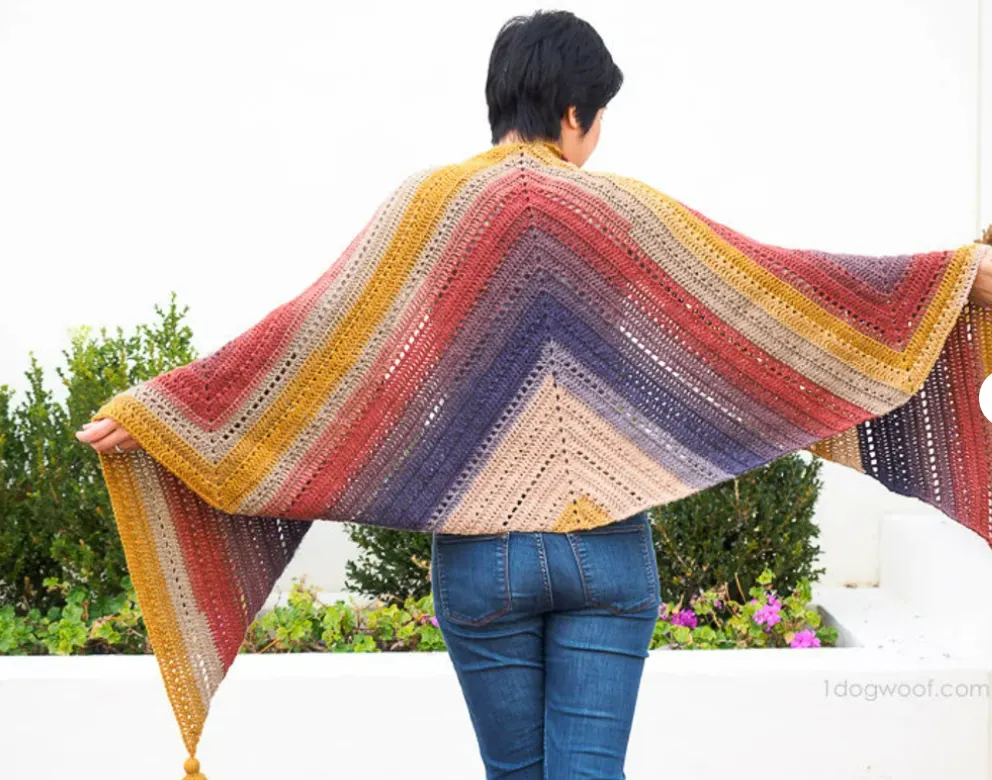 The Adirondack Wrap is a simple design you can work on while on the go.
It uses three skeins of Mandala Yarn in Centaur and consists of 3 identical crochet triangles seamed together. One skein for each triangle.
When seamed together, the seams are nearly invisible. The result? A stunning wrap for yourself or to gift.
4. Wrapped in Diamonds Crochet Scarf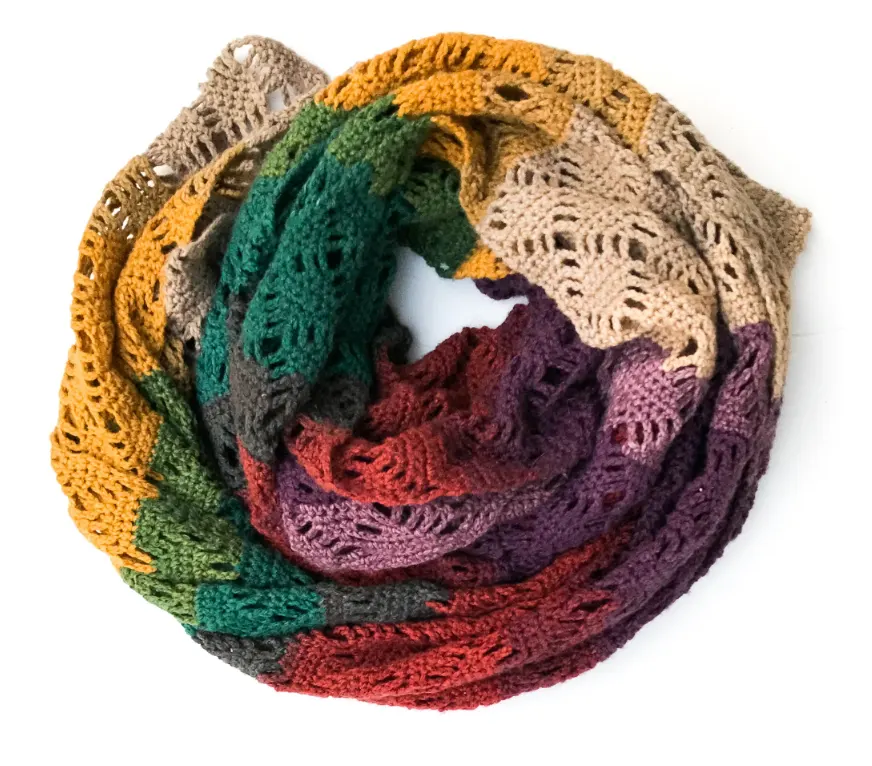 I've seen this beautiful scarf on Pinterest over and over again. It's like my feed is begging me to make it and I just might. Until then, I'll share the pattern with you.
This wrap is made with Mandala in Warlock. She used 3 skeins but shared that she cut out one of the colors she didn't like.
As far as the stitch, it's made with the Diamond Lace stitch and the result is perfection.
5. Spring Me Forward Triangle Scarf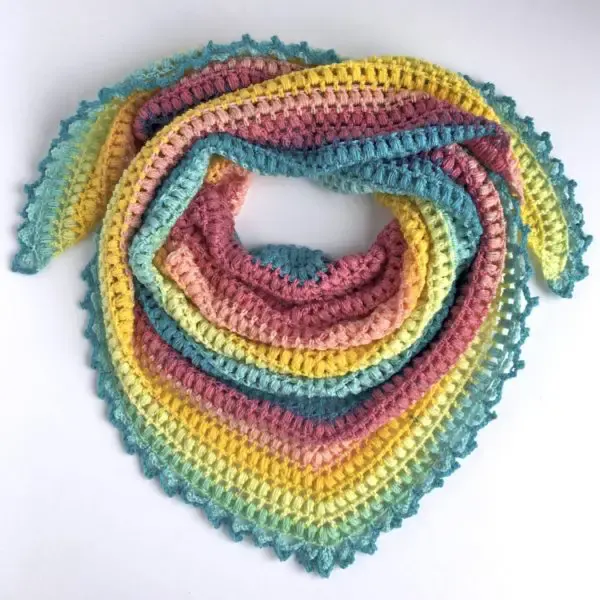 What do you get when you combine Mandala Baby yarn in Honeydukes and the Pineapple stitch? A scarf that screams spring.
This scarf is a repeat of two stitches – a row of filet and a row of pineapple.
The pineapple stitch is a yarn eater, so this scarf took two skeins. But I'd say it's worth it, wouldn't you?
6. Spring Bean Cowl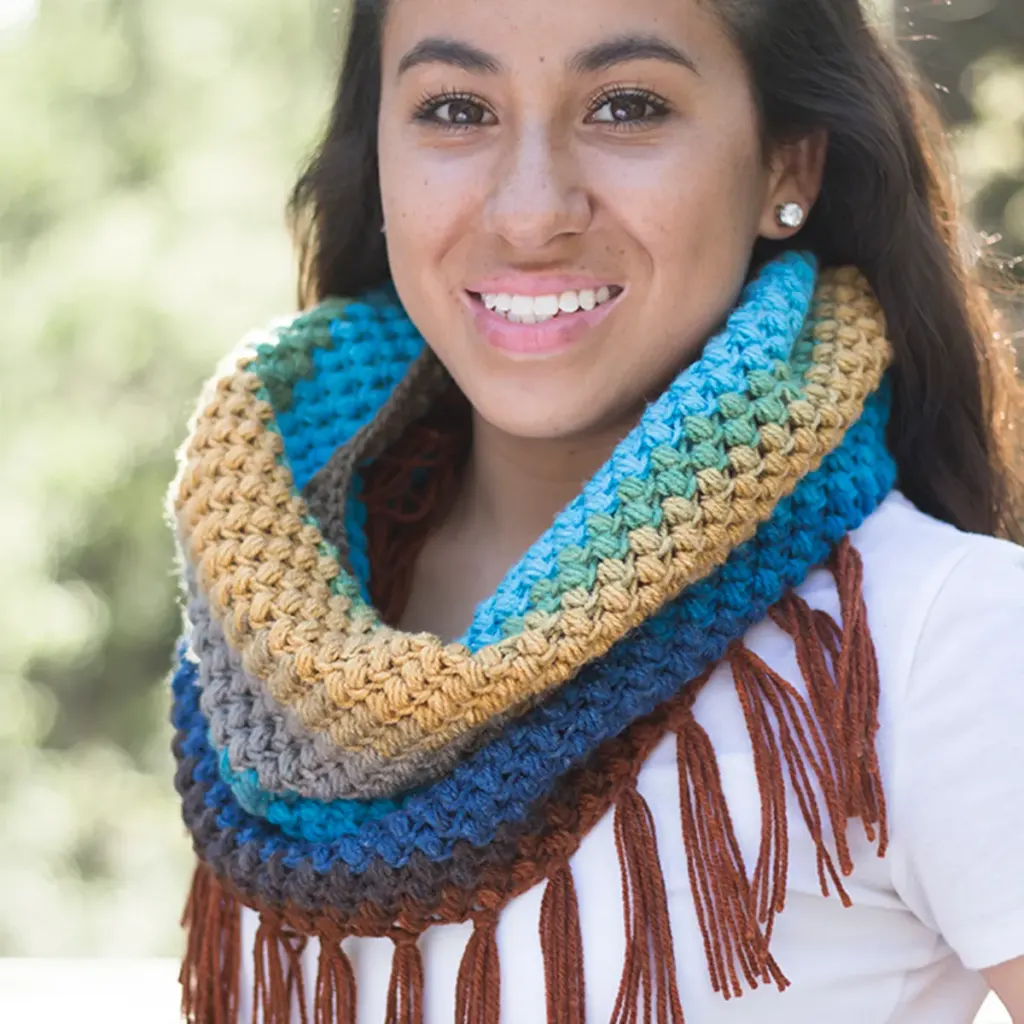 The muted grays and soft light green colors in the Mandala Genie skein help create a cowl perfect for spring.
The Spring Bean Cowl is made using only one cake of yarn and the bean stitch. Add some fringe and you're good to go.
7. Ombre Scarf Pattern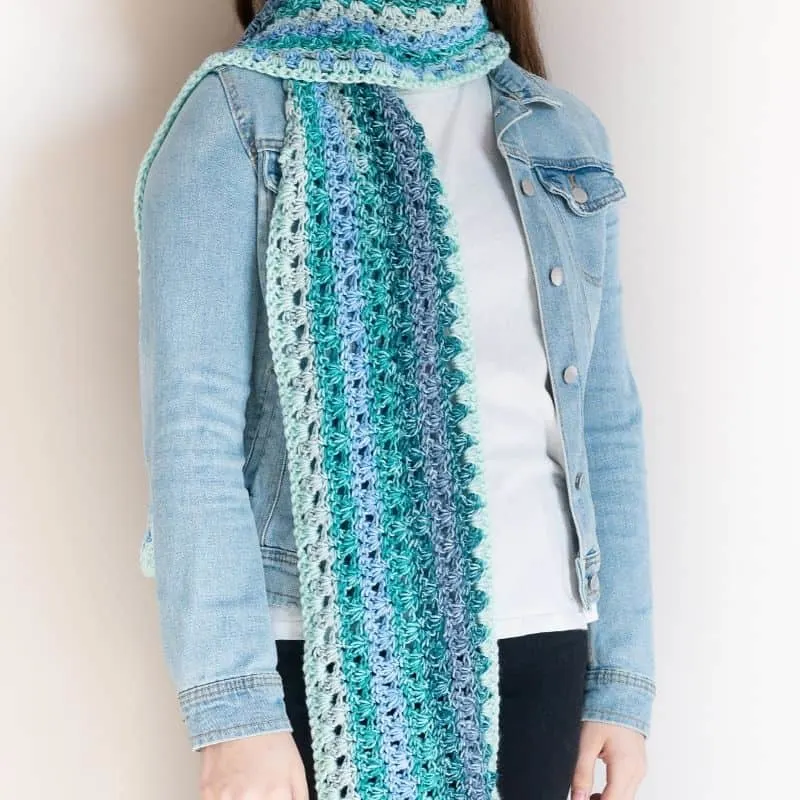 This scarf pattern uses two different yarns – one for the main section of the scarf and one for the border.
The yarn used is Mandala yarn in Mantra and Feels Like Butta in Ice.
The scarf is worked in groups of clusters and chains for each row. If you can double crochet, half double crochet, and single crochet you can whip up this scarf in no time.
8. Crochet Beginner Fade Shawl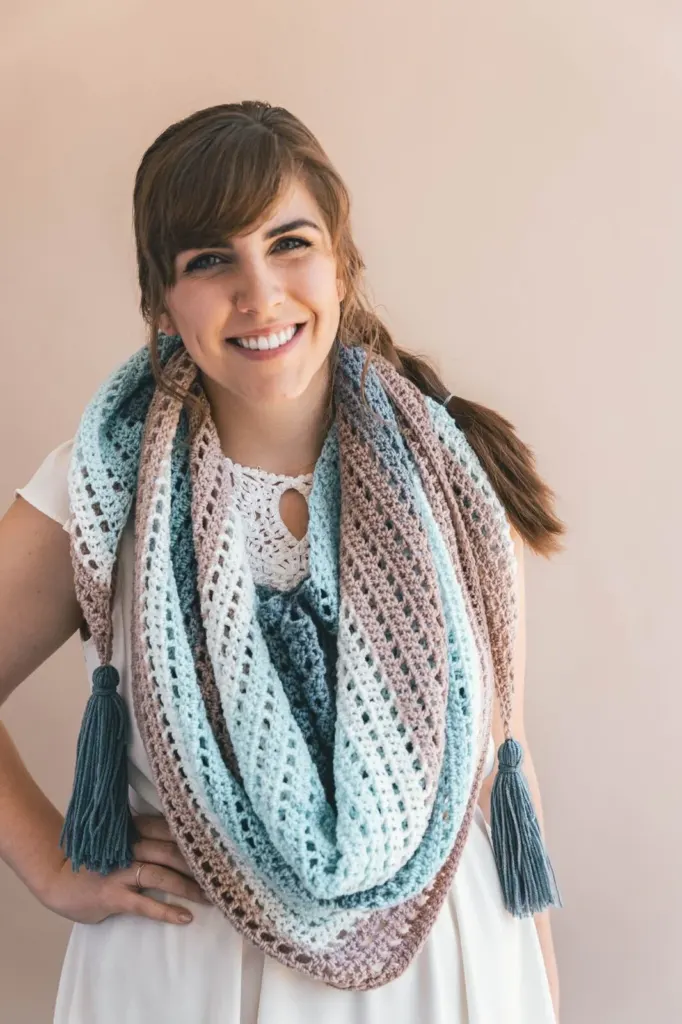 This shawl is made with two cakes of Mandala Baby yarn in Wishing Well which features beautiful blues, grays, and white.
This pattern consists of double crochets and skipped stitches, starting from the center and working in turned rows.
Add some tassels and you're left with a stylish shawl that can be worn in a number of ways.
Mandala Yarn Hat Patterns & Other Accessories
9. Chroma Hat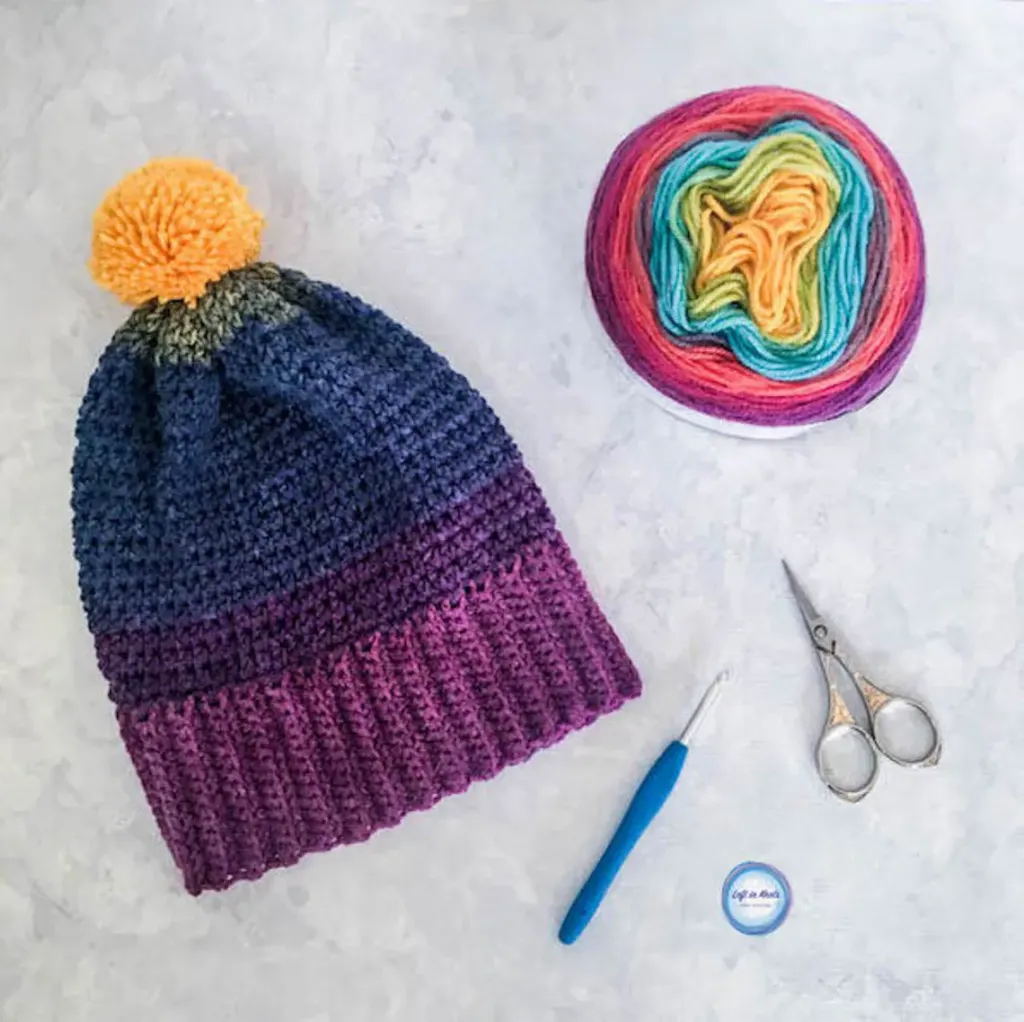 If you're looking for a simple, go-to hat pattern that can be worked up quickly, look no further than the Chroma hat.
This pattern is made using Mandala Yarn in Wizard and stitches such as single crochet, half double crochet, and half double crochet two together.
There's an entire set of Chroma projects, which include the hat, mittens, and a scarf. All three pieces together only use two skeins of Mandala Yarn. What a great gift this set would make!
10. Hat and Mitts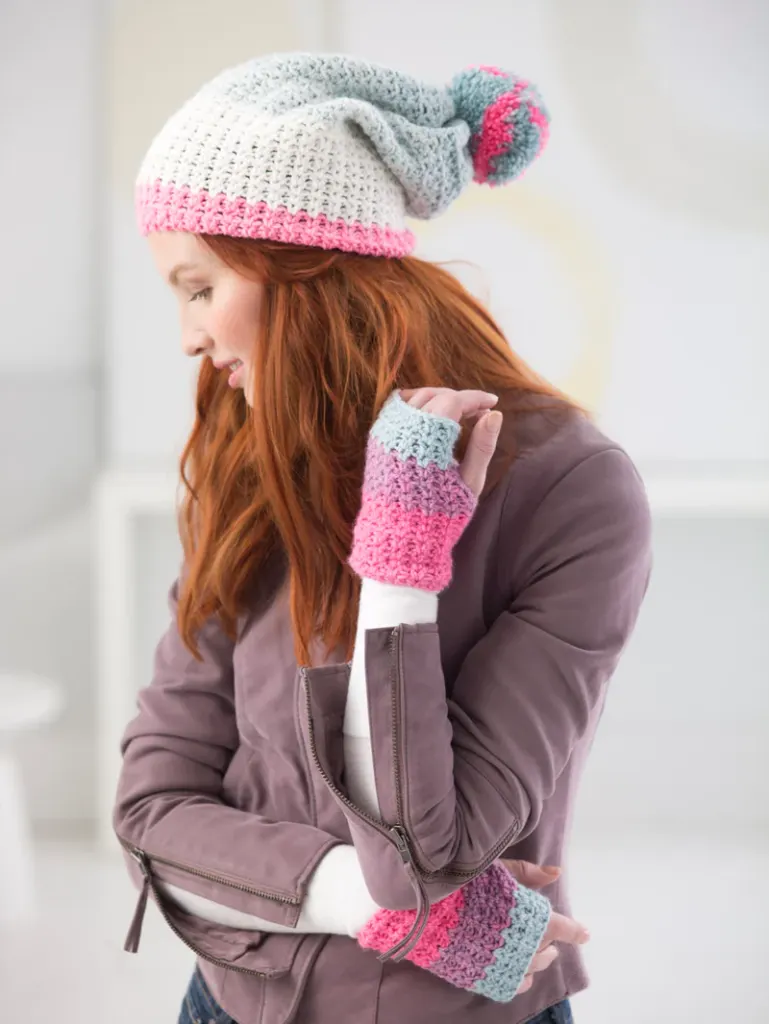 This hat and mitts pattern is from Lion Brand and uses Mandala Yarn in Unicorn.
The pattern is a free download and only uses one skein of yarn. It's considered an easy pattern for beginners using double crochet and the V-stitch, which is just two double crochet worked in the same stitch. Easy peasy.
Mandala Yarn Blanket Patterns
11. Centaur Mandala Afghan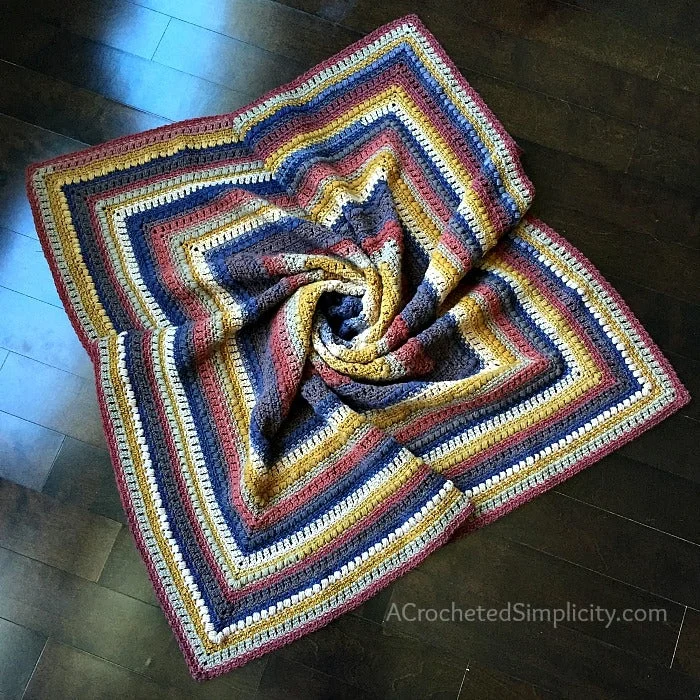 This afghan is so eye-catching and uses several different simple crochet stitches.
It's made using 3.75 cakes of Mandala Yarn in Centaur (approx. 2,200 yards) to make a 48″ x 48″ afghan.
12. Blanket Bag Pattern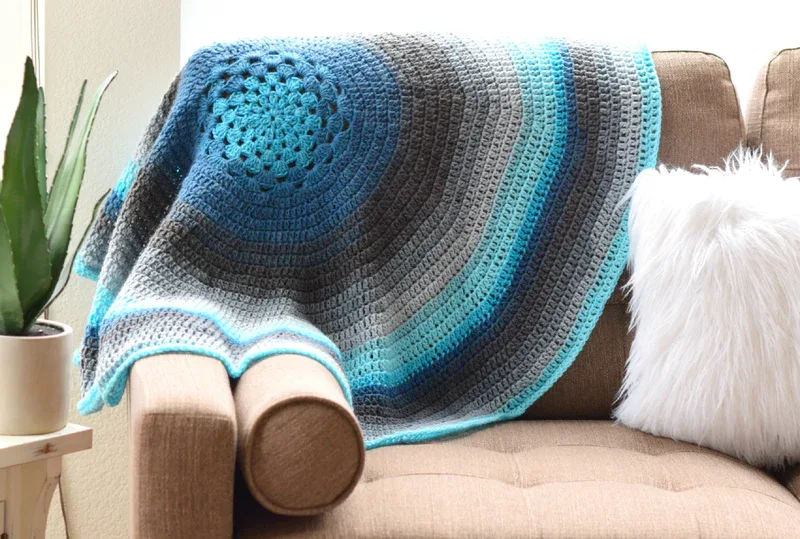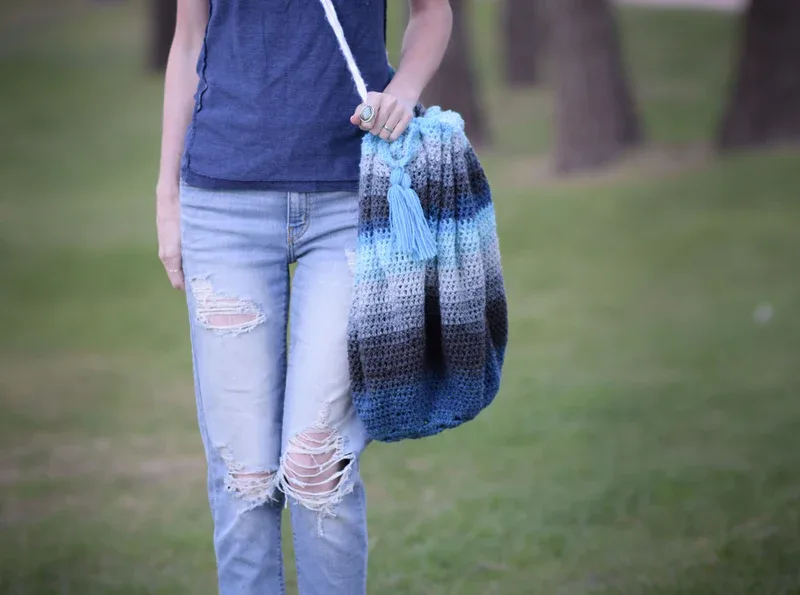 It's a bag. It's a blanket. It's downright cool.
Mama in a Stitch got very creative with Mandala Yarn by creating a blanket that doubles as a bag, making it your perfect picnic companion.
She used Mandala Yarn in Spirit and mainly double crochet stitches to create the "doily-like" bag/blanket combo.
13. Beginner's Delight Afghan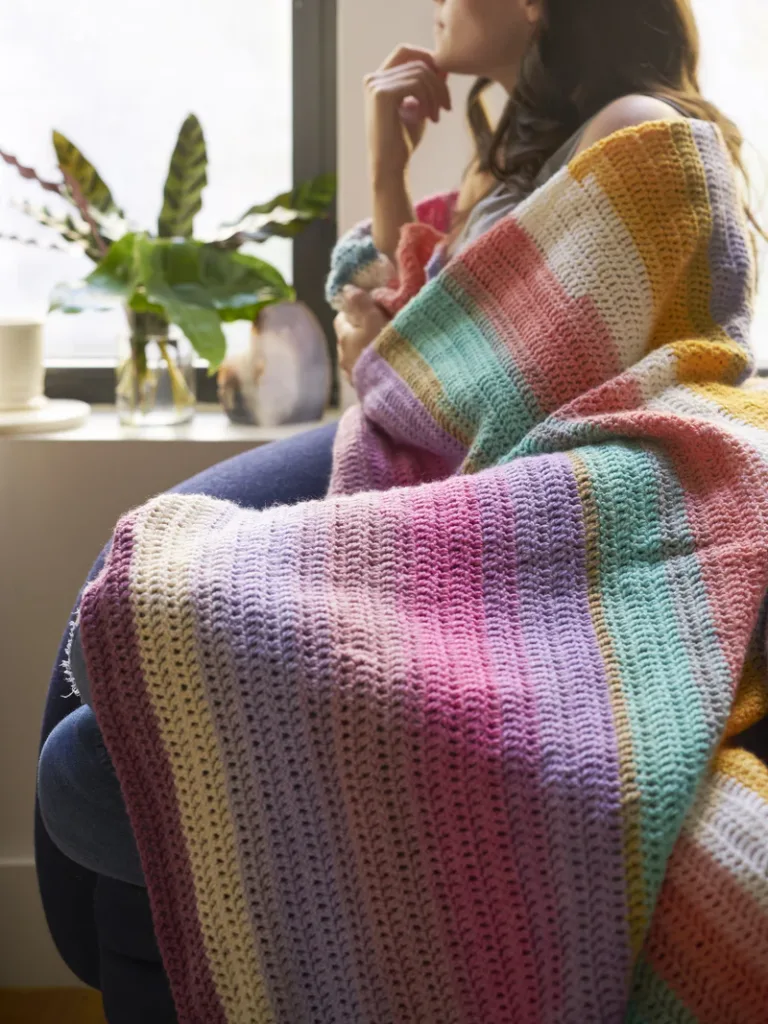 This is the first and only Mandala Yarn crochet pattern I've seen that uses more than one shade. In fact, it uses four different Mandala Yarn shades which include Pegasus, Unicorn, Pixie, and Wood Nymph.
The result? A colorful afghan like none other.
14. The Aloha Blanket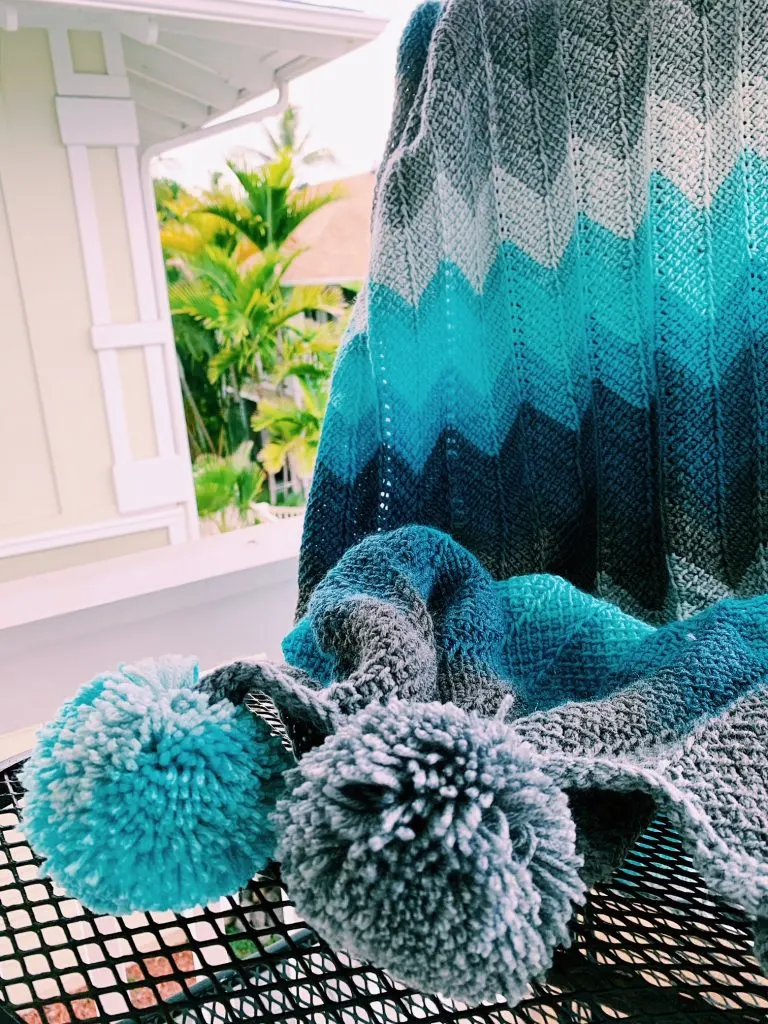 This is an I Can Crochet That pattern I made when we decided to visit Hawaii for the first time. I had seen pictures of the beautiful black sand beaches and ones outlined by lava rocks and knew just the Lion Brand's Mandala yarn to use in order to mimic those colors.
That "visit" ended up turning into a move to Hawaii…or an extended working vacation as we've been calling it.
I love how the ombre effect turned out with this blanket pattern.
15. Baby Blanket Using Lion Brand's Mandala Yarn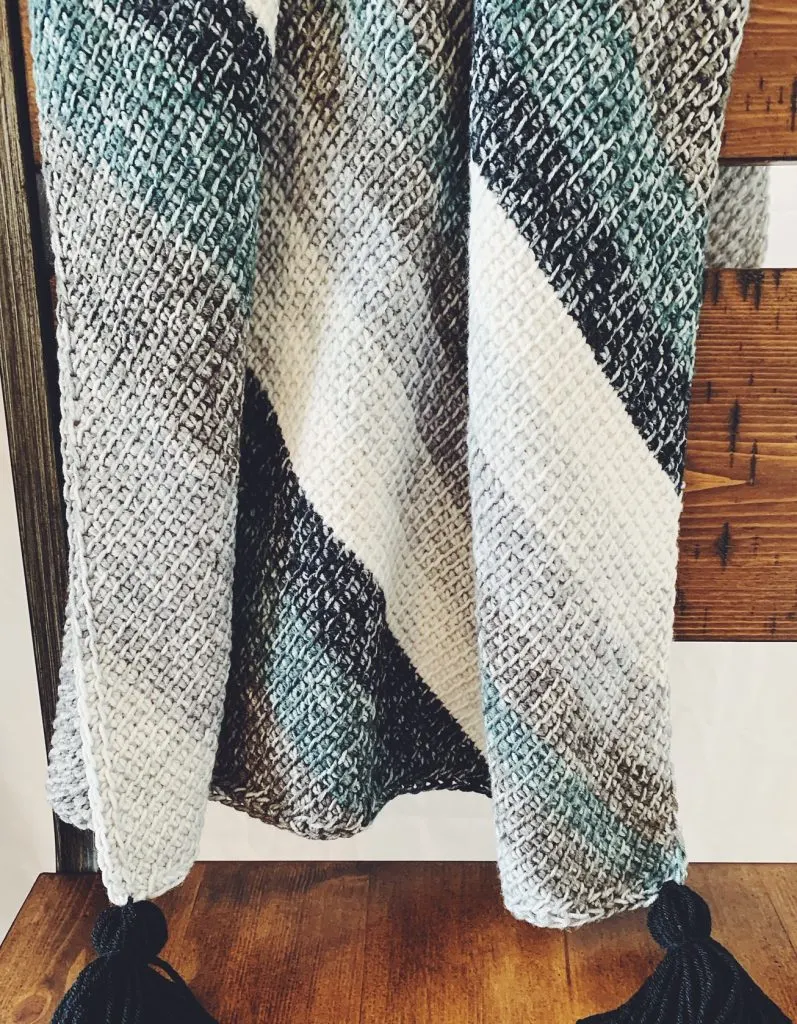 I love the subtle color changes of this Tunisian baby blanket, which uses Lion Brand's Mandala Yarn in Cool.
This is a great project if you're wanting something easy to work up while catching up on your favorite TV shows. It's an easy repeat row pattern with stitch increases and decreases.
You can grab the free pattern or the printable PDF at the button below.
Mandala Yarn Poncho, Cardigan & Sweater Patterns
16. Wasilla Poncho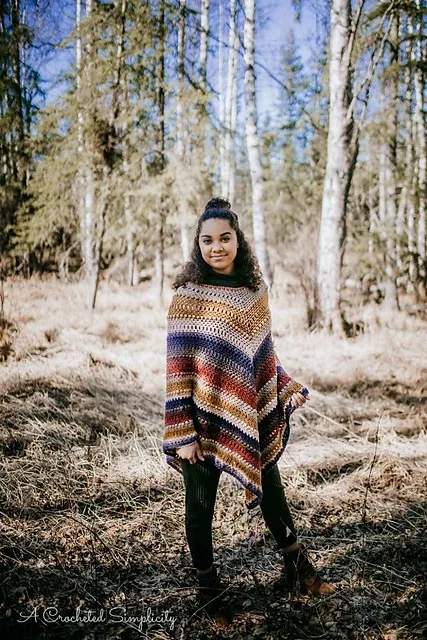 This beautiful poncho is made using three cakes of Mandala Yarn in Centaur.
Because the pattern uses this amazing self-striping yarn, you're left with a project that doesn't require a lot of weaving in of ends, which is a bonus in my book.
The stitches used to whip this up are single crochet, double crochet, single crochet puff stitch, and double crochet cluster. She has all the tutorials you need to learn these stitches.
17. Swallowtail Cardigan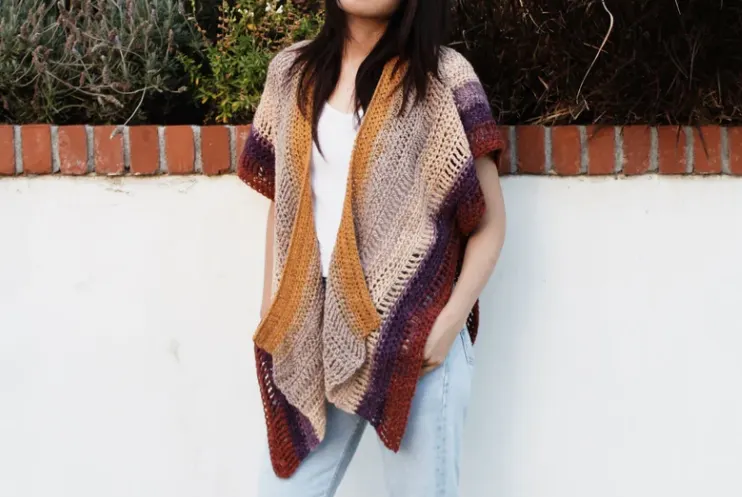 I am so tempted by this cardigan pattern using Mandala Yarn in Warlock and might just need to whip it up ASAP.
This free pattern uses two skeins of Mandala yarn and simple crochet stitches such as half double crochet and treble crochet.
It's worked in two panels that are seamed together at the end.
Bonus! Recently Added Mandala Yarn Crochet Patterns
Here is a collection of crochet patterns using Mandala yarn that I recently designed for I Can Crochet That. You'll find a camping blanket, an afghan pattern, and a triangle shawl pattern.
They all include video tutorials to guide you through the pattern.
Shop Mandala Yarns and Their Wide Range of Colors
I hope you enjoyed browsing through these incredible Mandala Yarn Crochet Patterns. Let me know which one you plan on whipping up first.
And stay tuned for the upcoming Camping Blanket Pattern I'll be releasing soon. It's perfect for those nights by the campfire or curled up on the couch in your RV.
Pin This to Save for Later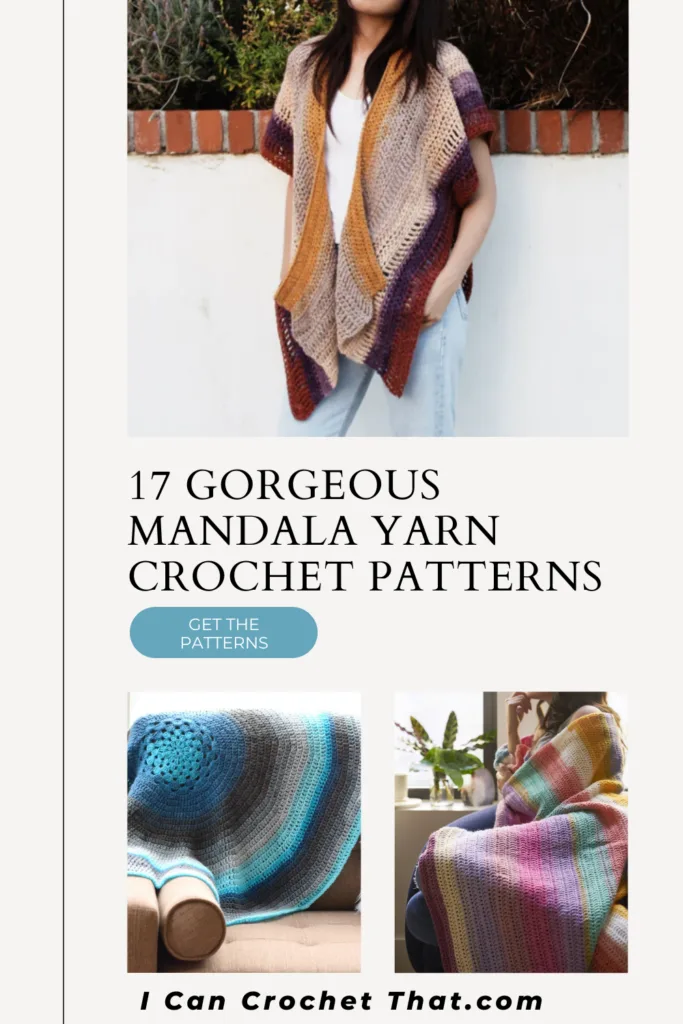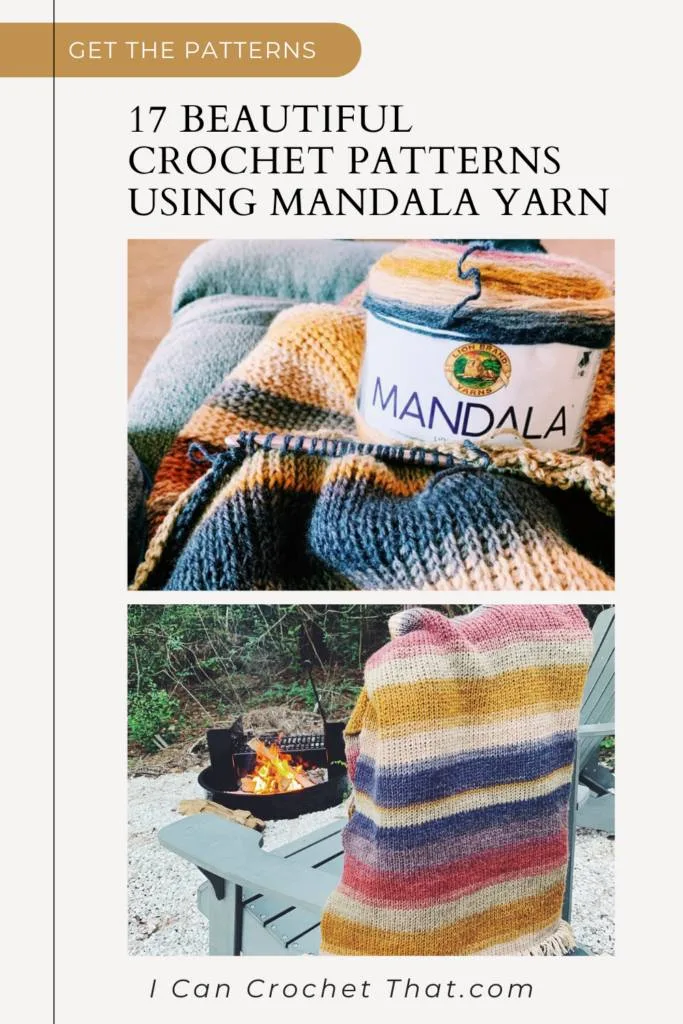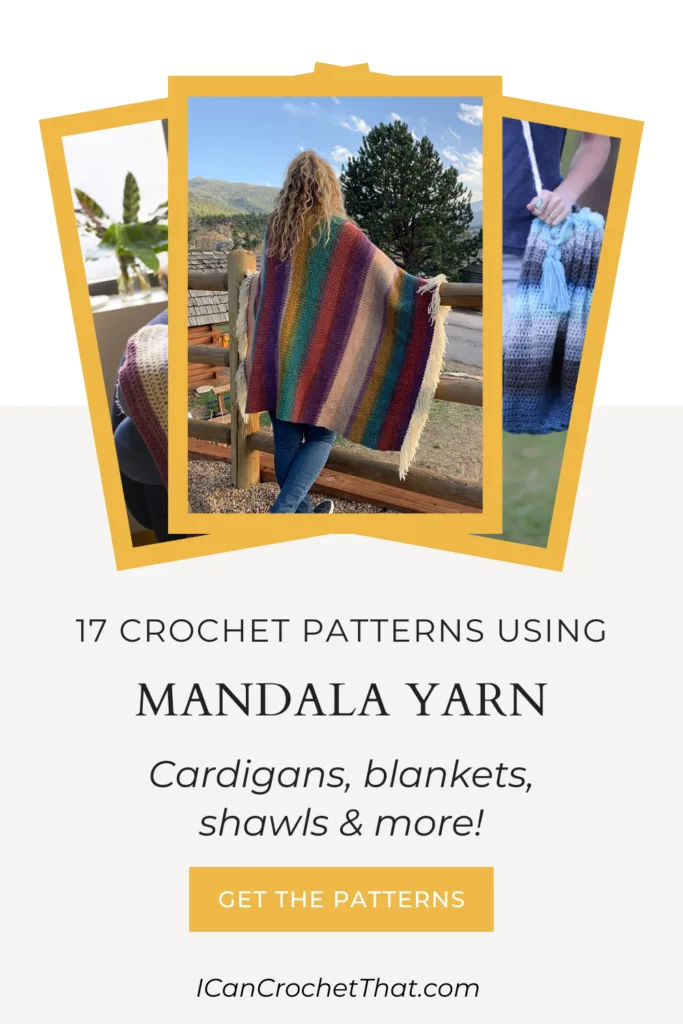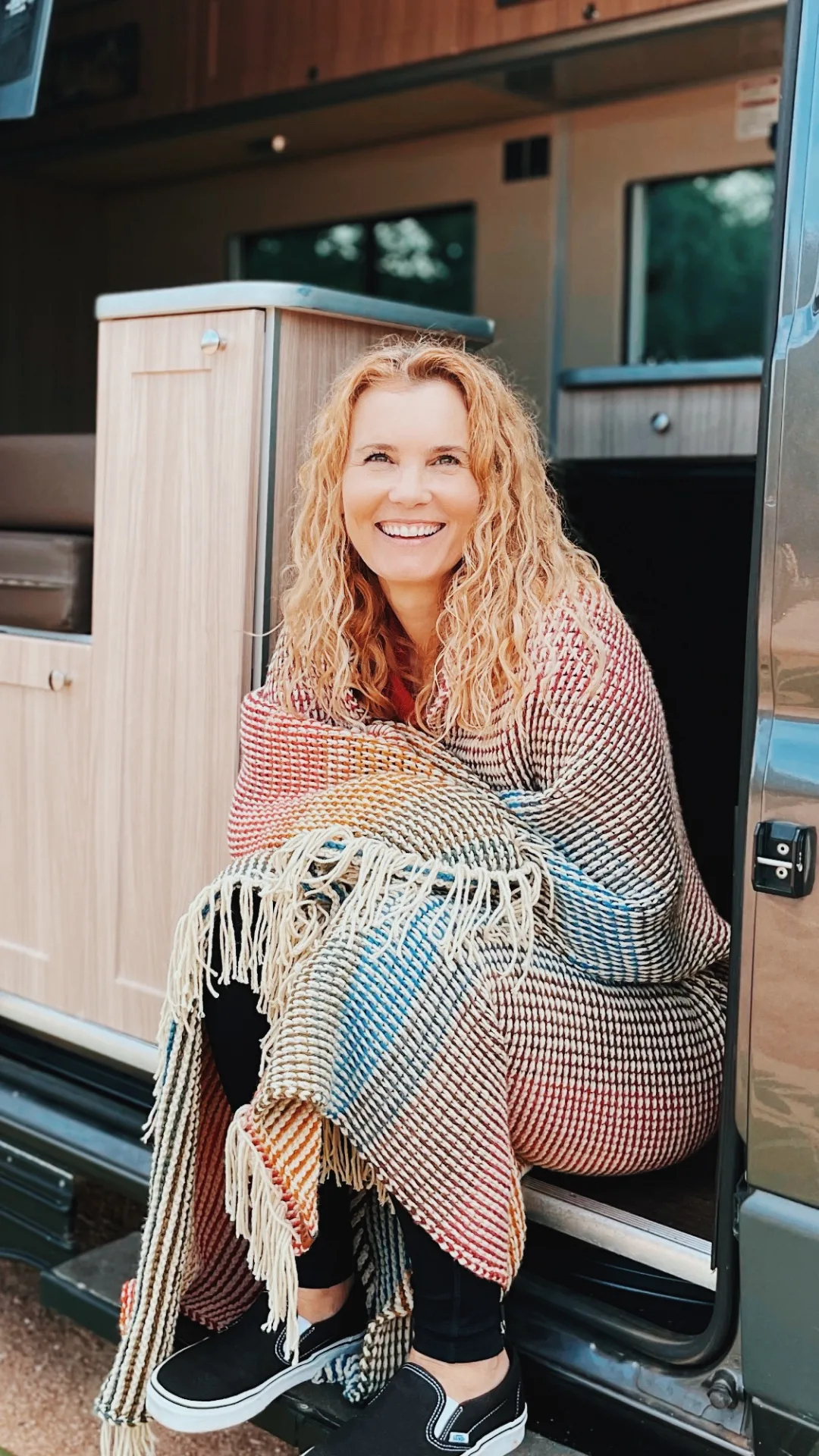 Hi! I'm Julie. I design modern crochet patterns and tutorials to help you learn to crochet. I've been crocheting for over two decades and with the gentle nudging of my husband, decided to turn this passion into a career. Although we travel a lot in our campervan, you'll never find me without a bag of yarn and projects.