Sometimes, when you're in the middle of a big crochet project, you need a few smaller things to work on.
It's nice to have some small wins to keep your crocheting momentum going, and these quick crochet projects are perfect for that.
A decent chunk of them can be done in a day, and it's easy to make multiple for your friends or to sell in your shop or at a craft fair.
These projects are also perfect for being stuck inside on a bad weather day.
Grab a cup of your favorite hot beverage, your hook, a skein of yarn, and get rolling. I've tried a couple myself and they've all been a blast.
25 Quick Crochet Projects
Here are the 25 crochet projects for a rainy day:
1. Crochet Can Cozy
Popping open a cold can is great until your hand is freezing and wet from the condensation. But wait!
You can make a can cozy with your own two hands in less than an hour.
Make one (or a bunch) on a rainy afternoon and you'll be everyone's hero during the next backyard hangout.
The pattern is available for free here.
2. Crochet Roses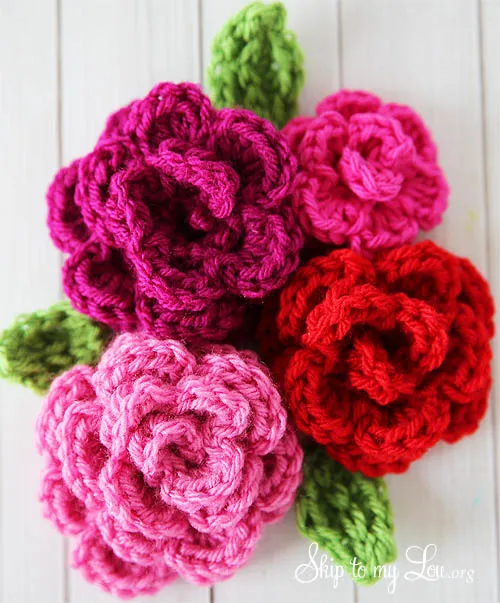 These crochet roses take no time at all to whip up, and there are so many uses for them.
Add them as an appliqué to a hat or headband, and use them as decor around the house or on a special occasion, the possibilities are endless.
These work up in just a few minutes. Find the free pattern here.
3. Chunky Bobble Bows
In the same vein as the crochet roses are these chunky bobble bows.
These would make a great addition to your daughter's/niece's headband, or you can stick a clip on the back of it for a pretty hair accessory.
They can also be added to cardigans, scarves, bags, and pretty much anything you can think of.
The free pattern is available here.
4. Tutti Frutti Potholders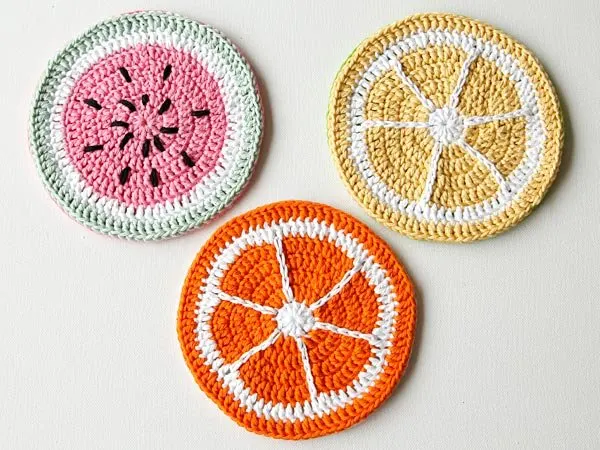 How adorable are these fruit potholders?
These make a great colorful addition to the house and can be whipped up in just a couple of hours.
These also make a cute, unique gift everyone is bound to love. Who doesn't love fruit?
The free patterns (an orange, a watermelon, and a lemon) are available here.
5. Crochet Headband
These on-trend headbands are simple to make and can be adjusted to fit any size.
They're excellent for the fall and winter (they also serve as ear warmers), so why not get started on some for all the gals in your family now as a way to kill an afternoon?
Also, not only is this headband a great project for a rainy afternoon, but it's also a perfect beginner crochet project.
The free pattern is available here.
6. Deta's Bookmark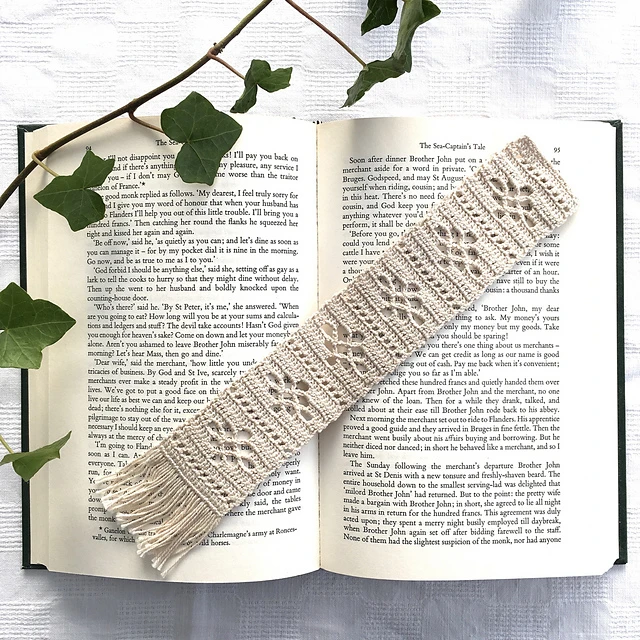 Want a unique bookmark to accompany you on your reading adventures? This crochet one is a great choice.
It's beautiful, delicate, and will fit perfectly between the pages of a book.
The pattern is available for free here.
7. Circle Earrings
Embroidered/crocheted earrings have a unique, homemade look that I'm obsessed with, and they are actually really easy to make.
This is a perfect project to kill an hour or so, and you can whip up quite a few pairs in a short amount of time.
The pattern is available for free here.
8. Zipper Pouch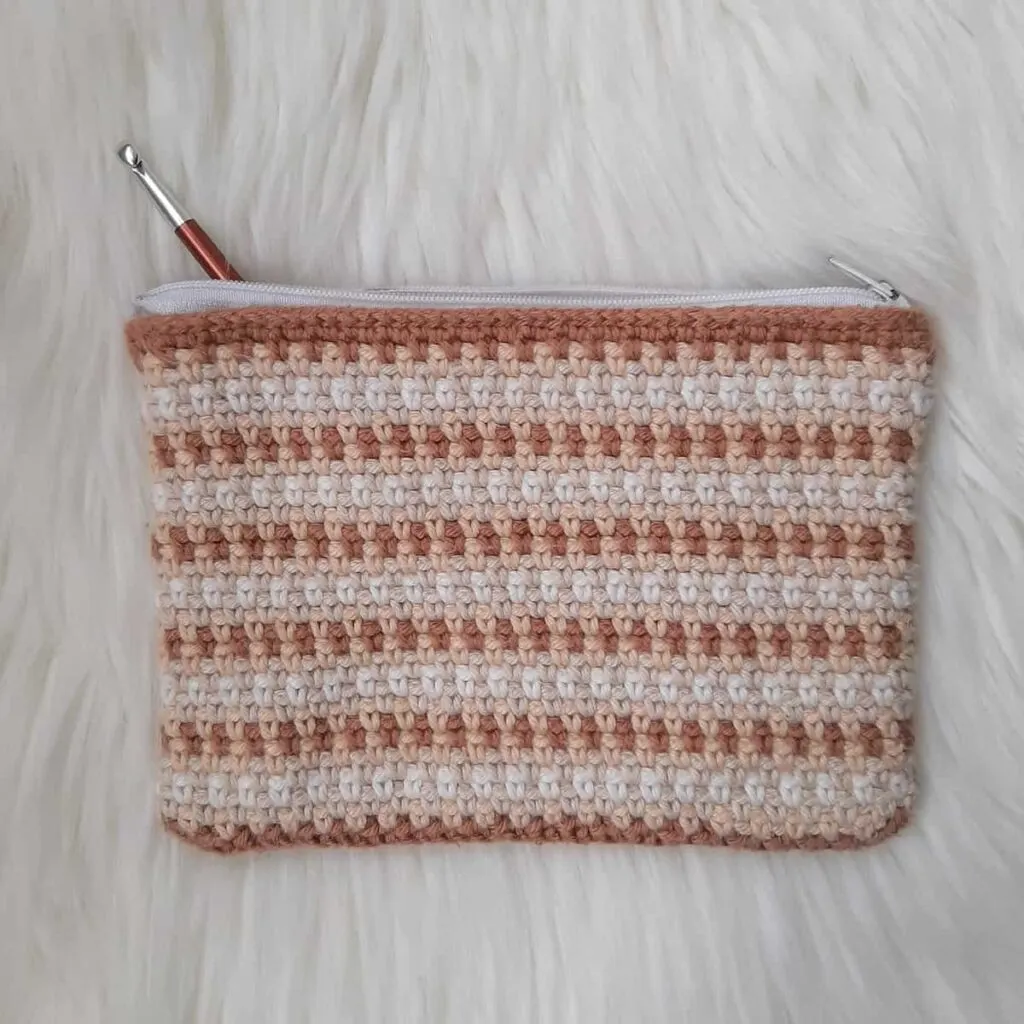 This zipper pouch is so practical and useful. It can be a pencil case, a makeup bag, a crochet hook holder (this is what I'm leaning towards), and more.
It's very beginner friendly, but it looks much more complex than it is.
The pattern is available for free here.
9. Butterfly Cardigan
I love this butterfly wing cardigan! It's a perfect outfit accessory and a super easy project.
If you're brand new to crochet, this is a wonderful project to start with. The cardigan is worked in one piece and the construction is beginner friendly.
The pattern is available for purchase here.
10. Whimsy Headwrap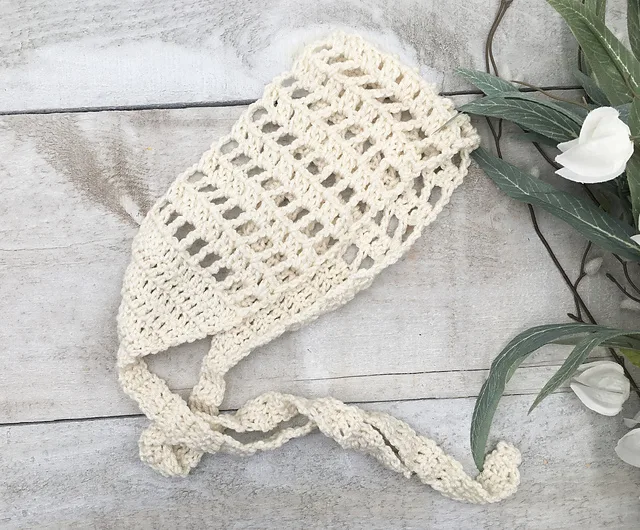 We can all use plenty of headbands/scarves. Whether you have Rapunzel-long hair or a short pixie, a headband is essential.
This one has a pretty boho look in a neutral color that will go with any outfit, and it makes a great rainy day project.
Make a few for your friends while you're at it!
The pattern is available for free here.
11. Storage Baskets
What headbands are to my wardrobe, storage is to my home: I literally cannot have enough.
I will always have more reasons to need baskets, trays, boxes, anything.
But why go buy store-bought when you can make one in just a couple of hours?
These modern, color-blocked baskets are perfect for any home aesthetic and can be customized to fit your home's color scheme.
The pattern is available for free here.
12. Hooded Scarf with Pockets
I am fully aware that it is deathly hot in Texas and there is not even remotely one sign of fall coming.
However, this cannot stop me from buying All The Fall Things (did I thrift a faux mink coat the other day? Maybe.)
If you're anxious for the fall chill like I am, this fur hooded scarf is a great project to manifest the cooler weather with.
It uses bulky faux fur yarn, so it works up in less than a day, and -get this- it has pockets!
The pattern is available for free here.
13. Crochet Corner Bookmark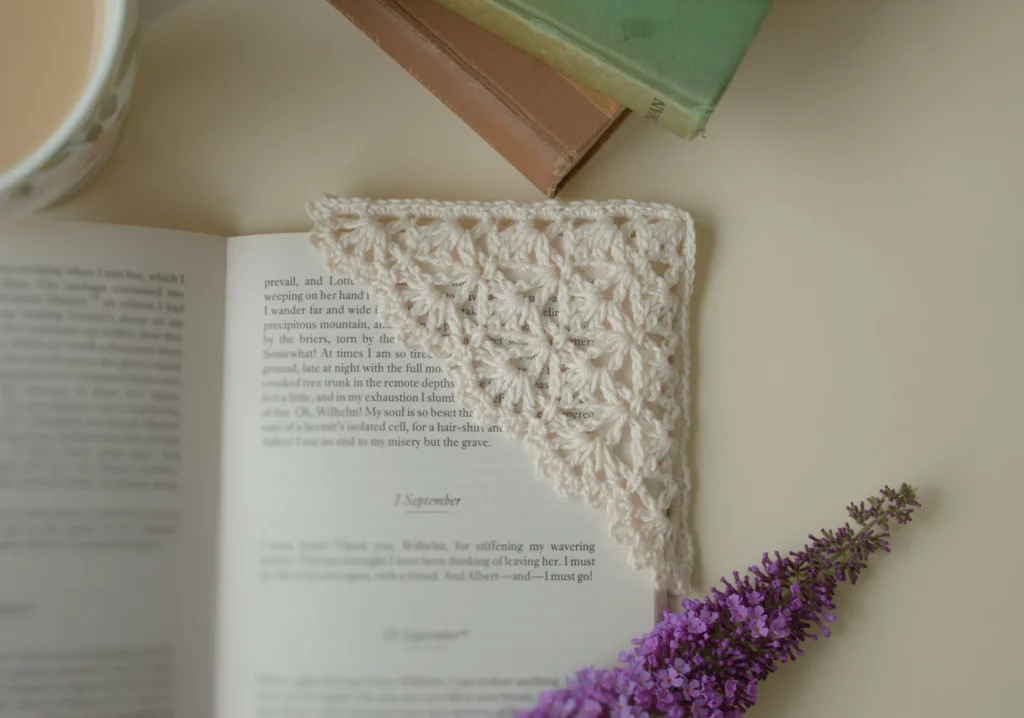 This crochet corner bookmark is precious! It's understated, elegant, functional, and super easy to make.
It makes me feel like I'm reading in the garden in a Jane Austen novel.
The pattern is available for free here.
14. Laptop Case
This laptop case is so cute and simple. It's made with just one simple stitch and finished with a button to secure the case closed.
Use Premier Yarns to get this striped look for your case (the one pictured here is Wasabi Pop, but there are several others).
The pattern is available for free here.
15. Mug Cozy
Hygge is all the rage right now and, in my opinion, at least, there is nothing more hygge than. a mug cozy.
Finished off with a wooden button, this mug cozy makes a great afternoon project, a fun gift, and a perfect addition to your hygge home (if that's your vibe).
The pattern is available for free here.
16. One-Hour Slippers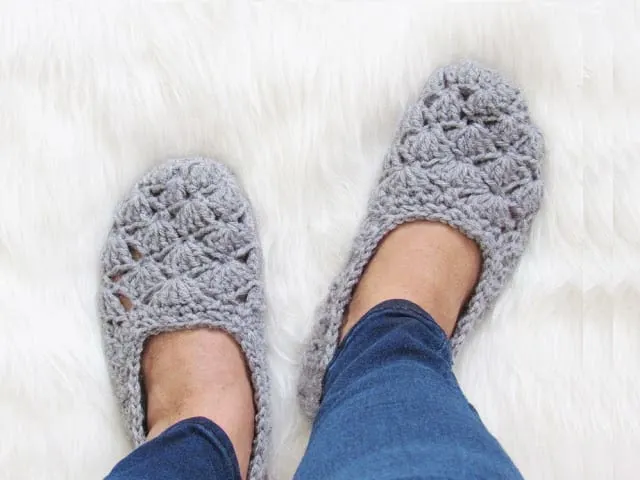 I've started making these slippers and I adore them!
They're simple and quick, & made up of single crochets, chains, and shell stitches. Easy, quick, and cozy.
What more could you need? Make a few pairs in different colors, or whip up a couple of pairs for your gal pals.
The free pattern is available here.
17. Colorful Coasters
I love crochet coasters. They work up SO quick and are just prettier than normal coasters.
These are summery and bright; perfect for poolside cocktails. They use basic stitches and work up in about 15 minutes (really!)
The free pattern is available here.
18. Classic Cowl
A cowl is a wonderful accessory to have.
If it's chilly, you can use it as a hood and/or a scarf. If it's a little warmer out, it can double as a light and breezy shawl.
It's a great wardrobe addition for any season.
The pattern is available for free here.
19. Hair Scarf
I just made this little hair scarf this week and let me tell you, it is absolutely adorable.
I finished it in less than a day, and the thin yarn gave it a feminine, elegant look that I'm obsessed with.
These are perfect to have in the summer, especially with this killer heat wave. I highly recommend giving this pattern a shot if you're a headband type of gal.
The pattern is available for free here.
20. One Ball Shawl
This shawl is so funky and fun.
The color-changing yarn is always fun to work with; the changing colors give me serotonin for some reason. This shawl is made with one ball of color-changing yarn and works up in about a day.
The pattern is available for free here.
21. Earbud Holder
This earbud holder is a practical, easy scrap yarn project that anyone could use.
It's a tri-toned boho design with a pocket in the back for your headphones.
Add a key ring & hook it to your purse or backpack to show off your handmade creation.
The pattern is available for free here.
22. Simple Produce Bag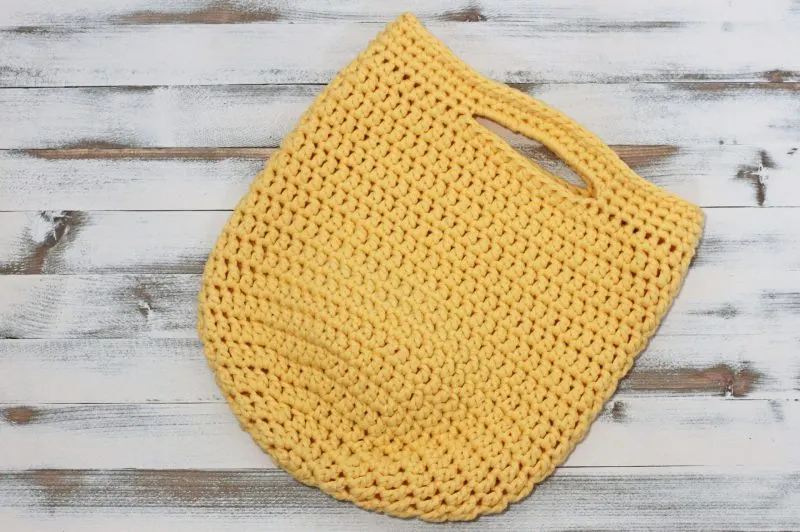 Are you a frequenter of Saturday morning farmers' markets?
Make your trip a little easier and show off your crochet skills by bringing along this easy produce bag.
It's a great plastic bag alternative and since they don't take very long to make, you can make a bunch in just a day.
It can also double as a lunch bag!
The pattern is available here.
23. Sage Phone Pouch
Never lose your phone again with this pretty, simple phone pouch.
You can also alter the pattern to fit your other devices, such as an iPad or Kindle.
It's finished off with a wooden button, but you can change the button to fit your style.
The pattern is available for free here.
24. Mason Jar Cozies
These mason jar cozies are an easy way to turn ordinary mason jars into cute and cozy storage to store your art supplies, makeup, writing utensils, and more.
They work up in roughly an hour.
The pattern is available for free here (there's also a colorful version!)
25. Infinity Cord Bracelet
This little bracelet is adorable! You can make one for yourself to rock with your other jewelry every day as a delicate accessory.
Also, if you have one or a few little girls at home, I bet they'd love to match their momma, so work them up one while you're at it.
The pattern is available for free here.
I hope you enjoyed this round-up of quick crochet projects and found the perfect one to start. Here are a few more crochet projects you might enjoy browsing through: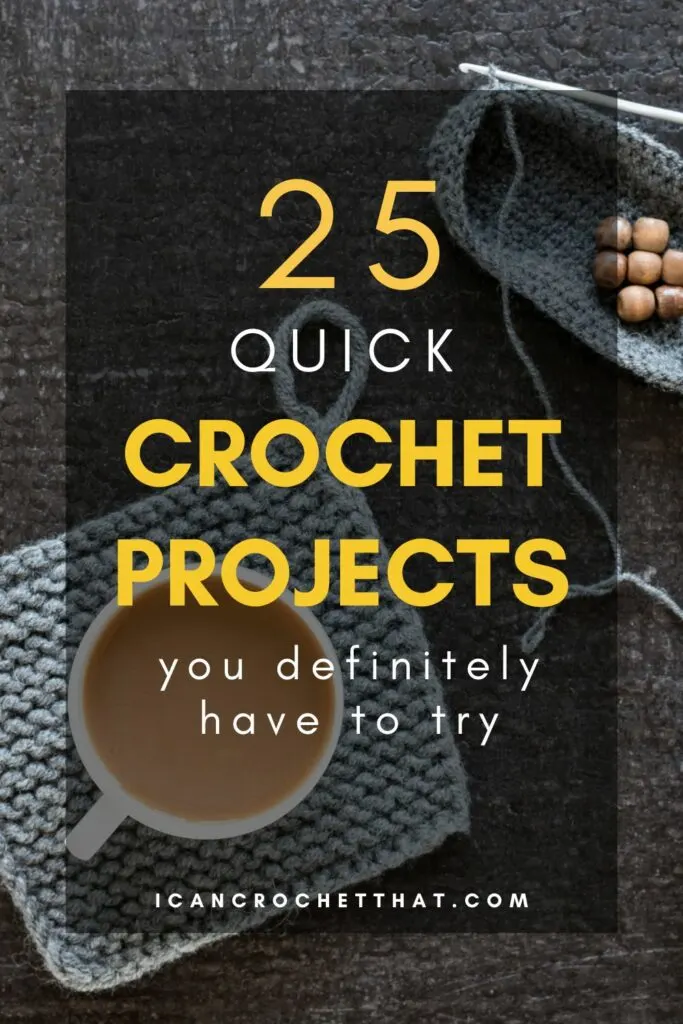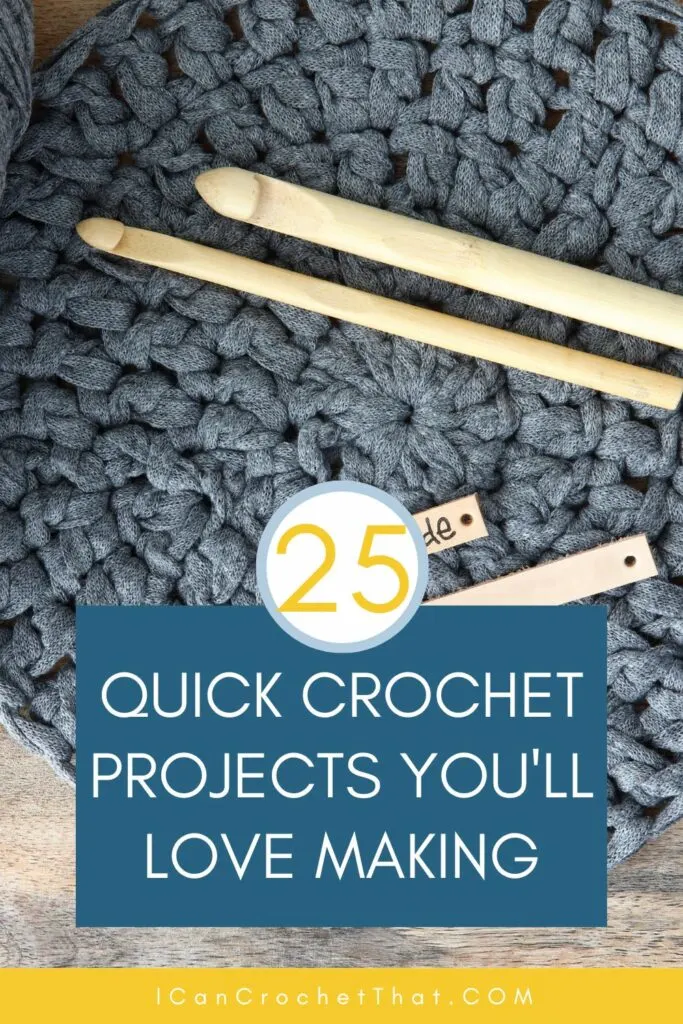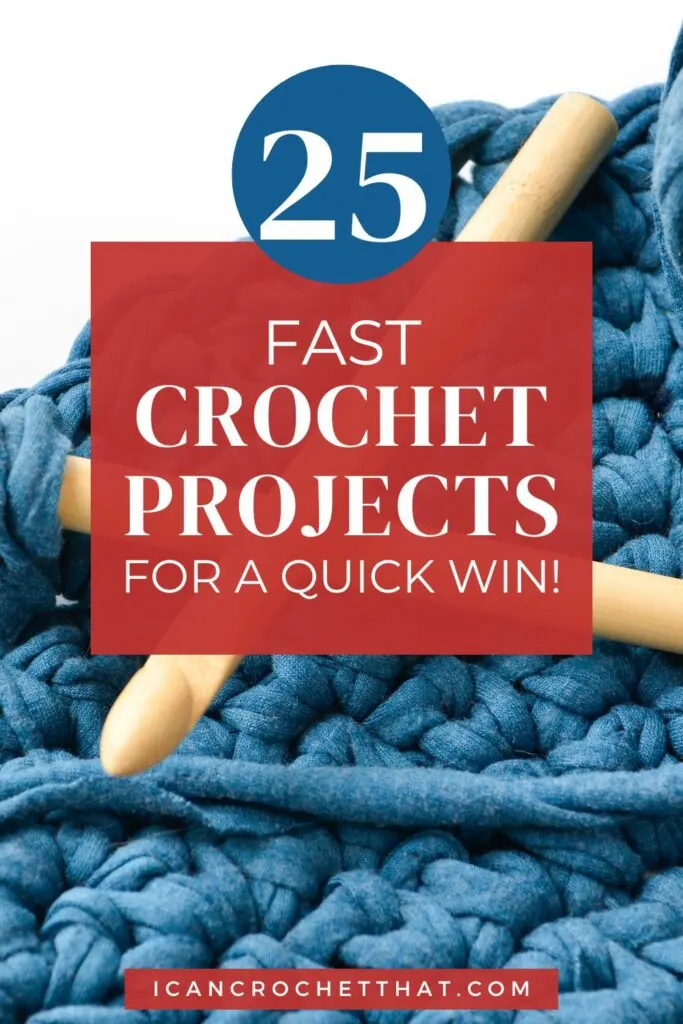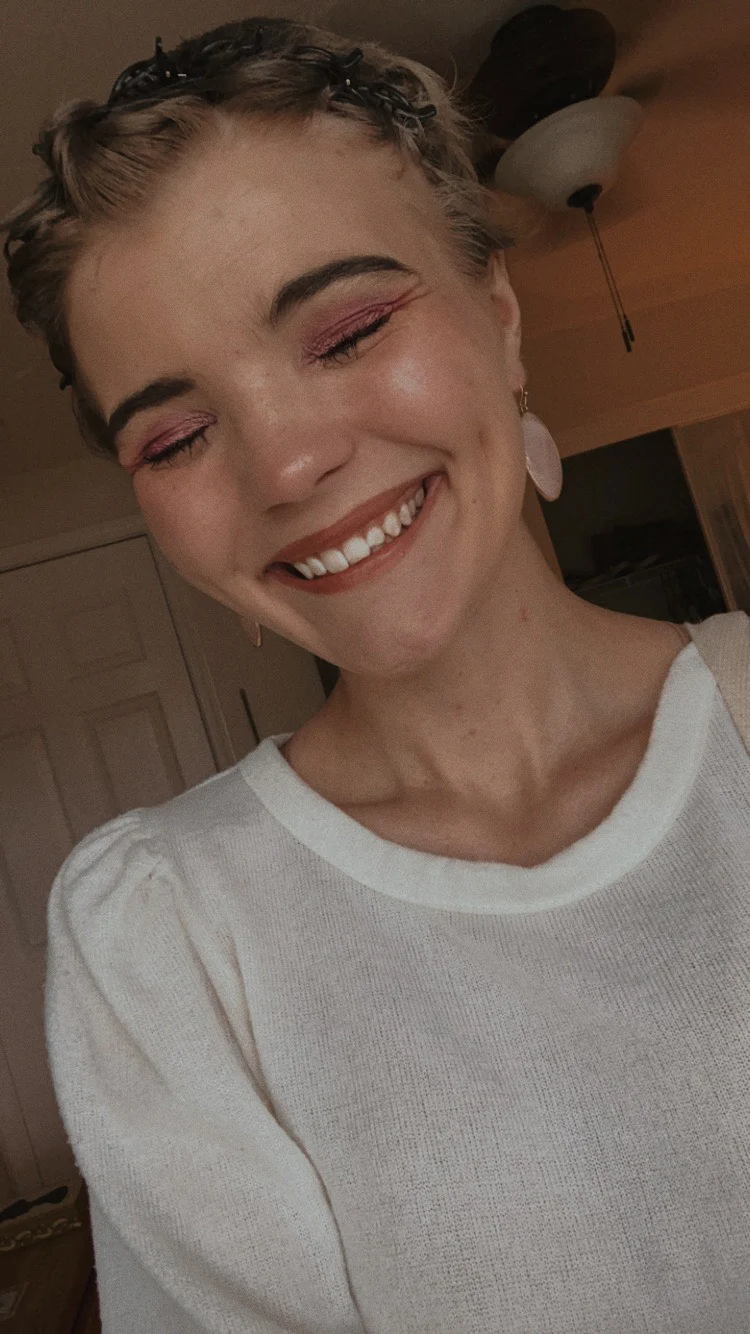 Hannah is the eldest of the Bonner family's three kiddos. She graduated from the University of North Texas with her Bachelors in Elementary Education. She enjoys reading, yoga, movies & TV, and (obviously) crocheting. She is excited about furthering her writing career & spending her days surrounded by yarn. All the yarn.