This Tunisian crochet bobble shawl has a luxurious look and feel to it. Using a yarn with some sparkle gives it that look and the softness of the yarn makes you feel like a million bucks. You'll be warm, cozy, and stylish.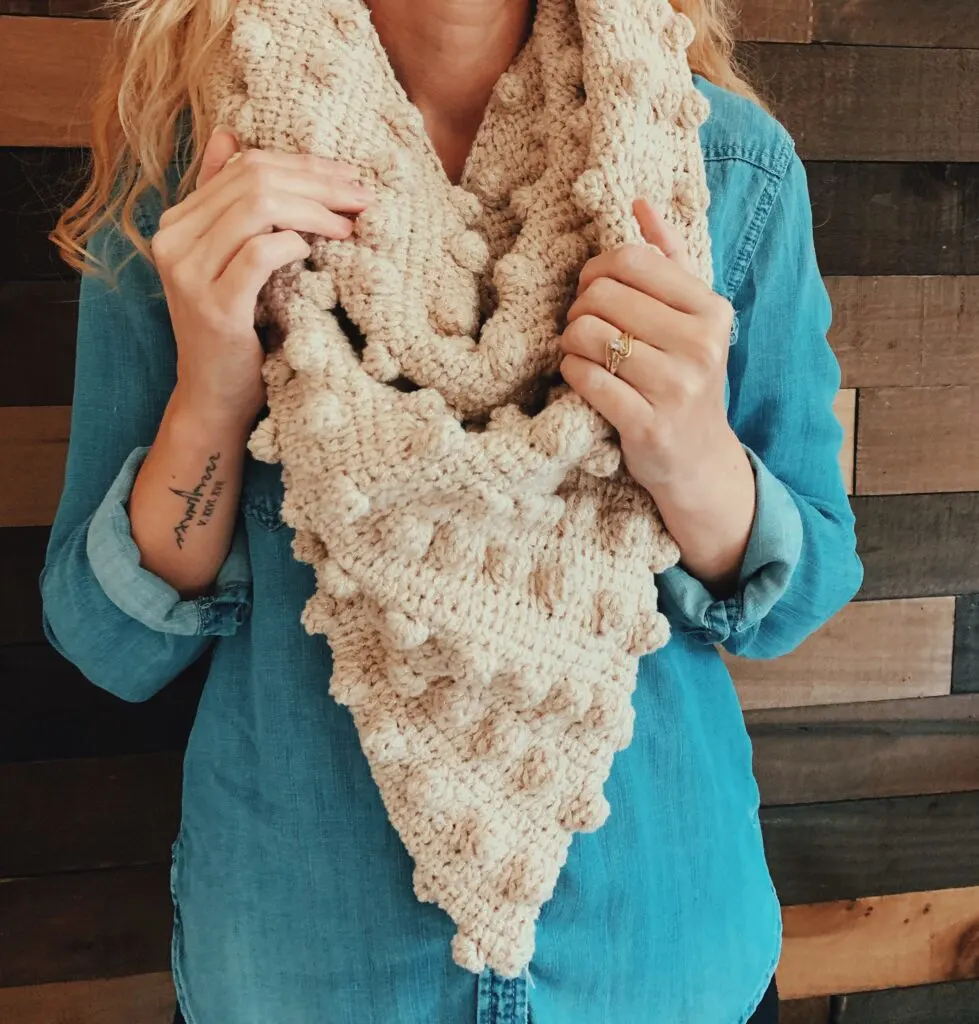 Have you ever ordered one of Lion Brand's Santa Sacks before? They release them every once in a while and I decided to purchase one for me and Hannah.
And let me tell you, they did not disappoint!
In the first sack I ordered, three skeins of a yarn I had never worked with before were included: Boogie Nights.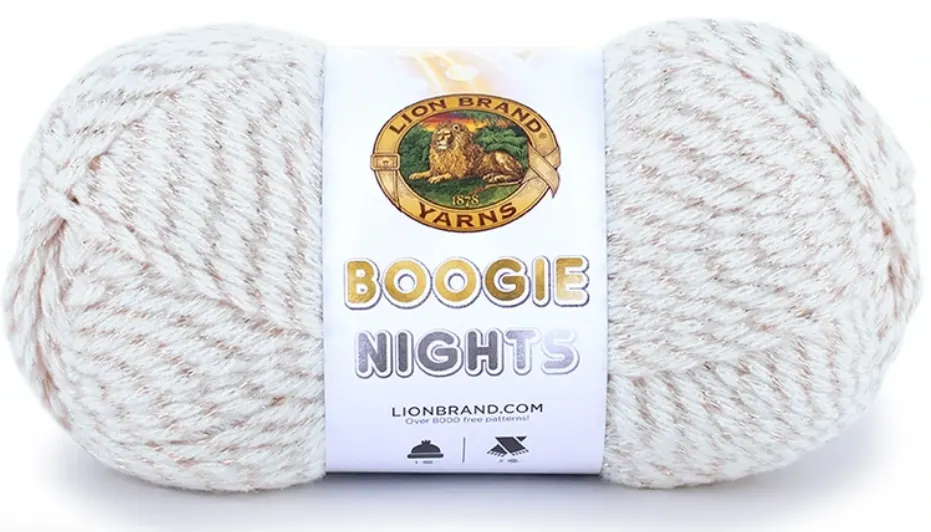 The instant I put my hands on this yarn, I saw a shawl or scarf in its future.
Put a little boogie-woogie in your project with a yarn that doesn't slack on sparkle! This chainette-constructed yarn alternates short flecks of metallic with brushed polyester.

LionBrand.com
After I gave a sneak peek of the shawl on Instagram, I had quite a few people ask me if it was scratchy. Sparkly yarns tend to be, which makes them not very comfortable against the skin.
I'm happy to report this one is not scratchy at all.
It's very soft and really enjoyable to wear.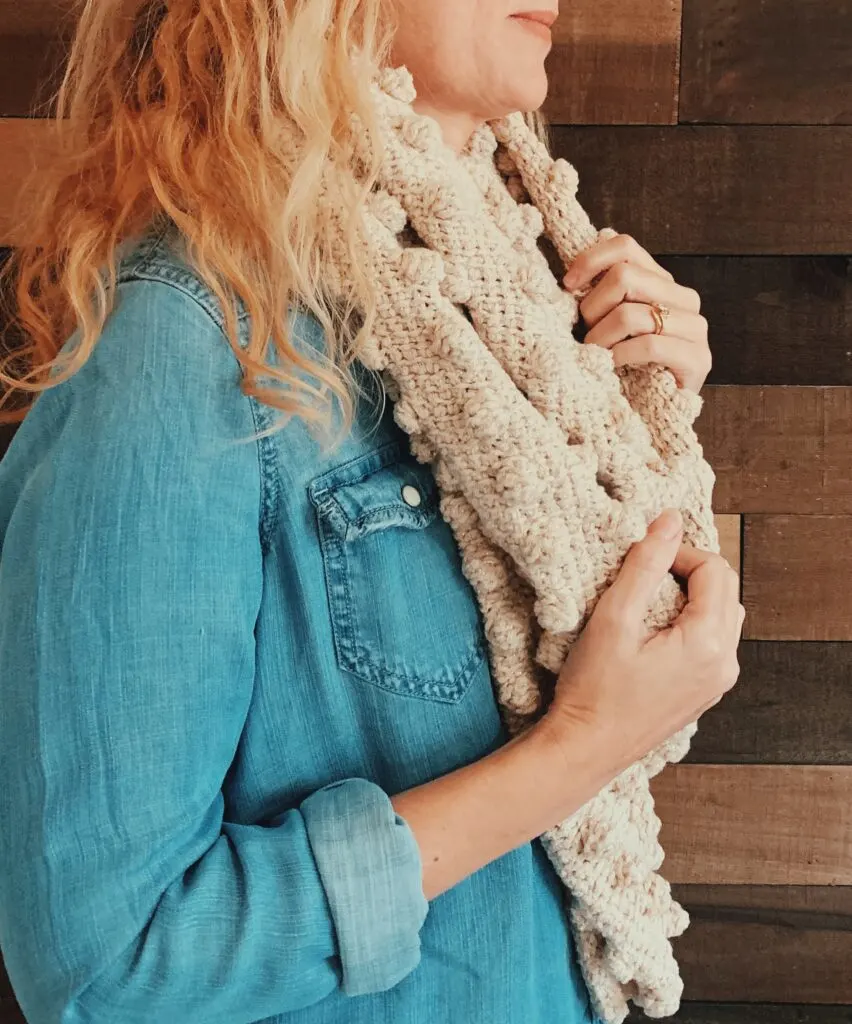 The Tunisian Stitches
There are two stitches you need to learn for this pattern, as well as one easy-to-learn technique.
Here they are:
Tunisian Simple Stitch
I apologize for the dark video. This was the very first tutorial I ever shot and it makes me cringe a little. But it's also fun to see how far I have come. I still have a lot of improvement to do!
One of my favorite patterns, the Autumn Ombre Scarf, uses only this stitch, but with color changes before the Return Pass. The pattern is free if you'd like to go check it out.
The Tunisian Simple Stitch is one of the first stitches you'll want to know when learning how to do Tunisian crochet.
Tunisian Bobble Stitch
I don't have a video tutorial for this (yet), but most people have said the explanation was all they needed. If you know how to do a regular crochet bobble, it's the same basics of the stitch.
Tunisian Bobble Stitch: (yo, insert hook into next stitch as for Tunisian knit stitch, pull up a loop, yo, pull through next 2 loops on hook) 5 times, yarn over, pull through next 5 loops on hook.
Here's a close-up look at this stitch.
Technique
The technique I was talking about that you'll need to learn is to increase on one side of the shawl. This shawl is asymmetrical, so we only increase it on one side.
To increase, you simply yarn over before you do your first Tunisian Simple Stitch. That's it! Easy peasy.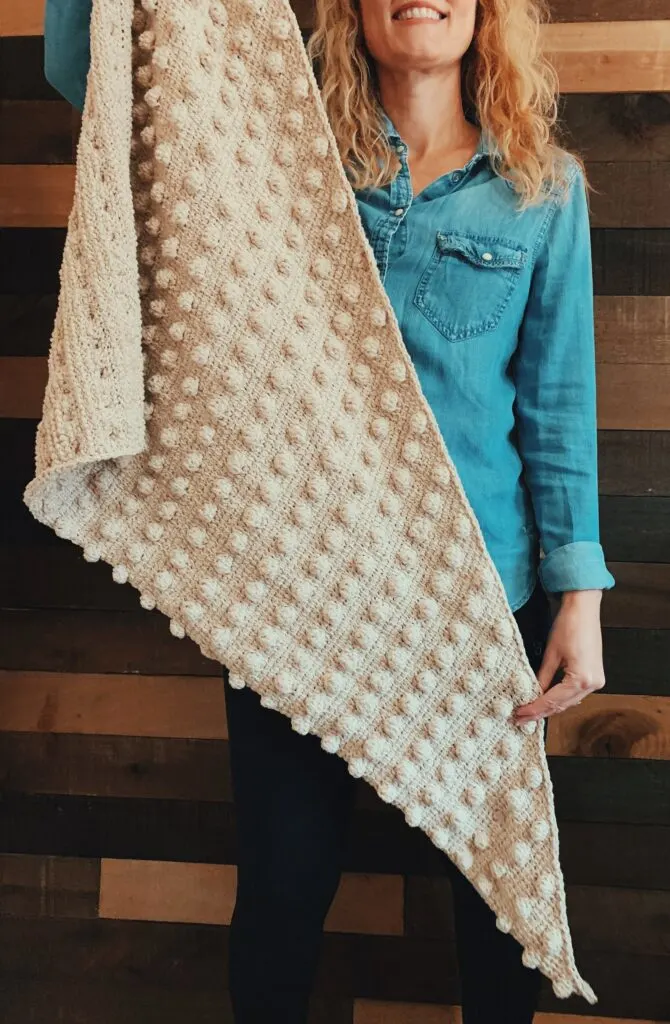 Tunisian Crochet Bobble Shawl Pattern
The Tunisian Bobble Shawl Pattern is available for purchase on both Etsy and the I Can Crochet That Shop.
Don't forget that patterns are Buy Two, Get One Free in both places. Use the code FREEFORME during checkout to snag your free pattern.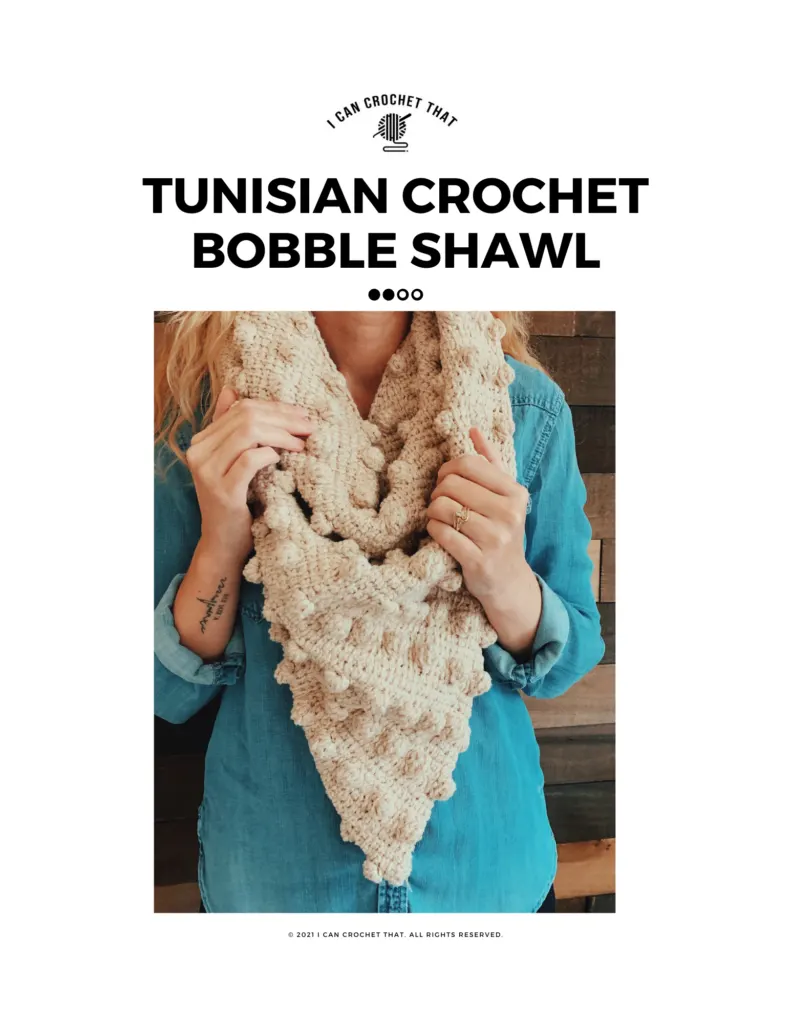 More Tunisian Crochet Patterns
Tunisian Crochet has become my go-to and my favorite way to crochet, so we have quite a few patterns available for you here. Most of them are free. You can check out the full list of Tunisian Crochet Patterns here.
My favorites are The Bryn Blanket, The Ava Throw, The Let's Go Camping Blanket, and The Autumn Ombre Scarf.
Have you tried Tunisian Crochet yet?
If you make this shawl or any I Can Crochet That patterns be sure to tag us with #icancrochetthat to be featured on social media.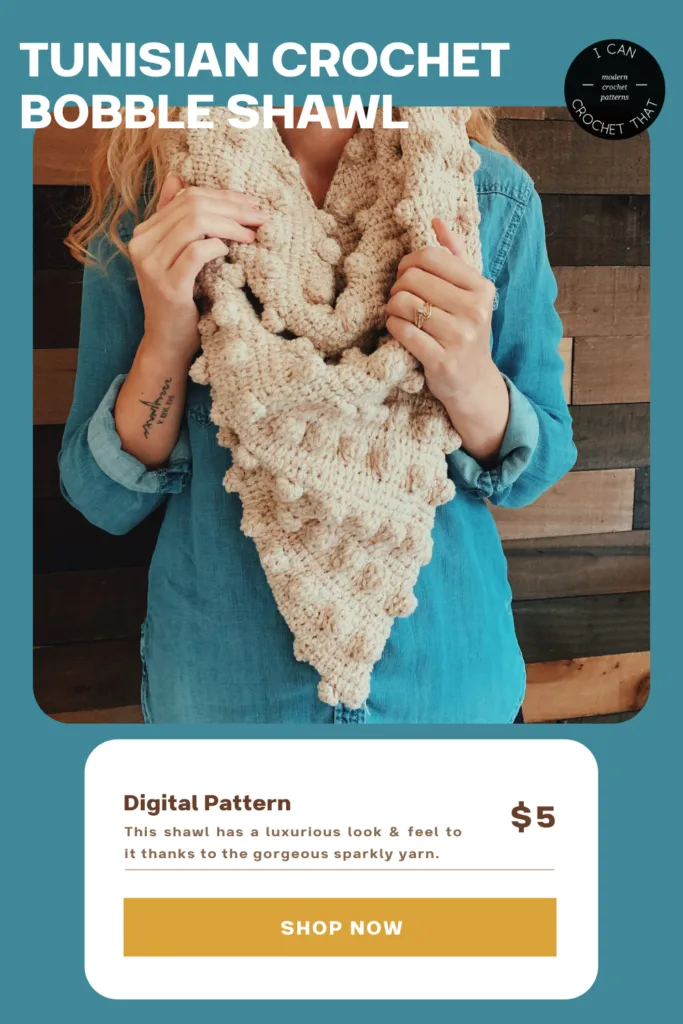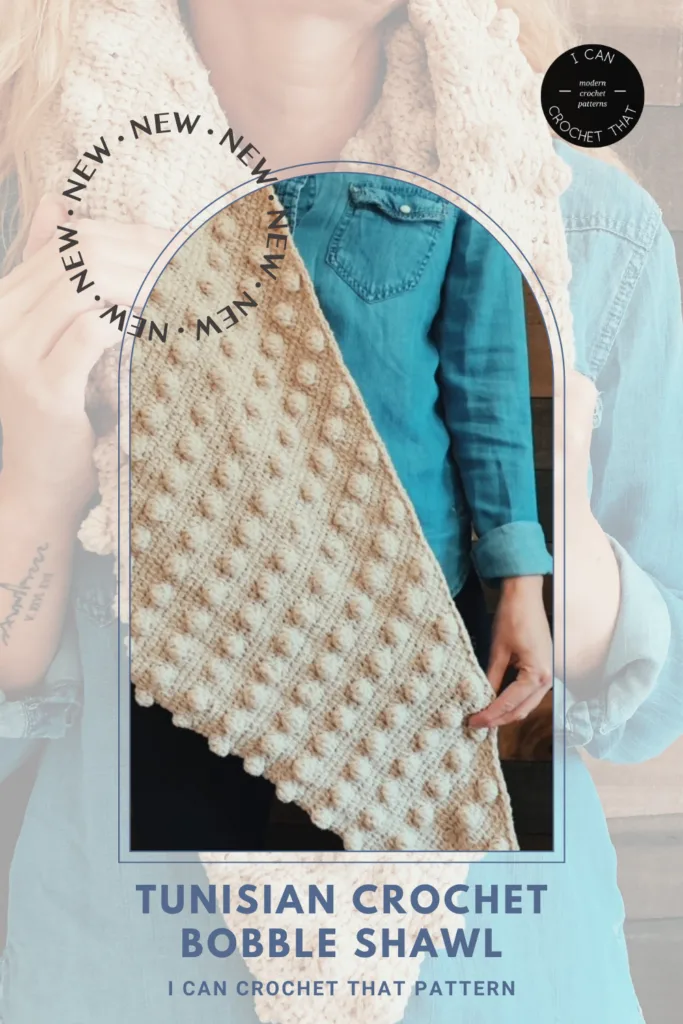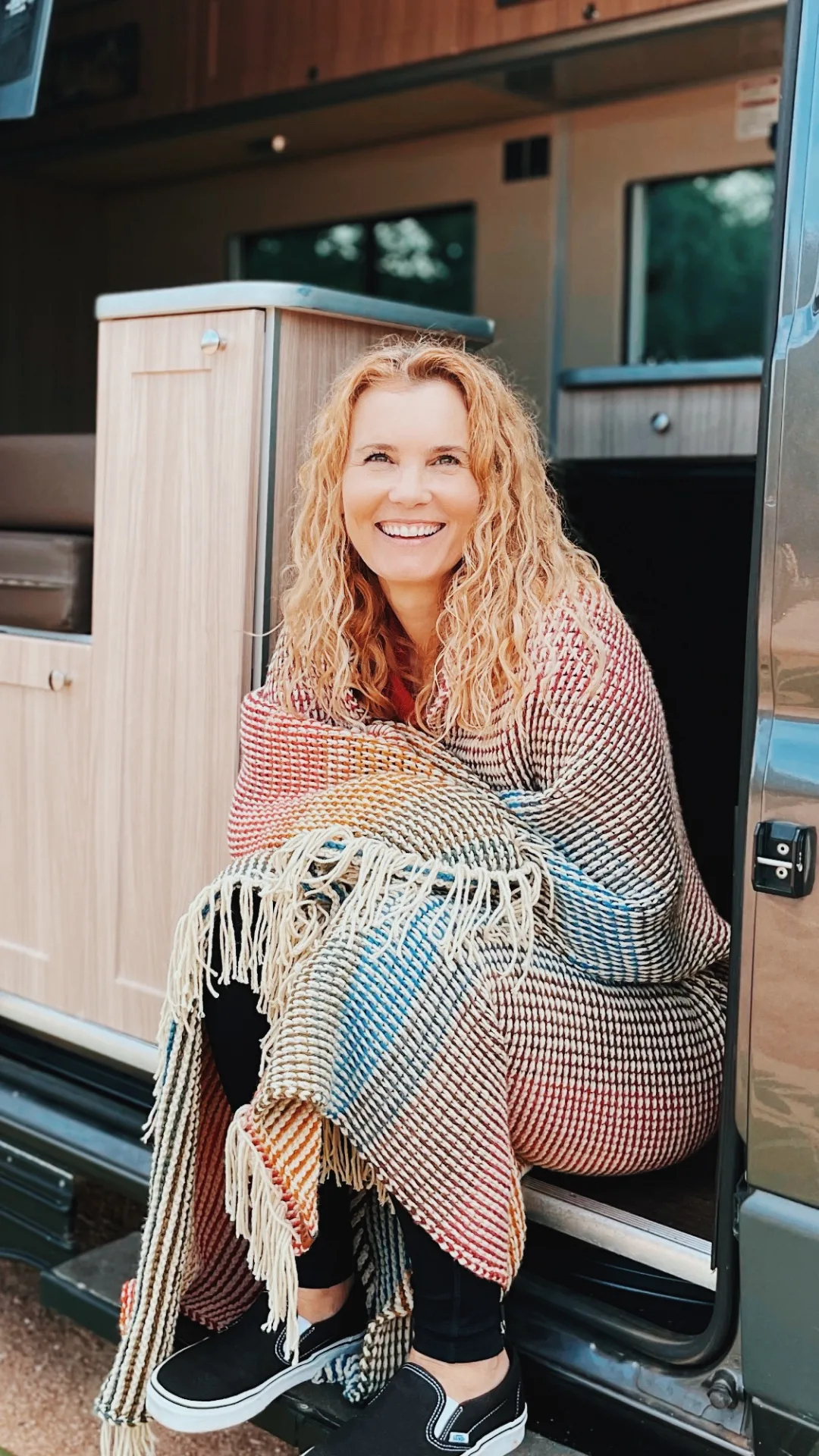 Hi! I'm Julie. I design modern crochet patterns and tutorials to help you learn to crochet. I've been crocheting for over two decades and with the gentle nudging of my husband, decided to turn this passion into a career. Although we travel a lot in our campervan, you'll never find me without a bag of yarn and projects.