Tackle one of these 25 beginner crochet projects and you'll be calling yourself a crocheter in no time…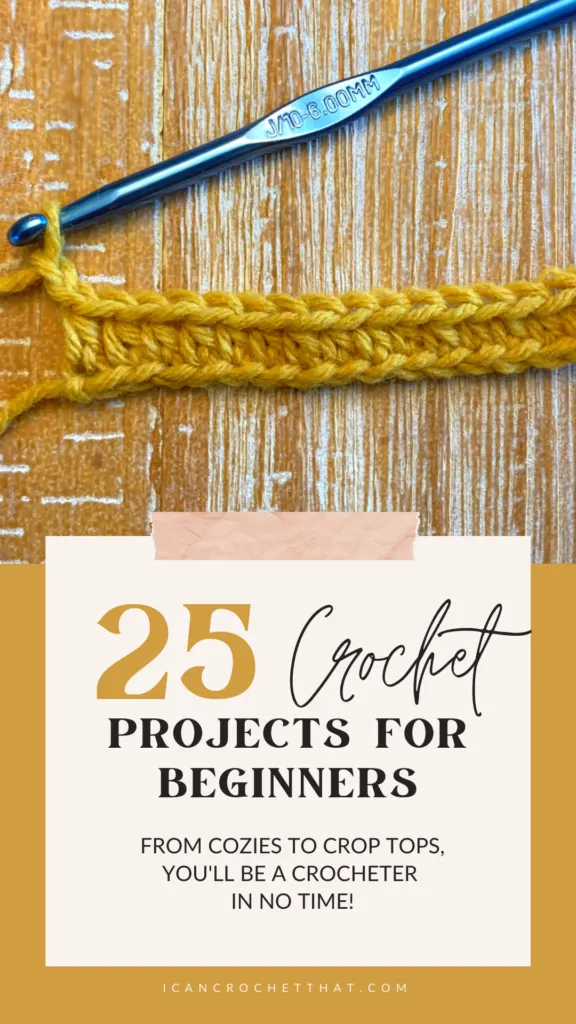 So, you're learning to crochet! Welcome to the exciting world of crocheting. We are glad to have you here.
I've been crocheting since I was in high school and it remains my favorite hobby (besides reading of course).
It has helped with my anxiety, given me a creative outlet, and allowed me to make my very own clothes. I cannot recommend it enough.
So with that said, I've rounded up 25 projects that are perfect for beginners, from cozies to crop tops. Crochet away!
25 Beginner Crochet Projects
1. Single Crochet Washcloths
Washcloths are excellent first projects for beginner crocheters. They work up really quickly, have infinite uses, and use basic crochet stitches like single and double crochet.
You can find the pattern for free here.
You can also check out our waffle stitch crochet dishcloth pattern after you have some crochet experience under your belt.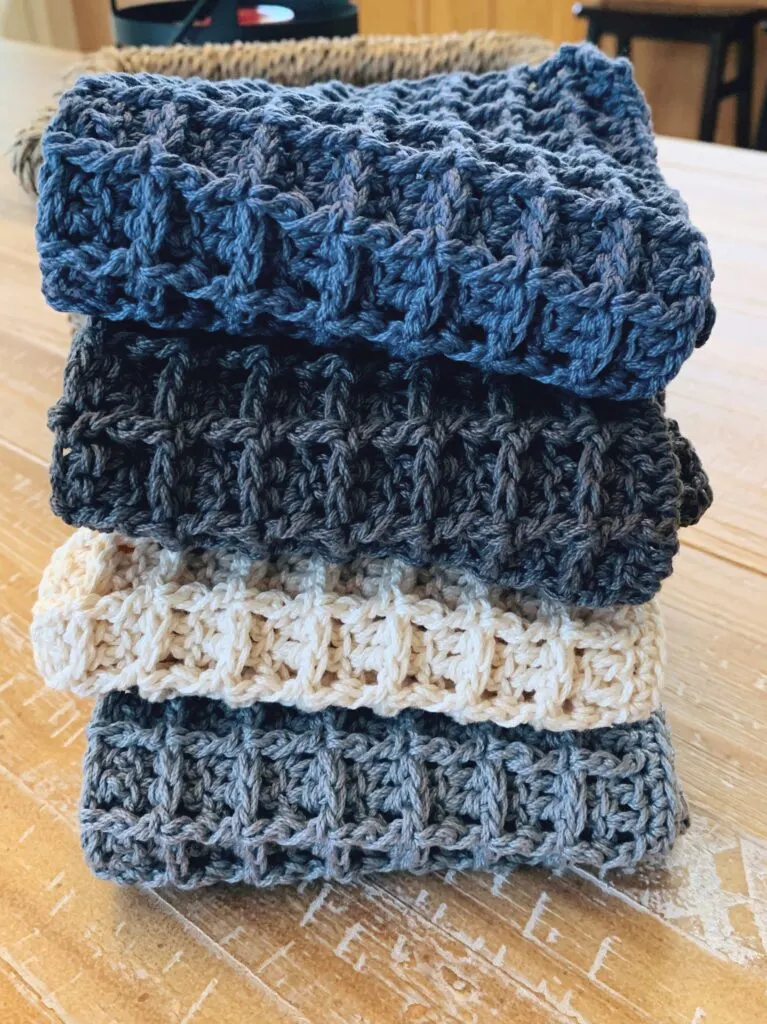 2. Coffee Cozy
Coffee/tea cozies are another perfect project to start with if you're just beginning to crochet.
There's no seaming or sewing and you can get one done in no time. These also make fantastic gifts.
The pattern is available for free here.
3. Tablet Pouch
If you have a tablet you always carry around, make sure you never misplace it in your bag with this table pouch.
It'll keep it from getting scratched by other items in your bag and give it a unique touch.
The pattern is available for purchase here.
4. Crochet Headband
I would argue that headbands are a necessity for most people, and this one is perfect.
You can use it as a regular headband, or as an ear warmer in the winter since it's wide enough.
Headbands can be made very quickly and make great gifts or products for an online store or craft fair stand.
The pattern is available for free here.
5. Beginner Crochet Cardigan
If you've dipped your toe in the crochet world with a few beginner projects but are ready for a bit more of a challenge, this beginner cardigan is for you.
Its shape is extremely simple and you don't have to sew or seam anything.
The pattern is available for free here.
6. Granny Square Tote
Granny squares are my personal favorite project and they're perfect for beginners.
You do each one individually and either seam or single crochet them together to make a garment, a purse, a blanket, and other crochet projects.
This granny square tote bag is the perfect project to begin experimenting with granny squares.
The pattern is available for free here.
7. Beginner Crochet Beanie
A beanie may look intimidating to a first-time crocheter, but don't be fooled.
Instead of being worked in a round (which is a little more complicated), this hat is made from a rectangle shape and can be completed in an hour and a half. Yes, really!
The pattern is available for free here.
8. Crochet Fringe Cowl
Looking for a fun accessory to start your fall projects off? This easy crochet cowl with fringe is an excellent choice.
The cowl itself is done in a rectangle shape and the fringe is added afterward.
It also only uses double and single crochet stitches, so it's perfectly doable for a beginner.
The pattern is available for free here.
9. Fantastic Fall Scarf
This easy fall scarf is a great project to make while you're watching TV or listening to an audiobook.
It's two rows on repeat, using chains and half double crochet.
The pattern is available for free here.
10. Easy Color Blocked Crochet Baby Blanket
Ready to tackle a crochet blanket? This color-blocked one is super simple and fun.
This would be an excellent project to start with if this is your first time making a blanket.
The pattern is available for free here.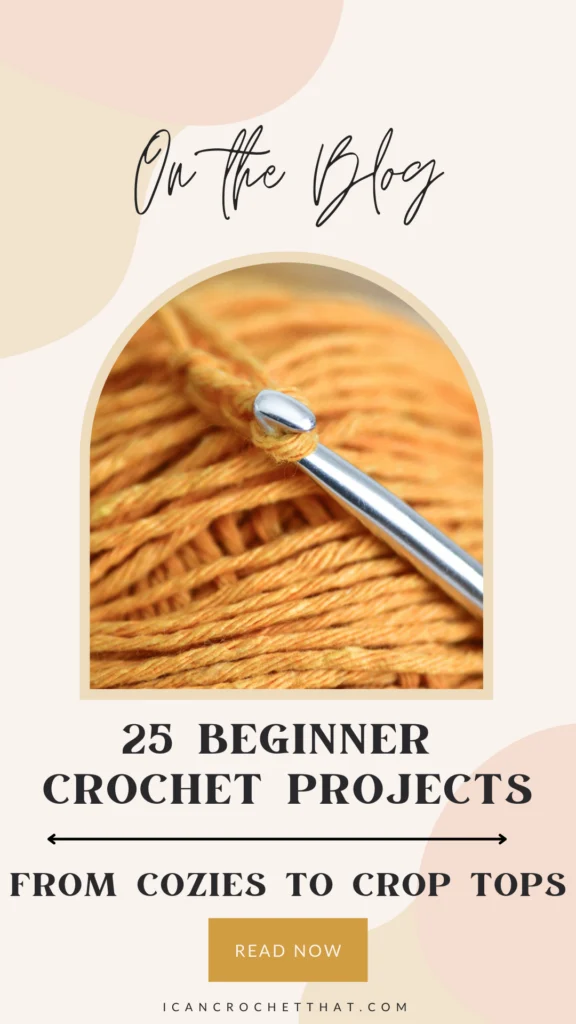 11. Cozy Hygge Blanket Wrap
Fall is quickly approaching (thank goodness) and what's a better way to start the season of cozy off with than a cozy wrap?
It's worked as a rectangle, so it's a bit more simple than a normal triangle shawl.
If you've learned the half-double crochet, you'll have this wrap done in no time.
The pattern is available for free here.
12. Flower Face Scrubbies
Want an eco-friendly alternative to cotton pads? Take an hour or two and create a couple of these flower face scrubbies.
They work up super quick so that you can make several in an afternoon. It's a perfect beginner project that creates something practical for everyday use.
You can find the pattern for free here.
13. Skylar Ribbed Crop Top
If you're ready to start making garments, I'd highly recommend starting with a For The Frills top, namely this ribbed crop top.
It was one of the first pieces I made, and the instructions were clear and easy to follow.
I had my own top in no time! The pattern is available for free here.
14. Summer Picot Head Kerchief
Rescue yourself from a bad hair day with this crochet kerchief from Nicki's Homemade Crochet.
This one is lightweight, so it won't feel bulky or chunky, and it's got a beautiful picot border.
Because of the size of the project and the simple stitches it uses, it makes an excellent first crochet project.
The pattern is available for free here.
15. Moss Stitch Crochet Coat
You're probably thinking, "I just started crocheting; how can I possibly make a coat?" But don't be fooled.
This coat uses the moss stitch (a repeat of chain 1s and single crochets that ends up looking more like knit), and it's super simple.
Also, get this: no sewing! The coat is worked in one piece.
The pattern is available on For The Frills' blog here.
16. Easy Crochet Ear Warmer
This ear warmer has a cute little flower motif on the outside that is super easy to create.
It's a combination of two patterns- the ear warmer and the flower- put together to make a simple and adorable fall accessory.
Both patterns are linked on Kristine In Between's blog here.
17. Easiest Afghan Ever
The name of this afghan is no joke. It really is the easiest blanket you can make.
It just features single crochets, and it's so easy to put down and pick back up without needing to worry about counting.
The blanket is finished off with an adorable ruffle to complete the easiest blanket you'll ever make!
The pattern is available for free here.
18. Granny Stripe Blanket
If you're wanting a blanket with a bit more variation, this granny stripe afghan is a great choice.
The stitches are simple but gorgeous looking, and you have the option to change up the color to get the stripe effect. I may start making this one myself.
The pattern is available for free here.
19. Modern Vintage Crochet Coasters
Coasters are an excellent stash buster project, and they take no time at all.
These gorgeous vintage-inspired ones are so bright and fun, and you can change up the colors depending on the color of your home.
They only use single and double crochets, great for a beginner.
The pattern is available for free here.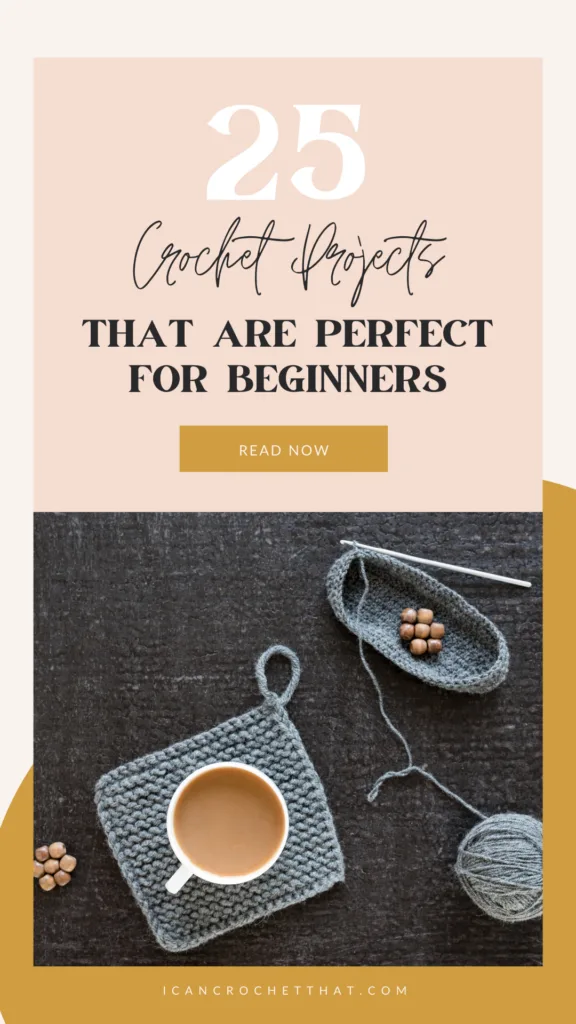 20. Stash Baskets
Everyone can always use more storage; that's just a fact.
Why not knock out your storage shortage issue and a croche project in one?
These baskets are super easy to make and great for the kitchen, bathroom, bedroom, living room, or anywhere you need just a little more space.
The pattern is available for free here.
21. Market Bag
These market bags make excellent bags to carry around your Sunday farmers' market or to your local grocery store for your produce.
They're super easy and quick to make and may be the perfect project to finish up a skein of yarn since the bags don't require much yarn to make.
The pattern is available for free here.
22. The Magnificent Mini Pouch
Speaking of stash buster projects, these mini pouches are a wonderful, practical beginner project that doesn't use a whole lot of yarn.
I'm always looking for extra pouches and whatnot to put medicine, makeup, crochet hooks, and little things like that in, and this pouch fits the bill.
It works up super quick, too.
The pattern is available for free here.
23. Flower Fields Mug Rug
This adorable mug rug is inspired by fields full of flowers, and it's a great beginner project.
If you're looking to start honing your skills, this is also a great project to practice color changing with.
The pattern is available for free here.
24. Crochet Pillow Cover
Don't feel like spending $20 on a pillow cover? Make your own!
It's just one rectangle folded over and sewn together so the pillow can easily fit inside.
The cover pattern is available for free here.
25. Can Cozy
While you're making your mug cozy, go ahead and try one of these can cozies too.
It's made with the linen stitch, so there aren't really any gaps for the condensation to escape through.
Also, there's a pattern for a standard can as well as a taller can.
Both patterns are available for free here.
We hope you found the perfect crochet project for beginners, whether it's for yourself or someone else.
If you need more tips and tricks for beginner crocheters, check out a few of our articles here on I Can Crochet That: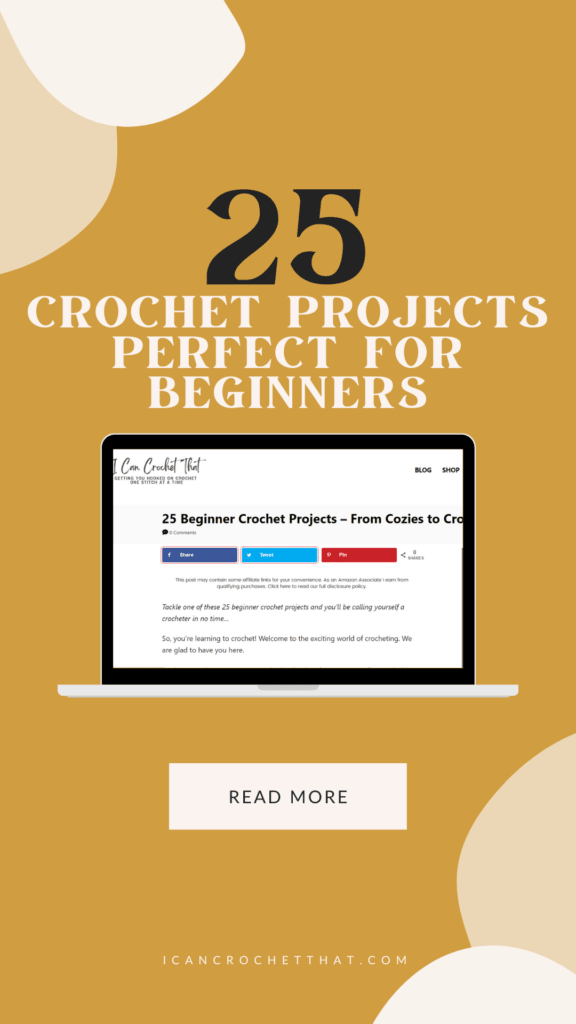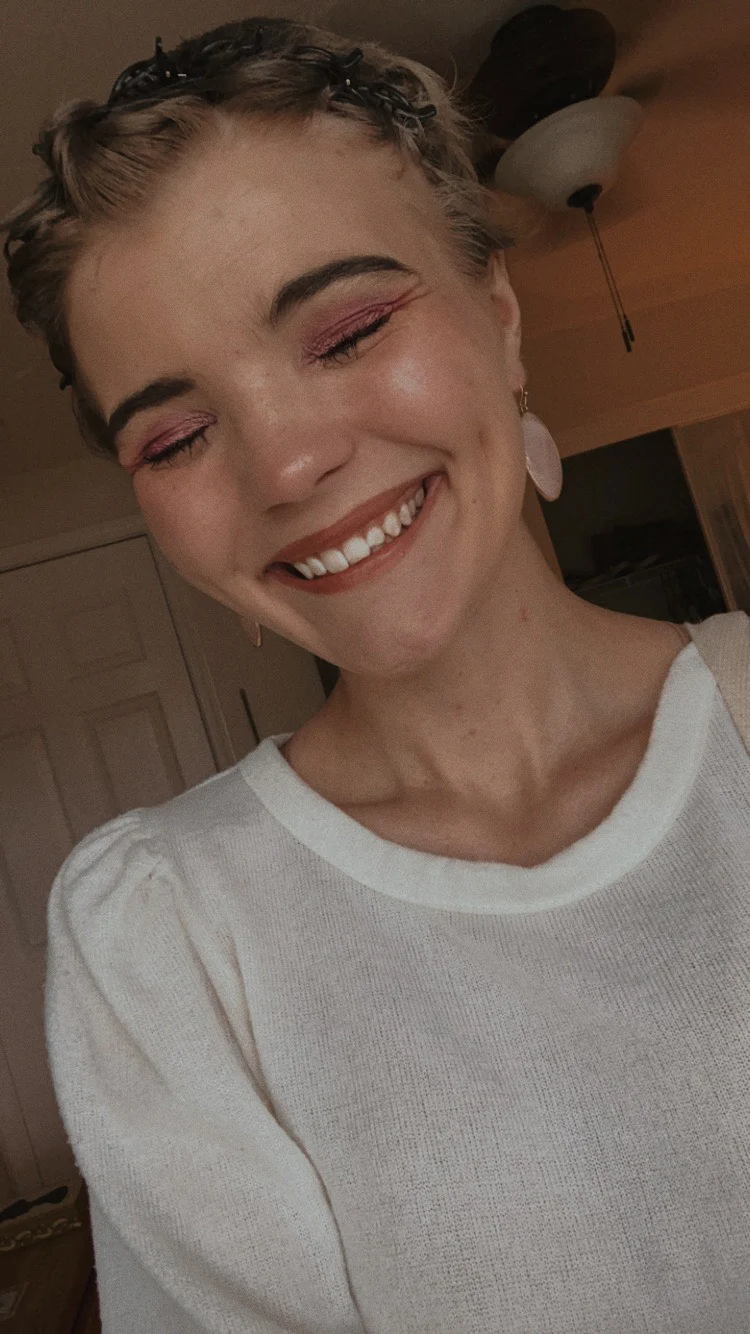 Hannah is the eldest of the Bonner family's three kiddos. She graduated from the University of North Texas with her Bachelors in Elementary Education. She enjoys reading, yoga, movies & TV, and (obviously) crocheting. She is excited about furthering her writing career & spending her days surrounded by yarn. All the yarn.