Are you just starting your crochet journey? We're here to help! One important key to crochet success is finding the best yarn for crochet beginners.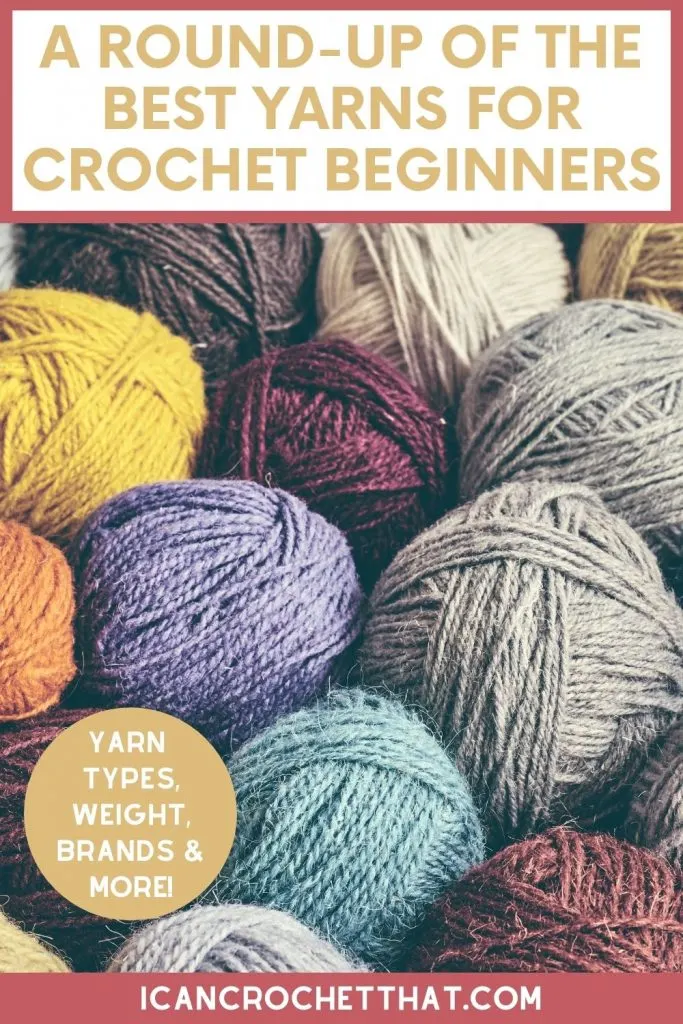 Why?
Well, there's nothing more frustrating than using a slippery yarn, yarn that splits easily, or one that doesn't stand up to practice swatches.
If you've walked into your local craft shop and found yourself standing there just staring at all of the options, feeling a little overwhelmed…I get it. I've been crocheting for almost 25 years and I still get a little dazed by the choices.
When it comes to yarn, there are A LOT of choices. Plus, there are some basic things you need to know, like fiber type and weight.
Let's start off by talking about the different fiber types that are best for beginners. (You'll find the fiber content on the label around the yarn.)
What Type of Yarn is Best for Beginners? Let's Talk Fiber Types.
Ahhhh fiber types. A fun and slightly confusing topic am I right? There are tons of choices: bamboo, acrylic, wool, alpaca, banana silk, and on and on, but there are three basic fibers that are perfect for a beginner crocheter.
Acrylic Yarn
Acrylic yarn is what I started my crochet journey with many years ago and it's one of the most popular yarns among crocheters.
It's easy to find at craft stores, it's easy to work with and it's affordable. Win-win-win.
Acrylic yarn also stands the test of time. I have 20 year old crochet blankets made from acrylic yarn and they still look amazing. They've been used, washed and moved around the country from house to house many times.
The fact that the blankets are machine washable has been really nice since they've often been sitting in a storage unit for months on end.
Use acrylic yarn for…
Acrylic yarn is best for crochet projects like afghans, blankets, hats and scarves. Some crocheters like it for garments as well (especially if they're allergic to wool), but others find it too scratchy to be against their skin.
You'll notice that a lot of large projects are done with acrylic yarn, one reason being how affordable it is.
Do not use acrylic yarn for…
If you do make a garment, like a sweater for example, with acrylic, just know that it does not hold heat very well.
You should definitely not use acrylic yarn for projects like potholders or trivets because acrylic yarn can melt.
Also, if a crochet project needs to be wet blocked (if you don't know what this means, don't worry…I'll write up a post all about wet blocking soon 😉 ) and then steamed, the steam iron can melt your project.
I have many crochet patterns that use acrylic yarn. Here are a few:
Wool Yarn
Wool yarn is an excellent choice for beginners. It is very resilient and stands up to mistakes.
Have you heard of frogging? To frog means to rip out stitches. Where did the name come from? Frogs. Ha! It's a play on words. A frog says ribbit, ribbit, ribbit. A crocheter goes rip it, rip it, rip it.
Wool yarn is great for scarves, hats, mittens, and heavy winter sweaters. Unless you're allergic to wool! Then it's a no-go.
I just finished making the Wild Bloom Cardigan which is made with Wool-Ease, an acrylic/wool blend.
Cotton Yarn
Cotton yarn can be a little more challenging to work with than acrylic and wool, but it's worth a shot to try it. Especially if you're crocheting in the summer heat. It's lighter than wool and you can make some fun spring and summer projects with.
There are a TON of projects that cotton yarn is best for. A few are: dish cloths, wash cloths, pot holders, trivets, rugs, totes and beach towels.
Here are a few different projects here on I Can Crochet That made with cotton yarn: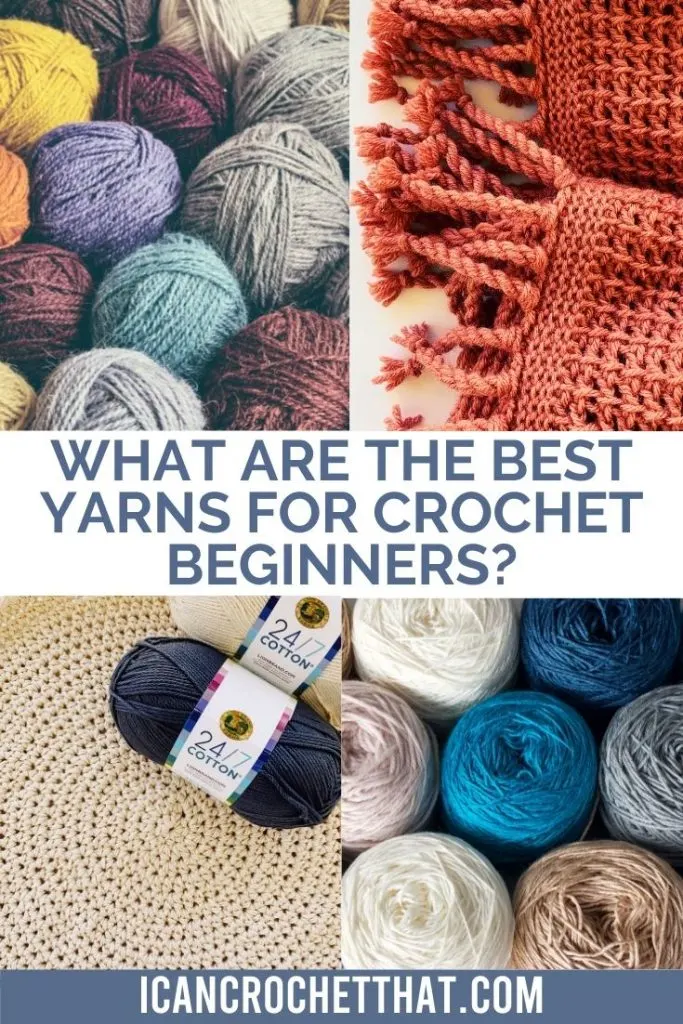 Let's Talk Yarn Weights
Not only does your yarn label tell you what the fiber content is, but it also has a weight number.
Weight is the thickness of the yarn and can range from 1 to 7. One is the lightest weight yarn and 7 is a super bulky yarn.
Here's a list of yarn weights and what they mean:
Lace: Fingering 10 count crochet thread – 0
Superfine: Fingering, Baby-Weight – 1
Fine: Sport – 2
Light: DK, Light Worsted – 3
Medium: Worsted-Weight, Afghan, Aran – 4
Bulky: Chunky, Craft, Rug – 5
Super Bulky: Super Bulky, Roving – 6
Jumbo: Jumbo, Roving – 7
The best yarn weight for beginners is a 4; or worsted-weight yarn.
"Worsted-Weight" yarn refers to a medium-weight yarn. It's heavier than DK yarn (double knitting yarn), sports weight yarn, baby and fingering yarn. It's lighter than thicker yarns such as chunky and bulky.
So, start with a #4 weight and get comfortable with it. Practice a bunch of different crochet stitches and then later move on to other weights/types of yarn.
The Different Way Yarns Are Sold: Cakes, Skeins, Hanks & More
I can't talk about the best yarn for beginner crocheters without going over the terminology for how yarn is sold and packaged.
Skein
A skein of yarn is the most popular and what you'll find on a lot of craft store shelves.
A skein of yarn is done on a machine and is usually an oblong shape. While it can be a center-pull option (pulling the yarn from the center of the skein) most are not.
If you've ever tried to pull from the center and ended up with a pile of knotted twisted yarn, aka yarn barf, then you know how frustrating pulling from the center can be. It's easiest to just start from the outside end of the skein.
If you'd rather not start on the outside, Lion Brand has some tips for pulling yarn from the center you can read about here.
Ball
A ball of yarn looks just like the name – a ball. A ball of yarn can only be used starting at the outside end and not a center pull.
While you won't find many balls of yarn on store shelves, this is a common way for crocheters to neatly organize their leftover yarn. Another common way to wind your leftover yarn is into a cake…
Cake
A cake of yarn is usually created using a yarn winder. It has a flat top and a flat bottom and is a center pull.
You will see a few cakes of yarn on store shelves. These are super easy to crochet from because they are center-pull.
This is also a common way from crocheters to wind up and store leftover yarn. Because of the flat bottom and top, it makes stacking the yarn easier. Plus, crocheting from the center pull is always preferred.
If you don't have a yarn winder, you can easily make a cake of yarn from hand. One Dog Woof has a great YouTube tutorial you can watch here.
Another reason to know how to create a cake, is if you happen to purchase a hank of yarn.
Hank
Most indie, luxury and hand-dyed yarns are sold this way. A hank is a long loop of yarn twisted.
The one negative of purchasing a hank of yarn is you can not crochet directly from it. It has to be wound in a ball or cake using a yarn winder or by hand before you can use it.
My Picks – Best Yarns for Crochet Beginners
Now that you know all about the best fiber types, yarn weights and different ways yarn is sold, it's time to mention a few of my favorite yarns for beginners.
These are yarns we've personally used and love.
Best Acrylic Yarns for Beginners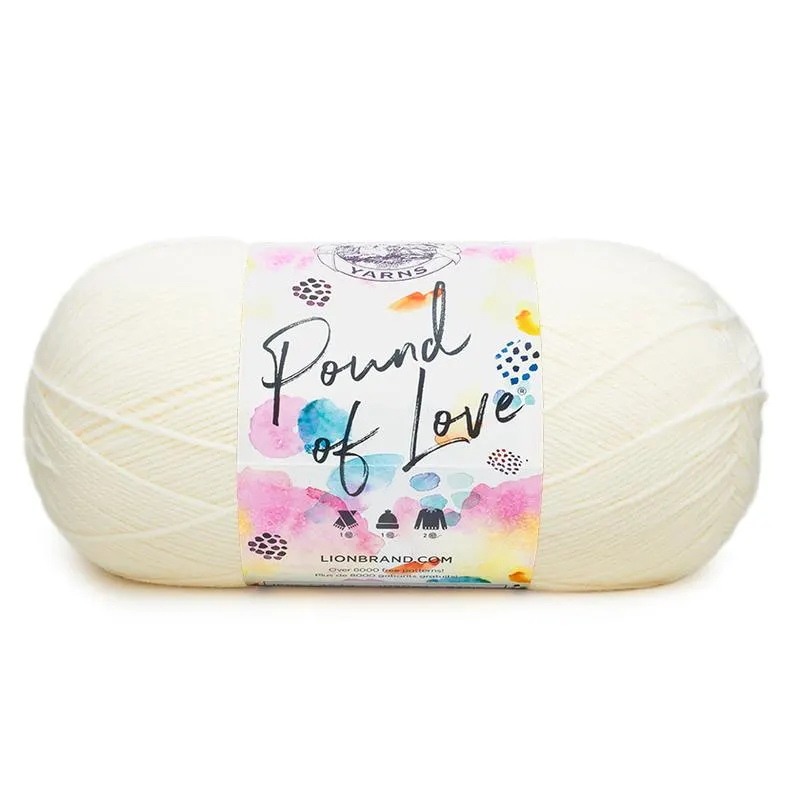 I have a serious love affair with Pound of Love Yarn. This is my top choice yarn for beginners. Why? Well, it's acrylic. It's sturdy but not rough. (I've made a baby blanket with it too.)
It's easy to work with. It's affordable. There's a lot of it to work with – like a pound 😉
There are so many gorgeous color options for this yarn as well. You can see them all here. I've got my eye on you Vanilla.
The Ava Crochet Throw is made with Lion Brand Pound of Love in Terracotta.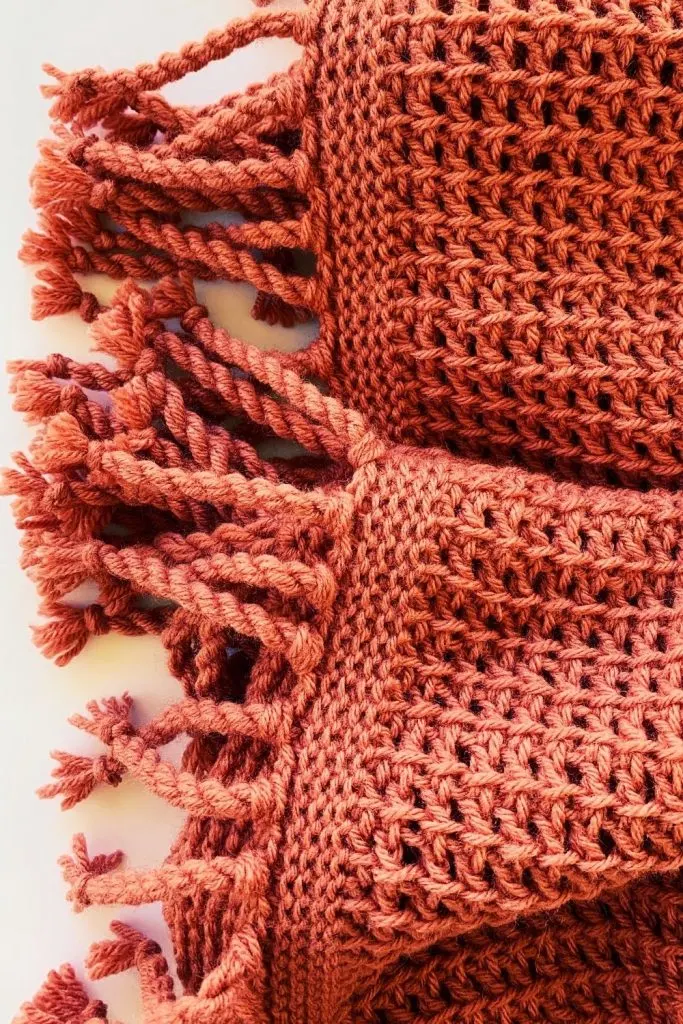 This is a very versatile worsted weight yarn that's a great choice for all types of projects – from hats to blankets.
It's known for it's beautiful drape and softness. It's also very durable and can be washed over and over again.
Caron was the brand of yarn I first started crocheting with. So it has a special place in my heart.
Similar to the Pound of Love yarn mentioned above, this 16 ounces of yarn is affordable, comes in a variety of colors and is easy to work with.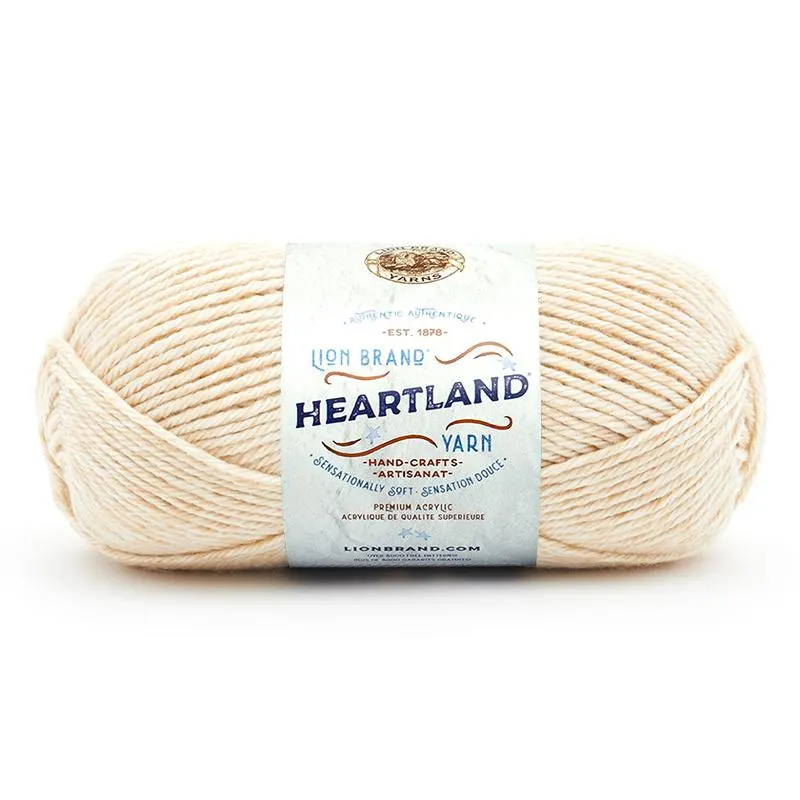 Given my love of the outdoors and National Parks (I've been to 17 and counting!), I had to include this acrylic yarn.
Although it's labeled as a 'premium' yarn on their website and not all of the color choices are 100% acrylic (the tweeds have some rayon), I still feel like this is a great yarn for beginners.
I made this linen stitch blanket with Heartland Yarn and it's one of my favorite projects to date. Here's a picture of it.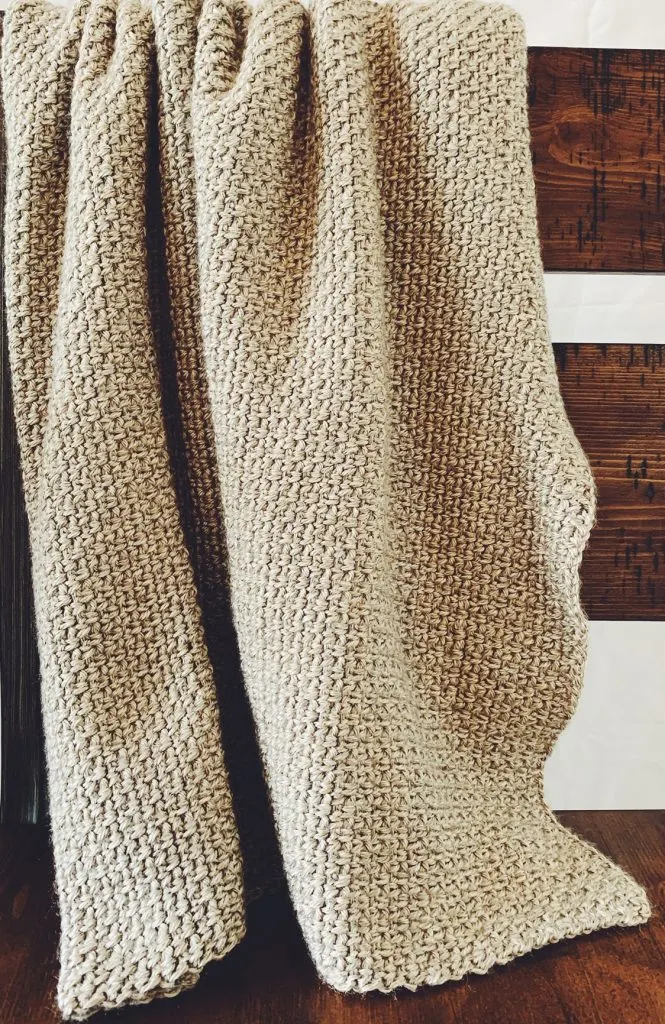 This is another acrylic yarn that is considered premium.
I wouldn't recommend this as a practice yarn for when you're first starting out, but I do recommend it for beginners once you've got the hang of some stitches and you want to make something.
The reason I recommend it is because it just makes crocheting even more fun. It is so soft and so enjoyable to work with, I couldn't leave it out of this list.
I made this blanket in several of the beautiful colors they carry. Here's a picture.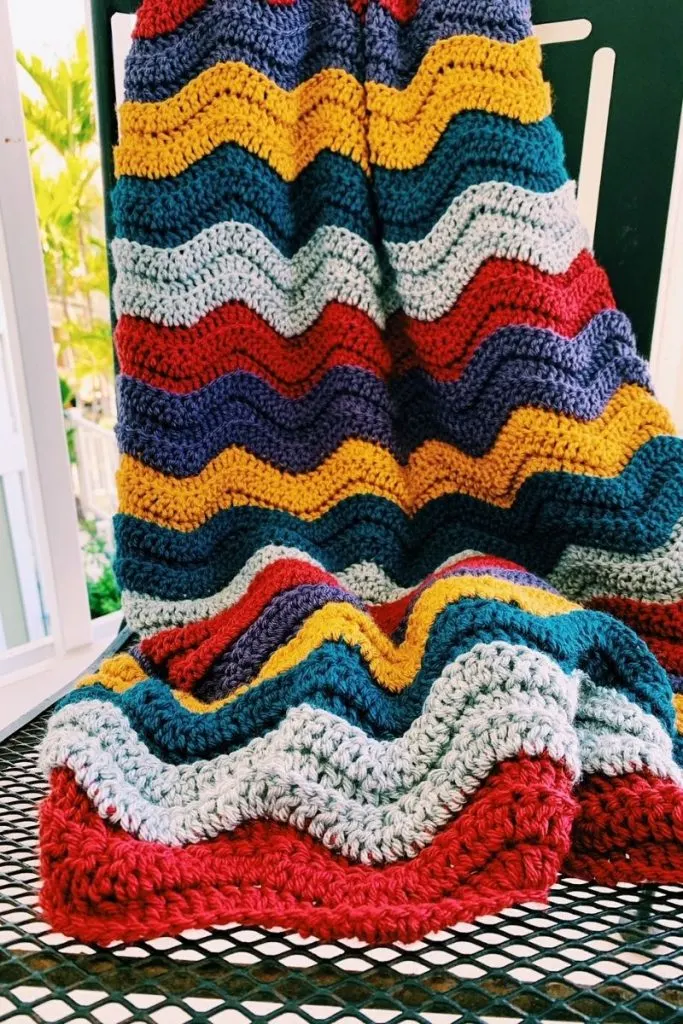 I have quite a few more free crochet patterns made using acrylic yarn. Check them out here.
Best Wool Blends for Beginners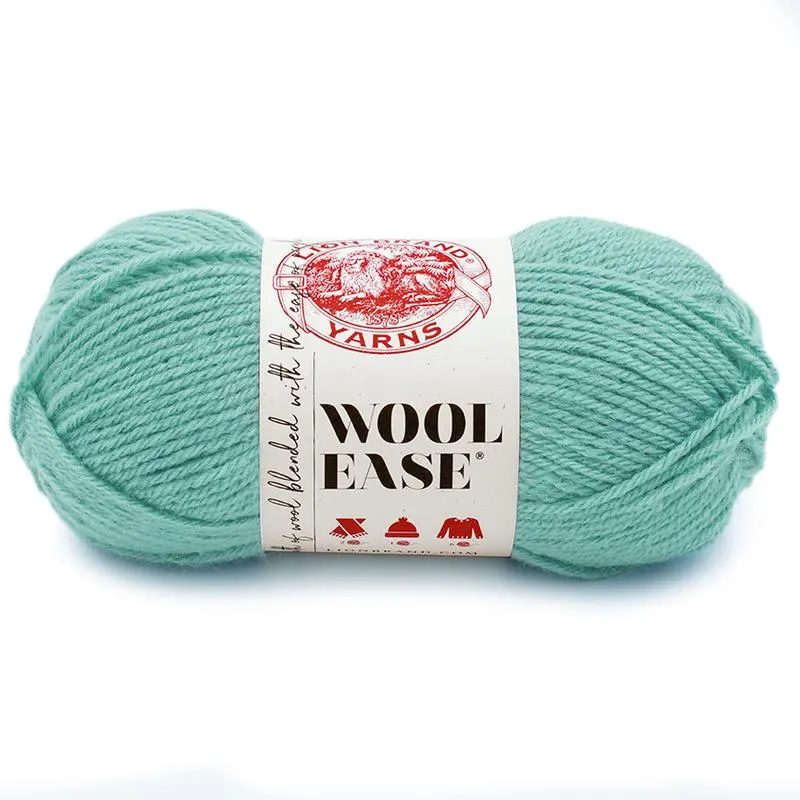 I love working with this yarn. It's helps create such gorgeous stitches and is a really good yarn to practice with.
When you're first learning to crochet, the stitch definition is important so you can really see what the stitch looks like. This yarn does the trick!
Best 100% Wool Yarns for Beginners
This is a worsted-weight 100% wool yarn with a wide range of shades available. It's perfect for sweaters, blankets, scarves and hats.
Red Heart Chic Sheep Marly Bird
This wool yarn is the "the softest wool from the coolest sheep!" It comes in 24 gorgeous shades.
Popular designer Marly Bird created this line. You can purchase it on Amazon.com or Yarnspirations.com.
Best Cotton Yarn for Beginners
As of this writing, Lion Brand's 24/7 Cotton Yarn is my all-time favorite cotton yarn to work with.
It's a worsted-weight yarn that comes in a wide variety of beautiful colors and a mercerized yarn, so it has a gorgeous sheen to it which I really like.
This yarn is perfect for summer fashion garments, bags and home decor items.
I've designed two placemat patterns with this yarn: a round one and a rectangle one. I use them all the time and love them!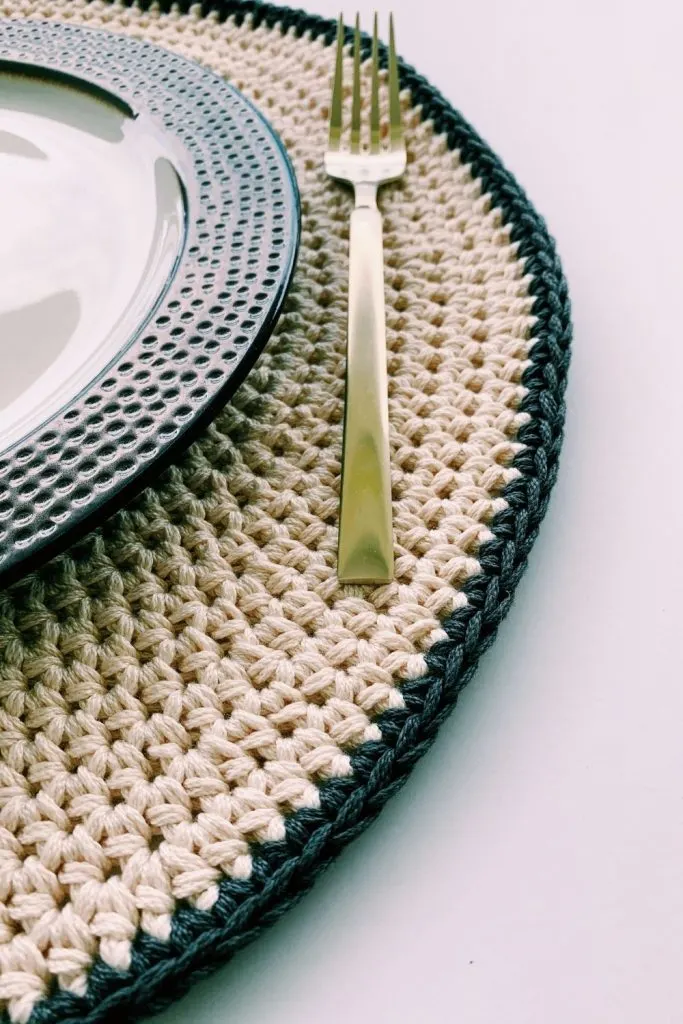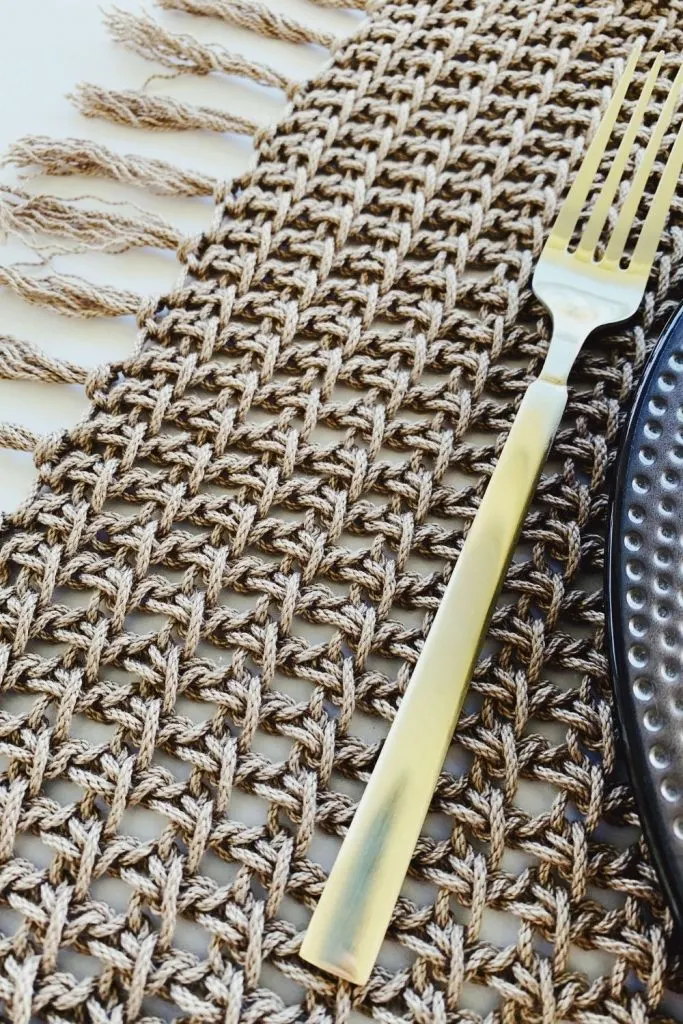 Red Heart Scrubby Smoothie Yarn
This 100% Cotton yarn was dyed to match top selling shades of Scrubby. It's a soft cotton and is perfect for a variety of projects such as summer fashion items, baby items, bags and accessories.
But Wait! There's More.
There are just a few more tips I want to leave beginner crocheters with that I think are important.
Yarn color
Trust me when I say learning to crochet with dark yarn is incredibly frustrating. You can't see your stitches as well as you can with a light yarn.
Start with a light gray, cream or pastel yarn when you are first learning. But don't worry, you'll be ready to move on to those dark charcoal, reds, blues and greens before you know it!
Texture
I'm sure you've seen those fancy textured novelty yarns and maybe you're dying to try them. But trust me when I say these are a terrible idea to learn to crochet with.
Wait until you have some practice under your belt and have made several projects with acrylic, wool, or cotton, and then try your hand at the textured yarns.
Price
When you're starting out learning how to crochet you will make a lot of mistakes. And I mean a lot. Which means you need a yarn that can stand up to these mistakes and one that didn't cost you and arm and a leg.
How frustrating would it be to purchase a luxury-priced yarn, only to have it get destroyed? Start with the affordable yarns and work your way up.
Dye Lot Number
What is a dye lot number? It's a number that is recorded during the dying process of the yarn. Yarn manufacturers will assign each lot dyed at the same time, the same number. You'll find this number on the packaging.
So when you are doing large or small crochet projects, one important thing is to make sure your yarn comes from the same dye lot. If not, you may notice slightly different colors.
Crochet Hook Size
Pay attention to the recommended size of crochet hook the yarn recommends. Start with that size, but then don't be afraid to experiment with a size up or down.
That's a Wrap!
I really hope this article has helped you understand the types of yarns beginner crocheters should start with.
Starting with the right kind of yarn can make the difference between you falling in love with crochet and you getting frustrated and quitting.
So grab that worsted-weight yarn, the correct size crochet hook, a hot beverage and some patience. You'll be cranking out beautiful crochet projects you are so proud of in no time!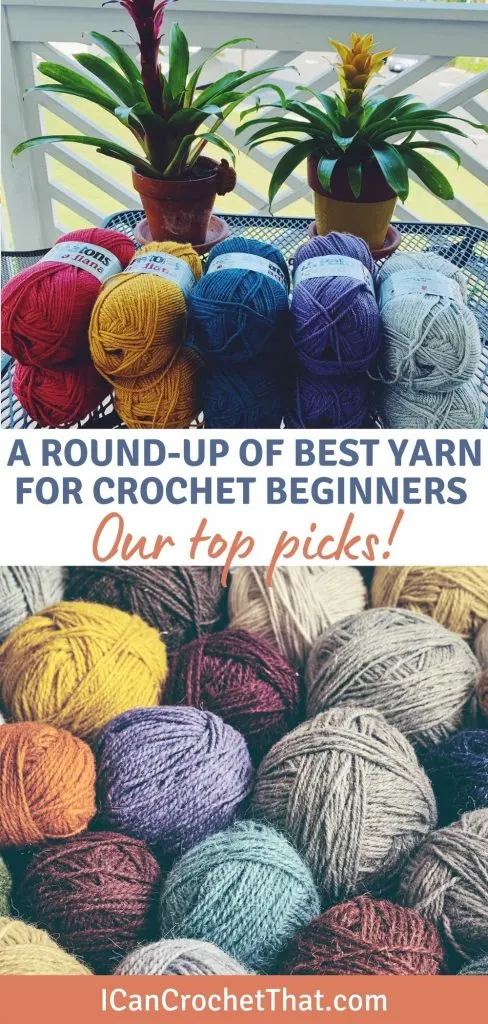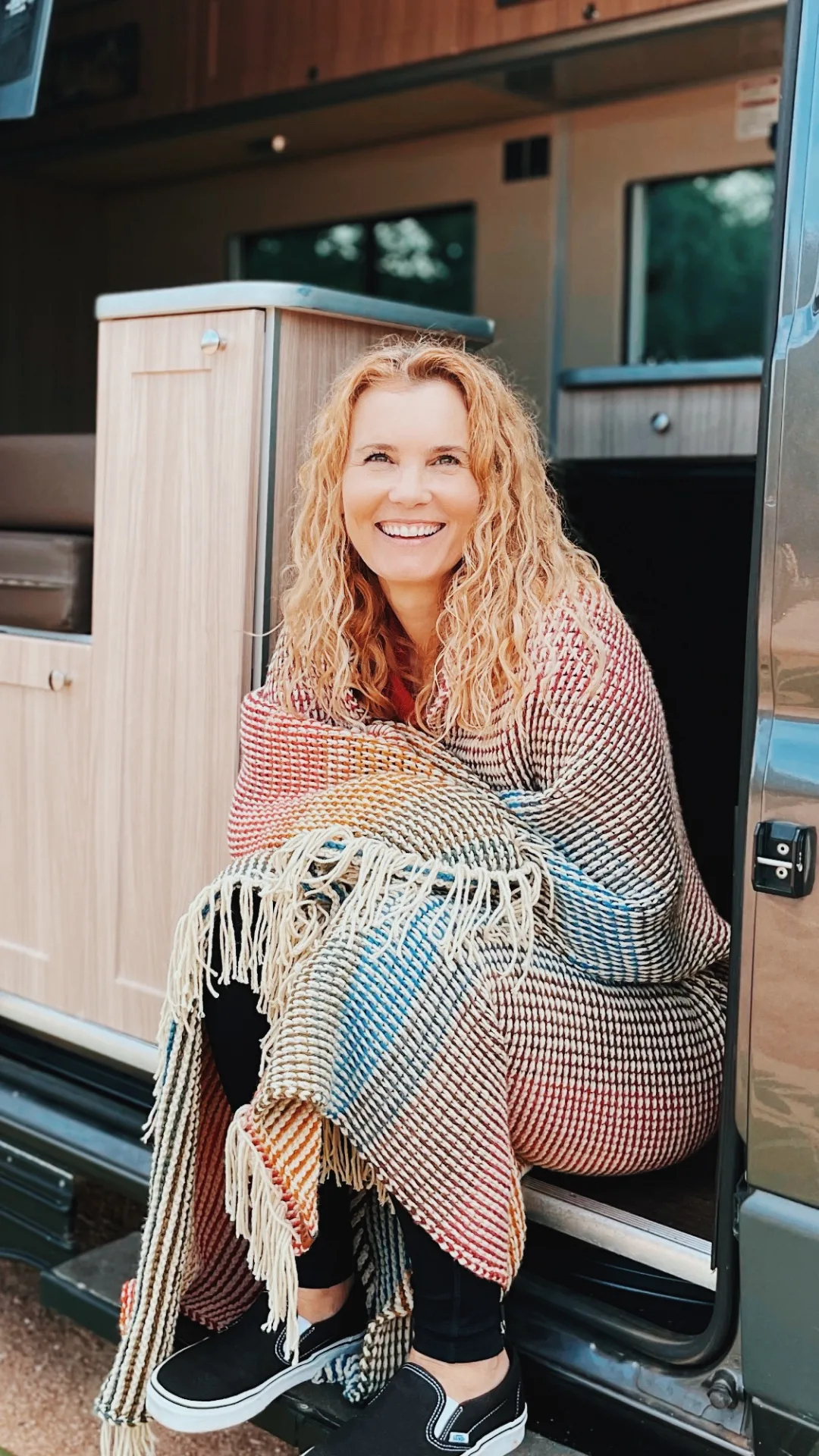 Hi! I'm Julie. I design modern crochet patterns and tutorials to help you learn to crochet. I've been crocheting for over two decades and with the gentle nudging of my husband, decided to turn this passion into a career. Although we travel a lot in our campervan, you'll never find me without a bag of yarn and projects.