This easy crochet placemat pattern is made with 100% cotton yarn and works up super quickly. It's the perfect modern touch to your tablescape!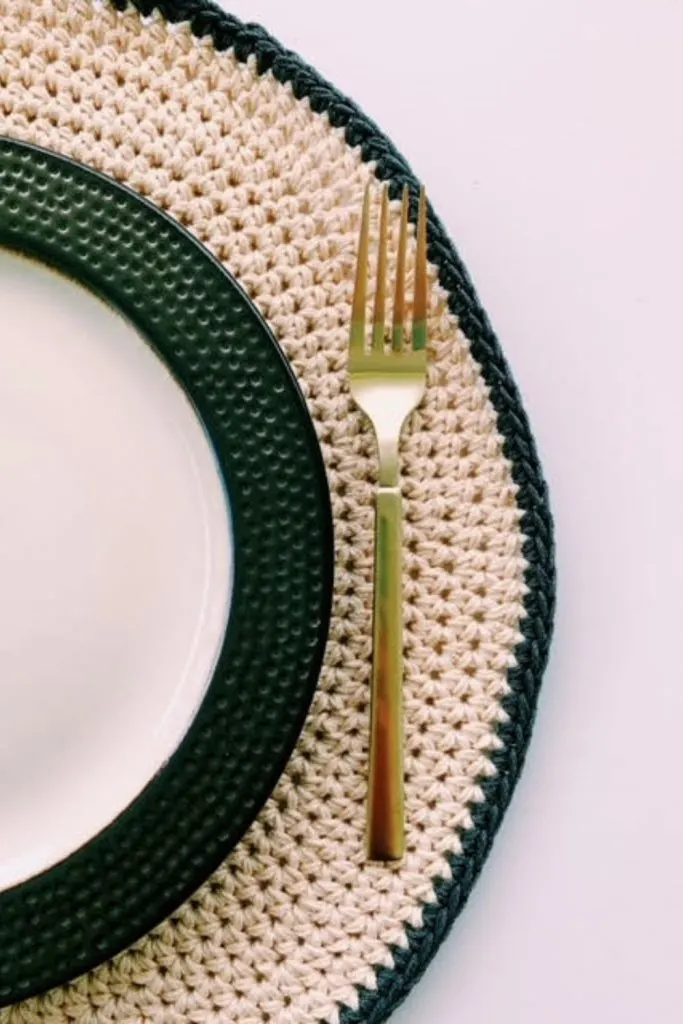 I'm a little addicted to creating patterns for your kitchen and dining room lately. I love them because they're quick to make and fun to give as gifts.
Here are a few patterns I've created lately:
I hope you enjoy making these as much as I do!
After making the boho round placemats, I knew I wanted to eventually experiment with more placemats.
And if you've browsed sites like Anthropologie or Pottery Barn lately, you'll see spiral placemats are some of their best sellers. So I thought I'd give these a shot.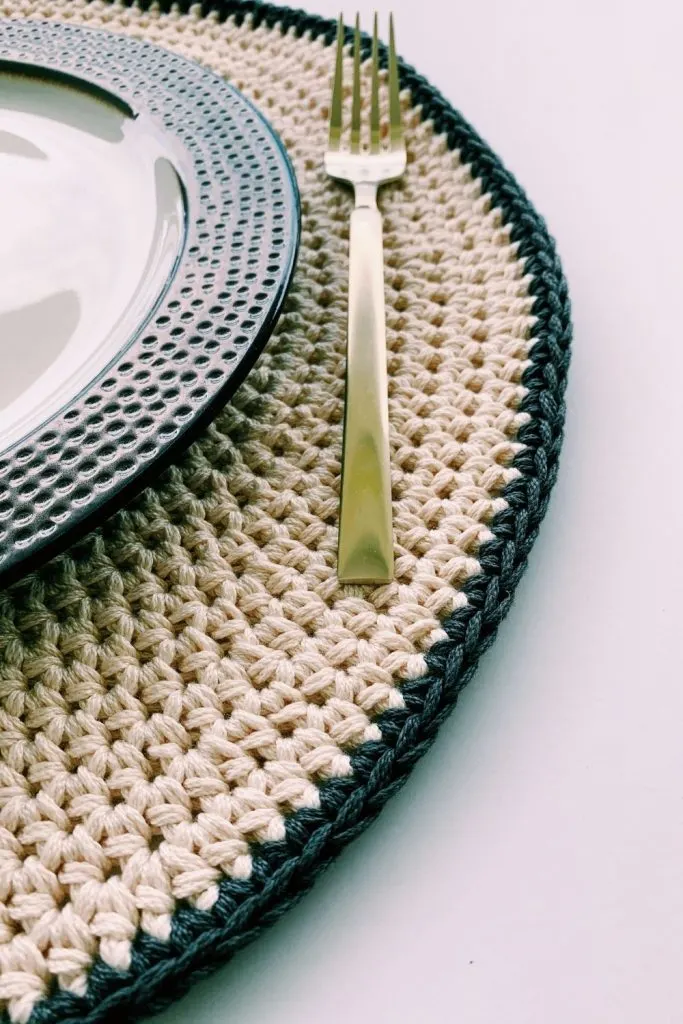 After many (many) experiment sessions, a spiral crochet placemat was created.
The Yarn
Cotton yarn has easily become a favorite of mine, especially Lion Brand's 24/7 cotton. It's incredibly easy to work with and the end result is something you can use over and over again.
You can purchase this cotton yarn at LionBrand.com here or Amazon.com here.
Another popular 100% cotton yarn is Dishie from KnitPicks.
Are you ready for the pattern? Let's do this!
The Easy Crochet Placemat Pattern
NOTES
This pattern is worked in a spiral, you do not turn your work
You'll hold two strands of yarn together to make the placemats and the border
Instructions between * * are to be repeated the indicated number of times
Total stitches of each round are indicated between ( )
Chain 1 does not count as stitch
2 hdc means one hdc in next two stitches
2hdc means two hdc in next stitch
Pattern is written in U.S. crochet terms
SIZE
16 inches in diameter
Materials:
HOOK(S)
5 mm • US size H-8
YARN
Weight 4 • 2 skeins for placemat and 1 skein for border (holding two strands together for both)
Colors: Ecru and Charcoal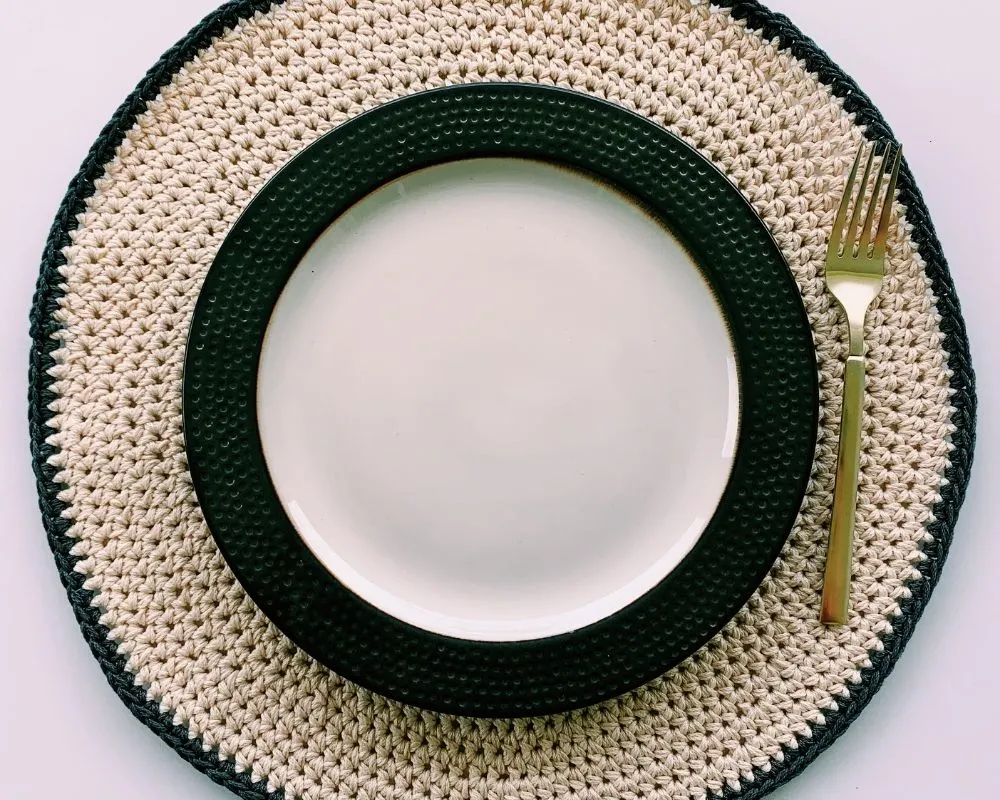 NOTIONS
Stitch markers
Scissors
Tapestry needle
ABBREVIATIONS
Ch chain
rep repeat
sl st slip stitch
sc single crochet
hdc half double crochet
st(s) stitch(es)
magic circle
SPECIAL STITCHES
hdc: yarn over, insert hook in stitch, yarn over, pull up a loop, yarn over, pull through all 3 loops on hook
PATTERN
Begin Make a magic circle
ROW 1:
Ch1, 8 hdc in a magic circle (8 sts)
ROW 2:
2hdc in next st, (place a stitch marker in the first hdc to mark the first st of the row), 2hdc in next 7 sts (16 sts)
ROW 3:
2hdc in next st (move the marker to the first hdc to mark the first st of row), 1 hdc in next st, *2hdc in next st, 1hdc in next st* 7 times (24 sts)
ROW 4:
2hdc in next st, (move the marker to the first hdc to mark the first st of row), 1hdc in next 2 sts, *2hdc in next st, place another marker in the first of these two hdc, 1hdc in next 2 st* 7 times (32 sts)
ROWS 5 – 19:
2hdc in next st, (move the marker to the first hdc to mark the first st of row)
For the rest of the rows, increase by one hdc in front of each stitch marker like this:
*1 hdc in each st until st before next marker, 2hdc in the st before marker, move the marker to the last made hdc* repeat until you have 19 rows total
*For row 19, end the row with 3 slip stitches instead of hdc, this will help end the row evenly
*Rows 5 – 19 will increase by 8 hdc per row
Fasten off ecru yarn, attach charcoal for border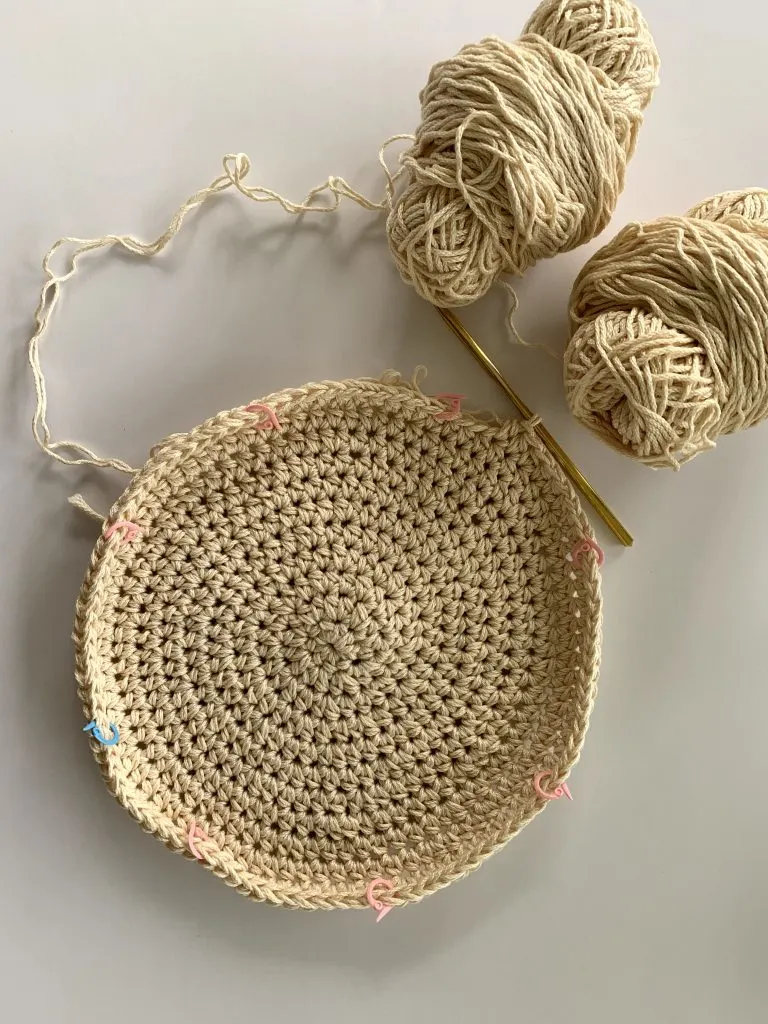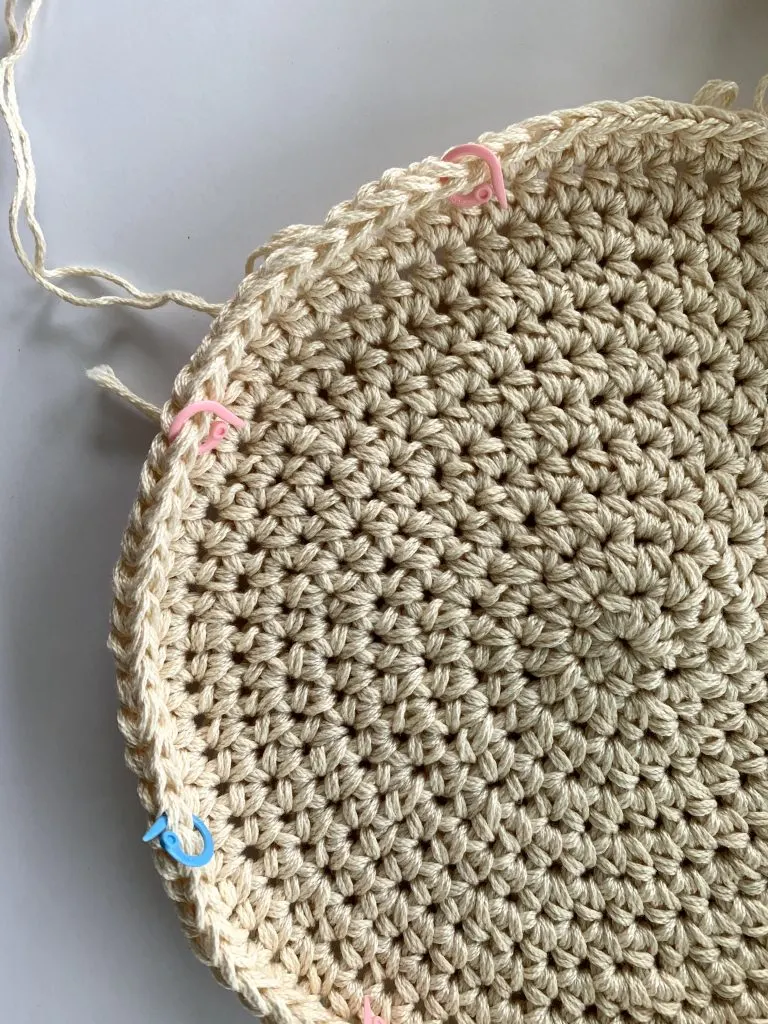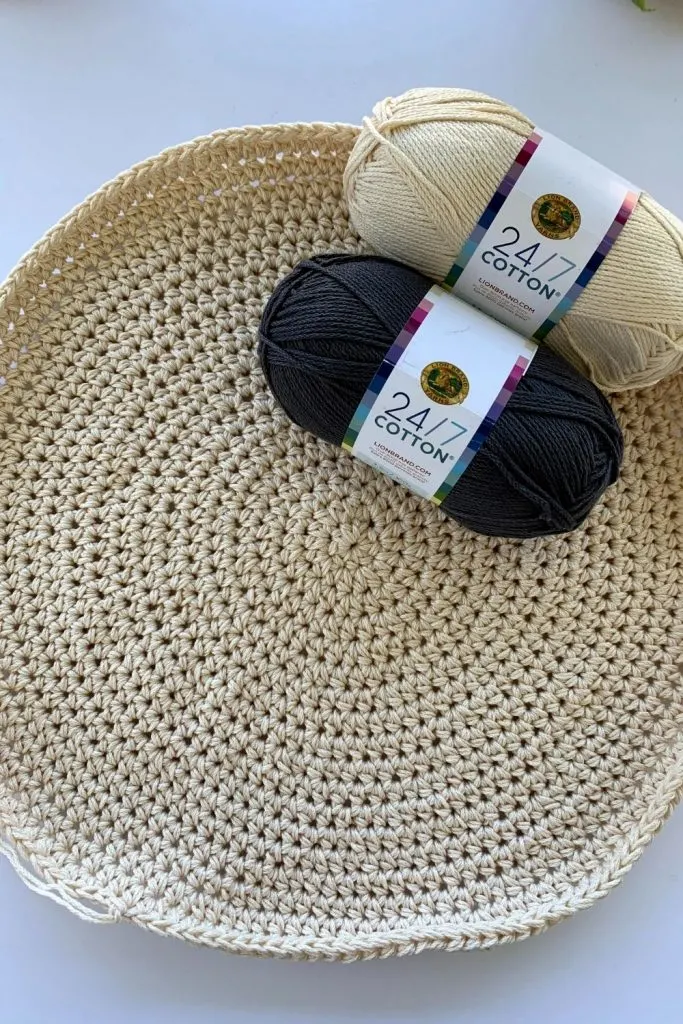 For the border:
Remove all markers
With the charcoal yarn, hold 2 strands together, sc around in each st, ending with slip stitch to first sc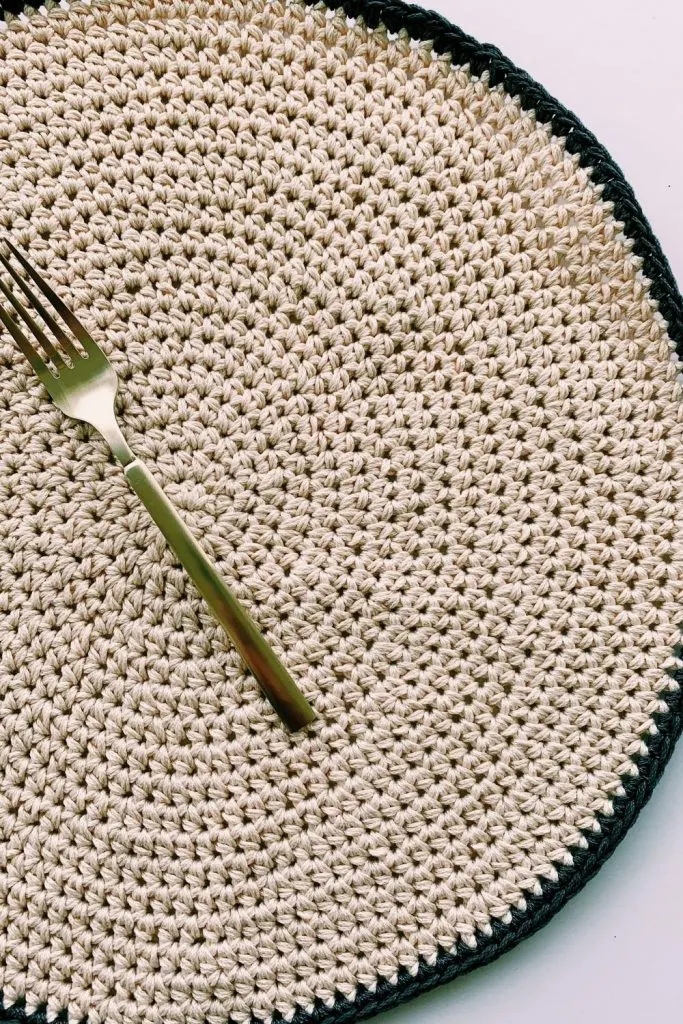 And that's it! Make a set of these for yourself or to give as a gift. They are very sturdy and will last for years to come.
Stay tuned for more kitchen and dining patterns coming soon!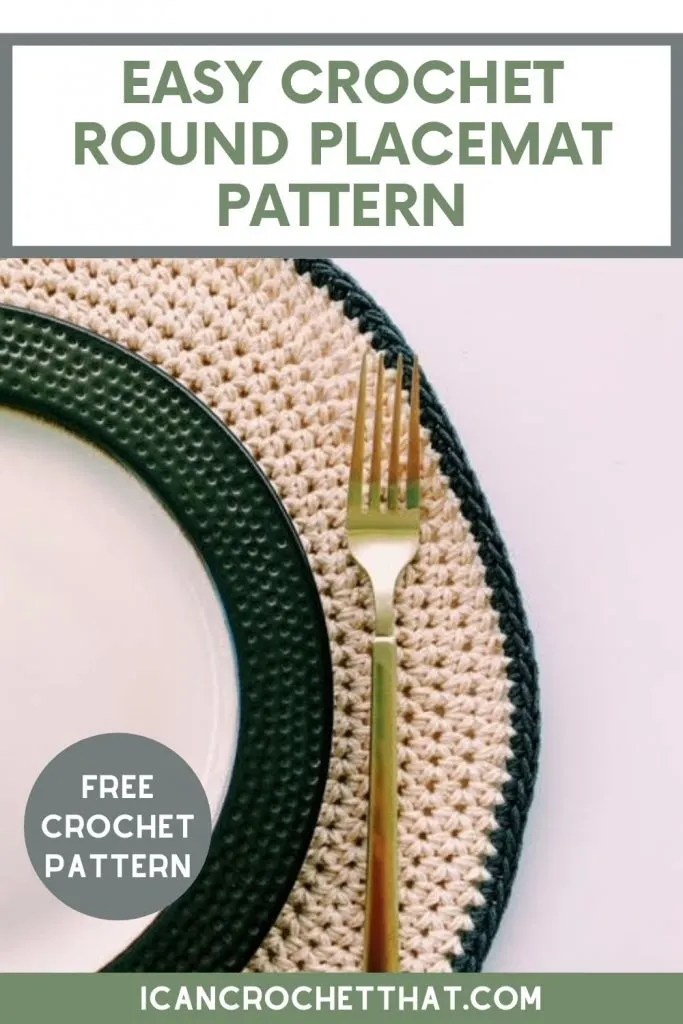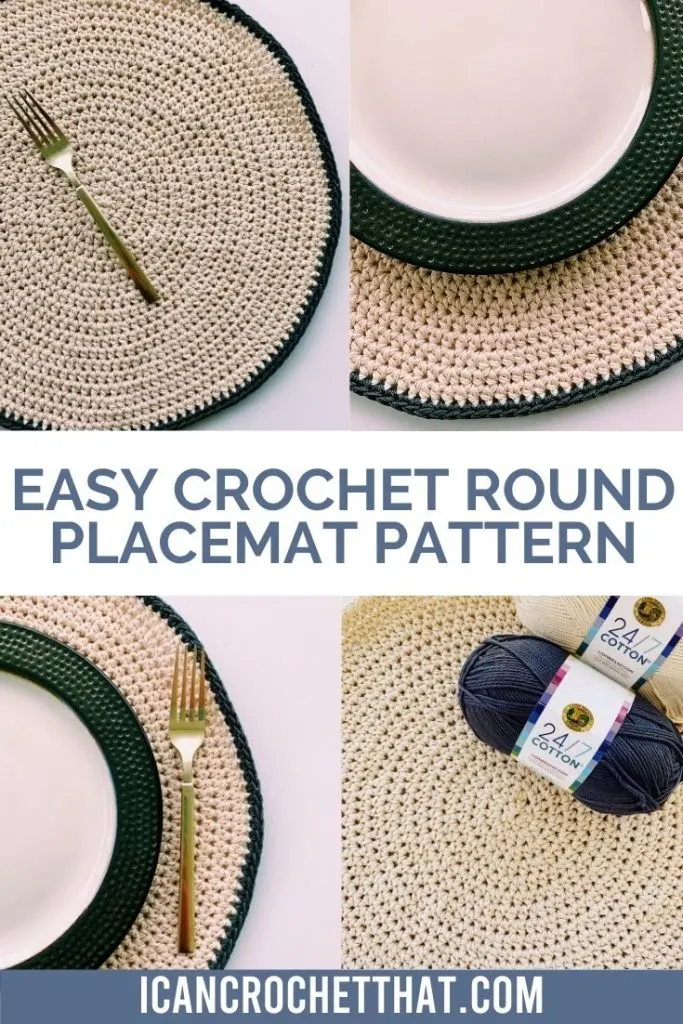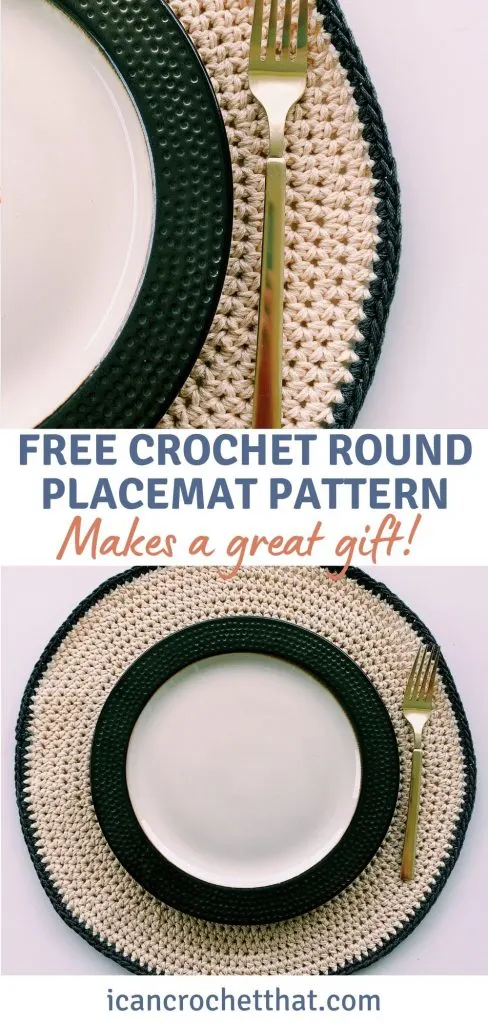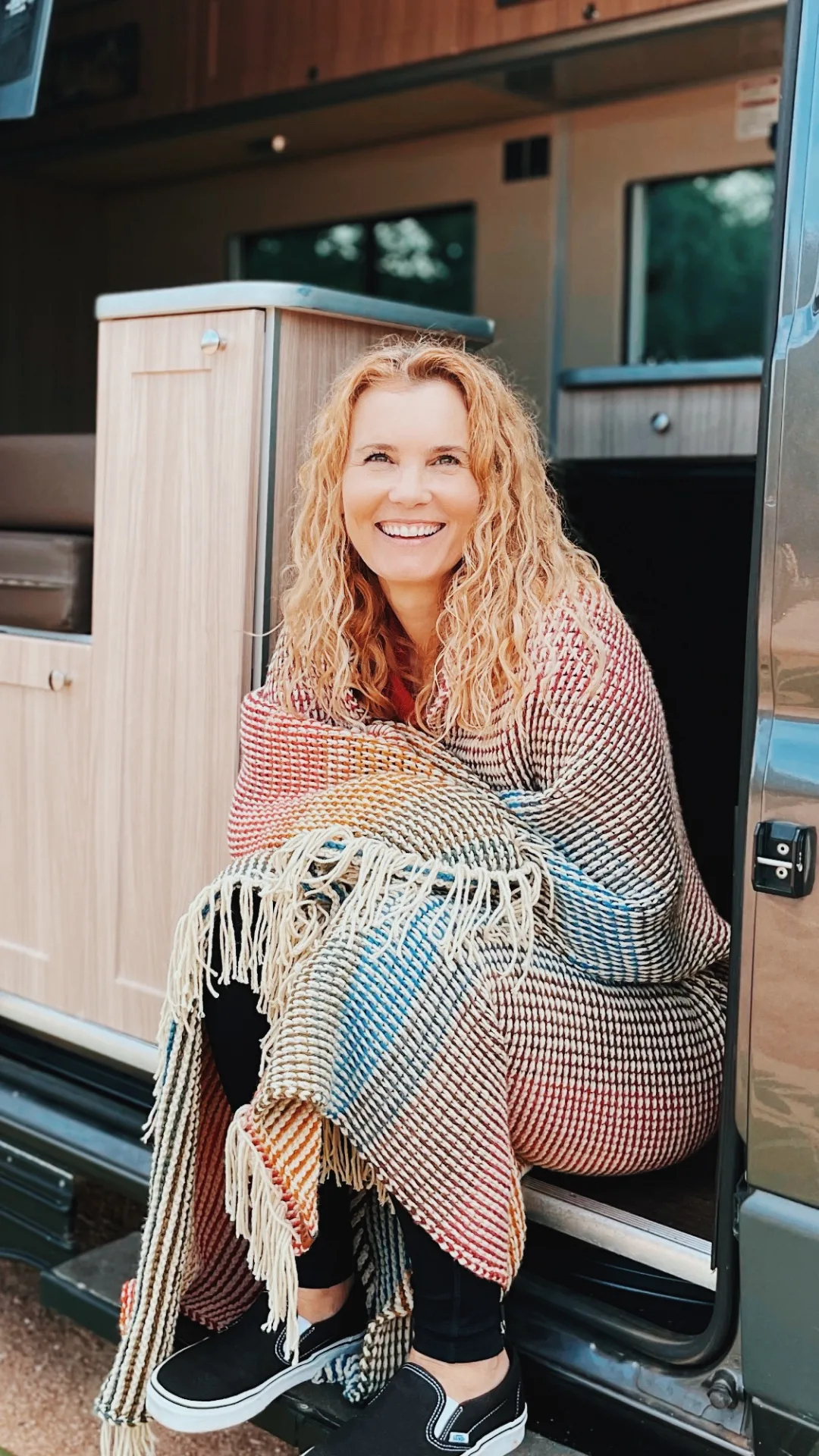 Hi! I'm Julie. I design modern crochet patterns and tutorials to help you learn to crochet. I've been crocheting for over two decades and with the gentle nudging of my husband, decided to turn this passion into a career. Although we travel a lot in our campervan, you'll never find me without a bag of yarn and projects.