Today, I rounded up fifteen crochet washcloth patterns to try out this weekend, in the car, while watching tv, or heck even waiting in line if you're dedicated.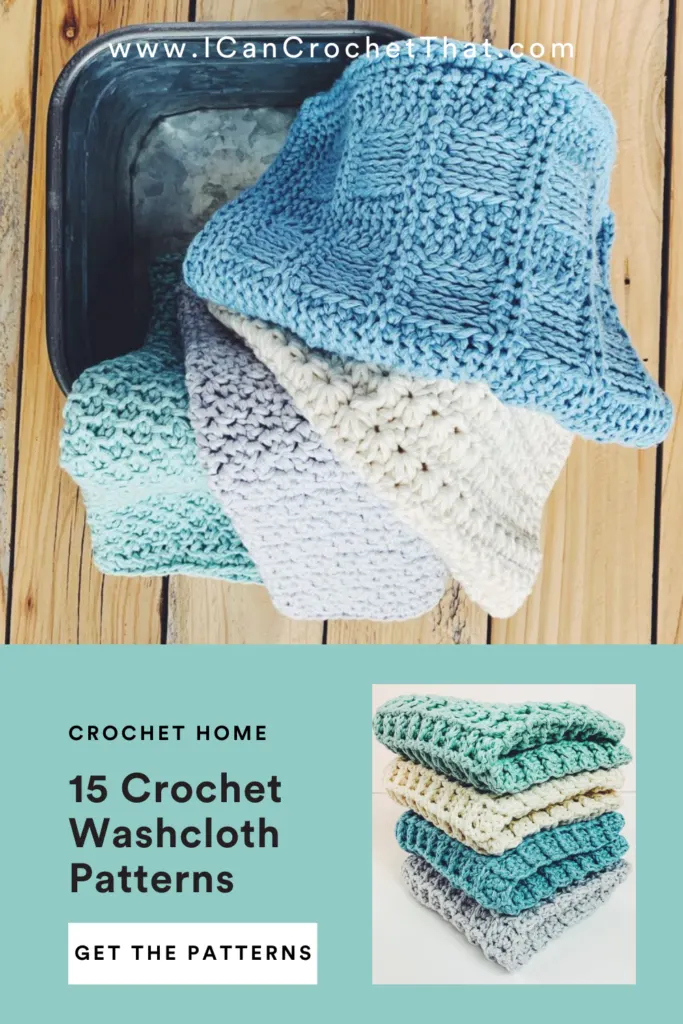 Washcloths are an easy, practical product you can use at any time of the year.
They can be worked up in as little as a few hours, and they also make great gifts and favors.
But there are a couple of tricks to know before you start a crochet washcloth.
For example, be sure to use cotton yarn, and choose a stitch with no holes that can be repeated on both sides. This will keep leaks from happening and ensure the washcloth has good scrubbing.
But we'll get into more details after the patterns.
Until then, happy browsing!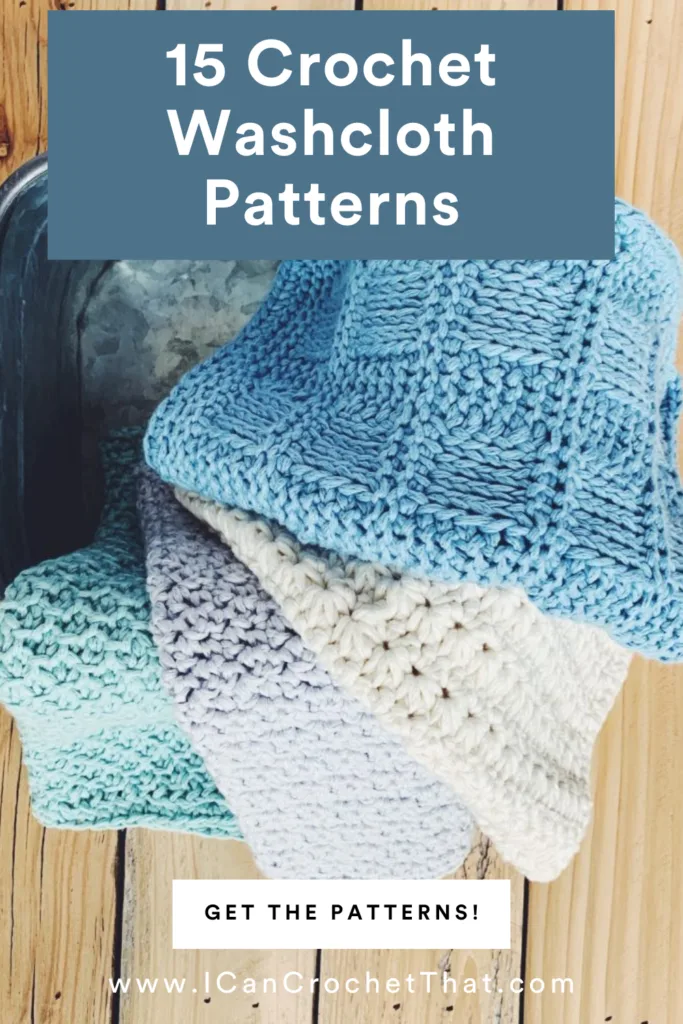 15 Crochet Washcloth Patterns to Try
15 Crochet Washcloth Patterns
Photo Credit: www.amorecraftylife.com
The moss stitch, or the linen stitch, is a classic. It always looks nice and is easy to do.
You can do this washcloth in a single color or with a multi-colored yarn like the Lily Sugar n Cream one in Moondance used in the original pattern.
Photo Credit: www.etsy.com
Tunisian pals, I didn't forget about you!
This easy Tunisian washcloth is simple but beautiful. The knit-like look is elegant and this washcloth will fit into any home.
Photo Credit: easycrochet.com
If you're a beginner crocheter, don't worry.
Washcloths are honestly one of the best things you can start with. It's quick and ideal for learning since it's a short project, rather than a blanket or garment.
I adore the look of the stitches on this one, and it's just single and half double crochets! Couldn't be easier.
Photo Credit: www.etsy.com
These elegant crochet washcloths use simple elements to create a timeless, beautiful pattern.
The texture of the base is lovely, and the little bobbles on the outside add some extra cuteness.
Photo Credit: www.crochet.com
I am a waffle stitch fanatic. I think it's such an easy stitch and adds texture and personality to anything.
That's definitely the case with these winter washcloths.
The waffle stitch is excellent for washcloths because of its thickness and durability. This makes it easy to scrub and wash.
Photo Credit: www.knitpicks.com
Brighten your kitchen with this sunny crochet dishcloth.
It adds tons of personality to the space and is made with mostly single crochet!
I'll take 10, thank you very much.
Photo Credit: www.etsy.com
The puff stitch makes an excellent stitch for dishcloths because of how thick they are.
The thicker the stitch, the better the function of the dishcloth.
These puff stitch washcloths are super simple and effective and have two double crochet rows on the top and bottom for a little bit of variety in the stitches.
Photo Credit: sweetbeecrochet.com
I am obsessed with this Sweet Suzy washcloth!
It has so many different varieties of stitches but it's all in one color, making it sleek and uniform while also being fun and unique.
Photo Credit: www.etsy.com
This beginner waffle washcloth is the perfect example of something that looks intermediate or difficult but is actually beginner-friendly.
This washcloth is just double crochet and front post double crochet stitches, both easy to learn.
The border is double crochet on two sides and single on two sides, creating a neat effect.
Photo Credit: www.5littlemonsters.com
The thick and detailed texture of these diagonal weave crochet washcloths is perfect for scrubbin' and dubbin'.
It's reminiscent of a woven basket and looks great in every color.
Photo Credit: www.5littlemonsters.com
The lattice stitch washcloth is in the same vein as cable stitches, but going diagonal rather than straight.
This textured stitch makes it a great option for a washcloth.
You'll just need to know double crochet, front post double crochet, and single crochet.
Photo Credit: www.etsy.com
This waistcoat washcloth is quite similar to the Sweet Suzy mentioned earlier, but the type of stitches make it a bit more feminine and elegant looking.
This is especially true when it's done in a light color like white or pink. It makes a great addition to a farmhouse-style home.
Photo Credit: www.etsy.com
This farmhouse washcloth is simple and elegant.
Despite the name, this washcloth pattern can be used for any style of home because of its versatility.
It's beginner-friendly as well.
Photo Credit: www.crochetforyoublog.com
This basketweave pattern is perfect for a washcloth.
The stitch is textured enough and there are no holes for the water to leak out of.
This is a unique stitch that can work for washcloths and more!
Photo Credit: sustainmycrafthabit.com
If you're a fan of short projects and the beach, this seashell washcloth is your cup of tea.
It can be made in just a weekend, and you can choose the color of your seashells to match your desired aesthetic.
Some Handy Tips to Know About Crochet Washcloths
What is the Best Stitch to Use for a Crochet Washcloth Pattern?
As I mentioned above, the stitch you use matters when it comes to crocheting a washcloth.
The most common stitch used in crochet washcloths is the single crochet stitch as it creates a tight and dense fabric that's ideal for wiping surfaces.
The crochet linen stitch, a very popular stitch, is created using single crochets and a chain one. It's perfect for creating crochet items like a washcloth.
The waistcoat stitch also is created with single crochets, but where you place your stitch is a bit different. The placing of the stitch is what makes this a really nice stitch for items like washcloths, crochet dishcloths, and crochet potholders.
Other stitches can be used, such as half-double or double crochet, but they tend to create an airier fabric that may not be as effective at cleaning up messes.
Regardless of which stitch you decide to use, a crochet washcloth can be made quickly, and inexpensively and yields immediate gratification!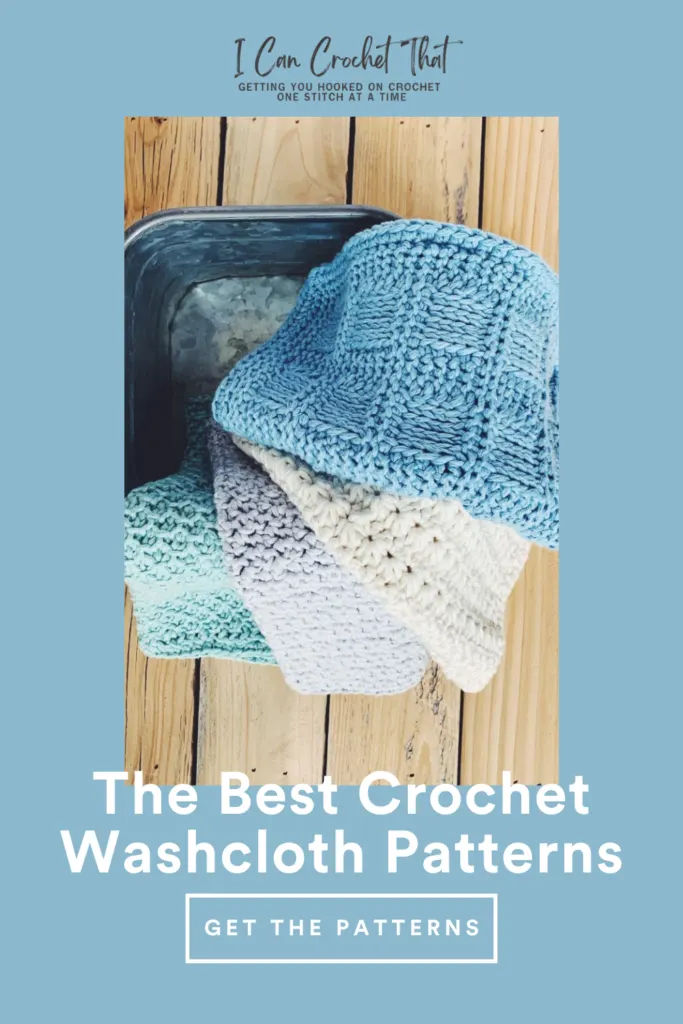 What Type of Yarn is Best for a Crochet Dishcloth Pattern?
We have an entire post dedicated to this topic. Although it's about the best yarn for crochet dishcloths, everything we cover applies to washcloths as well.
You can read the entire article here, but here's a quick summary of the basics you need to know:
100% cotton yarn is the best choice because it's very absorbent
Another reason cotton yarn is the best choice is that it's very durable – if you plan on using your crochet washcloths after you make them (which we hope you do!), durability needs to be a factor
Make sure you choose a cotton yarn that isn't too rough
You can read the entire article here, but to sum it up…go for 100% cotton yarn.
Here are some of our favorites:
Lion Brand 24/7 Cotton
Description: 24/7 Cotton® is a worsted-weight, mercerized 100% natural fiber yarn. The mercerization process gives the yarn incredible color and sheen which will last through multiple wash cycles. Choose from a variety of 37 colors, which will be perfect for making fashion garments, home décor, bath and kitchen accessories, and items for babies and children.

LionBrand.com
Buy on LionBrand.com here or Amazon.com here
2. Lily Sugar 'n Cream The Original Solid Yarn
Description: Lily Sugar'n Cream Cotton yarn is a natural, 100% USA-grown cotton yarn. The perfect choice for your knit and crochet home décor needs. Lily Sugar'n Cream is a versatile worsted weight yarn, that's great for small projects like dishcloths and potholders, to home décor staples like afghans! Available in a wide variety of shades, including neutrals, brights, and pastels. Conveniently machine washable and dryable for easy care.

Yarnspirations.com
Buy on Yarnspirations.com here or Amazon.com here
3. Knit Picks Dishie
Description:

A hardworking 100% cotton yarn with a tight spin and high absorbency, Dishie is a durable yarn even with daily use. Great practical yarn for all of your home and kitchen knits from dishcloths and towels to rugs and market bags; also soft and versatile enough for toys and home décor. A hardworking 100% cotton yarn with a tight spin and high absorbency, Dishie is a durable yarn even with daily use.

Amazon.com
Dishie comes in two varieties: the 14 oz. Cone and the 3.5 oz skein.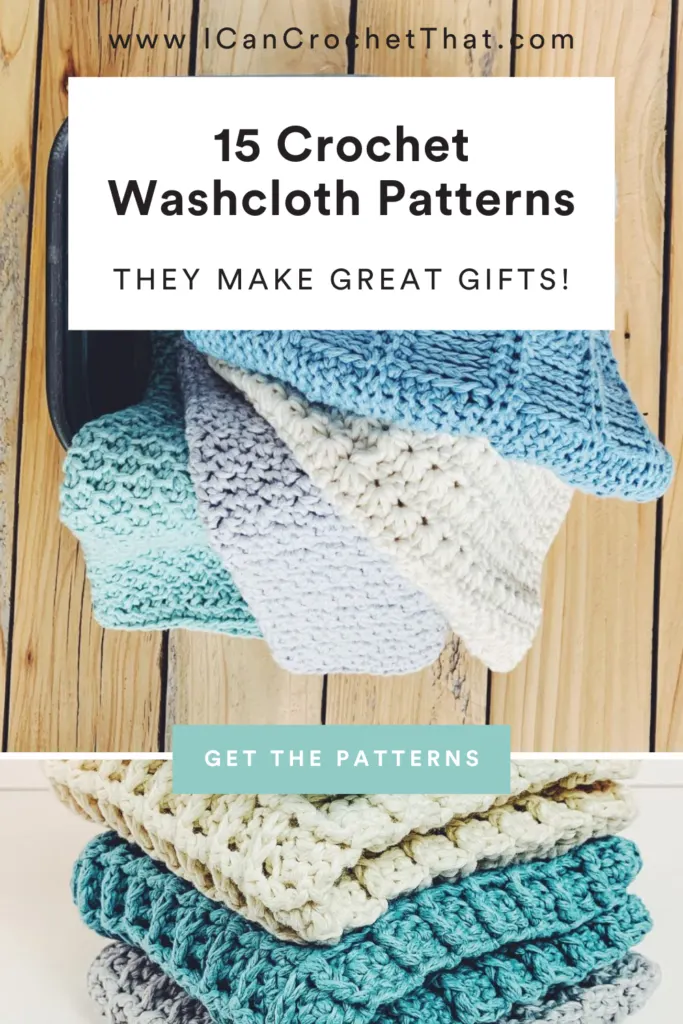 Do Crochet Washcloths Work Well?
Crochet washcloths are an incredibly effective cleaning tool and it's just downright fun using something you made!
They can be used to wipe up messes and spills around the house, scrub dishes in the kitchen, and even remove makeup.
The tight fabric created by the right crochet stitch makes them less likely to snag on surfaces or collect lint, while their size allows you to easily reach into those hard-to-reach spots.
They're super absorbent and quick drying (if you use the right yarn that is!), so your cloth will be ready for use shortly after it dries post-wash.
In short, crochet washcloths are an invaluable addition to any home!
And did we mention it's just really fun using something you made? We did? 🙂
Crochet Washcloth Patterns on I Can Crochet That
Hey! Did you know we have a few crochet dishcloth/washcloth patterns here? It's true!
Here they are:
Are You Ready to Crochet Your Own Washcloth?
We hope these tips and patterns help you find and create a washcloth you love using in your own home or giving as a gift!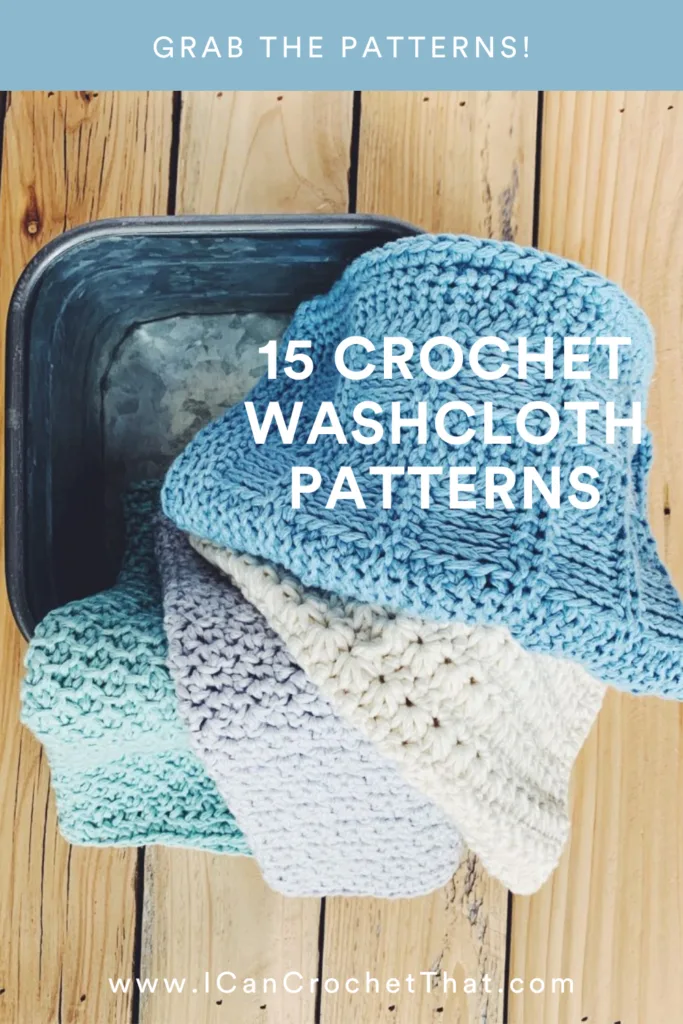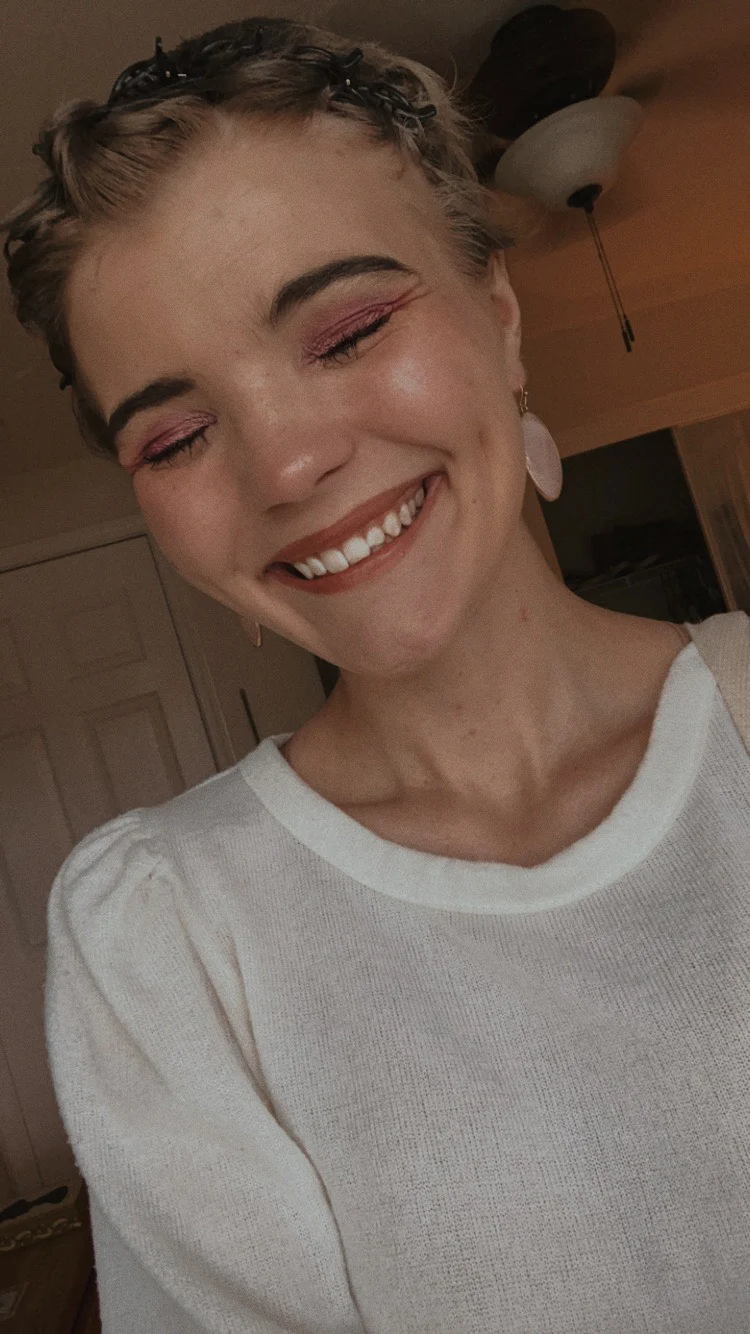 Hannah is the eldest of the Bonner family's three kiddos. She graduated from the University of North Texas with her Bachelors in Elementary Education. She enjoys reading, yoga, movies & TV, and (obviously) crocheting. She is excited about furthering her writing career & spending her days surrounded by yarn. All the yarn.