The Getaway Crochet Infinity Scarf will become your go-to scarf for weekends away. The dark neutral color goes with everything and the unique crochet stitch used gives it a beautiful soft texture, making this a scarf you'll love to wear over and over again.
You can purchase a printable version of this pattern on the I Can Crochet That Shop here.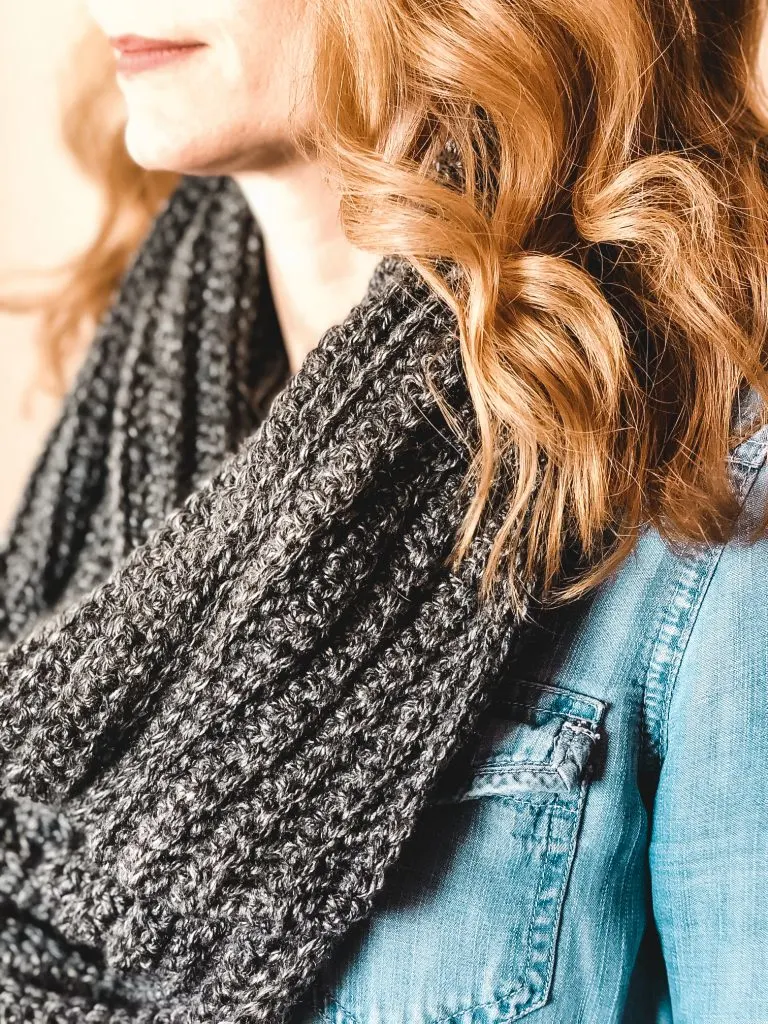 The Getaway Crochet Infinity Scarf
But first, a story
One thing you'll notice influences my crochet designs is travel. Whether it's the colors I choose or the design itself, I often have travel in mind.
You see, in February of 2017 I brought up the idea of full-time RVing to my husband Todd. We both worked remotely. We had one daughter in college, one son about to graduate and another son begging to do online school and go on an adventure.
From the moment I brought up this idea to Todd, to the time we drove away from a house that no longer belonged to us and in our new home on wheels, it was 100 days.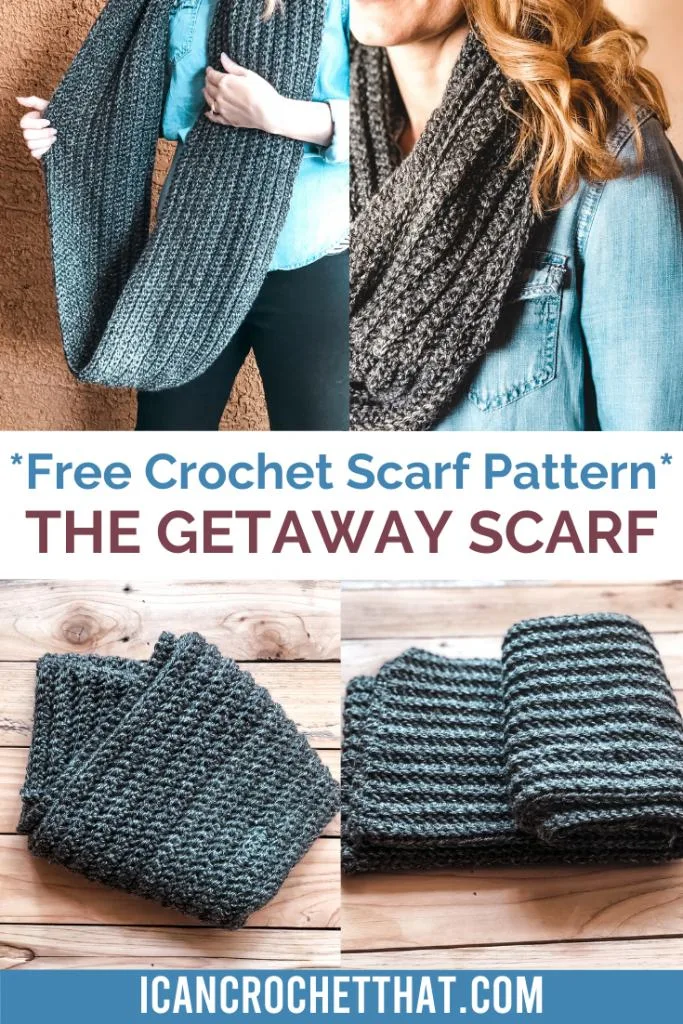 Yep, you read that right. We executed this idea, from selling our house and about 90% of our belongings and buying an RV and a truck, in 100 days.
Needless to say, it was one exciting whirlwind.
We spent 17 months traveling full-time and in that time visited 36 states and 5 Canadian provinces.
You can read more of our story on our RV travel blog TREKKN.
I tell you all of this so you'll know just how important travel is to me and how it truly dictates so many of my decisions in life. Including my crochet designs.
The Getaway Infinity Scarf Name
I named this scarf The Getaway Scarf because I never travel without one. It doesn't matter what season it is, I throw a scarf in my bag.
If I'm on an airplane I'll most likely get cold. And I've been on many airplane trips where that scarf has come in handy. Same for car trips.
This scarf truly is a perfect size, weight, and color to throw in your getaway bag for a fall or winter trip.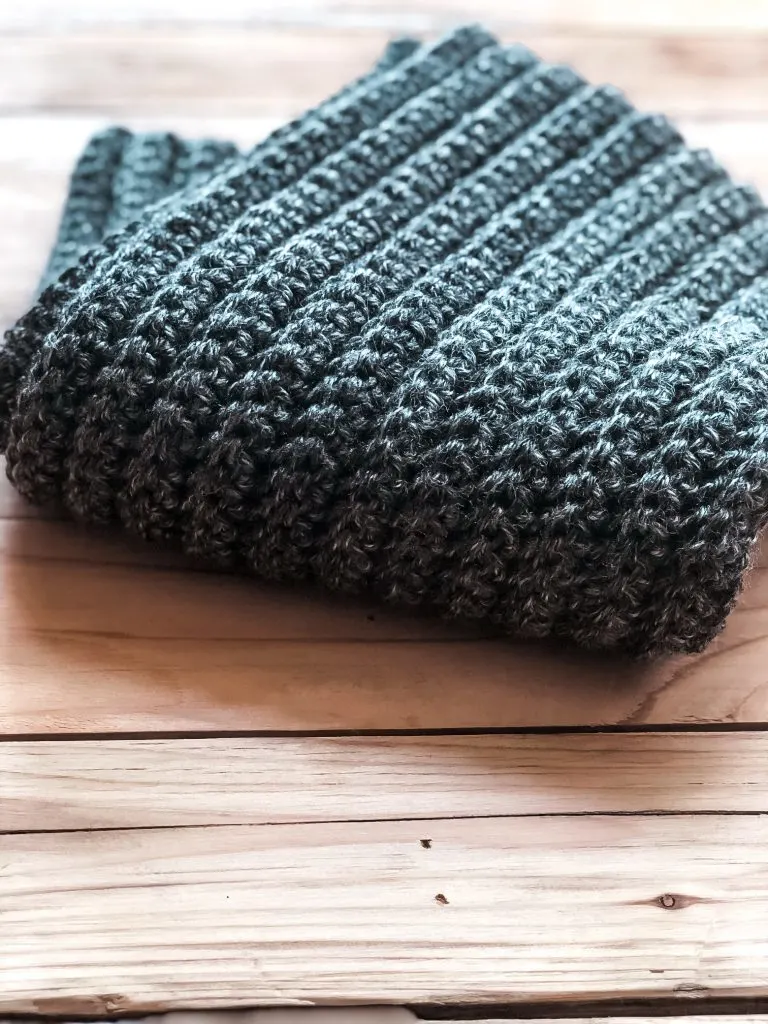 The Stitches
This crochet infinity scarf is made with the herringbone half double crochet stitch, going through the back loop only.
The stitch itself is beautiful. It has a slight slant to it, which gives your crochet project such a gorgeous look. But then when you add going through the back loop only, it creates a texture you'll love having up close and personal as you wear it.
Here's a quick tutorial showing you how to work the herringbone half double crochet stitch.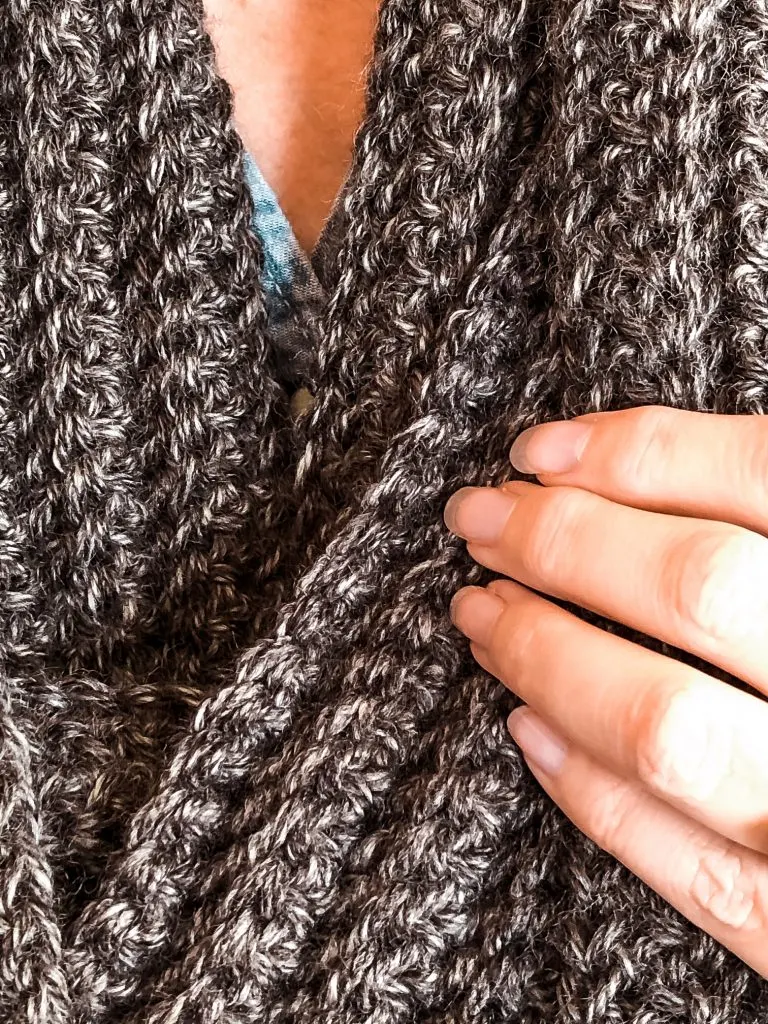 The Color + The Yarn
It only makes sense to make a scarf with the name 'getaway' in it, by using a yarn line that references some of my all-time favorite getaways – National Parks.
I'm talking about Lion Brand's Heartland line, named after U.S. National Parks.
(Check out the Heartland link of yarn at LionBrand.com or Amazon.com as well.)
For this scarf, I chose Smoky Mountains, which is a beautiful neutral dark gray color.
I also highly recommend visiting this National Park. Not only is it free to enter, but its the most visited National Park and for good reason. One visit and you'll quickly see where it gets its name from.
Here's a picture from our trip to this beautiful destination.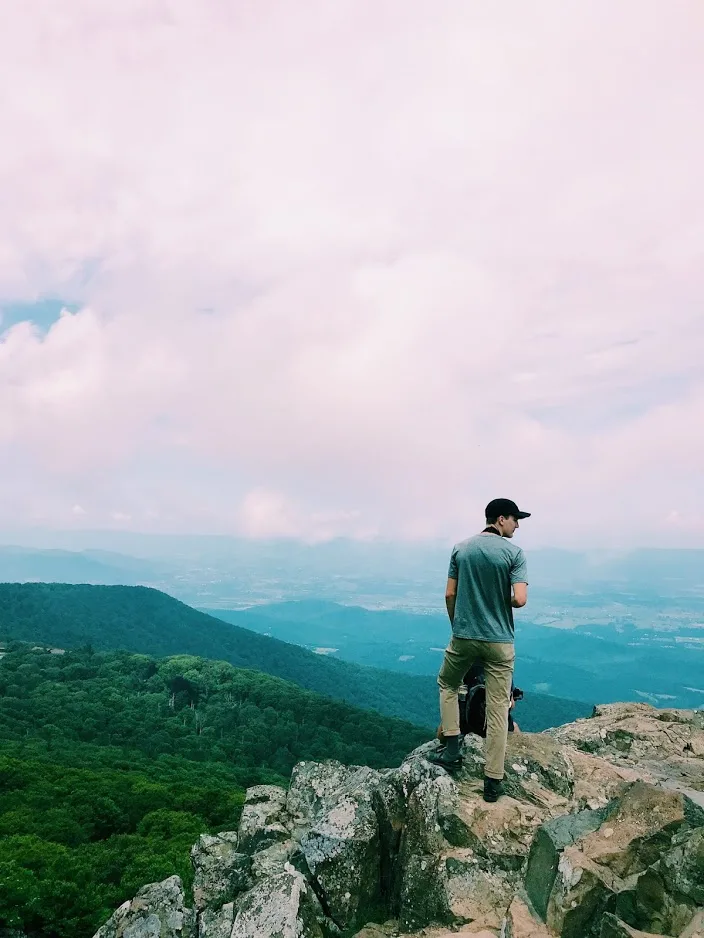 You can purchase it online at LionBrand.com here, Michael's here or Amazon here.
The Crochet Infinity Scarf Pattern
Pattern Description
This scarf is worked in one long strip and then stitched together. It's made using a beautiful crochet stitch called the herringbone half double crochet worked in the back loop only. It comes together quickly and the result is a soft scarf with some incredible texture.
You can purchase a printable version of this pattern on the I Can Crochet That Shop here.
Pattern Notes
Details
Method Crochet
Skill Level Beginner
Hook 6.5 mm / US K
Other Yarn Needle
Yarn Lion Brand Heartland, Great Smoky Mountains, 502 yds
Gauge 4" x 4" = 14 sts x 11 rows
Final Size 70" long x 8" wide (before stitched together)
Abbreviations
hhdc herringbone half double crochet
st(s) stitch(es)
yo yarn over
ch chain
blo back loop only
Chain 2 does count as a stitch
hhdc: Yarn over, insert hook into next stitch, yarn over, pull yarn through stitch and draw up a loop (3 loops on hook), slip loop 3 through loop 2 (2 loops on hook), yarn over, pull through remaining 2 loops on hook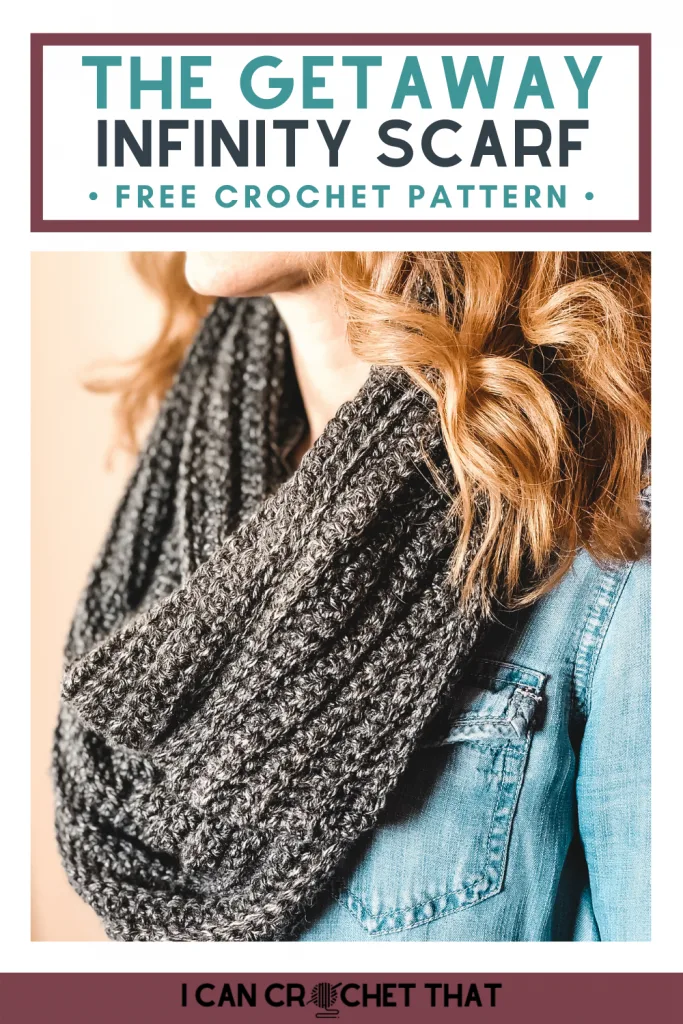 The Pattern
Foundation row
Chain 204, hhdc in 3rd chain from hook and across (chain created by skipping stitches counts as stitch), ch 2, turn [203 sts]
Rows 1 – 22
hhdc blo in 2nd stitch and in each stitch across, ch 2, turn [203 sts]
Finish
Fasten off, leaving a long tail
Stitch together ends with a yarn needle from the long tail
Weave in any loose ends
And that's it! As you can see, if a very easy pattern.
You could whip up several of these and have them ready to give as gifts during the holidays.
Check out more scarf patterns below:
Pin to Save for Later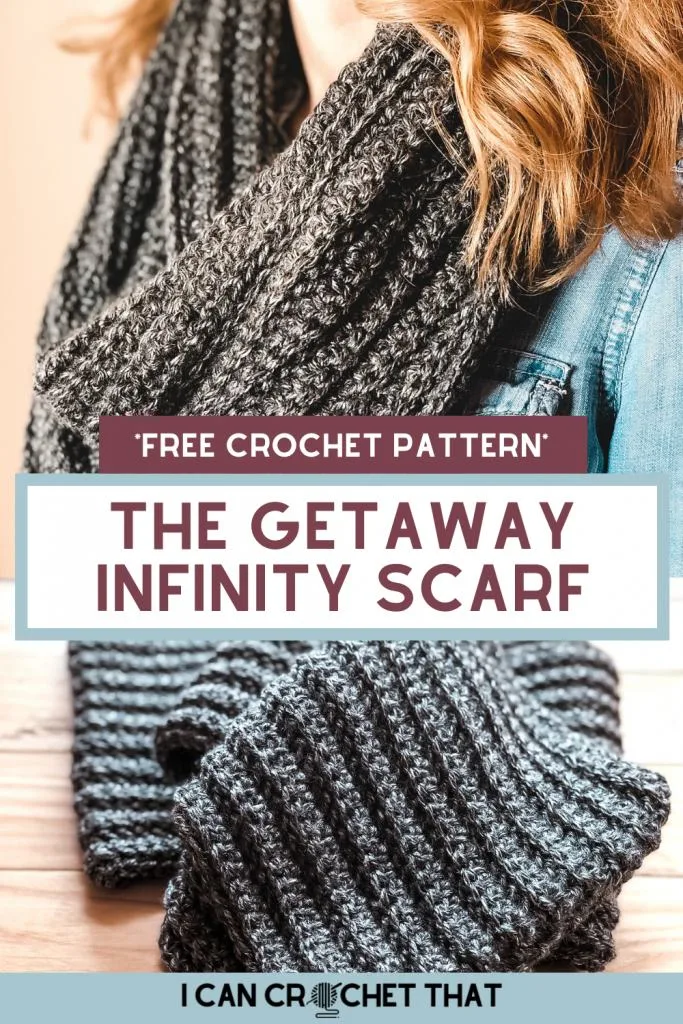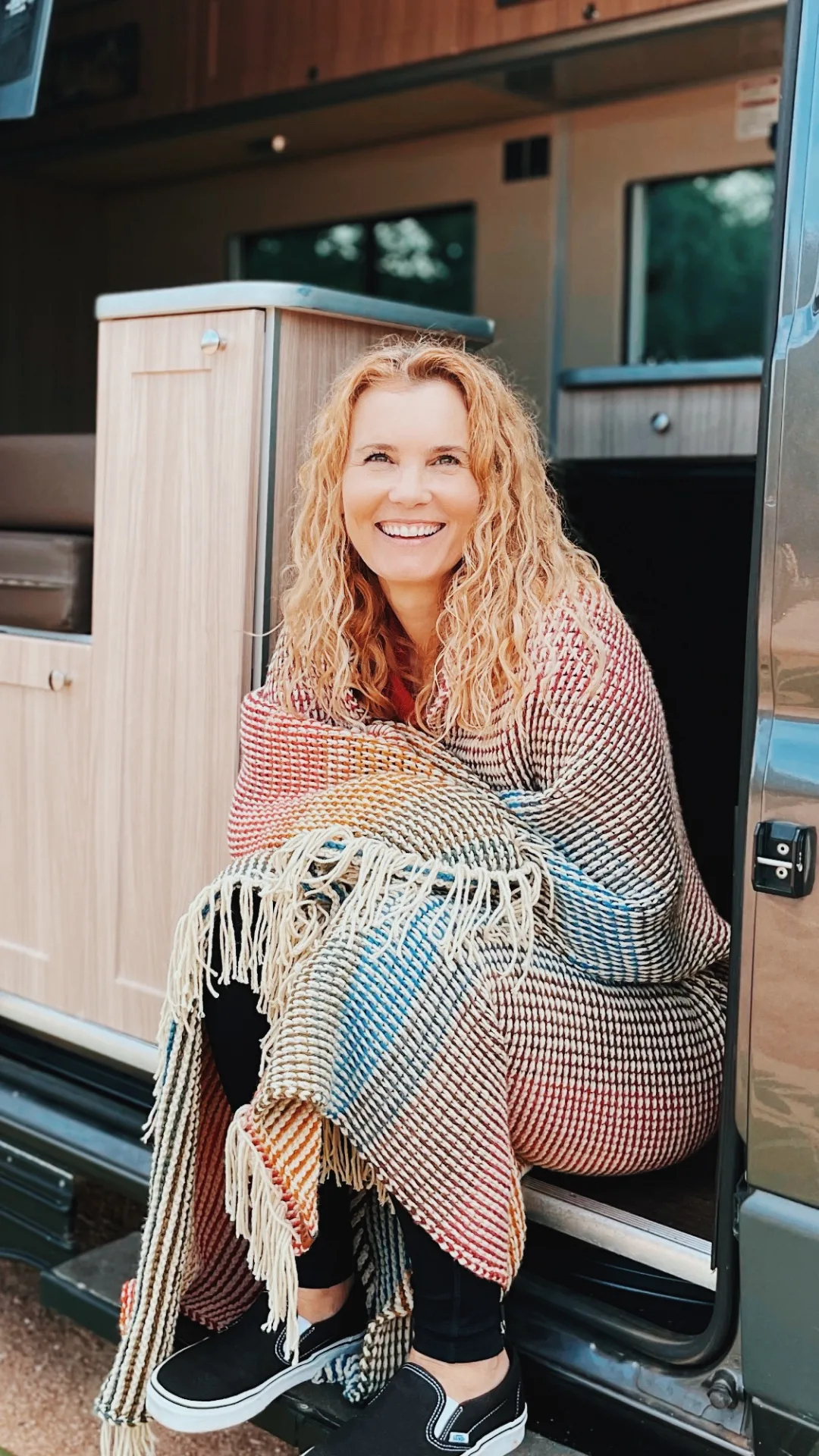 Hi! I'm Julie. I design modern crochet patterns and tutorials to help you learn to crochet. I've been crocheting for over two decades and with the gentle nudging of my husband, decided to turn this passion into a career. Although we travel a lot in our campervan, you'll never find me without a bag of yarn and projects.