If you're dreaming of a beach getaway or you need some decor for a cozy beach cottage, this crochet beach blanket is for you. Featuring an easy stitch repeat, you'll have this whipped up in no time.
I named this blanket after where we took these photos. At Makalawena beach off the Kona Coast on the Big Island of Hawaii.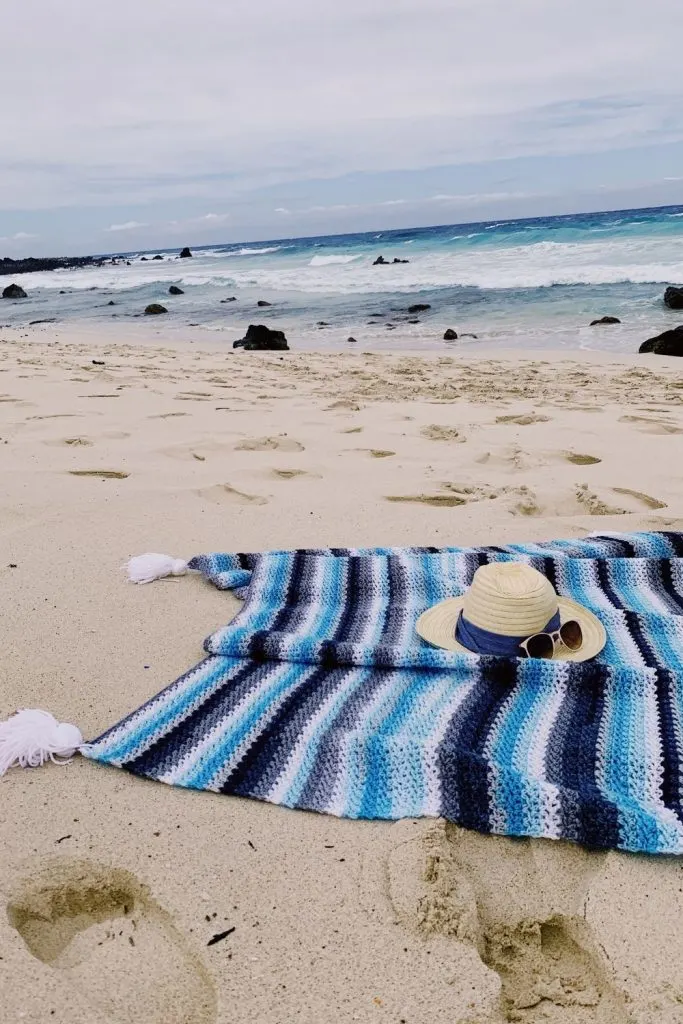 Before I even get into this pattern, I have to preface it by sharing that this beach blanket is made with acrylic yarn. If you know much about different yarn types, then you know acrylic is not usually recommended for a blanket you'll use outside, especially at the beach.
But…this blanket has been tested at a beach here in Hawaii and I'm happy to report it passed with flying colors.
As you'll be able to see from some of the photos, it was covered in sand due to the fact that a) we're at a beach and b) it was so unbelievably windy that day.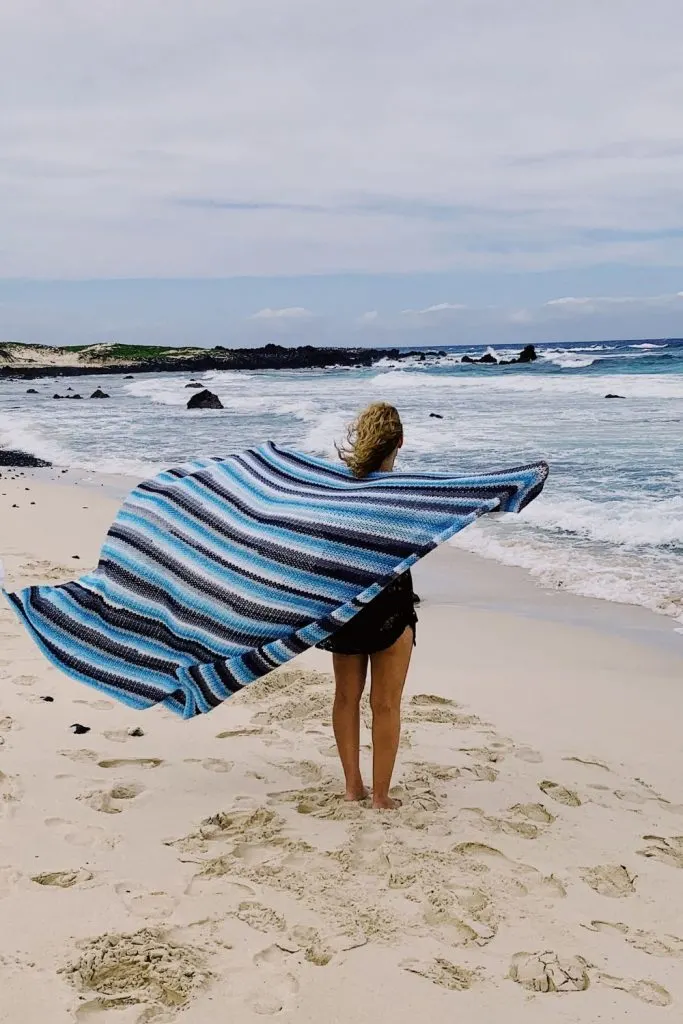 It was so windy, we had to leave earlier than planned because we were getting a free microdermabrasion treatment from the blowing sand. Ouch.
I was able to shake out most of the sand and when we arrived back home, I spread it out on our lanai so it could dry off in the sun.
Will I bring it back to the beach? Possibly. After the blanket gets a little damp it becomes quite heavy to carry. And acrylic isn't great for when you're out in the heat.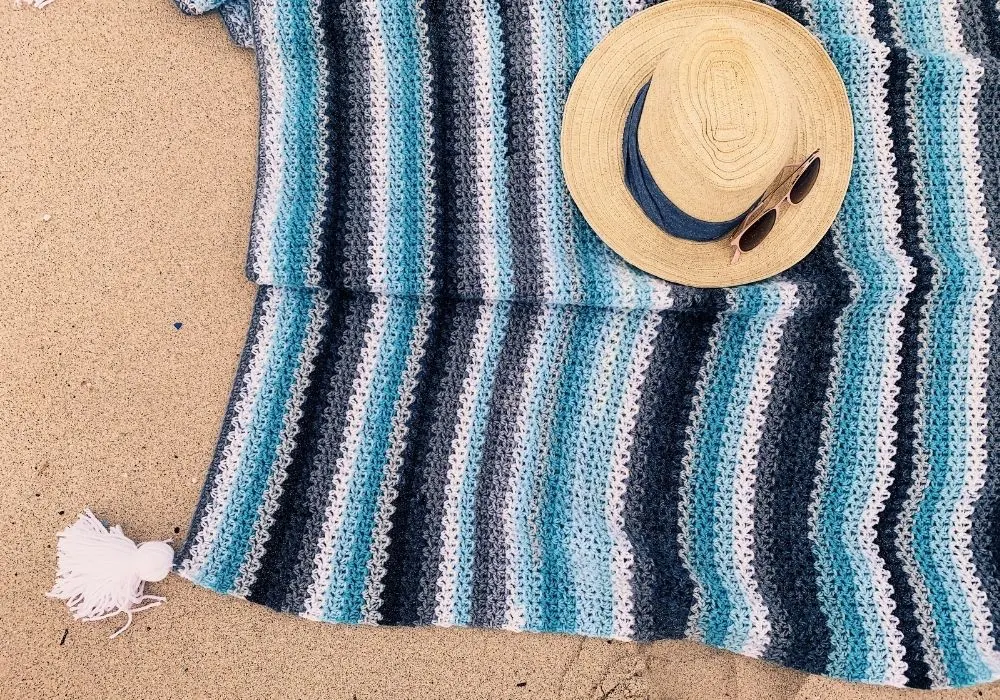 This particular beach required a mile hike to get to. Which meant another mile hike to get back to our car. Carrying the blanket that far with our beach stuff wasn't the best idea. But as you can probably tell since I'm writing this pattern up, I survived.
Bottom line: yes you can take this blanket to the beach or out on a picnic. But it's also the perfect throw for a beach house, cottage or to give as a gift to someone who is really missing the water, waves and sand,
The Kona Coast Throw: A Crochet Beach Blanket Pattern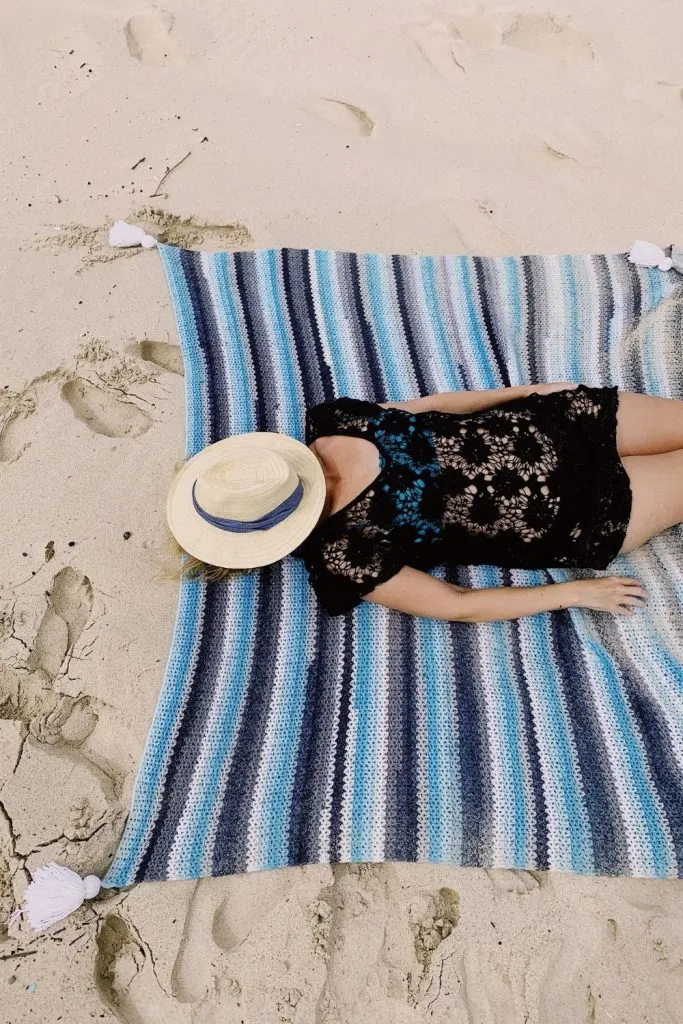 If you haven't noticed yet, I love designing blankets and I love using self-striping yarn. (Exhibit A, B and C. See, I have a problem.)
I've actually had to reign in my addiction to both and concentrate on designing different patterns.
The Yarn
I actually bought this yarn before our move to Hawaii. I popped into our local Michael's store and they were having one of their awesome buy one, get one 50% off sales.
So I purchased four Caron Skinny Cakes in Pop Rock and shoved those babies in one of my suitcases. Yarn > clothes.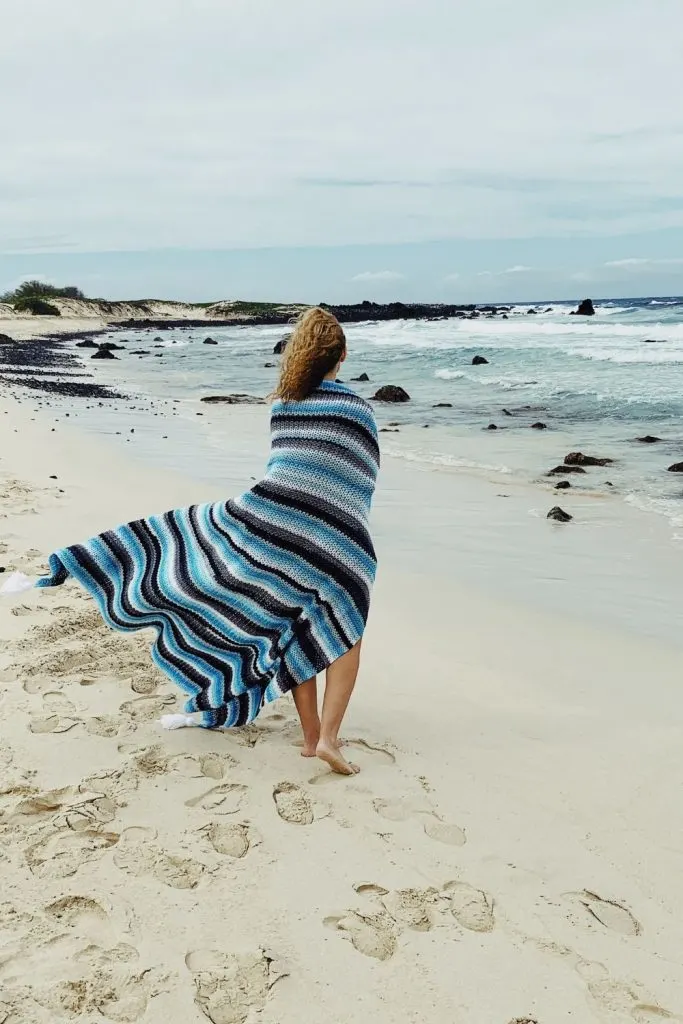 The Stitch
One of my goals for 2021 was to create one blanket pattern a month, with each blanket teaching you a new stitch or technique.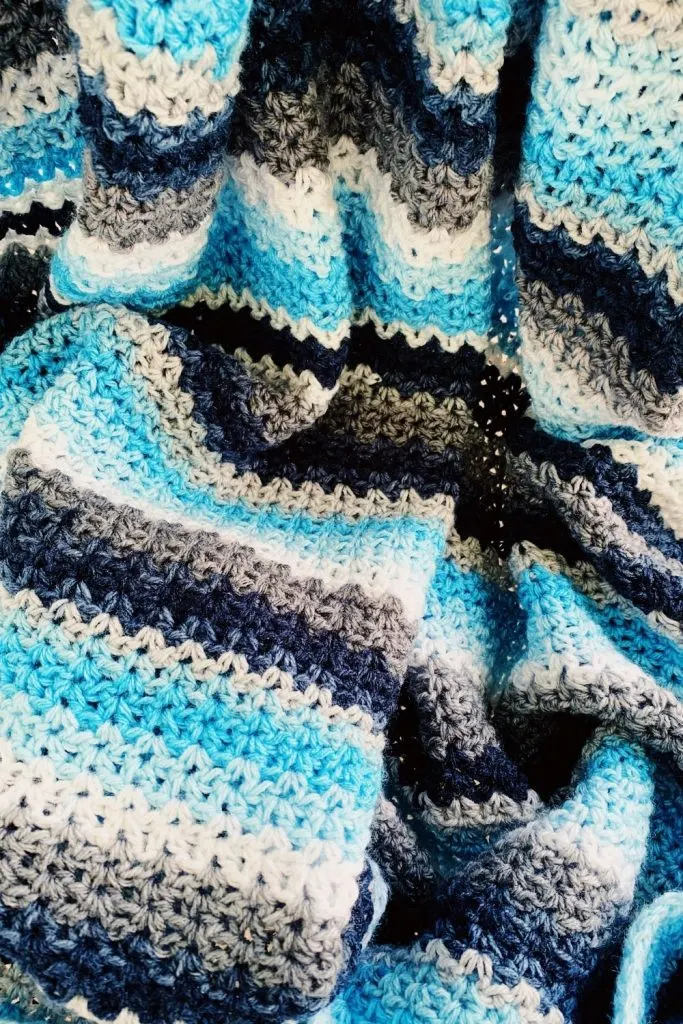 I was almost set on whipping up this blanket with the crochet v-stitch until I was introduced to the mini v-stitch. A couple of swatches later and I knew the mini v-stitch was the way to go.
The Crochet Beach Blanket Pattern
Pattern Description
The Kona Coast beach blanket is made with a lightweight self-striping yarn. The mini v-stitches give this blanket a beautiful texture while letting the stripes shine. Since this pattern is an easy one row repeat, it's a meditative crochet blanket you'll look forward to working on.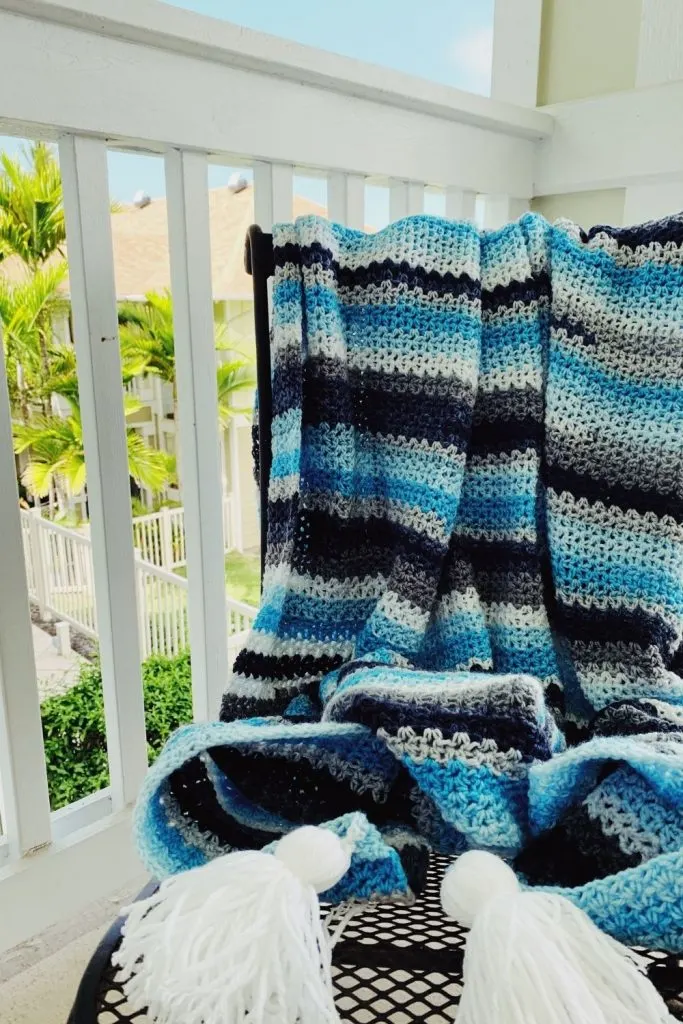 Pattern Notes
Details
Method Crochet
Skill Level Beginner
Hook 4.25 mm | G-6
Other Yarn Needle for weaving in ends and attaching tassels
Yarn
Caron® Skinny Cakes™ Yarn in Pop Rock, 4 cakes at 795 yards each, total of 3, 180 yards
(You can purchase this yarn exclusively at Michaels or Michaels.com)
For tassels: Lion Brand Pound of Love in White
(Purchase this yarn at LionBrand.com here or Amazon.com here)
Gauge 4" x 4" = 18 sts x 13 rows
Final Size 61 1/2″ wide x 60″ long
You can adjust the width of this pattern by chaining any even number and the length by adding more rows.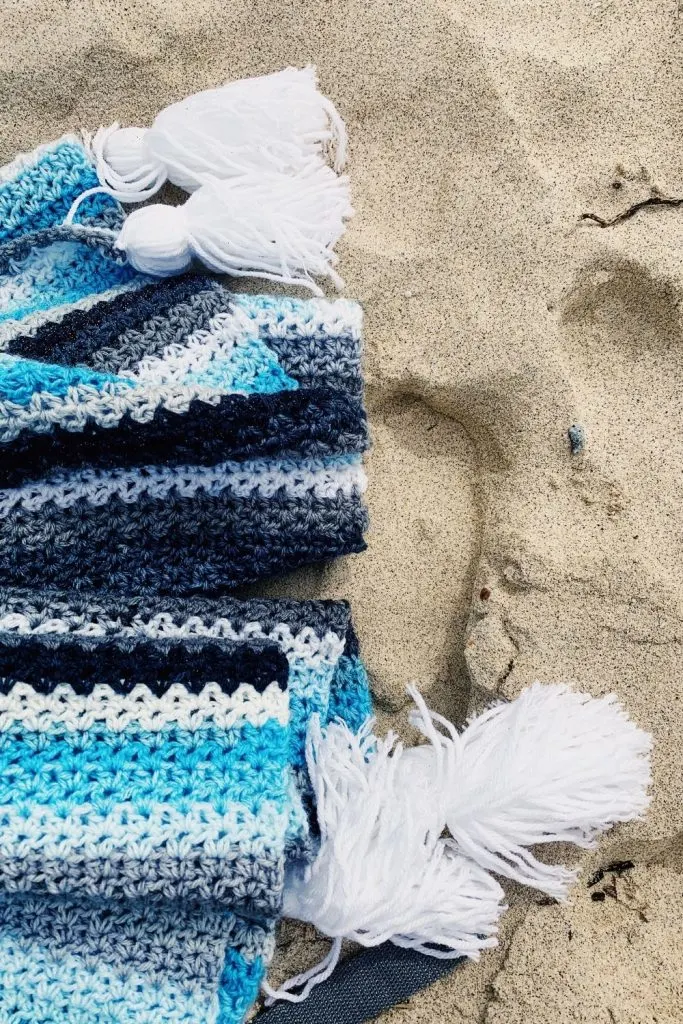 Abbreviations
ch chain
sk skip
hdc half double crochet
rep repeat
The Pattern (Video & Photo Tutorials)
Foundation Row
Ch 296
hdc in 4th chain from hook, ch 1, hdc in same chain again, *sk chain, hdc in next ch, ch 1, hdc in same ch* rep from * to * across until you have two chains remaining, sk ch, hdc in last ch, turn
Row 1
(For a nice clean edge with no gaps do this instead of a ch 2) insert hook into the first stitch, yo, pull up a loop, 2 chains on hook, yo pull through 2 loops on hook, insert hook into 2nd vertical bar on stitch just made, yo pull up a loop, 2 loops on hook, yo over, pull through 2 loops on hook.
You can do this technique or just chain 2
Continuing with row 1, in first ch 1 space, *work hdc, ch 1, hdc*, rep from * to * across row into each ch 1 space until you get to the last stitch, work an hdc into the top of the chain of last stitch, turn
Rows 2 and on
Repeat Row 1 until you use all four cakes of yarn or until it's the length you want.
Fasten off yarn, weave in all ends.
For the tassels, make 4 using the directions at the end of this post.
Attach the tassels to the corners of the blanket.
And that's it! As you can see, it's a super easy crochet blanket to make. But the end result is gorgeous.
Mini V-Stitch Video Tutorial
Photo Tutorials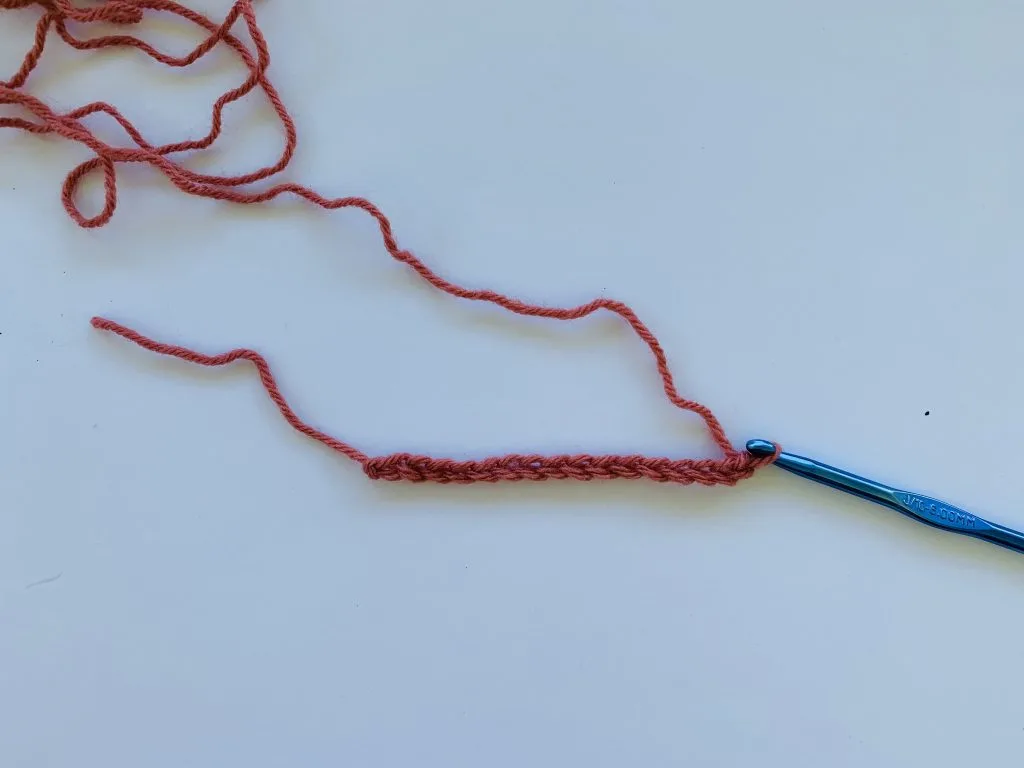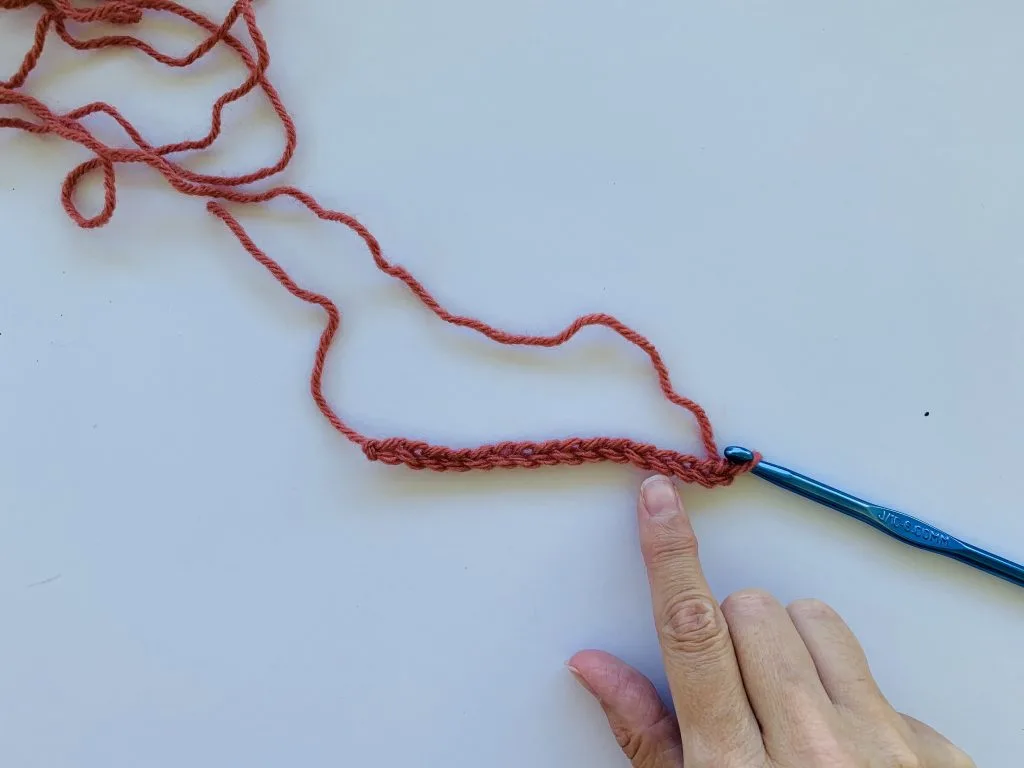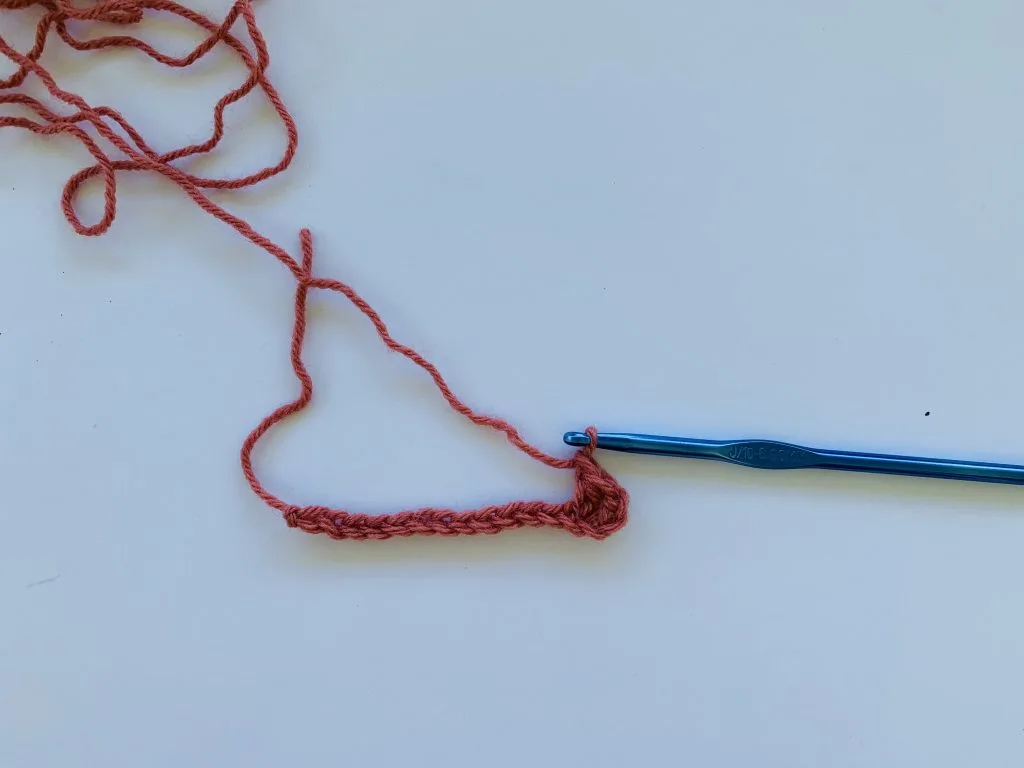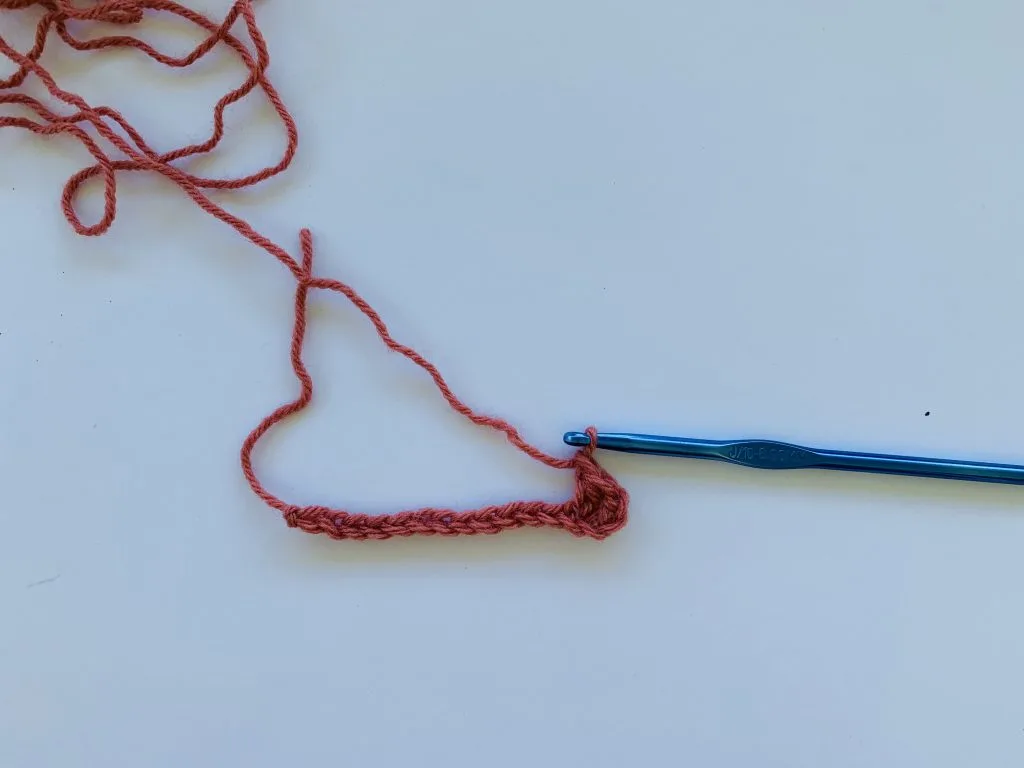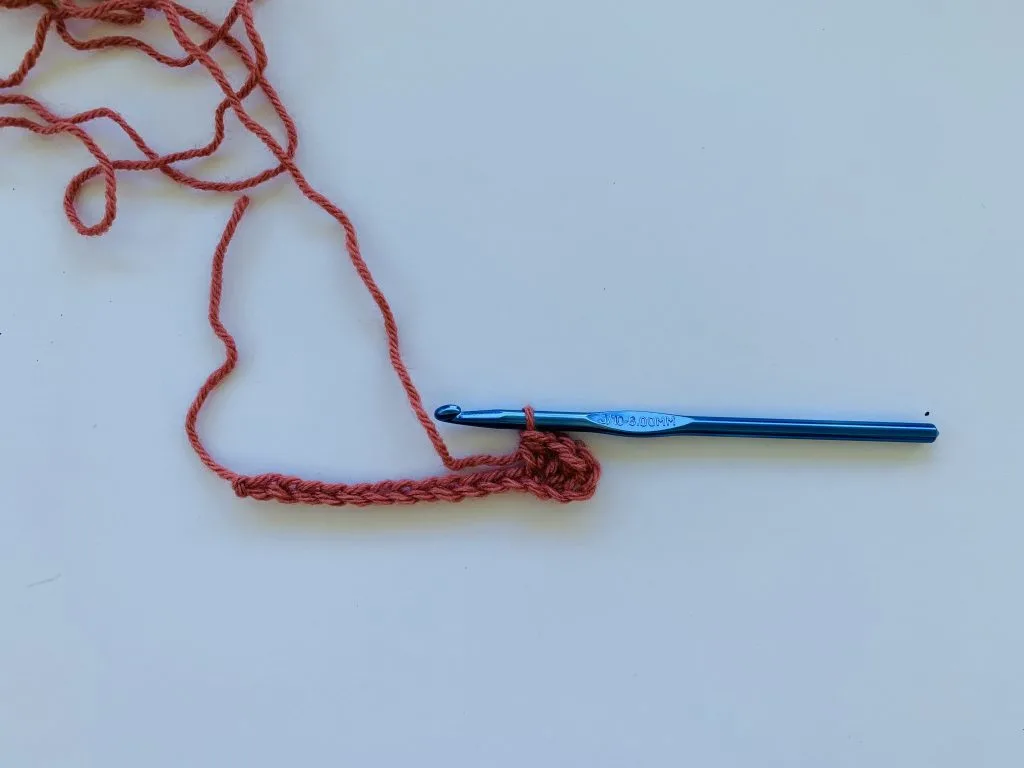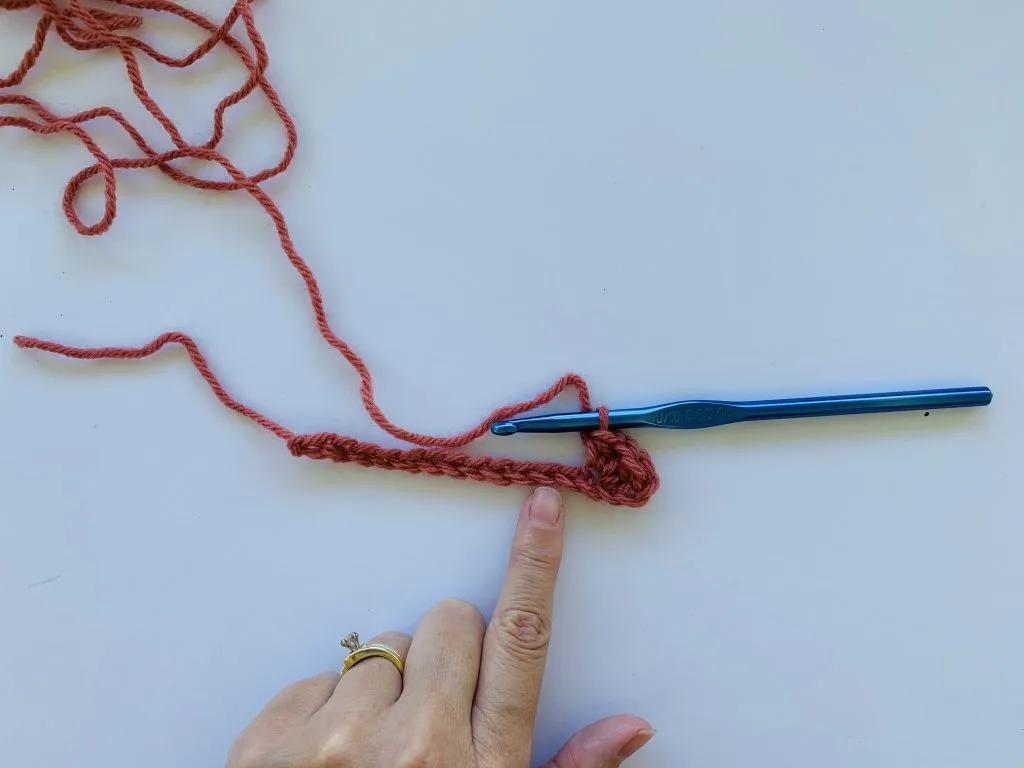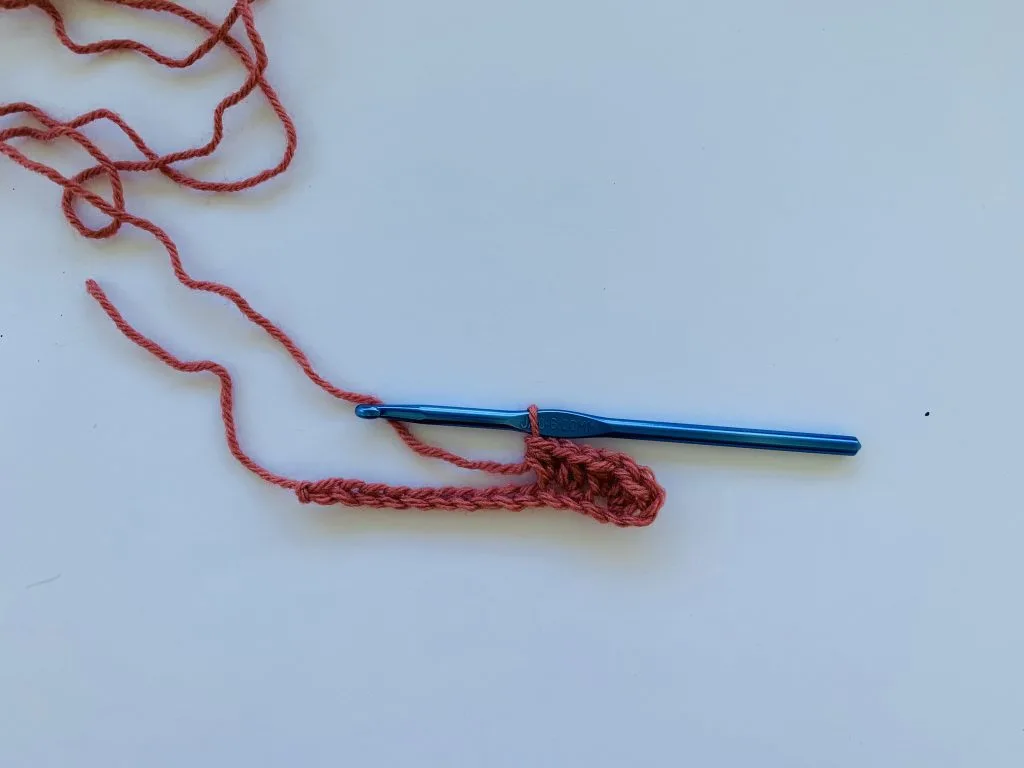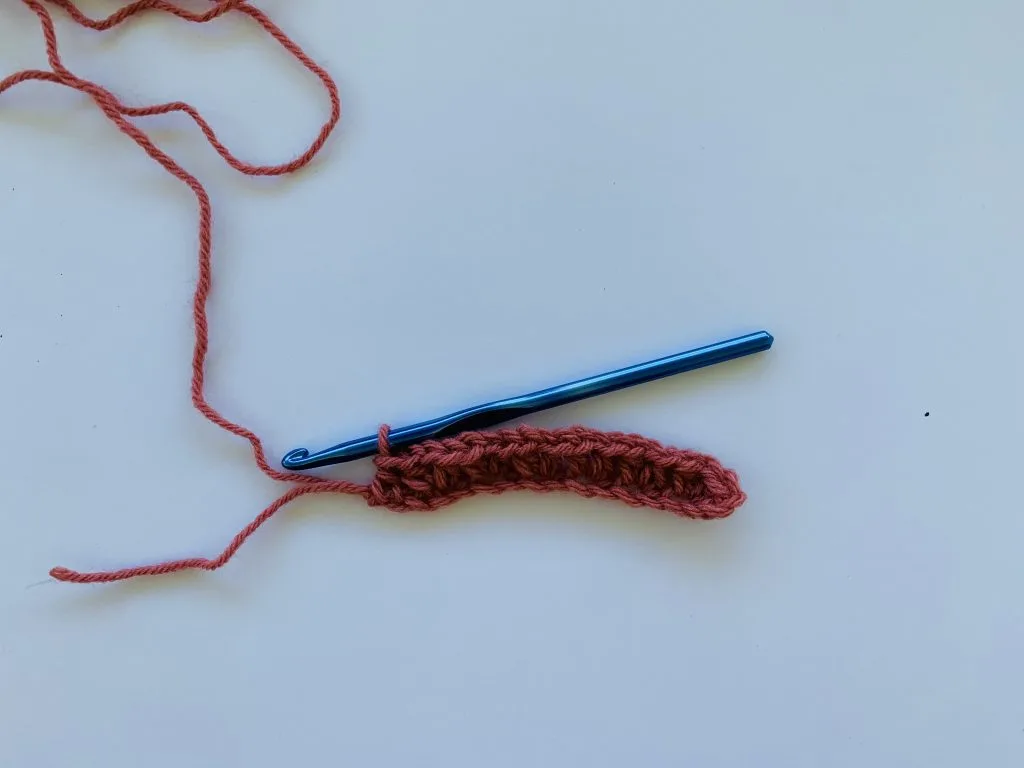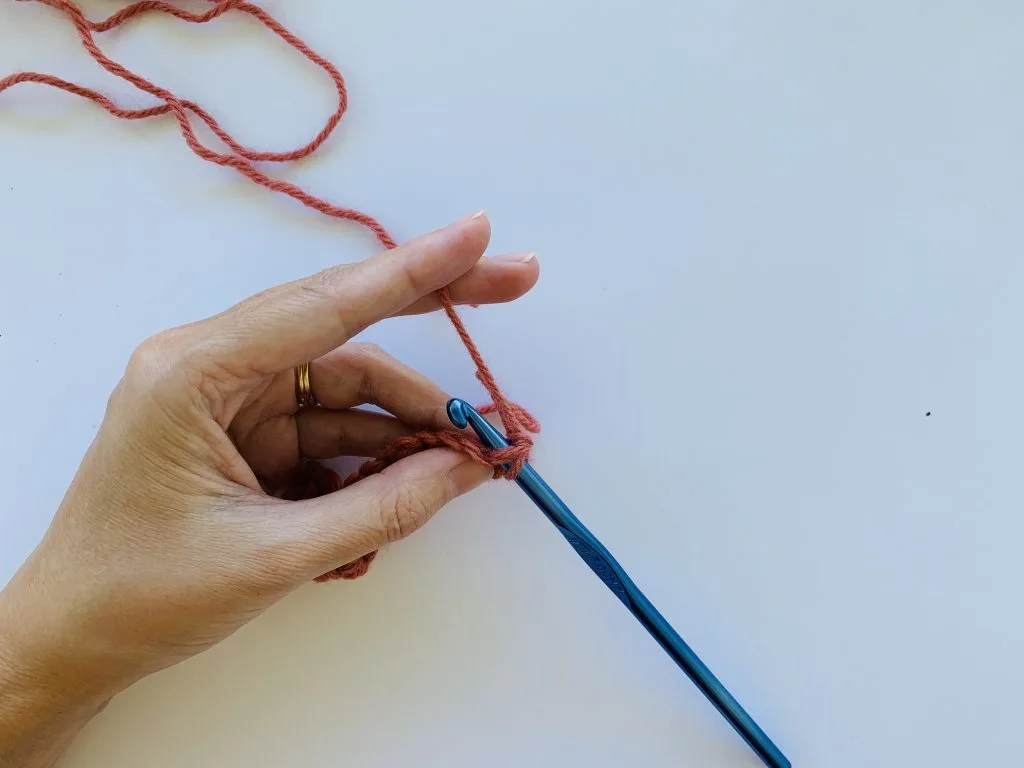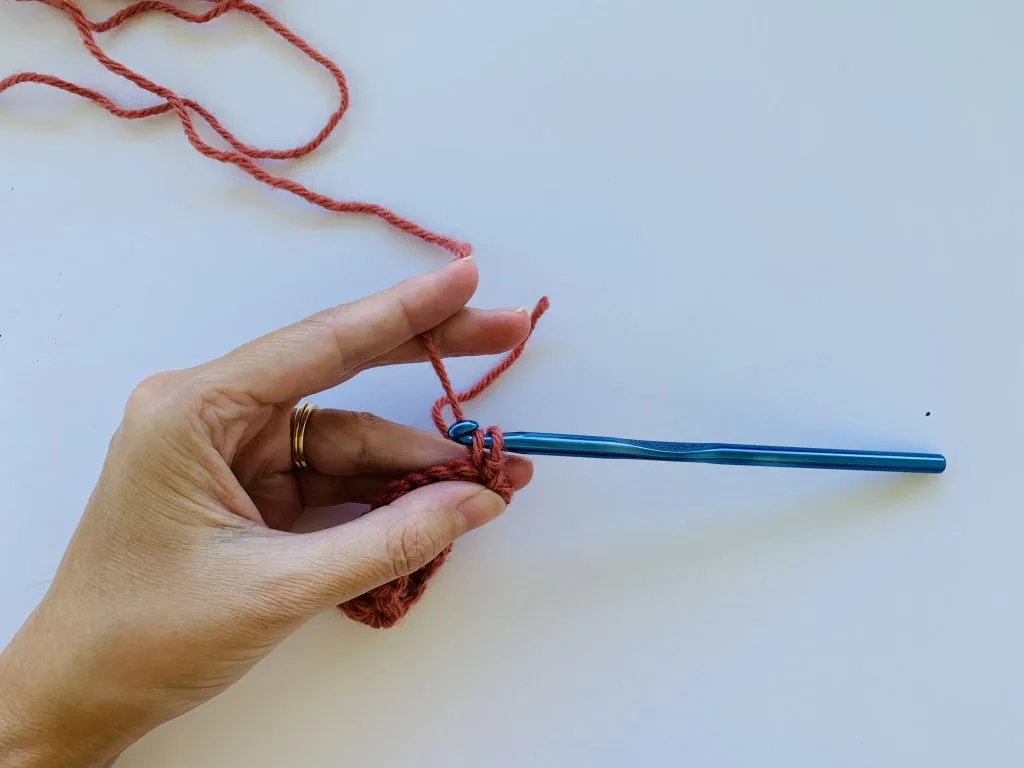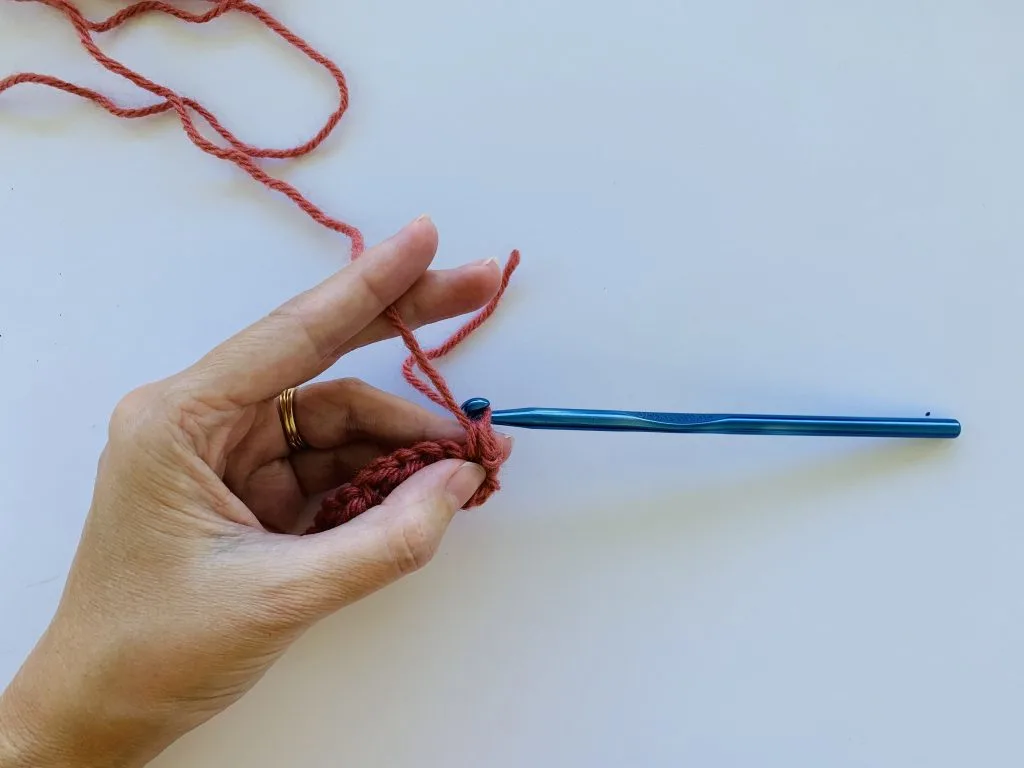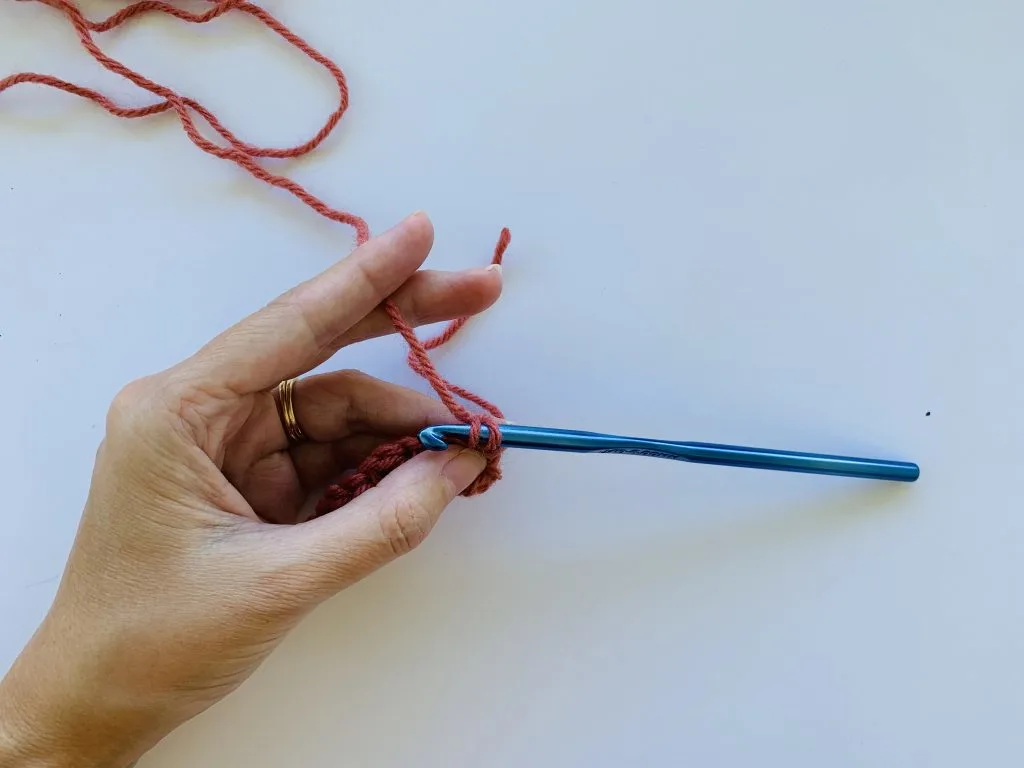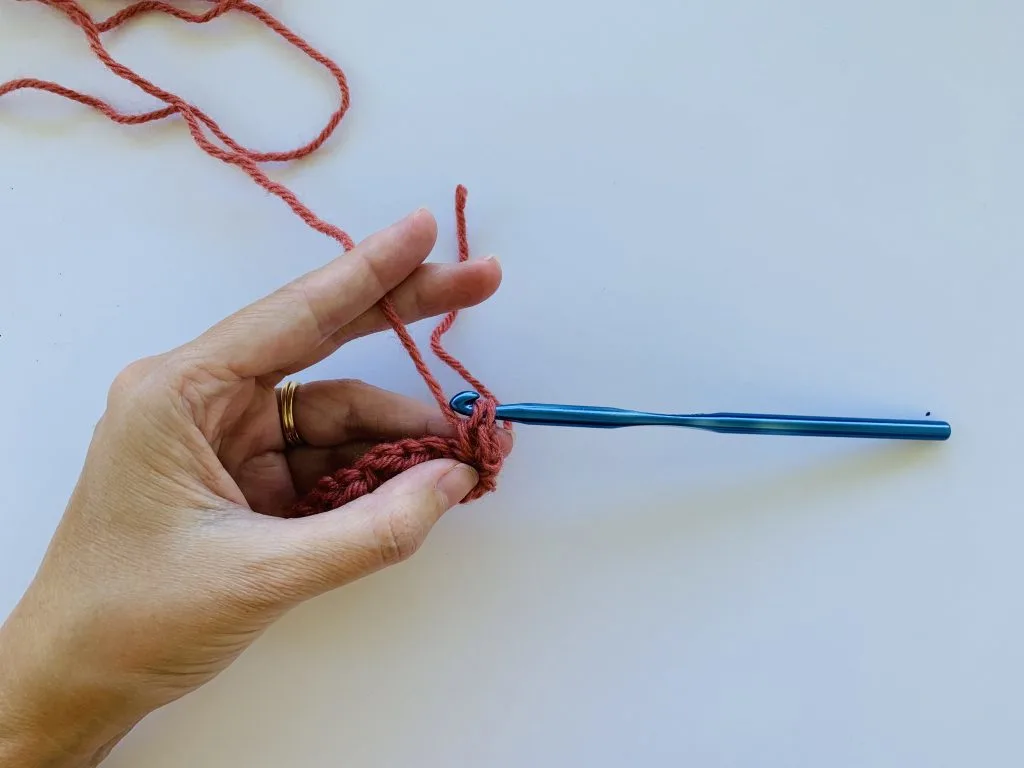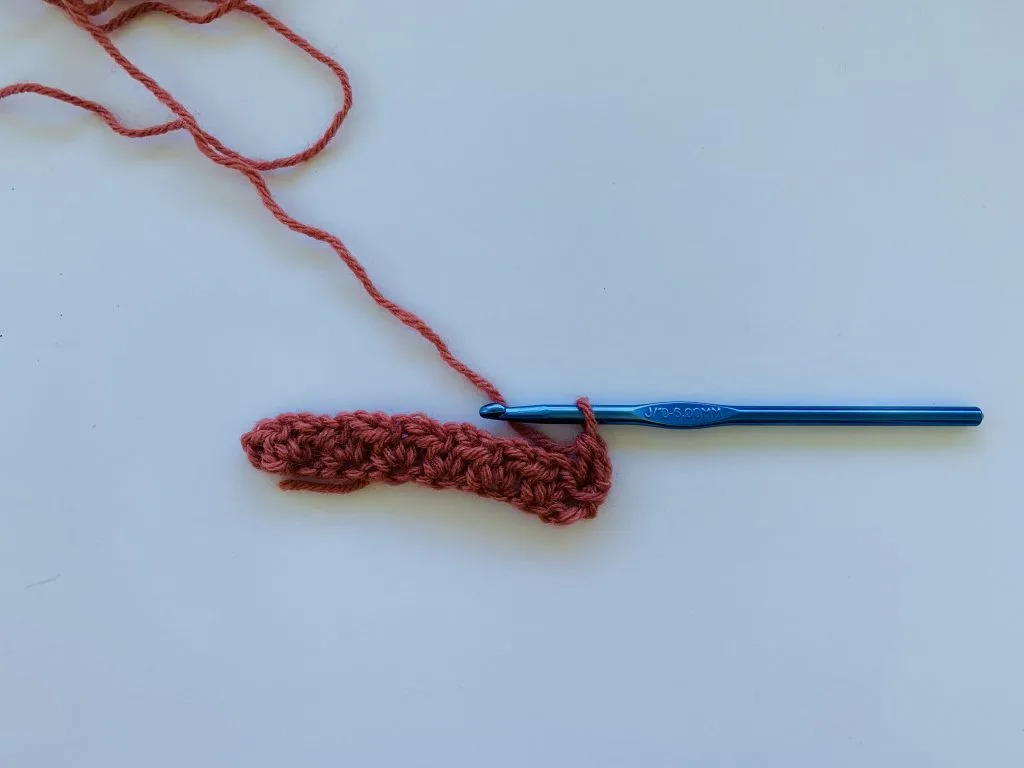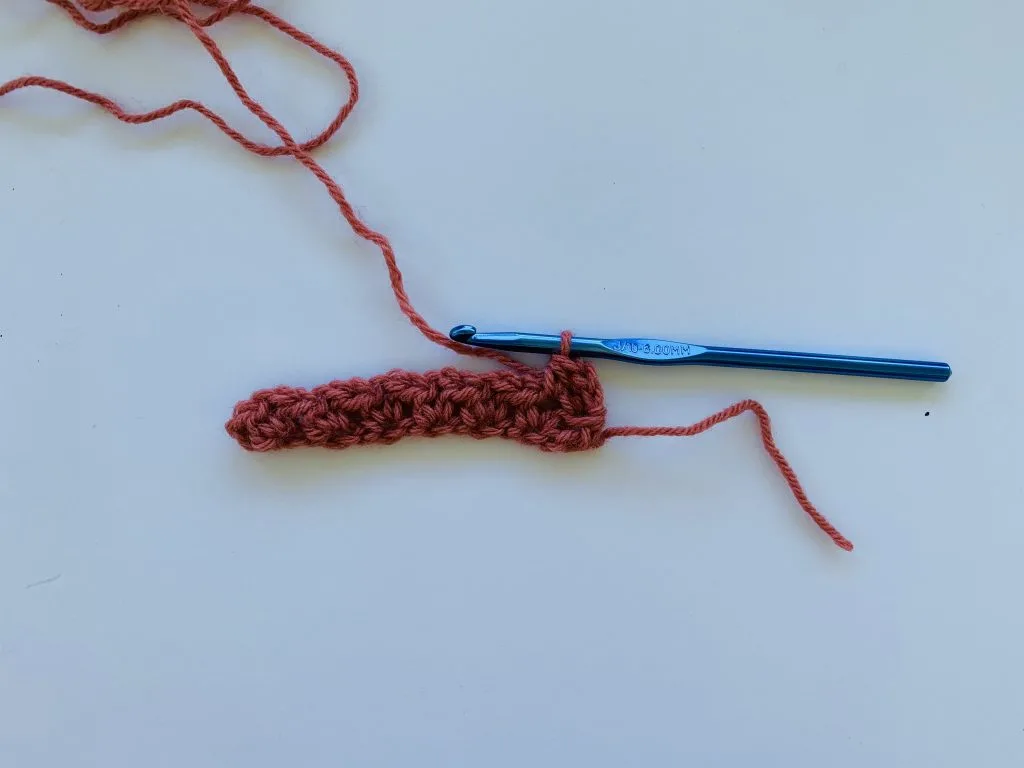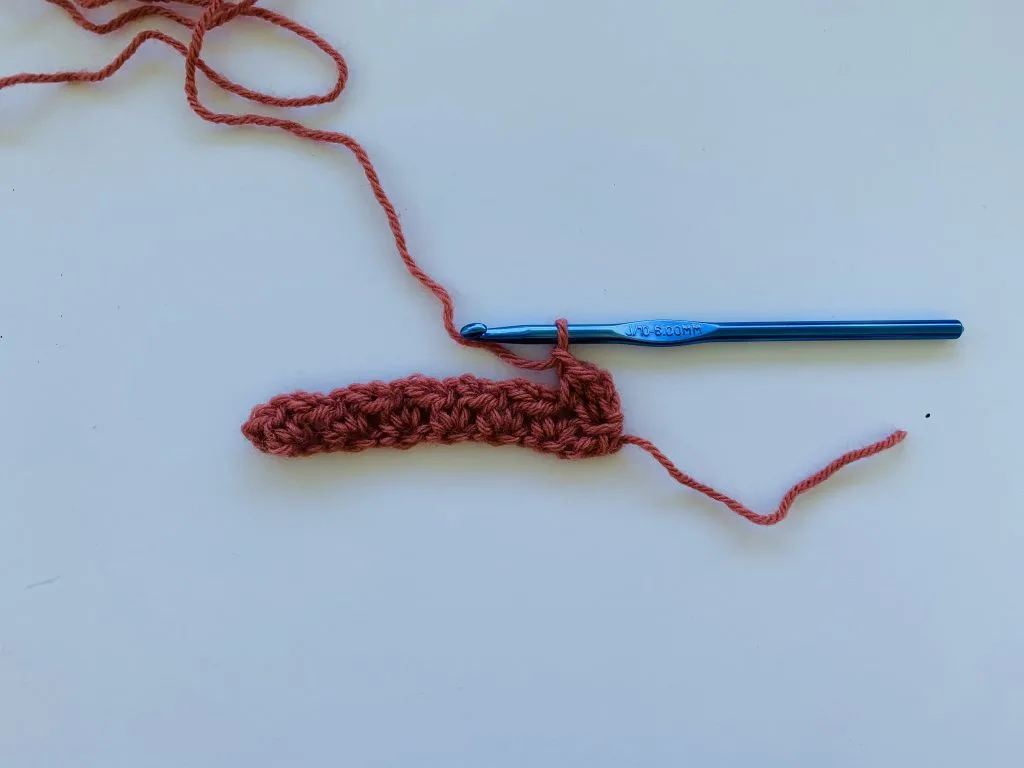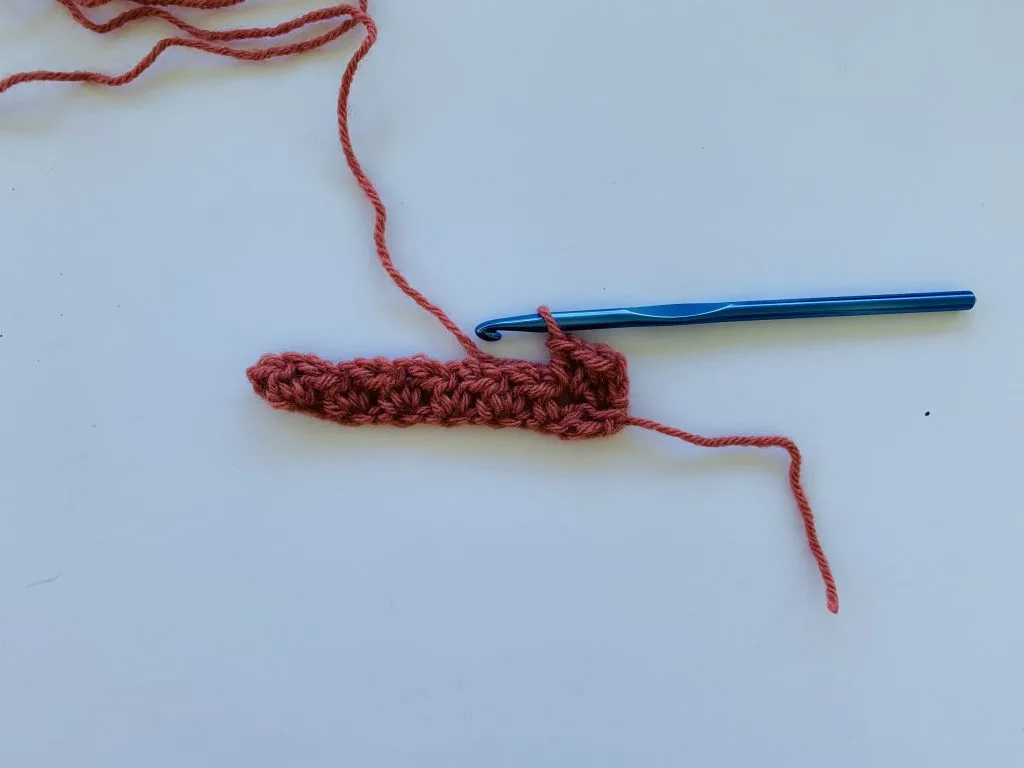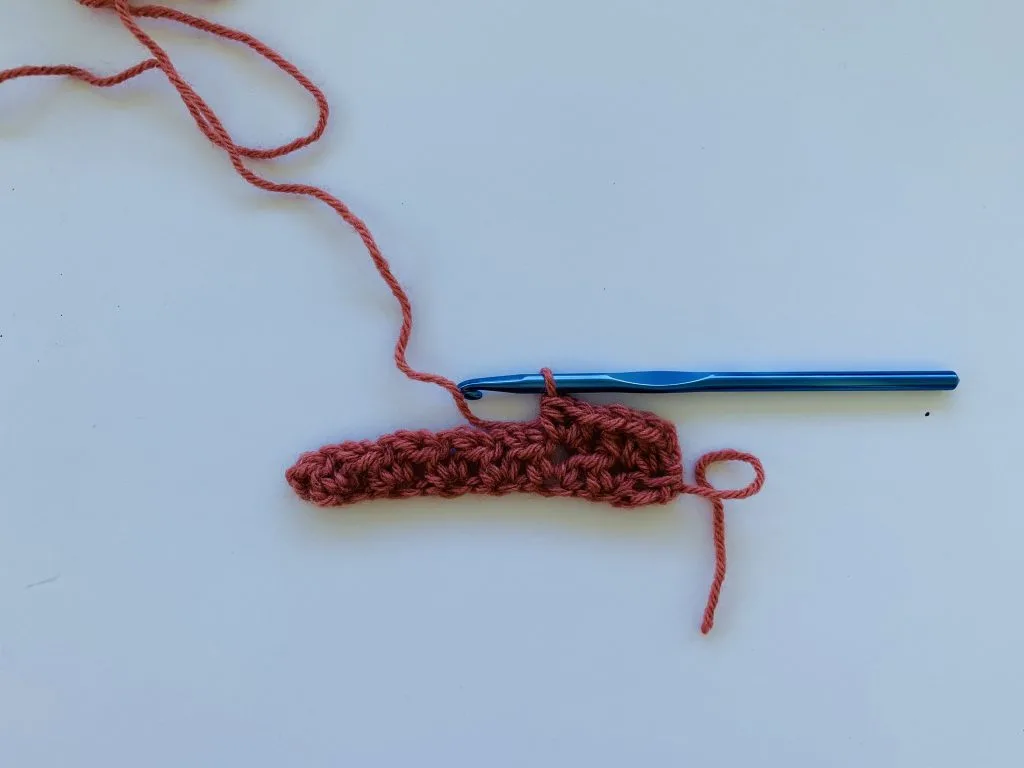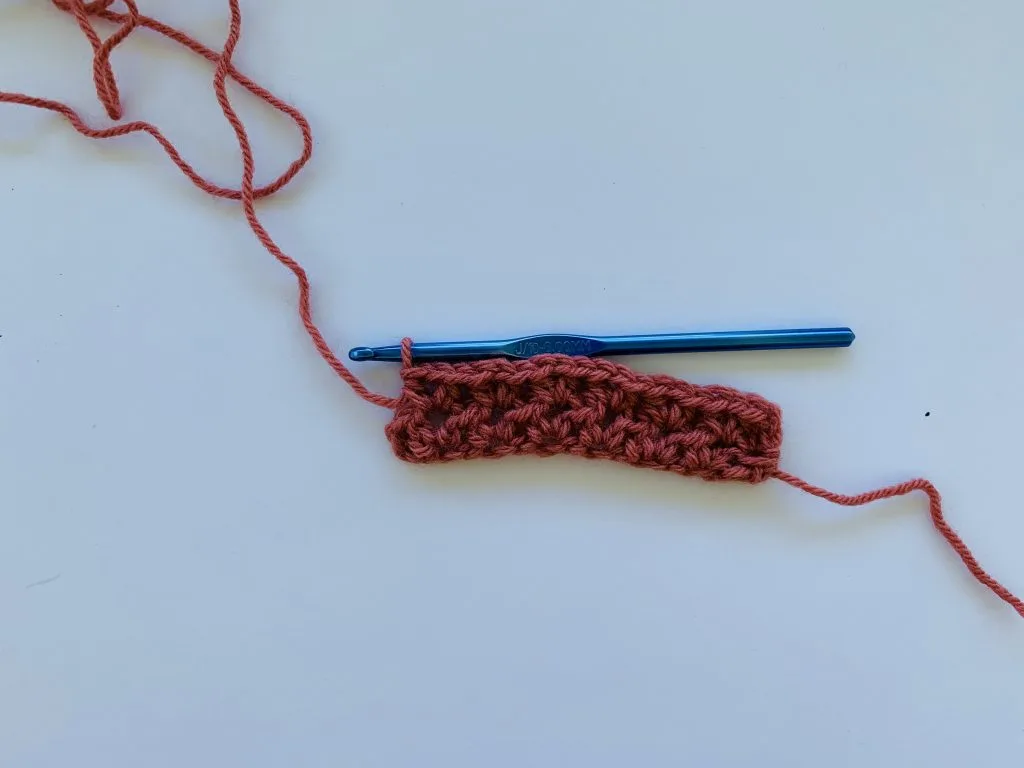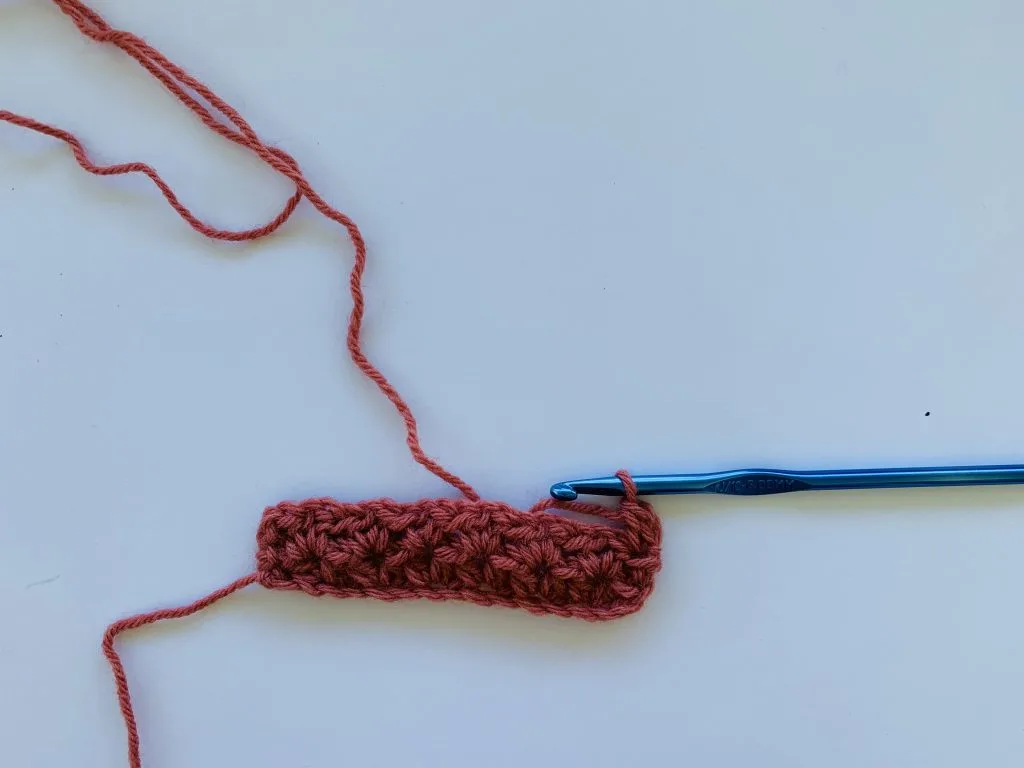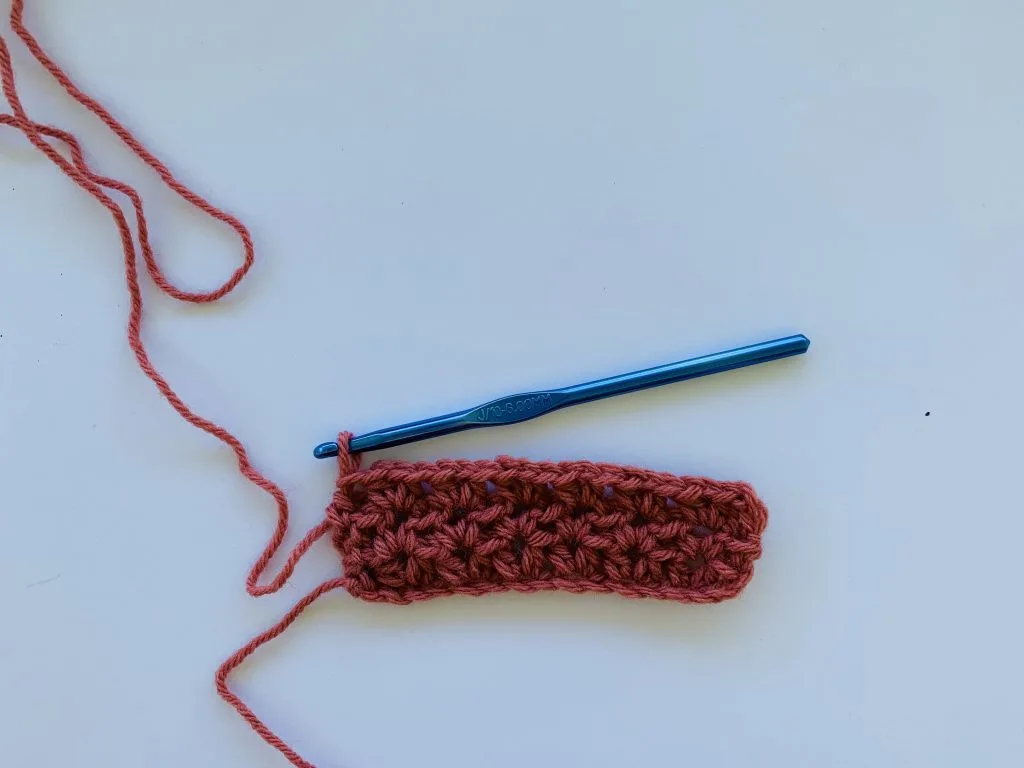 Pin this pattern to save for later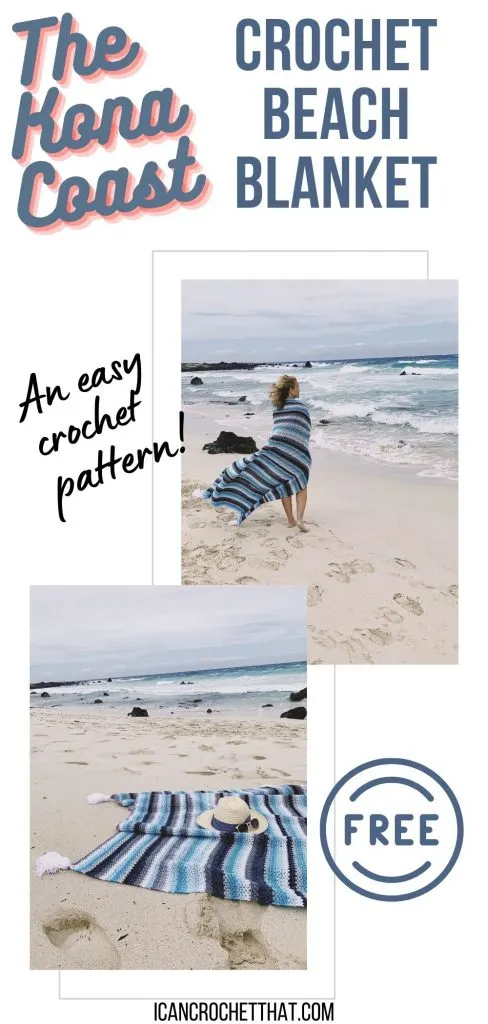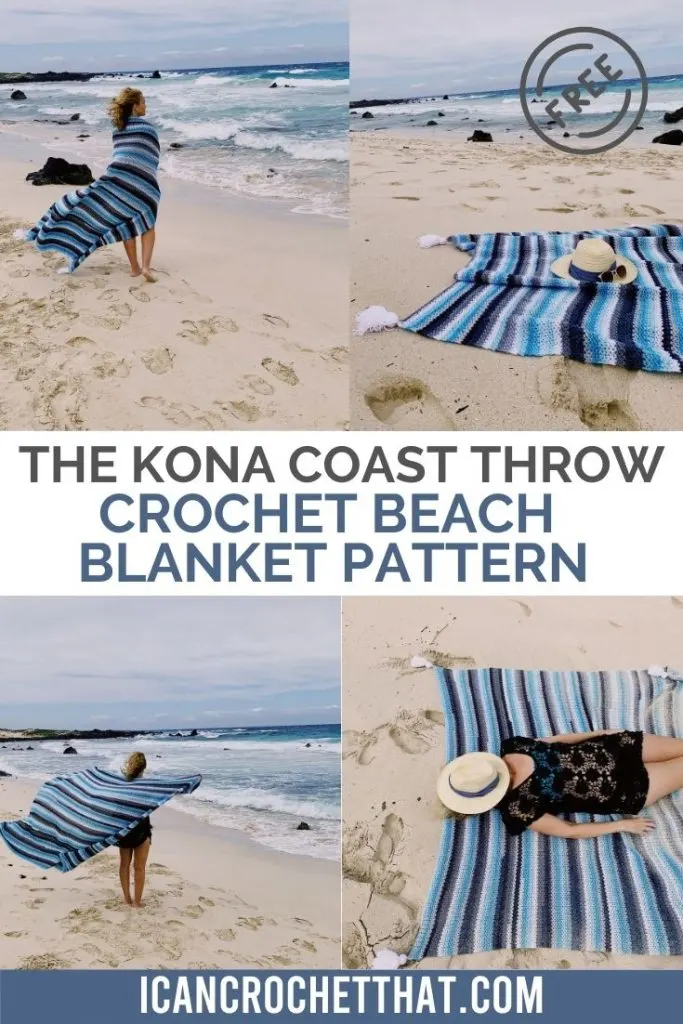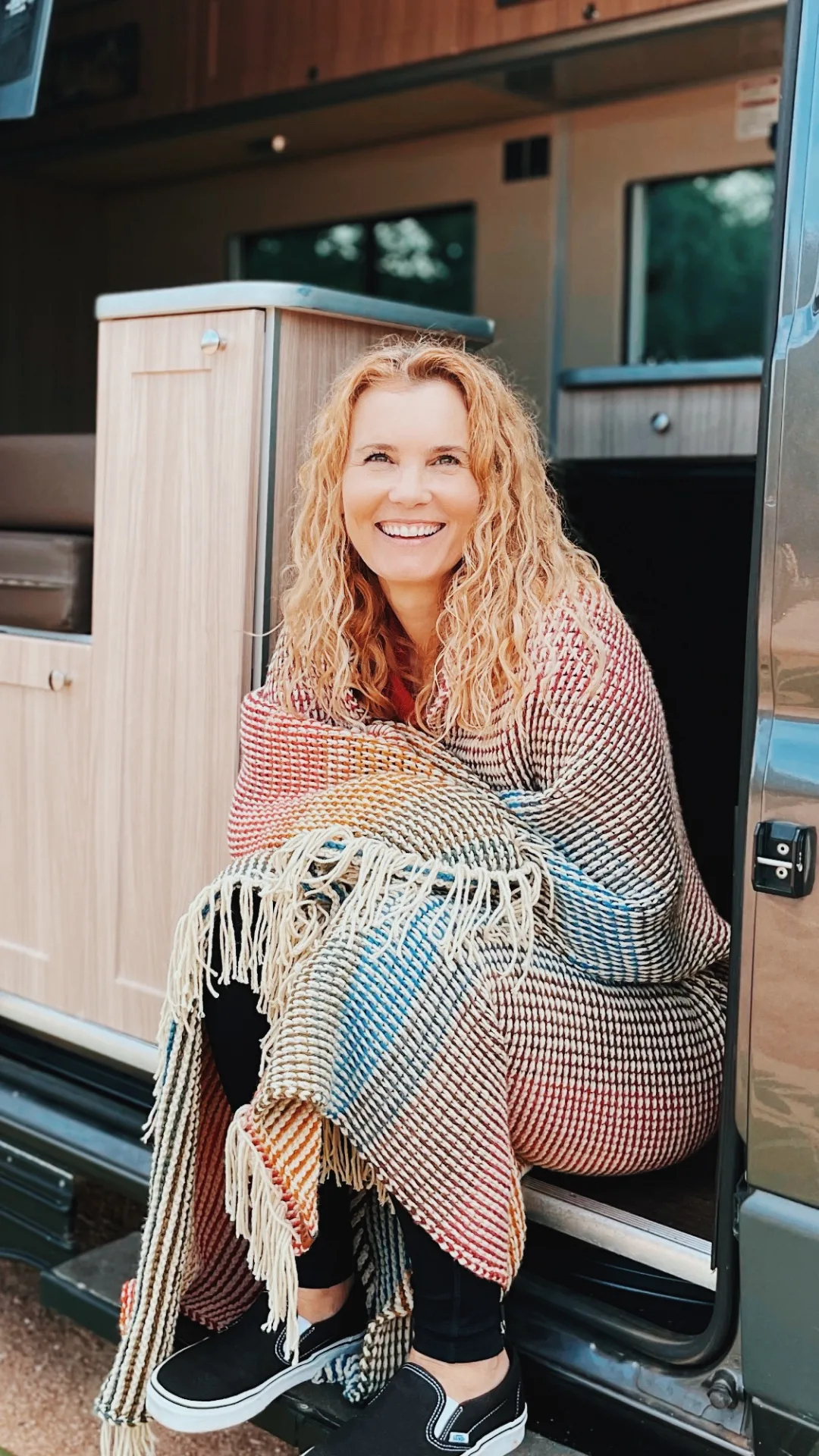 Hi! I'm Julie. I design modern crochet patterns and tutorials to help you learn to crochet. I've been crocheting for over two decades and with the gentle nudging of my husband, decided to turn this passion into a career. Although we travel a lot in our campervan, you'll never find me without a bag of yarn and projects.