The Aloha Blanket is made using the Tunisian Crochet Chevron pattern. This stitch creates beautiful waves that remind me of the black sand beaches of Hawaii.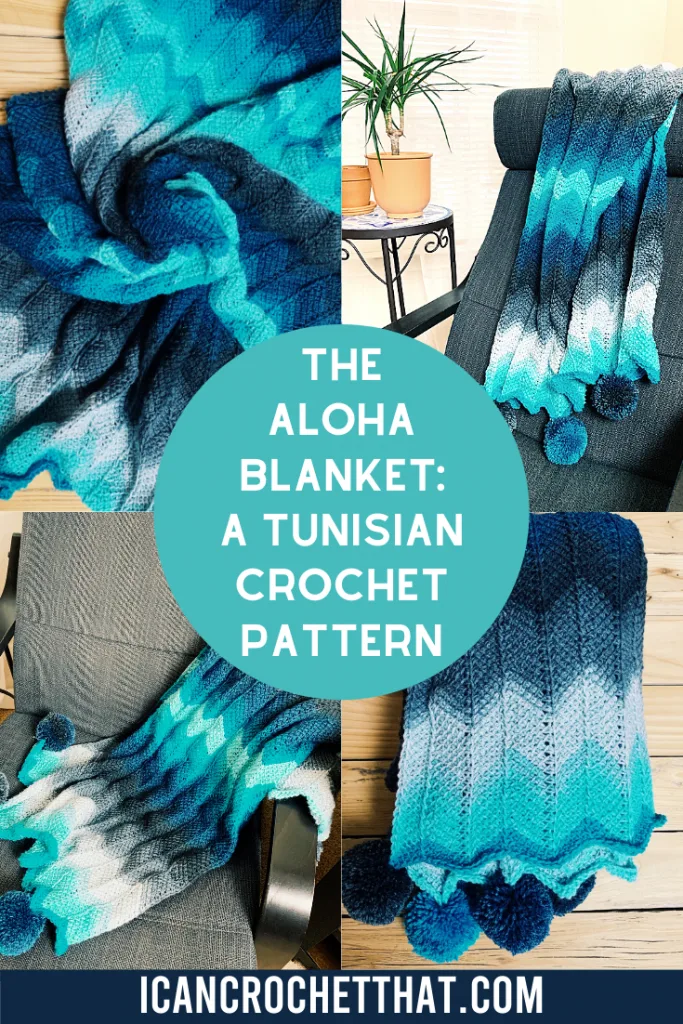 By using the self-striping yarn, it helps you to easily create a blanket without having to worry about color changes.
Add pom-poms to the corners and middle ends for a fun and beautiful crochet blanket.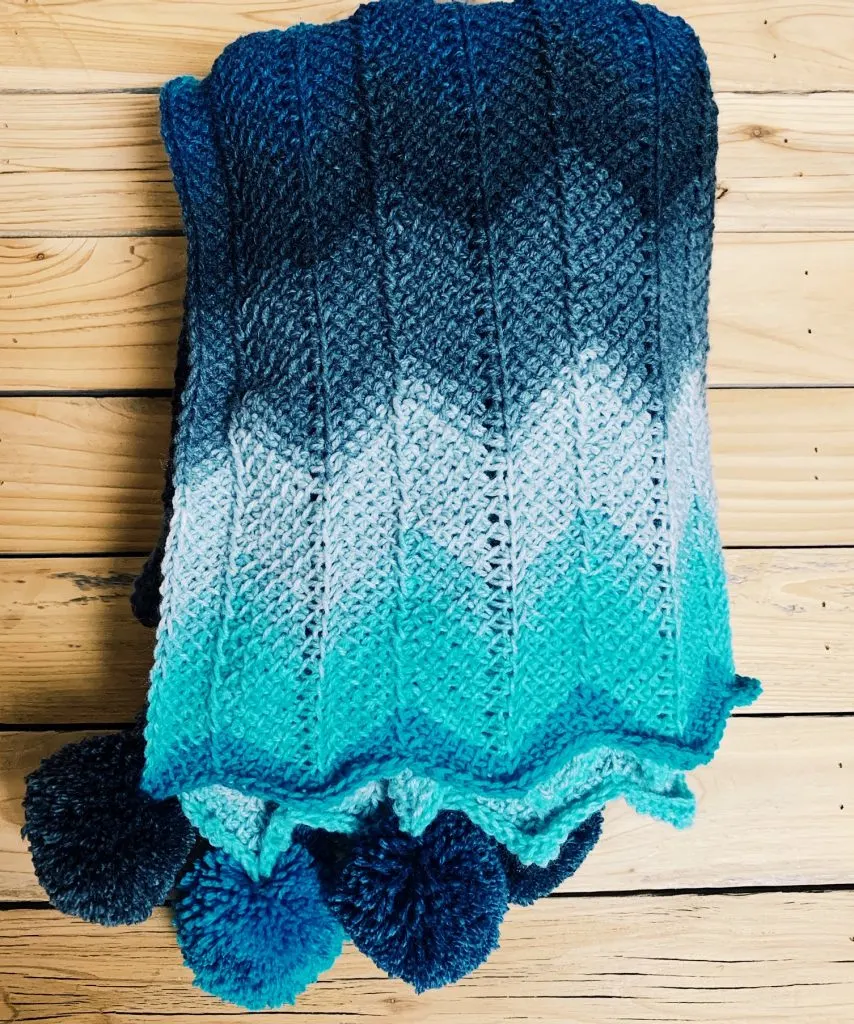 Tunisian Crochet Chevron Blanket Pattern
Like many of you, because of the current situation in our world, we had to postpone (possibly cancel) a vacation we've been looking forward to for quite some time.
For 24 years, my husband Todd and I have dreamed of going to Hawaii together.
While we were living in Alaska, Todd spent a two-week deployment in Hawaii living in a tent. While he did get to spend a day checking out the sights, it wasn't exactly the way he had hoped to experience this part of the world.
So this year, we bit the bullet and planned our trip. Dates were set, tickets were purchased, accommodations were made, and so on.
And then the pandemic hit…and the rest is history.
Since we were planning a trip to Hawaii, I started pinning travel tips on Pinterest like crazy. I kept seeing pictures of the incredible black sand beaches like the one pictured below.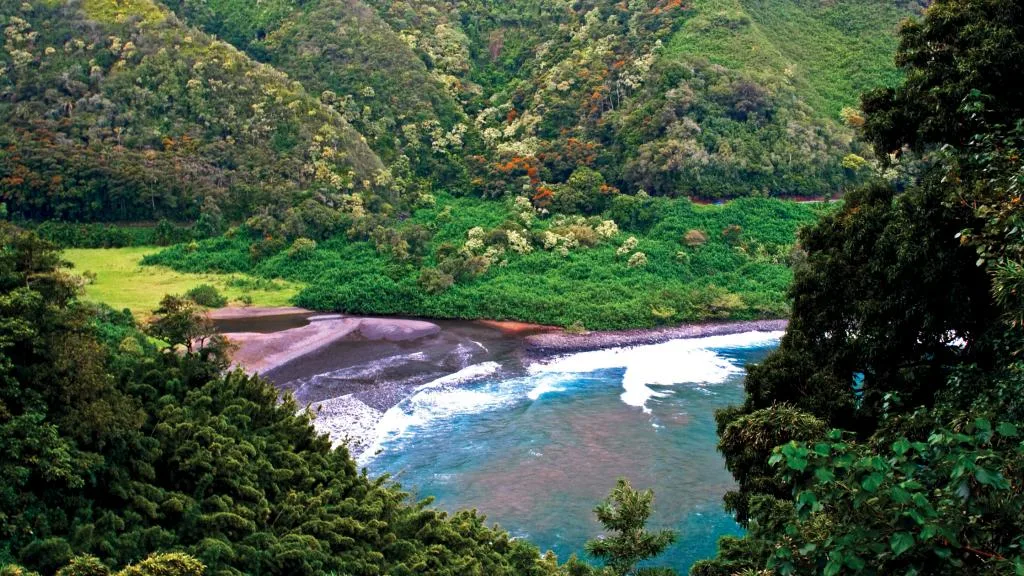 So when I saw these cakes of Lion Brand Mandala Yarn on sale, I was instantly reminded of the gorgeous pictures of Hawaii I had seen.
My plan was to make the blanket, take it with me to Hawaii and snap some pictures, but…
Until that happens (or doesn't…who knows), you'll have to settle for living room pictures. 🙂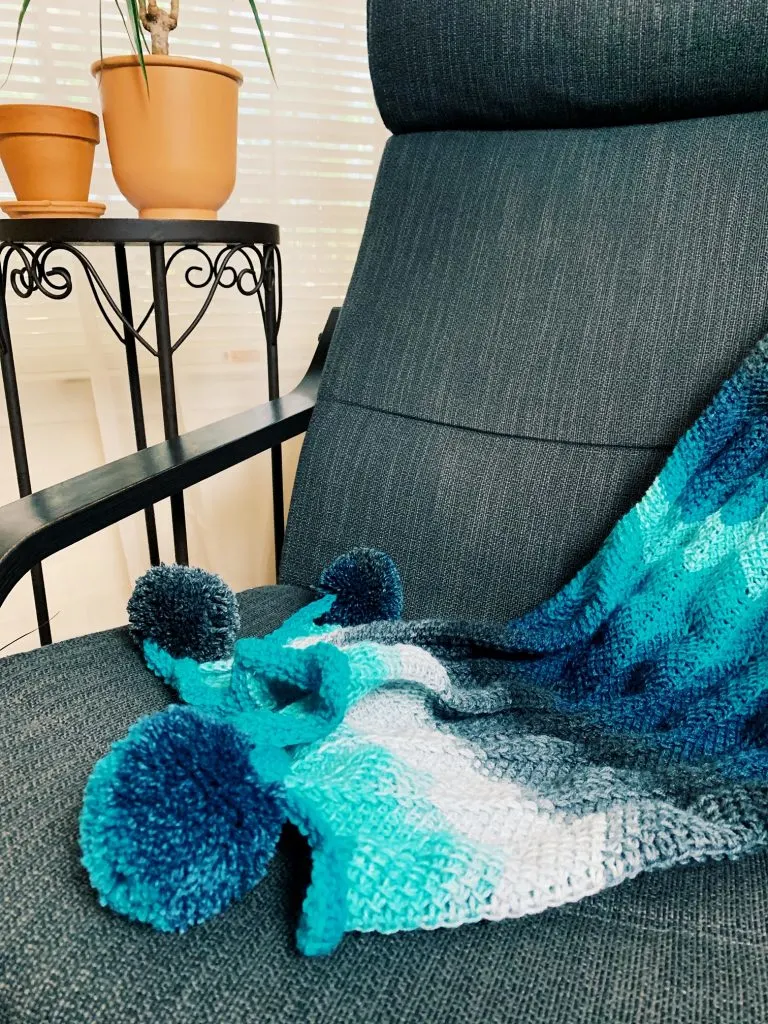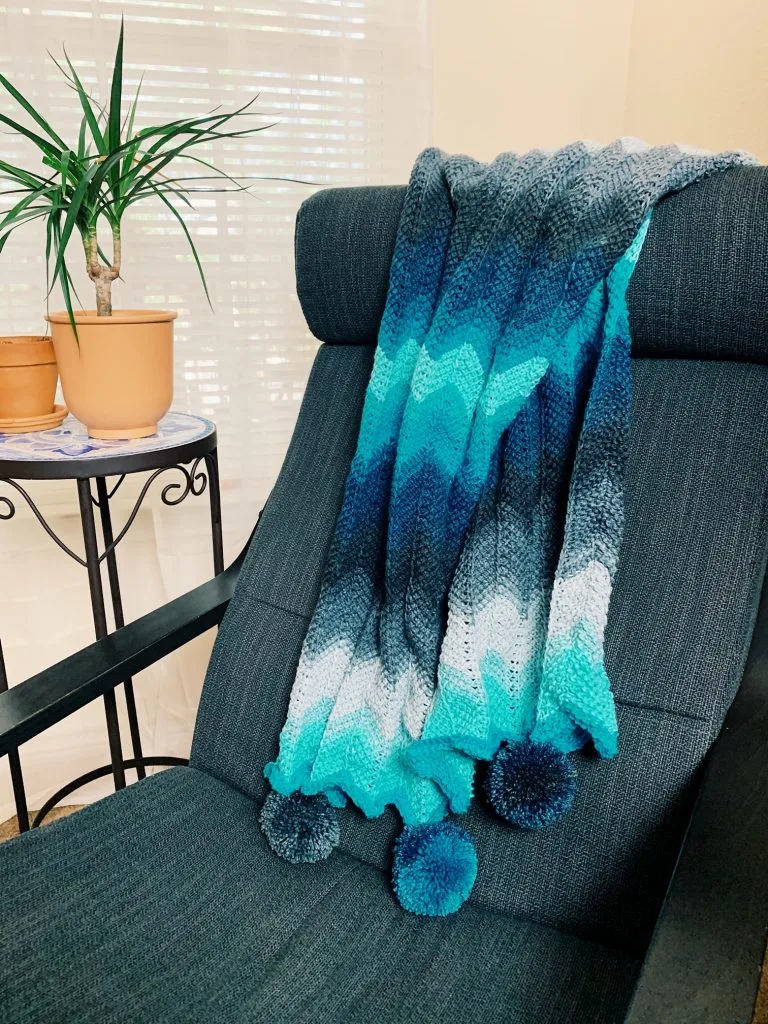 The Pattern
I've been really hooked (haha, pun) on Tunisian crochet lately and have been testing out every stitch known to man.
Here are a few of my other Tunisian crochet patterns:
Since I wanted this pattern to have "waves" I knew the Tunisian chevron stitch was the way to go. I love how it turned out using the self-striping yarn.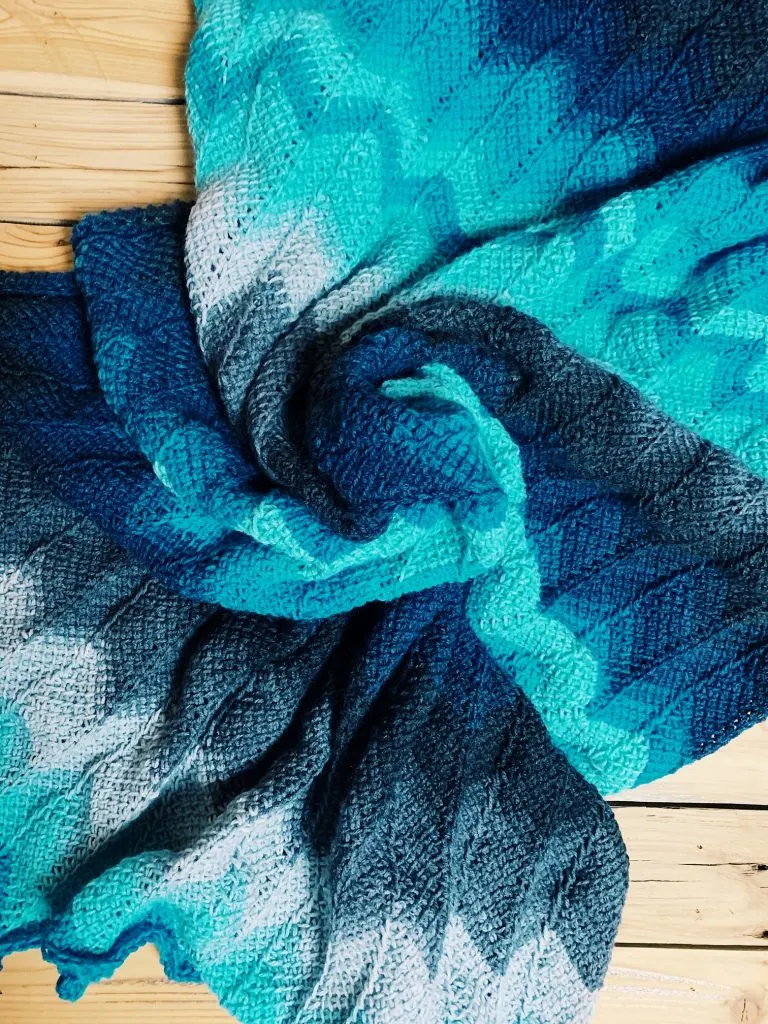 After finishing the blanket, the cool chevron ends were begging for something. Six large pom poms later and we have a fun Tunisian crochet blanket.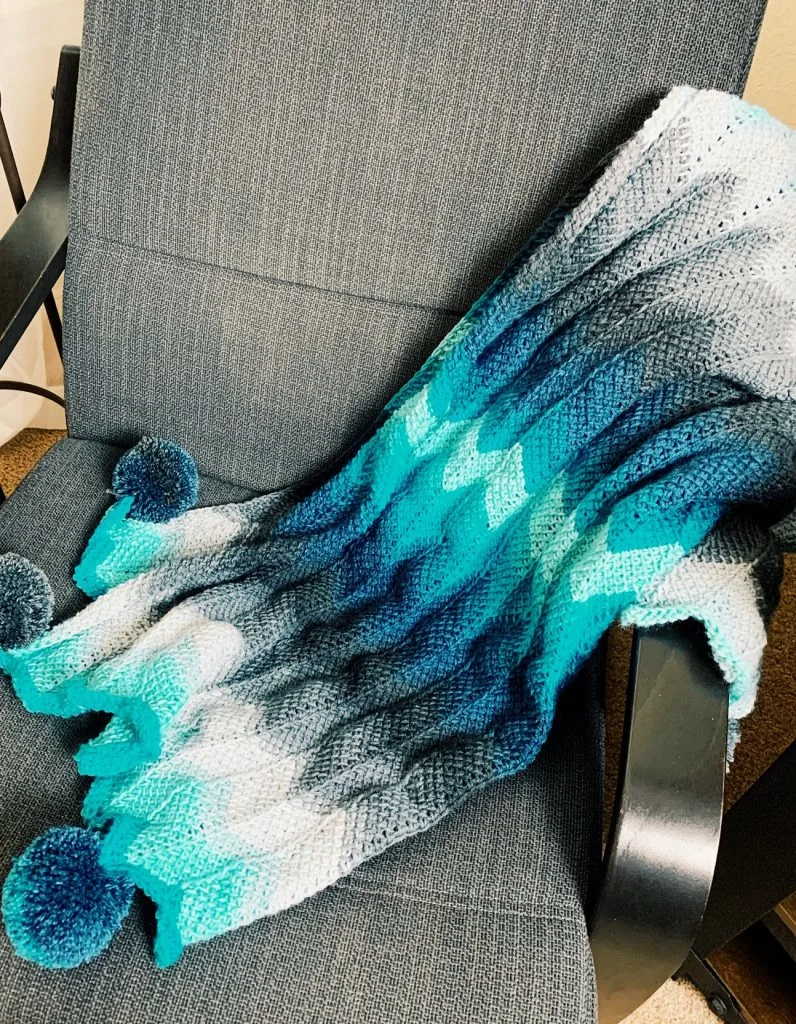 Purchase The Aloha Blanket Tunisian Crochet Pattern
If you'd like to try this pattern and make one (or more) for yourself or to give as a gift, you can purchase the pattern on the I Can Crochet That Shop here.
The pattern includes a supplies list, notes and a detailed pattern.
*All patterns on the shop are Buy 2, Get 1 Free. Use code "FREEFORME" at checkout.*
Tunisian Chevron Stitch & Pom Pom Tutorial
Here are a couple of video tutorials for this pattern. A how-to for the Tunisian Chevron Stitch and a How-to for the Clover Pom Pom Maker.
Supplies Needed to Make this Pattern
I hope you enjoy making this blanket as much as I did! Pin the image below to save this pattern for later.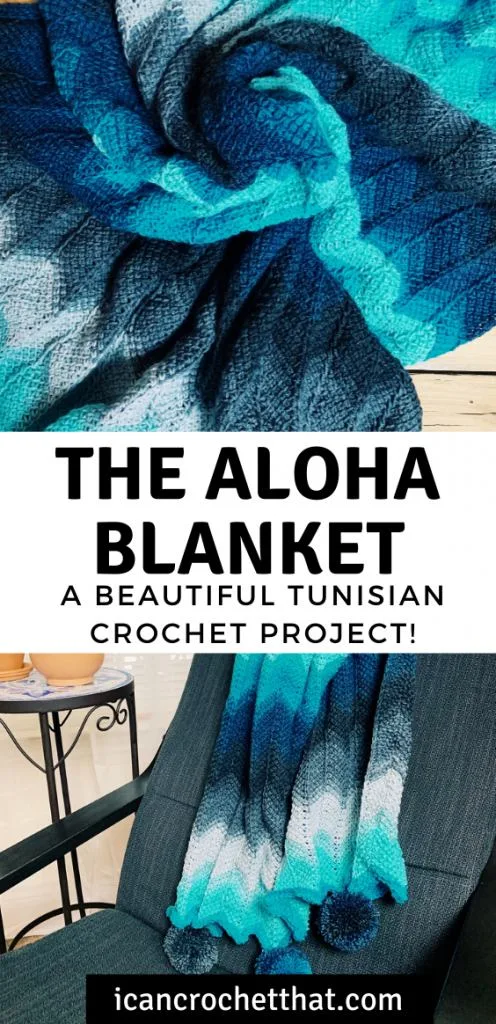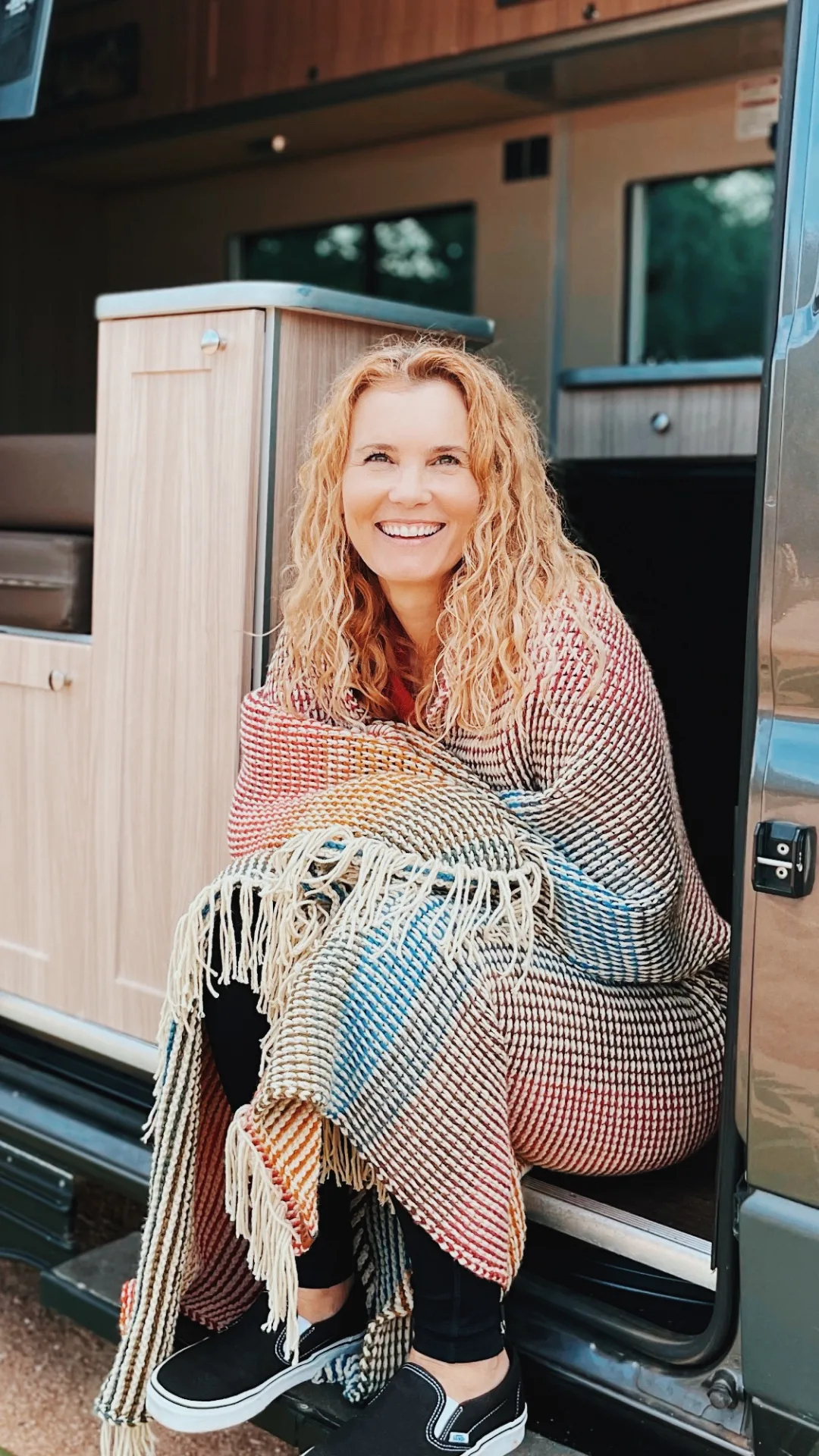 Hi! I'm Julie. I design modern crochet patterns and tutorials to help you learn to crochet. I've been crocheting for over two decades and with the gentle nudging of my husband, decided to turn this passion into a career. Although we travel a lot in our campervan, you'll never find me without a bag of yarn and projects.