We hope you love these crochet sock patterns for toastie toes all fall and winter long!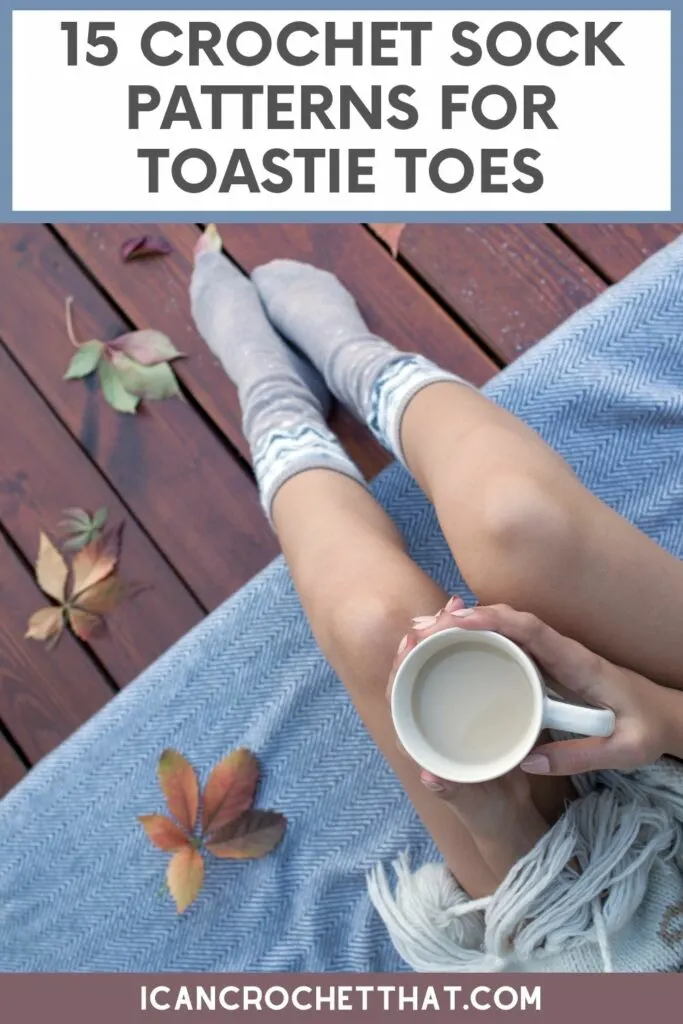 I have to say that socks are probably my favorite crochet accessory.
Something about them is reminiscent of storybook cabins and nights by the fire, and fall is the perfect excuse to make as many as humanly possible.
Today I have a list of 15 crochet sock projects to take up this fall.
15 Crochet Sock Patterns for Toastie Toes
1. Sweet Crochet Socks
These adorable socks have a pink and purple color palette and little cupcake details towards the top of the socks. They couldn't be any sweeter.
You can get this pattern for free here.
2. Golden Plum Textured Crochet Socks
This crochet sock pattern utilizes complementary colors gold and plum to create a beautifully textured sock.
It may look complicated, but it's made with beginner-friendly stitches.
You can get this pattern on Ashley Leither's Ravelry shop here.
3. Slipper Crochet Socks
These slipper socks from Make and Do Crew are easy to work up and perfect for men and women.
The bulkier yarn ensures the warmth will be trapped inside your socks. No cold feet here!
You can get this pattern for free here.
4. Cable Knit Crochet Socks
Cable knit is one of my very favorite designs for sweaters and socks.
It just gives everything vintage & comfy cozy feel, and these socks have just that look.
You can get this pattern for free here.
5. Cozy At Home Socks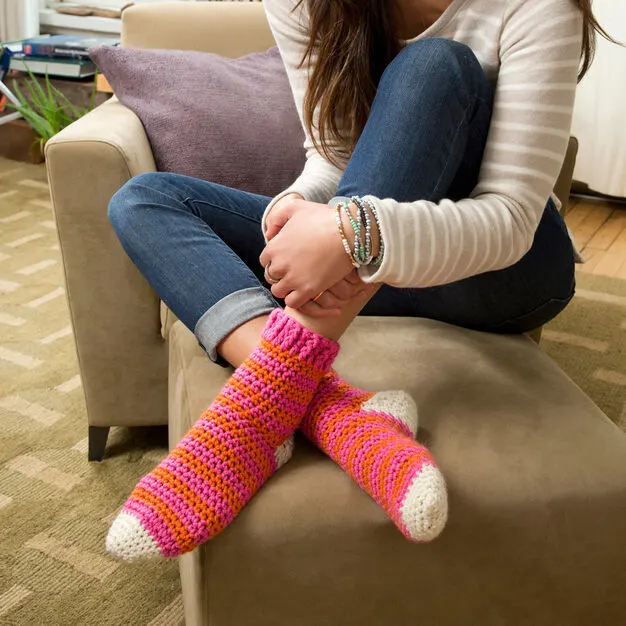 The name for these crochet socks is quite appropriate; they're perfect for
wearing on those colder fall days curled up by the fire reading a book or
watching your favorite show.
The pattern is available for free here.
6. Basic Crochet Socks
If you're a beginner crocheter but feel like tackling a slightly tougher project, this one is for you!
These basic crocheted socks are designed for beginners and work up flat.
You can get the pattern for free here.
7. Waffle Crochet Socks
In my opinion, it doesn't get cozier than these waffle crochet socks.
The front and back post stitches create that lovely waffle stitch texture that'll make for the world's comfiest socks.
You can get the pattern from Lakeside Loops for free here.
8. Lazy Daisy Crochet Socks
These crochet socks are a bit shorter than the previous ones, but they look so soft that I just had to include them.
These feature a lace-like pattern that resembles daisies and are made with Caron Simply Soft yarn for the cutest and softest socks to wear around the house or under your favorite fall booties.
You can get the pattern for free here.
9. Walking on Clouds Crochet Socks
This pattern's namesake comes from its cream and light blue color palette and, well, the fact that they feel like walking on clouds.
The socks are made with a thinner yet squishy-soft yarn so they aren't bulky but don't sacrifice the coziness.
You can get the pattern for free here.
10. Herringbone Socks
I'm obsessed with everything about these socks, from the fall-themed color
palette to the strips and cute ribbing at the top.
They also feature stitches that resemble the herringbone design to give them some more texture.
You can get the pattern for free here.
11. Easy Rectangle Crochet Socks
Unusual for crochet socks, these actually are made from two rectangles instead of one continuous round.
They're perfect for even the newest crocheters and to make them more of a slipper than a sock, there's an option to add leather soles to make them non-slip.
You can get the pattern for free here.
12. Toe-Tally Unisex Socks
These unisex, beginner-friendly crochet socks are wonderful for advanced
beginner crocheters.
They are a perfect gift for anyone in the family.
You can get the pattern for free here.
13. Caron Chunky Cakes Crochet Socks
These slouchy bright socks are so much fun!
They're made with Caron Chunky Cakes yarn, which is self-striped to create the perfect color block.
You can get the pattern for free here.
14. Hope Valley Crochet Socks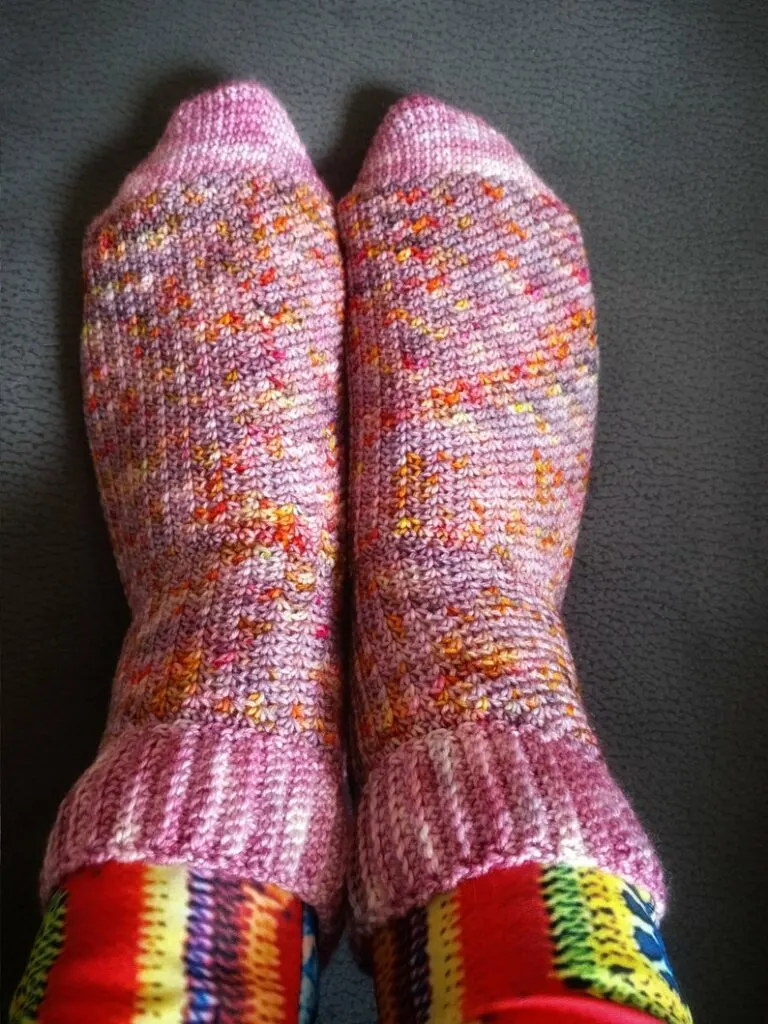 I am loving the colors on these crochet socks from JHookCrochet.
They have a speckled look, matching toes and heels, and a cute ribbing at the top.
You can get the pattern from JHookCrochet's Etsy shop here.
15. Duvet Days Crochet Socks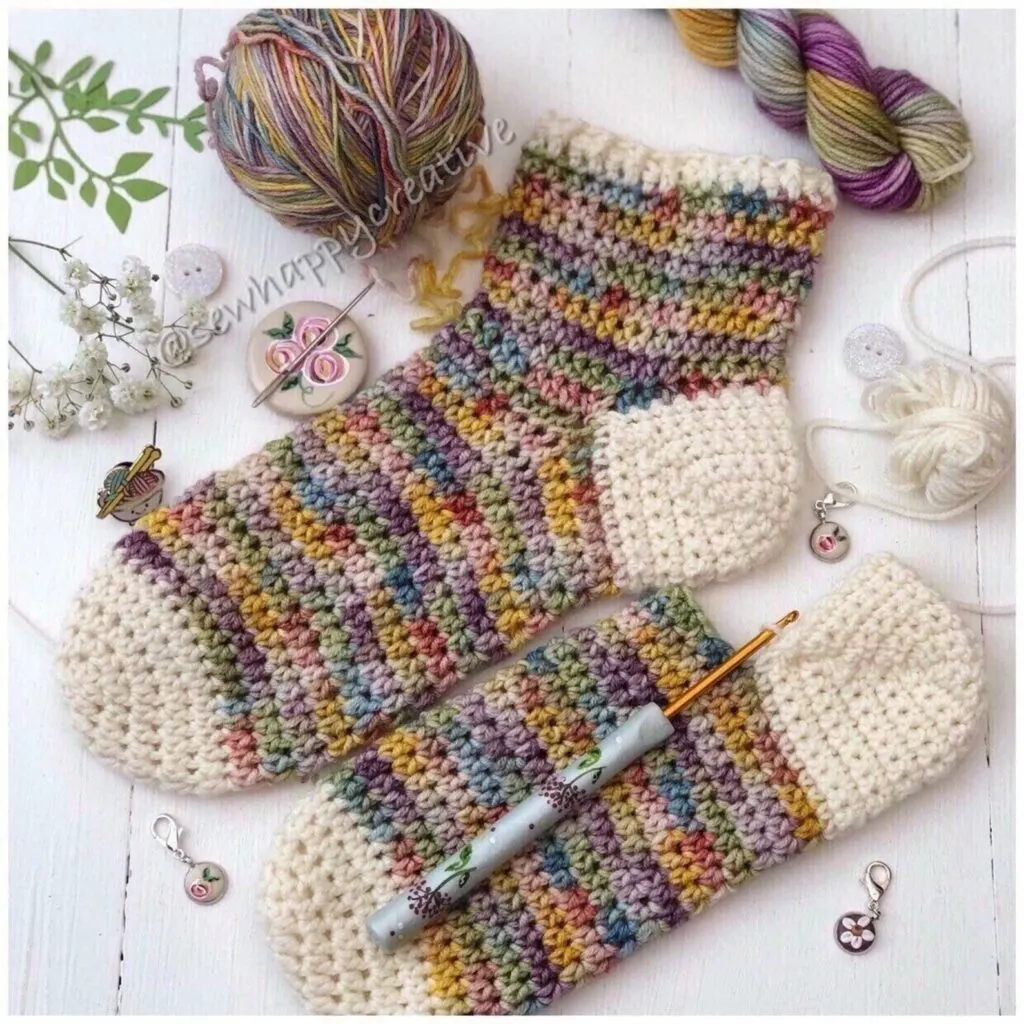 Finally, we have these Duvet days crochet socks from SewHappyCreative.
The colors are dreamy and I love that the detailing is done in the same cream white.
You can get the pattern from SewHappyCreative's Etsy shop here.
Looking for More Cold-Weather Crochet Projects?
If you're on the hunt for allllll the cold weather crochet patterns and projects you can find, here are a few more ideas: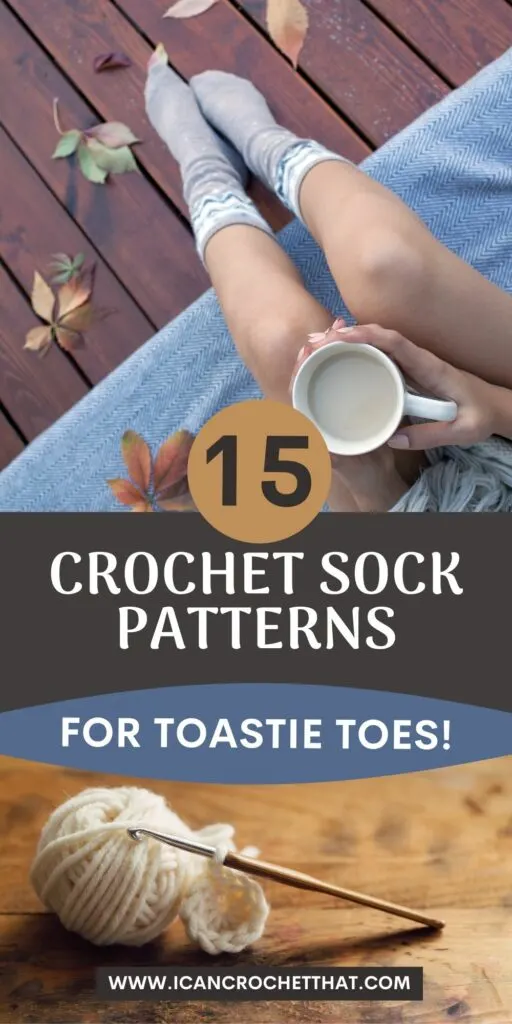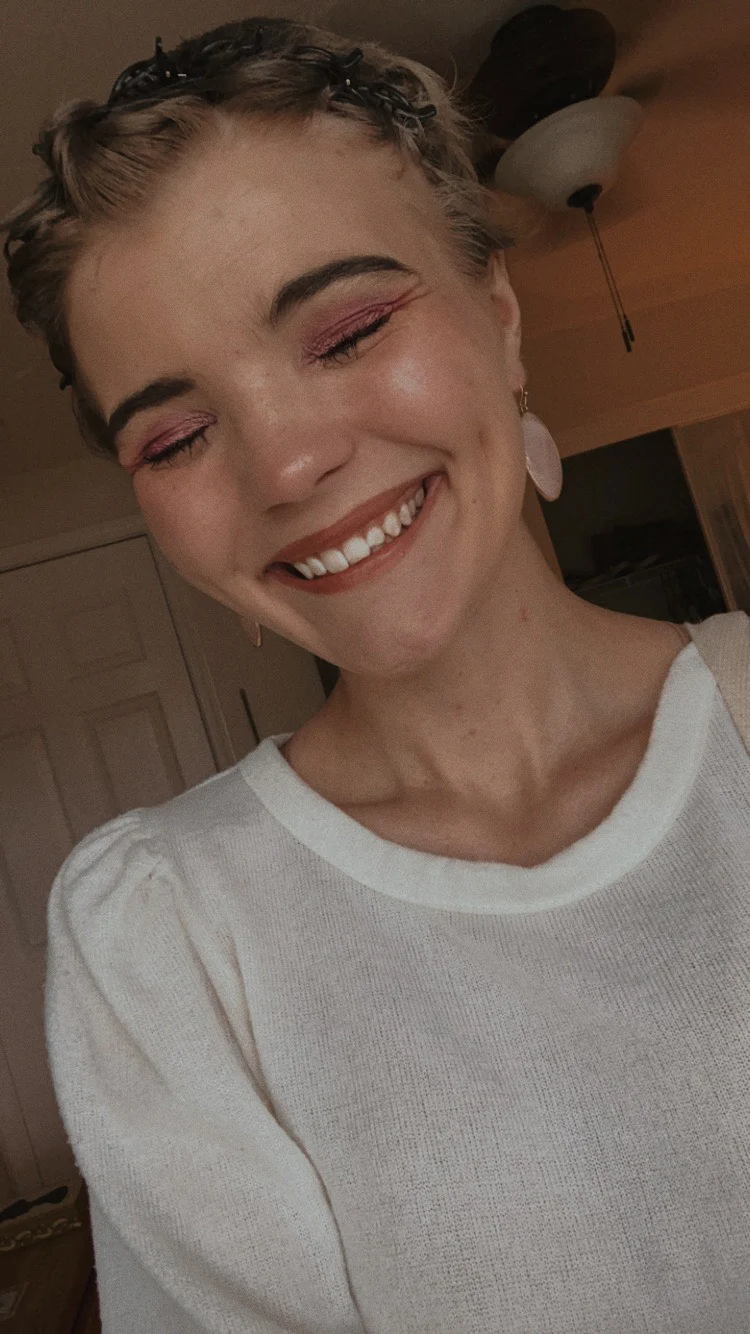 Hannah is the eldest of the Bonner family's three kiddos. She graduated from the University of North Texas with her Bachelors in Elementary Education. She enjoys reading, yoga, movies & TV, and (obviously) crocheting. She is excited about furthering her writing career & spending her days surrounded by yarn. All the yarn.