Are you as obsessed with Tunisian crochet as I am? If so, I hope you enjoy browsing and making these amazing free Tunisian crochet patterns I've rounded up!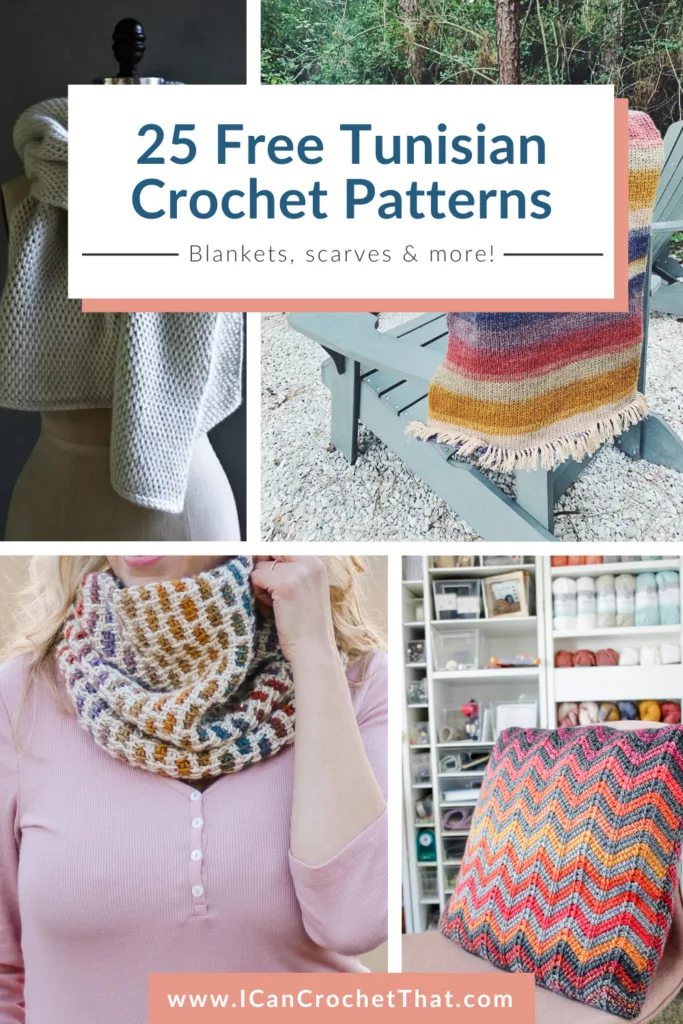 When I picked up my first Tunisian crochet hook, I'll admit it wasn't love at first make. In fact, I was downright exasperated trying to figure it out and not create something that looked like a hot mess.
Thankfully, practice does make perfect and now I can't stop pinning, searching for, designing, and making Tunisian patterns.
Whether you're a beginner or pro, I'm sure you'll find a pattern or two in here to cast on those hooks.
25 Free Tunisian Crochet Patterns To Try
Tunisian Crochet Blanket Patterns
You might be wondering if you can make a blanket with Tunisian crochet and the answer is a huge YES! you can. I've been experimenting quite a bit with different Tunisian stitches and figuring out which ones are best for afghans.
So far, my favorites Tunisian stitches for afghans are knit, simple stitch and the mesh stitch.
1. The 'Let's Go Camping' Blanket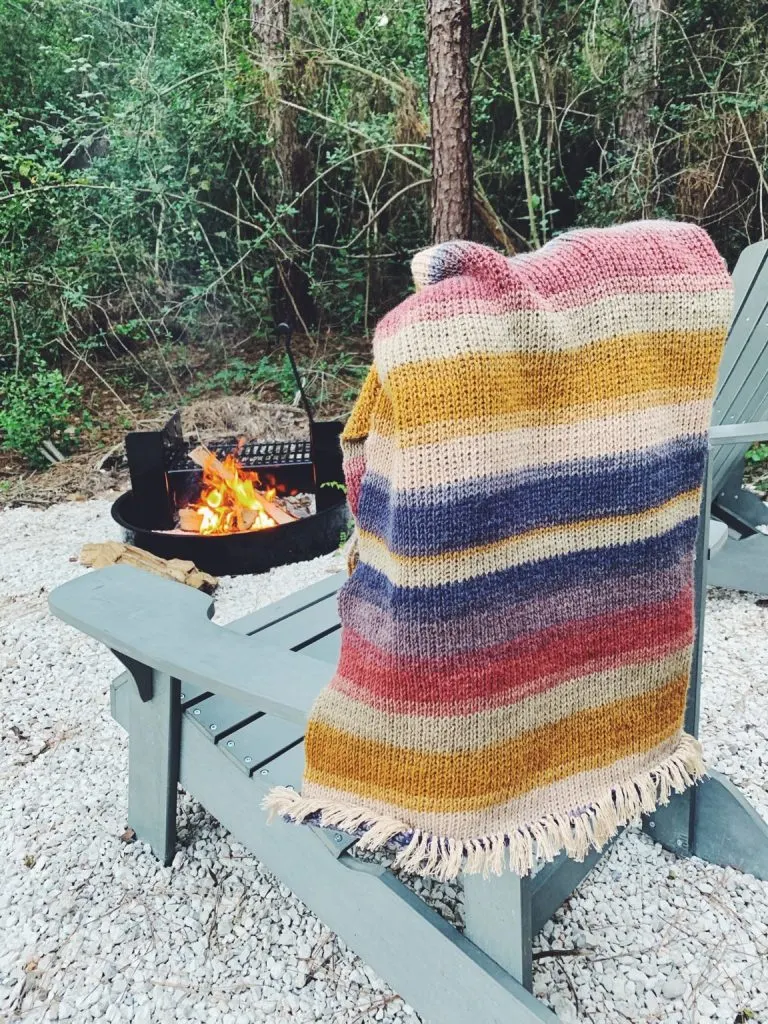 Do you love camping or know of someone who does? My "Let's Go Camping" Tunisian crochet blanket has been a big hit and is one of the most popular patterns on I Can Crochet That.
It's incredibly easy to make and the end result is a blanket you'll want to wrap up in around the campfire.
2. Daydream: A Simple Striped Tunisian Blanket
One Dog Woof says this is the perfect Tunisian crochet blanket pattern for beginners.
With easy color changes and the much-loved Tunisian Simple Stitch, this blanket looks like so much fun to make. She considers this pattern a "prime "crochet-while-you-binge-watch-your-favorite-show" project!"
3. Tunisian Double Trouble Afghan
The colors of this afghan are beautiful! And it's done in a Tunisian stitch I haven't tried yet.
This blanket is designed by Rohn Strong who is a full-time crafter and crochet-extraordinaire.
"The Tunisian Double Trouble Afghan is worked using just two colors of yarn, a variegated and a solid. By switching up the yarns and how we use them, we create an afghan that is as beautiful as it is easy to stitch."
4. The Nordic Blanket
The Nordic crochet blanket is an I Can Crochet That original. I had a blast creating this design.
By combining different Tunisian stitches and color changing techniques, you can create a blanket with beautiful texture and a striking blanket that really stands out.
"This blanket is whipped up using three basic Tunisian stitches, Tunisian Simple Stitch, Tunisian Purl Stitch and Tunisian Knit Stitch. Some of the color changes are started on the Return Pass and some are started on the Forward Pass."
5. The Full Stitch Tunisian Crochet Blanket
Have you tried the Tunisian full stitch yet? It's a really fun stitch to play around with.
B. Hooked has created this blanket pattern using the full stitch and 5 different colors. The pattern comes in 7 different sizes.
The amazing thing about Tunisian crochet, is that one side looks completely different than the other. For this blanket, the other side or 'wrong side" looks like the garter knit stitch.
Tunisian Crochet Baby Blankets
If you're looking for instruction on how to crochet a Tunisian baby blanket, I've rounded up a few I think you're going to love. Crochet baby blankets are my favorite item to give as gifts to my mom friends and family.
6. Striped Tunisian Crochet Baby Blanket Pattern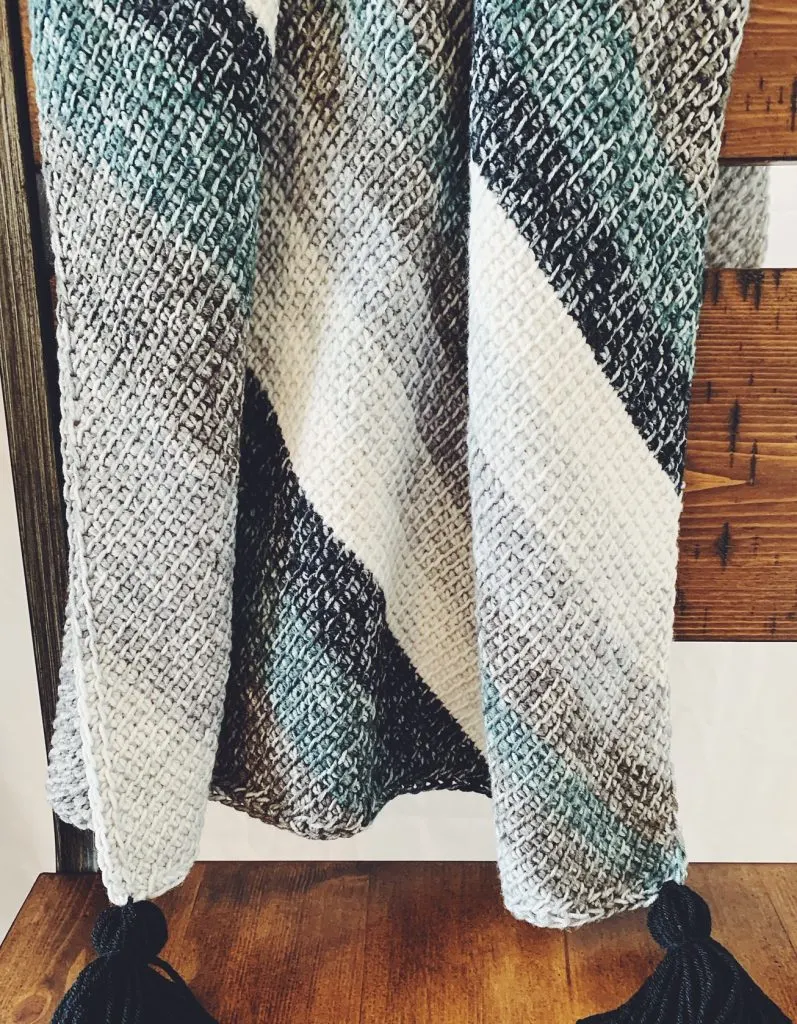 I could make a dozen or so of this corner to corner striped Tunisian baby blanket and never tire of it. And with so many fantastic selections of self-striping yarn to choose from these days, the color options are endless.
"This Tunisian crochet baby blanket is created starting with just a few stitches and adding increase and decrease rows. It's very beginner-friendly and the self-striping yarn does the work for you.
Add some tassels to the corners if you desire and you have a gorgeous baby blanket to give as a gift."
7. Red Tunisian Peek-a-Boo Baby Blanket Pattern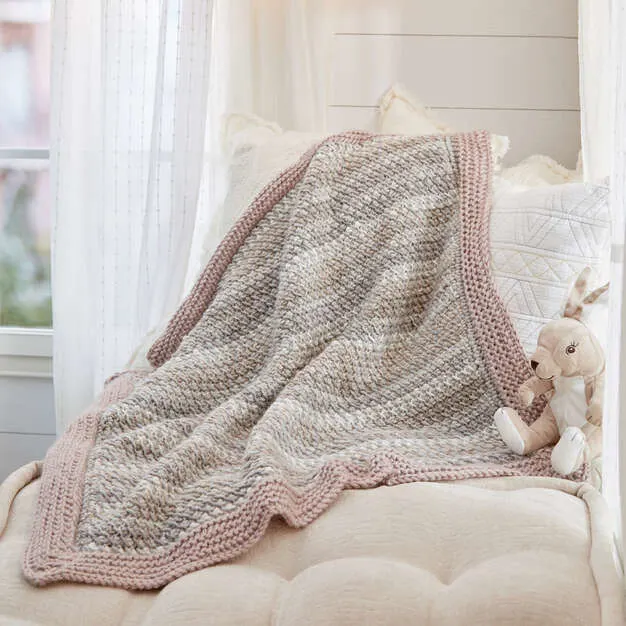 Here's another crochet baby blanket using self-striping yarn by Yarnspirations.
"Your favorite color of Red Heart Soft Essentials beautifully frames the striped pattern within. Soft Essentials Stripes makes color transitions easy, since you never have to change yarns to achieve a perfect striped effect. Keep it versatile, thanks to the muted effect of the designed version, or try brighter hues. It's a great pattern for learning a fun, new technique."
8. Sweet Gingham Baby Blanket Pattern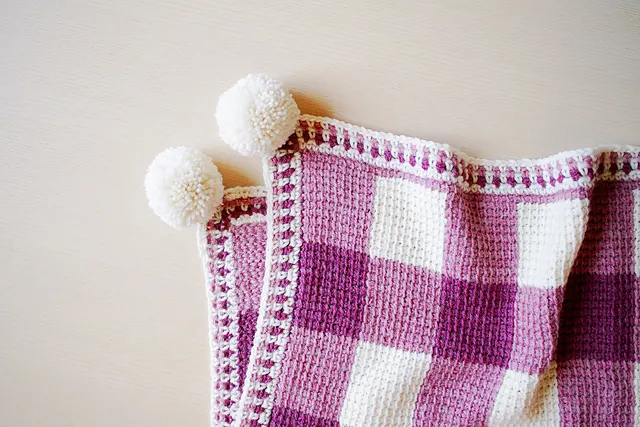 Do you love gingham? Yeah, me too.
This baby blanket patterns uses Tunisian Simple Stitch and three different colors of yarn. This would be so easy to adjust the colors. The possibilities are endless!
Finish the blanket off with a simple crochet border and yarn pom poms for a baby gift you'll feel so proud to give.
Free Tunisian Crochet Scarf Patterns
How do you crochet a Tunisian scarf? By choosing one of these awesome patterns and following along!
I tried to choose scarf patterns that all used different stitches and techniques so you'll have a nice variety of patterns to choose from.
9. Tunisian Crochet Scarf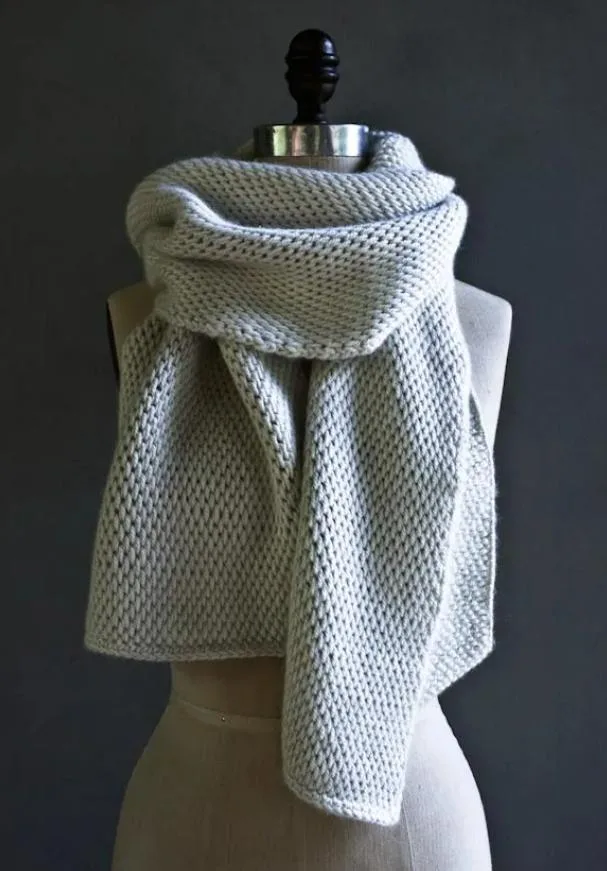 This was the first Tunisian crochet scarf I found when I wanted to make my first one. The design looks so classy and like something I would love to wear.
This stitch has several different names, two being the full stitch or the Gobelin stitch.
Whatever stitch you want to call it, it works up quickly and the end result is a scarf with beautiful drape,
10. The Autumn Ombre Tunisian Crochet Scarf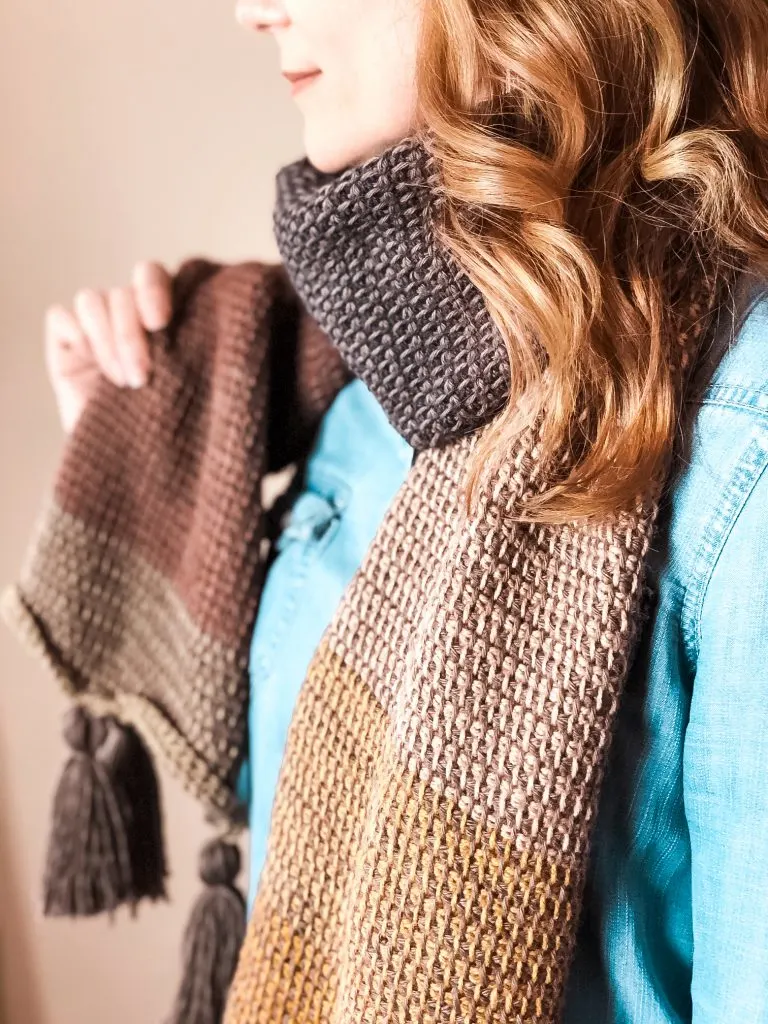 Here's another I Can Crochet That original crochet pattern.
This is my favorite scarf pattern I've designed to date. It's not only so much fun to work up, but the result is a gorgeous scarf that'll keep you warm while complementing your outfit.
I used a self-striping yarn and a solid color, changing yarns on the return pass. It creates a woven-like look that is just beautiful.
Add some tassels for a fun fashionable element and you have a modern looking crochet scarf.
11. The Bobbi Fringe Scarf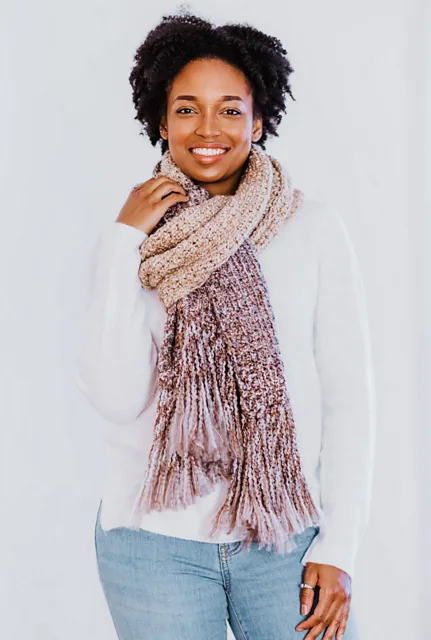 Toni from TL Yarn Crafts says that fringe really does make everything better and after laying eyes on this Tunisian crochet scarf with loads of fringe, I would have to agree.
She made this scarf with Lion Brand's Homespun yarn, a line of yarn I have yet to be successful with. But after reading over her pattern and how she designed it specifically to make working with this yarn a little easier, I am definitely willing to give it a try.
12. Prerna Scarf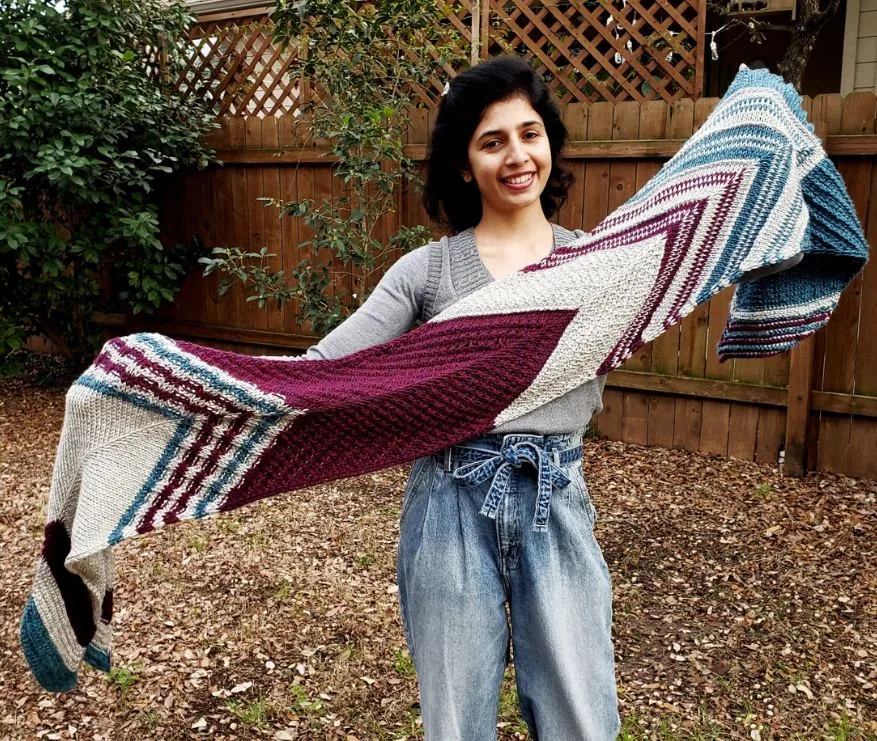 The colors on this scarf has me like 😍.
This scarf pattern is made up of 8 sections and each one has one or more Tunisian stitches that range from beginner to intermediate. So if you're looking for a crochet project to practice those Tunisian stitches, this might be the one for you.
13. Brick Stitch Tunisian Cowl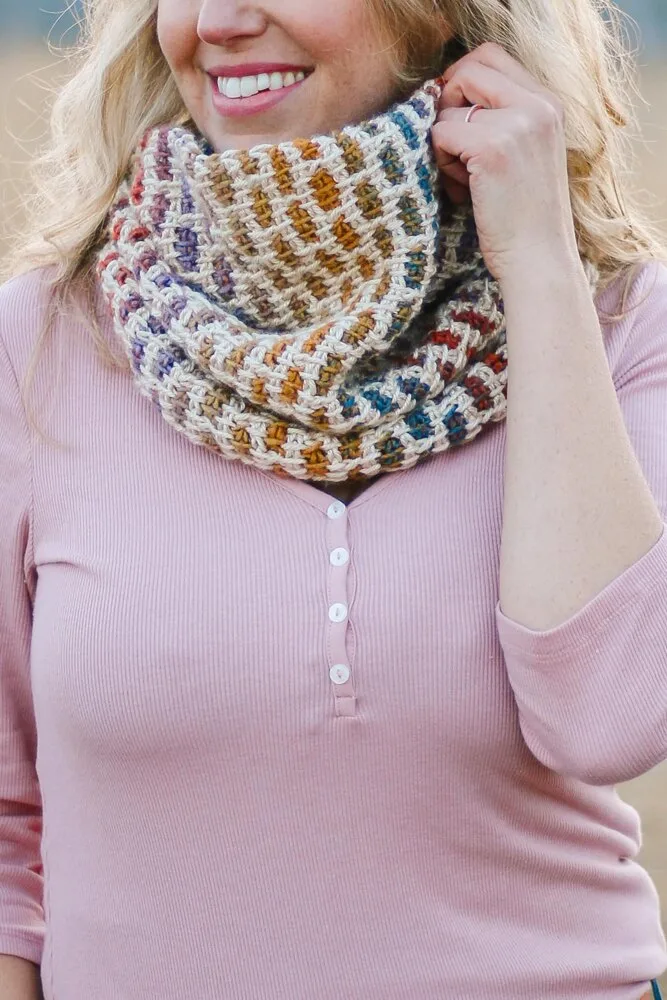 Have you tried the Tunisian brick stitch? It's a pretty incredible stitch all on its own, but when you add self-stripping yarn to the mix, it levels up even more.
Make and Do Crew designed this crochet cowl using Ferris Wheel yarn and a complementing neutral color.
Don't let this stitch intimidate you. Make and Do Crew are great teachers and walk you through step by step.
14. Zig Zac Tunisian Purl Scarf
If you've wondered if it's possible to use a knitting pattern for Tunisian crochet, here's your answer.
This scarf was inspired by a knitted scarf and the designer knew just the Tunisian stitch to get the same look and feel.
"It's actually a very simple one row repeat, made just a bit tricky by having the decreases on the return path and the increases on the forward pass. Other than that, it's really the yarn that makes the piece so special!"
Tunisian Shawl Patterns
15. The Daydream Shawl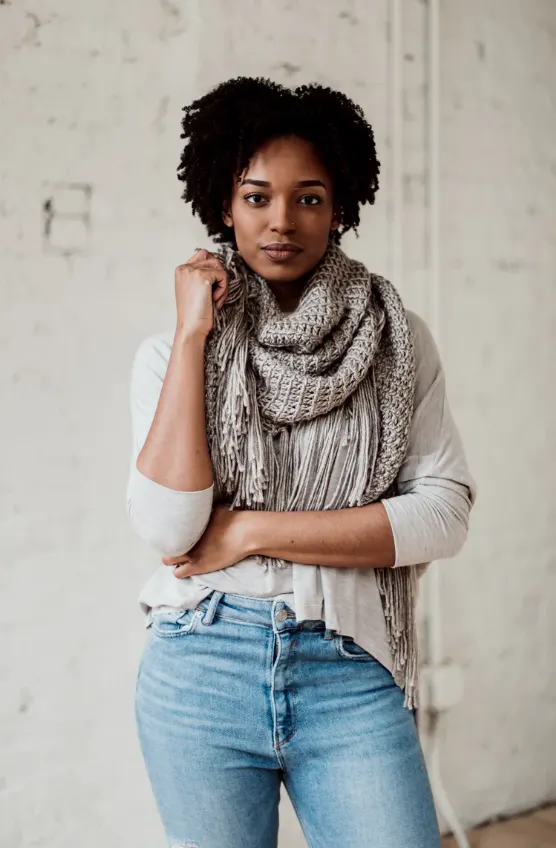 Made with a neutral yarn that is sure to go with just about everything in your wardrobe, the Daydream Shawl has a dramatic effect with its gorgeous fringe.
The shawl comes together using Tunisian simple stitch and simple decreases and increases.
"Increases at the beginning and end of each row make for a shallow and wide shawl. A combination of Tunisian simple stitch decreases and yarn overs produces a knit-like textured fabric that maintains a light airiness."
16. Honeycomb Shawl
The Honeycomb Shawl is made up using…you guessed it…the Tunisian Crochet Honeycomb Stitch.
I've played around with this stitch quite a bit and it is so fun! Once you get the hang of it, it's one of those meditative stitches you can do while binging your favorite shows.
The color of this scarf is absolutely stunning!
17. Brushland Wrap Pattern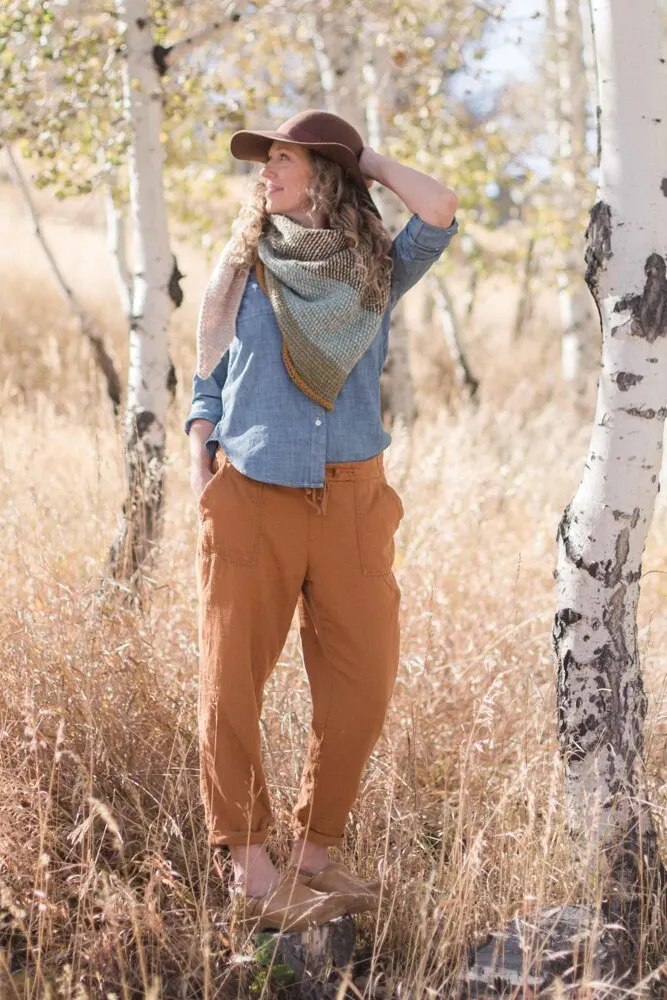 This wrap is the perfect way to practice Tunisian crochet if you're brand new. You'll learn the Tunisian Simple Stitch, how to increase and how to change colors.
"I specifically designed this pattern with beginners in mind (especially because it was my first Tunisian project too!) The triangle begins with only one color so that you can get the hang of increasing before you add the skill of alternating rows of color."
Free Tunisian Crochet Sweater Patterns
After you've got the hang of Tunisian crochet whipping up a blanket or scarf, you just might be ready for a sweater. There is something so incredibly satisfying about wearing a sweater you made yourself.
Follow one of these patterns and you'll be well on your way to your first Tunisian crochet sweater!
18. The Sedona Sweater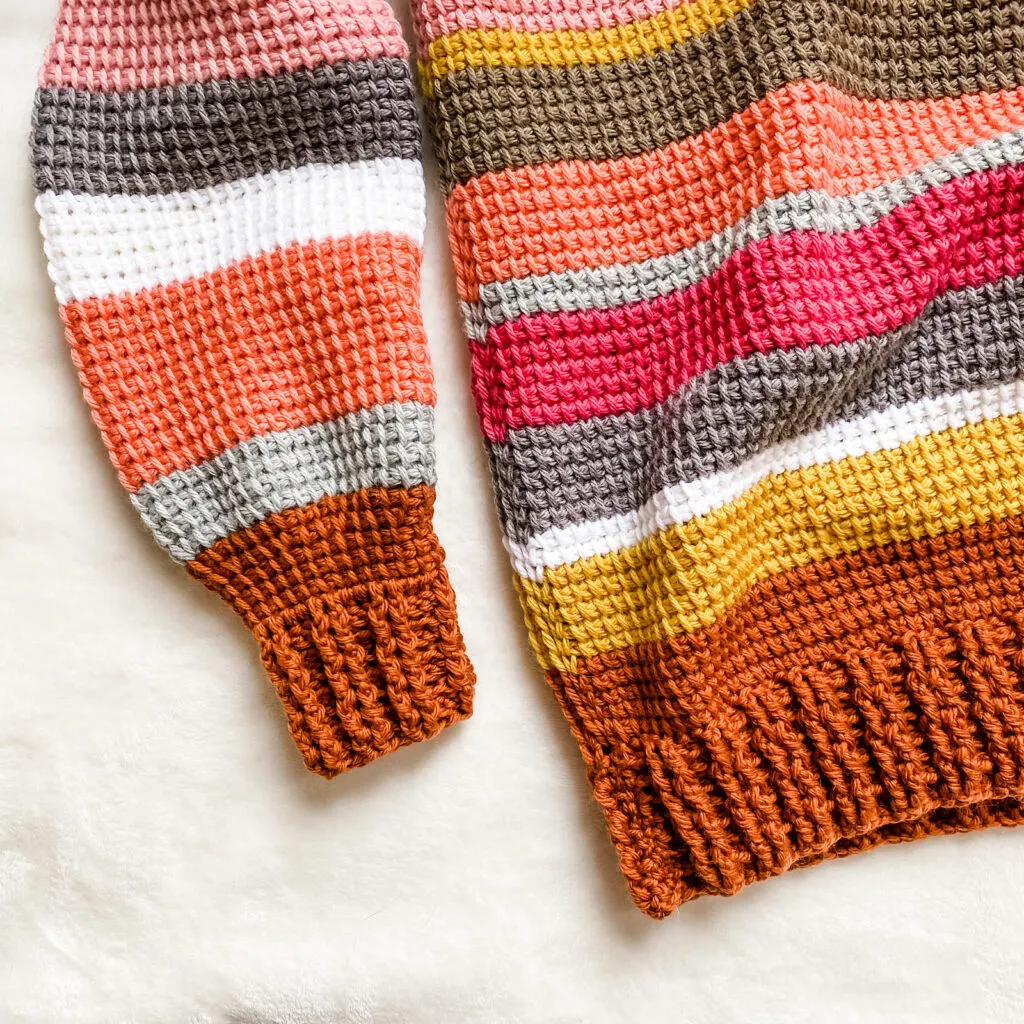 As crocheters, we all have leftover yarn sitting around. My first thought is always to make an afghan, scrapghan as they're also called.
But what about a sweater?
"Crocheting a sweater can seem intimidating at first. With some many panels to make and elements to think about, it can feel overwhelming. Overcome your sweater-making fears with the Sedona Sweater, a truly beginner-friendly crochet sweater pattern."
19. Classic Tunisian Pullover
Have you tried Tunisian crochet in the round? Yep, me neither!
Hooked Hazel shares a Tunisian crochet pattern for a pullover done in the round. Top down sweaters are such a fun way to practice some new techniques and in the end, you'll have a garment you'll be proud to wear.
This pullover is slightly cropped but she shares how to make it longer. You can also change the sleeve length. Basically, this is a very customizable pattern.
Tunisian Crochet Cardigan Patterns
What's better or just as fantastic as crocheting your own sweater? Crocheting your own cardigan!
A cardigan is a go-to staple for me and has been for a long time. Here are a few Tunisian crochet cardigans I think you'll love.
20. Easy Tunisian Crochet Cardigan
I actually have this crochet cardigan all stitched up and ready to be seamed together. It was so much fun to make!
This reversible Tunisian cardigan is unlike anything else in your wardrobe. Plus, it's easy!
"There's barely any seaming, minimal counting and some easy modifications to change the length of your cardi if you choose. This sweater basically makes itself!"
21. Striped Tunisian Crochet Cardigan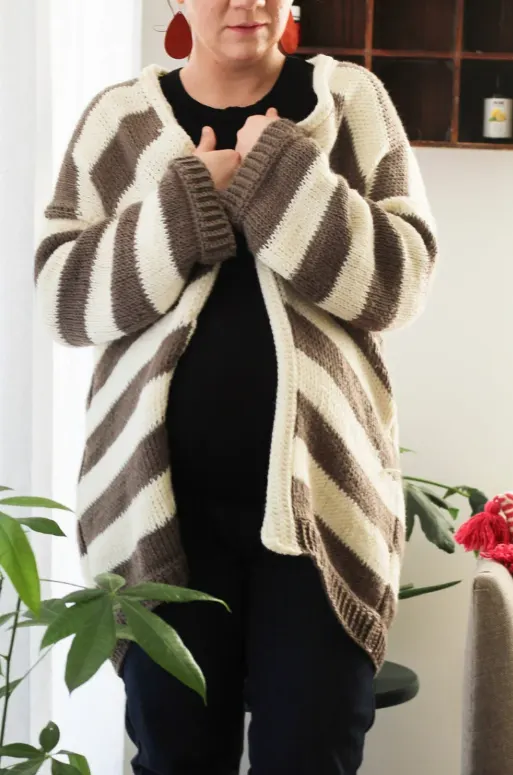 I love the bold stripes of this Tunisian cardigan! Plus, it's whipped up with the Tunisian knit stitch, a stitch I have come to love so much.
This cardigan is a great beginner project. It's worked in 5 panels you seem together and the instructions come in multiple sizes.
This is the perfect cardigan to throw over your jeans and tee and head to the coffee shop.
22. Tunisian Raglan Blouse Pattern
Wear this as a buttoned up top or as a cardigan!
This is another top down Tunisian project and will teach you how to change colors, how to increase, how to work in rounds and binding off your project.
This is a very customizable cardigan when it comes to the colors you can choose. The options are endless!
23. Tunisian Blanket Sweater Pattern
This cardigan was love at first sight for me and I will definitely be making it soon. The colors are just stunning.
It uses a lacy Tunisian crochet stitch and is constructed in one piece. Seaming is one of my least favorite things to do, which might explain my pile of unfinished sweaters and cardigans. So when I find a pattern like this, I am all over it!
Free Tunisian Crochet Pillow Patterns
Add a bit of Tunisian crochet style to your home with one of these beautiful pillow patterns.
24. The Malibu Pattern
Are you wanting to add a pop of color to a room in your home? If so, this pattern is for you.
This pattern is worked up in Tunisian simple stitch and purl stitch. You'll make two pieces and then join them to make the pillow.
"Grab your Tunisian crochet hook and some sunset-coloured yarn and get ready to hook up this wonderful Tunisian crochet pillow."
25. Easy Ripple Pillow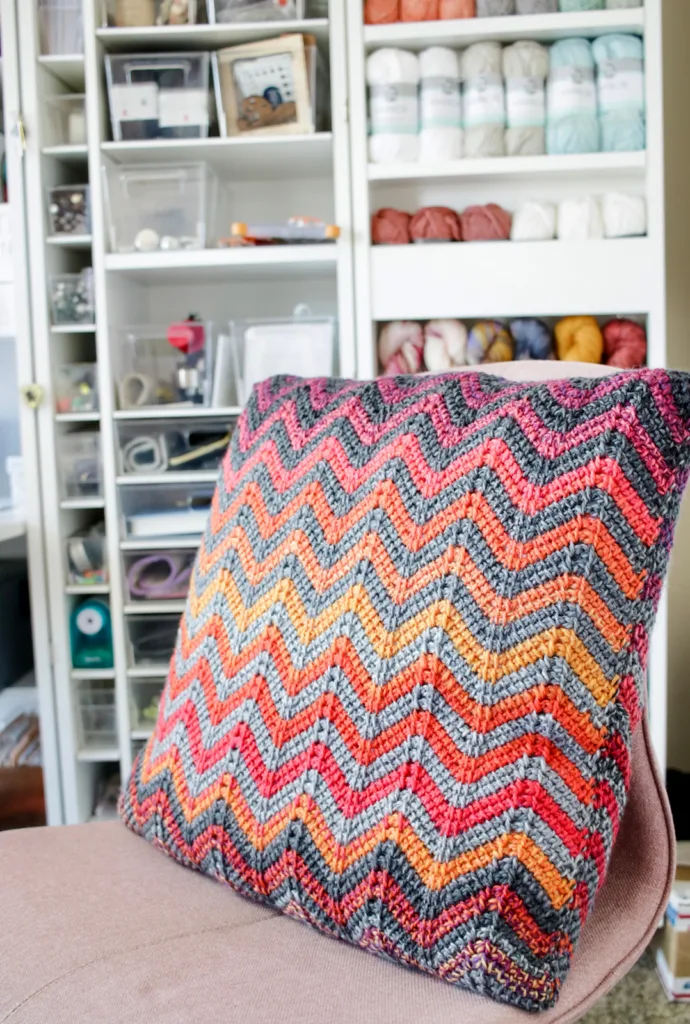 Toni is at it again with another gorgeous Tunisian crochet pattern.
With this pattern, you'll learn how to create ripples, or the chevron pattern, with your Tunisian hook. This stitch is all about the increases and decreases and once you get the hang of it, I think you'll fall in love with it as much as I have.
"The playful colors and zig-zag lines of the Easy Ripple Pillow are just the fresh start I need this season. And now, you can make it too, with the FREE crochet pattern."
That's a wrap on our list of free Tunisian crochet patterns!
I hope you've found a project or two you can't wait to make. I know my make list just got a tad bit longer!
Happy crocheting!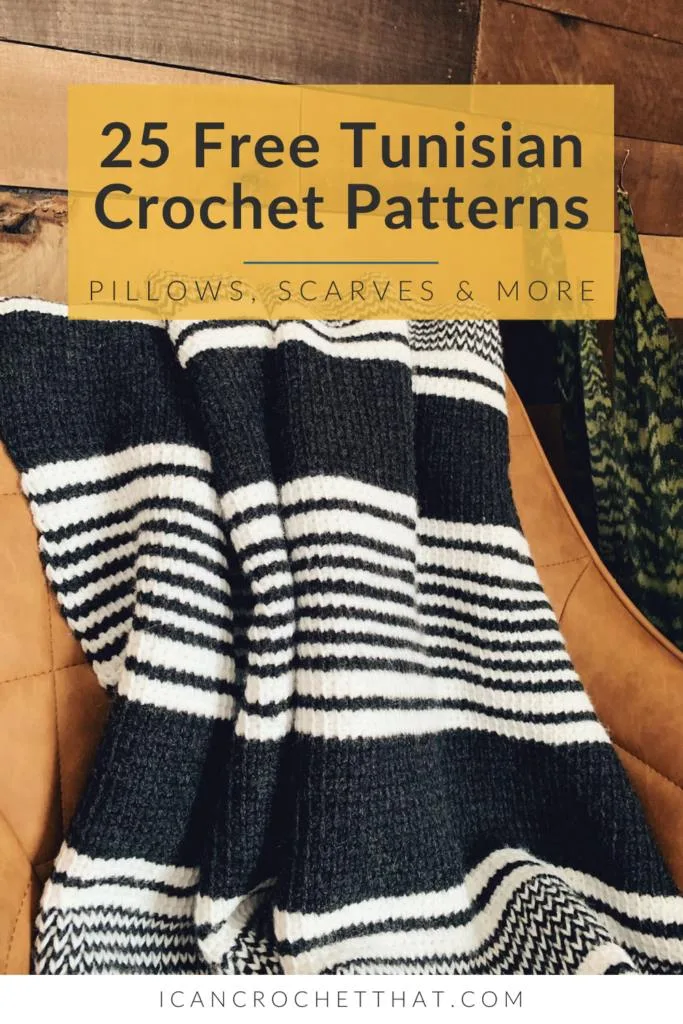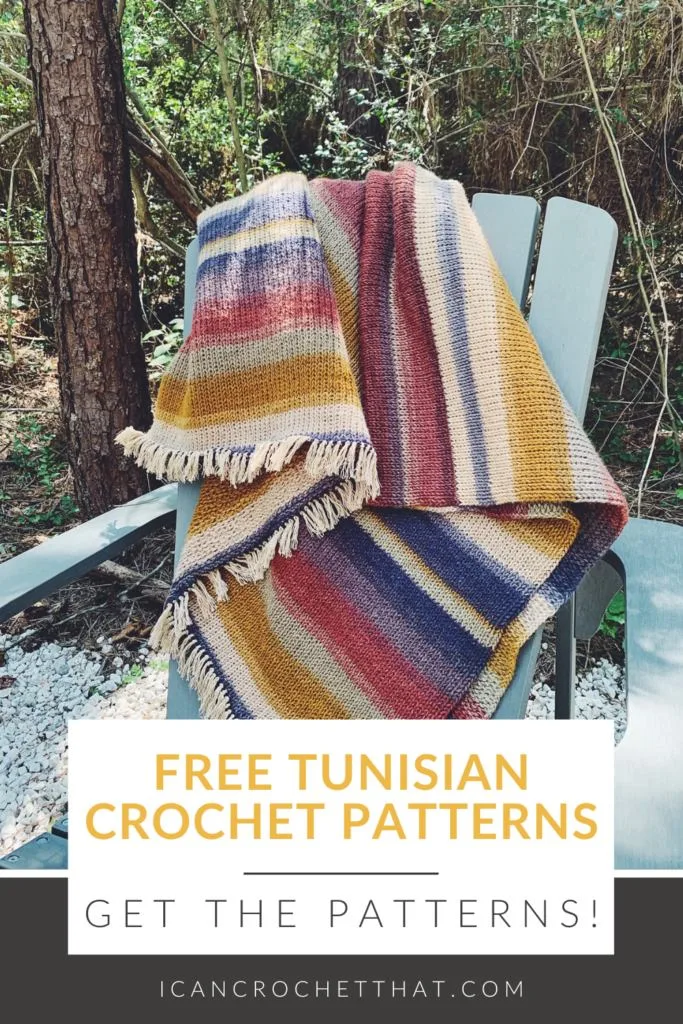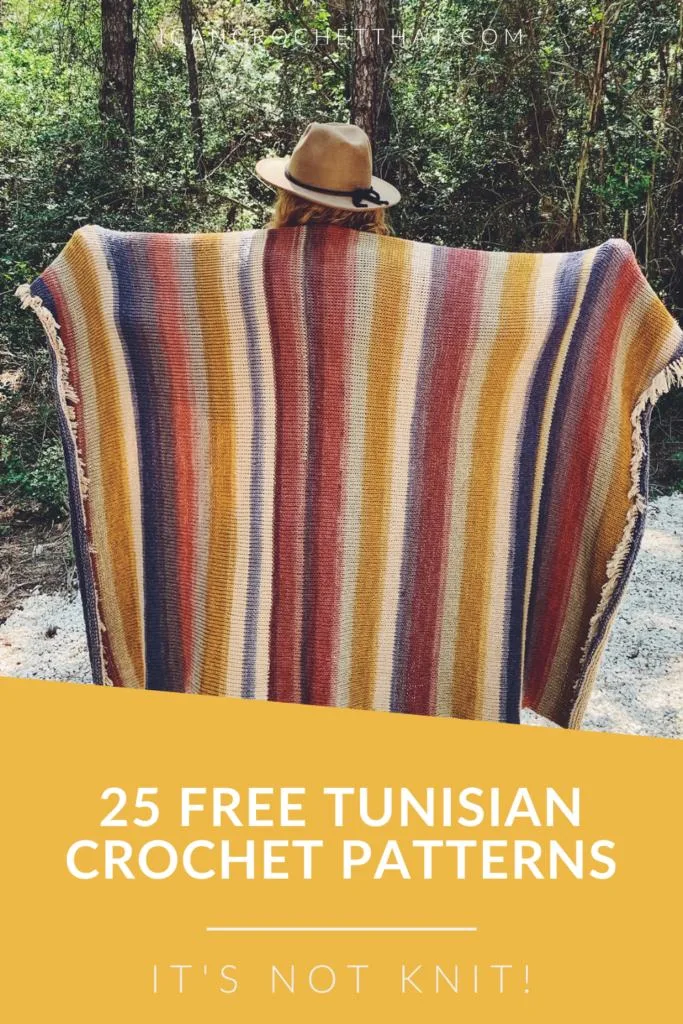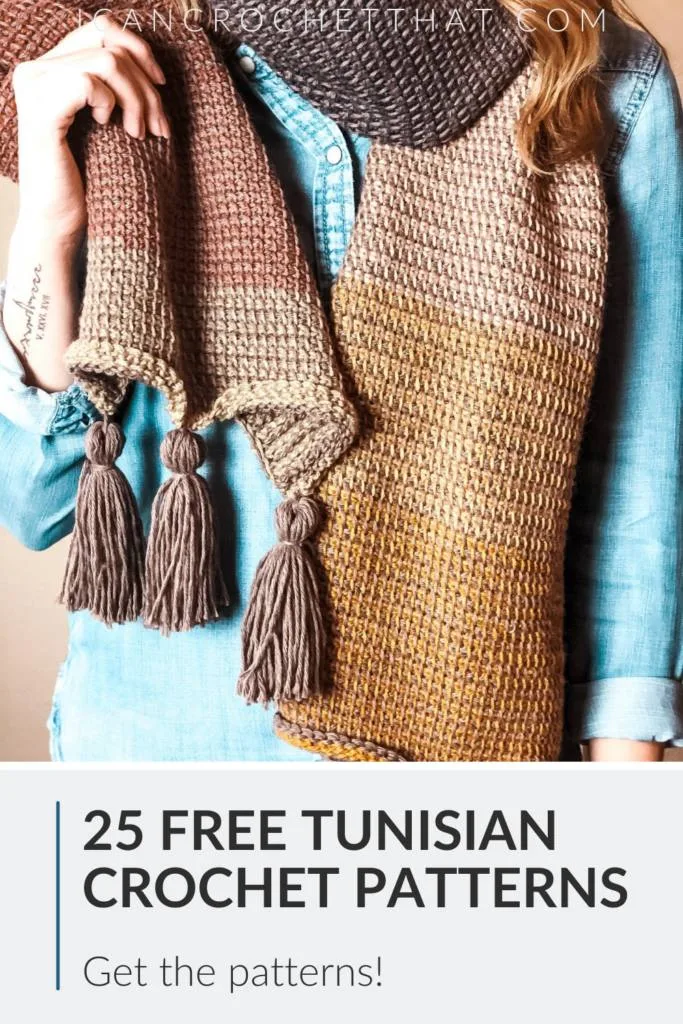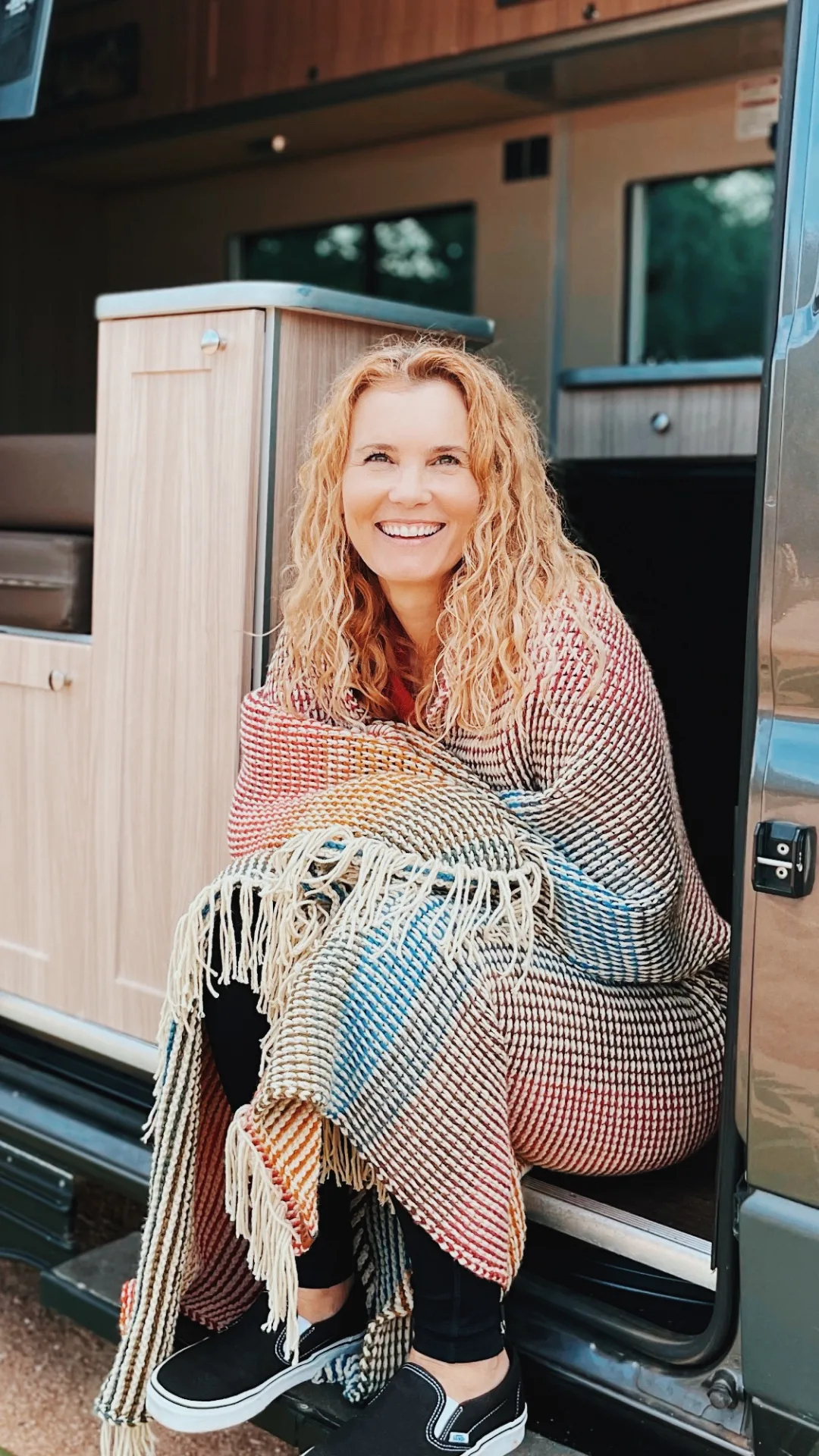 Hi! I'm Julie. I design modern crochet patterns and tutorials to help you learn to crochet. I've been crocheting for over two decades and with the gentle nudging of my husband, decided to turn this passion into a career. Although we travel a lot in our campervan, you'll never find me without a bag of yarn and projects.