Every other Friday we share what we're loving right now. From crochet-related finds to fashion, books, and more. See all of our Friday Finds here.
Last time, Hannah wrote up her very first Friday Fun Finds and it was all about setting up her home office.
We announced a couple of weeks ago that she has joined the I Can Crochet That team full-time and I couldn't be more excited!
We have some fun things planned to share with you as we're coming into fall and winter. (Thank goodness!)
The 'ber' months are our favorite.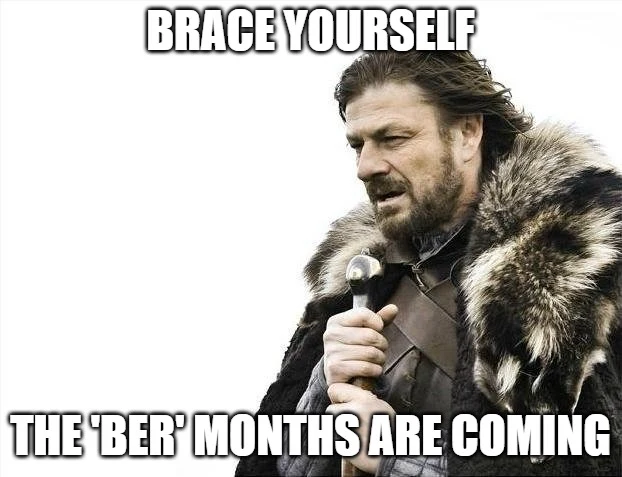 Today I'm sharing what's on my hook, a new skincare tool I've yet to try but have high hopes for, and Tunisian hooks I'm trying out.
Friday Fun Finds: Edition 3
What's On My Hook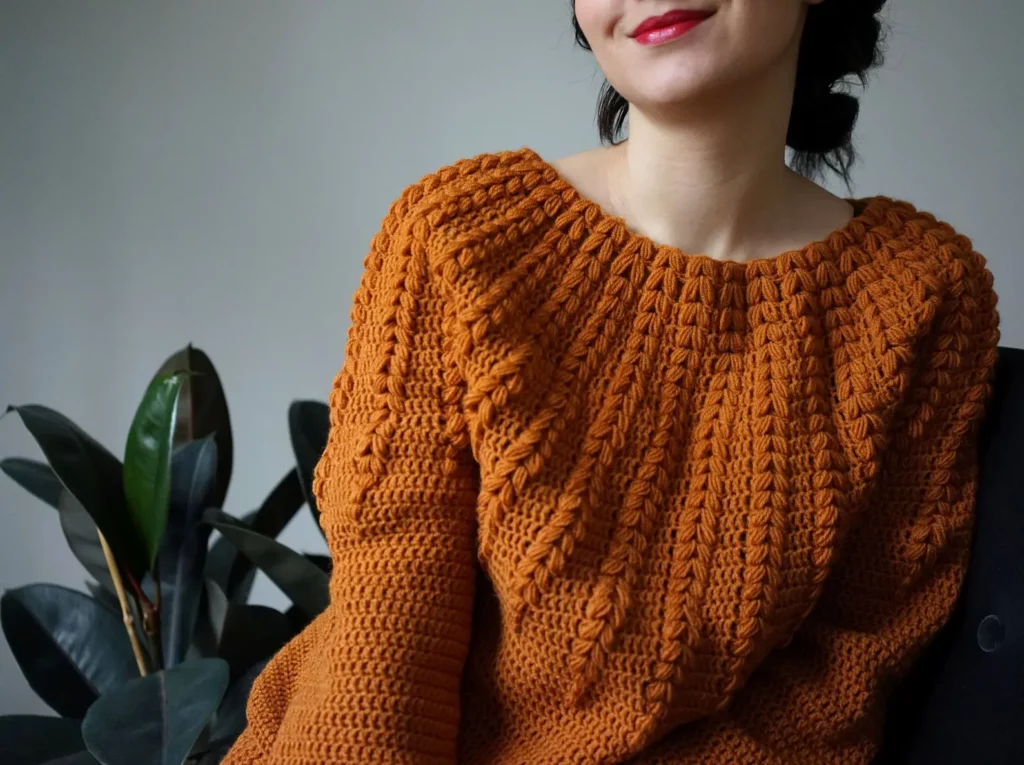 In October, Hannah and I are headed to the Sheep & Wool Festival in Rhinebeck, NY.
If you follow a lot of crocheters and knitters, you may have seen them talk about it in years past.
There are workshops, cute animals, vendors, and more I'm sure I have no idea about, but it's a popular festival for those in the fiber arts world.
One thing I've noticed over the years is that makers whip up a sweater to wear to the festival, aptly named "The Rhinebeck Sweater".
This is a bandwagon Hannah and I are all for. So we chose a pattern, purchased our yarn, and hopefully by the time we board our flight, our sweaters will be finished. 🙂
We're both working up our sweaters in KnitPicks Hawthorne Multi Fingering Sock Yarn. I chose the color Skyline and Hannah chose Burlingame.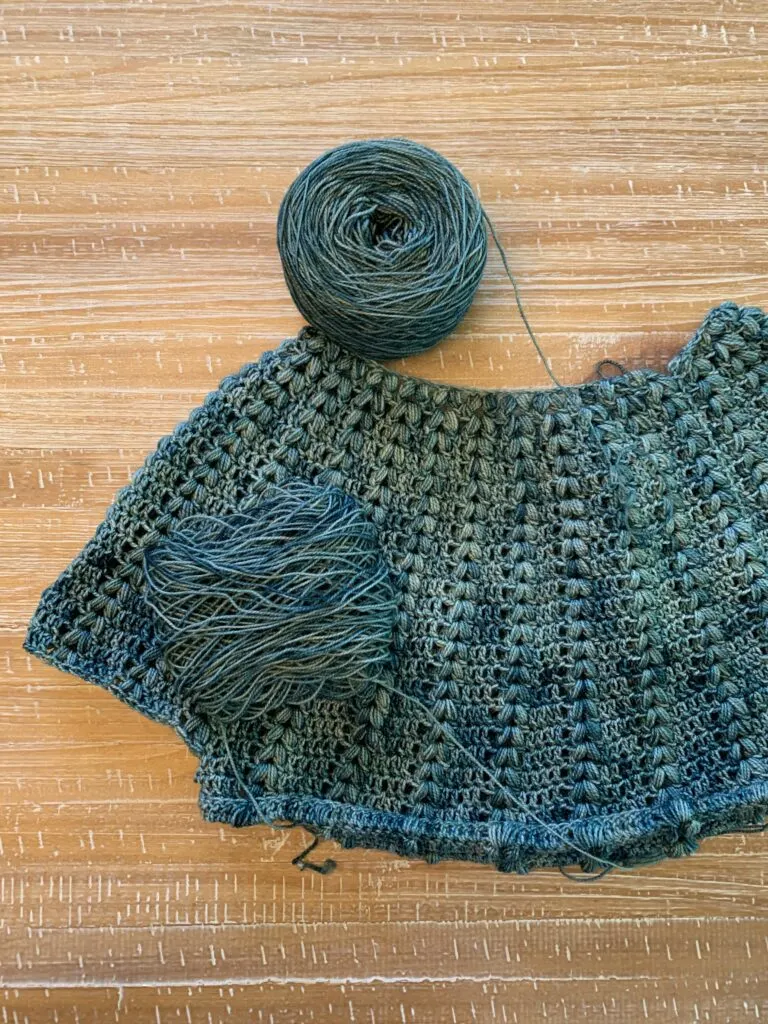 My sweater is coming along pretty well. I say pretty well because I'm struggling with the instructions a little bit. It's one of those "is this me or you?" situations where I can't quite figure out if I'm the problem or the pattern is the problem.
If you've made this sweater before, feel free to let me know how it went for you and any tips you have!
We'll be sure to share pictures of our finished sweaters and do a write-up on the festival.
We're turning this trip into Hannah's college graduation gift and are letting our significant others come along. 🙂
After Rhinebeck, we're headed to New York City for a couple of days. It's one of my and Hannah's favorite cities and we can't wait to get back there!
A New Tunisian Crochet Blanket
I designed another Tunisian crochet blanket pattern and it's worked up partly in Lion Brand's Landscapes Yarn.
I've never worked with this yarn before and honestly, I'm struggling with it a little bit. It's a premium acrylic, single-plied roving yarn that has a satiny feel to it.
It's a little fuzzier than I'm used to working with, so it's been a learning experience. But look for the pattern next week if all goes well…
Have you worked with Lion Brand's Landscapes yarn before?
Regular Crochet Camping Blankets
A friend of mine is opening up an RV park/retreat center for Entrepreneurs and it's been a blast watching her whole process. From acquiring the land and raising capital to hearing all about her plans for the place.
She's starting out with some glamping canvas tents she can rent out while the rest of the center is coming to life.
I saw a picture of her tents and thought to myself…"Those need camping blankets inside them". So I asked her if she wanted some and she said she did.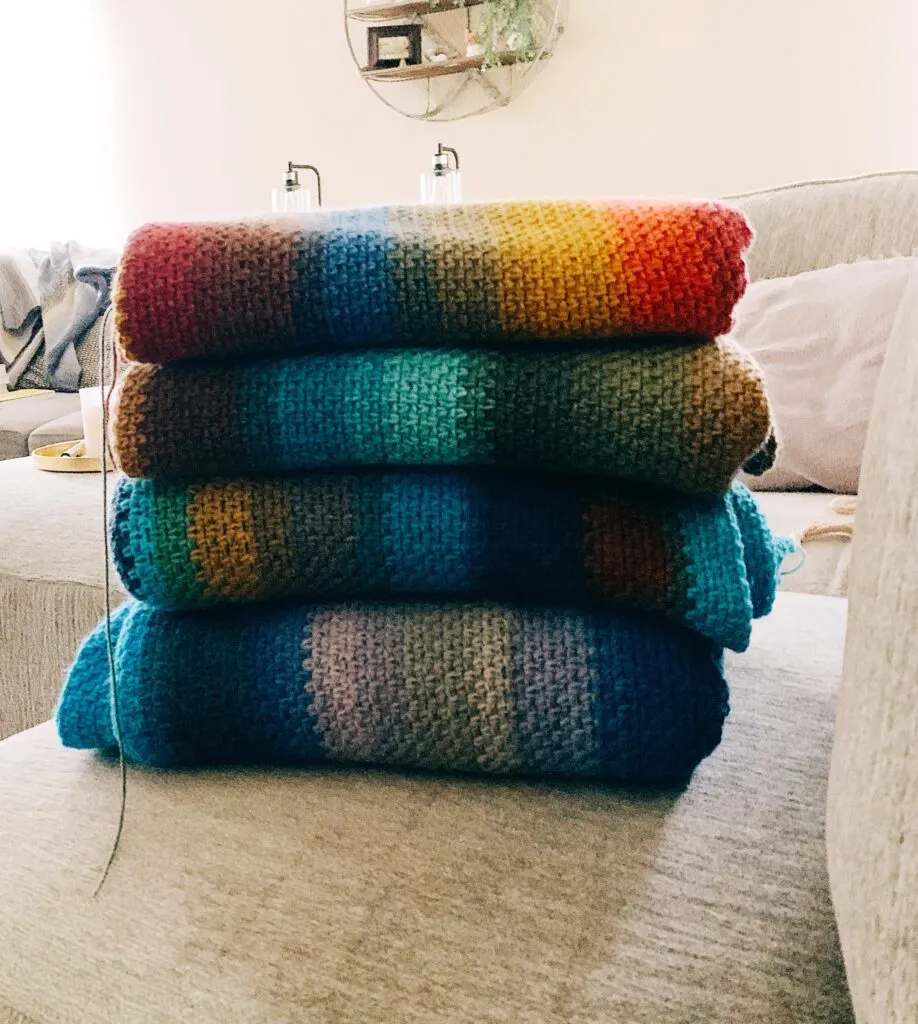 I'm sending her four that are almost done. I just need to add the fringe. (This is my least favorite part of making a blanket so I've put it off until the last minute.)
You can get the free pattern for this blanket here.
Other Random Fun Finds
Skincare
Let's talk skincare for a minute.
I haven't always been great at taking care of my skin. I'm pretty lazy when it comes to a beauty regimen and I'm paying for it now that I'm 47.
Because of this, I've been on a skincare buying binge the last week. If it revitalizes my skin, fantastic. If it doesn't and I look exactly the same as I did before, well…at least I had some self-care me time, right?
Thanks to an Instagram ad (why do these work?!?), I purchased a SolaWave. I have quite a few brown spots due to our time living in Hawaii (and my sun worshipping there) and some other issues I need to take care of.
I've had luck with light therapy for my skin before when I was struggling with acne in my 30s. I bought one of those weird face masks that makes you look like Jason from the Friday the 13th movies.
Maybe the guy was just having some self-care time and wasn't trying to scare everyone??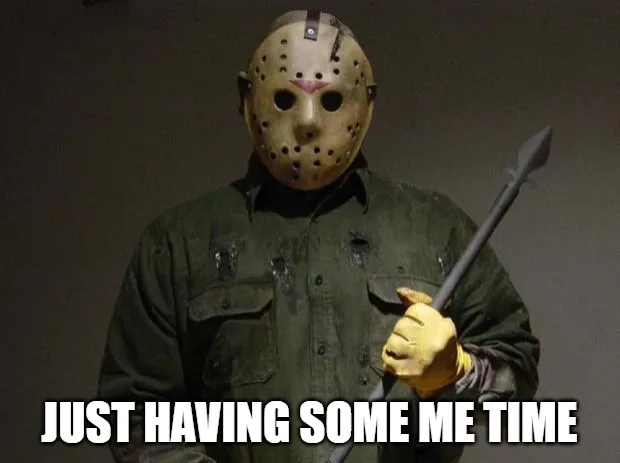 Anyway…I just got the SolaWave yesterday and haven't tried it yet. Let me know if you have and if I wasted my money.
A few other skincare items I purchased was the Makeup Eraser face cloth (I LOVE this thing), my favorite Olay duo pack and this Olay eye cream that I used awhile back but stopped for some odd reason.
Tunisian Crochet Hooks
If you're on our mailing list, then you might know that Hannah and I are starting down the road of creating our own product line for I Can Crochet That.
We think the first product we'll release is a set of Tunisian crochet hooks.
I had some samples sent to me and I've been working with them the last few days. Needless to say, these aren't going to work for me.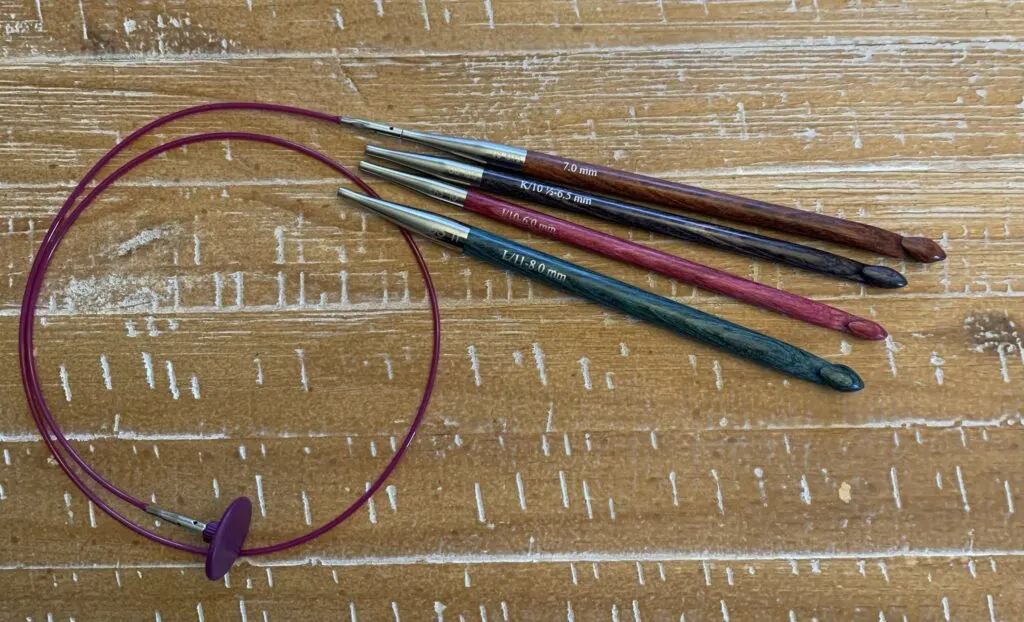 The cord keeps disconnecting from the hook, causing me to lose stitches. Which is very frustrating!
So back to the drawing board.
I would love to know what you like/dislike about Tunisian crochet hooks you've used in the past:
Do you like the cord permanently attached?
Do you like to be able to disconnect the cord and add a different size?
Do you like bamboo? Or birch? Or metal?
I'll take any and all feedback!
Your Turn!
I think that about does it for our Friday Finds!
Now it's your turn…we would love to hear what crochet projects you're working on, what you're reading, what you're eating, etc.
Share away!
P.S. I hope you have a fantastic weekend. We're picking up our youngest son from the airport who has been in Alaska visiting his brother. We were recently there and he stayed for 10 days longer to hike ALL the mountains. And boy did he.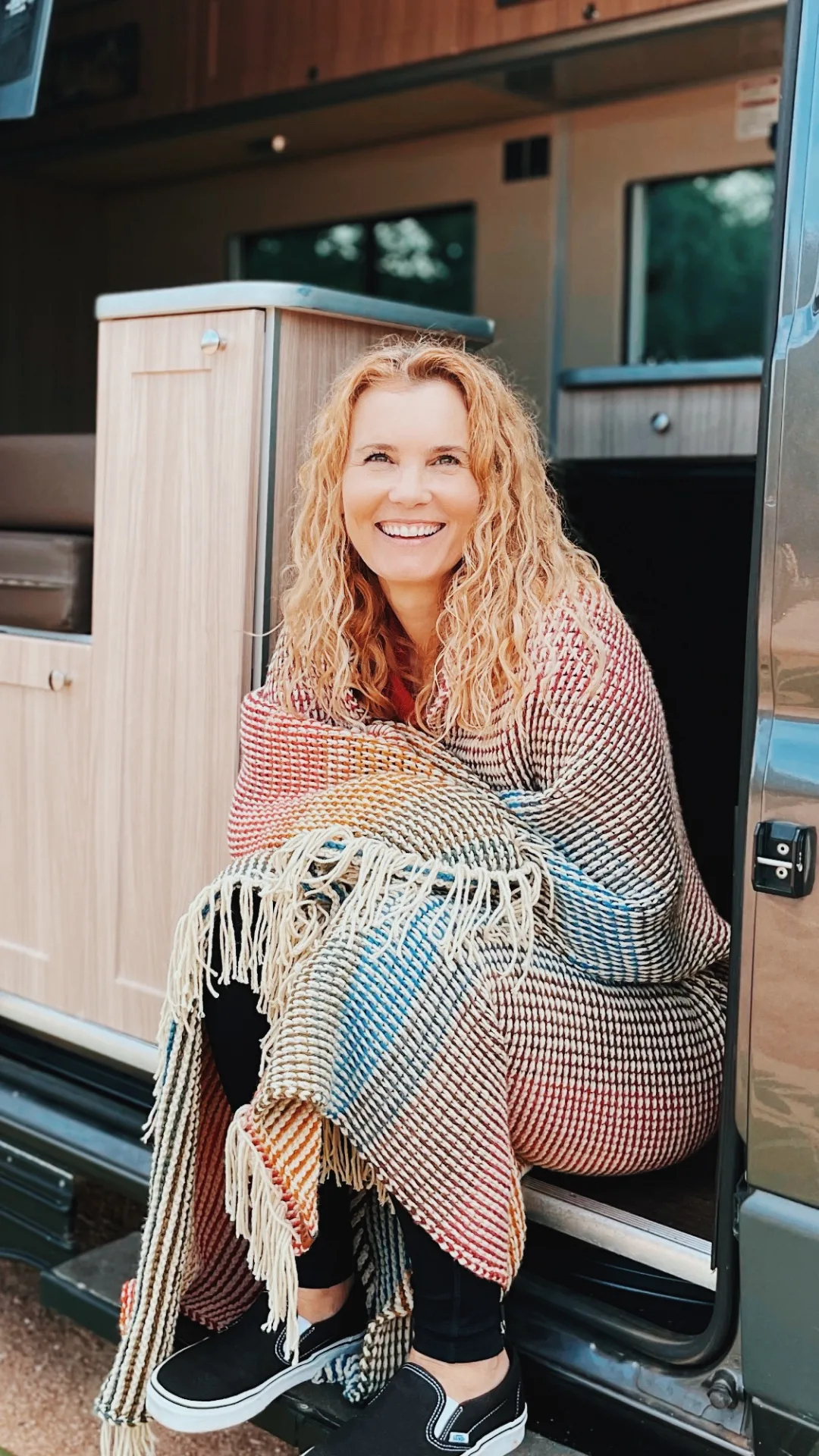 Hi! I'm Julie. I design modern crochet patterns and tutorials to help you learn to crochet. I've been crocheting for over two decades and with the gentle nudging of my husband, decided to turn this passion into a career. Although we travel a lot in our campervan, you'll never find me without a bag of yarn and projects.