It's time for another Tunisian crochet pattern! Meet the Ethan Throw – a blanket featuring a beautiful stitch and self-striping yarn that creates the perfect lightweight blanket to snuggle up under.
You can purchase a printable PDF of this pattern at our shop here or Etsy here.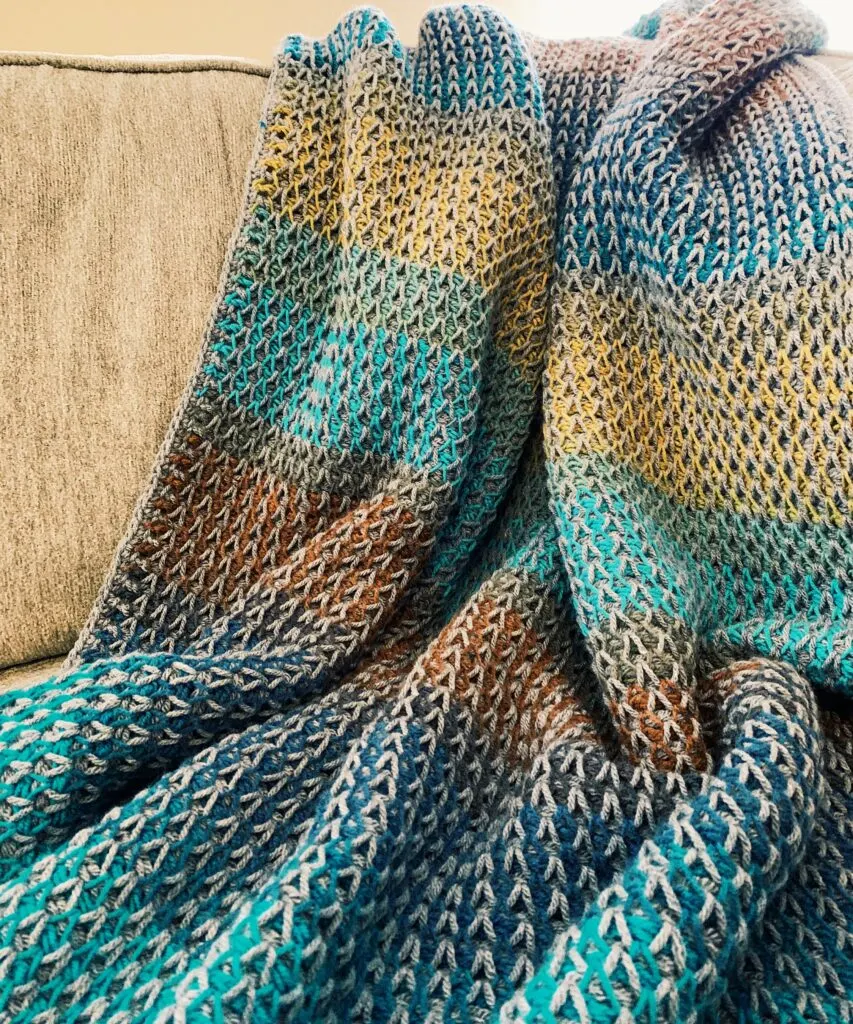 I'm continuing my quest to create as many different crochet blanket patterns with self-striping yarn as possible. I didn't really plan to make this a thing, but it's now a thing.
Here are a few of my other patterns featuring this yarn:
And if that's not enough, here's a round-up of even more self-striping yarn patterns from around the interwebs.
Yep, needless to say, I'm a bit obsessed.
It probably has to do with the fact that I love stripes, but I don't like weaving in a bunch of ends. 😉
Right now, I'm working on another crochet camping blanket to celebrate the beginning of the camping season. Most likely it'll be with self-striping yarn, but we'll see…
The Ethan Throw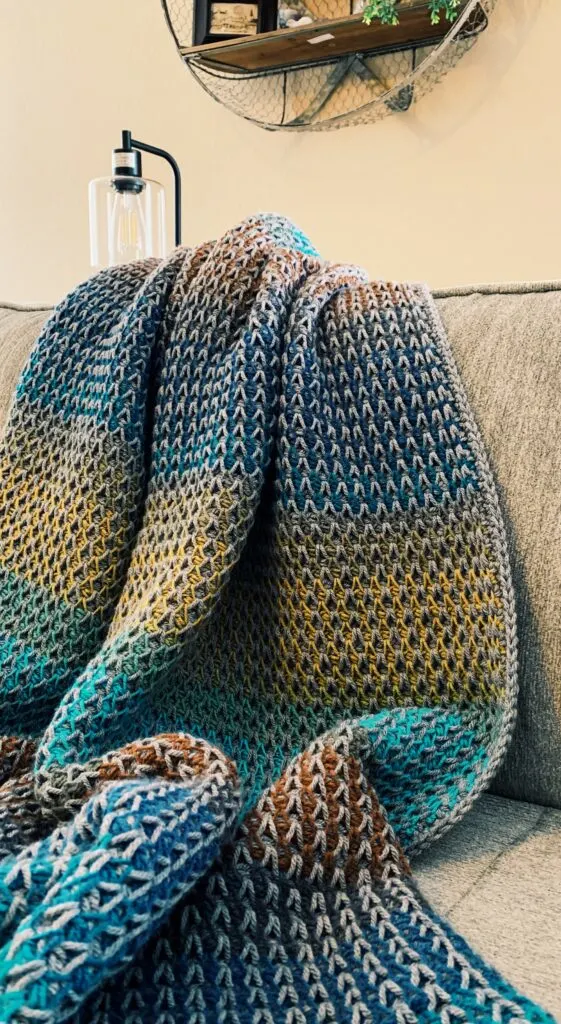 The Ethan throw is made using a solid gray colored yarn and a beautiful Mandala self-striping yarn that features blues, greens, yellows, purple and red.
If you're familiar with Tunisian crochet stitches, you just might recognize the smock stitch.
I've been wanting to make a blanket with this stitch forever but knew I wanted to mix it up a little and not just do a solid color.
After a few experiments and some smock stitch practicing, the Ethan throw was born.
I also made one of these blankets with cream yarn and another Mandala colorway.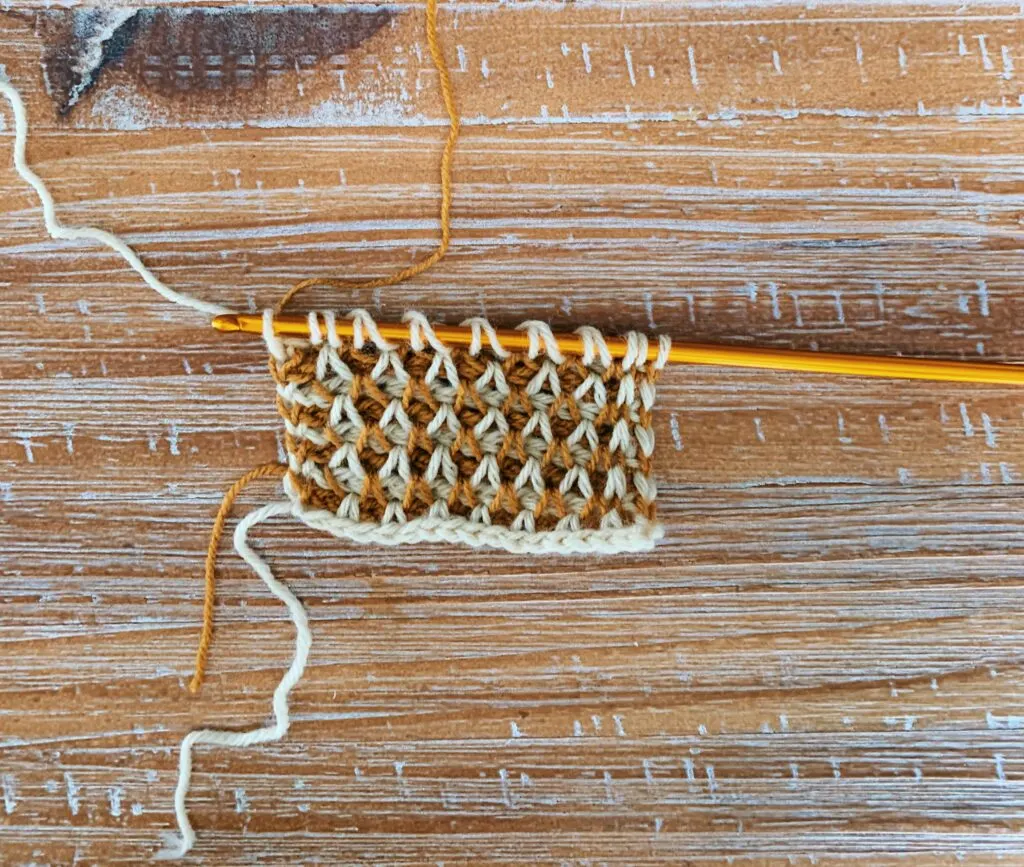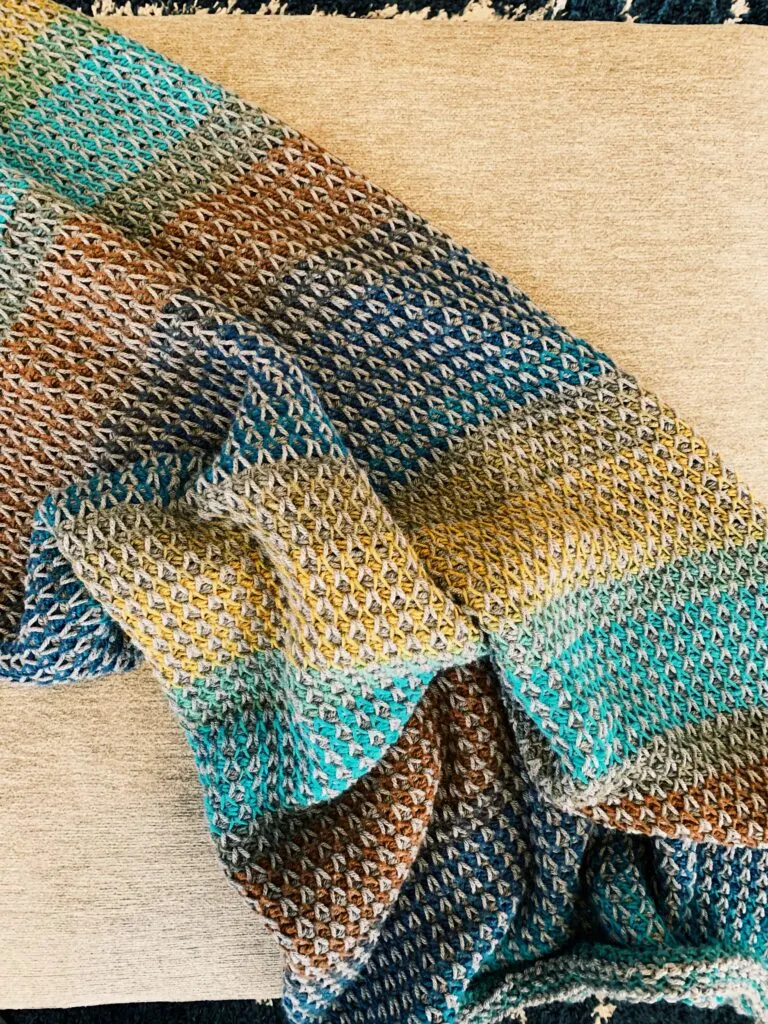 The Ethan Throw Tunisian Crochet Pattern
Grab this pattern for free by becoming a part of the I Can Crochet That community!
Description:
The Ethan crochet throw is all about two things: color and texture. You'll be amazed at how lightweight this blanket is and how fun it is to snuggle up under. It is a very delicate stitch, so be careful with this throw around young kids and pets.
Notes:
Finished size measures 42 " wide x 55″ long
To change the width, chain any even number
To change the length, simply add more rows
Please note that you will change colors before the Return Pass
Video tutorial for pattern HERE
I recommend practicing this stitch on a small swatch before starting the blanket
Materials:
HOOK(S)
7 mm Tunisian hook with long cord
5.5 mm crochet hook for border
YARN
Weight 4 • 1 skein, 1020 yards
Lion Brand Pound of Love, Oxford Gray
Weight 3 • 2 skeins, 590 yards each
NOTIONS
Scissors
Tapestry needle
Abbreviations:
ch chain
rep repeat
Tss Tunisian simple stitch
Tss2tog Tunisian simple stitch 2 together
yu yarn under
FwP forward pass
RetP return pass
Lts Last Tunisian stitch
sk skip
sl st slip stitch
st(s) stitch(es)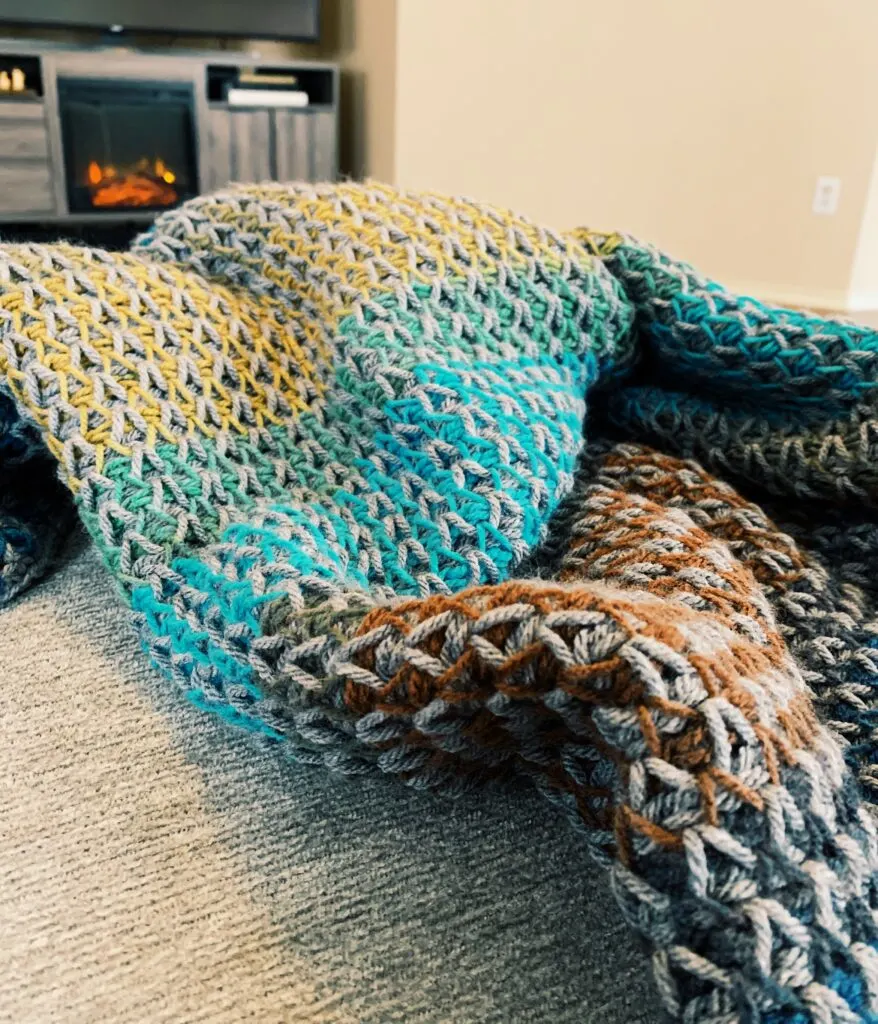 Special Stitches:
Tss
With yarn in back, insert hook under front vertical bar from side to side, yo, draw up loop.
Tss2tog
This is a simple stitch decrease. Insert your hook in the next two vertical bars and bring up a loop
yu
Instead of yarning over, bring the yarn to the front of your work (as for Tunisian purl stitch) and hold the yarn in place on your hook when you pull up a loop
Lts
insert hook under both vertical bars of the last stitch and complete as for Tunisian simple stitch
RetP
ch 1, *yo, pull through the next 2 loops*, repeat between * and * until only one loop remains on the hook
Smock stitch video tutorial HERE
Pattern:
Color A: Oxford Gray
Color B: Sphinx
Foundation row With color A, Ch 150
Pull up a loop in the back bump of the 2nd ch from hook and each remaining ch, (150 loops on hook)
Switch to Color B
RetP
Row 1 *Tss2tog, yu* repeat from * to * to last st , working the last st as for Lts
Switch to Color A
RetP
Rows 2 Tss 1, *tss2tog, yu* repeat from * to * to last 2 sts, tss 1, working the last st as for Lts
Switch to Color B
RetP
Rows 3 and on
Repeat rows 1 and 2 until blanket measures 54 inches or until desired length, ending with a gray yarn row
Bind off
Sl st with gray yarn in each vertical bar across to bind off
For border
With 5.5 mm crochet hook, attach gray yarn to one of the corners, *2sc in first stitch, sc across to last st, 2 sc in last stitch, 2sc in first st on next side*, Repeat from * to * until all four sides are complete, ending with 2sc in last corner, sl st to first sc
Weave in all ends.
Pin This Tunisian Crochet Throw Pattern to Save for Later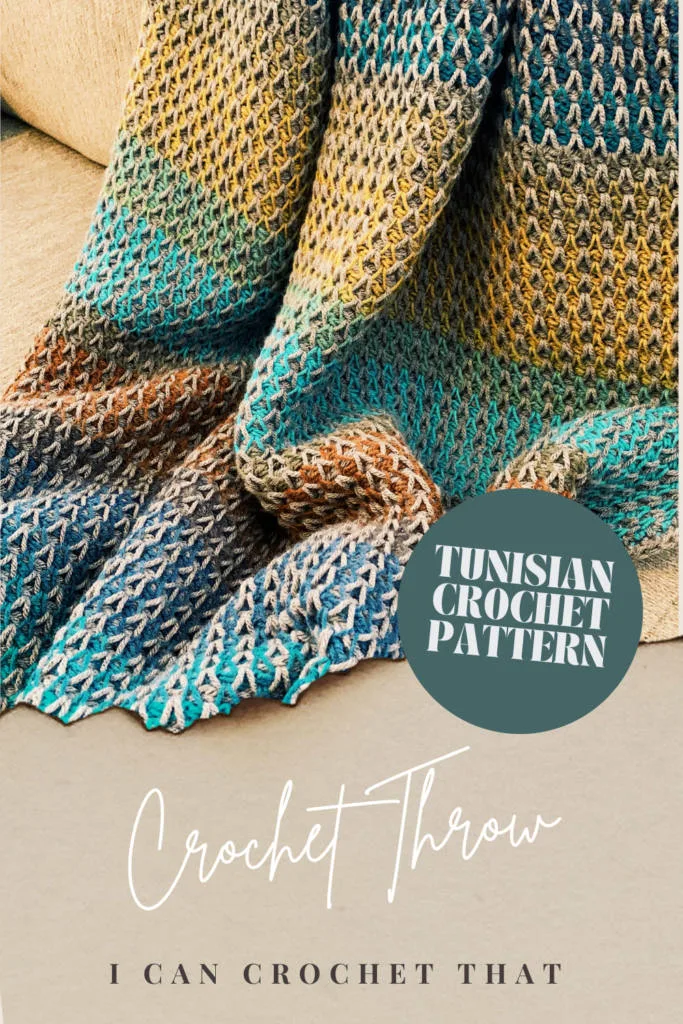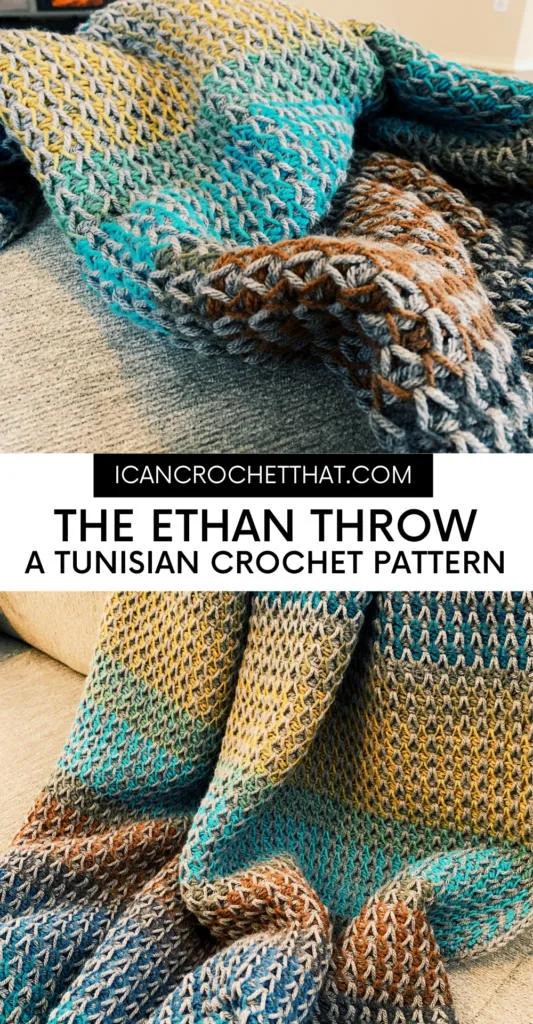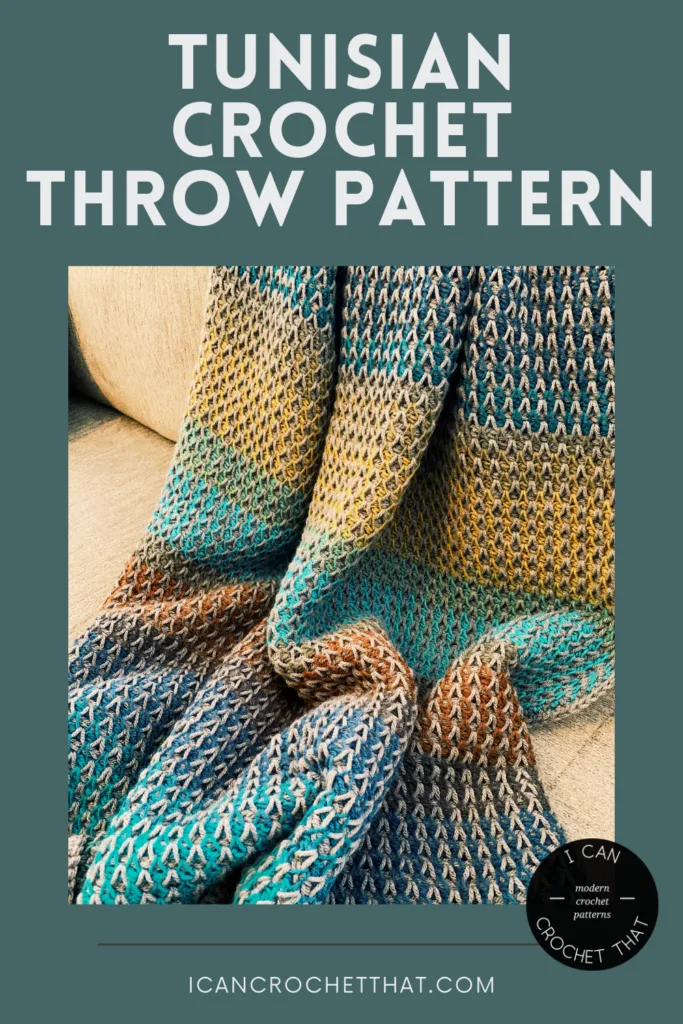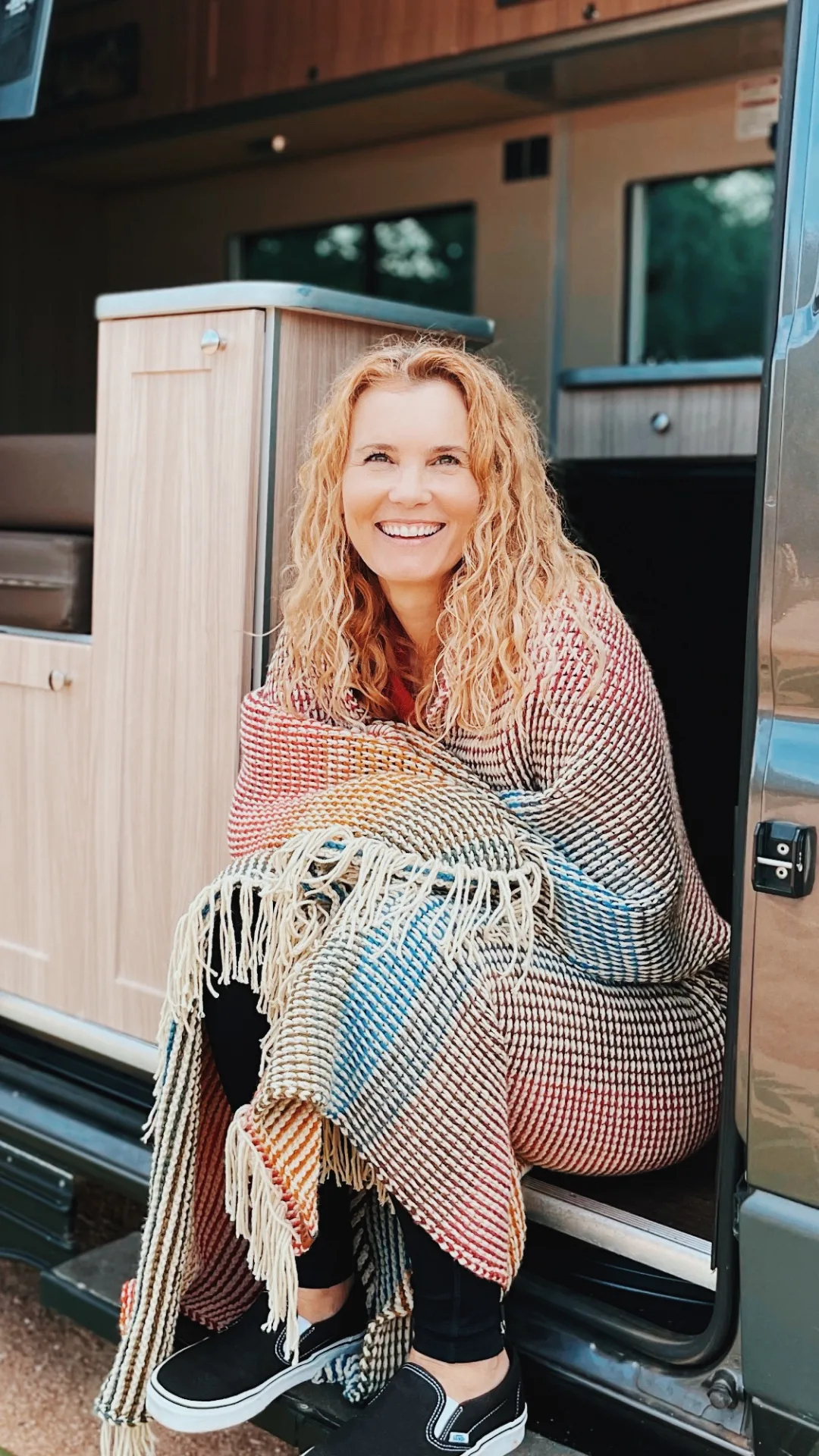 Hi! I'm Julie. I design modern crochet patterns and tutorials to help you learn to crochet. I've been crocheting for over two decades and with the gentle nudging of my husband, decided to turn this passion into a career. Although we travel a lot in our campervan, you'll never find me without a bag of yarn and projects.